25 Buffalo Wild Wings Interview Questions (And Hot Answers)
Picture yourself stepping into the lively, energetic atmosphere of a Buffalo Wild Wings restaurant. The intoxicating aroma of spicy wings wafts through the air, your heart pulses in rhythm with the surrounding hubbub, and a kaleidoscope of sports games flashes from numerous screens around you. But this time, you're not here for the fan-favorite wings or the vibrant atmosphere – you are here for an interview and the opportunity to belong to this vibrant tribe. Guess what? We can help you nail it!
Here's your secret weapon: A carefully curated, comprehensive list of the most common interview questions asked by Buffalo Wild Wings, accompanied by smart, strategic responses that will help set you apart from the competition.
Whether you're a fan hoping to shift from passionate patron to dedicated employee, or someone looking for new avenues to showcase your exceptional skills, this blog post is your golden ticket. Let us assure you, foreknowledge is power – power to answer with confidence, power to impress your interviewer, power to land that job you've set your eyes on.
Preparing for an interview can be as nerve-wracking as stepping into the ring for a championship bout. But remember, every champion walks into the ring prepared, schooled about their opponent's moves, building effective strategies. Consider this blog post your personal coach, equipping you with the right skills and molding you for that knockout punch.
By the end of this blog, you won't just be prepared but brimming with the kind of confidence that only comes from knowing what's coming and having precise, powerful responses ready. So, nestle into a comfortable spot, take a deep breath, and get ready to take one step closer to your dream job at Buffalo Wild Wings. Let's wing it but in the best way possible! Your time is NOW!
Buffalo Wild Wings Company Information
Before your big interview, immerse yourself in some pivotal data about Buffalo Wild Wings. This will equip you to handle research-oriented queries and underscore your keen interest in the company.
Here's where to jumpstart your research:
| | |
| --- | --- |
| Trade Name | Buffalo Wild Wings |
| Type | Casual Dining Restaurant and Sports Bar |
| Date Founded | 1982 |
| Founders | Jim Disbrow, Scott Lowery, Bernard Spencer, Elizabeth Brock |
| Headquarters | Atlanta, Georgia, United States |
| Menu | Buffalo-style Chicken Wings, Burgers, Sandwiches, Sides, Drinks |
| Signature Items | Buffalo-style Chicken Wings with various sauces |
| Core Values | Fun, Community, Spontaneity, Sportsmanship, Hustle |
| Website | www.buffalowildwings.com |
| Competitors | Applebee's, Pluckers, Hooters, Wingstop, KFC, Wild Wing Cafe |
Additional facts:
Unexpected Origins: Buffalo Wild Wings, despite its name, was founded in Columbus, Ohio, by childhood friends Jim Disbrow and Scott Lowery in 1982.
Birth of an Idea: Disbrow's longing for authentic buffalo wings he had tasted in Buffalo, New York, was the genesis of this venture.
The Missing W: The original name was Buffalo Wild Wings & Weck, referring to a special type of roll from Buffalo, but the last part was eventually dropped.
Franchising: The company started slow, only beginning to franchise in 1991.
Confusing Ordering System: Initially offering set wing counts, they changed to size categories due to wing size discrepancies, but customer feedback prompted a return to the original system.
Shifting Offers and Biggest Seller: With rising chicken wing costs, their popular half-price Wings Tuesday was replaced by a buy-one-get-one-free offer for boneless wings in 2017. Consequently, they reported selling more boneless wings than traditional ones as of 2016.
Beer Priority: Around 20% of Buffalo Wild Wings' profits come from beer sales, making it the largest pourer of draft beer in the United States.
Adapting to Change and Millennial Makeover: In 2017, Buffalo Wild Wings launched B-Dubs Express, a take-out focused format, catering to millennials' preferences for quick-serve restaurants and food delivery. They also underwent a complete makeover with updated menus, new employee uniforms, and a focus on being the go-to hangout spot for sports fans.
The Rise of Machines: In an embrace of technological innovation, Buffalo Wild Wings partnered with Miso Robotics to introduce a robotic chicken wing fryer, enhancing efficiency and safety.
Sibling Company: In 2017, Buffalo Wild Wings was acquired by Arby's parent company, Roark Capital Group, for $2.9 billion, making them sibling companies.
Vegetarian Challenge and Healthy Options Amid Wings Galore: A lawsuit was filed in 2016 by a vegetarian customer who found out items she thought were vegetarian were fried in beef tallow. Despite this, the chain does offer healthier choices including Naked Chicken Tenders and vegetarian options.
National Anthem Controversy and Racism Allegations: In 2017, the company clarified that it was not their policy to mute the national anthem, contrary to internet rumors. Additionally, they've faced serious issues like a racial discrimination lawsuit and a security guard incident, sparking public backlash.
Connection to Figure Skating: BW3's founder Jim Disbrow was involved with the U.S. Figure Skating Association, playing a key role during the Tonya Harding-Nancy Kerrigan controversy.
Sports Fan Backlash and Betting on the Action: The company received negative reactions from sports fans for controversial tweets about teams and players. However, they also embraced the sports fandom by teaming up with MGM to offer a unique sports betting platform through their Blazing Rewards app.
Suing Pork Producers: Buffalo Wild Wings, along with other restaurants, sued major pork producers over alleged price-fixing in a stand against unfair pricing.
A Rat's Unwelcome Visit: A bizarre incident occurred when a live rat fell from the ceiling onto a customer's table at a California location, causing temporary closure for damage control.
Television Giveaway Extravaganza: Buffalo Wild Wings upped their Black Friday game by giving away 200 free televisions, capitalizing on sports-filled weekends.
Football's Spicy Sauce: The chain partnered with a rising football star to introduce a limited-time signature sauce, Sauce Sauce, which added a spicy twist to wings and autographs.
The Reign of Fire: The Blazin' Carolina Reaper Wings stand as a testament to the chain's bold flavors, being the spiciest choice for daring customers.
Wings By The Billions: Demonstrating their dominance, Buffalo Wild Wings sells over 2 billion wings annually.
A Pizza Addition: To diversify their menu, Buffalo Wild Wings introduced Boneless Bar Pizza, a savory dish designed to complement their famous wings.
Buffalo Wild Wings Mission Statement
To WOW people every day!
Buffalo Wild Wings Interview Questions
To start off, could you please give me a brief overview about yourself?
This question is not a simple ice-breaker but a golden opportunity given to you to set the tone for the rest of the interview. It is here that they are attempting to understand how well you fit into the company's culture and operational style. They are also gauging your communication skills and seeing if your background aligns with the role you've applied for.
Firstly, breathe and relax. Begin by providing a summary of your professional experience, focusing on transferrable skills relevant to the hospitality industry. Buffalo Wild Wings values customer-centric individuals, so be sure to highlight experiences or achievements that showcase you've driven customer satisfaction.
Remember to weave in aspects of your personality and interests that reflect you are a team player and enjoy a fast-paced environment similar to Buffalo Wild Wings. Respond with confidence and remember, keep it concise.
Allow us to add a little sauce to your preparation by providing a crafted response.
"Absolutely, I'd be delighted to. I have about four years of experience in the restaurant industry, where I've had roles ranging from server to team lead. I have always thrived in a fast-paced environment, and it is here that I discovered my passion for providing excellent customer service. In my last role at XYZ restaurant, I was able to increase table turnover by 15%, directly leading to an increase in sales. Besides work, I'm an ardent baseball fan, and I love the excitement and camaraderie of watching games with fellow fans. I believe Buffalo Wild Wings is a great place to combine my love for food, sports and giving customers memorable dining experiences. I'm really looking forward to potentially bringing my energetic service and leadership skills into your restaurant and hopefully enhancing the overall guest experience."
Why do you want to work for Buffalo Wild Wings?
This question might seem like a no-brainer initially but don't be fooled. What they want to ascertain, quite simply, is your genuine interest and knowledge about the organization. In probing your reason, Buffalo Wild Wings' hiring manager is assessing your desire to be part of their team and how well you resonate with their company culture.
To impress them, your answer must be thoughtful and authentic. Get specific; don't only express the desire to work there because you enjoy their wings or love the sports bar atmosphere. Instead, connect your passion for customer service, the food industry, or a team-oriented environment to the company's vision. Do some research and talk about Buffalo Wild Wings' mission to create a unique experience for their customers—or highlight its inclusive work culture. Perhaps mention some positive interactions you've had as a customer which left you wanting to be part of the team.
By keeping these points in mind, the goal is to craft an answer that will showcase your personality and enthusiasm while assuring them that you're not just there for the discounts!
Here's your silver bullet – the example answer.
"I want to work for Buffalo Wild Wings because I admire your commitment to providing an extraordinary guest experience. I'm a huge fan of how your team's spirit and camaraderie transpire into the overall atmosphere of your outlets. Having worked in customer service for several years, I feel strongly about creating memorable experiences for customers, which aligns precisely with your mission. Besides this, I have had the opportunity to interact with some of your team members and always found them passionate and dedicated. This level of professionalism and high energy is something I long to be a part of and contribute to."
How do you envision your career progressing at Buffalo Wild Wings if we were to bring you on board?
This interview question that's a bit like a wild buffalo – formidable but exciting once you know how to handle it. The hiring manager at Buffalo Wild Wings is essentially trying to decipher your long-term career goals, your level of commitment, and whether your personal career roadmap aligns with the company's growth and turnover patterns. Besides, they want to ensure that the time and resources they invest in you yield a satisfying return through your continued growth and contribution within the corporation.
To turn this challenge into an opportunity, the best strategy is to align your career objectives with Buffalo Wild Wings' company values and growth trajectory. Begin by conducting thorough research about the company culture, career paths, training, and development opportunities. Using this information, show them you are motivated, adaptable, and have aspirations for beneficial growth within their organization.
Cue the drumroll; it's time for your winning response!
"Upon joining Buffalo Wild Wings, I foresee my career growing exponentially with the company. Initially, I would love to master my role at hand, going above and beyond to truly make an impact. Once I've demonstrated strong results and forged solid relationships within the team, I envision stepping up to a leadership role where I can further contribute to the team's success by nurturing those coming up behind me. My ultimate aim is to drive long-term profitability and a harmonious work culture using the skills and knowledge I will gain through the company's continuous training and development programs. In essence, my career advancement at Buffalo Wild Wings will definitely be a reflection of my commitment to the company and the mutual growth that we sustain as a result."
What are some of your hobbies and interests outside of work?
It may initially seem like a casual question but don't be fooled. In your response, they're looking for insight into your personality, work-life balance, and a hint of transferable skills that could be beneficial to their business. It's their way of understanding who you are, not only as a potential employee but also as a person.
Grab their attention by focusing on interests that could directly or indirectly involve skills valuable to Buffalo Wild Wings. For instance, include hobbies that display teamwork, competitive spirit, or customer-service aptitude. Maybe you play a team sport, or you love cooking for family and friends. It's all about showing them that you can fit their team and more importantly, thrive within it. Also, remember to project enthusiasm while talking. The interviewer will be excited if they see that you're genuinely passionate.
Now, are you ready to delve into the world of example answers? Then let's wing it!
"Outside of work, one of my main interests is playing basketball. As part of a local league, I've learned the value of teamwork, how to stay focused under pressure, and the importance of dedication. I believe these skills are transferable to the fast-paced, team-oriented environment at Buffalo Wild Wings. In addition, I love exploring different cuisines and trying creative approach in cooking dishes at my spare time. This, I believe, can help me better understand and appreciate Buffalo's diverse menu and chat enthusiastically with customers about it."
[/su_note]
The Buffalo Wild Wings culture prides itself on teamwork and harmony. This question offers a glimpse into your potential behavior in their work environment. They're assessing your problem-solving skills, conflict-resolution abilities, and how well you fare under pressure.
Relax. You've got this. The key is to maintain a positive tone while carefully choosing a situation that highlights your skills in a favorable light. Here's our insider tip: follow the STAR method. Describe the Situation you encountered, the Task that needed to be accomplished, the Action you took, and the Result you achieved. Emphasize your communication skills, emotional intelligence, and teamwork abilities that helped accomplish a resolution.
Your next step is to paint the interviewer a picture so vivid they can almost witness your conflict resolution skills in action.
"Sure, I recall an incidence at my previous job where two kitchen staff members were at odds over the best operating procedure for handling the dinner rush. The Situation was leading to a delay in services and creating a negative work environment. The Task was to ensure a smooth workflow and restore team cohesion. I took the initiative to mediate the conflict, having an open conversation where both parties could express their concerns. With some guidance, they were able to reach a mutually agreeable solution that acknowledged both their perspectives. Leveraging my communication skills and emotional intelligence, I could successfully restore harmony and improve the kitchen's efficiency. This Action led to a Result that saw the dinner rush being managed more effectively, filling the air with high-spirited energy instead of tension."
Describe a time when you had to be honest about a difficult situation at work. How did you approach it?
This question may seem like a curveball, but they essentially want to dive into your integrity, communication skills, and problem-solving abilities. Dealing with difficulty and showing honesty are necessary traits for team members in a busy high-paced setting like Buffalo Wild Wings, and your potential interviewer wants to see these traits in action!
Now that we've explored what the interviewer is looking for, let's strategize your response. Start by choosing a situation from your experience where you showed honesty despite challenges – perhaps reporting a mistake you made, or confronting a co-worker about a problem. Focus on the steps you took to resolve the situation, rather than dwelling on the negative. This approach clearly showcases your integrity and willingness to take responsibility.
Structure your explanation using the STAR method – Situation, Task, Action, and Result. It helps paint a comprehensive picture for the hiring manager, demonstrating your robust problem-solving skills in action.
With all that said, nothing drills it down quite like an example.
"During my previous job at a pizzeria, a colleague once added extra toppings on a pizza without charging for them. I knew this was against company policy and realized I needed to take action (Situation & Task). So, I decided to approach my colleague directly, explain the situation and ask him to reverse the extra toppings (Action). He was receptive and quickly corrected his mistake. To avoid future occurrences, I suggested to my manager that we have a refresher training on company policies. This was agreed upon and led to a drop in similar errors (Result). Through this endeavor, I symbolize my commitment to honesty even in challenging circumstances." This tailored response outlines the traits that a Buffalo Wild Wings interviewer looks forward to in their potential hires and should give you a good headstart.
Could you walk me through how you would handle an interaction with a rude or difficult guest?
Spotting the elephant in the room, the hiring manager is keen to assess how well you handle difficult situations, your problem-solving skills, along with your ability to maintain a level head and show an unwavering commitment to service excellence in the face of intensity.
When preparing your answer, remember, human emotions are a tricky business and guests are no different. Your primary focus should be on conveying a perfect blend of empathy, assertiveness, and problem-solving skills. Recognize that sometimes, customers have bad days too and may misdirect their anger or frustration. Emphasize your active listening ability and a patient, empathetic approach to understand the root cause of their complaint. Show them your willingness to take responsibility and act swiftly; which of course, also means recognizing when it might be necessary to involve management.
As we always say around here, your words are your paintbrush, your tone the color palette; so portray vivid picture in the mind of the interviewer, illustrating your problem-solving prowess at its best.
"If faced with a difficult guest, I would first ensure I am actively listening to their concerns while maintaining a calm and professional demeanor. My philosophy is that the guest's concern is a cry for help, so it's important to empathize. I would tell them something like 'I can understand why this situation has upset you and I sincerely apologize for any inconvenience. Let me rectify this for you right away.' By taking responsibility and promising immediate action, I would be able to manage the guest's expectations while ensuring the situation doesn't escalate. If needed, I wouldn't hesitate to involve my supervisor to assure the guest that their concern is being taken seriously. It all comes down to the commitment to provide exceptional service despite the situation, which I believe is the core value at Buffalo Wild Wings."
Such a question may appear simple yet it is purposefully designed to assess your customer service skills, teamwork, and overall problem-solving abilities. The hiring manager is interested in uncovering your commitment to exceptional service and your ability to exceed expectations — not just meet them.
Your response should center around an actual scenario where you showcased exceptional creativity or resourcefulness in handling a customer's or co-worker's request or issue. Focus on not just what you did to go the extra mile, but also why you did it. Elaborate how your actions contributed to the customer's or co-worker's satisfaction or solved a specific problem. Your story should clearly depict the situation, what actions were taken, and the positive outcome—this is referred to as the STAR method (Situation, Task, Action, Result).
So, how does your personal tale of exceeding expectations sound when perfectly molded for a Buffalo Wild Wings interview?
"During my time working at a local sports bar, I vividly recall a night when we had a packed house with a big game on. One of our regular customers, who was a huge fan of the team playing that night, had reserved a table for him and his friends. Unfortunately, due to a mix-up, his reservation was lost, and we had no free tables.
Seeing the disappointment on his face, I knew I had to make it right. I got creative and quickly arranged some spare high-top tables from the storage, placed them in a prime viewing spot and set it up with extra chairs. It wasn't a regular table, but it actually gave them a more private and exclusive viewing experience.
Additionally, I got the kitchen to prioritize their orders and personally served them their wings and drinks, ensuring they didn't miss any part of the game while waiting for their food. The customer was so appreciative of the effort, he thanked me personally and said it was one of the best game nights he had experienced.
From that day, I realized how much a simple act of going 'above and beyond' can do to create a memorable experience for customers. It's something I strive to bring into every interaction, be it with a customer or a co-worker."
If we had an unexpected influx of guests leading to longer than normal wait times, how would you handle communicating that to customers?
Stepping into your Buffalo Wild Wings interview, you're bound to encounter some intense problem-solving questions – they're part and parcel of any hospitality interview process.
The interviewer wants to see how you would prioritize customer satisfaction under stress, ensuring that your actions under pressure align with the Buffalo Wild Wings ethos of creating an inviting and efficient food service environment.
So, here's the scoop on acing this type of question. Think of it like a tasty wing sauce – you need the right blend for a killer flavor, or answer, in this case. A dash of honesty, a good chunk of maturity, and a whole lot of empathy.
Begin by acknowledging the importance of transparency. Customers appreciate honesty, and being upfront about the situation can diffuse frustrations early on. Next, talk about the power of empathy. Highlight how understanding and recognizing their frustration can help build trust and patience among the waiting guests. Lastly, suggest potential remedies to ease the clients' experience. Maybe it's offering complimentary beverages or updating them regularly on their wait time. By presenting solutions, you're showing that you not only recognize the problem but that you're actively working to resolve it.
Now let's put these valuable tips to work; it's showtime!
"If an unexpected influx of guests led to longer wait times, I'd approach the situation with transparency and empathy. Firstly, I would let the customers know about the unusual rush, expressing regret for the longer wait time. I'd acknowledge their valuable time and thank them for their patience, making sure they understand this isn't the norm at our Buffalo Wild Wings outlet. Then I would aim to enhance their waiting experience, perhaps by offering a complimentary beverage or initiating friendly chats about their favorite sports or wings flavor. I believe these gestures could help to ease the waiting time and maintain a positive atmosphere. Moreover, I'd ensure that I provide updates on the progress of their seating or orders, as frequent communication reassures customers that they aren't forgotten.'"
What qualities and experience do you feel make you a strong candidate for this role?
The hiring manager is primarily trying to determine the following: your understanding of the role, your ability to self-assess, and to some extent, your professional self-esteem. They are keen to see how well you fit into the 'wings, beer, and sports culture that defines Buffalo Wild Wings.
Now, here's the kicker: Divide and conquer. Break it down into a "me vs. the role" sort of showdown
First, think about the qualities you possess that align with the company's values and the job role. For Buffalo Wild Wings, this may include teamwork, customer service, and a passion for the food industry.
Secondly, draw from past experiences where you've demonstrated these qualities. It could be in previous jobs, school, or extracurricular activities. Remember, the hiring manager isn't just considering what you say but also how confidently and succinctly you communicate it.
So, are you ready to dish out a response as mouth-watering as a serving of Buffalo Wild Wings' finest?
"Well, my deep-dive love for sports and the restaurant biz pretty much aligns with Buffalo Wild Wings' vibe. I'm the guy who always brings sunshine and team spirit to the table, which came in handy at my last gig at XYZ diner. I juggled tasks, rallying the troops, and ensured every customer left wearing a big old grin. Throw in my constant quest to know more about new beers and foods, and I think it's clear why I believe I'm a solid fit for Buffalo Wild Wings."
This question is a strategic tool for the hiring manager to assess your familiarity with their menu, your communication skills, and your ability to sell their product in an appealing and appetizing way.
To answer this question successfully, you should not just mention a generic item off the menu. Rather, pick a specific dish that truly resonates with you and explain why it's your favorite. Remember, your enthusiasm here will make a significant impression. The interviewer will be looking for an authentic answer demonstrating your passion for the food.
Also, keep an eye on your description skills: this is your chance to show how you can draw a picture with words. You want your guest to smell, taste, and crave the dish just by your description. Use your senses and detail to bring the food to life.
Imagine you're a food critic indulging in a spectacular culinary journey at Buffalo Wild Wings…your taste buds are the superstar here!
"Without a doubt, my top choice from the Buffalo Wild Wings menu is their Nashville Hot Chicken Sandwich. It's a culinary experience that's simply unmatched. The heart of the sandwich is the hand-breaded chicken, perfectly cooked and generously slathered with a Nashville hot sauce that provides a tingling sensation that dances on your taste buds. Nestled atop the fiery chicken are cool, tangy slaw and pickled hot peppers, creating an exciting contrast of flavors and textures. Dill pickles add an extra layer of crunch and tartness. The sandwich is skillfully assembled on a soft challah bun with just the right chew. A drizzle of creamy ranch dressing complements the spiciness of the chicken, adding a cooling, herby note to each bite. And let's not forget about the side of natural-cut French fries – crispy on the outside, fluffy on the inside, and the perfect partner to this spicy, mouthwatering sandwich. This Nashville Hot Chicken Sandwich is an adventurous blend of hot, cool, tangy, and crunchy elements, making it the standout item on the menu for me."
How would you describe your approach to working collaboratively on a team?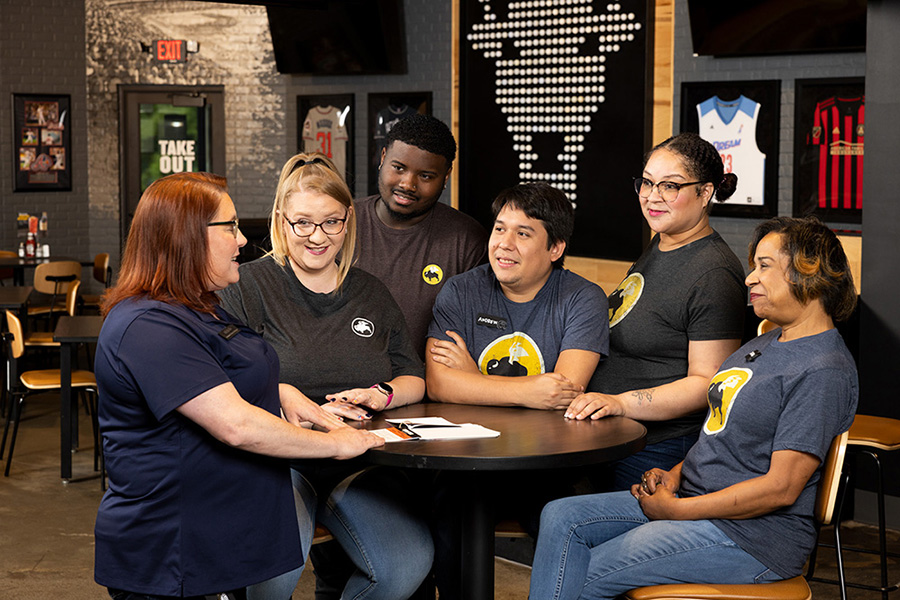 Buffalo Wild Wings isn't just about killer wings and zesty sauces, it's hugely about working as a team. You see, they don't just want someone who is excellent at the job – they're after folks who can mesh well with the squad, you know? Consequently, this question often crops up in their interviews. They want to see if you're a team-player type who gets that this is a team sport.
When crafting your answer, think about previous situations where you've worked as part of a team. Be it in a workplace, a school project, or even a sports team. The key is to reflect on the role you played, however big or small, and how it contributed to the team's overall success. Be sure to give specific examples as it evidences your ability to truly work in a collaborative way. Mention your soft skills too, like communication, conflict resolution, and adaptability. These, too, are valuable in a Buffalo Wild Wings work environment where the pace is fast, and flexibility is the name of the game.
So, ready to turn those scribbled notes into a neat, compelling response? Let us help you flame-grill your answer!
"Well, my approach to working collaboratively on a team always has been to communicate effectively and adapt readily. For instance, during my previous job at a fast-food restaurant, we were facing a sudden spike in demand due to a local event. I stepped up, taking over drive-thru operations while providing relief to the kitchen staff when needed. I made sure to communicate clearly about orders and times with my team, resulting in us successfully handling the demand surge without delaying a single order. I believe good teams are like a perfectly synchronized orchestra, and I always strive to play my part to the best of my ability."
What excites you most about the prospect of joining the B-Dubs team?
It's crucial to understand that the hiring manager wants to uncover what motivates you, why you chose their brand, and whether you would be a good fit for their upbeat, guest-focused environment.
We understand how pivotal this question can be, and we want to help you answer it like a pro.
Start by showcasing your knowledge about the company's culture and values. This displays your offhand passion and dedication to the brand. Research heavily – know about Buffalo Wild Wings' emphasis on sports, the communal atmosphere they strive to create, and their commitment to providing top-tier customer service.
Also, don't forget to exhibit your alignment with these aspects. After all, a person's passion often shines through their interests and values.
It's also incredibly beneficial to tie in specifics about the role you're applying for; speak to how the position will allow you to grow, contribute, and partake actively in maintaining the inviting B-Dubs vibe.
Now that you've gathered your thoughts and researched diligently, articulating them confidently becomes the key.
"What really excites me about joining the B-Dubs team is the chance to work in the lively atmosphere the brand is known for. From my research, I've found that Buffalo Wild Wings promotes an exceptional sporting and community-driven environment, something that I've always felt strongly about. On a personal level, I genuinely enjoy interacting with people and fostering a vibrant, friendly space, which is crucial in this industry. The specific role I'm applying for will allow me to utilize and develop my skills in customer service, making me an integral part of these experiences. I'm excited about the prospect of contributing to, and learning from, a team that values superior service and camaraderie as much as I do."
What 5 words would your friends use to describe your personality and work ethic?
The hiring manager asks this to peek into your self-perception and determine if you are a good cultural fit for their team. They want to grasp your character traits and work ethic to see how you would blend into their dynamic environment.
Alrighty then, so how can you tackle this question without breaking a sweat? Firstly, consider the values and culture of Buffalo Wild Wings: teamwork, customer service, and a lively atmosphere. Then think about traits that align well with these values, such as dependability, enthusiasm, flexibility, and of course, a passion for the brand.
Your answer should be genuine, showing off your qualities without sounding boastful or overly humble. Remember, your response is not merely a list of favorable traits but a concise, thoughtful depiction of who you are as an individual and an aspiring team member.
Armed with your five words, it's now time to turn them into a winning response. Let's see how!
"Well, if my buddies were to describe me, they'd probably call me 'adaptable', cause I'm like a chameleon, fitting in and thriving no matter what comes my way. They'd definitely vouch for me being 'dependable', I'm that guy who always sees things through until the end. I'm pretty sure they'd mention that I'm 'jazzed up', since I have this knack for bringing positive vibes wherever I go. 'Customer-obsessed' is another label they'd stick on me, 'cause I'm all about giving folks the best experience possible. And last but not least, they'd say I'm 'crazy about' Buffalo Wild Wings. The combo of good grub, sports, and a buzzing atmosphere is my jam and that's exactly why I love this brand!"
What would you say are your strengths and weaknesses?
The interviewer knows about your qualifications from your resume, but this question gives them a glimpse into your self-awareness and honesty. They are assessing whether your strengths align with the company and job requirements and whether your weaknesses, given a supportive work environment, can be mitigated or even turned into strengths.
So, what's the play? First, take a good, hard think. Look at the job description and what makes Buffalo Wild Wings tick – maybe it's your top-notch customer service skills, your ability to lead a team, or being quick on your feet. At the same time, 'fess up to your not-so-shiny bits. Be real, but also, you know, don't shoot yourself in the foot. Don't give them a weakness that's a dealbreaker. Your whole point here is to show them that you're not afraid of looking in the mirror and that you're all about getting better and better.
Remember this, though: knowing what you're not so good at is a strength in and of itself.
"One of my strengths is my determination to provide excellent customer service. I've honed my ability to effectively manage customer complaints and inquiries, ensuring that each customer has a positive dining experience. On the flip side, one weakness I've identified is being overly critical of myself. While it pushes me to constantly improve, it can sometimes lead to unnecessary self-doubt. However, I've been working actively on this, trying to strike a balance between striving for perfection and appreciating my accomplishments. This ongoing process has taught me patience and has made me more resilient, which I believe are important traits for a dynamic, customer-driven environment like Buffalo Wild Wings."
When things get busy or stressful, how do you keep your cool?
In the high-energy atmosphere of a fast-paced food-service establishment like Buffalo Wild Wings, the ability to stay calm and composed while keeping customers satisfied is paramount. The hiring manager wants to know if you're capable of handling the pressure that comes with the bustling environment of their restaurant.
So, what's the best way to answer this game-changer? First, think about times where you dealt with loads of pressure and still managed to keep your cool – a real-life story is your best bet. Your interviewer will remember it better, it's proof you're not making things up and it gives 'em a glimpse of how you roll under pressure.
Next, you're gonna wanna dish out the nitty-gritty details – how did you keep your head on straight? Did you prioritize tasks? Did you delegate jobs to other staff members? Maybe you had a secret mantra to keep calm? What was the end result of you keeping your cool?
Now, let's morph these tips into a compelling answer that would impress even the most seasoned hiring manager.
"When I worked as a server at an extremely busy restaurant, we often had Friday night rushes that could become quite chaotic. Rather than letting the stress of the situation get the better of me, I learned to prioritize tasks effectively and delegate where necessary. This included distributing requests between kitchen and bar staff, and effectively managing waiting times for guests. By maintaining my composure and efficient workflow, we were able to meet customer needs quickly, ensuring a high level of customer satisfaction. These experiences have equipped me to handle the fast-paced environment at Buffalo Wild Wings without losing my cool."
What is your favorite sport and favorite team?
Now, this isn't just some idle chitchat. The hiring manager isn't merely trying to see if you line up with their personal inclinations. Instead, they are interested in gauging your passion for sports and want to know if you're keyed into the sporting world—a significant selling point at Buffalo Wild Wings. Your answer can also help them gauge if you can fit into the sport-centric atmosphere of the restaurant.
To tackle this question, you don't have to pretend that you love a sport you have no interest in just to impress them—honesty is key. With that said, show some enthusiasm! List your sports and teams, share your favorite moments; essentially paint a picture of why you love that sport and that team. Additionally, emphasize any ways that your favorite sport has influenced your life—provided lessons in teamwork, resilience, etc. This shows you not only follow sports but also appreciate their significance.
One great serve deserves another, so let's flip the ball to the other side of the court.\
"My favorite sport has to be basketball, specifically, I am a huge fan of the Los Angeles Lakers. My interest stems from how the sport requires teamwork, strategy, and sheer determination to win—qualities that I think resonate with everyday life. It's not just about scoring points; it's about the camaraderie, the strategy, and coming back from a loss stronger than before. I see these values reflected at Buffalo Wild Wings too, which is why I'm so excited about the possibility of working here."
Remember, this answer is just a suggested template. Be sure to tailor it to your own favorite sports and teams—and score big in your Buffalo Wild Wings interview!
How you would integrate yourself into our team environment at Buffalo Wild Wings?
This question is particularly important as it helps the hiring manager assess your cultural fit, teamwork skills, adaptability, and how well you could incorporate your personal style into the existing team dynamics. Since Buffalo Wild Wings values teamwork, camaraderie, and a lively atmosphere, they are looking for team players who can quickly adapt and contribute to this positive work environment.
As you prepare to answer, remember it's about more than just fitting in; it's about enhancing the team with your unique strengths and qualities. Start by conducting some research to understand the company culture and what qualities they value in their team members. Then, reflect on past experiences where you collaborated successfully with a team, perhaps by solving a problem or achieving a collective goal.
Highlight your communication skills, ability to empathize with others, and knack for resolving conflicts in a constructive manner. Be sure to show that you're a team player who respects diversity and can contribute positive energy to the Buffalo Wild Wings family.
Let's craft a compelling response that will leave a lasting impression on them.
"With keen enthusiasm for enhancing team dynamics, I would integrate myself into the Buffalo Wild Wings environment by being an active participant and a positive influence. In the past, I've found that listening to team members' perspectives and offering my support helps build trust and mutual respect. At my previous job, we encountered a challenging situation where we faced a potential drop in customer satisfaction. By proactively collaborating with my team, we came up with a successful strategy to enhance customer experience. Similarly, I would foster open communication here, highlighting the importance of each team member's role in providing unforgettable experiences for Buffalo Wild Wings customers. I am excited about learning from everyone, bringing my positive energy, and contributing to an environment that's fun, welcoming, and high-spirited."
The hiring manager wants to know that you've got the guts to handle pressure-cooker situations and the smarts to think on your feet in the hustle and bustle of a busy restaurant. They're looking for grit, adaptability, and quick decision-making—basically, all the requirements to survive in the wild wings!
Now, how do you ace answering this question?
First, choose a specific situation from your past work experiences that demonstrate your ability to stay level-headed under pressure. Focus on explaining what the situation was, what your role was, and the actions you took to resolve it. Give clear details but avoid rambling.
Secondly, use the STAR method (Situation, Task, Action, and Result). By following this approach, you can share a comprehensive, well-structured example that walks them through your process and highlights your abilities.
Having shaken off the apprehension, let's dive into how an exceptional answer sounds.
"When I was working as a bartender at a local pub, there was an evening when we were terribly short-staffed; nonetheless, a sports event on TV drew in massive crowds. The demand was overwhelming and the situation was certainly demanding. I assessed the situation and quickly re-prioritized my tasks, focusing first on serving drinks, then taking food orders. I coordinated with the kitchen staff to ensure everyone was on the same page and we were moving as efficiently as possible. My multitasking abilities and clear communication under pressure made a significant difference that night. Not only did we manage to serve all customers without any hitches, but we also received generous tips. This situation proved to me that staying cool, focusing on the task at hand, and maintaining efficient communication can turn a high-stress situation into a success."
When's the earliest you could start working with us, if offered a position?
This seemingly straightforward scheduling question is a subtle way for the interviewer to gauge your enthusiasm, readiness, and availability towards the new job opportunity. In essence, they're probing to find out how swiftly you can transition into the role without leaving any significant gaps in their team's workflow.
To best answer this question, be as accurate and straightforward as possible, while maintaining a degree of flexibility. You don't want to seem too desperate by saying "tomorrow", but you also don't want to seem indifferent by projecting an extended time frame.
A smart move is to peep your calendar before the interview to know your open dates. But, hey, making their life easier by matching your start date to their workforce plan wouldn't hurt a bit either. Be a team player while keeping a firm grip over your current commitments.
Now, let's put on our aprons and serve an appetizing example of how you could answer this strategic question during your Buffalo Wild Wings interview.
"I'd love to jump onto the B-dubs bandwagon at the earliest but to ensure a smooth transition for both my current employer and Buffalo Wild Wings, my ideal start date would be two weeks from the job offer. However, I understand the importance of filling this role promptly. If there's an immediate need, I'm ready to discuss options to accommodate both parties. I'm excited at the prospect of joining the Buffalo Wild Wings team and am flexible to find a solution that works best for everyone involved!"
Can you give me an example of a time when you demonstrated one of our core values in your previous work?
This question offers an opportunity to gauge if you exemplify BWW's dedication to Hustle, Sportsmanship, Spontaneity, Community, and Fun, which are integral aspects of providing a winning guest experience. The interviewer is keen to understand whether you're capable of wholeheartedly aligning with BWW's impactful and substantial core values.
A strategic approach to responding to this question would be to first acquaint yourself with BWW's core values, and then reflect on your past experiences, identifying instances where you've mirrored these values.
For example, under the Hustle principle, BWW places a high premium on guest satisfaction; consider a time when you prioritized guest interests above everything else. Alternatively, you may relate to the Sportsmanship value, where your fair and team player approach significantly improved the outcome. To strengthen your argument, offer quantifiable proof – when did your actions result in enhanced efficiency, increased guest satisfaction, or a revenue spike?
So, are you prepared to deliver your best shot? Let's sketch this perfect answer:
"In my prior role as a line cook at XYZ Diner, I often found myself channeling the values of BWW, particularly Hustle, and Sportsmanship. During an unusually bustling evening shift, I noticed that the number of orders was rapidly increasing, posing a threat to our promised delivery times. Acknowledging the possible negative impact on guest satisfaction, I took the initiative to restructure the prep area and pinpoint bottlenecks in our kitchen workflow. My rapid adaptation to the situation and unwavering dedication to team effort led to a 15% quicker delivery of orders that evening, enhancing guest satisfaction substantially. Reflecting on it now, it vividly aligns with BWW's values of proactive hustle and commitment to the community of guests."
What do you know about Buffalo Wild Wings?
The interviewer is gauging your passion and understanding of the company. They're probing to see if you'd be a good fit within their unique, teamwork-focused culture. Show them you have more than surface-level knowledge. Demonstrate that you understand the values, mission, and history that make the company stand out.
So, your starting point has to be some good ol' research. Trace the company's origins back to its founding in 1982 in Columbus, Ohio. Impress them by knowing that Buffalo Wild Wings now operates more than 1,200 locations globally. But dig deeper! Mingle facts with feelings. Understand that Buffalo Wild Wings is more than a casual dining restaurant and sports bar—it's a community.  Show them that you appreciate the brand's commitment to creating a unique, social experience for its guests—a place where people can come together over great food and sports.
Remember: facts are the bones, but stories are the soul. Here's an example response to guide you:
"I've always admired Buffalo Wild Wings for its enduring dedication to creating a lively, welcoming environment for everyone. Founded back in 1982, it has grown tremendously, now operating over 1,200 venues worldwide. But it's not just about the numbers. What has always struck me is your focus on bringing people together. As both a restaurant and a sports bar, you've uniquely improvised a place where camaraderie shines, and the spirit of community thrives. I appreciate that Buffalo Wild Wings values teamwork and hospitality—values that resonate with me deeply. So it's not just a job for me – it's an opportunity to be part of a brand that truly stands for something I believe in."
When the Buffalo Wild Wings interviewer asks you this question, they're looking for more than just a recounting of an incident. They want an insight into your willingness and ability to learn, adapt, and grow in your role. This is a gateway for them to understand your receptivity to constructive criticism, your problem-solving ability, and how you handle directions — all crucial traits for thriving in a dynamic workplace like Buffalo Wild Wings.
You want to answer this question thoughtfully. First, you need to recall a specific incident when you received feedback. It doesn't necessarily have to be negative feedback; it's about how your actions changed for the better based on the advice.
Next, clearly state the feedback you received and how you incorporated it into your work. Here, it's important to mention the outcomes of applying the feedback – did it increase efficiency? Did it improve customer service? This allows the hiring manager to envision how you will apply feedback in your role at Buffalo Wild Wings.
"When I was working at a previous restaurant, my manager noted that while I was efficient in serving customers, I needed to engage them more to enhance their dining experience. She suggested I spend an extra moment or two talking with the guests, asking them about their day, or giving personalized recommendations. Initially, I was taken aback since I felt I was doing my job well by providing quick service. However, I realized the value of her feedback. I started interacting more with the customers, and the response was overwhelmingly positive. Guests seemed to enjoy their experience more, and our relationship went beyond the transaction. The manager also noticed an improvement in guest satisfaction scores. This experience showed me that feedback, however uncomfortable initially, could lead to effective improvements and a heightened customer experience, which I believe is central to Buffalo Wild Wings' ethos."
The hiring manager is assessing more than just the hours and days you can work. They're looking for your commitment level and flexibility. Can you manage your time well? Is your schedule rigid or flexible? How willing are you to work non-traditional hours, on weekends or holidays?
Now, here's how to respond to this question in a manner that could place you in favorable consideration. Be honest. If your availability is limited, it's better to be upfront about it rather than commit to hours you cannot manage. However, if you have wide-open availability, don't just say, "I'm available anytime". Detail it out—mention the range of hours and what days you're available to work. Express willingness to work during peak hours, holidays or weekends if that's possible for you.
Lastly, provide context when necessary rather than giving a simple "yes" or "no." For example, if you're a student, mention when you're typically in class and when you're free.
Now let's put all these tips together, drawing a nice big bow around them, with a concrete example.
"I'm available to work full-time, and my weekdays are completely open. I can start as early as 8 a.m. and work until close if needed. On Saturdays, I can work anytime after 3 p.m. till closing hours. I understand that Buffalo Wild Wings is busiest during game times and weekends, and I'm comfortable working during these peak hours to support the team where needed. While I do have classes on Sunday mornings, I'll be free to work after 12 p.m."
Do you have reliable transportation for your shifts?
While it might seem like a straightforward question at face value, the hiring manager is trying to gauge your logistical commitment and potential reliability as an employee. Can they count on you to be there when needed, regardless of rain, sleet, or snow?
Begin by honestly assessing your current transportation situation. Are you able to affirmatively promise punctuality and consistent presence on the job? If the answer is 'yes,' express that with confidence, but don't stop there. Let the hiring manager feel the surety underpinning your response by giving relevant details about your arrangements. This could include your car ownership, access to public transportation, living locally, or having a backup plan.
Caught between the charisma of commitment and the vivacity of your value-add, the stage is set for an example.
"Yes, I do have reliable transportation. I own a car and ensure routine maintenance checks to prevent any unpredictable issues. Additionally, I've found that my home is conveniently located within an accessible walking distance. This dual-modal approach guarantees my timely availability for all shifts. After all, in a dynamic environment like Buffalo Wild Wings, consistently bringing my A-game is my top priority."
Questions to Ask the Interviewer in Buffalo Wild Wings Interview
As you navigate the thrilling, yet sometimes nerve-wracking, interview process at Buffalo Wild Wings, expect the interviewer to provide you an opportunity to ask questions.
Here's the secret: Interviewers aren't just assessing your ability to do the job but also your fit within the organization's culture. They want to gauge your interest level in the company, your curiosity, and your critical thinking skills. By asking thoughtful questions, you demonstrate your engagement, well-rounded thinking, and, more than anything, your proactive nature.
With that in mind, we've compiled a power-packed list of insightful questions that you can ask to leave a lasting impression on your Buffalo Wild Wings interviewer.
Can you describe a typical day or week in this position?
How would you define the company culture here at Buffalo Wild Wings?
What are the most significant challenges facing the company/department right now?
How do you measure success in this role?
What is the company's policy for training employees to keep up their skills or acquire new ones?
Could you explain the company's management style and the type of employee who fits well with it?
What is the performance review process like here, and how often can I expect to receive formal feedback?
Can you share more about the opportunities for professional development within the company?
What are the prospects for growth and advancement in this role?
How does the company celebrate team successes?
How does this position contribute to the organization's success?
Who might I be working most closely with in this position, and in what ways?
Is there a set path for advancement in the organization, or is it more independent for each individual?
How would you describe the team I'd be working with?
What values are most important to Buffalo Wild Wings, and how do these show in everyday business?
What's the company's approach to innovation and staying competitive in the market?
Can you describe an ideal candidate for this role?
Does the organization incorporate CSR initiatives, and how would this position contribute?
Buffalo Wild Wings Hiring Process
As you search for your next job opportunity, you may consider putting in an application at Buffalo Wild Wings. Knowing what to expect during Buffalo Wild Wings' hiring process can help you feel prepared and confident each step of the way.
To apply at Buffalo Wild Wings, you can submit an application online, in person at a location, or call to inquire about open positions.
Within a few days, you'll likely get a call from the restaurant you applied to in order to schedule an interview.
When it's time for your Buffalo Wild Wings interview, make sure to arrive early and dress professionally. You can expect to meet with either the general manager or assistant manager for around 20-30 minutes. During the interview, be ready to discuss your previous work experience, availability, and reasons for applying. The interviewer wants to get to know you, so make sure to highlight your relevant skills and qualifications for the role.
Depending on the position, you may also be asked some additional interview questions. Servers can expect to make a mock drink or answer some sports trivia questions. This allows you to showcase your knowledge.
If all goes well and you're a great fit, there's a chance you may be offered the job on the spot! If not, expect to hear back soon after your interview. Once hired, you'll complete any necessary paperwork and attend orientation and training before starting regular shifts.
Buffalo Wild Wings Interview Tips
When interviewing with Buffalo Wild Wings, be confident and friendly. Highlight your customer service skills and ability to work in a fast-paced team environment. Be prepared to make a mock drink or answer some sports questions to showcase your abilities. Share your enthusiasm for the brand and your flexibility – let them know you can work a variety of shifts to meet their needs.
What to Wear to Buffalo Wild Wings Interview
While you might think that your skills and experiences do all the talking, remember that your clothing choices also play a substantial role. They offer a glimpse into your professionalism, attention to detail, and cultural fit, all before you utter a single word.
Cracking the code to the perfect interview outfit might seem as challenging as deciphering an encrypted message. Yet, this task can become less daunting when you strive to mirror the company's existing dress code.
Now, let's talk about the dress code at Buffalo Wild Wings.
The dress code at Buffalo Wild Wings requires team members to wear dark jeans or black pants with a company-issued t-shirt, whereas managers dress similarly but with a polo shirt instead. Tattoos and piercings are allowed, provided they are not disruptive or offensive. Hair must be neatly styled for front-of-house staff, while back-of-house employees need to don a hat or hair net. Closed-toe, slip-resistant shoes are a must for all. Staff members are permitted to sport their favorite team's jersey on designated game days.
When you're invited for an interview as a server, cook, cashier, greeter, or bartender, your ideal dress code falls within the realm of casual or business casual. Don a neat pair of dark jeans or chinos coupled with a smart, button-down shirt or blouse. Make sure your shoes are closed-toe and clean.
For those interviewing for a position such as a service manager, kitchen manager, assistant manager, or general manager, a step up to business casual is recommended. Dark trousers or a pencil skirt paired with a button-down shirt, blouse, or a neat polo shirt could work wonders.
Suppose you're targeting a corporate office position within Buffalo Wild Wings. In that case, it's time to pull out your business formal attire. A suit and tie for men or a skirt suit or pantsuit for women could be ideal.
Conclusion
In delving into the most common questions you might face in your Buffalo Wild Wings interview, we have strived to endow you with an armor of preparation and steel-hearted confidence. As sure as sunrise, mastering these questions will give you a significant edge over other candidates. However, the real victory lies in you walking into that interview room with your head held high, filled with a conquering spirit.
But, it's crucial not to see a successful interview as the end post in your career race. Just as a sailor doesn't stop at sighting land, continue to chart your course steadfastly. The restaurant industry is vast, and if Buffalo Wild Wings is your preferred choice, there are a plethora of other chains, like Applebee's, Hooters, KFC, Chili's, Wingstop, and TGI Fridays, where you can look for opportunities. Each of these companies could present a new, exciting opportunity that might align perfectly with your career path.
Casting a wider net increases your odds of catching the fish you're after. Don't put all your eggs in one basket; vary your options and keep charging forward. The world of opportunity awaits you, and armed with your newfound knowledge and preparation, you are ready to conquer.