19 Jack in the Box Interview Questions (Fully Answered)
So you've secured an interview with Jack in the Box? Fantastic!
This isn't just another fast-food joint. With a legacy spanning multiple decades and an eclectic menu boasting everything from their classic Jumbo Jack to their quirky Tacos, Jack in the Box stands out in the crowded world of quick-service eateries.
But to slide into the dynamic team behind those intercoms and counters, having a penchant for curly fries isn't enough.
Dive into this guide, meticulously put together from intensive research and feedback, breaking down commonly asked Jack in the Box interview questions.
We've spiced it up with a blend of insights, actionable tips, and illustrative answers to prep you for that big day.
So, ready to jump into the Box? Let's unwrap it!
Jack in the Box Company Information
Getting to Know Jack (and His Box)
To ace that interview, you gotta be pals with Jack.
Not just the mouthwatering burgers and curly fries but the rich tapestry of its history and ethos.
Now, let us spill some beans (or should we say, beef?) about Jack In The Box.
| | |
| --- | --- |
| Trade Name | Jack in the Box |
| Type | Fast Food Restaurant Chain |
| Date Founded | Feb 21, 1951 |
| Founders | Robert Oscar Peterson |
| Headquarters | San Diego, California, United States |
| Menu | Hamburgers, Sandwiches, Tacos, Chicken Sandwiches, Salads |
| Signature Items | Jumbo Jack, Ultimate Cheeseburger, Curly Fries, Tacos, Sourdough Jack |
| Core Values | Innovation, Diversity, Resilience, Customer-Centricity |
| Website | www.jackinthebox.com |
| Competitors | McDonald's, Wendy's, Carls Jr., Burger King, In-N-Out Burger, Shake Shack, Five Guys, Chick-fil-A |
Additional facts:
???? Name Game: Initially named Topsy's Drive-In, then rebranded as Oscar's, it wasn't until 1951 that Jack in the Box was coined. There was even a brief, unsuccessful stint as Monterey Jack's in the early '80s.
????️ Drive-Thru Pioneer: Recognized as the first to utilize a two-way intercom system for drive-thru ordering in the post-WWII California car boom, Jack in the Box continues to cater mostly to drive-thru customers. This innovation even spurred the creation of National Drive-Thru Day!
???? Founder's Life: Robert O. Peterson, founder of Jack in the Box, lived an eventful life. From affiliations with celebrities and a mayorship marriage to winding up on President Nixon's "enemies list", his journey was anything but ordinary.
???? Taco Talk: Since the 1950s, Jack in the Box has been serving their unique tacos, which they've patented in every detail. Despite being sometimes described as "a wet envelope of cat food," they sell 554 million of these annually. And at 99 cents for two, even Selena Gomez is a fan!
???? Munchie Meals: Targeting those with, well, "munchies", Jack's Munchie Meals are high-calorie feasts designed to cater to the recreational marijuana user segment, especially prominent in the West Coast.
???? Caloric Caution: A visit to Jack in the Box promises indulgence, with menu items reaching up to 1,150 calories. From shakes with whipped toppings to the once-offered Bacon Sirloin Cheeseburger, calorie-counters be warned!
???? Antenna Collectibles: Since 1995, the company has distributed over 32 million Jack Box antenna balls. These collectibles have evolved into various editions, aligning with different promotions and events.
???? Life of Jack: Jack Box, the company's mascot, boasts a rich backstory: standing nearly seven feet tall with an oversized head, fluent in English and Spanish, a twice-ran presidential campaign, and a massive Facebook following. His origins and development are credited to Dick Sittig's ad company.
???? Jack's "Death": In a bold 1980 ad, aiming for an adult clientele, Jack Box was symbolically blown up onscreen. This was a departure from the mascot's previously clown-like, child-friendly portrayal.
???? Ads with Attitude: Since Jack's resurrection in 1994, the company has aired quirky and often controversial commercials, from Jack exacting revenge for his "death" to clashing with Martha Stewart.
???? 1993 Crisis: A devastating E. coli outbreak in 1993, traced back to Jack in the Box, resulted in multiple deaths and illnesses. This led to the adoption of the HACCP food safety program, now a gold standard in the industry.
???? Iconic Brand: Jack in the Box has a rich history that spans over 70 years and stands as an iconic fast-food brand in the industry.
???? Franchise Facts: With 93% of locations being franchised, there's a staggering average of 19 restaurants for each franchisee.
???? Burger Ranking: Claiming its position proudly, Jack in the Box is the 5th largest burger chain in the US.
???? Taco Triumph: In 2022 alone, the brand sold a whopping 750 million tacos, indicating its popularity and love for its menu items.
???? Steady Growth: For 12 consecutive years, Jack in the Box has witnessed positive same-store sales growth.
???? All-Day Menu: Being a pioneer, Jack in the Box was among the first few to offer breakfast and drive-thru service. Plus, they ensure every item on their menu is available 24/7.
???? Top Market: In 9 out of their 12 primary markets, Jack in the Box boasts the position of either #1 or #2 QSR burger brand, solidifying its reputation and love among consumers.
Jack in the Box Mission Statement
Give people a taste of life outside the box.
Jack in the Box Interview Questions
Can you tell us about yourself?
The interviewer's goal with this question is to get a brief overview of who you are, your relevant experience, and your career goals.
They want to understand what you would bring to the role and the company culture.
This is your chance to make a great first impression, so craft an authentic answer that emphasizes why you're a strong candidate for the position.
Mention 2-3 of your relevant qualifications, skills, and experience that match what the role requires.
Highlight why these experiences will benefit the company.
Talk about your key strengths and what motivates you about the type of work you would be doing in this role at Jack In The Box.
Keep your answer to 2 minutes or less, and be enthusiastic.
To answer smoothly and confidently, prepare ahead of time. Practice your answer out loud until you can discuss your relevant experiences and goals articulately without oversharing or rambling.
An example answer could be:
"I'm a friendly and service-oriented professional with over 5 years of experience in the food service industry. My key qualifications for this role at Jack In The Box include my ability to operate efficiently under pressure while delivering great customer service, as demonstrated by my experience as a Restaurant Team Member and Shift Lead. I'm passionate about operations and leadership, and I would love the opportunity to bring my skills to Jack In The Box to help achieve your service and sales goals."
If you had to choose one word to describe yourself, what would it be and why?
Ah, the classic interview question!
You've probably been asked this before, or perhaps you're gearing up for it. Either way, let's nail this question down.
Key Takeaways:
Be Authentic: Choose a word that authentically represents your strengths and personality. Don't just pick a word because you think it's what the interviewer wants to hear.
Show, Don't Just Tell: Explain why you chose that word with a brief anecdote or example that showcases the trait. This demonstrates self-awareness and gives the interviewer insight into your character.
Alignment with the Role: Pick a word that is relevant to the role and company culture. For example, if the role requires strong attention to detail, you might say "Thorough" and give an example of your meticulous approach to work. If the company culture is fast-paced and collaborative, you might say "Adaptable" and discuss how you flexibly respond to change.
Conciseness is Key: Keep your answer brief and positive. There's no need to justify or make excuses. Just honestly convey why that word captures who you are.
For example:
"I would describe myself as 'determined.' I have always been someone who perseveres in the face of challenges and never gives up easily. For example, when I was struggling with a difficult course in college, rather than switching classes, I stayed late to get help from the professor and formed a study group to push through. My determination has helped me accomplish a lot in my life and career, and I know it would be valuable for achieving the goals of this role and company."
Can you tell us about your previous employment history and the roles you held?
The interviewer wants a preview of your professional journey. The positions you held, the roles you crushed, and the milestones you achieved.
They're connecting the dots between your past experience and the potential future with them.
How to Ace It:
Be Passionate: Your past roles weren't just jobs, they were stepping stones. Convey that enthusiasm.
Zoom into Relevant Roles: Dive into 1-2 roles that mirror the job you're gunning for and focus on transferable skills.
Growth Matters: Did you climb the ladder? Showcase that evolution. Employers love candidates who show ambition and growth.
The Power of Positivity: Always paint a positive picture of your past roles, even if they were challenging.
Time it Right: While your journey might be epic, try to keep your tales tight. Aim for about 2 minutes per role.
Putting It into Practice
Here is an example of how to smoothly discuss two previous roles while highlighting relevant skills and experience:
"My most recent position was as a Team Leader at [Company]. I led a team of 5 customer service representatives, training new hires and helping the team meet key metrics. It allowed me to further develop my leadership, communication, and problem-solving skills. Prior to that, I worked as a team member at the same company. In that role, I assisted customers with questions and issues, often needing to explain complex information in an easy-to-understand way. These experiences have equipped me with the ability to train teams, meet sales targets, and provide great customer service—all skills that would be valuable for a managerial role at Jack In The Box."
Can you provide an example of a time when you exceeded customer expectations?
This is a common interview question you may face in your Jack In The Box interview.
The interviewer aims to assess your customer service skills and ability to go above and beyond for customers.
They want to see that you are committed to a great customer experience and will actively look for opportunities to exceed expectations.
To answer this question successfully, focus on the following:
Pick a relevant example: Choose an example from a past customer service role where you had a positive interaction with a customer that exceeded their expectations. If you don't have direct customer service experience, you can reference interactions with internal or external stakeholders that demonstrate a similar approach.
Highlight your proactive actions: Emphasize the extra steps you took and actions you performed that went above the customer's initial request or expectation. Show that you anticipate customer needs and take initiative.
Explain the positive outcome: Explain the positive outcome or impact on the customer as a result of exceeding their expectations. For example, 'The customer was very pleased and ended up being a repeat, loyal customer' or 'My actions saved the customer time and frustration, and they complimented my helpfulness to my manager.'
Here is an example answer:
"One time I exceeded a customer's expectations was when a regular dine-in customer at my previous restaurant job complained about receiving cold french fries. Instead of just apologizing and bringing a fresh batch, I brought him a complimentary side of onion rings while he waited for the new fries. I checked back in frequently to keep him updated. He was very impressed with my initiative to make things right and provide an extra side on the house. He ended up leaving a generous tip and coming back repeatedly, always requesting to be seated in my section. By going above his initial complaint, I was able to turn around his experience and gain a loyal, long-term customer."
Where do you see yourself professionally in the next five years?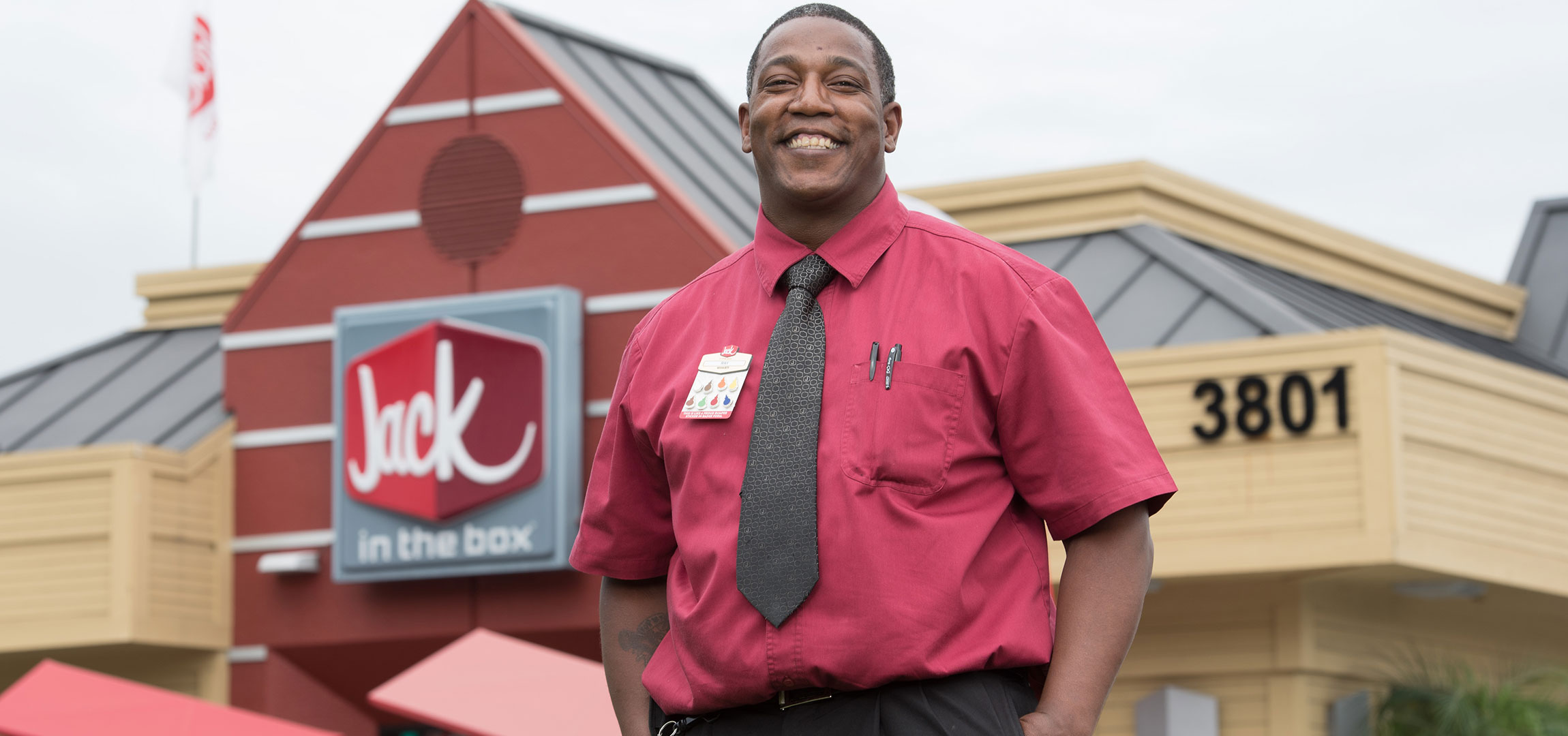 This question is asked to assess your career goals and ambition.
The interviewer wants to know that you have a vision for your future and are motivated to advance in your career.
Let us break it down for you:
Connect your goals to the job and company. Explain how the position and opportunities at Jack in the Box will help you achieve your goals.
Show growth and progression. Highlight how you want to take on more responsibility and advance over time.
Be realistic yet optimistic. Share goals that are achievable if you work hard and exceed expectations. There's no need to guarantee a C-level position, but showing motivation for ongoing growth leaves a positive impression.
Wondering how to wrap it all up? Here's a solid answer:
"Over the next five years, I would like to continue developing my skills and experience at Jack in the Box. I hope to take advantage of career development opportunities, such as leadership training programs, with the ultimate goal of stepping into a management role. I'm passionate about utilizing my experience to mentor others and make an even greater contribution to the company's success. While I'm focused on personal growth, I also want to see Jack in the Box continue expanding, and I hope to play an integral role in that growth over the long-term."
What motivated you to apply for a position at Jack in the Box?
The interviewer is asking you this question to understand your genuine motivations for pursuing a role at Jack in the Box.
They want to see if your motivations and goals align well with the requirements and culture of the position and company.
Some things you can highlight in your answer include:
Your passion for the fast-paced, customer service-focused environment of the food service/restaurant industry. Mention how you thrive under pressure while delivering great service.
Your enthusiasm for Jack in the Box's brand and food. Explain your understanding of their signature products and target audience. Express your desire to be part of their growth and success.
Transferable skills that would be valuable for the role, such as efficiency, collaboration, problem-solving skills, etc. Explain how these skills will benefit the team and company.
Here is an example answer:
"I'm extremely interested in the fast-paced and customer service focused environment of Jack in the Box. I have always thrived under pressure while delivering outstanding service, which I believe would be invaluable for this role. Additionally, as an avid consumer of Jack in the Box for years, I'm a huge fan of your bold flavors and signature products. I would love the opportunity to contribute to your continued growth and bring your brand to more customers. With my experience in efficiency, collaboration, and problem-solving, I know I could hit the ground running and make an immediate impact on your team."
How do you believe you would contribute to the success of our team at Jack in the Box?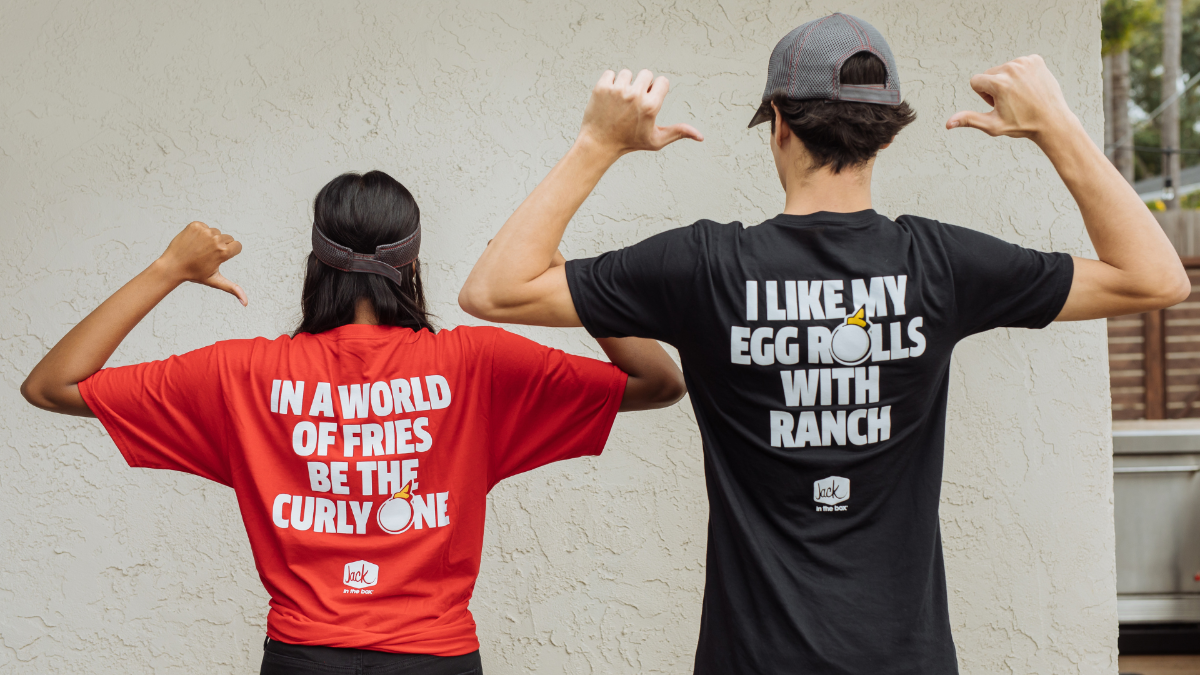 The purpose of this question is for the interviewer to assess what unique skills, experiences, and perspectives you could bring to the role and the company.
The interviewer wants to see that you have thoroughly researched the company culture and have thought about how you would be a great fit and add value.
Here's how you can tackle it:
Your Backstory is Gold. Begin with your past. Like a superhero origin story, discuss how your previous experiences, maybe at a fast-paced diner, would benefit the team and company.
Skills? Flaunt Them! But remember, it's not bragging if it's true. Mention those hard-earned skills of yours that align with the company's needs. It could be your knack for team management, killer communication, or that uncanny ability to handle a rush-hour crowd.
But, There's More to You! Ah yes, the traits that can't be trained. That infectious enthusiasm, the way you thrive in chaos, or your secret sauce of creativity. These can be the game-changer, setting the tone for the entire team's morale and productivity.
Why Jack in the Box? Wrap it up by laying your cards on the table. Is it the company culture that resonates with you? Or a particular product that has you hooked? It's this passion that could drive you to propel the brand even further.
Here's a nifty response, as an example:
"Through my 5 years of experience in the food service industry, I have developed strong skills in customer service, food preparation, and teamwork which I believe would greatly benefit your team. I thrive in fast-paced environments and am extremely detail-oriented, ensuring high quality and consistency. I also have strong communication and problem-solving skills, enabling me to collaborate well with team members and managers to handle challenges. Outside of technical skills, I have a positive attitude and leadership abilities that motivate teams to achieve goals. I am passionate about delivering an outstanding experience to customers and contributing to company growth. I hope to bring all of these skills and qualities to your team at Jack in the Box to help increase sales, reduce costs, and boost team morale and cohesion."
Can you describe your experience working as a team member in a fast-paced environment?
Ah, the whirlwind of fast-paced environments! You know, we've been there before. Let us tell you, it can be both thrilling and challenging.
When the interviewer drops this question, they're essentially diving into your toolbox of experiences to see if you've got the right tools – think composure, communication, and swift efficiency – for a bustling restaurant setting.
Now, to ace this one, pull out those juicy, memorable moments where you were in the midst of the storm but still managed to sail smoothly.
Remember that time you skillfully delegated tasks? Or when you became the go-to person to resolve a hiccup?
And let's not forget those days when, despite the pressure, you rallied the team and kept spirits high.
These stories, sprinkled with skills like adaptability and conflict resolution, will paint a vivid picture of your abilities.
Here's a glimpse of what an ideal answer might sound like:
"During my time as a server at a popular restaurant, we would frequently get slammed with a rush of customers and be understaffed. It required thinking and moving quickly on your feet to get food and drinks out promptly while providing good service. When it got chaotic like that, I would remind my team to take it one table at a time and not get overwhelmed by the whole. As a senior server, I would delegate certain tables to newer staff to both lighten the load and help them learn. If issues came up, I navigated them calmly by listening to concerns, coming up with solutions, and redirecting focus to the tasks at hand. While challenging, getting through those rushes as a team and still delivering for our customers was rewarding. That experience showed me how to rise to the demands of a fast-paced, high-volume environment while supporting a team, which I could bring to this role at Jack in the Box."
How do you respond to receiving and following instructions from a supervisor?
We've often found that behind this simple question lies a deeper inquiry: Can you really navigate the delicate dance of taking directions and working harmoniously with those in authority?
Let us guide you on how to nail this:
First off, always emphasize your keen understanding of why instructions are critical. They're not just words; they're building blocks to success.
Talk about that time when acting upon feedback not only improved your work but also changed your perspective. Remember, it's all about listening – and we mean, really listening – so that you grasp every nuance.
If there's a shadow of doubt? Ask! There's no harm in seeking clarity.
And if you foresee a hiccup down the line, be proactive. Approach your supervisor, share your concerns, and brainstorm solutions together.
And, above all, take pride in your work. Strive for perfection, always.
Just to give you a taste, here's how you could frame your response:
"I understand that following instructions promptly and accurately is crucial. I actively listen to understand the ask fully and never hesitate to ask questions if I'm unsure about any part of the task. I take feedback seriously and use it to continuously improve my processes. I also take initiative to identify and address any potential issues early on. Delivering high quality work on time is important to me, so I will do whatever it takes to exceed expectations. My goal is to make my supervisor's job easier, not harder."
What is your availability like? Are you able to work flexible hours, including evenings and weekends?
Now, we all know Jack In The Box doesn't exactly shut its doors early. Late-night munchie runs and weekend pit stops are the norms here, aren't they?
So when you're posed with this question, the interviewer is really trying to gauge if you can jive with the ebb and flow of their restaurant rhythm.
So, how do you assure them?
Start by acknowledging the obvious: You get it! This isn't a 9-to-5. Be upfront that you understand the demands of the role and are committed to meeting those needs.
Be transparent about any commitments, but be sure to highlight times you've previously thrived in flexible roles. Did you once hold down the fort during a busy weekend rush or had those early bird shifts? Share it!
And remember, enthusiasm is the name of the game. Approach the topic of flexible hours with gusto, not dread.
As an example, you could say:
"I understand the demands of working in food service and am fully committed to fulfilling the scheduling needs of the role. I don't have family or school commitments that would prevent me from working a flexible schedule, including evenings and weekends. In fact, in my previous role as a server, I regularly worked Friday and Saturday nights as well as Sunday brunches, so I have ample experience with a varied schedule and am happy to work when needed to get the job done."
Can you highlight your key strengths?
Alright, this is your moment under the spotlight!
When interviewer dives into this question, they're giving you the stage to showcase what makes you, well, YOU.
And believe us, they're not just ticking off a checklist. They want to know if your strengths can jazz up their team, meet the role's demands, and gel with the company vibe.
Here's your game plan:
First reflect on the key responsibilities and priorities of the role, as well as the company culture.
Then, identify 2-3 of your core strengths that align with these factors, such as a strong work ethic, creativity, problem-solving skills, leadership ability, etc. Opt for strengths you truly own and feel passionate about. There's no use claiming you're a "people person" if small talk gives you the jitters.
Stories, stories, stories. Bring your strengths to life with memorable anecdotes or instances where they shined bright.
Present your strengths confidently, give a brief example to bring each one to life, and express passion for utilizing your strengths in this opportunity.
So, for instance, you can say something like this:
"Three of my key strengths are:
1) My strong work ethic. For example, in my current role, I consistently exceed sales targets through diligent planning and follow-through.
2) My creativity. For example, I came up with a new marketing campaign idea that increased social media engagement by 25%.
3) My analytical mindset. For example, I streamlined several processes to reduce operational costs by over 30% through data-driven improvements."
These strengths, especially when combined, would allow me to thrive in a fast-paced environment like Jack In The Box and make immediate, valuable contributions to your team. I hope this gives you a sense of how I could hit the ground running and help you achieve your goals.
What do you consider to be your biggest weakness and how have you been working on improving it?
Ah, the infamous 'weakness' question! It's like a rite of passage in interviews, isn't it?
When interviewers throw this curveball, they're not aiming to catch you off guard but rather to peek into your introspective side.
The way we see it? This is a three-part dance:
Admission: Choose a genuine but minor weakness. Pick something that is real but will not disqualify you as a candidate. For example, impatience or being a perfectionist.
Action: Explain how you recognize and minimize the impact of the weakness. Discuss the steps you take to mitigate the weakness, such as giving yourself more time or learning to prioritize in busy times. Show that you are proactively managing your development.
Ascent: Share what you are doing to strengthen the area. For example, explain you are taking a time management course to improve your patience, or reading books on perfectionism to adopt a growth mindset. This demonstrates your commitment to constant self-improvement.
Here's a way to string it all together:
"One area I'm working to improve is staying patient when I face challenges or obstacles. I can be impatient at times and want issues resolved quickly. However, I recognize this impatience can lead to missing details or lower-quality work. To address this, I give myself buffers for time-sensitive tasks. I also make a conscious effort to take a step back and evaluate issues logically before reacting. Outside of work, I'm reading books and taking an online course on patience and resilience to continue strengthening my skills in this area. With consistent practice, I'm getting better at managing my patience, but it remains a muscle I want to keep improving."
Can you describe your approach to resolving conflicts with colleagues?
Navigating the fast-paced world of Jack In The Box means you're not just juggling fries and shakes but also relationships.
So, when tensions flare up – as they sometimes do in close-knit, high-pressure teams – how do you put out the fires?
The interviewer wants to know if you have the soft skills required to resolve issues with co-workers respectfully and professionally.
Here's our suggestion:
Acceptance: Acknowledge that workplace conflicts are inevitable, but your approach is to address them early and with a solution-focused mindset.
Approach: Highlight how you would communicate openly and directly with your colleague to understand different perspectives, then work together to find a compromise or alternative solution. Explain you value transparency and accountability to resolve issues efficiently and prevent resentment.
Anecdote: Mention any relevant experience navigating workplace conflicts and what you learned from those situations.
Here's how you could possibly kick it off:
"Workplace conflicts are common, but I believe addressing them early is key. My approach would be to have an open and honest conversation with my colleague to understand their concerns and perspectives. Then, I would work to find common ground and a solution we both agree on, whether that is a compromise or an alternative option. Transparency and willingness to take shared accountability are important to me for resolving issues quickly and maintaining a good team dynamic. For example, in a previous role, I had to mediate between two colleagues with conflicting work styles. By facilitating open dialogue and fostering understanding, we were able to determine a new process that played to each person's strengths while meeting our goals. From that experience, I learned the value of communication and compromise in navigating workplace conflicts."
Alright, pop quiz time!
Your interviewer wants to see if you've done your homework. And let's be honest, they've seen plenty of candidates who simply nod along and admit they haven't. But not you, right?
To prepare, review Jack in the Box's website, social media, and any recent news articles about them. Take note of key information like their mission and vision, leadership team, popular menu items, expansion plans, employee culture, and more.
Internalize and understand the main highlights of the company and think of ways your skills and experience could align well with their priorities.
In your answer, touch on 3-4 of the most interesting or impactful things you learned about Jack in the Box. For example, you could discuss their initiatives to expand to new markets to increase growth, their focus on menu innovation to drive sales, their commitment to employee development and promotion from within, or their vision for community outreach.
Explain why these points stood out to you and how they align well with your own goals or strengths. Your answer should demonstrate a solid understanding of the company and convey genuine passion for the role and organization.
To get the ball rolling, here's an example answer:
In my research, a few things that really impressed me about Jack in the Box were:
Their goal to expand into new markets through franchising to fuel their growth. As someone interested in career growth, this entrepreneurial ambition is appealing.
Their dedication to menu innovation and staying ahead of consumer trends. As someone passionate about creativity and trying new approaches, I would enjoy contributing fresh ideas to their product development.
Their commitment to promoting employees from within and providing opportunities for development. As an aspiring leader, this people-focused philosophy around advancing talent is inspiring and motivating."
When you walk into a restaurant, what are the first things you notice?
Your interviewer isn't just curious about your dining preferences here. They want a glimpse into your observation skills and, more importantly, how you perceive quality and service.
So, how would you tackle this?
Attention: Pinpoint those key aspects that catch your eye. Is it the spick-and-span floors? The vibrant buzz of the staff? Or maybe the fragrance wafting from the kitchen?
Association: Link it back to the customer experience. A clean environment signals hygiene and professionalism. Friendly staff? It sets the mood for a delightful meal.
Anecdote: Everyone loves a good story. Recall a memorable experience when you walked into a restaurant, and everything just felt… right.
A strong example answer could be:
"The first few things I would notice walking into a restaurant are:
Is the restaurant clean and tidy? A clean restaurant shows customers their experience, and health/safety is a priority.
How is the staff interacting with customers? Friendly, engaged staff leads to happy customers.
How quickly are customers being served? Fast, efficient service is important to an enjoyable dining experience.
I'm attentive to these details because I understand how they all contribute to customer satisfaction. Delivering a great experience is my top priority, so you can count on me to pay close attention to every element that shapes a customer's impression of the restaurant."
Can you describe how you would handle a situation where a customer is dissatisfied with their experience?
Look, anyone who's been in the customer service industry knows that dealing with unhappy customers is part and parcel of the job. It's not the "if," but the "how" you deal with it that matters.
The interviewer's goal with a question like this is to understand your approach to serving customers and diffusing tensions.
To answer this, you need to prioritize the customer's feelings. Make sure you genuinely listen to their concerns. Take responsibility; never dodge it. If it's the restaurant's fault, admit it. Offer a sincere apology – but remember, words without actions are empty. Find a solution that would make the situation right.
For example, you could say:
"I believe dissatisfied customers are opportunities to strengthen relationships through great service recovery. I would listen closely to the customer and apologize for the poor experience. I would take responsibility, even if not directly at fault, and commit to making it right however possible. Whether offering a refund, replacement, or additional free item, I would follow through on any solution and thank them for their understanding and continuing business. My goal would be to leave them with an even better impression than before the issue."
Are you comfortable performing tasks that require prolonged standing or walking?
Fast-paced restaurant environments? They're not for the faint-hearted.
The interviewer wants to know if you will be able to handle the demanding nature of working in a fast-paced environment where you are frequently moving around to serve customers and prepare orders.
It's essential to show confidence in your ability to be on your feet for extended shifts and your comfort with physically active work. Mention any past experiences that demonstrate your stamina, such as previous food service jobs or retail positions requiring much movement.
A potential response might be:
"Absolutely! If there's one thing I've learned from my experience, whether it was during my stint as a waiter at Joe's Diner or those summer jobs at retail outlets, it's that being on my feet keeps me energized and alert. It might sound strange to some, but there's a certain rhythm to it. Knowing that there are customers waiting, orders to be processed, and a team relying on me, that constant motion becomes a part of the flow. So, whether it's standing at the register, moving about preparing orders, or assisting colleagues, I'm more than ready to step up – and keep stepping!"
Can you handle working in a high-pressure, fast-paced environment?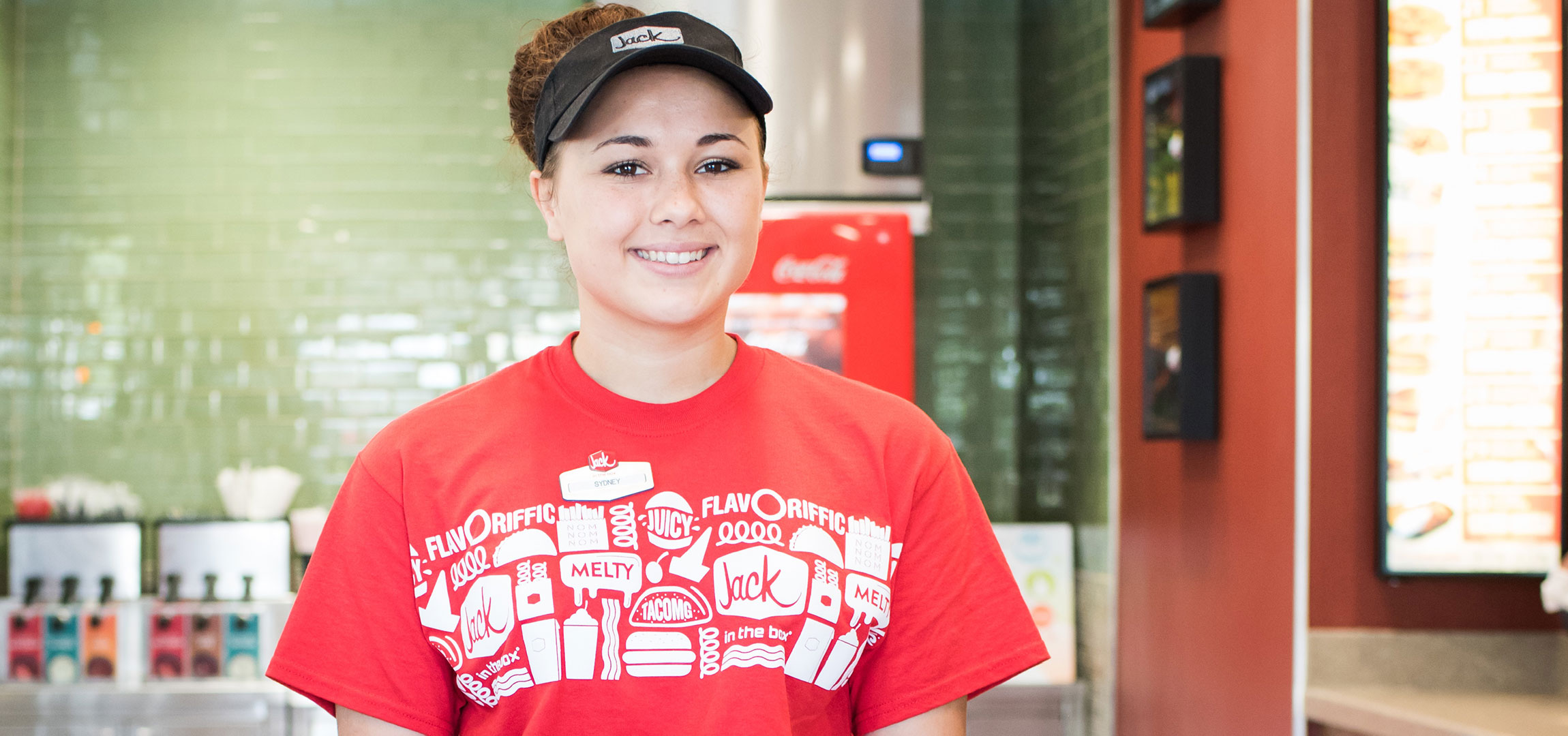 Ever felt like everything's on fast-forward, and you're just trying to keep up? That's the rhythm at places like Jack in the Box. It's not for everyone, but if you've got the right stuff, it can be exhilarating.
The interviewer wants to know if you will stay composed under stress, think and act quickly on your feet, and efficiently juggle multiple tasks and priorities.
Here's the drill:
Share Your Adventures: Those busy shifts at your last job or perhaps that time you manned a booth at a festival with a never-ending line? Those stories show you've danced this dance before.
Keep Calm and Carry On: Talk about your Zen-like focus amidst chaos. How you channel the pressure into efficiency and how you break big problems into bite-sized tasks.
Achievements in Adversity: That day the register malfunctioned, and you went old-school, using paper and mental math to keep the line moving? That's gold. Showcases your ability to adapt and triumph in the face of challenges.
Here's an idea for you:
"I've always found a certain thrill in fast-paced environments. In my previous role, we had this massive influx of customers due to a nearby event. Despite being understaffed, I managed to coordinate with the team, prioritize tasks, and ensure every customer left satisfied. That day wasn't just about speed but resilience and adaptability. I believe such experiences have shaped me for high-pressure roles like the one at Jack in the Box."
When are you available to start working?
This interview question may seem straightforward, but your answer can make or break your chances of getting the job.
It is more than just pulling a date out of a hat. They interviewer wants to know if you're ready and willing to commit to the job quickly should you be offered the role.
Breaking it down:
Genuine Excitement: Express strong interest in the position and company. For example, "I'm very enthusiastic about the prospect of joining Jack In The Box."
Responsible Transitioning: Highlight your preparedness to start soon while also being reasonable. For example, "I have already given notice at my current job, so I would be able to start within the next 2 weeks." Or, "As this is my top priority at the moment, I'm ready to start as soon as a suitable training and transition period could be arranged."
Clear and Specific: Don't be vague. Give them a timeline, even if it's conditional.
A strong answer may sound something like:
"I'm extremely motivated to join the Jack In The Box team, and I appreciate you asking about my availability. Given that I have limited personal commitments and am able to provide significant notice at my current job, I would be able to start whenever is most convenient for the necessary training and transition. Is there a general timeline you typically work with for a role like this? I'm ready and willing to make myself available whenever would be most helpful for the team."
Questions to Ask the Interviewer in Jack in the Box Interview
While prepping for an interview, it's easy to focus solely on responding perfectly to the questions you expect to be asked.
But equally crucial is the list of questions you intend to ask the interviewer. Not only does it show your genuine interest in the position, but it also demonstrates that you've done your homework and are serious about understanding the brand and its work culture.
Asking generic questions or no questions at all, on the other hand, can make you seem unprepared or indifferent.
With that in mind, here are some powerful questions to ask your Jack in the Box interviewer:
Company Evolution: "How has Jack in the Box evolved in the past few years, especially in response to the changing fast-food landscape?"
Employee Growth: "What opportunities does Jack in the Box offer for professional development and growth within the company?"
Team Dynamics: "Can you describe the team I'll be working with? What's the collaboration process here?"
Success Metrics: "How do you measure success for the role I'm interviewing for?"
Brand Integrity: "Jack in the Box has a unique brand voice in its advertising. How does that translate to in-store experience and team culture?"
Challenges and Opportunities: "What are the biggest challenges the team is currently facing? Conversely, what are some recent achievements the company is proud of?"
Training Programs: "What kind of training programs does Jack in the Box offer to its new employees?"
Work Culture: "How would you describe the work culture and environment here?"
Innovation: "With the fast-food industry being so dynamic, how does Jack in the Box stay innovative and ahead of the curve?"
Customer Feedback: "How does Jack in the Box incorporate customer feedback into its operations and menu changes?"
Future Vision: "Where do you see Jack in the Box in the next 5 years, and how does this role contribute to that vision?"
Next Steps: "What are the next steps in the interview process? How soon should I expect to hear back?"
Jack in the Box Hiring Process

You're interested in working at Jack in the Box and want to know what the hiring process is like. Don't worry, we'll walk you through what to expect step-by-step so you can feel fully prepared.
First, you'll want to apply either online at the Jack in the Box careers website or in-person at a local Jack in the Box restaurant.
Within just a few days, you'll likely get a call back to schedule an interview.
Your interview will take place in-person at the Jack in the Box location you applied to. You'll sit down with the store manager for a conversation that typically lasts 10-20 minutes.
It's a relaxed atmosphere where you'll answer some basic questions about your availability, work experience, and how you'd handle certain situations that could come up on the job.
Don't stress too much about coming up with perfect responses. The manager really just wants to get a feel for your personality and see if you'd be a good fit. As long as you come prepared with an upbeat attitude, you should do great.
If the interview goes well, Jack in the Box will conduct a background check, which typically takes around 1 week. Assuming your background check comes back clear, you will receive a job offer for an entry-level position within 1-7 days for most locations. The timing depends on the location's current hiring needs.
For managerial or supervisory positions, the process may take longer and involve additional interviews with a panel of managers. Candidates for these more senior roles can expect to wait 2-4 weeks after the initial interview to receive a final decision.
If you are offered the position, you'll just need to fill out some paperwork including your bank information for direct deposit setup.
Before your first shift, you'll complete some online training videos to learn company policies and procedures.
When you start working, on-the-job training will be provided to teach you the ins and outs of tasks like taking orders, prepping food, and serving customers.
As you can see, Jack in the Box aims to make the hiring process quick and painless. In just a few easy steps, you can go from applicant to employee.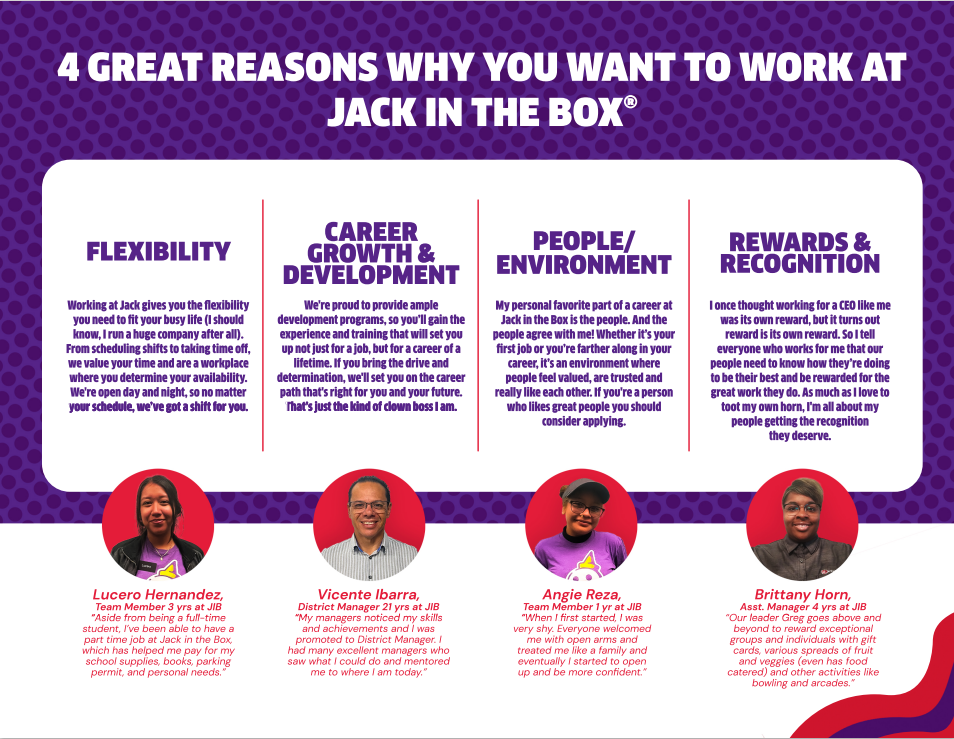 Jack in the Box Interview Tips
When interviewing at Jack in the Box, come prepared to discuss your availability and share examples of your customer service skills. Speak clearly and focus on how your previous experience makes you a great fit for the role. Share a story of how you positively interacted with a difficult customer or overcame a challenge at work. Stay upbeat and enthusiastic throughout the short interview.
What to Wear to Jack in the Box Interview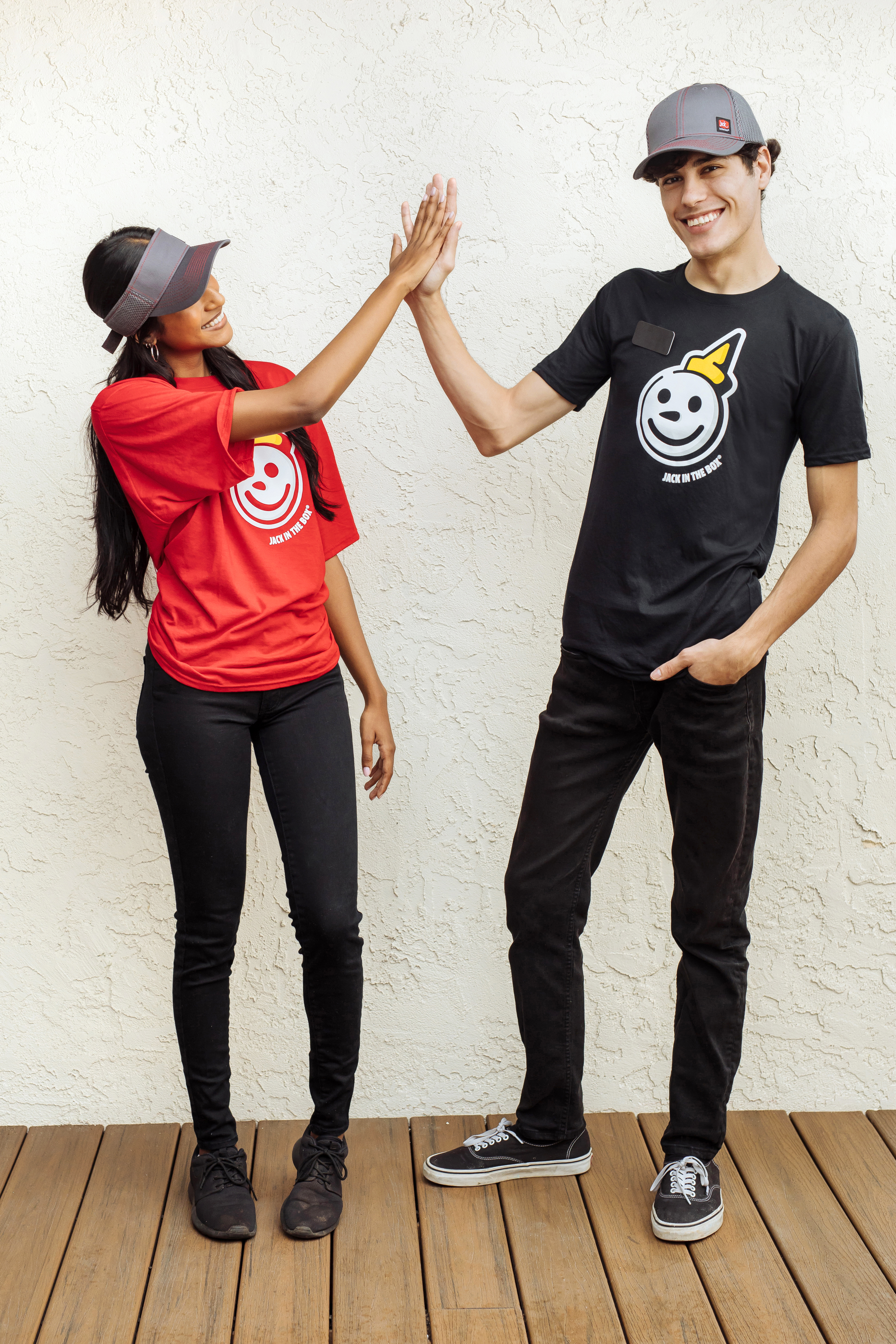 When preparing for an interview at Jack in the Box, a smart trick is to take inspiration from the company's dress code. Think of it as giving a subtle nod to their workplace culture, signaling that you're already a great fit.
The dress code at Jack in the Box is a company uniform comprising a red t-shirt, a visor or hat, a nametag, black dress pants, black socks, and black, non-slip shoes.
Quite the ensemble, isn't it?
Now, if you're vying for a position as a Team Member, Cashier, Cook, or Team Leader, your wardrobe choice can oscillate between casual and business casual. Simple and neat clothing will do wonders.
As an Assistant Manager or a General Manager hopeful, elevate your game to business casual. Think crisp shirts, tailored pants or skirts, and polished shoes.
Finally, for those eyeing a role in the corporate office, it's time to pull out all stops with business formal attire. Your best suit, paired with impeccable accessories and shoes, will undoubtedly leave an indelible impression.
Conclusion
Now that we've journeyed through the ins and outs of Jack in the Box interview questions, you're stepping into this game with a playbook in hand. And that's a solid start!
Sure, flaunting those mad skills is great. But that's just the starter. Dive deep into the brand. Their peppy culture, their core values, and of course, their mouthwatering menu (who can resist, right?). Make your responses authentic and informed.
But hey, a word of advice? Don't put all your burgers in one basket. Cast your net wide. Apply to other giants like Wendy's, McDonald's, Carl's Jr., Whataburger, and Burger King.
Believe us, if Jack in the Box sees the gleam in you, so will others. Those skills? They're universal gold in the fast-food world.
Look, we get it. The job hunt is no cakewalk. It can be a grind with those endless applications and nerve-wracking interviews. But trust in the journey. Keep your chin up and those spirits high.
Best of luck, and here's to you jacking up your chances of landing the job!