26 Shake Shack Interview Questions (And Smart Answers)
???? If you've landed an interview with Shake Shack, congrats! It's a big deal.
The thrill of potentially joining this iconic burger brand might be overwhelming.
Passion for their delectable menu? Check.
Admiration for their mission? Absolutely.
But…the challenging interview awaits.
In this post, we're sharing the often-asked Shake Shack interview questions and powerful answers to paint you as the ultimate fit for the role.
???? Our Promise: By the time you finish this guide, you'll be poised to make a lasting impression.
Ready to sweep them off their feet? Take a deep breath, absorb these insights, and go get that job!
Shake Shack Company Information
As you prepare for your Shake Shack job interview, you must know the company inside and out.
Read through the following facts about Shake Shack's history, culture, and business—and commit them to memory.
| | |
| --- | --- |
| Trade Name | Shake Shack |
| Type | Fast Casual Restaurant Chain |
| Year Founded | 2001 |
| Founders | Danny Meyer |
| Headquarters | New York City, New York, United States |
| Menu | Hamburgers, Hot Dogs, French Fries, Milkshakes, Frozen Custard, Beverages |
| Signature Items | SmokeShack, ShackBurger, Chicken Shack, Bacon-cheese fries, Shack Stack 'Shroom Burger, Hot Dog |
| Core Values | Doing Good |
| Website | www.shakeshack.com |
| Competitors | McDonald's, Wendy's, In-N-Out Burger, Burger King, Five Guys, Chick-fil-A, Steak n Shake, Smashburger |
Additional facts:
???? Humble Beginnings: Shake Shack kicked off as a simple hot dog cart in NYC's Madison Square Park in 2001. Its founder, Danny Meyer, used it to support an art project named "I ♥ Taxi".
✏️ Napkin Vision: The initial idea of Shake Shack, including its classic offerings, was sketched out on the back of a napkin.
???? Early Struggles: Despite its popularity now, Shake Shack faced financial challenges, losing money in its first three years.
???? Hollywood Influence: The name "Shake Shack" was inspired by the iconic musical movie, "Grease".
???? Free Branding: The globally recognized Shake Shack logo was designed pro bono by the design firm Pentagram.
???? Fry Evolution: A $1 million research led to the return of the beloved crinkle-cut fries after an attempt to introduce fresh fries.
???? Record-Breaking Burger: David Chang's limited-edition "Shrimp Stack" burger saw the longest queue in Shake Shack's history during its 10th anniversary.
???????? Patriotic Delights: On major U.S. holidays, Shake Shack serves corn dogs and a special "Blueberry Pie, Oh My" custard.
???? Localized Menus: Each Shake Shack location tweaks its menu a bit, catering to local flavors and preferences.
???? Secret Treats: From the Peanut Butter and Bacon ShackBurger to the Beer Float, Shake Shack has a rich secret menu waiting to be explored.
???? Morning Offerings: Selected Shake Shack outlets, especially in transportation hubs, serve breakfast delights like coffee cakes and apple turnovers.
???? Drive-thru Decision: Emphasizing a unique dining experience, Shake Shack has opted out of creating drive-thru outlets.
???? Celebrate with Shack: Shake Shack offers catering services, from their signature ShackBurgers to tailor-made menus.
Shake Shack Mission Statement
Stand For Something Good
Shake Shack Interview Questions
Can you tell me about yourself and what interests you in this position at Shake Shack?
Ah, the classic opener! But let's decode it.
The interviewer is saying: "Give me a snapshot of who you are and why you're here."
They want to assess your communication skills, understand your relevant experience and strengths, and ensure your goals and motivations align with the position and Shake Shack's brand.
Your move?
Discuss 2-3 of your relevant professional experiences and strengths that would be advantageous for the role.
Express your passion for food and customer service.
Convey why Shake Shack gets your heart racing.
Need a template? Here's an example that incorporates the key points:
"As a professional with over 3 years of experience in the fast food industry, I'm passionate about food, hospitality, and building a great team. I've honed my skills in operating commercial kitchen equipment, following health codes, and training new staff. I'm drawn to Shake Shack's commitment to fresh, high-quality ingredients and providing outstanding customer experiences. This role at Shake Shack aligns perfectly with my experience and interests. I'd appreciate the opportunity to contribute to your restaurant's success and growth."
What experience do you have in the food service industry, and how do you think it will translate to this role at Shake Shack?
Shake Shack wants to see if you can roll with the punches in their fast-paced, customer service-oriented environment.
Can you charm the customers?
Tackle those peak hour rushes?
Be the team player everyone high-fives?
Keep your cool when things heat up?
As you craft your answer weave in experiences and translate the skills you gained to the responsibilities of the Shake Shack role.
For instance, mention how you had to serve a large volume of customers in a short period of time during a rush and ensured high-quality service and a positive attitude despite the demands.
Discuss experiences working collaboratively with team members to meet goals.
Highlight your strong work ethic, flexibility to meet shifting priorities and genuine enjoyment of engaging with customers.
Let them see you've got that hospitality magic in your DNA. And you're itching to sprinkle it in the Shake Shack arena.
Need an example? Here's a little inspiration for you:
"I have over two years of experience serving customers in a fast food environment at XYZ Burger Restaurant. This role involved operating the cash register, taking orders, coordinating with team members to prepare orders quickly and accurately, and delivering a positive customer experience during extremely busy rushes. I'm accustomed to fast-paced, high-volume work, collaborating with team members under tight timelines while maintaining a hospitable attitude. I have strong experience addressing customer issues or complaints and thrive under pressure while delivering friendly service. I'm looking forward to bringing my customer service skills and experience to Shake Shack to contribute to your reputation for excellence and elevating the customer experience."
How would you describe your customer service skills, and how have you demonstrated these skills in the past?
Alright, let's cut to the chase. Shake Shack's lifeline? Stellar customer service.  They aren't just flipping burgers; they're curating experiences.
So the interviewer wants to determine if you have the right attitude and experience to meet their service standards.
To answer this, focus on relevant experience, a positive attitude, and key soft skills.
Highlight past roles where you assisted customers and went above and beyond.
Discuss how you remain patient, friendly, and solution-focused even in stressful or difficult situations.
Talk about skills that would be valuable for taking orders or handling complaints, such as active listening, empathy, and problem-solving.
Share your passion for delivering an excellent experience and exceeding expectations.
Be authentic. Let your passion for going the extra mile shine through. Because for Shake Shack, it's not just about the order number; it's about the name, the face, the story.
Wondering how to string it all together? Let us guide you:
"My customer service skills are centered around a friendly attitude and the ability to listen and find solutions. For example, at my previous food service job, I fostered a regular customer who was on a restrictive diet. I took the time to understand her needs, offered advice on the menu, and customized orders to meet her requirements. Even when we made a mistake, I apologized, found a remedy, and did what it took to make things right and leave her satisfied. I pride myself on delivering an outstanding experience, so I would love to bring my service-oriented mindset and skills to the Shake Shack team and its customers."
How do you handle stress and stay focused when things get busy?
Ever wondered what it feels like to be in the eye of a hurricane? Shake Shack during rush hour can give you a taste of that!
They're scouting for the calm amidst the storm. Someone who doesn't just survive the chaos but thrives in it.
So, how do you juggle this curveball? Share your playbook. Maybe it's about breaking tasks down. Or creating mental to-do lists. Or perhaps a trick as simple as pausing for a deep breath.
Paint a picture of times you sailed smoothly in rough waters. Because at the end of the day, they're looking for the player who says, "Chaos? Challenge accepted!"
Still mulling over how to roll with it? Here's a sprinkle of inspiration for you:
"Having worked as a barista at a busy coffee shop throughout college, I'm accustomed to the fast pace and stress that comes with a high-volume food service role. When things get busy, I stay focused by prioritizing what needs to get done and tackling tasks one by one. If I feel overwhelmed, I take a few deep breaths to re-center myself. I also find creating to-do lists helps provide direction so I can execute tasks efficiently without wasted effort or time. The fast-paced nature of this type of work is exciting to me, and I thrive under pressure while delivering great customer service. I would appreciate the opportunity to bring my experience to Shake Shack and contribute to your team."
Can you give an example of a time when you had to balance high volume with high quality in a previous job?
Ah, the classic juggle of speed and finesse!
Shake Shack's essence is about flipping those burgers at lightning speed without dropping the ball on awesomeness.
The interviewer wants to know that you can effectively juggle multiple priorities, think on your feet, and not compromise on quality, even when operating at full capacity.
Your secret weapon here? Stories.
Share a tale from your past gigs where you played the maestro, orchestrating fast beats with flawless delivery.
Whether you streamlined a process, multitasked like a pro, or came up with a genius hack, they want the scoop.
It's all about proving you've danced this dance before. And not just any dance—a tango with precision, a waltz with quality.
Intrigued about how to weave this story? Here's a starter for you:
"In my previous role as a line cook at a busy restaurant, the kitchen would often face a barrage of orders at once while tried to maintain high food quality. To balance the simultaneous demands, I would prepare ingredients and components in advance during slower periods so that they were ready to use when orders flooded in. I also learned to work cleanly and efficiently by having all tools and ingredients within arm's reach and reorganizing the space to reduce unnecessary movement. By finding ways to optimize my time and workspace, I could crank out orders quickly while still meticulously following recipes and safety procedures. My experience thriving under pressure and delivering consistent results would allow me to do the same in a role with Shake Shack."
In your opinion, what are the most important qualities for someone working in the food service industry, and how do you embody these qualities?
Food service—it's not just about the plate; it's about the passion, the pulse, the performance. Shake Shack is scouting for those rockstars who get the beat.
The interviewer wants to understand what qualities you prioritize and see if you have what it takes to thrive in this environment.
When answering, convey traits that are vital for food service, such as:
High energy and positivity: Serving customers and working efficiently requires constant energy and an upbeat attitude. Explain how you are able to maintain high energy and positivity.
Adaptability: The food service industry involves juggling many demands and unexpected situations. Highlight your ability to adapt to change and think on your feet.
Strong work ethic: Discuss your strong work ethic and dedication to completing all tasks and responsibilities to the best of your ability. Shake Shack values a hard work ethic and team-first mentality.
Want to put it into words? Try this on for size:
"According to me, three qualities essential for working in food service are high energy, adaptability, and a strong work ethic. I thrive in fast-paced environments and have the positivity and enthusiasm to deliver great customer experiences even during busy periods. I'm able to adapt well to change and unexpected situations, figuring out solutions to problems that arise. I also have a strong work ethic and will always go the extra mile to get the job done with a team-focused mentality."
What experience do you have with food prep, cooking, and cleaning? How do you prioritize these tasks when they all need to be done simultaneously?
In the heart of Shake Shack's bustling kitchen, there's a rhythm—a tantalizing tango of chopping, sizzling, and sparkling clean surfaces.
This question assesses if you can handle the multitasking nature of the role and the high pressure to deliver quick service.
Time to dish out your culinary choreography. Share stories from the trenches: when you juggled the knife, the skillet, and the scrub.
It's all about that fluid motion, seamlessly shifting gears between prepping, cooking, and cleaning.
Discuss how you would methodically prepare ingredients and tools in advance to maximize efficiency.
Explain how you would logically sequence and allocate time to different tasks.
Highlight skills in strategic task switching and tracking multiple jobs at once.
Whatever your rhythm, they want to know you've got the moves to keep their kitchen cooking.
Need a hand weaving it together? Here's a starter:
"I have 3 years of experience preparing food and cleaning in a fast food environment. I am extremely organized and able to methodically work through multiple tasks simultaneously while tracking progress. For example, I would start by preparing ingredients and tools in advance to save time, like chopping veggies while the fryer is heating up. Then I would focus on cooking tasks, switching between managing the fryer, grill, and oven. In between, I would reset stations and do minor cleaning. At the end of a shift, I would deep clean all areas. Even when busy, I stay positive and flexible in order to deliver great food and service. My experience and skills would allow me to effectively handle the demands of this role and contribute to the success of Shake Shack."
How do you approach learning new things, and what strategies have you found to be effective?
When it comes to the fast-paced world of Shake Shack, a growth mindset is key.
They are on the hunt for candidates with passion. A passion for continuous learning and development.
And this question? It's their way of checking if you have that trait.
So how should you tackle it?
Start by sharing how you keep a pulse on the fast food industry.
Maybe you devour industry newsletters over your morning coffee. Or perhaps you spend evenings scrolling through relevant blogs, soaking up the latest techniques.
Talk about how you like to learn hands-on by volunteering to be trained on new menu items or kitchen equipment so you can gain practical experience. It shows initiative.
Talk about your strategies, such as taking good notes, asking lots of questions, finding a mentor, or breaking down large concepts into smaller steps.
And most importantly, convey your zeal. Your insatiable hunger to grow professionally.
For instance, you can say:
"I'm committed to ongoing learning and growth. To stay up to speed in the fast food industry, I subscribe to blogs and newsletters that report the latest innovations and best practices. Whenever we introduce new menu items at work, I always volunteer to be cross-trained so I can learn directly how to prepare them. I then create comprehensive training notes and resources for the rest of the team. A successful strategy I use is to break down large concepts into smaller steps and milestones. My goal is to consistently expand my skills and contribute to the success of Shake Shack and its customers."
Can you give an example of a time when you worked well with a team?

Teamwork. It's at the heart of a bustling place like Shake Shack.
But what's the interviewer looking for here? They're sizing up your ability to gel with a team, aiming for a shared goal.
What makes you a good fit for a collaborative environment?
Communication, for starters. You could say, "I pride myself on being a great listener. I always strive to understand my colleagues' perspectives."
Next, organization skills. "I ensure we meet those tight deadlines. Creating a structured plan? That's my forte."
Recall a moment that showcased your team skills. Like that time, you and your crew served a horde of 200 customers in a mere two hours.
How did you do it? Collaboration, clear roles, and stellar time management.
End on a high note. Express your love for teamwork. Maybe say, "The power of collaboration always amazes me. It's incredible what a team can achieve compared to an individual."
And a little pro tip? Reference the fast food scene in your examples. It gives your answer that perfect seasoning. ????
"Oh, absolutely! Teamwork makes the dream work, right? I remember back at my previous job at Diner's Delight during one particularly crazy Friday evening. We were short-staffed, and a surprise busload of tourists walked in. Honestly, it could've been chaos. But here's the beauty of it: our crew just clicked into high gear. Rachel, our lead cook, began prepping double the usual portions, while Jamie took the helm at the grill. I coordinated with our servers, ensuring that orders were prioritized correctly, and we all communicated constantly, calling out updates and needs. End of the night? Not only did every customer leave with a satisfied smile and a promise to come back. That night wasn't just a testament to our skills but to the magic that happens when a team genuinely supports and uplifts each other. And that's the same spirit I'd bring to Shake Shack—recognizing that behind every great burger is an even greater team."
What are your career goals, and how do you see this position at Shake Shack fitting into your long-term plans?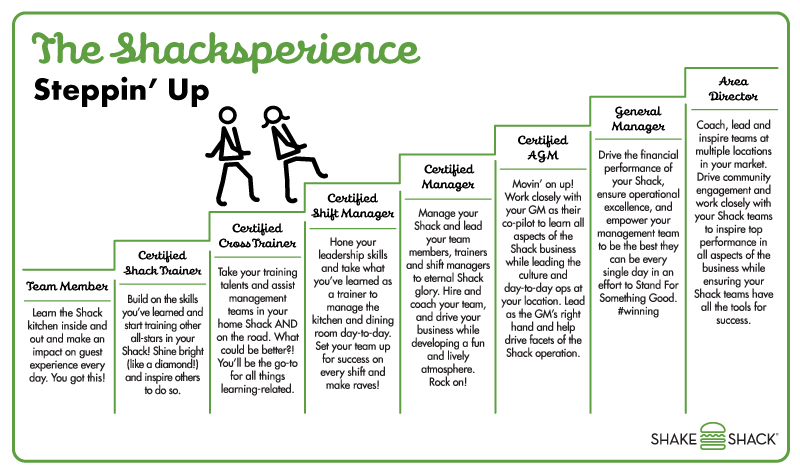 Why is this question tossed your way?
Well, the interviewer wants a peek into your future. They're curious about your roadmap and where a role at Shake Shack fits on that journey.
So, how do you nail this answer?
Start by painting a vivid picture of your career aspirations. But remember, align your goals with what Shake Shack offers.
You're not just looking for a job. You're seeking an experience, a stepping stone on your career path.
Dreaming of a managerial role? Talk about it. Mention how Shake Shack would be the perfect training ground to hone your leadership.
Dive into what excites you about the company. Maybe it's their commitment to premium quality. Or perhaps it's their culture that resonates with you.
Express your motivation and passion for the work. Highlight relevant experience and skills that would allow you to excel in this position.
Here is an example of how to tie it all together:
"My key career goal is to eventually take on more responsibility in a supervisory or managerial role in the fast food industry. This position at Shake Shack would be an ideal step forward in that path. I'm particularly excited about the opportunity to help operate a busy store, take on leadership opportunities, and be part of Shake Shack's top-notch team. My 3 years of experience in various food service roles has equipped me with the skills to excel as a team member and leader in this environment. I'm passionate about delivering great customer experiences and nurturing a positive team culture. Overall, I see a lot of room for growth at Shake Shack, and this role would allow me to gain the experience to reach my career goals of a management position in the fast food industry within the next few years."
What do you know about Shake Shack, and why do you think it is a good fit for you?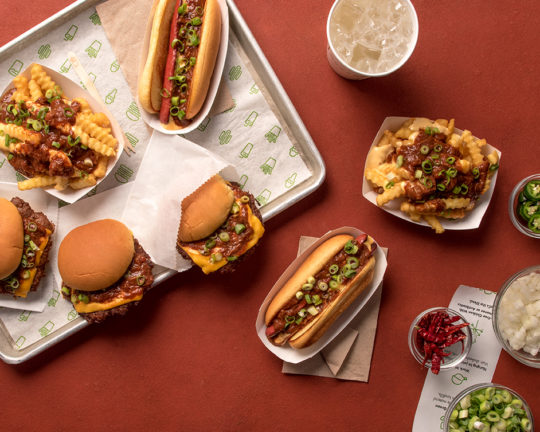 Ah, the classic "Why us?" question.
Let's dissect what's behind this.
The interviewer tosses this question to see if you've done your homework. They're checking if you genuinely vibe with Shake Shack's ethos and vision.
So how should you tackle it?
Demonstrate an understanding of Shake Shack's brand, mission, values, culture, and business model.
For example, you can mention Shake Shack's focus on premium ingredients and community gathering spaces, as well as its relaxed yet high-quality atmosphere.
Paint a picture of how these aspects personally resonate with and excite you.
Next, blend in your experience. If you've got a background in hospitality or food service, it's your ace. Flaunt it.
Finally, highlight your zest for growth. Especially in a place that's expanding and innovating like Shake Shack.
For instance:
'I'm a big fan of Shake Shack's fresh and responsible approach to fast food. Using high-quality, natural ingredients and focusing on hospitality is aligned with my own values, and my 3 years of experience in the restaurant industry have equipped me with the skills to deliver an outstanding customer experience. I'm drawn to Shake Shack's vision for growth, and I would appreciate the opportunity to contribute to expanding the business and advancing my career in a positive company culture like Shake Shack."
Can you describe a time when you had to handle a difficult guest, and how did you resolve the situation?
This question? It's all about testing your grace under fire.
Shake Shack thrives on its team members' ability to stay cool. Even when faced with a not-so-cool guest.
So, how should you answer?
Kick off with the situation. Maybe it was that time when a guest's temper flared over a delay. Describe the scenario without getting too bogged down in details.
Now, let's talk strategy. How did you keep your cool? Did you lean into empathy? Maybe you peppered in some transparency by updating them about their order. And if you sweetened the deal with a complimentary side, don't forget to mention it.
Lastly, discuss the outcome. The cherry on top? Your takeaway from the situation.
Here is an example that incorporates these tips:
"One busy lunch shift, a guest grew impatient that their burger was taking longer than expected to prepare due to a larger than usual order volume. The guest began yelling at me and demanding to speak to a manager. I apologized for the unexpected wait and acknowledged their frustration. I offered to check on their order status and provide updates along the way. I brought them a complimentary side salad and drink while they waited. By the time their order was ready, the guest had calmed down and thanked me for my help and understanding. From this experience, I learned the value of patience, accountability, and providing extra hospitality to turn around a negative experience."
How do you prioritize tasks when you have multiple responsibilities to attend to simultaneously?
In the ever-bustling world of Shake Shack, multitasking isn't just an asset, it's a necessity.
So, what's the question digging for?
They're keen to know if you're a juggler. Can you keep several balls in the air without dropping any?
Begin by emphasizing your organizational prowess. Maybe you're a pro at making to-do lists or setting up schedules. Lay out your methods. It shows you're systematic.
Next, chat about how you rank tasks. Do you weigh them by urgency? Importance? Talk about it.
Bring in your past. Any experiences where you smoothly sailed in a demanding environment? Time to flaunt them.
You can say something like:
"In my current role, I frequently have to balance several tasks and customer requests at once. I've developed a system to keep organized where I write out all responsibilities and deadlines, then prioritize the list by urgency and impact. The most urgent or important tasks are prioritized first. If there are timing conflicts, I determine how to delegate or sequence tasks to meet all deadlines. With strong planning and the ability to remain calm under pressure, I have always been able to effectively manage multiple, tight-deadline responsibilities."
How do you maintain a positive attitude even when things get tough?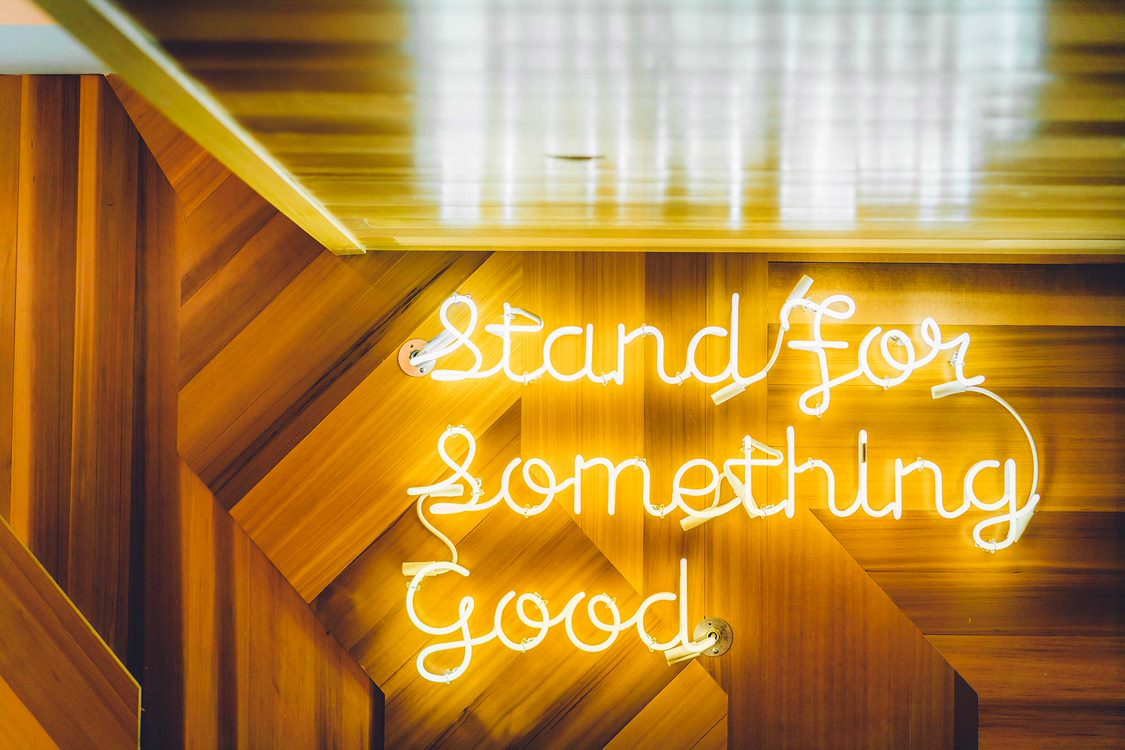 Shake Shack is buzzing. And with that hustle comes inevitable hiccups. They want to see if you're a beacon of positivity, even amidst a storm.
How to nail this?
Reflect on your journey. Recall those moments where the going got tough but you kept on smiling. Maybe you were swamped with extra shifts or buried under responsibilities. Lay out your story.
Talk techniques. Maybe you're a fan of positive self-talk or deep breathing exercises? Let them in on your secret sauce to staying positive.
Sprinkle in some personal growth. Did those challenging times shape you? Let's hear it!
Here is an example:
"In my current role, we recently had several coworkers out on extended leave, leaving the rest of the team understaffed during our busiest season. Rather than feeling overwhelmed by the increased workload, I saw this as a chance to step up and take on more responsibility. I came in early and stayed late when needed to ensure all tasks were completed to the highest standards. When frustrations arose, I took a step back to recognize and acknowledge colleagues' efforts and maintain team morale. Having a solution-focused mindset and seeking the silver lining, no matter how small, helped our team persevere during this challenging short-staffed period. This experience reinforced for me the value of a positive attitude in being able to push through difficulties and find success."
What are some ways you stay organized and manage your time effectively?
This question is prying into your secret weapon – organization and time management.
Shake Shack's pace? It's lightning-fast. And they're eyeing for someone who's got their act together.
So, what should you serve them?
Start with acknowledging. Time's precious, especially in a whirlwind like Shake Shack.
Get into the specifics. Are you a devout follower of to-do lists? Or maybe you swear by digital reminders? Give them the lowdown on how you keep your tasks in check.
Season your answer with experiences. Maybe there was a time when your meticulous planning saved the day. Talk about it!
As an example, you could say:
"Staying organized and managing my time efficiently is essential for delivering great customer service and teamwork in a fast food setting. I use a few techniques that have served me well, like keeping a detailed calendar where I schedule my shifts and commitments in advance. I also make comprehensive to-do lists at the start of each shift with target times for completing each task. For example, my list might include things like 'prepare food inventory by 11 am' and 'clean equipment by 1 p.m.' I set alarms to keep me on schedule. Using these systems has allowed me to get all my work done on time and meet the demanding pace of food service. I would implement similar strategies to ensure I can fulfill all responsibilities effectively at Shake Shack."
How do you approach multitasking and prioritizing your responsibilities in a fast-paced environment?
This question? It's all about seeing if you can handle the buzz and keep your cool.
Here's your strategy:
Begin with your foundational skills. Are you that organized ninja everyone relies on? Or perhaps, the time-management guru?
Break down your game plan. Maybe you categorize tasks based on urgency. Or you use tech tools to streamline your workflow.
Amp up on adaptability. Fast-paced = ever-changing. Highlight your knack for re-evaluating and shifting gears when needed.
Here's an example for you:
"I thrive in fast-paced environments and am skilled at adapting to changing priorities. I would start by fully understanding the key responsibilities and priorities of the role and my manager's expectations. Then, I would create a master task list to keep track of everything and schedule time appropriately, factoring in both urgency and importance. As new priorities come in, I would be able to re-prioritize on the fly and communicate any impacts to deliverables or timelines. My goal is to maximize productivity and meet all goals, even in dynamic conditions."
What are some challenges you have faced in your previous jobs, and how did you overcome them?
Shake Shack's atmosphere is dynamic, and they're probing for resilience in the face of challenges.
Here's your playbook:
Start with the real deal. Dive into 1-2 concrete challenges you've faced. The messier, the better (as long as it ends on a high note).
Maybe you dealt with a sudden spike in customers or had to soothe an irate diner.
Share your action plan. How did you roll up your sleeves and tackle the issue head-on? Did you get creative or stick to the tried-and-true?
Emphasize the skills and strategies such as communication, teamwork, time management, and composure under pressure.
Wrap with the silver lining. Every challenge has its lessons. Let them in on yours.
For instance:
"In my previous job as a barista, our small team was unexpectedly hit with an extremely busy period mid-shift with a long line of customers and many complex drink orders. I remained calm and delegated tasks to teammates to work efficiently as a team. I also reorganized our queueing system to minimize wait times and proactively communicated with customers to set expectations. Thanks to our collaborative effort, we delivered all orders promptly and the rush of customers was handled successfully. This experience reinforced for me the importance of adaptability, communication, and teamwork when confronting high-pressure situations."
How do you handle constructive criticism, and how do you use it to improve your performance?
When you're hustling in a busy setting like Shake Shack, feedback (both positive and constructive) is part of the game.
They want to hire employees who are constantly looking to improve and willing to learn from mistakes or critiques.
Your strategy for answering this:
Acknowledge the value of feedback. Dive deep into why constructive criticism is essential for personal and professional growth.
Highlight your receptive approach. You're not about getting defensive. Instead, you listen, reflect, and adapt.
Give real-world examples. Maybe you tweaked your communication style after feedback, leading to better team collaboration.
A strong example answer could be:
"I appreciate and welcome constructive feedback. I understand feedback is given to help me grow and become better at my role. When receiving criticism, I listen with an open mind and take notes on the specific feedback points. Then, I reflect on how I can apply the feedback and areas for improvement. For example, if feedback was given on ways I could prepare meals more efficiently to minimize wait times for customers, I would practice the recommended techniques and look for ways to streamline my processes. I view feedback as an opportunity to strengthen my skills and contribute to the team's and company's success. Continuous self-improvement is important to me, so I actively work to use feedback regularly to gain insights for growth in my performance."
Can you give an example of a time when you had to think on your feet and make a quick decision?
Shake Shack's fast-paced environment often requires you to think on your toes and make swift decisions.
The interviewer wants to assess your problem-solving skills and ability to think quickly on the spot in a fast-paced work environment.
When answering this question:
Narrate a vivid experience. Paint a picture of a high-pressure situation where prompt action was required.
Delve into the challenge. What were the stakes? What did you grapple with?
Showcase your decision-making process. How did you analyze, weigh options, and arrive at a solution?
Highlight key skills that would be valuable for the role like critical thinking, composure under pressure, and resourcefulness.
An example for you:
"A good example of thinking on my feet would be from my experience working the busy lunch rush at a fast food restaurant in the past. The restaurant got slammed with a huge influx of customers at once, overwhelming the staff. As the most senior crew member on duty, I knew I had to step in to get the rush under control. I quickly reassigned tasks to play to each staff member's strengths to speed up order fulfillment. I also had the cooks focus on high-volume items and bypass more complex dishes during the rush. By delegating effectively and simplifying our offerings temporarily, we were able to serve the long line of waiting customers in a timely manner. This experience reinforced my ability to analyze problems and make rapid decisions to meet key performance objectives, which would be directly applicable to a hectic Shake Shack environment."
What do you think makes the Shake Shack dining experience unique?

This Shake Shack interview question is aimed at assessing your knowledge and understanding of the company and brand.
The interviewer wants to see that you've done your research on Shake Shack and can articulate what differentiates them in the fast-casual and broader fast food industry.
Your answer game plan:
Do your research on Shake Shack's brand, menu, and company values. Understand what's important to them and what makes them stand out.
Highlight a few key differentiators, e.g., high-quality ingredients, creative menu items, community involvement, and premium yet affordable experience. Provide specific examples to strengthen your points.
Explain why these factors create a unique experience for customers that builds loyalty and word-of-mouth marketing. Connect the dots between what they offer and the customer experience.
Sample answer:
"I believe Shake Shack is a unique dining experience for a few key reasons:
1) They use fresh, high-quality ingredients and prepare items to order. This allows them to offer premium food and flavors that stand out from standard fast food. For example, their chicken is fresh, never frozen, and their produce is sourced from local farms.
2) They have innovative recipes like their bacon cheese fries and chocolate cookies and cream shake. Constantly launching new menu items delights regular customers and gives people a reason to return.
3) They are committed to community and environmental responsibility. From their animal welfare policies to their commitment to food safety and quality, they operate by strong values that today's consumers connect with.
Overall, the quality of Shake Shack's food, innovation on the menu, and dedication to purpose creates an experience fast casual customers are willing to pay a bit more for—which is why I find their business and brand very compelling."
How would you handle last-minute schedule changes or picking up extra shifts if needed?
Adaptability is the name of the game in fast food.
The interviewer wants to confirm that you have the right mindset to be a team player and do what it takes to get the job done.
Your answer strategy:
Show flexibility: Stress your adaptability and how you're comfortable with changing schedules, understanding it's part and parcel of the industry.
Team player mindset: Emphasize your commitment to ensuring the smooth functioning of the restaurant, even if it means stepping up on short notice.
Communication is key: While you're adaptable, also highlight the importance of clear communication with the management team for any potential schedule adjustments.
You can say something like:
"I understand that schedules can be dynamic in this type of fast-paced environment. I'm committed to the team's success and available as needed to pick up extra shifts or adjust to schedule changes. My only priority is being present and delivering great customer service when required. If an extra shift needs to be covered or something unexpected comes up, I will make myself available and be ready to jump in to help however needed."
What is your approach to cleaning and maintaining a clean, sanitary work environment?
As you prepare for your interview at Shake Shack, you want to anticipate questions that will assess your ability to uphold their high food safety and cleanliness standards.
The interviewer wants to determine if you have the diligence, attention to detail, and proper practices required to keep the restaurant clean.
Cleaning: It's Not Just About Looking Good, It's About Safety
Your strategy for the answer:
Highlight your attentiveness to cleanliness and sanitation. Mention any related experience or certifications. Express a commitment to following health codes and safety procedures.
Describe a systematic approach to cleaning. Explain you would clean step-by-step, not haphazardly, and be thorough, not skipping any areas. Note you would dispose of used materials and wash hands/change gloves properly between tasks.
Clarify you would collaborate and communicate with team members to ensure all areas are cleaned on schedule. Explain how you would support others and ask for help if you fell behind or noticed any issues.
Give a specific example of how you would thoroughly clean and sanitize a fryer or grill in a fast food environment. Walk the interviewer through the exact steps and materials you would use. This shows your practical understanding of the work.
Sample response:
"I believe that maintaining a clean and sanitary work environment is critical for both the safety of the staff and the customers. In my previous roles, I always adhered to health and safety guidelines, ensuring that work surfaces were sanitized regularly. I am methodical and like to set up a routine to ensure no area is overlooked. For example, with equipment like a Fryalator, I would first ensure it's turned off and cooled down, drain the oil, and then scrub it down using the appropriate cleaning solutions. Afterward, I'd rinse and sanitize, ensuring no residues are left. The key is to be thorough and consistent, ensuring every shift starts with a clean slate."
Shake Shack needs to know you're not just willing but eager to learn everything about your new role.
The interviewer is evaluating if you have the initiative and work ethic to get up to speed quickly without excessive hand-holding.
Strategy for this answer:
To answer this question successfully, demonstrate a methodical and resourceful approach to learning.
Proactive learning: Convey that you'll actively engage in any training provided and supplement with personal study time.
Hands-on approach: Emphasize learning through observation and hands-on experience. Repetition reinforces memory.
Feedback-driven: Stress the importance of seeking feedback on performance to ensure you're preparing dishes correctly and meeting company standards.
Show your motivation by expressing passion for Shake Shack's food and customer service.
Here is an example answer:
"First, I would thoroughly review all training materials and resources provided to deeply understand the menu items, recipes, and responsibilities. I would ask team members if I could observe and assist them in preparing items to hands-on learn recipes and proper procedures. If I had additional questions, I would ask my manager or colleagues. I'm passionate about delivering a great customer experience and high-quality food, so I would be very motivated to learn all aspects of the role as quickly and effectively as possible. My goal would be to become a valuable team member who could jump in to assist wherever needed."
What strengths would you bring to this position at Shake Shack?
This interview question is commonly asked to understand what unique qualities and abilities you can offer to the role and Shake Shack.
The interviewer wants to know the strengths that would be particularly valuable for the fast-paced, customer service-oriented environment.
Be genuine: It's important to be truthful about your strengths. Authenticity shines through.
Relevance is key: Choose strengths that directly relate to the role and culture of Shake Shack.
Examples for emphasis: Use specific examples from past roles to back up your statements.
Think about strengths such as:
A friendly and upbeat attitude to engage with customers
The ability to work well under pressure while remaining focused and efficient
Strong teamwork skills to collaborate with coworkers in a confined space
Adaptability to learning new roles and filling in where needed
These are strengths that would be assets in any fast food crew member position.
Here is an example of how to convey relevant strengths:
"A few of the key strengths I would bring to this position at Shake Shack are:
My positive attitude and genuine passion for delivering great customer service. I genuinely enjoy engaging with customers and thrive in a fast-paced environment where I can put smiles on people's faces.
My ability to remain calm under pressure and efficiently juggle multiple demands. In my current job, I often have to prepare many orders at once while assisting several customers, so I'm accustomed to organizing my tasks and pivoting as needed.
My team-oriented approach. I work very well with others in close quarters and look for ways to support my coworkers to get the job done. For example, I'm always willing to jump in to help with cleaning or refilling supplies to keep things running smoothly.
Overall, my experience in casual fast food has equipped me with the right strengths to excel in this role at Shake Shack."
How do you define hospitality, and how have you incorporated this definition into your previous roles?
The interviewer wants to gain insight into your knowledge of hospitality—going above and beyond to provide an excellent customer experience—as well as see proof that you are capable of applying that concept in real-world interactions.
Hospitality: More Than Just Service
Let's dive deep into the essence of hospitality and show Shake Shack your dedication to delivering exceptional experiences.
Define hospitality: Discuss your personal understanding of what hospitality means.
Beyond basic service: Highlight the extra steps or actions that demonstrate true hospitality.
Draw from experience: Use 1-2 past instances to underline your definition and prove your commitment.
Example Answer:
"My definition of hospitality is making genuine human connections and doing whatever it takes to leave customers feeling cared for, appreciated, and happy. In my previous role as a fast food team member, this meant greeting regular customers by name at the register, ensuring orders were accurate and any issues were resolved promptly and courteously. Going above and beyond to make things right, no matter how seemingly small, is how I have incorporated hospitality into my work and built customer loyalty and trust."
Can you explain your availability and flexibility, and are there any limitations to your schedule?
As a fast-paced restaurant, Shake Shack expects a lot from its team members in terms of availability.
The interviewer is trying to assess if you will be able to meet the demands of the job and adapt to a dynamic work schedule.
To answer this question effectively:
Begin with your open availability: Highlight the broad windows of time you are available to work, including early mornings, late nights, weekends, and holidays. Mention how you are accustomed to irregular hours and last-minute changes.
Note any limitations: If there are certain times you are not available, be upfront about them. Explain the reasons for these limitations and assure them you will work with your manager to find solutions.
Highlight your flexibility: Convey how you are able to adapt to an ever-changing schedule and environment. Give examples of how you have flexibly managed unexpected changes or demands in other work or life situations.
Here is an example answer:
"I have open and flexible availability, including early mornings, late nights, weekends, and holidays. I understand the fast food industry often has irregular hours and last-minute changes, and I'm accustomed to this from previous roles. The only limitation is I have a night class on Wednesdays, but I will work with my manager to find coverage or switch shifts when possible. I'm also very flexible—if unexpected demands arise, I'm able to adapt and prioritize to ensure all tasks are completed on time. My experience juggling a busy schedule has prepared me well for a fast-paced work environment like Shake Shack."
Questions to Ask the Interviewer in Shake Shack Interview
As your Shake Shack interview winds down, the interviewer will inevitably ask if you have any questions for them.
This is your opportunity to leave a lasting final impression, demonstrate your interest in the role, and gain valuable insight into the position and company.
Coming in without questions shows a lack of passion or research. Asking superficial or basic questions reflects poorly on you too.
Instead, have thoughtful, informed questions ready that display your enthusiasm and knowledge. Here are some suggestions:
Can you tell me more about the company culture at Shake Shack?
What are the opportunities for growth and advancement within the company?
What does success in this role look like? What would you like the person in this position to achieve in the first 3-6 months/year?
Can you provide more information about the training and development programs offered to new team members?
What is the career path for this position? What is the potential for growth and advancement?
Can you provide any information on the typical length of shifts and break times for team members?
What is the company's policy on employee feedback and suggestions for improvement?
Can you describe a typical day or shift for a team member at Shake Shack?
What qualities do you look for in successful team members at Shake Shack?
Can you provide an example of a challenging situation that a team member may encounter during a shift, and how the company would expect them to handle it?
How does the company handle customer complaints or issues that arise during service?
Does Shake Shack offer any employee discounts or perks for team members?
How does the company prioritize and address team member burnout or stress in a fast-paced environment?
How does Shake Shack ensure that team members are delivering exceptional hospitality to guests?
Can you tell me about the benefits and compensation package offered to employees?
What is Shake Shack's policy on employee scheduling and availability?
How does Shake Shack contribute to the local community, and does the company offer any volunteer or community service opportunities for team members?
What do you like most about working for Shake Shack? What could be improved?
Shake Shack Hiring Process

As you prepare for your interview with Shake Shack, it's helpful to understand their standard hiring process.
For all positions, whether team members or managers, the process is similar.
First, you will apply online. If Shake Shack is interested in your application, a member of their HR team will reach out to conduct an initial phone screening. This call will cover basic questions about your experience, availability, and goals.
If you pass the phone screening, you will be invited for an in-person interview at your local Shake Shack restaurant.
For roles like Crew Member, Cashier, and Shift Leader, there is usually just one interview after the phone screen with the restaurant manager. Make sure to carry a resume and two forms of ID to the interview.
For management positions like General Manager or Area Director, the process will include one or more in-person interviews. These interviews will focus more on your leadership experience and skills in handling challenging situations or conflicts.
In general, you can expect the Shake Shack hiring process to take between 1-3 weeks. The process tends to be faster for team member roles, often less than one week.
If the fit is right, you will receive an offer to join the Shake Shack team.
Shake Shack Interview Tips
What to Wear to Shake Shack Interview
As you prepare for your interview, one important consideration is what to wear.
A good rule of thumb is to emulate the company's dress code to choose your interview attire.
Shake Shack's dress code consists of a company-issued black shirt and hat or visor, with black pants and non-slip shoes. However, Shake Shack permits black jeans and yoga pants if clean, wrinkle-free, and unripped.
Tattoos, piercings, and unnatural hair colors are also allowed as long as they are not offensive or dangerous. Certain roles may have additional requirements due to food safety standards.
With this dress code in mind, here are recommendations for your interview:
Team Member, Certified Shack Trainer, Certified Cross Trainer, Certified Shift Manager: Dress in casual or business casual attire. For men, wear dark jeans or khakis, a solid-colored button-down shirt, and possibly a tie. For women, wear dark slacks or khakis and a solid-colored blouse, cardigan, or blazer. Avoid shorts, t-shirts, sneakers, and overly casual wear.
Restaurant Manager, Restaurant Assistant General Manager, Restaurant General Manager: Present yourself in business casual attire. For men, wear slacks and a button-down shirt. For women, wear slacks or a knee-length skirt with a blouse or cardigan.
Corporate Roles: Dress in formal business attire. For men, wear slacks and a button-down shirt with a tie, and possibly a full suit. For women, wear slacks or a knee-length skirt with a blouse and cardigan, or a dress with a blazer.
Conclusion
By now, you've got a deep dive into the most frequently asked Shake Shack interview questions.
With this knowledge, you can feel fully prepared to tackle their interview and show how you are the perfect fit for the role.
???? Pro Tip: Don't put all your eggs in one basket. Even if you're eyeing a position at Shake Shack, diversify your applications.
Consider other hotspots like Five Guys, In-N-Out, Freddy's, Zaxby's, Culver's, Steak n Shake, Habit Burger, McDonald's, Wendy's, Burger King, Chick-fil-A, Smashburger and trendy eateries in your area.
Think about it: the more doors you knock on, the higher the chances one will open to a perfect opportunity.
Keep at it and stay confident—the perfect job for you is out there, you just have to keep taking action to find it.