22 Wendy's Interview Questions (Example Answers Included)
Landing an interview at Wendy's is an exciting milestone, sparking a mix of exhilaration and a touch of apprehension. The stage is set, the spotlight on you, and the questions about to flow.
But what will they ask? And more importantly, how should you answer? In these pivotal moments that could potentially shape your career trajectory, the key lies in being prepared and authentic.
Your anchor in this sea of uncertainty? This blog post.
We've compiled the most commonly asked Wendy's interview questions along with sample answers to each one. By reading through and preparing your responses in advance, you'll walk into your interview with confidence.
Don't leave your interview success to chance. Read on to learn how to prepare and feel ready to seize this life-changing opportunity.
Wendy's Company Information
As you prepare for your interview, take the time to read through the key facts and information about Wendy's – understand their values, mission, and key differentiators.
The more you know about Wendy's, the more you can explain why you're a great fit for their culture and goals.
| | |
| --- | --- |
| Trade Name | Wendy's |
| Type | Fast Food Restaurant Chain |
| Date Founded | Nov 15, 1969 |
| Founders | Dave Thomas |
| Headquarters | Dublin, Ohio, United States |
| Menu | Square Hamburgers, Chicken Sandwiches, Salads, French Fries, Breakfast, Frosty Desserts |
| Signature Items | Frosty, Dave's Single, Baconator, Spicy Chicken Sandwich, Chili Baked Potatoes |
| Core Values | Quality, Growth, Respect, Do the Right Thing, Give Something Back |
| Website | www.wendys.com |
| Competitors | McDonald's, Burger King, Taco Bell, Subway, Chick-fil-A, In-N-Out Burger, Five Guys, Shake Shack |
Additional facts:
???? Founder's Journey: High school dropout Dave Thomas's rise to success saw him develop the KFC chicken bucket before launching Wendy's and later advocating for education.
???? Ties with KFC: Before Wendy's, Dave Thomas enhanced KFC's appeal, proving his expertise before starting his venture.
???? Unexpected Growth: Dave Thomas originally envisioned a small chain; yet, by 1976, Wendy's had expanded to 500 locations.
???? Face of Wendy's: Dave's daughter, Melinda (aka Wendy), became the restaurant's mascot, enduring teasing but establishing a memorable brand identity.
???? Square Patties Logic: The distinctive square burger patties, inspired by Kewpee Burger, ensure customers see the meat's quality and freshness.
???? Chili Origins: Wendy's chili, present since the restaurant's inception, cleverly uses over-grilled patties, emphasizing the brand's resourcefulness.
???? Timeless Frosty: Wendy's iconic Frosty has been satisfying sweet cravings since 1969, a delightful blend of chocolate and vanilla that founder Dave Thomas perfected.
???? Iconic Commercial: The memorable "Where's the beef?" campaign became synonymous with Wendy's, even leading to a spicy clash over a competing advertisement.
???? Pioneering Value Menu: In 1989, Wendy's introduced the concept of a value menu, making quality food accessible at reduced prices.
???? Logo Mysteries: While some claim the 2013 Wendy's logo hides the word "mom", the company assures it's a coincidence.
???? Sassy Social Media: Wendy's is unafraid to engage cheekily online, defending its commitment to fresh beef in notable Twitter exchanges.
???? Frosty Phenomenon: With nearly 300 million Frostys sold annually, this dessert holds a special place in customers' hearts and even plays a role in charitable efforts.
❤️ Championing Adoption: Wendy's actively supports the Dave Thomas Foundation for Adoption, reflecting the founder's personal adoption story.
???? Secret Menu Surprise: Wendy's secret menu boasts unique items like the Meat Cube burger and the protein-packed Barnyard Burger, providing a twist for those seeking something different.
???????? Modern Wendy: In 2022, a Wendy's in London's Camden neighborhood unveiled a radically different Wendy mascot, respecting the area's unique cultural vibe.
Wendy's Mission Statement
To deliver superior quality products and services for our customers and communities through leadership, innovation and partnerships.
Wendy's Interview Questions
Can you tell us about yourself?
This interview question is a common way for interviewers to break the ice and get a sense of your background and personality.
The Wendy's interviewer drops this question to gauge two things:
Your culture fit for the team.
Your experience in a fast-paced, customer service-oriented environment.
When answering:
Experience: Start by highlighting your relevant experience. Got a history with fast-paced jobs? Say it!
Strengths: Bring out the big guns. Your strengths. Fast on your feet? Good with customers? Let them know.
Goals: End with a hint of your aspirations. Why Wendy's? Why now?
Here is an example of a strong answer for a role at Wendy's:
"I'm a friendly, hardworking individual looking to bring my experience in customer service and food service to Wendy's. For the past two years, I've worked as a cashier and drive-thru attendant at a local fast food restaurant, where I efficiently handled high-volume transactions while delivering great customer experiences. Some of my key strengths that would benefit this role are my positivity, adaptability, and ability to thrive under pressure while maintaining a smile. It's those relatable experiences and strengths that attract me to Wendy's and the opportunity to contribute to your welcoming environment and top-notch service."
What motivated you to apply for this position at Wendy's?
This interview question is asked to understand your motivation and genuine interest in the role and company.
The interviewer is poking around to see:
If you did your research about Wendy's and the position.
If you have realistic expectations for the job.
Your game plan?
Research: Do your homework on Wendy's and the role's responsibilities. Mention 1-2 specific aspects that appeal to you. Maybe it's their commitment to fresh ingredients or their community involvement.
Passion: Express genuine passion for the fast food industry or customer service. For example, mention how you enjoy fast-paced environments, providing great customer experiences, or working as a team to deliver food quickly and accurately.
Growth: Spell out why this position at Wendy's isn't just a job. It's THE job. Whether it's stepping up as a leader or refining those impeccable customer service skills, let them know why Wendy's is your jam.
Here's what you could say:
"I'm really excited about the possibility of this position at Wendy's. I have over 3 years of experience in the fast food industry, starting as a crew member and working my way up to an assistant manager. I've always been passionate about delivering a great customer experience and optimizing team performance to maximize results. What appeals to me about Wendy's is the emphasis on fresh, high-quality ingredients and fostering a welcoming atmosphere. I would appreciate the opportunity to bring my experience to Wendy's and help lead a team to achieve excellence and growth. This role seems like the perfect next challenge in my career, and I hope to have the chance to contribute to Wendy's success."
Have you worked in the food industry before? If so, could you describe your experience?
Guess what? It's not just a question.
Wendy's is checking if you've got the 'secret sauce.'
They want to know if you can handle the fast-paced, high-volume nature of the work and are already familiar with common procedures and tasks.
Dishing out the perfect answer:
Experience: Highlight any experience you have preparing and serving food in a fast-paced environment. For example, mention experience as a line cook, server, or in a food preparation role at another fast food restaurant.
Skills: Emphasize key skills that would be relevant for the role like efficiency, organization, cleanliness, and the ability to work well under pressure while delivering great customer service.
Anecdotes: To give the interviewer a concrete sense of your experience, share a specific example that demonstrates relevant skills.
"Yes, I have experience working in fast food. For the past year, I worked as a crew member at a busy burger restaurant. In that role, I prepared a high volume of burgers and sandwiches to order during our rush periods. This required being organized, working efficiently, and remaining calm under pressure to ensure all meals were prepared correctly and served quickly. I loved the fast-paced nature of the work and getting to engage with many customers daily to provide good service. That experience has prepared me well for a role at Wendy's where I could hit the ground running."
What do you think makes a great customer service experience?
Wendy's isn't just about "Where's the beef?". It's "Where's the love?".
The interviewer is asking this question to assess your understanding of what constitutes great customer service and your ability to apply that to a fast food environment like Wendy's.
They want to see that you understand customers have certain expectations for quick, friendly service and how you would meet those expectations.
Your playbook?
Speed and Smile: Talk about how you won't just serve fast, but with flair. A nod, a "thank you," maybe even a joke. It's the small stuff.
Owning up: Made a boo-boo? Own it. Tell them you understand the power of a genuine apology.
Extra Mile: When did you last go above and beyond for a customer? Maybe you remember their usual order or that little extra they love. Share that.
A strong example answer can be:
"Great customer service at Wendy's means efficiently taking orders with a warm greeting, ensuring high quality and accurate orders, thanking customers for their business, and addressing any concerns or complaints promptly and courteously. If the kitchen is taking longer than expected, I would update the customer and offer a small discount on their next order as an apology for the delay. On the drive-thru, it's critical to have a sense of urgency while maintaining a friendly tone. I strive to express genuine positivity and make each customer interaction a pleasant part of their day. This type of fast, caring service will keep customers coming back again and again."
Can you give an example of how you have gone above and beyond to exceed a customer's expectations?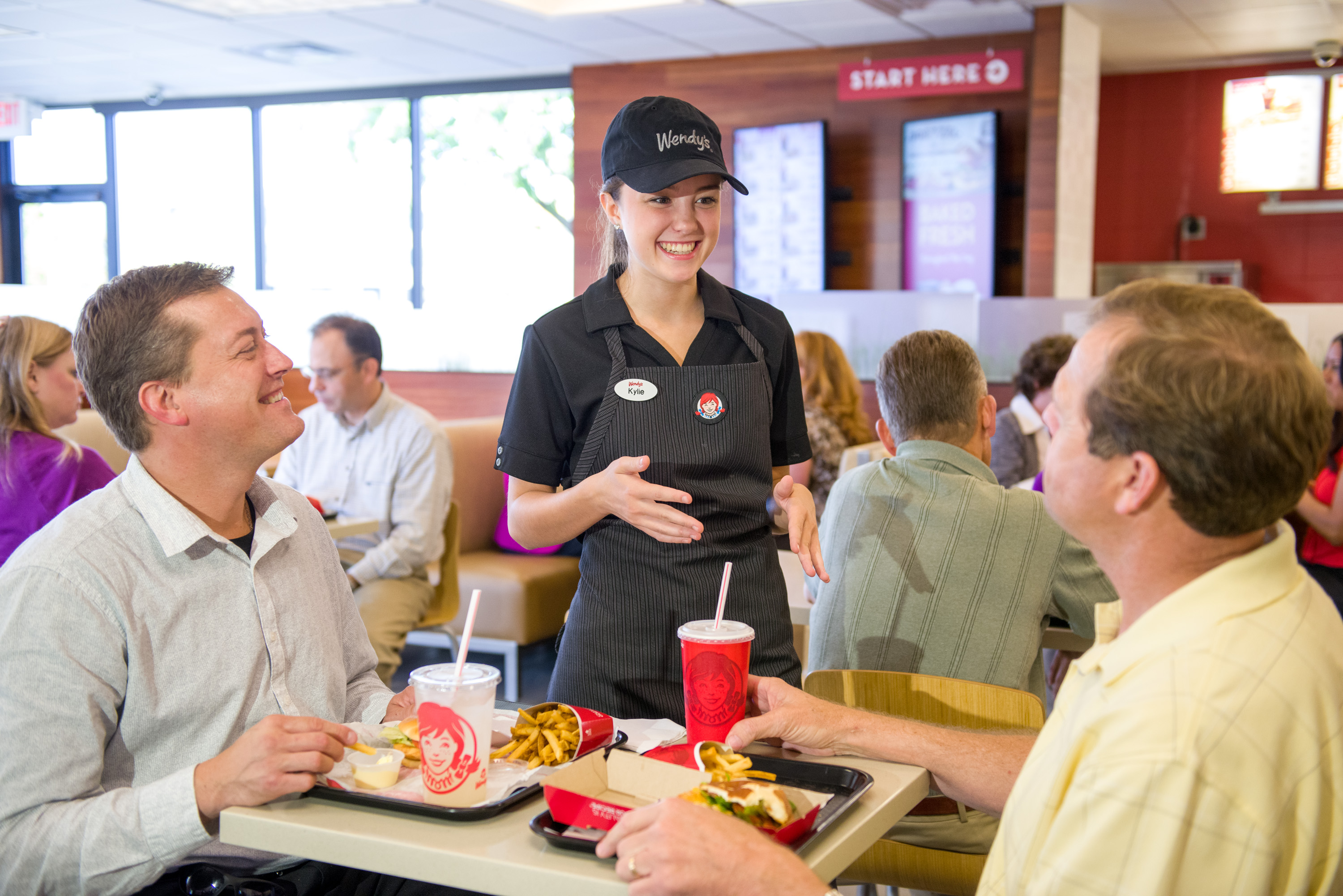 If you're sitting across the table at Wendy's for an interview, this one's for sure coming your way. Why? Because it's about customer service. And that's the heart and soul of Wendy's business.
The folks interviewing you are on the hunt for a shining star. Someone who doesn't just meet expectations but soars above them.
They want assurance. Assurance that you're not just here for the paycheck but genuinely care about the customers. They want to see that sparkle in your eye – the one that says, "I'm committed!"
To answer this, think of a specific example that demonstrates hard work or extra effort you made for a customer. Discuss how you prioritized a customer's needs or went out of your way during a busy time to resolve an issue or provide exceptional service.
Here are some additional tips to frame your answer:
Your Actions Speak: Don't just talk about the happy ending. Dive into the journey. What did you do? How did you make it happen? Paint them a picture.
Relatable Stories: Think of that lunch rush. The order mess-ups. That one super-hard-to-please customer. These are things they know, things they face. They want to see you handle them like a pro.
Highlight Key Skills: Was it your superhuman patience? Or maybe, your quick problem-solving? Whatever it was, make sure they see it's just what Wendy's needs.
And finally, let the passion shine through. If you're all about giving top-notch service, they should feel it in every word you say.
"During a particularly busy lunch period at my current restaurant role, a customer's order was delayed and wrong when it arrived at their table. I apologized, remade their meals promptly, and provided their entire party with free desserts. Even though we were in the weeds, I made the time to personally deliver their desserts and check back that everything was perfect with their updated order. Going above and beyond in tough situations shows my dedication to excellent customer experiences, which I would bring to any position at Wendy's."
How do you handle working under pressure and in a fast-paced environment?
Picture this: The lunchtime bell has rung, and Wendy's is swamped. Orders are pouring in, customers are growing restless, and guess who's right in the thick of it? Yep, you!
So, when they drop this question, it's really them asking, "Can you handle the heat in our kitchen?"
Let's break it down:
Been There, Done That: Got a story from your past job or even school? Maybe when you juggled multiple tasks or handled a challenging project? Bring it out! Show them you've danced with pressure before and nailed it.
Solutions, Not Problems: Here's the secret sauce: Always be solution-focused. Talk about how, in the face of adversity, you keep your cool, assess the situation, and tackle it head-on.
Work Ethic 101: Convey that you're not the type to watch the clock. You're there to get the job done and done right. And if that means going the extra mile, so be it.
Keep Cool and Carry On: Above all, they need to see you won't crack under pressure. That even in the busiest, craziest times, you're there, chin up, supporting your team and serving customers with a smile.
And remember, even if the fryer's on fire (metaphorically, of course), you've got what it takes to handle the sizzle.
"In my previous role as a server at a busy restaurant, I frequently had to juggle many tasks and demands simultaneously while staying positive and composed. I learned to assess the situation, prioritize urgently important tasks, and find quick solutions to problems. My experience handling a fast-paced, high-pressure environment has equipped me with the composure, work ethic, and efficiency to thrive in this type of role at Wendy's. I would anticipate and address common issues promptly, collaborate with team members, and go the extra mile to ensure we deliver great customer service, even when under pressure."
Can you tell me about a time when you had to multitask to get everything done on time?
Ah, multitasking. We've all been there. The heart of this question? Your capacity to handle simultaneous demands and still churn out top-notch results.
As a fast food service worker, you may frequently find yourself juggling taking orders, handling money, preparing food, and assisting customers, all at the same time while under a tight deadline. The interviewer wants to see that you can thrive under pressure while maintaining a positive attitude.
Alright, let's map out a strategy for this.
1. Showcase Key Skills Hit on the big ones: time management, prioritization, and staying calm when the kitchen gets hot.
2. Paint a Vivid Picture Recall a bustling shift. Maybe the lunchtime rush? Walk them through how you managed the chaos, ensuring no order was missed.
3. Seal it with Results Tell them about that day when orders flew out faster than usual, and customers left with satisfied smiles. That's the mark you want to make.
For example, you could say:
"At my current job as a barista, we frequently have long rushes of customers, sometimes with a line out the door. During these busy periods, I'm taking orders, handling payments, making coffees, operating the espresso machine, and delivering orders, all while working quickly to avoid excess wait times for customers. To manage the demands, I prioritize tasks by urgency and impact, tackle one task at a time to avoid being overwhelmed, and try to work efficiently without compromising quality. For example, I'll start multiple coffees brewing in parallel to save time and bring completed orders to customers as soon as they're ready so they receive them promptly. Using this approach, I can effectively serve around 15-20 customers per hour while maintaining speed and quality."
What safety precautions do you take when working with hot equipment or handling food?
Safety first. Always. That's the motto when you're in the kitchen.
Why this question? The interviewer wants to see you put safety first and have the diligence to follow proper protocols.
Handling hot equipment or food is like taming a wild beast. One wrong move? Ouch.
Here's a roadmap to tackle this:
Safety is Top Priority: Highlight how you always put safety first, are extremely detail-oriented with safety procedures, and are committed to preventative action.
Dive into the Details: Mention common precautions for hot equipment or food handling and emphasize that you never cut corners on safety.
End with Assurance: End by stating you would bring that same diligence and responsibility to the role at Wendy's.
For example, you could say:
"Safety is my number one priority whenever hot equipment or food is involved. I always wear heat-resistant gloves when handling hot trays or fryer baskets and am meticulous about confirming equipment is unplugged or cooled before cleaning or maintaining. I understand the importance of prevention and am committed to following all health and safety procedures to the letter, including washing hands frequently, keeping work areas and equipment sanitized, and safely storing ingredients to avoid cross-contamination. You can count on me to bring that same diligence and commitment to always putting safety first in this role at Wendy's."
Can you describe a time when you had to work effectively in a team to get a job done?
As an employee at Wendy's, you will frequently be working with others to serve customers quickly and efficiently. The interviewer wants to know that you can work with coworkers cordially even in stressful, fast-paced environments to achieve a common goal.
How to tackle this?
Stress the 'We' in Wendy's: Start by nodding to Wendy's team spirit. Make it known that for you, the team's win is your win.
Relive the Tale: Bring up that time the fryer broke down during a rush hour. Dive into the chaos, but then show how the team (with you smack in the middle) turned the tide.
Flash those Skills: Did you mediate a spat? Perhaps delegated tasks? Flag them. And most importantly, tell them how you'd do it all again, but even better, at Wendy's.
An example to roll with:
"A good example I can provide is from my time working in a busy restaurant during their lunch rush. The goal was to serve as many customers as possible within a 2-hour span with a team of 10 waitstaff and cooks. As one of the more experienced waiters, I helped coordinate tasks, delegated responsibilities, and maintained open communication to ensure orders were accurate and meals came out simultaneously. When one cook fell behind, I jumped in to help make a few basic dishes so he could catch up and we avoided any long delays. It was chaotic, but by working as a cohesive team that flexibly supported each other, we served over 200 customers with no complaints. This experience demonstrated my ability to thrive under pressure while collaborating with others, which would be invaluable for meeting Wendy's busy periods."
How would you prioritize your tasks during a busy shift?
Ah, prioritization. Picture this: Orders are streaming in. The fryer's hissing. The drive-thru's buzzing. How do you stay on top of it all? That's the riddle they're trying to unravel with this one.
To ace this question, first emphasize that you understand the importance of effective task prioritization for the role and the company.
Then, outline the key steps you would take, which may include:
Assessing the urgency and importance of each task
Clarifying any unclear or competing priorities with managers if needed
Tackling high-impact tasks first while monitoring what else needs to get done
Being flexible and able to adapt to unexpected challenges or changes
Discuss how you're always evaluating what's on fire and what's just warm. Talk about how you don't hesitate to reach out if priorities seem muddled.
At the end of the day, the goal is clear: Stellar service, every single time.
Here is an example of how you can summarize your approach:
"If hired for this role, task prioritization would be key to my success and Wendy's objectives. I would first evaluate the urgency and significance of each task, whether taking orders, preparing food, or cleaning the dining area. The most pressing needs would be prioritized, while balancing all responsibilities. If priorities weren't clear, I would ask managers for guidance. By tackling high-impact items first and being able to fluidly respond to unpredictable situations, I can deliver great results even during busy periods."
How would you deal with a coworker who is not meeting their responsibilities or performing their tasks correctly?
Hey, we've all been there. You're in a team, and someone isn't pulling their weight. It's frustrating, right?
The interviewer wants to see that you would address issues directly but also with empathy and discretion.
Here's how you can answer this:
Focus on communication: Highlight that you would address the issue directly with your coworker, explain how their performance is impacting work, and listen to their perspective with an open mind. Express that open communication is key to resolving problems.
Offer help: Note that you would ask how you could support them and be a resource. Maybe they need more training or are facing personal issues. Show that you're able to be understanding and helpful.
Escalate if needed: Explain that if the issue persisted, you would bring it to your manager's attention. However, emphasize that this would be a last resort, and you would try to resolve problems on your own first.
Remember: Handling workplace slackers is an art.
"First, I would privately and respectfully talk to my coworker about the specific ways their performance was falling short and how it was affecting me and the team. I would listen to their concerns and see if there were any barriers I could help remove, like providing extra training or support. If we couldn't resolve the issue together, I would meet with my manager and present the objective facts of the performance problems. However, I believe open communication should be the first step, and I would make every effort to be a helpful resource to my coworker before escalating the issue."
What do you consider to be your greatest strengths, and how would they contribute to Wendy's?
Okay, so Wendy's is no ordinary place. Fast-paced, customers always on the move, the buzz of orders… you get the picture.
The interviewer wants to know: What makes you the rockstar they need?
Reflect. What's your superpower? Friendly smile? Eagle-eye for details? Or maybe you're the guy everyone turns to when things go south.
Now, paint a picture. How would Wendy's benefit from your magic touch?
For instance, if you're the friendly type, here's a pitch: "My warm and welcoming demeanor ensures every customer feels valued, making their Wendy's experience memorable."
Make it count. They're not just looking for crew members; they're looking for superstars. So, what's your move?
"Two of my key strengths are my friendly attitude and quick learning ability. In the fast-paced environment of Wendy's, I know I could pick up the menu, procedures, and skills quickly through on-the-job training. My friendly manner would also allow me to provide great customer service by being attentive, taking orders accurately, and resolving any issues. I enjoy working as part of a team and stepping up as a leader when needed to ensure tasks get done on time and professionally."
How would you handle a situation where you accidentally spilled a customer's order?
Let's be real, we've all had those "Oops!" moments. You're juggling a ton of things, and splash! A customer's order meets the floor.
So, how would you bounce back?
Our perspective: Mistakes are lessons, not disasters.
Step 1: First thing? Keep your cool. Breathe. We're talking about spilled fries, not a life-or-death situation.
Step 2: Apologize sincerely to the customer and acknowledge the inconvenience. Say you understand why they are upset and that you take full responsibility.
Step 3: Offer to re-make the order promptly and ensure the corrected order is made correctly and promptly. State that you would make their order top priority to minimize wasted time.
Step 4: Do not make excuses or blame others. Politely listen to the customer and show you care about the poor experience, even if they react angrily. Remain patient and courteous.
Step 5: If the spill was significant, offer the customer a discount on their current and/or next order as an additional apology. Follow through on any promises or compensation.
Example Answer:
"Unfortunately, if I spilled a customer's order, I would take full responsibility for the mistake. I would apologize sincerely for the poor experience, acknowledge that the customer deserves far better, and ensure their order would be re-made correctly immediately as the top priority. I understand they would likely be upset, so I would listen to their feedback and remain patient and courteous, not make any excuses. If the spill was significant, I may offer a discount on their order as an additional apology for the inconvenience. My goal would be to make the situation right and leave the customer feeling the issue was handled well."
Can you describe a time when you had to learn a new task quickly and perform it well?
You walk into work. Surprise! There's a brand-new task you've never seen before. And guess what? It's urgent. How do you tackle it?
The interviewer wants to know that you are able to pick up new skills efficiently, even if the task is unfamiliar. They are trying to gauge if you could handle the fast-paced learning that often occurs in a fast-food service role.
Our suggestion? Relate a past experience. Paint them a picture.
Remember that time you had to pick up a new software tool in a day? Or when you stepped into a role you'd never done because someone was sick?
Lay out your strategy. Maybe it's breaking the task down, maybe it's asking questions, or maybe it's pure trial and error until you nail it.
Then, connect the dots. Connect your answer to the environment of a busy fast food restaurant to demonstrate how you would apply your approach to the Wendy's role.
Your story should show you're ready to tackle the unexpected. And that's gold in the fast-paced world of fast food.
A strong answer could be:
"In my current role as a barista, I'm often trained on new coffee drinks or espresso machines that I have to pick up quickly to keep up with demand. My approach is to first get a thorough overview of the task and guidance from my manager. Then, I focus on practicing the key steps repeatedly until muscle memory kicks in. I ask questions if I have any uncertainties and take good notes to refer to. Though it can be hectic getting up to speed during busy periods, I've learned to tune out distractions, stay positive, and leverage my ability to learn hands-on. This method of immersing myself in the task and maintaining composure under pressure would serve me well for learning new stations or menu items at Wendy's and delivering consistent customer service."
What do you know about Wendy's that sets it apart from other fast-food chains?
Wendy's is not your typical fast-food joint.
The interviewer is trying to assess how much you know about Wendy's as a company and your ability to articulate key differentiators.
Before you even think of answering this question, do your homework. Dive deep into Wendy's roots. Their story, values, and what's cooking behind those counters.
Did you know? Wendy's beef is fresh, never frozen. That's right! While most chains serve up icy patties, Wendy's keeps it real.
And their motto? 'Quality is Our Recipe' – isn't just a tagline. It's a promise.
You could swing with: "While others freeze their patties, Wendy's serves them fresh. That commitment to quality? It's not just unique, it's legendary. And I'm all about delivering that excellence every single day."
Pour some love for the brand: "Wendy's quality-first approach resonates with me. I believe in serving the best. And here? It's not just a job; it's a promise to every customer."
"Wendy's prides itself on using fresh, never-frozen beef. This allows them to serve a high-quality product that tastes great and keeps customers coming back. Their passion for quality ingredients sets them apart in the fast food industry where frozen patties are the norm. I really admire Wendy's commitment to quality, and if hired I would work hard to deliver on that promise to every customer. This aligns well with my own dedication to excellence and service."
Can you describe a situation where you had to resolve a conflict with a coworker?
Workplaces? They're like big families. A bit of squabble here, a disagreement there. It happens.
The interviewer wants to see that you can handle disagreements professionally and are able to collaborate with different personalities.
It's not about the conflict; it's about the resolution.
Let's get real. Everyone's faced a tiff or two at work. But it's how you rise from it that counts.
When answering, first acknowledge that workplace conflicts are common, then describe how you approached the situation calmly and directly.
Explain the actions you took to resolve the issue, focusing on listening, compromising, and finding a solution that worked for everyone. Highlight leadership qualities and your ability to defuse tensions.
As an example, you could say:
"At my previous job working the drive-thru station, a coworker and I had a disagreement over how to best handle the rush of customers at peak hours. We both had strong opinions on the optimal process, and tensions were rising as we tried to be heard over each other. I suggested we take a brief break to calm down and evaluate each idea objectively. We discussed the merits of each approach, found common ground, and combined elements from both to create a superior process. We emerged with a stronger plan and a renewed sense of teamwork. This experience showed me the value of staying composed, actively listening, and collaborating towards win-win outcomes."
What are your career goals, and how will this role at Wendy's help you achieve them?
Look, we get it. The moment you hear this question, you might think it's just a routine one.
But trust us, there's more to it. This isn't just about what you've jotted down on your resume. It's about your passion, your ambition, and that fire in your belly.
You see, the interviewer is not just looking for an employee. They're scouting for a go-getter. Someone who sees Wendy's not just as a job but as a stepping stone to something bigger.
So, here's what you do.
Share 1-2 of your immediate and long-term career goals, relating to relevant skills and experience you can utilize or build in this role. For example, you can state your goals of gaining managerial experience and advancing into a leadership position where you can utilize your strong communication and problem-solving skills.
Explain how this role will help you work towards those goals, such as acquiring new skills through training opportunities and gaining the experience to take on more responsibility. Highlight transferable skills and growth opportunities.
Here's a sample answer to give you a clearer picture:
"My immediate goal is to gain experience in a fast-paced, customer service-oriented environment like Wendy's, to further build on my skills in communication, problem-solving, and teamwork. The role of a crew member is a great way for me to get hands-on experience engaging with customers and working with others to meet daily operational goals. Long-term, I aim to take on more responsibility as a shift manager or trainer, where I can apply the skills and experience I gain to effectively lead teams and support the restaurant's success. I appreciate that Wendy's is committed to promoting from within, so I'm excited about the opportunities for growth into a leadership position to help achieve both my and the company's goals."
Are you able to stand for long periods and work in a fast-paced environment?
So, you might think this one's a tad straightforward, but there's a twist.
When they're asking you this, they're not just checking if you've got the physical stamina to handle the demanding nature of a fast food service job. It's about mental toughness, too.
Imagine this. It's a Saturday evening. The queue's out the door. Orders are flying in like crazy. This isn't just about standing for hours. It's about thriving amidst the chaos, all with a smile.
Your answer? It should echo that sentiment. Don't just nod and say, "Yeah, I can stand for a long time."
Paint a picture. Maybe you've been in a similar situation, perhaps in another job. Share that. Prove that not only can you withstand the pressure, but you also excel in it.
For a bit of inspiration, here's how you could frame it:
"I understand that working in a fast food restaurant requires being on your feet for long shifts and the ability to adapt to a constantly changing environment. In my previous role as a server at a busy restaurant, I consistently worked 8-hour shifts with minimal breaks while remaining positive and energetic. I'm able to operate well under pressure, stay motivated, and get the job done efficiently even when rushed. I have the physical endurance and work ethic needed to thrive in Wendy's fast-paced atmosphere."
Are you able to lift up to 50 lbs if required?
Alright, let's cut to the chase. Wendy's isn't just flipping burgers and serving up frosty treats. Sometimes, it's a bit of a workout session too. Surprise!
Think about it: hauling supplies, tackling that stubborn trash bag, or even shifting equipment around. Yep, you got it—sometimes that's a 50-pound challenge right there.
So, how do you ace this one? Simple. Honesty's the best policy. But throw in a dash of your unique flair.
If you're someone who can casually lift 50 lbs while jamming to your favorite tunes, say it! Maybe you've had a stint where lifting was part of the game. Share that story.
However, if 50 lbs sounds like you lifting Thor's hammer, it's okay. Just focus on what you CAN do. Maybe you're great with 30 or 40 lbs. And for the rest? You're always up for a team lift or seeking a helping hand.
Remember, it's all about getting the job done, but safely.
Wondering how to wrap that up? Here's a snapshot for you:
"While I may not be able to lift 50 lbs repeatedly or for extended periods, I am capable of lifting and moving moderate weights as would be required for typical daily tasks. For heavier objects, I would ask a colleague for assistance or use proper lifting equipment. My priority is completing the work safely and efficiently. I have the stamina and work ethic to perform the essential duties of this role, even if certain tasks require extra effort or accommodation."
Are you dependable and able to work different shifts as required?
Let's break it down. Wendy's isn't just a 9 to 5 gig. It's early bird shifts, late-night rides, weekend hustles, and yes, even holiday celebrations. The big question is, can you roll with these punches?
When they pop this question, they're not just looking for a 'yes' or 'no'. They're scouting for commitment, dedication, and that spark in your eyes that says, "I've got this."
So, what's your play? Lay down your cards. If you've danced to the erratic rhythm of irregular shifts before, paint that picture. Share those sunrise stories and tales of moonlit shifts.
Most importantly, let them know that your watch isn't just about ticking hours. It's about being there, right on the dot, whenever Wendy's beckons.
Feeling the vibe but need words? Here's a nudge:
"Yes, I am very dependable and able to work any shifts that are required. In my previous role as a cook at a fast food restaurant, I often had to arrive early to prepare for breakfast service and stay late cleaning up after dinner. I have always been an extremely punctual and reliable person who is willing to put in the hours to get the job done, even if that means working weekends or holidays. I understand that the demands of the business will dictate the hours, and you can count on me to be present and contributing whichever shifts I am scheduled."
How would you maintain a positive attitude during a stressful shift?
Alright, picture this: It's Friday evening, orders are pouring in like there's no tomorrow, and it feels like everyone in town decided to drop by Wendy's.
But here's the real deal – amidst all this chaos, can you still sport that million-dollar smile?
Now, we totally get it. The fast-paced drumbeat of Wendy's during peak hours isn't for the faint-hearted. It's the Super Bowl of fast food.
But they're not just checking if you can juggle tasks. It's about juggling with style and a hint of grace.
So, when you're in the hot seat, take a moment to acknowledge that busy, stressful shifts are inevitable in the fast food industry.
However, express that you would approach those shifts with a positive attitude, focusing on the ability to work as a team to get the job done and make customers happy.
Note some specific strategies you would employ to maintain positivity, such as taking deep breaths to stay calm, recognizing your successes and the successes of your team throughout the shift, reminding yourself that the busy period will pass, and maintaining open communication with coworkers to collaborate and support each other.
For example, you could say:
"I understand that stressful, busy shifts are common in fast food. However, I would bring a positive attitude to work by staying focused on the team effort and end goals. If I felt overwhelmed, I would take a few deep breaths to re-center myself, then proactively ask coworkers how I could support them. I would also celebrate our successes in getting customers through the line quickly and appreciate my team for pulling together. Recognizing that the rush would be temporary and we would get through it as a team would help keep my attitude upbeat throughout a challenging shift."
How would you learn from your mistakes or from more experienced colleagues?
So, here's the scoop: Wendy's is like a bustling classroom. There are lessons everywhere, from the sizzle of the grill to the advice of that colleague who's been rocking the Wendy's cap for a decade.
This question? It's their way of asking if you're ready to be a student again. But not just by poring over textbooks. It's about rolling with the punches, stumbling, and then picking yourself up with a little more wisdom each time.
But here's the trick: Don't just say you're a fast learner. Dive deeper. Maybe you've goofed up in the past (hey, we've all been there). Share that tale, but focus on the aftermath. How did you untangle the mess? Did a coworker share a golden nugget of advice? How did it change your game?
It's all about the journey, the bumps along the way, and the mentors you meet.
Here's a hint at crafting that answer:
"In a fast-paced environment like this, mistakes are bound to happen or procedures may be miscommunicated. If I get an order wrong or take too long on a task, I would ask the customer or manager what I missed and how I can do better. I would take notes on the feedback and practice the correct steps or interactions again to commit them to memory. Similarly, I would pay close attention to colleagues who have more experience, especially during peak hours or difficult customer interactions. I would ask them questions about their approach, take note of their techniques, and then incorporate the useful pieces of advice or skills into my own work. This way, I'm continuously learning and improving to provide the best experiences and results."
Questions to Ask the Interviewer in Wendy's Interview
As the curtains begin to draw on your Wendy's interview, the interviewer will inevitably ask if you have any questions for them. This is your opportunity to shine and leave a positive final impression.
Here's why it's pivotal:
Depth of Interest: Your questions can reflect the depth of your interest in the role and Wendy's as a brand. Inquiring with zest and specificity hints at your eagerness and drive.
Clarifying the Picture: It's also a window for you to ensure that Wendy's aligns with your personal and professional aspirations. Getting clarity on role responsibilities, team dynamics, and the growth trajectory can aid in making an enlightened choice if the job comes knocking.
So, as you hone your list for the D-day, consider probing areas such as role dynamics, team culture, company vision, upskilling opportunities, potential challenges, and so on.
Here are some questions you can ask your Wendy's interviewer:
What does success in this role look like? What are the key performance indicators?
What is the career path for this position? What opportunities for growth are there?
What is the company culture like? What's important to the company?
What are the current challenges in this role/department/company?
What do you like most about working for Wendy's? What's the best part of your job?
Can you tell me more about the day-to-day responsibilities of the position?
How many hours can I expect to work per week?
Are there opportunities for advancement within the company?
How does Wendy's prioritize customer satisfaction and service quality?
What kind of training and onboarding do new employees receive?
How does Wendy's ensure the safety and health of its employees?
How would you describe the work culture at this Wendy's location?
What is the most challenging part of this position?
How does Wendy's support its employees' career growth and development?
Can you describe a typical shift at this Wendy's location?
What kind of teamwork and collaboration do you expect from your employees?
Can you tell me more about the employee benefits that Wendy's offers?
Is there anything else I can provide or clarify that would be helpful for your team in the hiring decision?
The more questions you have prepared, the more you convey your desire for the opportunity. Feel empowered to personalize the questions based on what is most important for your unique situation.
Wendy's Hiring Process
You've got an interview coming up at Wendy's and want to know what to expect. This inside look at their hiring process will help you prepare so you can ace the interview!
1. Application
The first step is submitting an application online or in-person.
2. Initial Screening
After reviewing applications, Wendy's reaches out to schedule interviews with promising candidates.
3. In-Person Interview
The interview itself is pretty short, usually only 15-30 minutes. It will be in-person with a manager at your nearest Wendy's restaurant.
4. Decision
Many candidates are offered a position on the spot or within a few days of interviewing, so this could move quickly! If you don't get an immediate offer, follow up within a week.
5. Onboarding
If offered a position, you'll complete some onboarding like paperwork and training videos before your start date, which is often within a couple of weeks. This gets you ready to dive into the job!
For management or corporate positions, the process is more involved. You can expect longer interviews, including panel interviews to assess your leadership potential and competency for a more senior role.
However, Wendy's hiring process at all levels is structured to be transparent, supportive, and help you shine as a candidate.
Wendy's Interview Tips
When interviewing at Wendy's, go in with confidence knowing that they value friendly team players who can provide great customer service. Come prepared to speak about your schedule availability, interest in the role, and how you positively resolve tense situations. Be ready for some basic math questions too. Smile, give thoughtful responses, and emphasize your reliable work ethic.
What to Wear to Wendy's Interview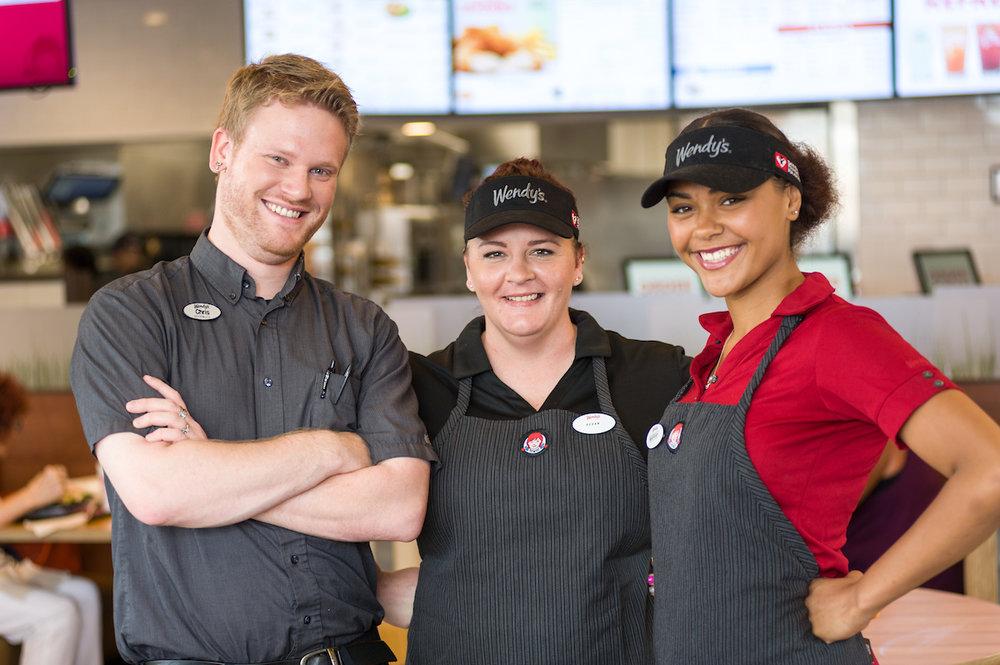 One of the nifty tricks to stand out in any interview is by reflecting the company's dress code. Think of it as a subtle nod, showcasing your attention to detail and readiness to fit right in.
Before you choose what to wear, let's discuss what the folks at Wendy's wear on a daily basis.
The dress code at Wendy's is a company-provided uniform comprising a shirt, hat/visor, apron, and nametag. Employees are responsible for wrinkle-free dark jeans, a plain black belt, and slip-resistant shoes. Jewelry is restricted to one ring per hand, one earring per ear, and tucked-in necklaces. All other visible piercings, including tongue and nose rings/studs, are prohibited.
Now, let's delve into how you can dress to impress for your specific interview:
If you're eyeing a role as a Team Member, Cashier, Cook, or Team Leader, lean towards casual or business casual. Think well-fitting jeans without any rips, a neat polo or button-down shirt, and comfortable shoes (preferably slip-resistant if you have them).
For those aspiring to be an Assistant Manager or General Manager, business casual is your go-to attire. Pair a neat button-down shirt with tailored trousers or a modest skirt, and polished shoes.
But if you're aiming for the skies and have an interview for a Corporate Office position, it's time to don the business formal attire. This means suits, ties, elegant dresses or skirts, and polished shoes.
Conclusion
Your Next Chapter at Wendy's: Unveiling Soon
Take a moment to acknowledge your grind here. You've prepped up, dug into those Wendy's interview questions, and framed your finest answers. As you're about to enter the Wendy's interview, ditch the jitters and wear that confidence like a badge! ????
Think about it – Wendy's isn't just looking for someone with skills; they want someone with spirit. That's you! The blend of your experience, authenticity, and passion could be the recipe they've been waiting for. So, breathe deep, be genuine, and visualize yourself owning that space.
Remember, even if Wendy's feels like "the one", the fast-food industry is vast and brimming with opportunities. So, even while you're savoring the excitement from a splendid Wendy's interview, don't hesitate to send out feelers to other giants like McDonald's, Burger King, Jack in the Box, and Five Guys. You never know – the universe might have multiple offers lining up just for you.
Embrace the journey, enjoy every interview story, and keep that ambition burning. You're a step closer, and we're cheering for you! ????????????