25 The Cheesecake Factory Interview Questions (And Answers)
You've landed an interview with the prestigious Cheesecake Factory. Your heartbeat races with excitement as you can almost smell the tantalizing aroma of their legendary desserts wafting through the air. However, with that wild excitement comes the dreaded realization that you must now prepare for the interview. The stakes are high, and you know you have a limited amount of time to make the best impression. Fear not, because this is where we swoop in to save the day.
It's completely natural to feel a kaleidoscope of emotions before an interview – anxious, nervous, overwhelmed, and above all, unprepared! But what if you had the power to walk into that room brimming with confidence, ready to conquer every curveball thrown your way with finesse and poise? Consider this blog post the spark that ignites the fire of your booming cheesecake-filled career!
Delve into this treasure trove of the most commonly asked The Cheesecake Factory interview questions, alleviating the pressure of the unknown. Our detailed example answers to each question are designed to equip you with the essential knowledge and the perfect responses that leave an unforgettable impression on your interviewer.
So, take a deep breath, hold your head high, and embark on a journey to unleash the most exceptional version of yourself. After all, success tastes sweet, especially when it's topped with a generous dollop of The Cheesecake Factory's finest!
The Cheesecake Factory Company Information
Before your big interview with The Cheesecake Factory, take a moment to get acquainted with some indispensable company facts and data. Not only will this better prepare you to answer research-based inquiries, but it will also showcase your passion for the brand.
| | |
| --- | --- |
| Trade Name | The Cheesecake Factory |
| Type | Casual Dining Restaurant Chain |
| Founded | 1978 |
| Founder | David M. Overton |
| Headquarters | Calabasas Hills, California, United States |
| Menu | Pasta, Burgers, Pizzas, Salads, Cheesecakes |
| Signature Items | Original Cheesecake, Chicken Madeira |
| Core Values | Quality, Consistency, Service |
| Website | www.thecheesecakefactory.com |
| Competitors | Olive Garden, P.F. Chang's, Red Robin |
Additional facts:
Origins in a Basement: The Cheesecake Factory started with Evelyn Overton making cheesecakes in her basement in Detroit, based on a recipe she found in a newspaper.
Single Recipe Start: Initially, the Cheesecake Factory was founded on just one original cheesecake recipe.
Family Business: Evelyn's son, David Overton, played a significant role in taking the business from a home-based operation to a full-scale restaurant chain.
First Restaurant in 1978: The first Cheesecake Factory restaurant opened in Beverly Hills, California in 1978, with a simple menu that included a few burgers, omelets, salads, and, of course, cheesecake.
Instant Hit: The first Cheesecake Factory restaurant was an instant success upon its opening, with long lines of people waiting to try the food.
Unplanned Chain Growth: David Overton did not initially plan for The Cheesecake Factory to be a chain. It evolved into a chain as a result of the overwhelming success and popularity of the first restaurant.
Menu Designed by Founder: Initially, the menu was designed with items that David Overton could personally cook, as he had no experience in the restaurant business and didn't want to rely solely on hired chefs.
Menu Like a Book: The Cheesecake Factory is known for its extensive menu which is 21 pages long and contains around 250 items.
Regular Menu Updates: The menu changes twice a year, every year, allowing for new items to be introduced while keeping the favorites.
Eclectic Decor: The decor of The Cheesecake Factory restaurants is notably eccentric, combining elements such as French limestone floors, Egyptian columns, and Victorian beadboard wood paneling.
Eccentric Decor by Design: Rick McCormack, the restaurant designer responsible for The Cheesecake Factory's décor, purposefully made the décor eclectic to make the restaurant stand out.
Customization of Classic Bread: David Overton collaborated with a sourdough baker in Los Angeles to create the popular brown bread in a custom long shape.
Popular Brown Bread: The brown bread served in the bread basket before meals is so popular that it is now sold in grocery stores and can be substituted for regular bread in sandwiches at the restaurant.
International Presence: Starting with a modest basement operation, The Cheesecake Factory has grown into an international chain with over 200 locations worldwide.
More Than Cheesecakes: The Cheesecake Factory owns around 317 restaurants, but only about 210 are Cheesecake Factory locations. It has a growing portfolio of other restaurant brands, including Grand Lux Café and North Italia.
Over 30 Cheesecake Varieties: The Cheesecake Factory offers over 30 different cheesecake varieties, ranging from classic to extravagant flavors. The Fresh Strawberry Cheesecake is among the best sellers.
Made Offsite: All cheesecakes are made at production centers in Calabasas Hills and Rocky Mount. These facilities ensure consistent quality and even offer online purchase and delivery through Harry & David.
Inventing Upscale Casual Dining: The Cheesecake Factory's founder, David Overton, coined the phrase "upscale casual dining". The restaurant aims to be fancier than typical chains with impressive décor and high-quality food.
Generous Portions: The portions at The Cheesecake Factory are intentionally large to encourage sharing and experiential dining, according to President David Gordon. Plus, you'll likely have leftovers for the next day!
Calorie Indulgence: Watch out for the calories! A single slice of cheesecake contains at least 830 calories, and some varieties pack over 1,500 calories.
Best Place to Work: Fortune ranked The Cheesecake Factory as the 12th best place to work in 2020. Employees praise the restaurant's management and are proud of its program to donate extra food to the needy.
NFL Player's Love: Former NFL player Vince Young loved The Cheesecake Factory so much that he spent $5,000 per week during his rookie year. He often invited teammates and covered their meals too!
Accidental TV Stars: The Cheesecake Factory had an unplanned role in the hit TV show "The Big Bang Theory". CBS featured the restaurant without consulting them, but the exposure turned out to be a happy and beneficial accident for the company.
The Cheesecake Factory Mission Statement
To create an environment where absolute guest satisfaction is our highest priority.
The Cheesecake Factory Interview Questions
To start, can you briefly tell me about yourself and your background?
The hiring manager is looking to assess your communication skills, gauge your enthusiasm for the role, and determine if you're a good cultural fit.
To knock this question out of the park, stick to a concise and relevant introduction, focusing on your skills, experiences, and how they make you a perfect match for the role at The Cheesecake Factory.
Now, watch how this sweet introduction evolves into something truly mouthwatering.
"Hi, my name is Jane Doe, and I have over five years of experience in the restaurant industry, particularly in fast-paced settings. I've honed my customer service skills across various roles, from serving to bartending, and I pride myself on my ability to create memorable dining experiences for my guests. I'm also a detail-oriented team player, which has helped me excel in my past roles while adhering to the highest standards of food quality and presentation. I'm excited about the opportunity to bring my skills and passion for hospitality to The Cheesecake Factory and ultimately contribute to the exceptional dining experience the brand is known for."
During your free time, what are some hobbies or interests you enjoy pursuing?
This question is designed to give the interviewer an opportunity to understand who you are beyond your professional life and assess if you'll fit well within their company culture. It also shows off your communication and interpersonal skills.
So, when crafting your response, choose activities that reflect your personality or underline qualities relevant to the job, such as teamwork and leadership.
Ready to see this advice in action? Cue the spotlight.
"In my free time, I absolutely love exploring new recipes and trying my hand at cooking various cuisines from around the world. This has not only helped me enhance my culinary skills, but it also allows me to connect with different cultures – a quality I find valuable while working in a diverse environment such as The Cheesecake Factory. Additionally, I am an avid participant in my local soccer league, which has helped me develop great teamwork skills and maintain a competitive spirit, both of which I believe would contribute positively to my role within the company staff."
Why do you want to work for The Cheesecake Factory?
The interviewer is looking to understand your motivations and determine if you are truly passionate about working for their company. It's essential to research the company culture, values, and other details to provide an authentic, well-thought-out response.
Begin by touching on your passion for the restaurant industry and their unique menu offerings, followed by how you align with the company's values and culture.
Now, let's string a pearl of a connection between our tips with an example answer.
"My motivation for working at The Cheesecake Factory stems from a genuine love for the restaurant industry, and the unparalleled variety that the menu offers. From the endless cheesecake options to the savory entrées, the attention to quality and creativity is evident, which is something I always seek to be a part of in my work environment. Furthermore, after researching about the company's values and culture, I appreciate and resonate with its commitment to employee growth, sustainability, and community support. Working at The Cheesecake Factory would allow me to contribute to providing outstanding customer experiences as well as develop both professionally and personally, making this opportunity truly exciting for me."
Could you please walk me through your relevant experience and qualifications that would make you a great fit for a position with our team?
When you're asked this question during your Cheesecake Factory interview, the hiring manager is trying to evaluate if you have the skills, knowledge, and experience required to excel in the role.
To whip up a decadent response to this interview question, as rich as a cheesecake, we recommend focusing on specifics that highlight your strengths related to the job and industry. Share examples of your accomplishments that demonstrate your ability to handle essential tasks like customer service, teamwork, and time management, all of which are critical in a restaurant setting.
Ready for the icing on your cheesecake? Here's the recipe for success!
"In my previous role as a server at a local restaurant, I consistently provided great customer service, which resulted in many repeat customers who specifically requested my section. While working there, I became familiar with managing multiple tables and adapting to the ever-changing needs of our guests. As a team player, I often assisted my coworkers during busy shifts and took on additional responsibilities, such as training new staff members. Moreover, my time as a volunteer at the local food bank improved my skills in food handling and inventory management, ensuring that I work efficiently and maintain high hygiene standards. I am confident that my experience and dedication to exceptional service make me an ideal candidate for The Cheesecake Factory team."
How would you go about handling a difficult customer interaction to ensure their visit exceeds expectations?
This question serves to assess your problem-solving abilities, communication skills, and customer service mindset. The interviewer seeks to determine if you can stay calm under pressure and ensure satisfaction even in the most heated moments.
Be sure to highlight your ability to empathize with the customer, use active listening, maintain a positive attitude and seek solutions that benefit both the customer and the company.
And now, the moment you've been waiting for.
"In a situation where a difficult customer interaction arises, I would first remain calm, composed, and maintain a polite demeanor. I would listen attentively to the customer's concerns without interruption and validate their feelings by acknowledging the frustration they may be experiencing. For instance, I could say, 'I understand that you're upset and I'm sorry that we didn't meet your expectations. We want every guest's experience with us to be exceptional, so let's work together to fix this issue.' Then, I would use active listening to gather as much information as possible, while also trying to find the root cause of the problem. Next, I would offer a tailored solution that aligns with The Cheesecake Factory's policies and ensures the customer's satisfaction. Lastly, I would follow up with the customer at a later time if necessary to make sure they leave feeling fully satisfied and valued. This approach would not only help resolve the issue but also turn a negative situation into a positive, memorable experience for the customer."
How would you respond if a guest claimed to have found a foreign object in their meal?
When the interviewer at The Cheesecake Factory asks this, they're essentially assessing your ability to handle challenging situations with grace and courtesy.
As a representative of the esteemed restaurant chain, maintaining a professional demeanor, paying close attention to the guest's needs, and addressing the situation appropriately are the top concerns. Keep in mind the essence of the restaurant's values and prioritize customer satisfaction, communication, and conflict resolution.
In a smooth cheesecake, the perfect answer lies!
"If a guest told me they found a foreign object in their meal, my immediate response would be to apologize for the inconvenience promptly and then ask if the guest is alright. I would assure them that The Cheesecake Factory takes food safety very seriously and offer to replace the dish with an alternative while notifying the manager of the concern. I believe open communication and empathy are crucial in situations like these, and my priority would be to ensure the guest feels that their concerns are being heard and addressed. Additionally, I would take the incident as a learning opportunity to improve overall service and food quality, preventing future occurrences."
Can you describe your leadership abilities and give some examples of how you have demonstrated leadership in past roles?
When preparing for your The Cheesecake Factory interview, it's essential to be ready for questions that delve into your leadership abilities.
The interviewer wants to uncover whether you have the qualities they're looking for in a team member who can successfully lead, support, and motivate others.
When answering, be genuine, specific, and focus on impactful examples that highlight your leadership traits.
Ready to charm them with your leadership flair? Say no more!
"In my previous role as a shift manager at a busy restaurant, I demonstrated leadership in several ways. One particularly challenging situation arose when we were short-staffed during a hectic night. I quickly assessed the best use of our team's skills and reallocated tasks accordingly, ensuring efficient service without compromising the customer experience. In addition, I provided extra support to my team members by stepping in where needed, strengthening their confidence and bolstering morale. This adaptability and commitment to creating a supportive work environment reflect the kind of leader I aim to be, and I believe these qualities would serve me well in a role at The Cheesecake Factory."
Are you comfortable serving multiple tables at once while maintaining high standards of quality and guest service?
This question aims to assess your multitasking abilities, prioritization skills, and commitment to providing an outstanding dining experience for the guests.
To layer your answer like the perfect slice of cheesecake, start by emphasizing your experience and expertise in handling multiple tables, share some practical tips or techniques you use to manage your responsibilities and reaffirm your dedication to maintaining excellent service standards.
Now, let's sweeten things up with a tasty example answer!
"Yes, I am definitely comfortable serving multiple tables at once while maintaining high standards of quality and guest service. In my previous experiences as a server, I've learned the importance of staying organized and prioritizing tasks to manage multiple tables with ease. I use my observational skills to anticipate guests' needs and promptly address them, ensuring a seamless and smooth dining experience for all. I also make it a point to communicate efficiently with the kitchen staff to optimize the flow of service. Overall, I am highly committed to providing the best possible experience for our guests at The Cheesecake Factory while efficiently managing multiple tables."
What career growth opportunities are you most interested in pursuing with us at The Cheesecake Factory?
The purpose of this question is to gauge your long-term commitment to the company and to understand which areas you are passionate about developing your skills in.
As seasoned hiring managers, we urge you to go beyond generic responses and demonstrate genuine interest in the company's growth opportunities. Research The Cheesecake Factory's career paths, such as roles in management, culinary arts, or corporate functions, and find a direction that genuinely interests you and aligns with your skills.
Now, let's craft the perfect, mouth-watering answer to whet their appetite for your potential!
"In my career with The Cheesecake Factory, I am most excited about the possibility of growth within the culinary team. My passion for culinary arts, combined with your company's focus on creative and high-quality dishes, makes me eager to learn from talented chefs and eventually take on more responsibilities in menu development and kitchen management. I am committed to honing my skills and becoming an integral part of The Cheesecake Factory's continued success in the industry, and I look forward to the opportunity to grow within such an esteemed organization."
How would you define outstanding customer service?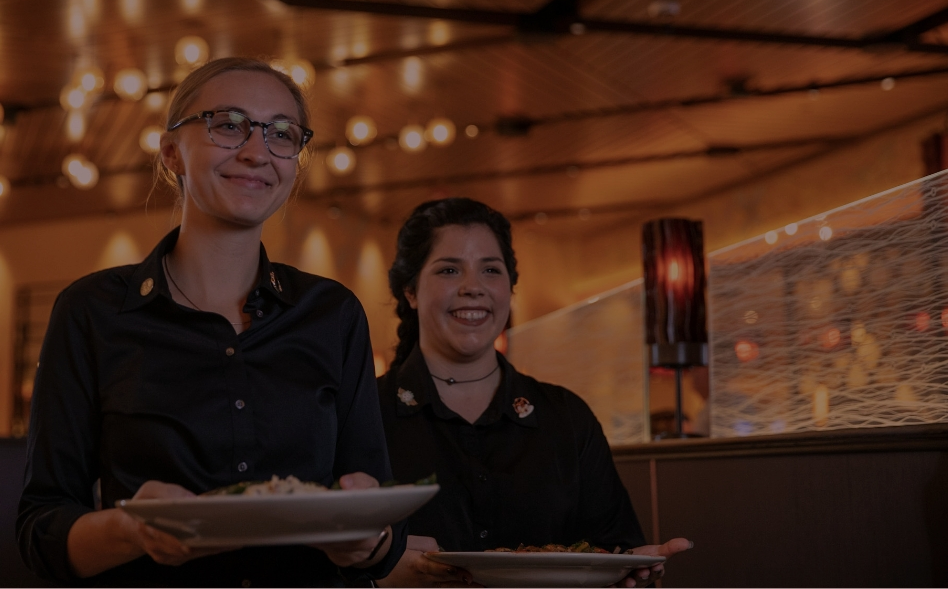 The hiring manager at The Cheesecake Factory is testing your understanding of The Cheesecake Factory's commitment to delivering exceptional dining experiences, as well as your approach to satisfying customer needs.
Keep in mind that you'll want to craft an answer that emphasizes empathy, personalization, active listening, and timely responses to customer requests. Additionally, consider incorporating examples of times when you went above and beyond for a customer, which will add that extra touch of credibility to your response.
Fasten your aprons and grab your forks as we dive into the tastiest example answer for this question.
"In my opinion, outstanding customer service is all about attentively listening to the needs of the customers, empathizing with their situation, and providing personalized solutions that leave them with a positive and lasting impression. At The Cheesecake Factory, this would involve not only being knowledgeable about the menu and making recommendations based on customer preferences, but also being proactive in ensuring their dining experience is comfortable and enjoyable. For example, if I notice that a customer has a dietary restriction mentioned on their order, I would double-check with the kitchen to ensure their meal is prepared accordingly, and also suggest a delicious dessert that suits their needs. By going the extra mile to make the customers feel special, we're not only providing exceptional customer service, but also creating memorable experiences that keep them coming back for more."
What is your availability to work the necessary shifts required for this position, including nights, weekends, and holidays?
By asking this question, the hiring manager aims to assess your flexibility and commitment to the company's scheduling needs. Demonstrating your adaptability and enthusiasm can increase your chances of leaving a positive impression.
To nail this question, be honest about your schedule while emphasizing your openness to meet the demands of the business.
"I understand that the restaurant industry requires working various shifts, especially during peak hours and holidays. I am adaptable and more than happy to work evenings, weekends, and holidays, as needed. While I do attend evening classes on Tuesdays and Thursdays, I am available for all other shifts. If there are any changes to my availability, rest assured I would provide proper notice. I genuinely enjoy working in fast-paced environments and am excited to contribute to the excellent customer experience that The Cheesecake Factory is known for."
How would you describe your ability to work cohesively with your coworkers as part of a team?
This question is crucial because it allows the interviewer to gauge your collaborative skills and ability to contribute to the overall success of the team.
The Cheesecake Factory prides itself on providing exceptional customer service, and this can only be achieved by putting together a team of dedicated individuals who are capable of working well together.
When crafting your response, prioritize mentioning concrete examples of your teamwork, emphasizing your communication skills and adaptability.
Picture yourself savoring the sweet taste of a perfect response to this question.
"In my previous job as a server at a busy restaurant, I discovered early on that working well with my coworkers as a team was essential to providing the best possible service to our guests. A constant flow of communication and understanding of each team member's responsibilities allowed us to efficiently serve large groups and attend to special requests. I found that actively listening to my colleagues and sharing important information with them not only helped us work cohesively, but also contributed to a positive working environment where everyone felt supported. I believe my strong communication skills and ability to adapt to different team dynamics make me an asset to The Cheesecake Factory's team."
How do you typically handle constructive criticism from managers or coworkers?
The purpose of this question is to assess your ability to accept feedback, as well as your capacity to learn from it and improve your performance.
The hiring manager wants to know if you have a growth mindset and if you can work effectively in a team-oriented environment like The Cheesecake Factory.
To truly shine in your response, make sure to emphasize your openness to feedback, your willingness to learn, and your ability to take action on the constructive criticism received.
Now, let's dig into an exemplary answer that will leave an impression that lasts.
"In my experience, I have found that constructive criticism from managers and coworkers not only helps me grow professionally but also enhances the overall performance of the team. When receiving feedback, I listen carefully and ask questions to ensure I fully understand the context and what needs improvement. I then take the time to reflect on the input and create an action plan to implement the suggested changes. In my role at The Cheesecake Factory, I'd also seek feedback proactively, as I believe it's crucial to continuously learn and excel in a fast-paced environment like this one."
This question provides you can opportunity to showcase your problem-solving and adaptability skills. The interviewer is trying to assess whether or not you'll be able to handle challenges that may arise in your new role.
If you want to serve an answer as satisfying as a dinner at The Cheesecake Factory, follow the STAR method: Situation, Task, Action, and Result. Briefly describe the situation you faced, explain your task or responsibility in that scenario, describe the actions you took to solve the problem and share the outcome.
Now buckle up, because we're about to provide you with an example answer that will wow the interviewer and skyrocket your chances of landing that coveted Cheesecake Factory job!
"I was working as a server at a busy restaurant during a special event. A large group of customers who had made reservations weeks in advance walked in, expecting their reserved table. Unfortunately, due to a miscommunication in the team, someone had given away their table. My task was to ensure their satisfaction and find a solution quickly. I immediately informed the manager, who took it upon himself to find space for the group. In the meantime, I provided the customers with complimentary appetizers and drinks, while engaging them in pleasant conversation about their special event. Once we had set up a suitable space for them, I continued to provide exceptional service throughout the night, checking in on them regularly, and apologizing for the earlier mix-up. By the end of the night, the group was extremely satisfied with their experience, left a generous tip, and even requested to have me as their server for future visits."
Do you feel you can remain energized and engaged with our guests during a full 6-7 hour shift, which often involves being on your feet and moving quickly?
Ah, the notorious "staying energetic" question.
Interviewers at The Cheesecake Factory love to ask this, and for good reason. Their restaurant environment often requires fast-paced, on-your-feet service for long shifts, and they need people who can keep up with this tempo without breaking a sweat. They want to make sure you have what it takes to remain engaged and give their guests the exceptional experience they deserve.
To give a well-rounded and delectable answer like a perfectly made cheesecake, be authentic and provide specific examples of how you've demonstrated sustained energy and enthusiasm in previous roles or situations.
Take a deep breath, and get ready to jump in with a fantastic answer
"I certainly understand the importance of maintaining energy and engagement with guests for long periods of time, as this ultimately leads to a better dining experience for them. In my previous role, I was responsible for managing the needs of multiple tables during busy evening shifts, which often lasted 6 hours or more. I found that staying physically fit, taking short mental breaks when needed, and genuinely enjoying connecting with my guests allowed me to remain consistently energetic and engaged throughout my entire shift. Knowing that my efforts positively impacted the experience of our guests at The Cheesecake Factory is absolutely motivating and keeps me passionate about providing excellent service."
If selected, what unique qualities do you feel you would bring to The Cheesecake Factory team?
When you're faced with thus question during your The Cheesecake Factory team? interview, the hiring manager is looking to uncover what specific traits and skills set you apart from the rest of the candidates. They want to know how you'll fit into the team, enhance the restaurant's environment, and contribute to business success.
To tackle this question confidently, focus on your strengths, experiences, and hard-earned skills that align with The Cheesecake Factory's values and needs.
In the words of a decadent dessert, let's take a slice from the winning answer recipe.
"If I were to be selected as a member of The Cheesecake Factory team, I believe my strong work ethic, adaptability, and excellent guest service skills would set me apart. I pride myself on being attentive and personable, which helps create memorable experiences for guests. With my background in the fast-paced food industry, I understand the importance of teamwork and communication, allowing me to collaborate effectively with my colleagues. Furthermore, I am always eager to learn and grow, making me a proactive team member, committed to upholding The Cheesecake Factory's high standards and reputation."
Do you have reliable transportation to get to and from work on time for your scheduled shifts?
When the interviewer poses this question they're essentially validating your ability to show up for work punctually and consistently. It's crucial for The Cheesecake Factory to have dependable employees, especially given the fast-paced nature of the restaurant industry.
To address this query effectively, assure the hiring manager of your reliability and convey specific details about your mode of transportation, be it a car, public transit, or a bike.
So, shall we craft a lovely response that demonstrates your reliability and commitment?
"Yes, I do have reliable transportation to ensure that I always arrive on time for my scheduled shifts at The Cheesecake Factory. I own a well-maintained car, which I use to commute daily. Additionally, I am familiar with public transportation options in my area, and I have mapped out alternative routes just in case of unforeseen circumstances. I understand the importance of punctuality in the restaurant industry, and I prioritize being dependable and consistent in all aspects of my professional life."
What strengths and weaknesses have you identified in yourself?
The interviewer at The Cheesecake Factory will likely ask you this question not only to learn more about your character and work habits but also to test your level of self-awareness and honesty.
Remember that everyone has strengths and weaknesses, and the hiring manager isn't seeking perfection, but they do want someone who's willing to recognize areas of improvement.
When answering this question, consider your strengths in the context of the specific job you're interviewing for and think about weaknesses that you've turned into opportunities for growth or are actively working on.
Drum roll, please – it's time to reveal our pivotal example!
"For my strengths, I'm a highly organized and detail-oriented person. This ensures I'm able to manage multiple tasks effectively in a fast-paced environment like The Cheesecake Factory. I also have excellent communication and teamwork skills, which help me build better relationships with my coworkers and prioritize guest satisfaction. As for my weaknesses, I tend to be a bit hard on myself when I make mistakes. However, I've learned that it's crucial to accept mistakes as learning opportunities, and I'm now much better at handling such situations. I proactively seek feedback from my supervisors and co-workers, which enables me to grow and continuously improve in my role."
This question serves to evaluate your ability to stay cool and focused when faced with challenges, a crucial skill for the dynamic and fast-paced environment of The Cheesecake Factory.
Your response should reflect not only your adaptability and efficiency under pressure but also your ability to stay positive and provide exceptional service to guests.
To ensure your answer makes an impression, consider sharing a real-life example that highlights your effective strategies and the positive outcome you achieved.
Now, with your story ready, let's serve up an enticing response.
"In my previous role as a server at a busy restaurant, we had an unexpected shortage of staff one evening during a particularly large event. Despite the pressure, I knew I had to remain calm, focused, and prioritize tasks efficiently. I quickly reorganized the floor plan to ensure that all guests would receive the best possible service. When faced with challenges, I believe it's important to keep the bigger picture in mind and focus on providing exceptional customer experiences. In that situation, I could balance multiple tables and requests without compromising the quality of my service. By the end of the night, the guests were thrilled with their experience, and my manager praised my ability to handle the high-pressure situation with professionalism."
How would you warmly greet guests at their table to create a welcoming first impression?
When the interviewer asks how to warmly greet guests at their table, they're assessing your personality, communication skills, and ability to create a welcoming environment for guests.
To ace this question, showcase your natural charm, maintain a positive demeanor, and be genuine in your approach. In doing so, you'll demonstrate that you can provide exceptional and memorable guest experiences that The Cheesecake Factory is known for.
Now, let's gather the perfect recipe to craft a mouthwatering answer to this question.
"Hello! Welcome to The Cheesecake Factory! My name is [Your Name], and I'll be taking care of you today. I hope you're having a wonderful day so far. May I start you off with something to drink? If you have any questions or need recommendations, I'm here to help you have an enjoyable and memorable dining experience with us. Please, make yourselves comfortable and let me know if there's anything I can do for you."
With this heartfelt and personalized greeting, you'll not only leave a lasting impression on the guests but also on the hiring manager as an ideal candidate for the job.
The interviewer wants to know how well you can handle pressure and prioritize tasks in a fast-paced environment.
To dish out an answer as rich in content as a cheesecake is in flavor, share a tangible example that demonstrates your ability to analyze the situation, create a plan, and execute successfully. Be brief, to-the-point, and ensure that your answer showcases your skills in organization, time management, and problem-solving.
Eager to impress? We've got just the ticket.
"In my previous position as a server at another restaurant, there was an evening when two of my regulars arrived at the same time, and both needed prompt attention. One of the customers had allergies and required special care, while the other was celebrating their birthday and had a large order. Knowing the importance of attending to both needs, I took a moment to plan my approach. I quickly entered the birthday table's order into the system with detailed customization and requests. Then, I made sure to inform my colleagues and the kitchen about the allergy requirements for the other table, ensuring their safety was my top priority. As I juggled both responsibilities, I communicated convincingly with the customers and the kitchen team, resulting in an amazing birthday celebration and the safe provision of a delicious meal for the table of the customers with allergies. This experience allowed me to showcase my ability to multitask and prioritize under pressure, and I'm confident I would bring these skills to The Cheesecake Factory."
This role often requires working during peak periods in a busy, fast-paced environment. Do you feel comfortable working in that type of setting?
This question is designed to assess your ability to thrive under pressure and adapt to the demanding world of the food service industry. Don't panic! We've got your back.
To craft an authentic and compelling response, focus on your past experiences, demonstrate your adaptability and resilience, and express your enthusiasm for the brand.
Now let's swirl into the secret sauce (see what we did there?) for giving the best answer to this critical query.
"Absolutely! In my previous role at a local restaurant, I consistently worked during busy hours and was responsible for maintaining a high level of customer service, while completing tasks such as processing orders, managing tables, and coordinating with the kitchen staff. During peak seasons, I learned to prioritize tasks competently, think on my feet, and adapt to changing circumstances, all while maintaining a positive attitude and ensuring customer satisfaction. I believe these experiences have prepared me for the dynamic and fast-paced environment at The Cheesecake Factory, and I'm truly excited to join a team that shares my commitment to providing a fantastic dining experience for guests."
Can you describe a previous manager whose leadership style did not resonate with you and explain why? Also, can you tell us about a manager you genuinely appreciated?
The moment of truth arrives during your The Cheesecake Factory interview when the hiring manager pops this challenging question. They are asking you this to gauge your ability to adapt and respond to different management styles and to assess your communication and conflict resolution skills.
When answering this question, remember to focus on the specific behaviors that caused discomfort and emphasize the positive aspects that you learned from the experience. Be sure to then contrast this with a manager whose leadership style you admired and why.
Now for the pièce de résistance: your answer to the question.
"In a previous job, I worked under a manager who had a very authoritative approach, making quick decisions without seeking team input or adequately explaining the reasoning behind them. This frustrated me because I felt like my ideas and feedback were not valued. However, I adapted by seeking clarification on decisions when necessary and made it a point to provide unsolicited feedback to improve our team's overall performance. On the other hand, another manager I've worked with had an empowering and collaborative leadership style. They always encouraged open dialogue and made sure we all understood the rationale behind decisions. This created a positive work environment and inspired me to take more initiative and contribute proactively. While the first manager taught me the importance of adaptability and resilience, the second showed me the power of effective communication and how it fosters teamwork and success."
What are you most eager to gain by joining The Cheesecake Factory?
The interviewer is looking to assess your genuine interest in the company and gauge what motivates you personally. They want to ensure that you are not only a good fit for the role, but also a valuable addition to their corporate culture.
To ace this question, focus on what excites you about working at The Cheesecake Factory and how it aligns with your professional and personal growth. Be specific and make sure your answer demonstrates your understanding of the company's values and mission.
And now, for your taste buds, a scrumptious example answer: "I am most eager to gain invaluable experience in providing exceptional customer service in a diverse and fast-paced environment like The Cheesecake Factory. From my research and understanding of the company, I admire the emphasis on teamwork and a supportive atmosphere, which I believe will help me develop both professionally and personally. Additionally, I am excited about the opportunity to learn more about your vast menu offerings and how it caters to different tastes and preferences. By gaining this knowledge, I can connect with customers and make their dining experience memorable, leaving a positive impact on both their lives and the company's continuing success."
Can you tell me about a disagreement you had with a coworker and how you were able to patch things up?
A pivotal part of The Cheesecake Factory interview process is the question about disagreements with coworkers and how you resolved the issue.
The hiring manager wants to assess your conflict-resolution skills and your grace under pressure. After all, the service industry can have its fair share of high-tense situations.
To answer this question successfully, we recommend you recall a real-life example from your past work experience where you faced a disagreement and managed to find a solution. Focus on the steps you took to address the issue and what you did to rebuild the relationship afterward.
Ready to whip up the perfect response for your own Cheesecake Factory interview?
"In my previous restaurant job, a coworker and I disagreed about how to handle a particular customer complaint regarding a late food order. While my coworker wanted to avoid confrontation and make excuses for the delay, I believed that being honest and addressing the problem directly was the best approach. We sat down together and discussed our perspectives, taking care to keep our communication open and respectful. After weighing the pros and cons of each approach, we decided to apologize sincerely to the customer, acknowledge the delay, and offer a complimentary dessert as a goodwill gesture. Our manager praised us for our professionalism and the customer left satisfied. This experience taught my coworker and me the importance of compromise and teamwork in resolving conflicts, and we became much closer as a result."
Questions to Ask the Interviewer in The Cheesecake Factory Interview
As you prepare for your upcoming interview at The Cheesecake Factory, you might feel confident about answering the questions posed to you. However, when the tables turn, and the interviewer asks if you have any questions it is crucial that you are prepared with a set of thoughtful, intelligent queries to help you stand out as a candidate.
The purpose of this question is for the interviewer to gauge your interest in the company, your overall understanding of the role, and your ability to analyze information to make informed decisions. By asking the right questions, you convey to the interviewer that you have conducted thorough research, have a genuine interest in joining their team, and are committed to making a positive impact in their organization.
Here's a comprehensive list of questions you can confidently ask the interviewer at The Cheesecake Factory.
What qualities do your most successful employees possess?
How would you describe the company culture at The Cheesecake Factory?
Could you provide an overview of the training process for new hires?
How would you describe the career progression opportunities within the company?
What are the expectations for this role within the first 30/60/90 days?
How does the company handle employee feedback and ensure continued growth opportunities?
What are the most important aspects of a high-performing team at The Cheesecake Factory?
How do the various departments within the restaurant work together to achieve business goals?
How does the company stay ahead in the competitive restaurant industry?
Can you share any recent accomplishments or accolades the restaurant has achieved?
Are there community outreach or philanthropic initiatives that The Cheesecake Factory is involved in?
How do you ensure constant menu innovation and adherence to quality standards?
What are some upcoming projects or expansions that the company is excited about?
What performance metrics are important for success in this role?
Is there a particular management style that the company values?
What does a typical day look like for someone in this role?
How do you ensure that employee scheduling is fair and accommodating to individual preferences?
How has the company responded to the rising popularity of food delivery services?
When can I expect to hear back about the next steps in the hiring process?
The Cheesecake Factory Hiring Process
As a candidate applying to The Cheesecake Factory, here is what you can expect in the hiring process:
You will first need to apply online through The Cheesecake Factory's careers website. This initial application will require you to provide information about your availability, customer service experience, and work history.
If selected to move forward, you will be invited to the first round interview, usually with a manager. This will last around 5-30 minutes and cover more questions about your background, enthusiasm for customer service, and schedule flexibility.
If The Cheesecake Factory team likes what they see in the initial interview, you may be asked back for a second follow-up interview with another manager or even the General Manager. This is an opportunity for them to confirm they want to bring you on board. The second interview will dive deeper into your relevant experience, how you would handle difficult situations, your commitment to excellence, and your availability. Despite lasting only 15-30 minutes, these conversations are critically important. Come prepared with examples of providing amazing experiences!
Within a few days of your final interview, you'll receive an offer if selected. As The Cheesecake Factory's needs are often urgent, top candidates may even be hired on the spot.
If an offer is made, you'll go through 1-2 weeks of onboarding to train and prepare for success in your role. Onboarding involves intensive hands-on practice making menu items, understanding customer service standards, and learning restaurant operations inside and out.
The Cheesecake Factory hiring process moves quickly, so stay enthusiastic, bring your energy, share your passion for customer delight, and be ready to start right away! With the right skills and dedication, you'll go from application to onboarding and begin your sweet career. The key is showing how much you care in every conversation. So apply today – a slice of success awaits!
The Cheesecake Factory Interview Tips
Do some research on The Cheesecake Factory's menu and dining philosophy so you can speak knowledgeably about why you want to be part of their team. Focus on your experience providing excellent customer service and your ability to thrive in a fast-paced work environment. Share meaningful anecdotes that demonstrate how you build rapport with customers and co-workers. Make eye contact, sit up straight, and convey genuine enthusiasm for the opportunity. If asked about challenges, provide constructive responses that highlight your problem-solving abilities.
What to Wear to The Cheesecake Factory Interview
???? Before we dive into those glorious tiers of cheesecake, let's talk fashion. And no, we don't mean what's on the runway – we're talking about how to dress like a boss for your interview at The Cheesecake Factory. After all, nothing screams "I am the one!" more than nailing that perfect balance of style and substance. So, let's bake up a storm of confidence with the right attire!
Imagine this: you're a character in an epic movie, where you need to become part of a new tribe (which, in our case, is The Cheesecake Factory). What would you do? Dress like them, of course! Infiltrate their ranks by showcasing that you not only possess the skills they need but also effortlessly blend into their culture. And how do you accomplish that? By emulating their dress code.
This means before you step foot into your interview, you must acquaint yourself with how the employees at The Cheesecake Factory dress and pick an outfit that sings the same tune. This nifty trick shows you respect the brand and are ready to be part of their phenomenal team.
Now, let's talk about the details.
The dress code at Cheesecake Factory typically requires employees to wear a long sleeve shirt, black dress pants, a black belt, and non-slip shoes. All clothing should be ironed and free of even small stains, and employees are expected to have their hair properly pulled back. Additional attire requirements may vary depending on the specific position within the restaurant.
If you're applying as a Host, Busser, Cashier, Baker, Server, or Bartender. First off, welcome to the frontline! Your uniform might be on the more casual side when you start working, but for the interview, we'd say, walk the line between casual and business casual. A neat button-up or polo shirt paired with dress pants or a knee-length skirt would work wonders. Remember, no creases, no stains, and a smile as sweet as cheesecake itself.
But what if you're gunning for a managerial role, like Manager or General Manager? You're aiming high, my friend! Business casual is the attire du jour. Throw on a crisp shirt, and pair it with dress pants or a classy skirt. A blazer can be your secret weapon to exude that extra oomph of authority. But remember, don't go overboard – you want to be a leader, not a drill sergeant.
And, oh! The crème de la crème – Corporate Office positions. This is where you need to bring out the big guns, aka business formal attire. For the gentlemen, that means a suit and tie. For the ladies, a well-fitted pantsuit or a skirt suit with a blouse. This is where you channel your inner Harvey Specter or Jessica Pearson (bonus points if you caught the Suits reference). You are going to be the brain behind the operation, and your attire should reflect that.
Well, there you have it! You're now well-equipped to walk into The Cheesecake Factory interview with confidence and style. Remember to keep that winning attitude, practice your responses, and most importantly, let your passion shine through. Your attire is the icing, but you, our friend, are the cheesecake!
Conclusion
By reviewing and familiarizing yourself with these top most commonly asked questions and providing thoughtful, detailed responses, you're well on your way to acing your interview at The Cheesecake Factory.
Remember that the key to success is preparation, and this comprehensive guide will help you put your best foot forward. With a little hard work, dedication, and confidence, you're sure to make an unforgettable impression on your potential employer – and you might just land that dream job after all!
Though we have no doubt you'll excel during your The Cheesecake Factory interview, it's crucial not to rest on your laurels. In today's competitive job market, it's important to keep your options open and maintain a proactive approach to your career. So why limit yourself? Consider applying to similar companies in the industry, such as Applebee's, P.F. Chang's, Grand Lux, Chili's, Junior's Cheesecake, Outback Steakhouse, Buffalo Wild Wings, and Olive Garden.
The more applications you send out, the greater your chances of success. Plus, going through multiple interviews will only increase your expertise, sharpen your skills, and bolster your confidence.
So, go forth and conquer, dear reader – the world is your oyster, and success is just around the corner!