24 Outback Steakhouse Interview Questions (And Bold Answers)
Do you feel the sizzle of excitement at the prospect of becoming part of the Outback Steakhouse team? You've finally landed that coveted interview and you can practically smell the aroma of grilled steak wafting through the air. Imagine, you in the iconic Aussie-themed restaurant – making mouth watering steak dishes, bantering with fellow staff members, and being a part of a customer's wholesome dining experience. It may seem daunting now but don't worry, we've got you covered.
This blog post is your ultimate guide – your road map if you like – to the grill of success. By providing you with the most commonly asked interview questions at Outback Steakhouse and serving up detailed answers to each one, we aim to ease your jitters, boost your confidence, and give you the razor-sharp edge you need to succeed.
Steak your claim to success, marinate in this blog post, get your juices of knowledge flowing, and grill through your interview with a sizzle. Remember, when it comes to an interview, it's not just about getting the job, it's about showcasing your passion, manifesting your skills, and convincing the employer that you are the right fit for their unique Outback culture.
A well-answered question can be the secret ingredient that sets you apart and lands you that job at Outback Steakhouse. There is immense value in preparedness, knowing what to expect, and how to respond can help you side-step potential pitfalls and turn up the heat in your favor.
Sit back, soak up this post, and let it tenderize your interview anxiety into a well-done confidence. Let's dive in, explore, and get you ready for your delicious journey into the Outback Steakhouse family!
Outback Steakhouse Company Information
Embarking on your interview journey, it's wise to acquire some fascinating insights about Outback Steakhouse. Knowing a few key facts not only positions you to handle any curve-ball questions rooted in research but also conveys your genuine interest in the company.
We advise starting with the following indispensable bits of information and then branching out to broaden your understanding:
| | |
| --- | --- |
| Trade Name | Outback Steakhouse |
| Type | Steakhouse Restaurant Chain |
| Founded | Mar 1988 |
| Founders | Bob Basham, Chris T. Sullivan, Trudy Cooper, Tim Gannon |
| Headquarters | Tampa, Florida, United States |
| Menu | Steaks, Chicken, Ribs, Seafood, Pasta, Sides, Salads, Desserts |
| Signature Items | Bloomin' Onion, Aussie-Tizer, Outback Sirloin |
| Core Values | Hospitality, Quality, Sharing, Fun, Judgment, Courage |
| Website | www.outback.com |
| Competitors | LongHorn Steakhouse, Texas Roadhouse, Black Angus, Olive Garden, Saltgrass |
Additional facts:
Inspired by a hit movie: Outback Steakhouse was created by four American entrepreneurs in 1988. They had never actually visited Australia but were moved to start the restaurant after watching the iconic film, "Crocodile Dundee."
Stereotype, not authentic: Instead of offering genuine Australian cuisine, Outback Steakhouse serves dishes based on American stereotypes of Australian culture. Despite their Aussie names, signature meals like shrimp on the barbie and Toowoomba pasta are not traditionally Australian.
Secret seasoning: Each Outback steak is seasoned using a secret blend of 17 herbs and spices. Many home cooks have attempted to decode and recreate this recipe online.
Unique kitchen gadgetry: Outback Steakhouse employs a specialized device to slice its onions into 24 petals for the Bloomin' Onion. This infamous dish has earned notoriety as one of America's most unhealthy meals, packing in over 2,000 calories.
Part of a larger family: Outback Steakhouse is a member of the Bloomin' Brands family, sharing its parent company with other well-known establishments such as Carrabba's Italian Grill, Fleming's Prime Steakhouse & Wine Bar, and Bonefish Grill.
Global presence: Outback Steakhouse has an international footprint, boasting nearly 1,000 locations across 19 foreign countries, including eight branches in Australia.
Former football sponsor: For a quarter-century until 2022, Outback Steakhouse sponsored a college football bowl game in Tampa Bay. Its long-standing relationship with the sport ended when a cybersecurity company took over as sponsor.
Microwave magic: Some dishes at Outback Steakhouse, such as lobster tails, vegetables, and pasta sauces, are actually cooked in a microwave.
Outback Steakhouse Mission Statement
Emphasizing consistently high quality delicious food delivering a warm, welcoming environment.
Outback Steakhouse Interview Questions
Can you tell me a bit about yourself and what makes you an AUS-SOME fit for Outback?
The interviewer asks this to get a sense of your personality, skills, and motivation behind joining the Outback team. They're looking to see if you align with the restaurant's friendly, service-oriented culture and can thrive in their dynamic, high-energy environment.
Start your answer by briefly introducing yourself, focusing on aspects related to the job—your passions or talents in hospitality or customer service, for instance. Then, pivot to why you're a great fit for Outback. Do your research and understand the values that Outback Steakhouse holds dear: dedication to quality, genuine hospitality, and most importantly, fun. Incorporate these company values in your response, relating them to your own experiences or goals.
Be honest, be yourself, but most importantly, be enthusiastic about the opportunity to bring your own flair to the Outback family.
Now, you might be asking, "But how do I pull it all together?" Well, let's set the scene with an example.
"Well, I've always been passionate about delivering excellent customer service in a fast-paced environment—as I demonstrated in my previous role as a server at a local diner. I jump on opportunities to make guests' experiences more enjoyable and I love working as part of a cohesive team—it's really the heart of good hospitality. What makes me an AUS-SOME fit for Outback is my commitment to these values and my ability to bring them alive. I really admire Outback Steakhouse's dedication to 'No Rules, Just Right' philosophy and how you guys prioritize guest satisfaction above all else. I would love the opportunity to contribute my vibrant personality, quick decision-making skills, and insatiable urge to exceed customer expectations to your team!"
Why do you want to work for Outback Steakhouse?
The oh-so-common but ever perplexing interview query might seem benign but it's actually a gem in disguise for the hiring manager. It's a targeted probe into your motivation, research and interest in their company. They're looking to find out if you're a good cultural fit, if you're likely to stay for the long haul, and, importantly, if your career aspirations align with Outback Steakhouse's mission.
To make a winning impression, you'll want to do your homework. Research Outback Steakhouse's history, mission, and values. Tie these back to your own personal values and professional skills. Mention specific aspects of the company's culture or programs that you admire and tell them why you think you'd excel in such an environment.
Remember, your answer needs to reflect you're not just looking for any job but THE job at Outback Steakhouse.
Now let's put your new knowledge to the test with a practical example.
"I've always loved the vibrant, energetic vibe of Outback Steakhouse. During my research, I discovered that your company places a premium on delivering excellent customer service and creating memorable dining experiences. This aligns perfectly with my own commitment to delivering exceptional service in my work. Furthermore, I admire your dedication to employee growth and development programs, which I believe can help me grow both personally and professionally. Overall, I see a great fit between Outback Steakhouse's mission and my own values and career aspirations, making this more than just another job for me."
What hobbies or interests do you have outside of work that bring you joy?
This query might not seem directly related to the job, but trust us, it's greatly significant from the interviewer's perspective. The hiring manager is essentially probing to see if you maintain a work-life balance, if you are personable and relate to diverse individuals — all key attributes when you're part of the vibrant Outback community.
Nailing this question is easier than making a Vegemite sandwich. First off, be real. Don't try to spin some yarn about hobbies you think will make you seem like the perfect fit. At Outback, honesty is just as valued as the perfect rack of ribs.
Focus on what you genuinely love doing, especially if it's something social, lively, or community-focused, like playing a team sport, volunteering, or going to local events. This is the stuff that makes Outback tick: it's a melting pot of activity, people, and good vibes. Finally, try to sneak in how these ventures make you a better worker-bee. It could be your team spirit, your patience, or maybe the empathy you've learned from volunteering.
It's time to transform this seasoned advice into a perfectly cooked response, just like a well-prepared Outback meal!
"Well, outside of work, I have two things that genuinely light up my life—soccer and community service at the local food bank. Playing in my local soccer league has taught me teamwork and strategy, invaluable skills that could translate into a bustling kitchen or on a busy restaurant floor. Moreover, weekend volunteering at the food bank has increased my understanding of the essence of providing high-quality food to all, which is at the heart of what Outback Steakhouse stands for. I believe these interests not only enrich my life but would also make me a more empathetic and well-rounded team player at Outback."
Where do you see your career heading in the next few years, and how could this role at Outback help you work toward those goals?
The interviewer isn't simply interested in your dreams; they're looking for assurance that your aspirations align with the company's vision and will add value to their organization. They need to know you're enthusiastic, motivated and here for the long run.
With that understanding, you can approach this question confidently and strategically. There's a simple three-step formula you can follow. First, explain where you see your career heading, ensuring it resonates with the role you're interviewing for. Next, detail how this role at Outback Steakhouse will provide an avenue to reach those goals. Then, show your understanding of Outback's vision and how your career goals align with it.
Remember, the goal here is not just to speak about personal gain but to showcase how you and Outback Steakhouse can grow together.
And, just as you're about to show them your vision of the future, remember to anchor it solidly in the present with a dash of realism, a bit of ambition and a pinch of dedication.
"In the next few years, I see myself advancing in the restaurant industry, ultimately growing into a management role. This role at Outback Steakhouse would provide the perfect groundwork for this aim; working with customers, learning about efficient operations and grasping entire systems. But more than just learning, I want to add value. I admire Outback Steakhouse's commitment to quality food and friendly service and I truly believe that my career goals align seamlessly with the company's vision. Over time, I believe I can contribute towards maintaining, and even elevating, the brand's reputation, while also developing the skills needed to achieve my larger career goals."
In your own words, describe customer service and what it means to you?
The interviewer seeks to understand your perception of customer service, your ability to articulate its significance in the restaurant industry, and more importantly, your dedication to cultivating an exceptional customer experience that aligns with Outback Steakhouse's reputation for hospitality.
So how should you respond to navigate the Outback landscape? Start by reflecting on positive experiences you've had as a customer and how they made you feel. Paint a vivid picture of your understanding of customer service as not only meeting but surpassing customer expectations. Emphasize the importance of communication, attentiveness, and a friendly demeanor.
Make it clear that you believe customer service extends beyond the interaction at the table – it's a holistic experience that begins the moment a customer steps through the door and ends with their satisfied departure.
Now, let's take this endeavor from abstract to actual.
"For me, customer service is the cornerstone of the restaurant industry. It goes beyond merely serving food and drinks. It's about creating a warm, welcoming environment that starts with a genuine smile and a friendly greeting. To me, excellent customer service means paying keen attention to customers' needs, remembering their preferences, actively listening, and responding in a timely manner. It's about going the extra mile to make customers feel special and appreciated. Afterall, when they choose Outback Steakhouse, they're not just looking for a meal; they're looking for a memorable dining experience. This understanding is what defines my approach to customer service, and should I have the opportunity to work at Outback Steakhouse, it will guide my interactions with every customer I serve."
Can you walk me through how you would deal with an unhappy customer during a busy rush?
The hiring manager wants to assess your problem-solving skills and emotional intelligence in responding to customer issues in a high-stakes environment. How efficiently you can manage an upset customer while maintaining operational flow signifies your potential, as the service industry thrives on customer satisfaction.
Answering this question requires empathy, professionalism, and strategic thinking. You must demonstrate the ability to communicate effectively with your customers, diffuse escalating tensions, and negotiate resolutions that benefit both the customer and Outback Steakhouse.
One tip we have is embracing the STAR method (Situation, Task, Action, Result) to articulate your responses. Also, don't forget to be specific, and concise, and maintain a positive attitude all through.
Now that we've laid the groundwork for constructing your answer, let's serve up a meaningful, fitting response to satisfy the hiring manager's taste buds.
"During a busy dinner shift, a customer's steak was served too well-done. They were visibly upset due to the delay. As a server, my priority was resolving the issue without causing disruption to the operations. So, I quickly went to the customer, apologized for the mishap, reassured them that a replacement was being expedited, and offered a complimentary appetizer to make up for the time they'd have to wait. Simultaneously, I alerted the kitchen for a rush order. Within fifteen minutes, the customer had their steak as per their liking and also seemed to have enjoyed the appetizer. At the end of their meal, they thanked me for addressing their concern promptly and left a generous tip, signifying a positive turn-around from an initial negative experience."
What did you find challenging and rewarding about working in fast-paced customer service environments like restaurants?
This might seem like a simple question, but it's a golden opportunity to demonstrate your ability to adapt to changes and thrive under pressure. The hiring manager is essentially assessing your resilience, capacity to maintain composure in hectic situations, multitasking skills, and most importantly, your focus on delivering superior customer service, even in the most challenging moments.
To answer this question confidently, we encourage you to dive into your past experiences and be specific. Detail exactly what you found challenging, whether that was the quick turnaround of tables, juggling multiple customers at once, or difficult customers. Then, focus on how you met these challenges with a positive mindset and how it helped you grow. Lastly, mention the rewarding aspects of your work such as building rapport with customers or achieving a high satisfaction rate – anything that made the job worth it.
Now that we've set the stage and laid the groundwork, brace yourself. The spotlight is on you, and it's time to deliver that killer response.
"Working in fast-paced customer service environments, like restaurants, was initially challenging for me, especially during peak hours. Trying to manage multiple tables effectively while ensuring timely food delivery was overwhelming. However, this challenge honed my ability to multi-task, stay organized, and think fast, strengthening my resilience. What I found rewarding was seeing the satisfied smiles on my customers' faces after providing them with excellent service. It reaffirmed my belief that, despite the fast-paced environment, my ability to provide top-notch service could genuinely make a difference in someone's day. That's the fulfillment I would bring to the table at Outback Steakhouse."
What are you looking for in your next role, and how do you think Outback provides that?
This interview question is designed to help the interviewer assess your intentions, career goals, and how well you would fit within the Outback Steakhouse culture. They're interested in whether you've thought about your future, aligned your goals with theirs, and done your research on the company.
As you know, Outback is more than just a bloomin' good place for a steak. It's all about inspiring people to be their best, offering top-notch service, and adding value to a team that's on fire!
As you prepare your response, consider the traits Outback prides within their employees – teamwork, exceptional service and dedication. Mirror these values in your answer, demonstrating how you're not just looking for a job, but a place where you can grow and refine these traits.
Discuss your desire to work in a supportive environment that encourages individual growth while contributing to the team's success. It's important to express your long-term commitment and how you see this opportunity as a significant step towards your career progression.
Now that you're equipped with a great framework for your answer, let's dive into an example that captures all we've talked about.
"In my next role, I am looking for an opportunity to leverage and enhance my customer service skills, while working in an environment that fosters teamwork and continuity. I believe Outback Steakhouse would be the perfect place for me because I've seen firsthand how the staff operates more like a close-knit family. From my understanding, Outback heavily emphasises on personal growth and team success, aspects that align with my career objectives. Additionally, the Outback culture resonates with me, as it's clear that the company respects and values its team members, which is extremely important to me. I'm excited about the prospect of not just joining a team, but being part of a family that works together to provide customers with an exceptional dining experience. Achieving these career goals at Outback Steakhouse would be a great win-win for both me and the amazing Outback team."
The purpose of this question is to evaluate your ability to work in a team and how effectively you collaborate with others. As a popular family-friendly restaurant, the Outback Steakhouse environment thrives on teamwork. They want to know that you can seamlessly integrate within their hardworking crew, and contribute positively to the group.
Our major tip for tackling this question is to leverage the STAR (Situation, Task, Action, Result) method, an approach that helps you answer interview questions in a clear, concise, and organized manner.
Begin by describing a situation that required teamwork in a previous role. Next, outline the tasks that you were responsible for in that situation. Then, detail the actions you took to effectively execute these tasks and contribute to the team. Finally, discuss the final result of your actions. Be specific and quantify your stories where possible. This definitely showcases how you would seamlessly fit into the Outback Steakhouse team.
"When I worked as a hostess at a local restaurant, we had a very large weekend brunch rush with few staff and many customers waiting (Situation). My tasks were to seat customers efficiently and help bus tables (Task). I saw that the servers were overwhelmed so I jumped in to help. I immediately started busing empty tables and running food for the servers so they could focus on taking orders (Action). By pitching in and helping out wherever I could, we were able to reduce customers' wait times and keep the restaurant running smoothly during that busy rush. The managers later thanked me for stepping up as a team player (Result)."
What unique skills, talents, or strengths could you bring to our Outback team?
The interviewer isn't looking for generic answers about being hardworking or a team player. They want to understand what sets you apart as an individual and how those unique qualities can uplift their team dynamics, customer experience, and overall performance.
When it comes to answering this question, authenticity is paramount. Don't try to guess what the interviewer wants to hear. Instead, focus on your actual strengths and how they can complement Outback Steakhouse's work culture.
Do your homework about the company. Understanding Outback's values and what they prioritize in their employees will help you tailor your response to resonate with them. Using concrete examples of how you've tapped into your unique skills in the past is a great technique, and it substantiates your claim – so scatter anecdotes throughout your answer.
Lastly, don't forget soft skills. Outback Steakhouse is a people-oriented business, and interpersonal skills are highly valued.
Now, let's dive into the meat of this issue with an example that wraps all this advice into one compelling response.
"In my previous jobs, I've built a reputation for being the 'go-to person' when it comes to transforming frustrated customers into loyal patrons. I have a knack for empathizing with people, understanding their concerns, and resolving conflicts in a way that leaves everyone satisfied. This ability would be invaluable in a customer-orientated environment like Outback Steakhouse. Secondly, I've developed a unique strength in organizing chaotic situations – be it a rush hour or unplanned changes. My previous manager often commended me on my ability to stay cool under pressure and effectively manage rapid changes. Finally, I'm a firm believer in the power of team spirit and camaraderie. In previous roles, I've organized team-building activities that improved overall morale and led to increased productivity. At Outback Steakhouse, I aim to create the same positive impact within my team and among our valued customers."
How would you describe your approach to hospitality and making guests feel welcomed?
The hiring manager is trying to assess your understanding of the essence of the restaurant service industry – hospitality, which is all about making each guest feel valued, appreciated, and most importantly, welcome.
In short, they want to understand your approach to hospitality and making guests feel like they just hit the Aussie hospitality jackpot.
Don't rush into a hasty answer when you're asked this important question. Begin by sharing your understanding of what hospitality means, particularly in the context of Outback Steakhouse – an Aussie-inspired restaurant chain renowned for its hearty food and warm, welcoming ambiance.
Emphasize how important it is for you to contribute to that atmosphere by making every guest feel comfortable and well-taken care of. Reflect on past experiences, if you have any, where you successfully catered to customer needs to guide your answer. Do your homework about the company culture at Outback and incorporate that into your answer as well.
Remember, as the conversation flows, let sincerity be your guide. Now, let's head down under and dive into an example of how you could put all of these tips into practice.
"In my opinion, hospitality at its core is all about providing a warm and inviting atmosphere that makes guests feel at home, and this is something I always strive to provide. Working in a service environment previously, I've learned the importance of personalized service and the positive impact it can have on a guest's overall experience. Building on that, I would approach hospitality at Outback Steakhouse in a similar manner, with a genuine smile, attentive service, and a hearty Aussie greeting, putting our guests at ease right from the moment they step in. Keeping in mind the company's culture of going the extra mile in service, I would take every initiative to ensure our guests not only enjoy their meals, but also create an unforgettable dining experience that keeps them coming back for more."
To constantly improve, we need team members eager to grow. What's an area you're looking to develop as you start this role?
When the hiring manager asks this question, they are curious about your self-awareness and commitment to growth. They need to know if you can recognize your weaknesses and, more importantly, be dedicated to turning them into strengths.
For effective preparation, we recommend conducting a self-analysis first. Identify areas of weakness or gaps in your skill set that could directly impact the role you're interviewing for. Take a step further by outlining specific steps to turn these identified weaknesses into strengths.
Honest, candid answers sit well with interviewers. Therefore, admitting a weakness demonstrates sincerity, while illustrating your improvement plans shows your commitment to personal development – both of which are qualities the hiring manager is looking for.
Now, with such solid groundworks laid, you're all set to 'steak' your claim in the Outback Steakhouse interview.
"I've noticed that although I'm fully versed in customer service and operations, I lack a deep understanding of beverage pairings with different foods, which I understand is an important aspect of dining at Outback Steakhouse. I've already started tackling this by enrolling in an online course about food and beverage pairings. I'm excited to bring this new knowledge to the restaurant, further enhancing the dining experience for our guests. I'm always eager to grow, and I believe this role at Outback Steakhouse will continually provide opportunities for me to do just that."
Initially, it might seem like they are simply testing your familiarity with Outback's menu, but there's much more to it. With this question, the interviewer is gauging your knowledge about their offerings, your communication skills, and your ability to sell a product. In other words, if you can't make your favorite dish sound tantalizing, how can they trust you to do so with the customers?
Responding to this zinger, honesty is your best mate. But let's get real—we all have different tastes. What matters most is not the actual menu item you select but how you present it.
Familiarize yourself with Outback's menu beforehand. Select a dish you genuinely enjoy or one you believe would be most popular with the guests. Describe it in mouth-watering detail—bring your chosen dish to life using vivid language that ignites the senses. Talk about its ingredients, its taste profile, how it's prepared, and why it stands out for you.
This is your opportunity to demonstrate your communication skills, your enthusiasm for Outback Steakhouse's offerings, and your ability to make a sale. Make sure you show them just how successful you can be.
So, are you ready to grill up a top-tier response and really bring the sizzle to your Outback interview?
"My absolute favorite dish at Outback Steakhouse would have to be the 'Alice Springs Chicken'—a dish that perfectly encapsulates the strength of Outback's offerings. This succulent, flame-grilled chicken is marinated and smothered with honey mustard sauce, topped off with melted Monterey Jack and cheddar cheese and is finally garnished with crispy bacon and fresh mushrooms. What makes this dish a joy to eat is the perfect balance of sweet and savory flavors dancing on your tongue with each bite. Pair it with a side of fresh, steamed veggies, and you've got yourself a hearty and satisfying meal. It's more than just a plate of chicken—it's an indulgence into the bold flavors that Outback Steakhouse offers."
Give me an example of a time you went above and beyond for a guest. How did you wow them?
The interviewer is keen on gauging your dedication to customer service and creativity in executing stellar hospitality experiences. They crave tangible examples that reveal your initiative, problem-solving skills, and commitment to making guests feel special and treasured.
Nailing your response to this question needs a mixture of self-reflection and strategic structuring.
Firstly, recall a specific scenario during your previous employment where you truly surpassed the usual expectations to create a memorable guest experience. Focus on a situation that aligns with Outback's commitment towards hearty doses of warm hospitality. Then structure your response following the STAR method, outlining the Situation, Task, your Action, and the Result. By doing this, you highlight your abilities in the context of real-life examples, narrate the steps you took, and emphasize the outcomes – demonstrating your proactive nature, flexibility, and customer-centric mindset.
Ready to mouthwater the interviewer with a hearty serve of an impressive answer? Let's grill it!
"When I was working at my previous job, we hosted a regular who was celebrating her 50th wedding anniversary. Learning this, I saw an opportunity to make the occasion unforgettable for this lovely couple. On that day, I arrived at work an hour earlier to decorate their regular table with fresh flowers, making sure everything was perfect. I even coordinated with the chef to prepare their favorite dishes with a slight twist, and arranged a small, surprise cake for dessert. The outcome? They were touched beyond words, leaving a heartfelt note appreciating our efforts. A week later, they returned with their extended family, and this act of going above and beyond turned them into enthusiastic advocates of our restaurant. This taught me the power of thoughtfulness in creating extraordinary customer experiences that resonate, adding much more to the business than just profit."
If I asked your last manager about you, what would they emphasize about your work ethic?
What's behind this seemingly simple question, you might wonder? The hiring manager aims to assess how you perceive yourself and your approach to work and indirectly decode what others think of your reliability and commitment. It's also a way for them to check how in sync your views are with what Outback Steakhouse looks for in potential team members: responsibility, honesty, hard-working nature, and teamwork.
Strategizing your response to this question can work wonders in projecting a strong impression of your work ethic. Begin by reflecting on your past experiences and identifying the characteristics that make you an outstanding employee. Maybe you're a hard worker who goes above and beyond, or perhaps you're always on time, never missing a deadline. Then, consider your last manager's perspective of these attributes.
Remember, honesty is critical here. Don't claim to be something you're not – it is easy to tell when someone isn't being genuine. So, keep it real, but also focus on the qualities that would make you an asset to Outback Steakhouse.
Now, as we shift gears and get ready to dive into the example, remember this key point; your answer should reflect your commitment and fit into Outback Steakhouse's team and culture.
"Absolutely, if you had the opportunity to chat with my previous manager, they would definitely tell you about my 'never say no' attitude. I firmly believe in doing whatever it takes to satisfy customers and ensure a remarkable dining experience. My punctuality was another quality appreciated by my previous boss. I've never been late to a shift, and I accept each responsibility with the utmost dedication. My peers often appreciated how I used to pitch in during peak hours and help defuse tense situations. I firmly believe that my commitment to going above and beyond, my punctuality, and teamwork resonate strongly with Outback Steakhouse's values."
What achievement are you most proud of in your career so far, and why?
This seemingly straightforward question serves a multipurpose. Not only does it allow the interviewer to gauge your accomplishments and self-perceived success, but it also provides insight into what motivates you, what kind of tasks you find fulfillment in, and crucially, whether your values align with the Outback Steakhouse's mission of high-quality food and top-notch customer service.
When answering, pick an achievement that complements the role you're interviewing for. Don't simply list an accomplishment; illustrate the journey of how you arrived at it. Outline the goal you set for yourself, the hurdles you crossed, the initiatives you took, and how it improved you professionally. Make sure you express the positive influence your achievement had on the overall business. Show enthusiasm, passion, and most importantly, empathy for the people you worked with.
Now, let's paint this abstract advice with a touch of color by providing a concrete example.
"One of my greatest achievements so far in my career path has been earning the Outstanding Customer Service award within two months of starting at my last job as a server. This was meaningful to me as customer satisfaction has always been my top priority wherever I have worked. In any job or role, I aim to provide an enjoyable experience that makes customers want to return. At Outback Steakhouse, I am confident I can consistently deliver the same friendly and attentive service that lives up to your high standards for customer satisfaction. The award showed me that I was on the right path and motivated me to keep working hard to make every customer feel valued during their dining experience. excellent customer service is at the heart of what Outback Steakhouse stands for and I hope to have the opportunity to contribute in that way as a team member."
Can you describe a time when you successfully juggled multiple tasks during a busy shift?
This question isn't asked to trip you up or to catch you off guard. In fact, it's quite the opposite. The hiring manager wants to see how you thrive in a fast-paced environment like Outback Steakhouse, where the ability to multitask is not just appreciated but is also crucial to the smooth running of their operations.
Ready for some real-world insider tips on how to best respond to this question? Firstly, think back to a time when you found yourself right in the eye of the storm, where everything was happening all at once. The secret is to explain the situation, detail your response, and share the favorable outcomes resulting from your actions. Concentrate on your emotional intelligence, leadership, handling stress, and prioritizing different tasks.
The goal here is for you to paint a picture of a real event that truly emphasizes your time management skills and your ability to keep your cool when things heat up. These are the ace skills Outback Steakhouse is itching to see in their top performers.
Now, let's put on our storytelling hats and coin an answer that weaves in all these intricate elements into a comprehensive response.
"Absolutely! During my previous role as a server at a bustling restaurant, we had an exceptionally busy Saturday night. We were short-staffed, and I was responsible for managing a few extra tables in addition to mine. The key for me was prioritization – determining who needed attention the most, ensuring the kitchen was aware of special dietary requirements, and constantly communicating with the guests. I managed to serve drinks, take orders, deliver meals, and manage complaints all while maintaining patience and high-quality service. By the end of the night, not only did we make it through the rush, but several customers complimented our team's efficiency. It was a reminder that even in the most challenging circumstances, a calm demeanor and strategic multitasking can deliver memorable customer experiences."
If a customer wasn't satisfied with their meal for some reason, how would you go about resolving that situation?
All the Outback Steakhouse manager wants to know is if you can handle tricky situations with customers warmly and effectively – a must-have quality for anyone aiming to work in a cosy, customer-centric place like Outback Steakhouse.
To answer this sneakily simple question, all you need to do is show 'em that you're empathetic, patient, and a whizz at communicating with customers.
Start by saying you'd always take the time to understand why a customer's cheesed off. Because let's face it, everyone likes feeling heard, right? Then, show them your problem-solving chops. Suggest giving the customer another dish to try out or maybe slip them a cheeky discount on their order.
It's key to demonstrate how you'd take a dodgy situation and spin it into a positive one. After all, customer satisfaction is what Outback Steakhouse is all about!
Now, let's walk down the path of 'demonstration avenue' – we'll give you an example of how to turn these words into action, with an answer that would impress any Outback interviewer.
"If a customer was unhappy with their meal, my first step would be to sincerely acknowledge their feelings and apologize for the less-than-stellar experience. Then, I would ask them to share more about what exactly did not meet their expectations. This allows me to understand the issue more clearly, and then I could offer to replace the dish, or suggest they try one of our other popular dishes. I'd also offer a discount on their current or future order to show our commitment to their satisfaction. Additionally, I'd mention their feedback to the kitchen team so we can aim to improve and prevent a recurring issue. In the end, I believe it's crucial to leave our customers feeling heard, valued, and assured that Outback Steakhouse values their dining experience highly."
If you had to name your top 3 strengths and weaknesses, what would they be?
This question offers a window into your self-awareness, maturity, and honesty as a potential employee. It helps them gauge if the qualities you possess align well with the Outback Steakhouse brand value and the demands of the specific role you're interviewing for.
Approach this question by carefully selecting and focusing on strengths relevant to a fast-paced, customer-centric environment like Outback Steakhouse. Your list may include resilience, excellent customer service skills, or adaptability, but always back these up with concrete real-life examples.
Acknowledging and addressing weaknesses can be trickier, but do not shy away. The trick is to show them how you're actively taking steps to turn that weakness around. However, it's a good idea to steer clear of weaknesses that could drastically impact your ability to perform your role effectively.
It's time to dive right into the crux of the matter – the example answer.
"My top three strengths would be my dedication, resilience and excellent customer service skills. I've always believed that a customer's dining experience reaches beyond just the food; it's about the entire experience. And I pride myself in contributing my bit by creating a warm and inviting atmosphere for every guest. My dedication has ensured I've hardly missed any shifts in my previous jobs and has translated into positive customer feedback. As for resilience, working in a high-stress environment, like in my previous role at XYZ Diner has taught me to stay calm and focus on finding solutions even in the busiest of times.
Though, I do have a few weaknesses. I can sometimes overcommit to my duties, which could lead to potential burnout. Also, I initially find it challenging to say 'no' to requests. But I'm actively working on setting realistic expectations and improving my assertiveness to maintain a healthy working environment and deliver better services."
Stepping into a new work environment often means facing challenges and disruptions, and at Outback Steakhouse, they want to see how you navigate such situations.
This question is designed to assess your problem-solving skills and resilience in the face of adversity. The hiring manager at Outback Steakhouse is not just interested in the roadblocks themselves, but more importantly, how you respond to them and bounce back.
Go ahead, dive deep into your memory, and zero in on a time when you hit a bump but swerved right in time. Maybe you got the short straw with a cranky customer? Or got boxed in a start-of-service nightmare? While sharing your tale, it's not about turning it into a sob story, but rather, lighting up the resolve, the clever schemes, or even just the cool cat attitude you kept when the pressure was on. Keep the spotlight on how you put things right back on track and the score you made going forward.
With those insights in mind, let us walk you through an example answer. Picture each word painting a scene of your resilience and adaptability.
"In one of my previous roles as a waiter, we had an unexpectedly busy evening and ended up being short-staffed. The influx of customers, coupled with the team shortage, could have spelled disaster in terms of slow service and dissatisfied guests. Instead of panicking, I quickly strategized and prioritized tasks. I communicated this strategy to our small team, we huddled together, and each took on extra responsibilities to ensure that each customer received their order within the usual timeframe. Our customers appreciated our efforts, and the management commended our team's camaraderie and effective response to the situation. It was a challenging night, but our problem-solving and teamwork kept us on track and made it a success."
This question provides the interviewer insight into your problem-solving skills, communication style, ability to handle stress, and, most importantly, how you work in a team setting. Since Outback Steakhouse prides itself on its excellent teamwork and harmonious staff relationships, the hiring manager will be eager to hear how you can contribute to this positive work culture.
Now, how can you best answer this question? Keep in mind that honesty is always the best policy. However, you don't need to focus on a problem that was insurmountable, but rather, a conflict that was resolved positively.
Begin by succinctly explaining the situation and the team's dynamics, moving onto your personal feelings in a professional manner. Then, illustrate exactly how you took action to resolve the issue – showing patience, understanding, and positivity along the way. Finally, express the outcome of the situation, highlighting any lessons learned.
Throughout this, remember to focus on your role in resolution rather than blaming others, which shows you as proactive and able to take accountability.
Let's dive deep into the blooming onion of this conflict resolution question with an example answer, ready to serve up to your hiring manager!
"During my previous role as a line cook at another restaurant, there was a tense situation between two kitchen staff members, which was resulting in slower service times. I felt it was affecting overall team performance and morale. Recognizing the issue at hand, I requested a team meeting to openly discuss the situation. At the meeting, I encouraged the two individuals to express their concerns, reminding them about our commitment to excellent customer service and team cohesiveness. By creating an open floor for communication, the duo were able to understand each other's perspectives better and agree to a compromise. The result was not only an immediate improvement in service speed but also in overall team morale. It taught me how crucial open dialogue and teamwork are in a high-stress fast-paced environment such as the restaurant industry."
If hired, how long do you expect to work at Outback Steakhouse?
It can seem like a pretty straightforward question. But don't be fooled. This is an opportunity for the interviewer to gauge not just your level of commitment but also to discern whether you view Outback Steakhouse as a stepping stone or a potential long-term career. They're looking for dedication to the brand and an indication that you'll provide a return on the time and resources they invest in your training.
Now that we've deciphered what the interviewer is trying to uncover, it's time to equip you with actionable tips to prepare for your answer.
The ideal approach is to show commitment without sounding desperate.
If you are a student, for example, explain how you are looking for a part-time job to balance with your studies, and how you see it extending into a full-time role during breaks.
If you are career-focused, share your excitement about the potential of growing with the company, of climbing the ladder, and becoming a valuable team member.
The secret sauce here is honesty; another is steering clear of exact timelines. Instead, paint them a picture of your goals or milestones you're eyeing at Outback.
"Faced with the prospect of working at Outback Steakhouse, I see an exciting path before me. My aim is not to simply mark time, but to immerse myself in all aspects of restaurant operations while providing the best dining experience for every guest. I'm eager to learn, grow, and contribute to this dynamic team. While it's challenging to set a specific timeframe, my commitment isn't to a clock but rather to the goals I can achieve here and the impact I can make at Outback Steakhouse."
Can you give me a sense of your availability to work a variety of shifts, including nights, weekends, and holidays?
In your upcoming job interview at Outback Steakhouse, they're going to grill you (see what I did there?) on whether you're game for working irregular shifts, including nights, weekends, and the odd holiday.
This question is pivotal as the hiring manager is seeking to understand your commitment and flexibility – vital traits for a job in the hospitality sector where catering to customers' needs often implies unconventional hours and flexibility.
When faced with this question, transparency is paramount. The interviewer seeks an honest representation of your capabilities and constraints. Remember, it's not merely about considering the best fits for the roster but about ensuring you can realistically and happily manage the demand. Share your availability clearly and don't be shy to mention any commitments or constraints that could affect it.
However, steer clear of sharing delicate personal information. Frame your answer to portray your keen eagerness and adaptability while subtly highlighting your understanding of Outback Steakhouse's customer-centric service ethos.
You're now ready to tuck into the meaty part – the example answer.
"Absolutely, I understand the nature of this industry and the importance of flexibility. I'm available to work most evenings and weekends, including holidays. I appreciate that dining out is often an experience that extends beyond the traditional 9 to 5 for our customers and, as part of the team, I'm fully committed to ensuring that Outback Steakhouse can consistently deliver that experience. I do have some commitments during weekday mornings, but I'm more than willing to work around those, allowing me to be as flexible as possible. I understand and embrace that a flexible schedule is often key in hospitality and I am excited at the possibility of being a part of that Outback Steakhouse experience."
Do you have reliable transportation to arrive on time for any scheduled shift?
From the abundance of their job interview questions, this one might seem relatively unimportant. However, the hiring manager is looking for dedication and reliability, and your answer can give them an insight into your commitment to punctuality.
So, how do you tactfully approach this question? First, you should definitely emphasize your ability to arrive at work on time, irrespective of transportation methods. If you own a vehicle, mention it but also include any other forms of alternatives such as public transportation or rideshare apps like Uber or Lyft. It isn't the mode of transport they care about, it's your reliability. If you don't own a car, confidently reassure them that you have a foolproof, well-thought-out plan to get to work consistently and on time.
Now, let's shift gears and transform this advice into a perfect interview response.
"Yes, I do have reliable transportation. While I own a car, I also live in close proximity to several bus routes as a backup. Further, I value punctuality, and I make it a point to leave early for work to anticipate any unexpected delays. These strategies ensure that I'm always available and at work for my scheduled shifts. I understand the importance of reliability in the restaurant industry and you can trust that I will bring that reliability to Outback Steakhouse if I am fortunate to be a part of your team."
Questions to Ask the Interviewer in Outback Steakhouse Interview
Surely you've heard the infamous inquiry, "Do you have any questions?" when concluding an interview session. If not, then you need to be prepared for it, especially if you're vying for a position at Outback Steakhouse.
Just to enlighten you a bit, the importance of responding effectively to this question cannot be overstated. Your interviewer is looking for candidates who are really interested, not just job hunters. They want to assess your thought process, how well you have studied the company, and whether you see yourself fitting in there.
So, how do you respond? You certainly shouldn't say "No, I don't have any questions." That might portray you as disinterested or unprepared. Instead, brace yourself with a list of thoughtful questions that will not only qualify you as an interested, proactive candidate but will also provide you with valuable insights about the job and the company.
Let's delve into our list of questions you should consider asking your Outback Steakhouse interviewer:
Can you walk me through a typical day for someone in this position?
What are some specific expectations for the first 90 days on the job?
What are examples of the most successful individuals in this role doing differently?
Could you share more about the work culture here at Outback Steakhouse?
How do you measure job performance and success in this position?
In what ways does the company support the professional growth and development of its employees?
Can you tell me about the team or department I'd be working with?
What is the usual career growth pathway for someone in this role?
What are some challenges faced by individuals in this position?
How does Outback Steakhouse outshine its competitors?
What goals does the company aim to achieve in the next few years, and how does this role contribute to that?
How does Outback Steakhouse incorporate customer feedback into its operations?
Can you share more about the company's commitment to diversity and inclusion?
How has Outback Steakhouse adapted to the changes caused by the COVID-19 pandemic?
What steps does Outback Steakhouse take to ensure the well-being of its employees?
Could you share any forthcoming products, services, or initiatives that the company is excited about?
What opportunities for continuous learning and development does the company offer?
What do you personally enjoy most about working at Outback Steakhouse?
When can I expect to hear from you about the next stage of the interview process?
Is there anything else, in particular, you feel I should know about working at Outback Steakhouse?
Outback Steakhouse Hiring Process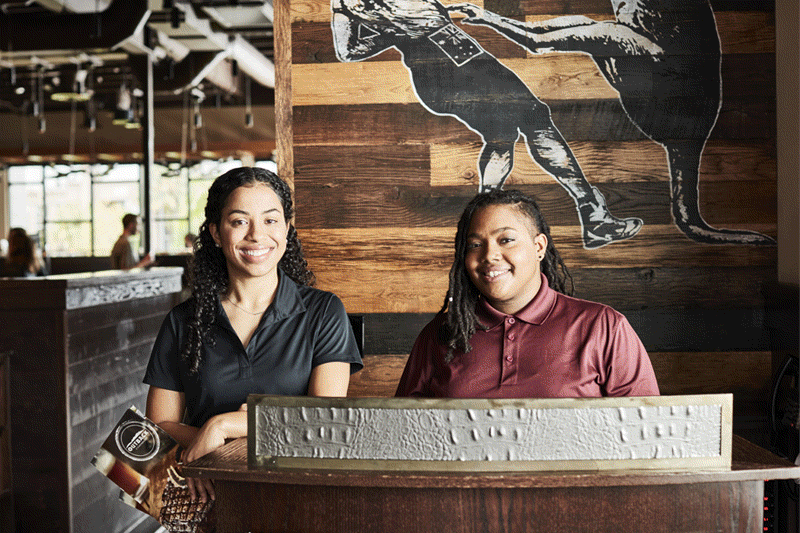 Knowing what to expect in Outback Steakhouse's hiring process can help you feel confident and ready to ace the interview.
Here's an inside look at the typical hiring process at Outback Steakhouse.
After submitting your application online or in person, you'll likely be contacted by a hiring manager to come in for an initial interview.
This interview is often conducted by multiple managers or even the franchise owner. Come prepared to answer questions about your previous work experience, availability, and how you would handle hypothetical customer service scenarios on the job.
Don't be surprised if you're asked back for a second or even third interview at Outback Steakhouse. Additional interviews or group exercises are sometimes part of the process to see how you interact with team members. These are excellent opportunities to show your communication skills and collaborate effectively.
The great news is hiring decisions are frequently made quickly at Outback Steakhouse. In many cases, the restaurant will tell you if you got the job that same day or within a few days of your first interview. This allows for a speedy onboarding process.
Once hired, you'll complete the paperwork and start training right away. Outback Steakhouse aims to get new hires up to speed quickly so they can start serving hungry customers. Within a couple of weeks, you'll likely transition from training to working regular shifts.
Outback Steakhouse Interview Tips
Be confident and personable in your Outback Steakhouse interview. When answering questions, speak clearly about your relevant customer service experience and availability. If asked questions about hypothetical customer service scenarios, pause briefly before responding, and walk through your thought process when describing how you would handle the situation. Ask insightful questions to show your interest in the company and the position.
What to Wear to Outback Steakhouse Interview

You've rehearsed your answers, researched the company inside and out, and now, it's time to put your best foot forward. But how do you do that? Well, believe it or not, it all starts with what you're wearing. At this point, you might be asking, "What should I wear to my Outback Steakhouse interview?" Don't worry. We're here to guide you every step of the way.
When selecting your interview attire, take a cue from the company's dress code. Think about it; your clothes make a powerful first impression even before you utter your first word. To nail that first impression, dress in a way that's consistent with the organization's dress code. This subtly conveys that you're already a part of their world, making it easier for the interviewer to imagine you as part of the team.
Now let's delve into the specifics of the Outback Steakhouse dress code.
The dress code at Outback Steakhouse is a black shirt or button-up shirt, black slacks or pants, black socks, and black non-slip shoes. Plus, they embrace individuality and self-expression, meaning tattoos are generally permitted.
Remember, your objective is to reflect this image without exactly replicating it, which brings us to the main event: choosing your outfit based on your role.
For positions such as To-Go Specialist, Host, Server, Bartender, Prep Cook, and Line Cook, casual or business casual is the way to go. Think black khakis paired with a button-up shirt or blouse. Ensure your attire is neat, clean, and presentable, even though it's on the casual side.
If you're aspiring to be a Restaurant Manager, business casual should be your mantra. Lean towards dark-colored slacks and a button-up shirt or blouse. A neat blazer could add a professional touch to your outfit without making you seem too formal.
For those interviewing for a role in the corporate office, business formal attire is your safest bet. A well-fitted suit, a clean, ironed shirt or blouse, and polished shoes should be your go-to choice.
Remember, your outfit is just one part of the puzzle. It's the confidence you carry with you and the skills you bring to the table that will ultimately win the day.
Conclusion
In harnessing the power of preparation, you are setting yourself up to obtain a coveted position at Outback Steakhouse. Through this article, you've unearthed the most common Outback Steakhouse interview questions and the framework to craft perfect responses. So, hold your head high, display confidence, and claim victory at your upcoming Outback Steakhouse interview!
However, it's essential to bear in mind that opportunities abound beyond Outback Steakhouse. Keep your eyes on the horizon, and don't put all your eggs in one basket. Remain proactive, keep sending out those applications, and create new prospects. Expand your reach by considering similar restaurants like Texas Roadhouse, LongHorn Steakhouse, TGI Fridays, Applebee's, Chili's, and Olive Garden.
Believe in your potential, and don't limit your job search; the right fit could just be an interview away. By keeping your options vast, you leave no stone unturned in your pursuit of the ideal role. Cheers to your dedication, resilience, and upcoming success!