25 Chipotle Interview Questions (With Answers To Get Hired)
As you're glancing nervously at your calendar, planning for the big day—your interview with Chipotle—you may find yourself gripped by an unexpected sense of apprehension. But hold on! In the words of the legendary Sun Tzu, "Victorious warriors win first and then go to war."
This blog post is designed to equip you with the tools you need to win your battle before you even step into the interview room.
We've compiled a comprehensive list of commonly asked Chipotle interview questions, enhanced by in-depth example answers for each. This is your essential guide to converting your pre-interview jitters into rock-solid confidence.
Navigating the tough tide of today's job market, your meticulous preparation could mean the difference between standing out and fading into obscurity.
After all, landing this job isn't just about collecting a paycheck; it's a critical step toward fulfilling your dreams, passions, and purpose.
This is your chance to make your aspirations a reality.
Chipotle Company Information
Before the Interview: Do Your Homework on Chipotle
Spend some time diving into critical facts about Chipotle. Having this knowledge won't just impress your interviewers; it will also provide a strong foundation for addressing any research-based questions they might toss your way.
So, let's kick off your preparation journey by diving into the information below.
| | |
| --- | --- |
| Trade Name | Chipotle Mexican Grill |
| Type | Fast-Casual Restaurant Chain |
| Date Founded | July 13, 1993 |
| Founders | Steve Ells |
| Headquarters | Newport Beach, California, United States |
| Menu | Burritos, Tacos, Bowls, Salads, Quesadillas, Sides |
| Signature Items | Burrito Bowl, Barbacoa, Carnitas, Sofritas, Guacamole |
| Core Values | Food With Integrity, Sustainability, Transparency |
| Website | www.chipotle.com |
| Competitors | Qdoba, Moe's Southwest Grill, Taco Bell, Panera Bread, El Pollo Loco |
Additional facts:
???? Origin Story: Founded in 1993 by Steve Ells, Chipotle quickly evolved from a single store in Denver, Colorado to a global Tex-Mex sensation with over 2,800 locations.
???? Culinary Roots: Steve Ells is a graduate of the Culinary Institute of America and cooked at the prestigious Stars restaurant in San Francisco before starting Chipotle. He viewed the restaurant as a short-term venture to finance his true passion for fine dining.
???? Family Funding: Chipotle's initial investment came from Steve Ells' parents and family friends, totaling around $75,000 to start.
???? Financial Milestones: Within four years of its founding, Chipotle dominated the Denver area with 14 locations and annual revenues between $14 and $18 million.
???? Minimalist Design: The restaurant's minimalist aesthetic, featuring exposed piping and stainless steel, was originally a cost-saving measure.
???? McDonald's Partnership: In 1998, McDonald's invested $50 million in Chipotle, playing a pivotal role in the chain's rapid expansion to 460 locations by 2005.
???? McSplit: McDonald's sold its stake in Chipotle in 2005, a decision many experts consider a mistake, as the value of that stake would have skyrocketed to $15 billion.
???? Passion vs Reality: Despite its success, Steve Ells initially felt guilty for not following his original dream of fine dining but later embraced Chipotle as his true calling.
???? Non-GMO Commitment: Chipotle made waves in 2013 by committing to serve only non-GMO foods, resulting in a nearly 17% increase in same-store sales. Despite its non-GMO stance, Chipotle has faced lawsuits challenging the veracity of its non-GMO claims.
???? Caloric Truth: Contrary to the 'healthy' image, the average Chipotle order contains around 1,070 calories and exceeds the daily recommended amounts of sodium and saturated fat.
???? Musical Experience: Playlist curator Chris Golub carefully selects each track played in Chipotle stores, creating a unique ambiance that complements the food.
???? Millennial Magnet: About 25% of Chipotle's customers are millennials, and the company has created a personalized rewards program called Guac Mode to understand their buying patterns.
???? CEO Transformation: Brian Niccol, a former Taco Bell CEO, took the reins in 2018 and increased Chipotle's stock prices by over 500% during his first three years.
???? Tech Innovator: Investing in robots and digital-only stores, Chipotle is at the forefront of integrating technology into the fast-food industry.
???? No Franchises: Unlike many fast-food giants, all Chipotle locations are company-owned, not franchised.
???? Avocado Obsession: Chipotle uses over 450,000 avocados daily, making up about 5% of the world's avocado supply.
???? Promo Galore: From Halloween 'Boorito' deals to a Roblox-based Burrito Builder game, Chipotle is never short on promotions and freebies.
???? Managerial Rigor: Chipotle's 39-point checklist for managers is considered the backbone of each store's success, and managers can even earn a $10,000 bonus for elevating an employee to a managerial role.
Chipotle Mission Statement
To cultivate a better world.
Chipotle Interview Questions
Can you please take a moment to introduce yourself and walk me through your background?
The walk me through your background question may seem like an opportunity to merely recite your resume. But don't be fooled! It's much more.
This is your shot to indicate your storytelling abilities, display your industry knowledge, showcase your past experiences and most importantly, the fit within the Chipotle culture and team dynamics.
Prepare a Solid Answer That Nails All Four Attributes
Think of your past experiences—professional or otherwise—and draw a storyline where you've worked or thrived in a fast-paced, customer-oriented environment.
If you've had any food-handling or cashiering duties, make sure to mention them. Why? Because this is about packaging your experiences in a way that aligns not just with the responsibilities but also with Chipotle's "Food with Integrity" philosophy.
Emphasize your understanding of fresh ingredients, ethical animal farming, or traditional cooking methods if you can.
Show that working at Chipotle for you is more than just a 'job.' It's about contributing to a bigger cause.
But we know actions speak louder than words, and an example always sets things straight. So let's walk the talk!
"Absolutely! I graduated with a degree in Hotel Management, but my passion for fresh ingredients blossomed while working part-time at a local farm during college. There, I developed a strong liking for the preparation of meals with locally grown produce, and learnt the significance of sustainable farming methods. With this knowledge, I stepped into the restaurant industry as a server. My experience at XYZ Restaurant enriched my customer service skills and resilience, all within a bustling environment. During my time there, I borrowed from my farm experience to ensure the meals I served were of the highest quality, keeping customer satisfaction at the center. I'm excited to bring this ethos to Chipotle since 'Food with Integrity' is a principle that I genuinely believe in and I can't wait to join a team that shares the same philosophy."
Why do you want to work for Chipotle?
The interviewer is interested in your aptitude for customer service, team cooperation, and commitment to high-quality food. Most importantly, they want to gauge if your personal philosophy aligns with their all-important 'Food with Integrity' ethos.
Your Key To Confidence: Research
Now, the million-dollar question. How do you tackle this?
Research: Discover Chipotle's founding, its commitment to sustainability and ethical sourcing, its special menu, and the overarching food culture it treasures.
Experience: Have you ever been a Chipotle customer or an observer? Let those experiences color your response.
No Parroting: This isn't a recital test; don't just repeat the company's about us page. Instead, incorporate what you've learned about the company as part of your personal narrative.
Genuine Interest: Show how you are enthusiastic about Chipotle and can contribute to their mission.
All set? It's time to lace up for the knockout answer.
Now let's harness all that knowledge and lace up the gloves for the knockout answer.
"I'm stoked about the possibility of working at Chipotle because I deeply respect the company's commitment to 'Food with Integrity'. As a food lover myself, serving fresh and responsibly sourced ingredients isn't just a job; it aligns with my personal mission. I have always admired the energy and warmth of the Chipotle team when I visit as a customer. I'm eager to contribute to that same lively atmosphere and offer patrons not just a meal, but a culinary experience. Moreover, I'm excited to learn and grow alongside a team that values constant innovation, collaboration, and customer service. Significantly, I'd be thrilled to work for a company where I can proudly stand behind the product I'm serving."
If you had to describe yourself in just three words, which would you choose and why?
This question is a classic staple in numerous interviews, including those at Chipotle.
Why the Three Words?
The interviewer wants to understand:
Who you are on a fundamental level
How you perceive yourself
If your self-perception aligns with the company's core values and job requirements
Prep Guide: Three-Word Self-Description
Let's break down how you can take this question head-on:
Self-evaluation: Imagine yourself in the role at Chipotle. Highlight your strengths that mesh well with the gig.
Keyword selection: Here's the fun part. Choose three descriptive adjectives. Not too robotic, not too vague. Just right.
Storytime: Spice up your answer with compelling examples from your past work or school experiences.
Ready to put it all together?
"I would say I am 'Hardworking,' 'Friendly,' and 'Resourceful.' As someone who has held similar roles at other restaurants, I know it takes dedication to provide great customer service during busy lunch and dinner rushes. I enjoy staying focused to get the job done right. My top priority is making sure guests have a positive experience. Some say I have a gift for remembering names and faces, and making people feel welcomed. When issues come up, I like finding pragmatic solutions so we can keep things moving smoothly. Most of all, I find purpose in being part of a team and helping carry out a restaurant's mission to nourish the community. Those qualities are what I believe would serve me well as a team member at Chipotle.
What are your strengths and weaknesses as they relate to the Chipotle work environment?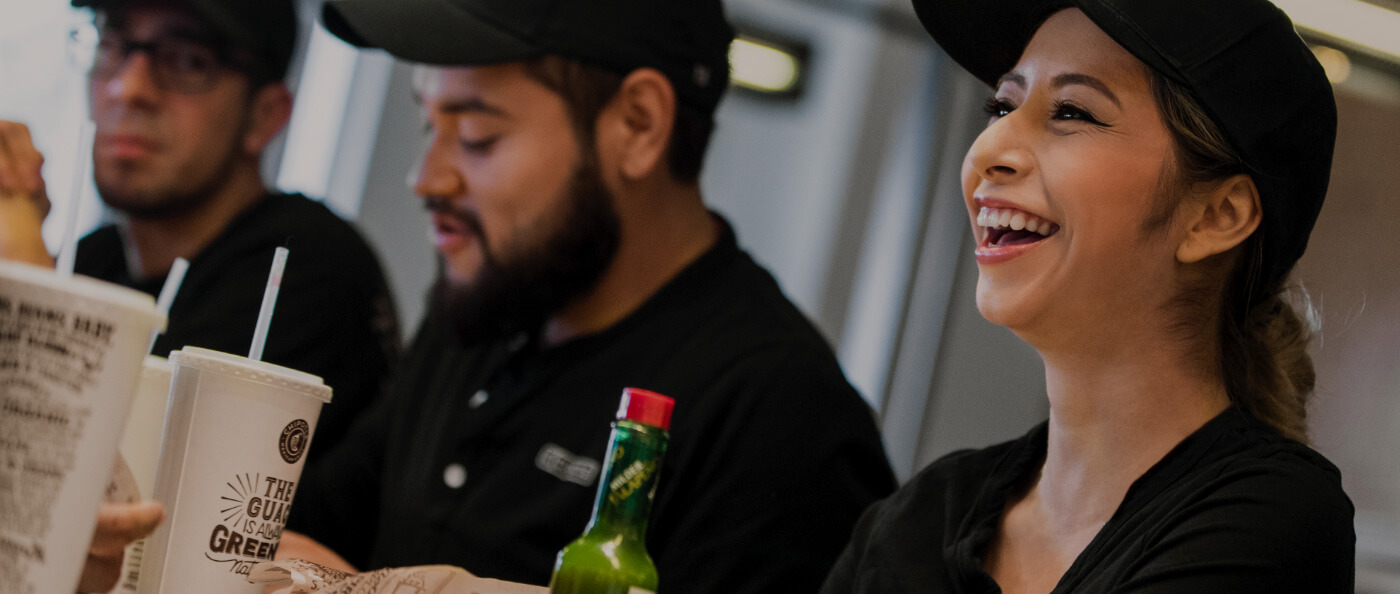 The folks at Chipotle aren't concocting a diabolical plot to make you squirm. Rather, this question offers them insight into your self-awareness and honesty.
Keep in mind… transparency, humility, and authenticity. They're big at Chipotle as they desire team members who are aware of their capabilities and openly acknowledge areas that need improvement.
Now let's work on crafting your best possible answer.
When detailing your strengths, align them with characteristics that fit within Chipotle's work culture—like team spirit or the ability to stay cool under the high-pressure!
Furthermore, owning up to a weakness can be a positive as it shows that you reflect upon yourself and are flexible towards growth. Yet, tread lightly. Avoid confessing any weakness that might raise a red flag for a job at Chipotle—like an aversion to multitasking or struggling to maintain swift service.
Instead, choose a weakness that wouldn't directly impact your job there, but show that you're aware of it and actively working to improve. Maybe you're working to be more assertive in team situations or fine-tuning your time management skills?
Hold onto your guacamole because it's time to give you the perfect answer!
"Some of my key strengths that would benefit Chipotle are:
Reliability: You can always count on me to show up on time, in uniform, ready to hop on the line or restock items where needed. Customers deserve consistency.
Positive attitude: I strive to greet every guest with a smile and make them feel their time and business are appreciated. In a fast-paced environment, maintaining energy boosts morale for the whole crew.
Adaptability: Having swung between multiple stations at my last job, I'm comfortable learning whatever is needed on a given shift. I'll work where I'm most useful.
As for weaknesses, I'm striving to be more assertive during team discussions. While I work great in a group, sometimes, I might hold back a bit from voicing my opinions. I recognize this and have been working on this by taking up leadership within group situations wherever possible and making a conscious effort to express my thoughts more openly."
Working at Chipotle means standing for long hours and moving quickly during busy times. Are you comfortable with that?
Remember: They're not just checking your physical endurance. They're looking at your adaptability, resilience, and commitment.
Why? Because these traits power the energetic and flexible heart-beat of Chipotle's fast-paced environment.
Here's how you can approach this question:
Maintain honesty. If you've thrived in similar roles, speak up. Highlight how you handled the physical demands.
Show your 'can-do' attitude. Tell them you're a team player ready to take on demanding roles for the success of the restaurant.
If you have any physical limitations, address them—but instantly present your strategies to overcome them. Maybe it's certain exercises to keep your energy up or specific ways to manage peak performance.
Now, let's twine these tips into a compelling answer.
"Yes, I am absolutely comfortable with that. In my previous role at a fast-paced café, I was frequently on my feet, taking orders, serving customers, and moving hustledly during peak hours. Not only was I comfortable, but I thrived, finding the velocity stimulating. I found the necessity to maintain alertness and manage multitasking effectively in a high-pressure environment to be a rewarding challenge. I also engage in physical exercises off the clock that contributes to my stamina, which comes in handy during lengthy shifts. If selected for this role, rest assured that my vigor and resilience would remain top-notch."
What do you know about Chipotle and our mission?
The Chipotle hiring manager is assessing whether you're just looking for a job or if this company has a specific appeal for you. It's also an opportunity to demonstrate that you've done your research and understand what makes Chipotle unique within the fast-casual culinary landscape.
So how do you knock this question out of the park?
Be the Research Beast
Start by showing your enthusiasm for Chipotle's mission to cultivate a better world.
Discuss your understanding of the company's commitment to "Food with Integrity," which emphasizes using quality ingredients, promoting sustainability, and treating farmers, animals, and the environment with respect.
Mention specific details, such as how Chipotle sources organic and local produce whenever possible, only uses dairy from pasture-raised cows and serves meat from animals raised responsibly without antibiotics or hormones.
It's all about demonstrating a deep dive into Chipotle's core values and practices – this shows commitment and serious interest, aspects every employer appreciates.
Bring the Heat
Now, sell it with some sizzlin' hot enthusiasm! Here's an example:
"Pardon my excitement, but I'm hooked on Chipotle's mission to cultivate a better world. Chipotle's commitment to the 'Food with Integrity' mission resonates with me because I'm passionate about sustainability and healthy living. I appreciate Chipotle's effort in sourcing quality ingredients – like organic produce whenever possible and dairy from pasture-raised animals. Further, I admire Chipotle's commitment to animal welfare, using meat only from animals raised without hormones or antibiotics. What makes it stand out for me, though, is not just the ethical sourcing but the goal of cultivating a better world that extends beyond the food to include respect for farmers, animals, as well as the environment. I believe that's what sets Chipotle apart from other fast-casual chains, and it aligns perfectly with my own values."
Spoiler: It's all about showing you can handle both steaming hot burritos and soaring temperatures of workplace conflicts.
The Goal of the Question
The hiring manager wants to see your interpersonal skills.
Chipotle, being a fast-paced, teamwork-driven environment, needs employees who can deal effectively with disagreements yet maintain a harmonious atmosphere.
The more effectively you can showcase this ability, the closer you are to landing that job!
Start strong: adopt the STAR approach (Situation, Task, Action, Result).
Think about a time when you had a conflict with a team member:
What was the situation?
What was the task that needed resolution?
What action did you take to handle it?
What was the result?
Don't let yourself get trapped in the conflict details. Be result-oriented: highlight the positive result. Show yourself as a proactive problem-solver, not a problem-creator.
Also, make sure your response shows respect for diverse perspectives and an understanding of the importance of open communication in conflict resolution.
So take a deep breath, muster your confidence, let your interpersonal prowess shine, and we'll taco 'bout the perfect response.
"At my previous job as a server, I had a disagreement with a coworker about scheduling. We were both listed for the same shift, which was a clear mistake. As the tension began to rise, we both claimed the shift. Instead of escalating the argument, I suggested we sit down with our manager to clarify the situation. We reached an amicable agreement to split the shift in question and proposed a new system for our manager, a Google calendar where we could all record our shifts and immediately spot any scheduling issues. This minimized conflicts, made the schedule transparent for the entire team, and most importantly, kept our service efficient for the customers."
What makes you feel you would be a great addition to the Chipotle family?

Here's a secret: Chipotle is not just looking for someone who can execute tasks.
Culture Fit Matters
Chipotle wants more. They want to get a sense of how well you'll gel with their approach to offering fresh, responsibly sourced food, and to a larger extent, contributing positively to the team dynamics and the overall organization.
Your response: A Mosaic of YOU and Chipotle
Going for your response, infuse it with what makes Chipotle unique. Pair your qualities and experience with Chipotle's core values.
Here's a hint:
High-quality, whole foods – check ✅
Promoting sustainable farming practices – check ✅
Commitment to creating an exceptional dining experience – check ✅
Be sure to highlight your customer service skills, teamwork, flexibility, and any food handling experience you have.
Ready to create that irresistible answer that'll leave a lasting impression? Here's a sample:
"I believe that I'd be a great addition to the Chipotle family because I'm not just passionate about food but also about how it's produced. I've always admired Chipotle's commitment to sustainably sourced ingredients and I love the idea of making food with integrity. With my past experience in customer service, I understand what it takes to create a positive dining experience for customers. And besides that, I work well in fast-paced, team-oriented environments. I think these qualities align well with Chipotle's mission and culture. I'm excited about the prospect of bringing my commitment to quality service to the Chipotle family."
Where do you see your career path taking you in the next five years and how can Chipotle help you get there?
This question is designed to evaluate your long-term career objectives, your understanding of the company's opportunities for growth, and most importantly, your willingness to contribute to the company's growth.
How To Nail It?
Align Your Growth With Chipotle's Success.
Perhaps you see yourself managing a Chipotle store, or maybe even envision your role in their corporate headquarters.
From there, justify your aspiration by mentioning the skills you hope to acquire which will help you contribute more effectively to the company.
Finally, do some research about Chipotle's growth projects and express your enthusiasm to participate in these initiatives.
This will not only demonstrate your goal-oriented mindset but also reaffirm your keen interest in becoming a valuable part of the Chipotle family.
Imagine if your journey to a fulfilling career path was like piling your perfect burrito bowl. Now let's dish out an example response that ties everything together.
"In the next five years, I see myself managing one of Chipotle's high-performing stores. Over the years, I've developed a passion for community development, staff development and customer service. I believe Chipotle's management training programs will provide me with the unique skills I need to succeed in this role. Furthermore, I am excited about the 'Cultivate the Future of Farming' initiative that Chipotle is embarking upon. I would relish the opportunity to be actively involved in this initiative, using my management skills to make a meaningful contribution to sustainable farming practices while growing personally and professionally with Chipotle."
What activities and interests are you passionate about outside of work and academics?
This question is an opportunity for the interviewer to understand you on a deeper, more personal level.
At Chipotle, they're not just hiring a worker – they're looking for a vibrant personality that spices up the Chipotle family and perfectly aligns with their food with integrity mission.
So, how do you ace this question?
Mapping Out Your Perfect Answer
For starters, make sure your answer is authentic. Talk about something that genuinely excites you, lights up your eyes when you discuss it.
For instance, it could be a hobby, a cause you deeply care about, or even a book that you could re-read a hundred times over.
But don't stop there.
Try to relate this passion back to Chipotle, showing them how your zest will translate into your role and how it aligns with their mission and core values.
Now, let's spice things up and put all this prep into action with a flavorful example.
"One passion of mine that springs to mind is my love for cooking. It's more than a hobby for me, it's an art – a form of self-expression that I find empowering. I often volunteer at local food banks, whipping up nutritious and delicious meals from scratch, just like Chipotle. Being able to put simple ingredients together to create something beautiful and nourishing aligns with Chipotle's dedication to 'Food with Integrity'. This passion for culinary creativity extends to my approach to work, where I constantly strive for innovation, efficiency, and my commitment to serving food that I believe in, much like Chipotle's mission."
How you would handle an angry customer who seems dissatisfied with their experience at Chipotle?
This is a common question across customer service interviews, but it carries unique weight in the fast-paced, energetic environment of Chipotle.
They're assessing your ability to maintain the brand's reputation, diffuse a stressful situation, and simultaneously preserve an inviting atmosphere for other customers.
Now, let us equip you with an effective approach.
Firstly, acknowledge the problem without hesitation. Chipotle values transparency, and it's crucial to demonstrate that you understand and respect their commitment.
Then, express empathy to the customer's dissatisfaction, but avoid making promises you might not be able to fulfill. Instead, assure them you'll engage the appropriate channels to find the best resolution.
Finally, show your commitment to a positive outcome. At Chipotle, every customer matters, and the hiring manager wants to see that you embody this principle.
Okay, now, are you ready to take this head-on and craft an amazing answer? Of course you are!
"Well, in such a scenario, my foremost aim would be to listen carefully to the customer's concerns, ensuring they feel acknowledged. Then, I'd express sincere empathy, saying something along the lines of, 'I'm really sorry to hear that your experience hasn't met your expectations, I understand how important it is to enjoy your meal here at Chipotle.' Afterwards, I'd reassure them that I'm here to help, suggesting, 'Let's see how we can improve this situation for you.' The exact action would depend on their issue, of course. From a wrongly prepared order, I'd offer to remake their meal at no additional cost. If it's a service issue, I'd invite feedback and ensure that their comments are escalated appropriately. Most importantly, I'd thank them for bringing the issue to my attention and reassure them that their satisfaction is our priority at Chipotle."
If you had to choose an animal that best represents your personality, which would you pick and why?
Don't freak out. This isn't an awkward trick. It's the hiring manager's clever strategy of seeking a deeper understanding of your persona.
Their goal? To understand your character and how you can add value to their work environment.
How to Respond
Be introspective. Be creative.
Start by pinpointing personal traits that correspond to those of an animal. These traits should echo qualities that Chipotle values in its workforce – for example, teamwork, determination, adaptability, or enthusiasm.
Align the characteristics of your chosen animal with your own strengths and experiences that make you a great fit for Chipotle.
Remember: Accuracy over zoological wisdom. You're painting a picture of your personality through an engaging metaphor.
After all, you are not just another cog in the machine – you are the industrious beaver carefully building a dam, the diligent worker bee leaving no flower unvisited, or maybe even the adaptable chameleon masterfully blending in!
"If I had to choose an animal that best represents my personality, I would pick the beaver. Symbolic of hard work and persistence, beavers are known to build and maintain lodges, much like how I constantly strive towards achieving my goals and am not afraid to get my hands dirty. Just like beavers are expert swimmers, adapting themselves to aquatic life, I am also adaptable and quick to navigate through varying situations. Teamwork is crucial for beavers and similarly, I thrive in a team environment, making every effort to ensure group successes. I believe these traits align with Chipotle's vision, and I will bring the same energy, passion, and teamwork to this role."
Would you be open to cross-training and developing new skills outside your core position at Chipotle?
This question reveals your adaptability, dedication, and commitment to growth within Chipotle. The interviewer wants to know how flexible and keen to learn you are outside your comfort zone.
How should you respond?
Firstly, approach with positivity and openness – this alone shows your readiness to embrace new challenges.
Then mix in your experiences: If you've cross-trained or acquired new skills before, show it! Examples are brilliant persuaders.
Add some excitement in your voice, show them how driven you are! You're pumped about enhancing your skill range with Chipotle's dynamic team.
"Absolutely! Throughout my career, I've learned that diversifying my skill set not only opens unexpected doors but also fosters a deeper understanding of the team and business as a whole. For example, in my previous role, I volunteered to cross-train in the kitchen when we were short-staffed. Not only did this experience uncover a hidden passion for culinary arts, but it also allowed me to better collaborate with our kitchen crew moving forward. At Chipotle, I'm very enthusiastic about branching out from my core role, learning more about the restaurant ecosystem, and becoming a versatile member of the team. I truly believe that versatility is fundamental to individual growth and it's a key ingredient in creating a lively, energetic workspace."
What do you enjoy most about working closely with others, and how would you aim to collaborate and contribute as an excellent team player at Chipotle?
The question isn't just fluff. It's about your ability to operate fast and efficiently in a team-oriented culture like Chipotle – while being able to create a healthy, cooperative atmosphere.
How to Answer with Confidence
Draw on your past. Point to specific moments where you thrived working in a team, leading to a positive outcome.
Be transparent about what you love about teamwork – is it the ideas, the camaraderie, or the problem-solving aspects?
Think about your potential contribution as a team player at Chipotle. Show off your unique skills and abilities that could boost the team's performance.
Speak to your respect for diverse opinions and your constant drive for maintaining clear communication and a proactive approach.
Like a delicious burrito bowl, your response should be filled with honesty, thoughtfulness, and a sprinkle of your unique personality.
"What I love most about working closely with others is the opportunity to learn from their unique perspectives and grow together as a unit. I believe in the magic that diverse insights bring, and it thrills me to see how our collective creativity and problem-solving can lead to success. In previous team settings, I've always been proactive and open, focusing on clear communication and building a genuine bond with teammates. If given a chance at Chipotle, I'd aim to bring these qualities to nurture a positive, productive environment. Similar to how every ingredient contributes to the perfect Chipotle meal, I believe each team member adds a flavor of value to the team, hence I'd respect and value every voice in the team, working diligently towards our shared goals."
Nailing your Chipotle interview isn't just about flashing your burrito-loving badge. It's all about proving your mastery in high-pressure situations.
The intent behind this question from the hiring manager isn't to send you into a stressful flashback but to evaluate your problem-solving skills, and how efficiently you can stay calm, composed, and deliver results under pressure.
No Need For a Sob Story
Forget the earth-shattering crises. Choose a situation from your professional past where the stakes were high, and you managed to navigate through it effectively.
Let's roll the STAR!
No, no, not from Hollywood, but pretty much your road to some Chipotle stardom. Jot down that pressure-cooker situation, your cool-headed task, the smart action you took, and finally the sweet-smelling result of your actions. (STAR: Situation, Task, Action, Result.)
And yes, let's not forget those golden lessons – that's all about your growth!
"Back in my previous role at a busy restaurant, we were understaffed one extremely busy Friday night. As the team lead, my goal ("Situation" and "Task") was to ensure our service remained top-notch. I quickly regrouped the team, redistributed the work evenly while focusing on their strengths, and stepped in to fill the gaps myself. Despite the pressure, we functioned smoothly as a unit, serving meals on time with a smile ("Action"). We received numerous compliments from customers praising our service, and importantly, no one knew we were understaffed that night. This experience reassured me that focusing on teamwork, adaptability, and swift decision-making can effectively neutralize any pressure-filled situation and even turn it into an opportunity to shine ("Result")."
This is your chance to strut your stuff. To show them that you get it. That you understand what top-notch customer service looks like.
So, what are they after? Two things. They want to see you 'get' why customer interactions matter. And they want proof of how you turn these insights into action – in a lightning-fast, customer-focused place like Chipotle's.
How to Answer?
Stay focused. Be descriptive, Make it personal. That's the formula.
Choose one unforgettable experience as a customer. Nothing surface-deep. Something that had an impact.
Understand the scene: Why did you feel wowed? What qualities did the staff bring to the table? How did this shape your view of the company?
Turn it to Chipotle: How would you treat your customers if you were in that situation at Chipotle? Reliability, speed, empathy – these are gold in the restaurant biz and universally appreciated.
So, ready to supercharge your answer?
Well, here's a script…the coup de grâce.
"At a local café, I once received my coffee lukewarm. Without hesitation, the barista acknowledged the issue, apologized sincerely, and quickly made a second round—all while carrying on a friendly conversation. What amazed me was the immediate initiative and the genuine care, despite a busy environment. From this incident, I took away the importance of prompt problem resolution, empathy, and still managing to create a positive experience despite initial disappointments. If hired at Chipotle, I'd strive to act immediately on any issues, ensuring every customer still leaves with a smile, having enjoyed not just their meal, but the whole experience at our restaurant."
What do you think sets Chipotle apart from other restaurants, and how would you explain that to a new customer?
This question isn't just about testing your knowledge of the Chipotle brand; it's a window into how you perceive value and differentiation in a competitive market.
The hiring manager wants to see if you're able to articulate and convey what makes the restaurant special to potential customers.
Think from a customer's perspective.
Imagine a new customer. Why should they pick Chipotle? The fresh, high-quality ingredients, the sustainability efforts, the customizable dishes that cater to various dietary preferences…
All these make Chipotle stand out. Break it down, and you've got your answer.
"What I think sets Chipotle apart is its unwavering dedication to quality and sustainability. Unlike many establishments, Chipotle operates on a 'Farm to Fork' approach where all ingredients are sourced responsibly. The food is fresh, flavorful, and customizable to anyone's preferences or dietary needs. This commitment to fresh and sustainable food without forfeiting flavor or variety provides a dining experience that's not only gratifying but also promotes better food culture. If I were to explain this to a new customer, I'd say they're not just getting a meal—they're supporting a company that cares about their food sources, the environment, and most importantly, the customer's culinary satisfaction."
How would you handle a situation where a Chipotle customer complains about an incorrect order?
This question serves a dual purpose. It's a measure to see how well you respond to pressure and uncertainty. Plus, it evaluates your problem-solving skills and your ability to uphold the brand's reputation for exceptional customer service even when faced with challenges.
To nail this answer, you'll need to demonstrate a calm, empathetic approach:
Acknowledge the customer's dissatisfaction
Apologize for any inconvenience
Assure them that immediate steps will be taken to correct the order
Rectify the mistake promptly with a positive attitude
And compensating the customer for their inconvenience aligned with the brand's policy is something you may consider. But displaying a genuine dedication to customer satisfaction is what matters here.
Slather on the guacamole, let's dive into the cheesy example.
"If a customer approached me with a complaint about an incorrect order, I'd immediately address it by saying, 'I'm very sorry for the mix up with your order and the inconvenience you've experienced. We always strive for accuracy and I understand how disappointing this must be for you. Let's correct this right away.' I'd promptly remake the order, ensuring it meets the customer's specifications. I'd then, in consultation with my supervisor, offer a token of our appreciation for their patience, such as a complimentary drink or meal for their next visit, in the spirit of turning the negative experience into a more positive one. My ultimate aim would be to turn an unsatisfied customer into a returning one."
How would you handle high-pressure situations, like a long line of customers during the lunch or dinner rush?
Chipotle's lunch and dinner hour is a rollercoaster ride. Not for the faint-hearted! But, hey, that's exactly why the hiring manager wants to know how YOU can handle this chaos.
No doubt, their eyes are peeled for your stress management techniques and quick decision-making skills.
Show, Don't Just Tell
The golden rule for this question is DO NOT just say you handle pressure well, instead, show how you do it.
Share your past experiences.
Discuss your secret strategies, such as prioritizing tasks and delegating when necessary.
Stress your undying focus on customer service, no matter how busy things get
In any case, they aren't just listening to what you say but also how confidently you deliver.
Let's delve into an example that wraps these tips up in a relatable scenario.
"When I was working at my previous job at a bustling coffee shop, there were times when the queue seemed endless. Dealing with those situations, I've learned that staying calm is of utmost importance. I would prioritize my tasks effectively, using techniques like quickly taking orders while maintaining eye contact, reassuring customers with a smile, and ensuring quick, error-free service. I'd discuss with my team (if need exists) to distribute the workload efficiently. For instance, while I'd handle the cash register and the order placement, my teammates would work on preparing the orders. All the while, we ensured quality wasn't compromised. I believe this approach, coupled with my focus on excellent customer service, will allow me to manage high-pressure situations effectively at Chipotle as well."
Can you describe a time when you received critical feedback from a supervisor or peer and how you responded?
Don't freak out! This is no ego test. They're testing your ability to learn, grow, and handle constructive criticism. Crucial skills for thriving in Chipotle's fast-paced, customer-centric workplace.
The key lies in answering honestly and emphasizing your growth mindset.
Start by describing of a situation where you received constructive criticism – this could range from needing to speed up your service times to improving the presentation of the dishes.
Be specific, explain what you learned, and detail your actions to improve or rectify the situation.
Keep your response positive; this is not an avenue to vent professional frustrations or bad-mouth a previous supervisor.
The interviewer is more interested in your ability to absorb the lessons and transform them into positive, tangible change.
Now, prepare to transition your insights into a dynamic, impactful answer. Ready? Let's demonstrate.
"In my previous role at a fast-food restaurant, my supervisor pointed out that my service speed during peak hours was not up to par, potentially affecting our customer satisfaction levels. I initially felt a bit deflated, but I quickly took this critique as an opportunity to improve my skill set. I requested my supervisor to guide me with tips on how to multitask effectively without compromising the quality of service. I also took the initiative to observe my quicker co-workers and incorporate their best practices into my work routine. Within a few weeks, not only did my serving speed improve significantly, but I also received positive feedback from customers for efficient service. This experience taught me that constructive criticism is not a setback, but a catalyst for professional growth, helping me become a better team player."
In your opinion, what are some key elements of a positive interaction with a customer?
Get this right, and you're nailing your customer service skills evaluation. Remember, Chipotle is big on customer-centricity. They want to wow customers every. single. time.
So, how do you ace this?
Answering with the Chipotle Mindset
We suggest focusing on Chipotle's core values and how they translate into an ideal customer interaction. You should speak about the importance of:
Genuine and open communication
Ensuring customer's needs are met
Maintaining a positive and upbeat attitude
Cultivating a welcoming space for customers
Respect for diversity and empathy.
Swift problem-solving
But the biggie? Chipotle's 'Food with Integrity' mantra. Link this to high-quality customer experience by showing your product knowledge and passion.
As the ultimate customer service salsa comes together, time to add the final ingredient – your example response.
"In my opinion, key elements of a positive interaction with a customer start with a warm and genuine greeting, followed by attentive listening. It's important that the customer feels welcomed and that their needs are our priority. That includes answering their queries about the menu, making recommendations, and ensuring they're receiving their meal exactly the way they want it. Part of the Chipotle experience is also educating the customer about our 'Food with Integrity' principle, sharing how we source locally, use organic ingredients, and serve meat from animals raised without the use of antibiotics or added hormones. Prompt service, maintaining cleanliness around our service line and eating area, and conveying gratitude to the customer for choosing Chipotle are also vital to a positive interaction. If any issues arise, I believe in swift and effective problem-solving, always leaving the customer feeling satisfied and appreciated."
How would you maintain accuracy in processing orders and provide excellent customer service in Chipotle's fast-paced environment?
Scary? Nah. You've got this! Here's how:
Multitasking + Customer Satisfaction = Your New Best Friends
This question tests two things:
Your ability to multitask
Your dedication to customer satisfaction
Do you have the stamina, precision, and interpersonal skills to manage various tasks while keeping customer service top-notch? Show them you do.
The Perfect Answer: Accuracy and Customer Service
Start your answer by highlighting the importance of both accuracy and customer service at Chipotle.
Show them you know being detail-oriented is key to avoiding order mistakes that damage the customer's experience and the company's reputation.
Share your strategy to stay cool and focused in the middle of the hustle and bustle. Maybe you use mental checklists, double-checking, or repeat-back techniques?
Commitment to top-notch service? Show them how you'd up the ante with customer interactions – smiling on greeting, being patient and attentive and offering personalized suggestions.
And don't forget: make your strategies specific and relevant.
Hold onto your sombrero because we're about to assist you in crafting an exemplary response.
"My approach to maintaining accuracy in processing orders, even in a fast-paced environment like Chipotle's, involves several strategies. Firstly, I would utilize a mental checklist when taking orders to ensure all information is captured accurately. This includes repeating-back the order to the customer, which not only ensures order correctness but also exhibits my attentiveness to their needs. In terms of customer service, I believe that our interactions with customers should be as rich and satisfying as our burritos. I would always greet customers warmly and be patient and understanding. I'd also strive to make recommendations based on their preferences, turning the ordering process into a personalized experience. This way, I believe I can ensure order accuracy while delivering a top-notch customer service experience, efficiently meeting both Chipotle's and the customer's expectations".
Would you be able to start immediately if offered the position?
This isn't just about your availability. It's about your enthusiasm, commitment, and flexibility. They want to know if you're ready and raring to whip up their famous burritos. Or are you just window-shopping job opportunities?
How to Nail This Question
Be honest. If you need a week or two to settle things, say so. They appreciate transparency.
Discuss why you chose your starting date. Maybe you're wrapping projects at a current job or tied up at school.
If you can start immediately, say it. But remember, back it up with the reason why (for example, you've prepared in advance for this kind of opportunity). That shows you're confident and organized.
Show enthusiasm – but don't sound desperate. It's crucial to strike the right balance.
With these tips in mind, let's whip up a zesty answer.
"Thank you for considering me for the position. I've structured my commitments so that if offered the job, I could start immediately. By doing this, I wanted to hit the ground running and dive into the Chipotle culture. However, I'd really appreciate a few days to ensure I have taken care of all prior responsibilities, and that when I begin here at Chipotle, I could give my full and undivided attention to mastering my role."
Can you reliably commute to and from work for scheduled shifts at this Chipotle location?
Hold on! This isn't a pass-by question. It's a probe into your punctuality, long-term commitment, and time management skills – all key ingredients In a bustling place like Chipotle.
Acing the Commute Question
Transparency is the key, and you gotta strike the balance just right – not too much, not too little.
Research the exact location of your Chipotle branch
Get a handle on the public transit timezone
Prepare for disruptions like road constructions
When it comes to shift timings, be realistic. Got a fallback plan for travel disruptions? Bring it on up!
Show 'em your strategic thinking and responsibility. This will surely win you brownie points!
Now, let's cook up the perfect answer to this crucial Chipotle interview question.
"Absolutely. I reside a mere 20 minutes from this Chipotle store, so commuting won't be an issue. I've got reliable transportation and I'm prepared to encounter occasional traffic hiccups. Moreover, should any unforeseen situation arise, I have alternative transport options as a fallback. I understand that timely and consistent attendance is key for Chipotle to function smoothly and I'm committed to uphold this."
Could you walk me through what your availability typically looks like during the week?
This question is checking out your flexibility and dedication. Can you align with the restaurant's bustling schedule?
Here's the Game Plan:
Show them you're adaptable and eager.
Research Chipotle's peak business times. Yes, every location is different.
Present a schedule that says you're available during these rush hours.
Don't just say you're flexible, specify your availability hour by hour.
Multiple commitments? No problem. Just be honest about it.
Alright, now strap in, as we're about to zoom into real-time mode, picturing you confidently responding to that all-important question.
"Absolutely! Being a longtime fan of Chipotle, I understand how crucial it is to have adequate staffing during peak hours to provide excellent customer service. So, I'm largely available to work during these times. On weekdays, I'm available from late afternoons to closing time, which are typically the busier hours after school and work. On weekends, my schedule is more flexible, and I can accommodate both opening and closing shifts. I'm also open to working some mornings during the week if necessary. However, I have a standing obligation every Tuesday evening. Still, I'm willing to be flexible around that if needed. To assure you, my goal here is to ensure that I add value to the Chipotle team while balancing my responsibilities effectively."
Questions to Ask the Interviewer in Chipotle Interview
You've almost made it through your Chipotle interview. You've navigated the tough questions and showcased your skills. But what happens when the interviewer turns the table and asks if you have any questions?
Why This Question is More Than Just a Formality
While you might be tempted to see this as a mere formality and dismiss it with a 'no, thank you,' it's vital to dig deeper. This isn't just a polite way to conclude the interview. Rather, it's a window into your personality, level of interest, and seriousness about the position.
Making the Most of This Opportunity
To help you shine in this department, we've compiled a list of insightful questions to ask during your Chipotle interview. Each question strikes a balance between curiosity, potential, and genuine interest, thus boosting your chances of leaving a lasting impression.
Can you describe the day-to-day responsibilities of this position?
What does a typical day look like at Chipotle?
How would you describe the ideal candidate for this role?
Can you clarify the performance expectations for this role during the initial months?
What are the opportunities for growth and advancement here?
Can you tell me more about the team I'd be working with?
What's the most challenging aspect of working here?
What kind of training and learning opportunities do you offer your employees?
How do you measure success in this position?
What are the next steps in the interview process?
How does Chipotle's management provide feedback to employees?
Can you tell me about the company culture at Chipotle?
What's your favorite part about working here?
Can you share more about Chipotle's commitment to "Food With Integrity"?
How does the company foster teamwork and collaboration?
What are some of Chipotle's future aspirations and goals?
Could you explain how Chipotle invests in employee development and career growth?
How does Chipotle embrace diversity in the workplace?
Does Chipotle have any community outreach or volunteering programs I could be part of?
Can you share a success story of a past employee in this position?
Chipotle Hiring Process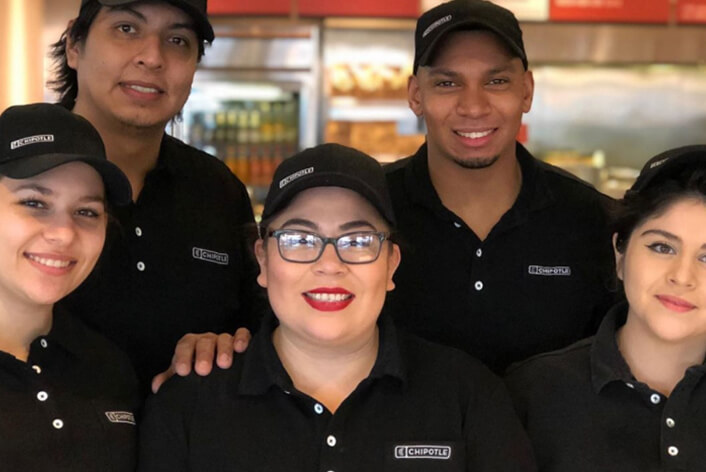 As you prepare for your Chipotle interview, it's helpful to understand what their hiring process looks like from start to finish.
The Hiring Process from Start to Finish
The hiring process at Chipotle typically takes 1-3 weeks from your initial application to receiving a job offer.
Here's an overview of what you can expect along the way:
Apply online by submitting a resume/application through Chipotle's website or in person at a Chipotle location.
You will receive a call or email from Chipotle to schedule an in-person interview at a local Chipotle restaurant within 1-2 weeks of applying.
The interview is typically conducted in person with the General Manager or other manager at a Chipotle location. Some locations do group interviews. The interview will last 15-30 minutes and cover availability, work experience, interest in the company, and situational questions. Show off your customer service skills!
You may need to interview 1-2 times before a decision is made.
If hired, you'll get a call with the job offer and start date within a few days.
New hires undergo training videos and on-the-job training at the beginning of their employment.
Chipotle Interview Tips
When interviewing with Chipotle, be yourself and let your friendly personality shine. The manager wants to get a feel for who you are and how you'll engage with customers. Share examples of times you provided great service or resolved an issue. Be ready to speak about your availability and schedule flexibility. Finally, bring thoughtful questions to show your interest in the company.
What to Wear to Chipotle Interview
So, you've scored an interview at Chipotle, and you're on fire! ???? Congratulations, amigo! Before you can roll burritos, there's one very important thing to consider—what are you going to wear?
Dressing right isn't just about looking snazzy; it's about blending in with the company culture. Think of it as an unspoken dialogue with your potential employer, communicating, "I belong here."
The dress code at Chipotle requires a company-provided hat and shirt, dark pants or jeans free of tears and holes, and closed-toed, non-slip shoes. Long hair needs to be secured up or in a bun, and only stud earrings are permissible as facial jewelry.
Knowing these details can give you a serious edge because your outfit will echo the vibe of the Chipotle brand, creating a sense of harmony during your interview.
Considering a role as a Restaurant Team Member? Casual or business casual attire will do the trick here. Go for a neat polo shirt paired with dark, hole-free jeans or slacks.
If you're aiming for a leadership role like Kitchen Leader, Service Leader, Assistant General Manager, or General Manager,upgrade that attire to business casual. A nice button-down shirt or blouse, paired with tailored pants or a skirt, can communicate your managerial prowess without going overboard.
If you're interviewing for a position at their Corporate Support Center, it's time to bring out the big guns: business formal. We're talking suits, neckties, pencil skirts, and blazers.
Conclusion
Striding into the Arena with Unmatched Confidence
Equipped with our list of questions and answers, you're prepared to walk into your Chipotle interview confidently. With your preparation shining through, success is not just a hopeful wish—it's within your grasp.
Broaden Your Horizons: Opportunities Beyond Chipotle
While you relish your newfound confidence, remember that the path to success doesn't end at Chipotle. The fast-casual dining landscape is vast and pulsating with opportunities that echo the vibrant culture of Chipotle.
So even if your aim is to secure a position at Chipotle, expand your search to include other comparable restaurants like Panera Bread, Taco Bell, Qdoba, Moe's Southwest Grill, CAVA, Chick-fil-A, and Sweetgreen. These alternatives not only increase your chances of employment but also keep the momentum of your job search rolling.
The road to career success is paved with endless opportunities. So take that step forward and explore the myriad of options that await you!