25 sweetgreen Interview Questions (And Healthy Answers)
Stand Out at sweetgreen: Your Blueprint to Interview Brilliance
Picture this: You, dressed to impress, amidst a sea of applicants, waiting for that one chance to step into the limelight at sweetgreen – not just any fast-casual joint, but a rapidly growing, salad-focused chain restaurant known for its commitment to food transparency and community improvement. This isn't just about nailing an interview; it's your ticket to championing healthier communities.
???? Your Secret Weapon: This Blog Post
If this blog post were a map, it'd lead straight to the treasure. Herein lies the golden nuggets: the most asked sweetgreen interview questions and the handcrafted, ace-in-the-hole answers to match. Consider it your backstage pass, navigating the maze to your coveted gig with flair.
???? The Power of Prep: Unleash Your Potential
The value of preparation can never be overstated – it's your compass in the wilderness, your shield in the battle, and your magic weapon for success. Being prepared means confidently walking into that room, leaving no room for doubt and anxiety to creep in. Trust us, your interviewers will see and admire that confidence.
So, let's dive in together, enabling you to walk through the doors of sweetgreen with confidence; not just to fill a role, but to leave an imprint. Because we believe in you, just as you believe in yourself! ????
sweetgreen Company Information
Going into your interview, arm yourself with key insights about sweetgreen. This not only sets you up for an informative conversation but equips you excellently to tackle research-based questions, showcasing your dedication and interest as well. For your convenience, important facts have been listed below.
| | |
| --- | --- |
| Trade Name | sweetgreen |
| Type | Fast-Casual Restaurant Chain |
| Founded | November 2006 |
| Founders | Nicolas Jammet, Nathaniel Ru, and Jonathan Neman |
| Headquarters | Los Angeles, California, United States |
| Menu | Salads, Bowls, Warm Bowls, Beverages |
| Signature Items | Harvest Bowl, Kale Caesar Salad, Spicy Thai Salad, Chicken Pesto Parm |
| Core Values | Win, win, win; Think sustainably; Keep it real; Make an impact; Add the sweet touch; Live the sweet life |
| Website | www.sweetgreen.com |
| Competitors | Chopt, Just Salad, Panera Bread, Cava, Tender Greens |
Additional facts:
Rooted in Real: sweetgreen was founded by three college students who envisioned a healthier way to eat, opening their first store in Washington DC in 2007.
A Greener Vision: Committed to battling climate change, sweetgreen aims to become carbon neutral by 2027.
Responsible Menus: Their plant-forward menu is, on average, 30% less carbon-intensive than the typical American meal.
Farm-Fresh Focus: By prioritizing local sourcing and supporting regenerative practices, sweetgreen ensures their suppliers give more to the land than they take.
Tech-Forward: sweetgreen acquired the MIT startup, Spyce, which uses robots to prepare meals, aiming to enhance efficiency and accuracy.
Digital Innovations: From launching its mobile app in 2015 to introducing its delivery service in 2020, sweetgreen continues to improve the digital customer experience.
Collaborative Ventures: Over the years, they've partnered with renowned chefs like David Chang, celebrated musicians like Kendrick Lamar, and worked with organizations like FoodCorps to foster community engagement.
Frontline Support: In response to the COVID-19 crisis, sweetgreen launched the Impact Outpost Fund, delivering free meals to frontline hospital workers.
Promoting Civic Duty: For the 2020 election, sweetgreen provided hourly employees with paid time off to cast their votes.
Athlete Ambassador: In 2021, tennis sensation Naomi Osaka became sweetgreen's first national athlete ambassador, further propelling the brand's reach.
Navigating Challenges: Facing a lawsuit from Chipotle in 2023, sweetgreen promptly addressed the issue by modifying the name of their burrito bowl.
sweetgreen Mission Statement
Building healthier communities by connecting people to real food.
sweetgreen Interview Questions
Seemingly simple, this question serves a vital purpose. It provides a platform for the interviewer to understand who you are, your professional journey till date, and what makes you tick. It sets the tone for your narrative and aids them in evaluating if you're a right fit for sweetgreen's values-centric culture.
Begin by sharing relevant aspects of your professional background: your expertise or skills that make you a valuable asset for sweetgreen. Keep it concise, specific, and themed around sweetgreen's motivational pillars.
Next, weave in your genuine interests that resonate with sweetgreen's ethos such as organic farming, sustainable lifestyle, or your love for healthy and tasty foods. Don't be shy about showing off a bit of your personality; after all, they're looking to hire you, not a stock character.
Now, it's time to dive into the salad bowl of storytelling, garnishing with vibrant anecdotes and top it off with croutons of your distinct character.
"Given my love for all things green and healthy, my background in restaurant operations feels like a perfect mix for the sweetgreen ethos. After finishing my degree in hospitality management, I've spent the past few years working in various roles in farm-to-table food operations. Each role allowed me to enhance my essential skills—team building, inventory management, improving customer experiences—which I believe will add value to sweetgreen's operation. In my spare time, I love visiting local farmers' markets and experimenting with seasonal produce. What excites me about sweetgreen is the chance to fuse my professional journey with my personal interest in sustainable and locavore food culture. I believe it's not just about serving delicious meals, but about a holistic meal experience that respects the environment and values authenticity."
Why do you want to work for sweetgreen?
This question seeks to gauge your overall understanding of the brand, its mission, and your alignment with their core values. By asking this question, hiring managers are looking for genuinely passionate candidates about the farm-to-table movement, committed to sustainability, and ready to provide excellent customer service – all of which form the cornerstone of sweetgreen's ethos.
So, how do you confidently answer this question?
Begin by doing your research on sweetgreen. Understand its mission, vision, and the impact they aim to make in the food industry. Make sure you are familiar with their sourcing policies, involvement with local communities, and their devotion to sustainability and health.
Then, tie this to your personal values or experiences. Perhaps you admire their commitment to sustainable sourcing, or maybe you're passionate about promoting healthy eating habits.
Nailing this question is about aligning your personal motivations with sweetgreen's mission and showing that you're more than just an employee – you're a believer in their cause.
Now, let's turn that picture into words.
"As someone who believes strongly in promoting sustainable agriculture and healthy living, sweetgreen's mission resonates strongly with me. I'm incredibly inspired by sweetgreen's commitment to connecting people to real, healthy food and their partnerships with local farmers. I truly appreciate how the brand goes the extra mile to source ingredients sustainably. This mirrors my own personal commitment to reducing my environmental footprint and supporting local communities. Working for sweetgreen wouldn't just be a job for me, it would be an extension of my personal ethos. Apart from the cause, I also admire the innovative culture here and I believe it will push me to consistently deliver great service to our customers, which is something I highly value in my work."
This question isn't just about your knowledge of the company; it's a litmus test of your passion and alignment with sweetgreen's values. Through this question, the interviewer aims to gauge your keenness and to establish whether your understanding of sweetgreen goes beyond the superficial — if you truly grasp its mission and are indeed a great fit.
Approach this question as more than a regurgitation of company facts. Instead, infuse your knowledge of sweetgreen's ethos with your personal conviction.
For example, if you're drawn to its approach to sustainable farming, express that. Do you connect with their innovative tech-driven ordering system? Share that!
Root your answer in specific aspects you love about the company, be it their commitment to local farmers, eco-friendly packaging, or health-focused menus.
Research about their journey, starting from their inception in 2006 to becoming a celebrated fast-casual salad joint. Look into their outreach programs, and if any connect with your personal beliefs, don't shy away from mentioning it.
And now, without further ado, let's demonstrate how to transform this researched knowledge into an expressive, personalized reply.
"When first visiting sweetgreen, I was struck by how your mission to inspire healthier communities resonated with me. I've long been an advocate for sustainable farming practices, and witnessing sweetgreen's commitment to the same is what drew me in. Additionally, I am impressed by sweetgreen's innovative use of technology to streamline customer ordering – the digital-forward approach truly distinguishes the company. Furthermore, I admire the outreach programs that give back to the local community, especially the sweetgreen in Schools initiative that teaches kids about healthy eating. It's this blend of health, sustainability, innovation, and community support that not only makes me want to be a customer but inspires me to be part of the team as well."
What aspects of the role you've applied for most appeal to you and match your strengths and interests?
At first glance, this question might seem quite straightforward. Dig a bit deeper, though, and you'll realize that it serves a lofty purpose.
The hiring managers at sweetgreen are tasked with identifying candidates who are not just technically proficient, but also passionate about the role and closely aligned with the company's mission of connecting people to real food. This question helps them gauge your enthusiasm for the job, assess your cultural fit, and understand your motivations.
In answering this question, begin by demonstrating a sound understanding of the role you are applying for. Take the time to thoroughly research the job description, the team, and the overall goals. Identify what drew you to the role in the first place and match it to your own skills, experience, and interests.
Think about how the role complements your career plans, how it sparks your enthusiasm, or how it plays to your strengths. Always offer concrete examples that illustrate this; don't just tell them, show them. Presenting your answer with specific references to your past experiences and accomplishments will make it come alive and more convincing.
Like the perfect salad blend, your answer should be a mix of career ambition, personal passion, reflection of values, droplets of your past achievements and finally topped with a sweetgreen dressing.
"The customer experience aspect of this at sweetgreen really appeals to me. Having worked part-time in food service throughout college, I know how rewarding it can feel to play a role in creating positive interactions that leave customers satisfied and coming back for more. I enjoy building relationships with customers through friendly, attentive service. Learning more about the healthy, seasonal offerings on sweetgreen's menu and sharing that knowledge with patrons in a knowledgeable yet low-key way sounds fulfilling. Your company values stand out to me as well – focusing on sourcing high-quality, sustainable ingredients and on community engagement through initiatives like farm donations. As someone passionate about wellness and the environment, I'd find it motivating to represent a brand with such clear purpose. Overall, helping to run a fast-casual operation and ensure all customers leave feeling nourished both physically and socially seems like a great fit with the skills and interests I've developed so far. This role seems to be the perfect concoction of my passion, strengths, and interests."
When faced with multiple tasks, how do you prioritize them and stay focused?
This question may seem daunting, but it is a golden opportunity for you to showcase your organizational and problem-solving abilities. The key aspect they are assessing is your ability to cope with stress, maintain your work quality under pressure, and efficiently manage your time in the ever-busy environment of the food industry.
Firstly, we encourage you to talk about your personal system of task prioritization. The details of your method are not as crucial as proving you're systematic and proactive. Perhaps you are a fan of the Eisenhower Box, you use a dedicated app, or you simply prioritize tasks based on their urgency and importance.
Secondly, mention how you manage distractions. To grab more points, you could talk about how you break down larger tasks into smaller, manageable parts to make progress every day.
Also, be sure to convey that you understand the need for flexibility- things change fast in the food industry, and you should be ready to adapt!
But the proof, as they say, is in the pudding!
"When it comes down to tackling multiple tasks, I employ a mix of technology and traditional methods. I start by listing down all tasks and then I prioritize them based on their urgency, using the Eisenhower Matrix. This keeps me from being overwhelmed and allows for efficient time management. I also employ the use of productivity apps like Trello to track my progress. In the bustling atmosphere of sweetgreen, I understand that unexpected situations may arise, so I always keep a buffer for such emergencies and shift my priorities as required. To stay focused, I believe in taking short breaks after lengthy periods of work and practicing mindfulness to boost productivity. The zest for my work fuels my focus and the satisfaction I get from serving our customers makes it all worthwhile."
Can you give an example of how you collaborate and communicate effectively in a team setting?
Now, is this just small talk? Not at all!
The interviewer wants to know your team spirit quotient and how well you can express your ideas, listen to others, and respond constructively – all essential ingredients to fostering a nurturing work ambience, just like the fresh, organic meals they serve.
So, how do you convince the hiring manager that you've got these precious team communication skills? Here's the recipe:
Keep your answer concise and impactful.
Summon up a real-life example from your past where you've worked effectively in a team.
To add flavor, highlight a conflict or a challenge the team faced and how your communication and collaboration skills helped resolve it.
Demonstrate that you value everyone's input, emphasizing how you were open to alternative viewpoints and steered towards productive outcomes.
Now, these are the flavors the sweetgreen team is sure to relish!
"Back at my previous job at a catering company, we were preparing for a massive corporate event. With just a week left, our head chef fell sick. There was widespread panic as he was the one who usually led the team. Taking this as an opportunity to step up, I gathered my colleagues for an emergency meeting where we each discussed our strengths and weaknesses. Some were quick with chopping, others had an eye for presentation, and some were efficient organizers. I encouraged each member to voice their ideas freely as I believed in the strength of collective brainstorming. I divided the tasks based on everyone's strongest skills. There was a steady flow of updates, encouragement, and open communication throughout that week. The result? We successfully catered the event, received plaudits for our smooth operation, and proved that we could effectively work together under pressure. The experience cemented my belief in the power of potent teamwork and effective communication in a culinary setting."
How would you describe your approach to building strong relationships at work?
When the sweetgreen interviewer asks you this question, they're essentially probing to see your interpersonal skills and methodology for collaboration.
sweetgreen's foundations are deeply rooted in the concept of "team," so they require a well-integrated group that can communicate efficiently, work collaboratively, and possess a shared commitment to the company's mission.
Your answer to this question aids them in determining whether you will fit well within their work ethos and team dynamics.
Start by emphasizing your belief in the importance of open communication, a fundamental element in building strong workplace relationships.
Emphasize your active listening skills and your ability to give and receive feedback constructively.
Show how you are comfortable with diverse perspectives and can work with different personalities, talents, and skill levels efficiently.
Reflect on instances where you have taken the initiative to build positivity in a team. You could perhaps discuss team bonding activities, skills enrichment sessions, or casual coffee meetups you initiated.
Now, let's gather all these elements into one impressive response.
"At my previous jobs, I found that building relationships was key to providing great customer service and having a positive work experience overall. My approach focuses on communication, empathy and trust. I strive to listen actively to understand others' perspectives, whether it's a customer explaining what they're looking for on the menu or a coworker sharing what's happening in their personal life. Really hearing people out allows me to connect on a deeper level. I also try to put myself in others' shoes, whether it's a customer rushing to make their next meeting or an overworked coworker. Showing empathy goes a long way in any interaction. Finally, proving myself to be reliable, respectful and discreet helps foster an environment of trust over time. Strong relationships don't form overnight but are the result of consistency. If given the chance to join sweetgreen, I would continue harnessing this approach to evoke a positive and cooperative working environment, aligning with the company's strong belief in team spirit."
This question is designed to reveal your professional achievements and your ability to bounce back from adversity.
In interpreting your response, the hiring manager is checking your resilience, and also your ability to perform and strive in challenging situations that don't go as planned. They're looking for evidence of your personal growth and how you may apply the lessons learned to future challenges you could face at sweetgreen.
Now, how do you really prepare for this double-whammy of a question?
Start by identifying a significant accomplishment from your career—ideally, one that's relevant to the job you're applying for at sweetgreen.
Next, consider a setback you've faced. This could be a project that didn't go as planned or a disagreement with a colleague.
It's paramount to show you can reflect on and learn from these setbacks. When you frame your responses, highlight specific actions you took and focus on the results. Position these experiences within the context of your future role at sweetgreen to show the real impact of your resilience.
Ready to serve up a fresh take on crafting your response? Let's do it!
"One of my proudest career achievements has to be at my previous job at a health-minded fast-casual restaurant where I received recognition for my work ethic and positive attitude. Even on long shifts during our busiest seasons, I always ensured guests received prompt and friendly service. My managers noted that my energy and can-do attitude helped motivate the whole team.
However, not all moments have been as smooth.
When I first started as a crew member, I struggled with multi-tasking and keeping up during our rushes. On a particularly busy day, I felt overwhelmed and worried I wasn't cutting it. But instead of giving up, I asked my coworkers for tips and stayed late to practice different workflows. The next weekend, I was able to smoothly handle the rush thanks to what I learned from that experience. It showed me the importance of not being afraid to ask for help and continuously improving even when things get tough. My resilience is part of what will help me succeed at sweetgreen."
If I were to ask your coworkers to describe you, what words do you think they would use?
Sounds easy right? Well, don't be lured into complacency. This question isn't about rattling-off flattering adjectives – it's about insight. The hiring manager wants to see self-awareness, introspection, honesty, and your compatibility with the sweetgreen family.
Now, let's arm you with the tools to tackle this question.
First and foremost, recall your interactions with your coworkers, and identify two or three key qualities that define your workplace relationships. Maybe you've been an amicable collaborator, a composed under pressure teammate, or even an innovative problem-solver. Remember, choose words that sync with sweetgreen's culture and mission.
Consult your previous performance reviews, or casually ask colleagues about how they'd describe you in a professional context. Honest introspection coupled with a sprinkle of tact, will ensure you're presenting a sincere and compelling snapshot of your professional self.
So let's take the leap, and weave your experience and our tips into a compelling reply, shall we?
"If my coworkers were to describe me, they would likely say that I'm a 'motivated team-player', constantly striving to grow and foster a collaborative environment. They've often noted how I take the initiative in tasks, showing 'proactivity' and prompting constructive conversations. I've been told that I display 'resilience' and 'adaptability' in times of pressure, continuing to maintain the group's focus and morale. In many ways, it resonates with sweetgreen's culture of authentic engagement and commitment to sustainability, which I deeply admire. Above all, I strive to empower my team, constantly learning and adapting to ensure we're functioning at our best."
Do you have prior experience preparing fresh salads and dishes?
The interviewers at sweetgreen aren't just looking for a 'yes' or 'no' answer. They are trying to gauge your competence in their fast-paced environment, and your aptitude for fresh, healthy culinary creativity.
Answering this question with conviction takes a mix of authenticity, storytelling, and evidence. Start with a genuine 'yes' or 'no', but never stop at that!
If you do have experience, present it by telling a little story about a previous role where you prepared fresh salads or dishes. Describe the environment, the type of food, and even challenges you handled.
If you don't have prior experience, don't panic! Express your passion about fresh, healthy food, and relate any relevant transferable skills you have, perhaps from home cooking, or other food industry roles.
Regardless, show that you are eager to learn and adapt.
Now, how about we give you a live example of how an ideal answer might sound?
"Absolutely, I have had prior experience preparing fresh salads and dishes. In my previous role at a local café, we emphasized on using only fresh, local produce in our dishes. I was instrumental in not only preparing, but also in being involved in menu planning for salads that changed with the seasons. There were challenges like handling rush hours and maintaining quality, but with some cleaver planning and team coordination, we always managed to keep our customers happy. Even though I am proud of my experience, I am still open to learn new ways of doing things and hone my skills even further. I'm particularly excited about sweetgreen's approach towards creating insightful, sustainable food experiences."
Don't panic: this question isn't about putting you in a tight corner. Rather, the interviewer wants to know if you can maintain a professional attitude even amidst disagreement and if you have the ability to foster positive relationships within the sweetgreen team.
As you brace yourself for this question, remember that honesty is paramount. Don't depict yourself as someone who never had a disagreement – nobody's perfect, they'll know it's a mask. Instead, choose a genuine example that's not too drastic, showcasing your intent to ensure a harmonious environment.
Make sure to focus on the resolution; explain how you listened, sought understanding, found a compromise or together came to a mutual solution.
And finally, be careful to avoid blaming or speaking poorly about your previous supervisor. Being respectful despite disagreement will speak volumes about your character.
And now, the grand reveal: a mannequin response, painting a vivid image of your conflict resolution skills, in action…
"Of course. In my previous role as a shift manager at a busy fast food joint, we were constantly addressing operational challenges to ensure quality service. Once, my supervisor and I disagreed on how to handle a recurring issue with order delays during peak hours. He favored adding more staff, but I believed process optimization was key. Instead of escalating the disagreement, I presented my case with data showing how revised workflows reduced delays in similar situations. This openness led to productive dialogue, and eventually, we tested both solutions. Surprisingly, a blend of both tactics worked best: we streamlined our processes and added extra hands during peak hours. It was a valuable lesson in teamwork and problem-solving."
Tell me about a time you challenged the status quo and brought a fresh perspective. What was the outcome?
By asking this question, the sweetgreen team is looking to pinpoint your innovative nature and your ability to handle conflicts and lead changes in a thoughtful manner. They're eager to see how you fit into their culture of continual growth, fresh ideas, and unique insights.
Preparing to answer this question, think about your past experiences critically. Break down instances where you've had an unconventional idea, how you carried it forward, and the eventual outcome.
It's crucial to showcase your courage in challenging established practices and your creativity in devising a new approach. You also need to focus on the results of your initiative, demonstrating how your fresh perspective positively impacted the situation.
Your answer should weave a narrative, complete with challenges, steps taken, and ultimately the triumph of your innovative approach.
Now, let's move from a brainstorming mode to connecting the dots and craft a compelling narrative that mirrors your own adventurous spirit.
"At my last job as a crew member at a sandwich shop, we had preset sandwiches listed on a board that customers could customize by adding or removing various ingredients. I noticed some regular customers seemed frustrated having to repeat all the specifics of their usual customizations to the cashier each time they ordered.
I suggested we create simple code words we could write by the sandwiches as shorthand for popular modifications. For example, "LT" for "lettuce and tomato only." My manager was skeptical, but let me try it out. The new system drastically cut down order times during our busy lunch rush since customers didn't have to re-list every change each visit.
Both customers and my coworkers loved how streamlined it made the process. It ended up boosting our service speeds and satisfaction. Seeing that positive outcome felt rewarding, as it showed even small ideas can make a difference with a fresh perspective. I hope to continue finding ways to improve customer and coworker experiences at sweetgreen as well."
Why do you think you would be a great fit for the sweetgreen team?
This question is not a test of your humility or an evaluation of your self-confidence. It's about two things: The company's mission, values, and culture, and how well you assimilate to them.
So how do you articulate your fit?
Start by getting a good knowledge of sweetgreen's philosophy. Know that the company is all about serving "Building healthier communities by connecting people to real food." But it goes beyond just the food; it's about sustainability, community involvement, and a positive workplace atmosphere.
Next, you need to identify any unique abilities or experiences that align with these factors. Did you ever plan a community service? Are you passionate about sourcing locally and eating organic food?
Remember to stay true to yourself and reflect on how this journey benefits you mutually. It's about growing together with sweetgreen.
Ready to tie it all together? Let's serve it up on a fresh platter!
"Well, I've always been passionate about creating meaningful connections. In college, I organized a local farmers' market, which taught me the value of sourcing fresh, local produce and bringing community members together. That's why sweetgreen's commitment to 'real food' and community resonates with me. I also admire how sweetgreen emphasizes treating its team members well and fostering a positive work environment. In my previous role, I was known for fostering a supportive, collaborative team culture, and I can see myself spreading that positive vibe in a sweetgreen setting. I believe that I could bring a unique perspective to the sweetgreen team, with my background in community organizing, my passion for healthy living, and my commitment to a strong, positive workplace culture."
Thinking down the road, where do you hope to be in your career 5 years from now and how will this role at sweetgreen help you get there?
The question is not simply an exercise in future gazing; it's their way of deciphering your long term commitment, career aspirations, and the alignment of your professional vision with sweetgreen's organizational values and culture. Essentially, they're trying to assess whether it's a win-win situation for both of you.
In crafting a response to this question, focus on two key aspects.
Firstly, make your future role and path realistic and aligned with the progress you could make from the position you're interviewing for. Going from an entry-level role to CEO in 5 years may seem ambitious but is unlikely to fit the realistic career trajectory sweetgreen can offer.
Secondly, put emphasis on how sweetgreen would play an integral role in your growth. You should explain how the experiences, skills acquisition and opportunities at sweetgreen would provide a strong foundation toward achieving your goals.
Now, let's whip up an example answer to better illustrate the principles we just discussed.
"In 5 years, I aspire to be in a leadership role, driving key decisions that would impact our brand and consumer experience. Given sweetgreen's focus on innovation and its commitment to creating healthier communities, I see myself thriving here, gaining a robust understanding of the industry and its dynamics and honing essential skills. By learning from experts, building meaningful relationships and growing with the organization, I am confident that I can evolve into a valuable team leader who positively impacts sweetgreen's mission and the health-conscious choices of our customers."
The crux behind this question is the interviewer's genuine interest in understanding your self-awareness and professional growth journey. They are looking for more than just an employee – they want a team member who recognizes their abilities, is authentic, and is continually working on self-improvement.
To handle this question with finesse requires transparency and strategy.
Start by highlighting your strengths that directly align with the job description and portray you as the ideal fit. Narrate an instance that demonstrates these qualities in action now, don't just define them. Here's a pro tip: sweetgreen values a combination of leadership skills and teamwork, so emphasize these traits if applicable.
As for your weaknesses, be honest but wise – mention those that are genuine yet won't hinder your ability to perform your prospective role. Stress on active measures you're taking for improvement, transforming this potential negative into a positive.
Now you might be thinking, "Phew, that seems like a whole meal to prepare!". Fret not, we've got a handy plate of example right up for you.
"Sure! In terms of strengths, I'm a natural team player who also thrives in a leadership capacity, much like sweetgreen's commitment to teamwork and leadership. For example, while managing my previous team, I realized that effective/proactive communication within the team and clarity of roles not only improved productivity but also created a more amicable culture.
Now on to my weaknesses: I tend to get a little too engrossed in details. This has occasionally slowed down my work pace in the past. However, I am constantly working on striking a balance and have seen pretty promising improvements."
[/su_note]
What are some of your hobbies and interests outside of work?
At first glance, it may seem like the hiring manager is attempting to make a friendly chitchat, but in reality, they're aiming to understand you better as an individual. Yes, they're interested in you beyond your professional capabilities.
sweetgreen values individuals who bring their whole selves to work, and this question uncovers whether your values and passions align with their vibrant community-focused culture.
To shine while answering this, dive deeper than the surface level. Don't just reveal what you enjoy doing in your spare time but connect it with how that shapes you as an individual. And make it relevant.
As sweetgreen is profoundly rooted in the community, sustainability and healthy living, it's not a bad idea to tie in those themes with your interests. Perhaps you have a passion for organic gardening, or you volunteer at a food bank, or you enjoy hiking and value environmental sustainability.
Authenticity is key! It's not about showcasing the "perfect" hobby but about representing your true self.
So, you've gathered your thoughts and you're ready to give your answer. But wait a minute, how do you weave it all together? Let's illustrate!
"I've always had an interest in sustainability, particularly in the realm of food science. In my free time, I love experimenting with innovative ways of reducing food waste in my kitchen, like making compost, and cooking with biodegradable products. I'm also part of a community garden where we grow and share our harvest with neighborhood members. I believe these hobbies not only underline my deep connection with sweetgreen's mission but also highlight my initiative and creativity outside of a professional context."
How do you stay focused and ensure tasks are completed accurately and on time in a fast-paced work environment?
This question likely doesn't need an introduction. In a sweetgreen interview particularly, this question comes as no surprise. This bustling, high-energy industry thrives on efficiency and accuracy, and as such, your interviewer is searching for evidence of your ability to manage the high stakes.
There's no one-size-fits-all answer to this question, but we suggest you start by highlighting how your previous experiences have prepared you for such an environment.
Draw on specific examples that demonstrate your problem-solving skills during high-pressure situations. Emphasize your prioritization, organizational, and time management skills and, if possible, relate this directly to the food industry. Finally, remember to wrap your response in the framework of sweetgreen's ethos – healthy living and community centralization.
Now, let's slice the salad and put a dressing on a befitting response.
"Oh, I thrive in fast-paced environments, they fuel my energy. In my previous role at a local restaurant, we often had peak hours where it was literally all hands on deck. One effective strategy I used to stay focused was to create a mental checklist of tasks, prioritizing them according to their urgency and importance. For example, prep and order accuracy came first, followed by cleaning tasks. To ensure these tasks were completed on time, I regularly compared my performance speed with ideal completion timeframes. Over time, this helped me to improve my efficiency, resulting in better time management. Moreover, I always made sure that amidst the chaos, my interactions with customers remained friendly and personable."
Could you walk me through an example of how you approached and resolved a difficult customer service scenario in a past role?
This question about your skills and experiences isn't there just to make you nervous.
The hiring manager is really interested in seeing how you deal with high-pressure situations. And, in a company that's all about delivering top-notch customer service in the local, organic, and sustainable food industry, being able to handle issues even when "the salad gets a little wilted" is of utmost importance.
So, how do you answer this question?
Start by thinking of a time when you faced a challenging customer service situation. Maybe an order was delayed, the wrong food was sent, or perhaps a customer wasn't satisfied with the quality of your product. Focus on how you solved the problem, what steps you took, and what the outcome was.
Ignoring a mistake isn't the best strategy. Remember, sweetgreen values transparency and responsibility. So, whether it's a mistake or a valuable lesson learnt, make sure to share it.
Ready to take the leap from theory to practice? Let's toss up our example like a refreshing sweetgreen salad.
"At my previous job, we faced a situation where a regular customer complained about consistent delays in their order during rush hours. Rather than offering an apologetic discount, I strived to present a lasting solution. I empathized with their predicament, assured them we valued their patronage, and proposed an online ordering system for peak hours. They agreed. We promptly started working on this new method and successfully implemented it within a week. Feedback from this customer and many others was overwhelmingly positive, proving that proactive problem-solving combined with transparency can turn a difficult situation into an opportunity for improvement."
If you had to describe your personality as a vegetable, which would you pick and why?
Sounds strange, right? But there's a method to this madness.
The sweetgreen interviewer is not testing your agricultural knowledge. Instead, they are assessing your creativity, critical thinking, and how well you know yourself – all vital attributes in a company that promotes out-of-the-box thinking and a culture of individuality.
Let's talk strategy on how to answer this question and leave a fresh taste in the interviewer's mouth.
First, choose a vegetable you can relate to. Understand what that vegetable signifies – is it adaptable, strong, resilient, versatile, or does it grow in unique conditions?
Next, relate those qualities back to yourself and your experiences. Just remember, this is not about being the 'right' vegetable, it's about showcasing your personality and what makes you unique.
Bonus points if you can tie it to sweetgreen's mission of building healthier communities by connecting people to real food.
Ready to serve up your answer? Let's dig out a flavorful response.
"If I were a vegetable, I'd probably be a kale. Why kale? Well, it's known for its versatility – enjoyed raw in a salad or cooked. This mirrors my ability to adapt and provide value in any team setting. Just like how kale can positively influence any given health condition, I have proved my potential by enhancing team performances in different challenging scenarios. Plus, kale's resilience in harsh weather conditions aligns with my resilience in high-stress situations at work. It also resonates with the resilient spirit of sweetgreen, constantly innovating to deliver fresh, healthy food, regardless of the challenges thrown its way."
Collaboration is so important at sweetgreen. Tell me about a time you worked effectively in a team. What did you find most rewarding about that experience?
Walking into a job interview at sweetgreen, you'll quickly discover that collaboration lies at the heart of their delicious, community-driven mission.
This question is one of the hiring manager's favorite trump cards. This isn't just because they're looking for team players, it's designed to see if you know the meaning of building relationships, fostering a sense of community, and working together towards exceptional results – all key ingredients in the sweetgreen recipe for success.
When formulating your answer, highlight a situation showcasing strong collaboration between you and your team. Choose an instance where your collaboration solved a problem or created a positive outcome. Clearly detail your role in the team, how the team dynamically worked together, and how it led to success.
Remember, at sweetgreen, everyone's contribution to the team is valued. So, your ability to recognize and communicate the overall team effort will truly set you apart from other candidates.
Now, dig deep into your memory bank, and grab that exceptional story of teamwork that shines bright like a well-polished diamond.
"In my previous role as a culinary team lead, our restaurant was scheduled to cater a large, unexpected event that required immediate action. I quickly formed a team of talented folks from our own kitchen and some from other branches too, ensuring we had a well-rounded group. We had to collaborate on devising a specialized menu, managing ingredients, and meeting a strict deadline. Despite the challenges, we worked efficiently, swiftly dividing roles based on each member's strengths. The most rewarding aspect was witnessing how our collaborative effort created a delicious spread on time, leaving our clients thrilled. This experience taught me how powerful collaboration can be, especially in an industry so centered around service and enjoyment for our customers. It's an ethos I see echoed and valued at sweetgreen, which I profoundly appreciate."
If provided constructive feedback from a manager, how do you typically respond?
This question, more than just assessing your ability to receive feedback, probes into your overall attitude towards growth, improvement, and teamwork. They're interested in understanding how you incorporate guidance into your work to become a better contributor to sweetgreen's culture of innovation and resilience.
The secret sauce to answering this question is to portray your innate ability to accept, internalize, and act constructively on feedback. In your response, explicitly mention that you welcome constructive feedback as an opportunity for personal development. Illustrate how you digest feedback, perhaps by taking some time to mull over the comments before planning a course of action.
Show that you treat feedback as the backbone of your quest for professional growth.
Alright now, tighten your apron, let's cook up an irresistible answer that'll leave the interviewer craving for more.
"If provided with constructive feedback from a manager, I generally respond by expressing my gratitude for their insights. I genuinely believe that 'Feedback is the breakfast of champions', and for me to grow in my career here at sweetgreen, I will lean on my colleagues' expertise, especially my manager's. After receiving such feedback, I would take a step back to internalize and understand the message fully. If something isn't clear, I wouldn't hesitate to seek clarification. I always strive to formulate an action plan to improve my performance and ensure that feedback is implemented in my future tasks. This approach has always maintained my growth trajectory, and I anticipate bringing this learning attitude to the sweetgreen team as well."
The hiring manager asks this not so much to test your taste buds but to gauge your understanding, passion, and familiarity with the brand and its offerings. In a sense, they want to know if you 'speak sweetgreen'.
We'd advise avoiding generic answers like 'I like everything on the menu.' Instead, focus on a specific item, explaining why you were drawn to it in the first place.
It's about showcasing your in-depth knowledge about the menu, so you might want to delve into details, like the variety of ingredients, their local sourcing, or the nutritious value. Expressing your genuine connection to the brand's product will usher in a level of authenticity they'll appreciate.
So, with this master plan laid out, let's serve an example answer on a crisp lettuce leaf, shall we?
"My absolute favorite sweetgreen menu item has to be the 'Kale Caesar salad'. I am a fitness enthusiast, and the fact that the salad is a perfect blend of nutrition-packed ingredients like kale, roasted chicken, tomatoes, and a sprinkle of parmesan makes it my go-to meal. Especially when I learned that sweetgreen locally sources its ingredients, it reinforced my trust in the brand's commitment to providing fresh and wholesome food. With sweetgreen, I get to maintain my active lifestyle without compromising flavor or quality, making the 'Kale Caesar salad' not just a meal but an experience for me."
How would you go above and beyond to give sweetgreen guests an incredible experience?
The hiring manager at sweetgreen is looking for your dedication to stellar service and your grasp on the unique sweetgreen brand experience. It all boils down to how inventive you are with problem-solving and engaging guests.
To ace your answer, pour out your complete understanding of sweetgreen's core values and principles. Latch on to their commitment to sustainability, their emphasis on fresh, healthy food, and their weight on laudable customer service. Use these principles to shape your answer.
Show them that for you it's all about the customer's experience and how you can make it memorable and delightful. Light up your answer further by adding practical examples that reflect your customer-centric approach and problem-solving skills.
Visualize yourself donning your most cheerful apron, serving up the freshest of salads and dishing out experiences that are simply unforgettable to sweetgreen guests.
"Having thoroughly understood sweetgreen's dedication to health and freshness, I would make every customer interaction a learning journey about the wholesome, locally sourced ingredients we use. I'll not just tell them their salad is ready, I'll add a phrase like, 'Your colourful salad, filled with fresh local farm veggies and our homemade dressing is ready.' I genuinely believe education and awareness can improve a customer's eating experience and enable them to enjoy their meal more. Further, I'll always be proactive to help, should they need any guidance with choices or have any query. It is not just about serving food, it's about presenting them with a story about their meal, uplifting the overall customer experience."
Walk me through your availability to work shifts at sweetgreen? Are there any days or times you are unable to work?
This is a very logical and practical question. The interviewer is trying to gauge your flexibility and ascertain whether your schedule aligns with the varying working hours that the job necessitates.
Now that you know what they're after, here's how to ace this question.
Begin by outlining your general availability, focusing on the period this correlates with their peak business hours. It's also important to demonstrate as much flexibility as possible. The more available you are, the more valuable you become to the sweetgreen team.
But remember, honesty is crucial. If there are timings or days when you're absolutely unavailable due to personal obligations or maybe another job, be sure to disclose this. Strategically speaking, it may be better to bring up these constraints later in the conversation after laying out your availability.
Enough theory, let's dive into the practice territory with a seasoned example.
"Sure, I am fairly flexible with my schedule and should be able to adapt to most shift timings. I am typically available to work during the weekdays, particularly during the afternoon to evening shifts, which, as I understand, is when sweetgreen often experiences peak customer flow. However, I do have a standing commitment on Wednesday evenings and hence would be unable to work post 5 PM on those specific days. Apart from that specific slot, I am open to discussing any scheduling needs sweetgreen might have and would be more than willing to adjust and accommodate wherever possible."
Do you foresee any transportation challenges getting to your shifts at sweetgreen on time?
This may seem like an ordinary logistical query, but we assure you it's more than that. The hiring manager is effectively probing your commitment and planning skills. They want to see that you've taken a moment to objectively consider logistical matters before applying.
Now, to answer this question effectively, keep it truthful and concise. Analyze your situation ahead of time – consider typical traffic patterns, distance to the sweetgreen location, and reliable transit options you have available.
If you foresee possible issues, like peak traffic or unreliable public transportation, reflect your strategic planning on how you'd ensure minimum disruption. Remember, they're not necessarily looking for a perfect scenario. Showing your proactive thinking in tackling real-life issues will earn you more points.
Ready to concoct your thoughtful response? Let's dive into it.
"I live about 20 minutes drive from this sweetgreen location and have a reliable car. Sometimes, the traffic can be heavy during rush hour, but I've factored that into my commute time. I plan to leave home at least an hour before my shift starts to account for any unforeseen delays. If there's a situation where my car breaks down, I have a backup plan. There's a reliable public transportation network nearby that I can use to arrive here on time. Rest assured, I consider punctuality as key to my work ethics and therefore have planned my commute accordingly."
Questions to Ask the Interviewer in sweetgreen Interview
In your interview session with sweetgreen, you're likely to come across this universally common incident when the interviewer provides you an opportunity to ask questions. As often as it arises, many underestimate its significant value in the interview process.
???? Why It's More Than Just A Question
Despite its regular appearance in interviews, many folks undervalue the weight this single question holds. Welcome to what we like to call the 'Role Reversal' question.
Here's the deal:
Shift in Dynamics: Instead of the usual back-and-forth where you're in the spotlight answering all the queries, this is your golden ticket to switch things up. Yup, now it's your turn to throw some thoughtful zingers their way.
Double Whammy Intent: Think of it as a two-in-one deal. Not only does it let the interviewer measure your keenness for the job, but it also tests your quick-thinking prowess.
???? What The Interviewer is REALLY Looking For
Here's where things get juicy:
Genuine Interest: Did you do your homework? Are you really into this gig or just window shopping? This is your moment to show that you're not just looking for a job, but this job.
Deep Dive Attitude: By posing insightful questions, you exhibit that you're not just skimming the surface. You're eager to understand the nitty-gritty of the role and the culture vibes of the company.
Foresight & Dedication: In essence, they're peeking into your level of commitment, your passion, and how forward-thinking you are about this role.
Without further ado, let's dive right into the treasury of potential questions you can ask the sweetgreen interviewer. Keep in mind that the questions should reflect your genuine curiosity, work-specific queries, and a demonstration of your research about the company.
What does a typical day in this role look like?
What kind of training and development opportunities are available for this position?
Can you share some of the challenges and rewards typical of this job?
How is performance typically measured in this position?
How do you view this role contributing to the overall goals of sweetgreen?
Could you give me an idea about sweetgreen's work culture?
What growth opportunities are typically available for someone in this position?
What makes sweetgreen unique compared to its competitors in the fast-food industry?
Can you describe some projects or tasks I might be working on initially?
How would my performance be evaluated in the initial months?
Could you tell me about the team I would be working with?
How does sweetgreen maintain its commitment to sustainability in its daily operations?
Does sweetgreen encourage its employees to contribute ideas for better implementation of its values?
What's your favorite part about working at sweetgreen?
How is the feedback process managed here at sweetgreen?
What are sweetgreen's efforts towards diversity and inclusion?
How does sweetgreen ensure the quality of its product and the satisfaction of its customers?
What is the most challenging aspect of the job from the perspective of people who are currently in this role?
What are the next steps in the interview process?
sweetgreen Hiring Process
You've got an interview with sweetgreen coming up and you want to ace it. Here's an inside look at what to expect during the sweetgreen hiring process so you can feel fully prepared.
The first step is applying online or in-person at a sweetgreen location. Keep an eye on your email because you may get an invite to schedule a phone screening.
In this initial interview, you'll speak with a recruiter or HR rep who will assess your basic qualifications. Highlight your customer service skills since sweetgreen values those qualities.
If the phone chat goes well, you'll be invited for an in-person interview at a sweetgreen store. This is often a conversational interview where they evaluate your fit for the team and company culture. Be ready to discuss your availability too. You may meet with the general manager, district manager, or a small panel. Some candidates have even been hired on the spot after acing this interview!
For corporate office roles, expect multiple interview rounds like phone screens, video chats, take-home assignments, and in-person panel interviews. The process takes anywhere from a few days to a few weeks from start to finish.
Once a decision is made, you may get a phone or email offer to join the sweetgreen squad.
sweetgreen Interview Tips
Go into your sweetgreen interview prepared to showcase your customer service skills, team spirit, and genuine interest in health and wellness. Give specific examples of providing excellent customer service in past roles. Emphasize your availability and schedule flexibility. Ask questions that demonstrate your alignment with sweetgreen's culture and desire to promote real food and stronger communities.
What to Wear to sweetgreen Interview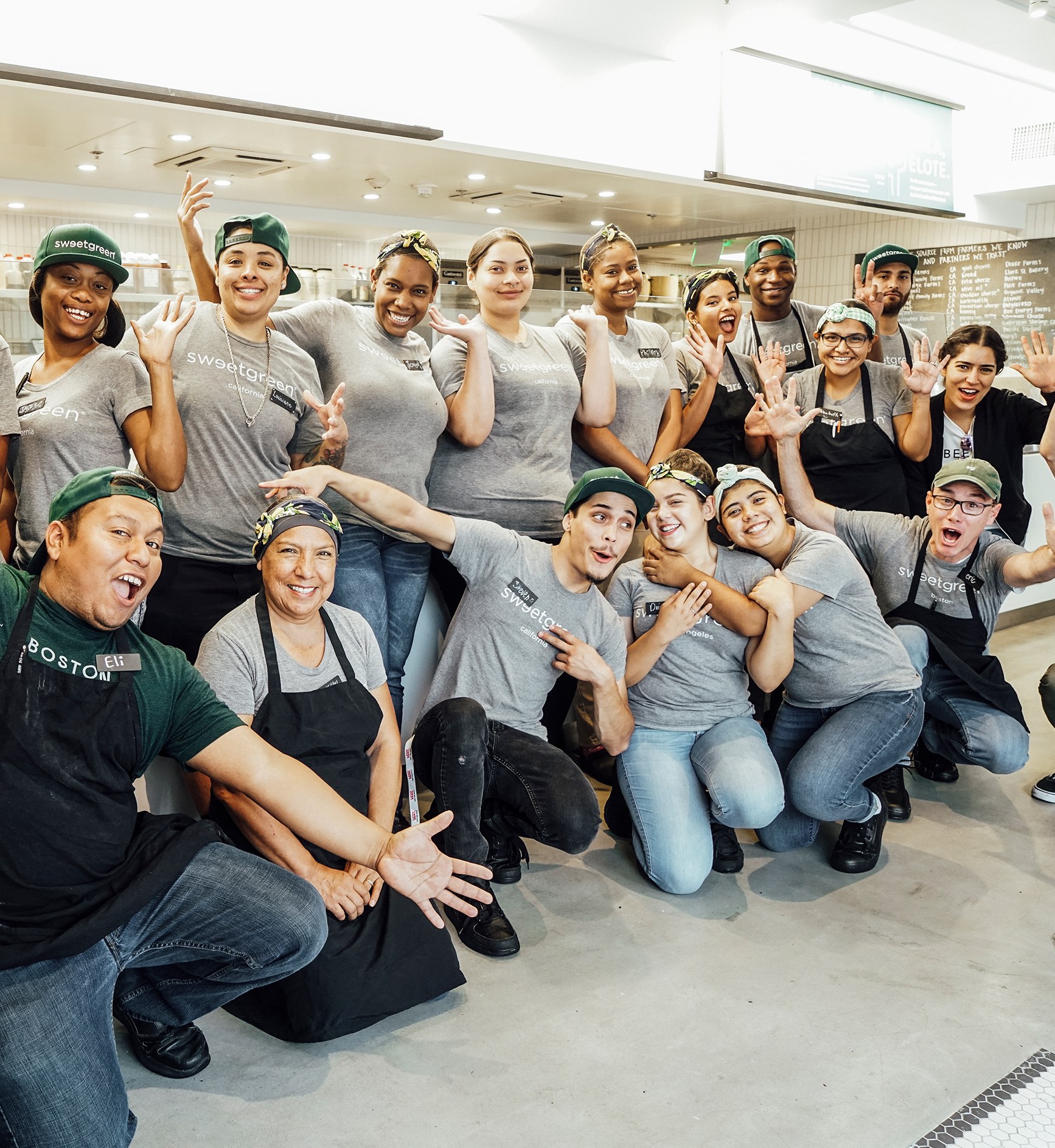 Ah, the age-old question: "What do I wear?" Whether it's a gala, a friend's wedding, or a job interview, dressing appropriately is paramount. When it comes to a job interview, there's a clever little trick in your arsenal – emulating the company's dress code. Think of it as a subtle nod that says, "Hey, I've done my homework and I already belong here!"
First things first, what do sweetgreen employees wear daily? Glad you asked!
The dress code at sweetgreen is a company-provided t-shirt, jeans, a hair net, an apron, a hat or headband or bandana, a name tag, and non-slip shoes. Visible tattoos, jewelry, loose hair, earrings, and nail polish are prohibited.
With this in mind, what should you wear to your sweetgreen interview? It all boils down to the role you're vying for.
Service Team Member, Cashier, Shift Leader, Prep Cook: Step into the room with a confident strut in your casual or business casual ensemble. Think of a well-fitted pair of jeans, a neat shirt or blouse, and some comfortable shoes.
Restaurant Manager, Restaurant General Manager: Business casual is your friend here, too! However, lean more towards the 'business' side of it. A crisp blouse or button-down shirt, paired with slacks or a neat skirt, will do wonders.
Corporate Office positions: For those vying for a position at the corporate level, it's time to go all out with business formal. We're talking blazers, ties, suits, pencil skirts, and the works.
Conclusion
By now, having dived deep into the top sweetgreen interview questions loves to throw in the ring (and the supercharged responses we've unlocked together), you're not just stepping in prepared – you're striding in armed.
???? Why These Aren't Just "Answers"
Here's the thing:
They're Power Tools: Think of each response not just as an answer, but as a laser-focused tool. One that not only showcases your skills but oozes passion and commitment.
Embrace The sweetgreen Ethos: Let's not forget: sweetgreen isn't just about the greens. They're on a mission for healthier lifestyles. It's all about resonance. Let your prep work fuel your confidence, ensuring you resonate with their ethos and values.
???? Beyond sweetgreen: A World Full of Possibilities
Here's where the real fun begins:
Broaden Your Horizons: sweetgreen is an amazing start, but don't put those prep tools back in the shed just yet. Brands like Cava, Just Salad, Chopt, Panera Bread, Shake Shack, and Chipotle are on the hunt for firecrackers like you.
Fast Food Titans Are Calling: If the thrill of a fast-paced environment gets your heart racing, giants like Subway and In-N-Out Burger are right up your alley.
Dive into the Big League: Ever thought about the major league players? Yum Brands Inc., the brains behind KFC, Taco Bell, The Habit Burger Grill, and Pizza Hut, could be your next pitch.
Consider sweetgreen your stepping stone, the launchpad. But remember, there's an entire universe out there. Keep that spark alive, continue fine-tuning those applications, and nail every interview with the zest we've seen.
Stay fierce, stay hungry, and remember – the world's your oyster. ????????