25 In-N-Out Burger Interview Questions (And Insider Answers)
You've secured an interview with In-N-Out Burger, a much-awaited opportunity that could steer your career path in a promising direction.
While the excitement builds up, it's matched with an equal measure of anticipation regarding the type of questions you might face.
Every interview brings its own set of challenges, but one thing remains consistent—the importance of preparation.
This blog post provides an invaluable resource—a comprehensive list of the most commonly asked In-N-Out Burger interview questions and answers with advice for how best to respond.
By reviewing these questions and answers in advance, you'll walk into your interview with confidence and be ready to highlight your relevant experience, skills, and enthusiasm for the work.
Don't leave the interview to chance and risk missing out on a life-changing opportunity—get ready now and give yourself an edge in the interview process.
In-N-Out Burger Company Information
As you set your sights on a position at In-N-Out Burger, it is crucial to understand the company's key facts and attributes.
Take the time to read through the following overview of In-N-Out Burger so that you can speak knowledgeably about the brand and its mission.
| | |
| --- | --- |
| Trade Name | In-N-Out Burger |
| Type | Fast Food Restaurant Chain |
| Date Founded | Oct 22, 1948 |
| Founders | Esther Snyder, Harry Snyder |
| Headquarters | Irvine, California, United States |
| Menu | Cheeseburgers, Hamburgers, French Fries, Beverages, Shakes |
| Signature Items | Double-Double, Protein-Style Burger, 4×4 Burger, Flying Dutchman, Scooby Snack |
| Core Values | Integrity, Honesty, Respect |
| Website | www.in-n-out.com |
| Competitors | McDonald's, Wendy's, Carls Jr., Burger King, Jack in the Box, Shake Shack, Five Guys, Chick-fil-A |
Additional facts:
????️ Timeless Start: In 1948, In-N-Out opened its doors as California's first drive-thru hamburger stand, setting the stage for fresh, made-to-order burgers. A visit today still feels like a delightful blast from the past.
???? Consistent Taste: At all locations, the ingredients remain fresh, never frozen, ensuring that each burger tastes just like the good old days.
???? Fresh-Cut Fries: Every potato is hand-cut and fried upon order. The result? Crispy fries that take you on a nostalgic journey every time.
❄️ Fresh is Best: No matter where you're biting into their burger, whether it's California or Texas, the taste remains consistent: fresh beef patties, ground and grilled to perfection, reminding every customer of the genuine hamburger taste.
???? Classic Shakes: Real ice cream shakes made the right way, a time-honored tradition that's never been compromised.
???? Bible References: The company's packaging features Bible verses like John 3:16 on soda cups and Proverbs 3:5 on milkshake cups, reflecting the strong faith of the founding family.
???? Quality First: Their commitment to "Quality you can taste" means only using fresh ingredients. You won't find a single microwave or heat lamp at any of their outlets. The proximity to patty-making facilities also dictates their store locations.
???? Bun Standards: They once closed all their Texas outlets for two days just because the buns didn't meet their high-quality standards.
???? Antibiotics Issue: Despite their commitment to fresh beef, a 2018 report gave In-N-Out an "F" for not having a clear policy on antibiotic use in their beef.
???? Celebrity Endorsement: Famed chefs like Julia Child, Thomas Keller, and even Gordon Ramsay have praised the deliciousness of In-N-Out burgers.
???? Manager Salary: On average, an In-N-Out manager makes over $160,000 a year, illustrating the company's commitment to ensuring quality service by well-compensated employees.
???? Logo Meaning: The crossed palm trees in the logo were inspired by the movie "It's a Mad, Mad, Mad, Mad World," symbolizing the treasure that each In-N-Out store represents.
???? High-End Merch: They offer unique merchandise for hardcore fans, like Swarovski crystal keychains and jewelry boxes adorned with their logo.
???? Racing Heiress: Company president and heiress Lynsi Snyder is passionate about drag racing and often draws inspiration from her father's adventurous spirit.
✈️ Tragic History: Before Lynsi Snyder's leadership, her uncle and then-president, Rich Snyder, expanded the chain significantly before tragically dying in a plane crash.
???? One Big Family: With over 35,000 associates, In-N-Out ensures that everyone is treated like family. This care extends to their decision not to franchise restaurants, ensuring quality and service remains top-notch.
????️ West Coast Icon: While they've grown over the years, In-N-Out remains a classic staple of the Western U.S., becoming a mandatory stop on any road trip through the region.
???? No Need for Change: In a constantly evolving world, In-N-Out stands firm in its values. Privately owned, they've resisted the siren song of global expansion. Their consistent, old-school approach proves that sometimes, nostalgia is just what we need.
In-N-Out Burger Mission Statement
Providing the freshest, highest quality foods and services for a profit, and a spotless, sparkling environment whereby the customer is our most important asset.
In-N-Out Burger Interview Questions
Can you tell me a little bit about yourself?
The interviewer's goal with this open-ended question is to get a sense of your personality, strengths, and goals.
They want to see if you're a good culture fit for In-N-Out Burger and have the right attitude and work ethic to succeed in a fast-paced restaurant environment.
When answering, highlight relevant experience, skills, and personality traits that would be valuable for the role and company.
Speak passionately about why you're interested in the position and company. Focus on how you can meet their needs, not what they can do for you.
Here's an example answer:
"To tell you a little about myself, I'm a friendly and customer service-oriented person with 2 years of experience in the fast food industry. I started as a crew member at another burger restaurant, where I honed my speed, accuracy, and ability to thrive under pressure while maintaining a positive attitude. I'm looking to bring my experience to In-N-Out Burger, a company I've long admired for its fresh ingredients and family values. I'm a hard worker who is determined to deliver an unparalleled customer experience and push myself to learn and grow on the job. My goal is to work my way up to a managerial role at In-N-Out, if I'm able to demonstrate my potential and passion."
Why are you interested in working at In-N-Out Burger?
The interviewer asks this to gauge your enthusiasm for the company and role. Plus, they want to see if you've done your homework on the brand and culture.
This question is your chance to demonstrate passion and stand out from other candidates.
First off, research In-N-Out Burger. Dive into their brand, values, culture, products, and reputation. This isn't just a passing curiosity; show them you're genuinely invested.
Pinpoint what about the company thrills you. Maybe it's their commitment to fresh, quality ingredients. Or their stellar customer service. Imagine yourself there, adding value to their vision.
Got skills? Flaunt them! Talk about your knack for stellar customer service or how you keep your cool during a rush. Maybe you see yourself in a leadership role down the line. Share that.
Most importantly? Be authentic.
Don't fake the passion. They'll notice.
Here is an example answer:
"After researching about In-N-Out Burger, I'm especially impressed with your commitment to serving fresh, high-quality food and providing friendly, fast service. As someone who loves working in fast-paced environments and engaging with customers, I would appreciate the opportunity to contribute to your operation with my 2 years of customer service experience. I'm passionate about delivering an outstanding experience, collaborating with a great team, and working my way into a leadership role where I can help continue In-N-Out's tradition of excellence. Overall, I'm very enthusiastic about the possibility of growing my career with your company."
How would you describe your work ethic?
The interviewer is trying to determine if you have the diligence, discipline, and drive to thrive in In-N-Out's fast-paced environment.
They want to see that you are reliable, detail-oriented, and able to take a task and see it through to completion with a sense of urgency.
Here's how to tackle this:
Highlight relevant experience. Reference previous roles where you demonstrated a strong work ethic. For example, you might say: 'In my current job as a server, I always ensure my tasks are completed on time, and I'm available to jump in and help colleagues when needed. If a shift is short-staffed, I'm the person others know will stay late to get the work done.'
Emphasize key attributes. Discuss 2-3 attributes of your work ethic, giving brief examples to illustrate each point. For instance:

'I have a persistent approach and see things through to the end. If there's a difficult task, I won't stop until I've exhausted all options to solve the problem.'
'I have a high level of accountability and ownership over my work. If I make a mistake, I promptly acknowledge it and make it right.'
'I thrive under pressure and tight deadlines. Some of my best work has been produced when working under urgent timelines.'

Express your passion. Explain why you find satisfaction in a strong work ethic and contributing to a team. Share your enthusiasm for the fast-paced, high-volume nature of the work at In-N-Out.
By conveying relevant experience, emphasizing key attributes, and expressing genuine passion, you can show the interviewer that you have the diligent work ethic to excel at In-N-Out Burger.
"In my last role as a server, I consistently made sure my tasks were completed punctually. When the team faced a hectic day or was short-staffed, I was the one they could rely on to stay back and ensure everything was in order. My approach to work is persistent. For instance, when faced with a particularly challenging task, I don't rest until I've explored all avenues to find a solution. I take immense ownership and accountability over what I do. If ever there's an oversight on my part, I'm quick to acknowledge it and rectify the situation. Additionally, I've often found that I produce some of my best work under tight deadlines. It's that adrenaline rush that pushes me to excel. What excites me about In-N-Out is the high-volume, dynamic environment, and I'm eager to contribute with my strong work ethic."
How would you deal with an unhappy or frustrated customer?
This question is commonly asked in In-N-Out Burger interviews.
Why? Well, the interviewer is testing your ability to keep cool under pressure. They're trying to picture you in a tricky, real-life scenario with a not-so-happy customer.
So, how do you ace it?
First, let the customer know you're genuinely listening. Put yourself in their shoes. Feel that frustration? Good. That means you're empathetic.
Always apologize. Even if it wasn't your blunder. You'd be surprised how much a simple "I'm sorry" can do.
Stay sunny-side up. Keep that positive demeanor. Getting into a heated debate? That's a no-go.
Lastly, walk the talk. Address the complaint pronto. Offer a solution or some form of compensation. Make it right. For good.
Need a little inspiration? Here's how you could frame my answer:
"If a customer complained about a long wait time and incorrect order, I would calmly address the situation. I would apologize for the poor experience and delays, acknowledge their time is valuable, and take full responsibility to make things right, even if the issues were out of my control. I would listen to their specific concerns, offer a partial or full refund, and remake or replace the order promptly. My goal would be to empathize, take action, and provide excellent customer service to turn their experience around and leave them satisfied."
How would you handle taking and fulfilling multiple orders at once?
Ever thought about juggling? No, not those colorful balls.
We're talking about juggling multiple In-N-Out orders, especially if you're eyeing a cashier or order-taking spot. Trust us, it's a skill they're keen on.
The interviewer wants to see that you have a systematic approach to efficiently handling multiple demands simultaneously while minimizing mistakes.
Your game plan?
Walk them through your process. Detail it out, step by step. The more methodical, the better.
Got some experience in a hustle and bustle setting? Flash that card. Maybe you once managed a rush hour at another joint. Dive into that tale. Highlight your organizational prowess and how you kept errors at bay.
Positivity is your best friend here. Even when orders pile up, you've got this. And if ever in doubt? Ask for backup. But always, always keep that customer-first approach shining through.
Need a head start? Picture it like this:
"First, I would confirm all orders were clearly heard and repeated back to the customers for accuracy. Then, I would enter the orders into the system one by one as quickly and accurately as possible. While the orders are processing, I would start preparing any additional items like drinks and sides to save time. Once the orders are ready, I would bag everything efficiently and call out each customer to pick up their order."
How would you handle a co-worker who is not pulling their weight or following procedures?
Picture this: You're hustling, flipping burgers, and crafting the perfect double-double. Then, there's that one teammate. You know, the one that seems to be dancing to a slower tune.
And here's the kicker – they're also playing by their own rulebook. So, what do you do when you're part of the In-N-Out crew?
The heart of this question? It's all about diplomacy and tact. It's not just about flipping those patties but also about how you manage a sizzling situation.
As an In-N-Out team member, you will be working closely with co-workers in a fast-paced environment, so the ability to address issues professionally and promptly is essential.
Here's your game plan:
Emphasize a constructive approach focused on open communication and teamwork.
Explain that you would privately and respectfully address the co-worker about the specific behaviors or performance issues you have observed that are impacting work.
Express a willingness to listen to their perspective and find a mutually agreeable solution. Highlight that the ultimate goal would be to resolve the issues together as a team and meet work objectives.
If that was unsuccessful, you would bring the manager into the discussion to help mediate a resolution.
Here is an example of how you could respond:
"If I noticed a co-worker was consistently not pulling their weight or following procedures, I would discreetly ask to speak with them privately about the specific things I've observed. I would come from a place of wanting to help the team be as effective and successful as possible. I would listen to any reasons or challenges from their end with an open mind. We could then brainstorm some solutions together, whether that's extra training, a modified workload or schedule, or another approach. If we could not resolve things between ourselves, I would involve the manager to discuss the concerns and next steps. At the end of the day, delivering a great customer experience and high quality work is a team effort, so addressing issues early is key."
How would you ensure the work area and restaurant are clean and presentable?
Think about the last time you walked into a restaurant. First impressions? They count.
For In-N-Out, it's not just about those delectable burgers but also about serving them up in style. And by style, we mean a pristine, spotless setting.
But why is this even a question?
Simple. They want to know if you've got that eagle eye. The one that spots a stray fry or a wayward napkin. Do you have what it takes to keep things gleaming?
Here's how you nail it:
Convey that you thoroughly understand the importance of a spotless restaurant and that you take personal responsibility for maintaining cleanliness. It's not about the "whose job is it anyway" game.
Share specific examples of how you would proactively monitor the dining room and kitchen for messes or spills and immediately clean them up, even if it's not technically your job.
Highlight your strong attention to detail by mentioning you would refresh condiment stations, wipe down tables and counters, sweep floors, take out trash, and restock supplies.
After all, for every customer, it should feel like they're stepping into an In-N-Out that's just thrown open its doors for the very first time.
Express your passion for a tidy and sanitary restaurant with an answer like:
"Cleanliness is crucial in the food industry, so I would take great pride in thoroughly and frequently cleaning the restaurant to elevate the customer experience. Whether I notice a spill that needs immediate attention or see supplies running low, I would take initiative to tidy up and restock without being asked. I believe upholding the highest cleanliness standards is essential to providing fast, friendly service and maintaining In-N-Out's reputation for a spotless restaurant."
How would you handle constructive feedback or criticism from a manager?
So, imagine you're crafting that classic In-N-Out burger. Suddenly, your manager chimes in with a piece of advice or feedback. Do you flinch or embrace it?
This isn't just a random thought. It's something In-N-Out really cares about.
They are looking for candidates who can reflect on feedback, understand the core message, and work to incorporate the feedback without getting defensive or discouraged.
Here's the secret sauce to answer this well:
Highlight that you appreciate feedback as an opportunity to learn and improve. Frame feedback as a positive that helps you grow.
Share that you would listen actively and ask questions to fully understand the feedback. Don't assume you know why the feedback is being given. Seek to understand the reasoning and perspective.
Explain how you would reflect on the feedback and develop a plan to act on it.
Discuss that you would evaluate the feedback objectively, not take it personally, and work with the manager on specific steps to incorporate the feedback.
Here is an example of how to tie the tips together into an answer:
"I appreciate any feedback or constructive criticism as a chance to learn and improve. If my manager provided feedback, I would first thank them for their time in providing feedback. Then, I would listen actively to fully understand their perspective, asking clarifying questions if needed. I would reflect on the feedback objectively, not personally, evaluating the merits and looking for common themes. I would then work collaboratively with my manager to create an actionable plan to incorporate the feedback. Regular check-ins would help ensure I'm on the right track. I believe feedback is only valuable if you are willing to thoughtfully assess it and take steps towards change."
Where do you see yourself in your career in the next 1-2 years? 5 years?
Ever dreamt of where you might be in a few years? At In-N-Out, it's not just about the 'now,' but also the 'what's next'.
They're hungry (pun intended) to understand your passion, drive, and the roadmap you've sketched for yourself.
Here's how to paint that masterpiece:
Express your interest in a career at In-N-Out Burger. You can say you aim to start as a crew member and develop your skills and experience in fast food service and operations. Highlight your motivation to learn and grow with the company.
Share realistic short-term goals. For the 1-2 year timeframe, you can express your interest in taking on more responsibility, such as becoming a trainer for new crew members or shifting into a supervisory role. However, avoid stating goals that are too ambitious or unrealistic for the near term.
Share achievable long-term goals. For the 5-year timeframe, you can say you hope to continue advancing into more senior operational or managerial positions, such as becoming a store manager. You can mention how you plan to develop the necessary skills and earn the opportunity through hard work and consistent performance.
Lastly, express your alignment with In-N-Out Burger's values and mission. You can say you are passionate about delivering an exceptional customer experience and you hope to have the opportunity to help expand the company's operations while preserving its key principles.
Here's an example:
"Over the next couple of years, my goal is to progress to an Assistant Manager (Level 7) position at In-N-Out. I'm driven to take on more responsibility and help the restaurant achieve its targets. Long-term, in 5 years, I aim to grow into a General Manager role. Having started from the ground up, I'm passionate about mastering all facets of the business. My ultimate goal is to be a strong leader who delivers an exceptional customer experience, reflecting In-N-Out's values. I hope to continue advancing my career at this company, helping to expand its footprint and brand."
Can you tell us about a time when you provided exceptional customer service?
Okay, you're up for a gig at In-N-Out, which means you've got to serve not just delicious burgers but also tasty customer experiences.
The million-dollar question: Can you recall a time when you went all-in with customer service?
The interviewer wants to see that you understand the importance of customer service, have the patience and empathy to deal with difficult customers, and can go above and beyond to leave customers with a positive experience.
Here's how you get your story to sizzle:
Start with that burning passion for customer service. Show them it's not just a job; it's your arena.
Narrate your epic customer service saga. Set the scene, introduce the challenge, and unveil your moves. Maybe you channeled those listening skills, flexed that problem-solving muscle, or owned up like a champ.
The finale? Your zest to put a smile on every customer's face. That's your north star.
Here is an example:
"Absolutely! I believe that stellar customer service is at the heart of any successful business, especially in the fast food sector. Once, during my stint at [Previous Job], a customer approached me with a dietary restriction that wasn't catered for on our standard menu. I actively listened to their needs, empathized with their concern, and collaborated with the kitchen team to prepare a customized meal that aligned with their requirements. The customer was deeply appreciative of the extra effort. For me, it underscored the importance of problem-solving, adaptability, and, above all, a genuine desire to go the extra mile to make customers feel valued."
How do you prioritize tasks when working in a fast-paced environment?
So you're at In-N-Out, orders are flying in, the fryer's hissing, and the clock's ticking.
How do you keep all those balls in the air without missing a beat?
Here's your game plan:
Acknowledge the fast-paced nature of the role and environment. Yep, it's a roller-coaster, but you're strapped in and ready to ride.
Understanding the key tasks and priorities. Ask clarifying questions if needed to fully grasp the various tasks and their importance and deadlines.
Creating a mental priority list and schedule. Explain how you would determine the order to complete tasks and the timeframe for delivery based on the priorities, your own speed/experience, and the availability of teammates. Highlight how you can be flexible if unexpected issues arise.
Communicating and delegating. Note the importance of communicating with managers and delegating to coworkers as needed to meet efficiency and effectiveness. Explain how you would make them aware of any roadblocks or delays.
By specifically discussing these practical strategies to keep organized, prioritized, and on schedule in a fast-food environment, the interviewer can visualize your potential as a strong candidate for the role.
To tie it all together, you could say:
"Working in a fast-paced setting like the fast food industry requires agility, foresight, and meticulous organization. Here's how I navigate it:
Clarify First: Whenever I'm tasked with multiple responsibilities, I first seek clarity. It's essential to understand what needs immediate attention and what can be addressed slightly later. Sometimes, I'll ask my manager or co-workers to ensure I've got the priorities right.
Mental Mapping: Based on this clarity, I chalk out a mental game plan. This allows me to strategize my actions, keeping in mind my speed, experience, and the dynamics of the team.
Communication: It's not just about juggling tasks – it's also about letting others know if there's a change in plan or if I need assistance. Effective communication and, if necessary, delegation, ensures the team works like a well-oiled machine.
For instance, at my previous job, during an especially busy lunch hour, we had a massive group walk-in coupled with several pending take-out orders. Realizing the potential delay, I quickly assessed the situation, communicated with my team, and delegated tasks ensuring we maintained our service quality. We managed to serve the group and get the take-outs ready without compromising on the experience for either. It's situations like these where prioritization and communication prove invaluable."
Can you give an example of a time when you had to think on your feet to solve a problem?
Job interviews can be a bit of a dance. And this particular In-N-Out Burger question? It's all about showcasing those smooth problem-solving moves of yours.
Why do they ask it?
Simple. They're on the hunt for candidates who handle curveballs with finesse. The kind of people who don't just crumble under pressure. But thrive.
Got a story where you had to do some rapid-fire problem-solving at work? Perfect. Maybe you tackled an unexpected supply glitch or fixed a sudden equipment hiccup.
Here's the playbook:
Lay out the problem.
Walk them through your action steps.
Emphasize how you kept your cool.
Share the triumphant conclusion.
Remember, it's about highlighting your critical thinking chops. And oh, teamwork? Huge plus.
Here's a quick example to get those creative juices flowing:
"One busy weekend at my previous fast food job, the ice cream machine unexpectedly broke down, disrupting our ability to make milkshakes and sundaes. As the shift manager on duty, I sprang into action. I called our maintenance provider but they couldn't come for several hours. So, I coordinated with another location to borrow their ice cream machine for the day. While it was being transported over, I reassigned staff to other tasks and modified our menu display boards to remove ice cream items. Once the loaner machine arrived, I worked with the crew to get it set up and tested quickly. Thanks to our team's flexibility and fast problem-solving, we were able to resume all menu items within a couple hours while keeping downtime and lost sales to a minimum. The skills I used that day—staying optimistic, planning alternatives, and enlisting help—would definitely translate well to handling issues that come up at In-N-Out Burger."
Can you give an example of a time when you had to adjust to a change in the work environment or procedures?
Change. It's inevitable, especially in dynamic places like In-N-Out Burger.
The interviewer is peeking into your adaptability game. Do you resist change or embrace it? Do you mope around or strategize proactively? Are you a team player?
So, how do you ace it?
Talk about a time when the rulebook got flipped at your job. How did you navigate the change? Were you proactive? Did you keep a positive vibe?
Show them you're not just any employee. You're the kind that thrives amidst chaos. And always—always—with a team-first attitude.
"At my previous food service job, our menu recently expanded to introduce several new items. This led to changes in food preparation processes and an updated POS system. To help the team adjust, I proactively learned the new menu items and procedures. During the transition, I stayed positive and helped train coworkers. Even though it was challenging, collaborating as a team helped us quickly get up to speed to provide great service to customers."
Can you tell us about a time when you had to learn a new skill quickly?
Here's the deal with this question:
They're not just checking if you can learn. Nope. They're digging deeper, seeing if you're the kind of rockstar who can learn under great pressure.
So, what's your story?
Did you once face a task where your skill set was, well, not quite up to the mark? How'd you rise to the occasion? Dive into tutorials? Seek expert guidance? Or just jumped right in and learned hands-on?
Let's paint this picture:
Introduce the skill.
Share why time was ticking.
Unveil your learning strategy.
Drive it home with the outcome.
Bonus points if you can pull a story from a fast-paced environment. Think fast food hustle. Like the In-N-Out rhythm.
For a splash of inspiration:
"When I first started as a crew member at a busy restaurant, I was quickly trained on how to operate the cash register and take orders. However, during a particularly slammed shift, the grill cook called in sick and I was asked if I would be willing to jump in and learn to cook on the grill to help keep the restaurant running. Despite the chaos, I remained positive, paid close attention to the trainer, and within an hour felt comfortable with the recipes and cooking techniques. By stepping up and taking on the challenge of learning a new skill under pressure, I was able to help minimize the impact on our customers and fellow crew members. My ability to learn and adapt on the fly will allow me to take on whatever comes my way at In-N-Out Burger."
Can you provide an example of a time when you asked for help or offered assistance to a team member?
Teamwork makes the dream work, right?
So here's what they're getting at with this question:
Are you a lone wolf or a pack player? Can you swallow your pride, wave the white flag, and ask for help? And, equally crucial, are you the hero type, swooping in to lend a hand to a teammate in distress?
Let's frame your answer:
Draw from a high-energy work scene, maybe the fast food chaos.
Narrate that one time you were in a tight spot or saw a mate struggling.
Dive into how collaboration turned the tide.
Conclude with the collective win.
To get you started on this collaborative tale:
"Yes, absolutely. At my previous job working the drive-thru station at another fast food restaurant, the orders would pile up during busy rushes and it was easy to feel overwhelmed. However, my colleagues and I were always willing to jump in and help each other out. If I noticed the person on the grill was getting too many orders backed up, I would ask if they needed help with some of the grilling tasks to speed things up. Likewise, if I was getting too many orders at my station, others would offer to help take orders or payment to lighten the load. This team-first attitude and flexibility helped ensure we delivered fast, quality service even during our busiest times. I would bring this same mindset of support and collaboration to In-N-Out."
Can you provide an example of how you have demonstrated a strong work ethic in a previous job or activity?
The interviewer is not just asking if you can do the job. They're digging deeper. They want to know if you're the type who rolls up their sleeves, dives in, and gives it their all.
A strong work ethic is essential for success in a fast-paced, customer service-oriented role at In-N-Out.
To convey a strong work ethic, discuss:
Your dedication to completing all tasks efficiently and thoroughly. For example, 'In my previous job, I always ensured prep stations were fully stocked and cleaned on time so we opened on schedule and could serve customers promptly.'
Your dependability and reliability. For example, 'Even when understaffed, I volunteered to work extra hours to ensure all closing tasks were completed. My manager relied on me to be there when needed.'
Your continuous drive to improve and always do your best. For example, 'I looked for ways to improve processes to save time and reduce errors. I was often asked to train new team members and share tips on how to be efficient and provide great service.'
Think of times when your dedication shone through. When you didn't just meet expectations, but surpassed them. In-N-Out isn't just looking for employees. They want go-getters.
Here's a glimpse of a strong work ethic tale:
"In my current job as a line cook, I've developed strong attention to detail and time-management skills to prepare hundreds of burgers to exacting standards and tight deadlines. No task is too small or mundane if it ensures all guests receive their meal promptly and with a smile. This drive to always do quality work on time has earned me opportunities to train new cooks and occasionally lead the team. I would love to bring my passion for delivering a great experience and strong work ethic to In-N-Out."
Can you describe your communication style and how you effectively communicate with coworkers and customers?
Communication. It's the unsung hero of the workplace.
With this question, they're trying to gauge your ability to communicate clearly and appropriately in different contexts and your awareness of how to tailor your style for diverse audiences.
So, what's your M.O.?
Discuss your general communication approach, such as being a good listener, speaking kindly yet directly, and using simple language to be easily understood.
Then, convey how you would adjust for coworkers versus customers.
For coworkers, highlight using a more informal tone and collaborating to solve problems.
For customers, emphasize patience, active listening, and a positive attitude.
Mention any experience you have working with crews or serving customers in a fast-paced environment.
Remember, it's all about adaptability. You're not just communicating; you're connecting. Be it with teammates or with customers on the frontline. Especially in a buzzing place like In-N-Out.
To get the ball rolling on this communication narrative:
"My communication style is friendly yet professional. With coworkers, I take a collaborative approach, actively listening to their concerns and working together to find solutions. With customers, I speak in a helpful, positive way and ensure I fully understand their needs before taking action. Given my experience working in other fast food restaurants, I'm able to stay calm under pressure while communicating effectively, which would allow me to successfully assist the In-N-Out team and serve the company's customers."
Can you describe your experience with food preparation and handling?
You know, working in a food-focused environment isn't just about dishing out burgers and fries. They're searching for experience, sure, but more so, they want the right kind of experience.
What have you got in your toolkit?
Ever felt the heat of the grill, the rhythm of fast burger assembly, or the dance of multiple cooking techniques? Dive into those stories.
Health and safety aren't just checkboxes. Have you walked that extra mile? Got certifications or trainings up your sleeve?
The real magic? Juggling speed with perfection. How have you aced the art of managing time while never compromising on quality?
With In-N-Out, it's more than just food. It's about the craft. And they want to know if you're part of that league.
A strong answer sounds like:
"I have over two years of experience preparing food in a fast-casual restaurant environment. In my current role as a line cook, I grill and assemble over 200 burgers during a busy lunch or dinner shift while maintaining high quality and food safety standards. I completed a food safety certification course, so I am well-versed in safe food handling procedures. Even when under pressure, I stay focused and efficient to meet tight deadlines. Based on my experience, I am confident I could step into a similar role at In-N-Out Burger and exceed your expectations."
How would you ensure you arrive on time for every shift?
Now, this is gold. They're not just asking about your clock-watching skills. They're probing your commitment.
Why's punctuality a big deal? In a bustling scene like In-N-Out, every minute counts. Late by one? The ripple effects are many.
Let's break it down:
First, acknowledge the importance of punctuality in a fast-paced work environment like In-N-Out. Explain you understand that delaying operations or inconveniencing coworkers is unacceptable.
Then, detail your strategy for arriving on time, such as: planning ahead for potential traffic or delays, giving yourself buffer time in case of unexpected circumstances, setting multiple alarms as reminders, and having a dependable mode of transportation.
Note any past experience where your punctual approach was tested or proven successful.
The goal? Not just be on time, but be ahead. It's about respect – for the job, for colleagues, for the brand.
Starting this punctuality pledge:
"Being punctual is essential for a smooth-running team, and I have a strict policy of arriving 10-15 minutes early for every shift. I factor in extra travel time in case of traffic or delays, set multiple alarms to ensure I wake up on time, and have a reliable car with contingencies in case of car problems. In my previous job, even when there were major accidents on my route, I planned ahead and took alternate roads to arrive on schedule. You can rely on me to be present and ready to work at the start of each shift."
Have you ever been late to work? If so, what was the reason and how did you handle it?
Let's face it: things happen.
But it's not about the mishap. It's about the bounce-back.
How you handle being late is way more telling than the act itself.
The drill? Simple:
Own it. Straight up. If you goofed, say it. It's all about responsibility.
Highlight what you did to resolve it. Did you call ahead? Apologize? Cover your shift?
Bounce back. Maybe you bought five alarm clocks or finally got that transit app. Show you've grown from it.
And remember, reliability isn't about perfection, it's about consistency and effort.
Here's our take on this punctuality puzzle:
"I have not been late to work in my past roles. However, if I were to be late, I would communicate that to my manager as soon as possible and take full responsibility for the lateness. For example, if there was heavy traffic due to a multi-car accident on my usual route, I would leave earlier the next day to account for these types of unexpected delays and ensure I arrived on time going forward. As someone seeking a role in the fast food industry, delivering a great customer experience hinges on team members being present and prepared. You can count on me to commit to the schedule required and follow through on my responsibilities."
What is your current availability for work hours? Are you able to work nights, weekends, holidays if needed?
The grind at In-N-Out doesn't stick to 9-to-5.
They run a tight ship, and that ship? It's afloat pretty much round the clock.
When diving into this:
Be real. If Sundays are a no-go, lay it out.
Show your flex. Willing to shuffle things around? Let them know!
And remember, In-N-Out isn't clock-watching. They want dedication. That drive to flip burgers at midnight or greet customers on a holiday morning. Are you the one?
Dishing out your time card:
"I'm currently available to work a flexible schedule that accommodates the changing needs of the restaurant. I'm also open to working nights and weekends, and I don't have any restrictions preventing me from working holidays if needed. I would really appreciate the opportunity to contribute to the In-N-Out team."
What are your three key strengths that would be valuable for this role?
We're all a blend of talents, right? But there's that trifecta of strengths that gives each of us an edge.
For this question, it's about the In-N-Out fit. They want to see that you understand the key requirements of the role and the values important for success at In-N-Out Burger.
Some things they are assessing are your work ethic, customer service skills, teamwork skills, attention to detail, and ability to thrive in a fast-paced environment.
Some pointers:
Nail the basics. Think: customer service, teamwork, the whole fast-paced dance. These are gold at In-N-Out.
Give 'em a story. "I'm great at XYZ" is cool. "I rocked XYZ when…" is cooler. Real experiences always stick.
And remember, In-N-Out's mantra is quality, cleanliness, and teamwork. Line up your strengths with those pillars.
Your triple threat for this burger empire looks something like this:
"Three of my key strengths that would be valuable for this role at In-N-Out Burger are:
Strong work ethic. I have always been someone who is dependable, hardworking, and able to persevere in challenging situations to get the job done. In my previous role, I frequently had to work long shifts and tight deadlines, but I never wavered in my commitment to high performance and delivering consistent results.
Customer service skills. I genuinely enjoy engaging with and serving customers, and I have a proven ability to handle customer issues and provide an excellent experience. In my current role, I receive consistent praise for my friendly demeanor and ability to connect with a wide range of customers and address their needs.
Teamwork skills. I work very well with others in a collaborative team environment. I communicate openly, hold myself and others accountable, and help motivate the team to achieve a common goal. For a team project in university, I coordinated with teammates, divided work, and checked in regularly to ensure we were on track to deliver a high-quality final product."
What are three areas you feel you could improve on?
Let's break some news: Nobody's perfect.
Not you, not us, not the guy flipping those perfect In-N-Out patties.
But, it's the hunger to grow that sets folks apart.
This question is designed to gauge your honesty, humility, and continuous self-improvement – all traits that are valued in In-N-Out Burger's fast-paced work environment.
Here's the 411:
Embrace the flaws. We all have 'em.
Make it real. Saying "I need to hone my multitasking" is authentic. "I'm too perfect" is… well, you know.
But also, here's the twist: Spin it into how you're growing. Because every hiccup is a growth spurt in disguise.
By emphasizing self-awareness, a growth mindset, and relevant solutions, you can demonstrate the qualities and genuine fit the In-N-Out interviewer is seeking.
For example, you could say:
"Three areas I feel I could improve on are:
My passion can mean I don't delegate when I should. I get very invested in my tasks and goals. This passion is an asset in achieving results, but it also means I don't always delegate when I should. I'm working on developing trust in others to take on more responsibility. However, I would not let this weakness affect my ability to follow In-N-Out's procedures and workflows.
My leadership abilities. While I have strong teamwork skills, I would like to develop my confidence and effectiveness in mentoring new team members and delegating responsibilities. I'm reading books on coaching and management techniques, and would appreciate any opportunities to take on more leadership responsibilities in this role.
My occasional struggle with work-life balance. I tend to go "all in" on whatever I'm doing—whether that's a work project or personal activity. However, I understand the importance of avoiding burnout and maintaining a healthy balance. At In-N-Out's fast pace, striking a sustainable balance would be essential, and it's something I continue to improve on."
What do you think sets In-N-Out Burger apart from other fast food restaurants?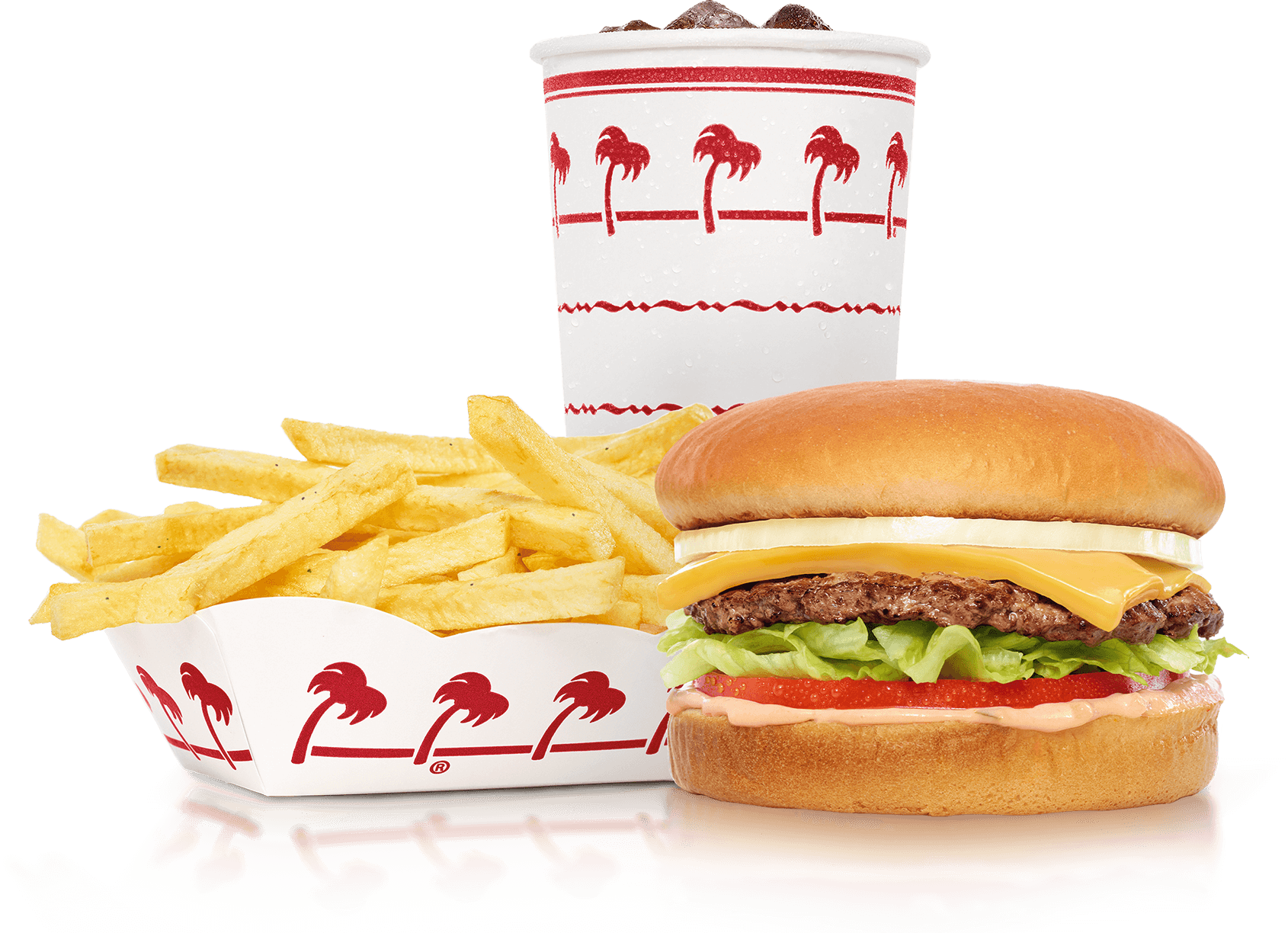 The interviewer is trying to assess your knowledge of the company and its differentiating qualities, as well as your ability to think critically and speak insightfully.
To answer effectively:
Do your research. Learn what aspects of In-N-Out's operations stand out, such as its fresh, made-to-order food and simple menu. Being well-informed shows passion and preparation.
Highlight key points of differentiation. Mention 1-2 unique qualities of In-N-Out and explain how they set the brand apart, e.g., 'In-N-Out is renowned for its fresh, never frozen ingredients and on-site meat grinding, unlike most fast food chains that use frozen pre-processed ingredients.'
Express your interest authentically. Explain why certain differentiating points are meaningful to you and connect them to your relevant skills and goals. Showing genuine interest and passion can win over an interviewer.
An example response:
"What sets In-N-Out Burger apart is its commitment to freshness and quality. From slicing potatoes in-store for fries to grinding beef in-house daily for patties, In-N-Out steadfastly refuses to cut corners. As someone who values using quality ingredients and applying cooking techniques properly, I deeply respect In-N-Out's approach. Its signature flavors and loyal following demonstrate that freshness and quality pay off, which is inspiring and motivating for me as someone looking to advance in a fast-growing company that believes in doing a few things but doing them exceptionally well."
Can you explain your understanding of In-N-Out's slogan, 'Quality you can taste'?
Every brand has a heartbeat, a soul. For In-N-Out, that's captured in 'Quality you can taste.'
The interviewer wants to see that you've done your research on the company and can speak authentically about how the slogan reflects In-N-Out's commitment to high-quality ingredients and customer experience.
Let's dissect it:
Quality First. At its core, this phrase emphasizes how In-N-Out isn't willing to cut corners. Every burger isn't just a meal but an experience meticulously crafted with the finest ingredients.
Sensory Delight. The slogan isn't just about taste; it's a nod to an experience. When you bite into their burger, you can taste the difference: the fresh lettuce, the juicy patty, and the secret sauce. It's an orchestra of flavors.
Customer Promise. It's a vow, an assurance. When customers walk into In-N-Out, they aren't just expecting a burger; they're expecting 'that' In-N-Out burger. And the company is promising that consistent quality, every single time.
You might say:
"In-N-Out's slogan, "Quality you can taste" conveys their refusal to compromise on quality and flavor despite industry pressures. They believe burgers made from fresh, whole ingredients are worth the extra effort and cost, which is ultimately why customers are so devoted. This dedication to quality is at the heart of their brand and success. If given the opportunity to work at In-N-Out, I would not just be delivering food with every burger I craft and every customer I serve. I would be upholding a legacy, a promise. And I would aim to ensure that each bite they take reinforces their belief in that slogan.
Questions to Ask the Interviewer in In-N-Out Burger Interview
You're nearing the end of your interview at In-N-Out Burger, having showcased your understanding of the company and your aptitude for the role.
But as the conversation seems to be wrapping up, the interviewer tosses you an opportunity disguised as a simple inquiry: "Do you have any questions for me?"
This isn't a mere formality. It's a moment to solidify your image as a candidate who's not only well-prepared but deeply invested in the opportunity.
So, as you consider which questions to put forward, think about what will underscore your enthusiasm, curiosity, and commitment.
Here are some carefully curated questions to guide you:
How is performance evaluated for this role? What does success look like?
What does it take to be successful as a crew member at In-N-Out?
What is the company culture like? How is a supportive team environment fostered?
Is there an opportunity for growth or advancement for strong performers? If so, what is required, or what is that process like?
What is the feedback or evaluation process for crew members? How is both positive and constructive feedback delivered?
Is there flexibility in hours or scheduling for crew members? For example, ability to pick up extra shifts or adjust availability month-to-month.
What do you like most about working for In-N-Out Burger?
What's the company culture like?
What's a typical career path for someone in this role?
What are the current challenges in this role/department/company?
What does In-N-Out Burger do better than its competitors?
What's the company's vision or mission? How does this role contribute to that?
What is the growth strategy for In-N-Out Burger?
What is the work-life balance like for employees in this role?
What is an achievable goal or outcome I could expect in this role in 3-6 months? 12 months?
Could you describe a typical day or week in this role?
Is there anything about my background or experience that concerns you for this role?
See how these questions demonstrate your interest in key areas like growth opportunities, culture, goals, and challenges? Prepare 2-3 questions from this list to ask at the appropriate point in your intervieew.
In-N-Out Burger Hiring Process
You've decided to pursue a role at In-N-Out Burger, so what can you expect from the hiring process?
Here's an inside look at the journey from application to hiring:
1. Application
First, you'll need to submit an application, either online or in person at your local In-N-Out store.
Don't be discouraged if you don't hear back right away—as long as your application is strong, you should expect a call within 1 week to schedule an initial group interview.
2. Group Interview
The group interview is your chance to stand out from other candidates and show off your skills. You'll be asked scenario-based questions about handling difficult customer service situations or working with a team under pressure.
Be ready to draw on your relevant experience to emphasize how you would respond effectively and positively.
Perform well in the group interview, and you'll be invited back for a second one-on-one interview.
3. One-On-One Interview
The one-on-one interview dives deeper into your background and fit for the role.
Be authentic and highlight why you're passionate about the work and interested in growing your career with In-N-Out.
For some candidates, background and reference checks are also completed at this stage.
4. Training
If selected to move forward, your next step is a multi-week training period.
In-N-Out's training is hands-on and focused on preparing you to jump right in, so take it seriously and be engaged—your hard work will pay off when you officially become part of the team!
From application to onboarding, In-N-Out's hiring process is structured to find candidates with the right skills and motivation to provide their core values 'Integrity, Honesty, Respect.' Now you know what to expect, so go get that job!
In-N-Out Burger Interview Tips
To ace your In-N-Out interview, showcase genuine enthusiasm for the brand and work and convey a service-oriented approach. Emphasize your communication skills and ability to collaborate with others. Highlight your availability to work nights and weekends and your capacity to operate at a fast pace while maintaining a positive attitude.
What to Wear to In-N-Out Burger Interview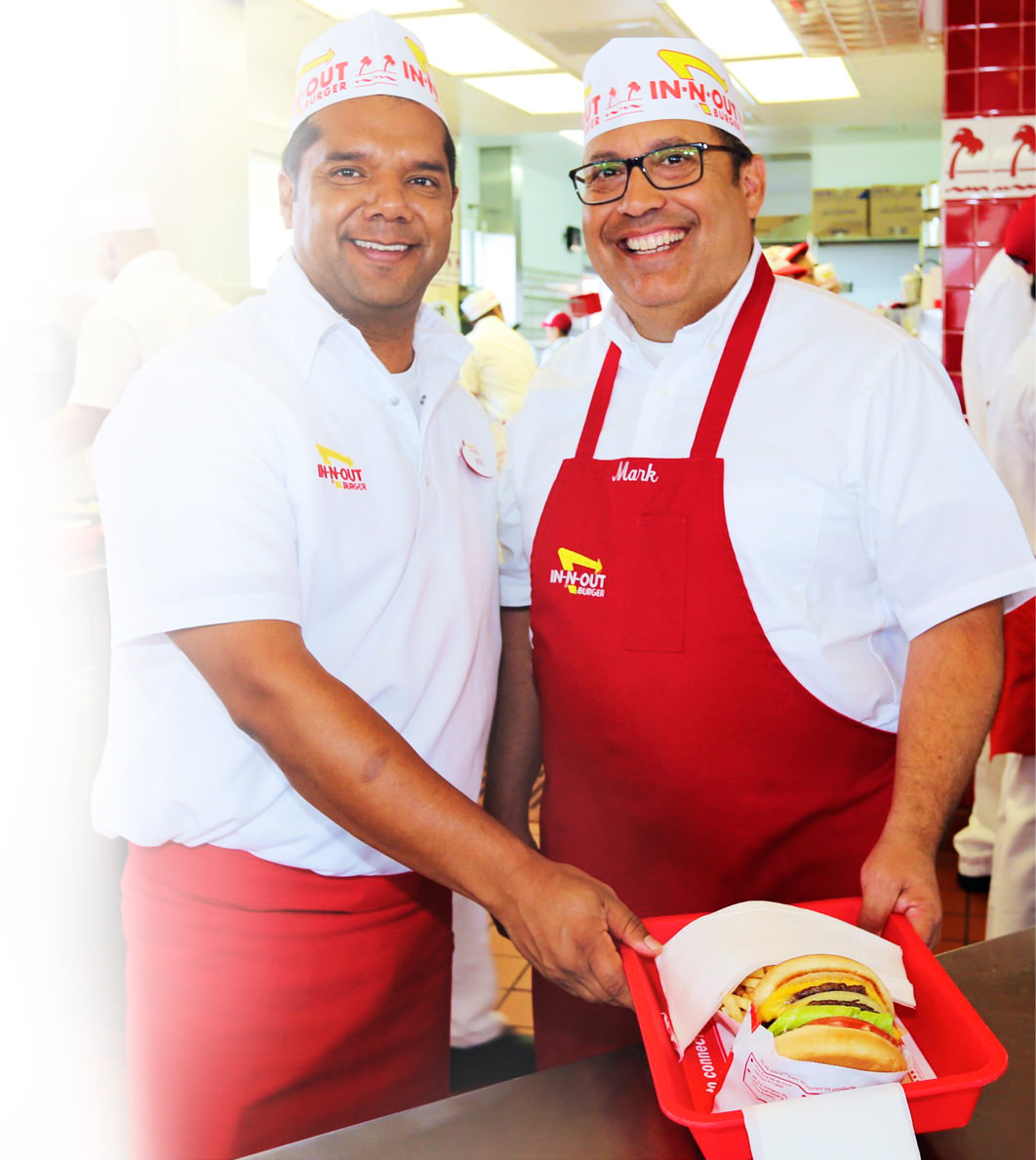 Given In-N-Out's strict dress code and emphasis on a clean-cut appearance, your interview attire is important to demonstrate you would be a great culture fit.
The dress code at In-N-Out Burger is a company-provided uniform consisting of a white shirt, pants, and socks, a red apron, a name tag, a hat, a belt, and black non-slip shoes. Visible tattoos, unnatural hair colors, and fake or painted nails are prohibited. Visible piercings other than stud earrings are forbidden.
For a Store Associate role interview, dress in smart casual attire. For men, wear khaki pants or slacks, a button-down shirt. Avoid jeans, t-shirts, shorts, and sneakers. For women, wear khaki or black pants or a knee-length skirt, a blouse, and possibly a blazer. Avoid anything too casual, revealing, or distracting.
If interviewing for a corporate role at In-N-Out's headquarters, dress in formal business attire. For men, this means wearing slacks and a button-down shirt with a tie, and possibly a suit jacket or full suit. For women, this means wearing slacks or a knee-length skirt with a blouse, or a formal dress, and possibly a blazer.
Since visible tattoos, piercings other than single ear studs and unnaturally colored hair are not allowed at In-N-Out per their dress code, keep those things in mind for your interview appearance.
Presenting yourself in a clean-cut, professional way will show you are taking the interview seriously and are willing to adhere to their policies if hired.
Conclusion
Having delved deep into the top In-N-Out interview questions and answers, you now have unique insight into how this iconic company evaluates candidates.
Knowing what lies ahead can instill in you the confidence that can often make the difference between an average and a standout candidate.
Yet, don't just halt your journey here. Broaden your horizon and keep firing applications to other notable chains like Five Guys, McDonald's, Wendy's, Sonic, Whataburger, or Shake Shack. While you may love In-N-Out's company culture or have always dreamed of working there, leaving your job search to chance is risky.
The effort and preparation you've put into this one interview will carry over to the next, so see each opportunity as a learning experience to help you improve and get that much closer to the job you want.
Believe in yourself and stay committed to your goals—before you know it, you'll have the job you've been seeking.