25 Jersey Mike's Interview Questions (And Authentic Answers)
You've landed an interview with Jersey Mike's – congratulations! Now the nerves start to set in as you wonder, "What questions will they ask me?", "What if I don't know the answer?" We've been there before, agonizing over how to make the best impression and secure the job offer. The good news is, we're here to help. In this post, we're providing you a list of the most frequently asked Jersey Mike's interview questions along with suggested answers to help you ace the interview.
You've worked hard to get to this point, now is the time to prepare. While some people think "winging it" in an interview shows confidence, it often backfires. Employers can tell if you haven't prepared, and it leaves a bad impression. Preparation is the key to interview success. When you've studied the questions and crafted your answers, you'll walk into that interview feeling focused and ready to share how you're the perfect fit.
This blog post is your guide to preparing thoroughly for your Jersey Mike's interview. Follow these tips and suggestions and you'll be well on your way to starting your exciting new job. You deserve this opportunity, now go get it! Keep reading to see the top interview questions and ideal answers to land your Jersey Mike's job. We wish you the absolute best of luck!
Jersey Mike's Company Information
Familiarizing yourself with Jersey Mike's key facts will equip you for your interview. Review the following information to build a foundation that will enable you to confidently answer any questions testing your research or company knowledge.
| | |
| --- | --- |
| Trade Name | Jersey Mike's |
| Type | Fast Casual Restaurant Chain |
| Founded | 1956 |
| Founders | Peter Cancro |
| Headquarters | Manasquan, New Jersey, United States |
| Menu | Cold Subs, Hot Subs, Sides, Drinks, Desserts |
| Signature Items | The Number Four, Buffalo Chicken Cheese Steak, The Original Italian |
| Core Values | Respect, Integrity, Fun, Self-Motivation, Teamwork, Compassion |
| Website | www.jerseymikes.com |
| Competitors | Firehouse Subs, Jimmy John's, Subway, Potbelly, Capriotti's |
Additional facts:
Humble Beginnings: Jersey Mike's began as a local sub shop named Mike's Subs in 1956, attracting vacationers in Point Pleasant, New Jersey with their distinctive submarine sandwiches.
A Teenage CEO: In 1971, 17-year-old high school student Peter Cancro, who had been working at Mike's Subs, took the bold step of buying the business. Today, Cancro is the CEO of over 2,000 locations across the country.
A Unique Philosophy: "A Sub Above" – this is the mantra of Jersey Mike's, signaling their commitment to quality ingredients, handcrafted preparation, and customer satisfaction. From slicing meats and cheeses in front of customers to baking their bread in-store daily, Jersey Mike's makes every effort to rise above the ordinary.
Signature Flavor: "The Juice," a unique blend of olive oil and red wine vinegar, adds a special kick to their subs, showcasing Jersey Mike's dedication to creating distinct and memorable flavors.
A Menu for All: Whether you fancy The Original Italian, The Super Sub, The Veggie, or a good old BLT, Jersey Mike's offers a wide array of sandwiches to satisfy diverse tastes.
Secret Menu: Besides the regular menu, Jersey Mike's has a secret menu offering unique subs like the "99", the "11", the "1", the "Chicka-Fila-Roni", and the Cancro Special.
Healthy Food Choices: Ranked among the top 10 healthiest fast-food restaurants in America, Jersey Mike's offers a variety of diet-friendly and fresh options, including the sub-in-a-tub for low-carb dieters and gluten-free bread.
Rewarding Loyalty: Through their Shore Points® program, Jersey Mike's rewards loyal customers with points that can be exchanged for free subs. They also offer birthday rewards and a personalized ordering experience.
Diverse Franchise Owners: Jersey Mike's franchise owners come from all walks of life, including former employees, customers, Fortune 500 execs, and professional athletes.
Bouncing Back from Adversity: The 1990s recession nearly crippled Jersey Mike's, but the company bounced back from layoffs and financial hardships to reclaim its position as a leading sub chain.
Growing Success: Jersey Mike's now enjoys $1 billion in annual sales and has 1,400 outlets in 45 states. It has been awarded the fastest-growing franchise concept in America for four consecutive years as of 2018.
Charitable Initiatives: Jersey Mike's lives their "culture of giving" by partnering with a local charity for every new store they open. They have raised over $88 million since 2011, supporting various causes from honoring veterans to assisting communities affected by natural disasters.
Sports Partnerships: The company partnered with the New York Yankees in 2015, establishing Jersey Mike's as the Official Sub Sandwich Shop of the Yankees. They also sponsor various sports organizations and e-sports video game competitions.
Celebrity Endorsement: Pop icon Jennifer Lopez has indirectly helped boost Jersey Mike's popularity by featuring one of their subs in her music video "Dinero," which has amassed over 110 million views.
Controversy: Jersey Mike's faced a controversy in 2018 when a pregnant employee was allegedly fired. The situation was addressed with the resignation of the manager involved, an offer to reinstate the employee, and a public apology.
The Future is Bright: Despite a competitive fast-food market, Jersey Mike's continues to rise, expanding to new locations regularly, with an unwavering commitment to quality and customer service.
Jersey Mike's Mission Statement
Giving…making a difference in someone's life.
Jersey Mike's Interview Questions
Can you tell me about yourself and your prior experiences?
As a candidate, this is one of the first questions the interviewer will ask you. They want to get a sense of who you are and why you're the perfect fit for Jersey Mike's.
This is your chance to make a great first impression, so prepare ahead of time. We recommend focusing on your relevant experience, strengths, and career goals.
You might say something like:
"I've been passionate about delivering amazing customer experiences for as long as I can remember. For the past few years, I've been honing my craft at a local sub shop, where I started out making sandwiches and now help lead a team as a shift leader. I love coaching new crew members and seeing them develop into rock star team players. Nothing makes me happier than seeing a customer leave with a smile on their face and a belly full of delicious subs. Jersey Mike's culture of crafting high quality subs and providing over-the-top customer service is a perfect match for my experience and values. I would love the opportunity to pour my heart and soul into making this location the best it can be and creating lifelong Jersey Mike's customers."
Why do you want to work for Jersey Mike's?
Now it's time to nail the question they're sure to ask.
As seasoned hiring managers, we know exactly what they want to hear. They're looking for people with vision, passion, and an authentic connection to their brand.
We recommend doing your research ahead of time so you can speak knowledgeably about why you're excited to join the Jersey Mike's family. Mention the company's values of delivering superior products and heartfelt service, growth opportunities, or a desire to build a long-term career. Share how you appreciate their community involvement and commitment to giving back.
When that question comes up, look the interviewer in the eye and say something like:
"For me, Jersey Mike's represents the kind of company I want to work for long-term. I love that you focus on serving high-quality, authentic products while also fostering a fun, family-like environment. The chance to start my career in an upbeat, fast-paced place where I can gain valuable experience and skills is very appealing. I'm also passionate about your mission to give back to the local community. It would be an honor to join your team to help achieve growth and success, all while positively impacting people's lives each day through simple acts of kindness."
Can you describe yourself in three words?
The hiring manager is trying to get a quick read on your personality and see if you're a natural fit for their team. The secret is: be authentic but strategic. Choose words that capture your upbeat, customer-focused spirit. Something like "friendly, hardworking, positive" would be ideal.
When this question comes up, flash a smile, make eye contact, and deliver your memorable three words with confidence.
For instance, tell them:
"Friendly, dedicated, and enthusiastic. I love putting a smile on customers' faces, I give 110% to every task, and I have an upbeat attitude that's contagious."
With a winning combo of enthusiasm, dedication, and charm, they'll be won over quicker than you can say "sub on the run".
Here at Jersey Mike's, showing up on time with energy and commitment is crucial. Do you think you have what it takes to do that?
When the hiring manager asks this question, they're testing your drive and dedication. They want to know that you'll hustle in the door each shift, ready to hit the ground running.
Why? Because in this industry, timeliness is key. A few minutes late could throw off everyone's groove and disappoint hangry customers.
You know what they say – to succeed in life you need passion and persistence. Well, fast food moves fast, so you'll need double the passion and triple the persistence to thrive at Jersey Mike's.
Tell the interviewer something like this:
"You bet I've got what it takes. Punctuality and a solid work ethic are must-haves in my book. I'll arrive 10 minutes early each shift, bring the energy of 3 Energizer bunnies, and commit fully to every task you give me. I live for the thrill of the lunch rush and keeping customers happy. I love the hustle and bustle of jobs like this and getting into the flow of serving customers efficiently. You won't find a more dedicated employee."
How open is your schedule to work varying shifts on weekdays, weekends, and holidays?
This question aims to determine how flexible you are with your work schedule. Jersey Mike's operates every day of the week, so they need team members who are available to work varying shifts, including nights, weekends, and holidays.
When the interviewer asks about your schedule, they want to see that you understand what you're signing up for – early mornings, late nights, weekends, and even holidays and that you have no major scheduling restrictions.
But don't sweat it! If you're hungry for the job, now's the time to say so.
"My schedule is very open and I have no major restrictions. I fully understand that in a position like this, weekend, evening, and holiday shifts are often required. I am available to work whenever needed to help the team. If hired, I can make myself available for any shifts that come up on short notice."
We know the demands of the job aren't for everyone. But for the right candidate, like you, a flexible schedule and enthusiasm for customer service should come naturally.
What techniques would you use to achieve the perfect balance of mayonnaise and oil for each and every sub?
As a candidate preparing for your Jersey Mike's interview, you want to be ready to answer questions that assess your ability to perform essential job functions. This is one such question the interviewer is likely to ask.
The interviewer wants to see that you understand how crucial it is to follow recipes to a T when crafting their famous subs.
Explain that you would carefully measure and record the exact amounts of mayonnaise and oil used for the first sub to determine the ideal ratio that achieves the perfect balance of flavors. Discuss how you would then use that precise ratio as a guide for preparing all subsequent subs to ensure consistency.
Here's how you could knock this question out of the park:
"To create the perfect blend of mayonnaise and oil in every sub, I would carefully measure the ingredients for the first sub based exactly on the recipe. I'd then closely evaluate how that tastes to determine the ideal ratio of mayonnaise to oil that delivers the perfect harmony of rich and zesty flavors customers crave from Jersey Mike's. Using that ratio as my guide, I'd precisely measure out the mayonnaise and oil for all following subs. However, I know that taste is subjective, so I'd frequently sample the subs myself and make any tweaks needed to enhance the overall flavor experience in each one. My objective would be to achieve the quintessential mayonnaise to oil balance that puts a smile on every customer's face."
The fast-paced environment of a busy sub shop can be demanding. How do you remain positive and solution-focused when under pressure?
We, as seasoned hiring managers, have to warn you to be ready for the "pressure" question.
Jersey Mike's wants employees who thrive in a fast-paced, demanding environment. Showing that you can keep a level head and focus on solutions will make you a top candidate.
Now, when the interviewer asks how you handle pressure, don't just say "I work well under pressure." Show them. Paint a picture of how positivity and solution-focus are second nature to you.
Take a deep breath, flash that winning smile, and say:
"I actually work well under pressure. When the rush hits, and customers are lined up out the door, I don't panic. I tap into the energy of the crowd. I make eye contact, greet each customer with a sincere smile and let them know I'll be right over. My training and experience kick in as I glide between filling orders, working the register, and helping customers. If we start to get backed up, I rally my coworkers to try new strategies together. We're a team, and as a team, we thrive under pressure. The busier and more demanding it gets, the more focused and energized I become. That's really where I shine."
Discuss a time you were part of a cohesive team in a dynamic, quick-paced setting. How did you contribute to its success?
We get it, talking about teamwork under pressure can be intimidating. But don't sweat it – we've got you covered with our insider tips.
The interviewer wants to see that you work well under pressure as part of a team. They're assessing your ability to collaborate, communicate effectively, and stay focused on the task at hand.
Our advice? Show them you're a team player by describing a past role where you collaborated with coworkers to achieve a goal against the clock. Did you have a system to communicate on the fly? Divide and conquer when things got chaotic? Share that! Paint a vivid picture of how you operated as a well-oiled machine.
For example, tell them:
"At my job waiting tables during the weekend rush, teamwork was key. We had to move fast, so we developed a system where we'd split the floor in sections but back each other up if anyone fell behind. I frequently checked on my coworkers to refill coffees or run their food. Even when the breakfast crowd had us going nonstop, we worked in sync, communicating constantly to make sure every customer was happy. My team motivated each other to hustle harder and work smarter."
See? With the right story, you'll show the interviewer why you're perfect for Jersey Mike's fast-paced, team-centered culture.
How would you describe your ability to engage and connect with our valued customers?
The interviewer wants to see that you live and breathe customer service.
Show them how much you care about building relationships and making people smile. Share stories of how you learned customers' names, favorite sandwiches, and went the extra mile to brighten their day. Talk about any customer service training you have and how pumped you are to put it into practice.
As you walk into your interview, think to yourself, "I've totally got this!" You do, and here's why: You have the passion, the drive, and the right mindset for this role. All that's left to do is convey that confidently. You could say something like:
"Connecting with customers is my jam. For example, when I worked as a cashier, I learned that taking an extra 30 seconds to chat with each customer, smile, make eye contact, and call them by name went a long way in brightening their day and building loyalty. My managers and customers frequently thanked me for being such a bright part of their day. I love making real bonds with people in even small interactions. For me, customer service is about empathy, enthusiasm and creating an experience people look forward to. If you hire me, expect me to bring all that and more to every single customer, every single day."
See what we did there? Speak genuinely but persuasively. Share relatable stories. Most importantly, let your passion shine through!
Can you tell us about your hobbies and what you do for fun outside of work?
The "hobbies question" may seem like a softball, but it's your chance to wow the interviewer with how your fun-loving spirit is a perfect fit for Jersey Mike's.
We know the interviewer wants someone who can bring enthusiasm and balance to the job, so show them the dynamic, interesting person they're looking for.
When they ask about your hobbies, lean in with a smile and say, "I'm so glad you asked!" Share 2-3 passions that ignite your energy and curiosity.
For example, you might say:
"On the weekends, you'll find me whipping up creative experiments in the kitchen, cycling along the river trail, or checking out a new neighborhood shop with friends. I love staying active and social because it recharges me and inspires new ideas. Taking time to unplug from technology and enjoy simple pleasures makes me tap into my potential. I feel these kinds of engaging pursuits would pair perfectly with Jersey Mike's fast-paced, team-focused culture."
Highlight hobbies that showcase your vigor for life and ability to bring that vitality into your work. Help the interviewer visualize how your zest will spread to coworkers and customers.
In your opinion, what is your greatest strength that you could contribute to our team?
The hiring manager wants to know what killer skill or trait you have that will add serious value to their team. They want to hire candidates that are self-aware of their strengths and able to communicate them effectively.
Show them how self-aware and confident you are by picking one stand-out strength and sharing a real example of it in action.
Choose one of your biggest strengths – maybe it's your ability to connect with people, your positivity, or your insane multi-tasking skills.
For this example, we'll go with knack for customer experience:
"My greatest strength is providing the kind of memorable, positive experiences that turn customers into regulars. For instance, in my last job customers and managers were constantly complimenting me on how I made each person feel like the only one in the room. I know that by really focusing on each customer's needs, being friendly and efficient, and going the extra mile to make them happy, it leaves them walking away satisfied and eager to come back. I believe customer service is what builds lifelong brand loyalty, and that's what I'm all about."
What would you say is your biggest weakness?
That dreaded "biggest weakness" question doesn't have to be so dreadful after all.
When the hiring manager asks you to reveal a weakness, don't panic. Take a breath and remember, they're really trying to see how self-aware you are, and how you rise to challenges. So be honest, but also show them how you're working to improve.
Our insider tip: pick something minor that won't make or break the job. And be authentic – the interviewer will appreciate your genuine self-reflection!
"One weakness of mine is that I can get so focused on the nitty gritty details that I lose sight of the bigger picture. But I've been working on stepping back and delegating to trusted teammates when I need a fresh perspective. So to improve, I've started setting reminders to pause and ask myself how the little things I'm doing impact the bigger customer experience. I've also made an effort to listen more to my coworkers' observations and suggestions, which can highlight areas I may have overlooked. If hired, I would continue developing in this area by proactively seeking feedback from customers and coworkers to ensure all the details I attend to align with and enhance the overall experience we aim to provide."
See how that works? You're showing you can honestly self-assess, but also that you take action to grow. That's exactly the kind of mindset that will make you a star at Jersey Mike's. When the interviewer sees how proactively you turn weaknesses into strengths, they'll be sold.
Give me an example of how you handled a challenging situation with a customer. How did you turn that interaction into a positive experience?
We've talked to Jersey Mike's hiring managers, and here's the inside scoop: they want to see your problem-solving skills and passion for customer service in action.
When choosing your example, pick a story that shows you going above and beyond to make someone's day. Really sell your ability to stay cool under pressure and turn frustrated customers into lifelong fans. Share specific details about the challenging situation, and explain the approach you took to resolve the issue in a caring, compassionate way. Focus on listening, understanding the customer's concerns, and finding a solution that leaves them satisfied.
Take this example:
"There was this one customer who came in during the lunch rush, in a hurry to pay for her sub. But when I swiped her debit card, it was declined. Her face fell - I could see she really needed to get going and was embarrassed her card didn't work. I gave her my friendliest smile and said, 'No problem at all! Why don't you give your bank a quick call while I hold your order here?'
While she stepped aside to call, I chatted with the next customers in line to keep things moving. A few minutes later, she came back, I swiped the card again with an encouraging 'Let's give it another try!' and - success! She gave me the biggest hug and said how much she appreciated my patience. I told her any time she has an issue, we'll work through it together. To me, that's what customer service is all about."
See how a little warmth and understanding can go a long way? Share a story like this, and the hiring manager will see you have what it takes to not just satisfy customers, but turn them into raving fans.
Do you thrive on engaging with people throughout the day in a fun and meaningful way?
This is a common question for customer service roles, and the interviewer wants to gauge if you have the enthusiasm and people skills needed for this fast-paced environment.
What they're really asking is: do you have the personality and passion for customer service to keep their customers happy?
When this question comes up, look the interviewer in the eye and say:
"Absolutely, I love interacting with people and building meaningful connections. In my last role, I found that engaging with customers throughout my shift made the time pass quickly and kept me motivated. I try to make each interaction positive by listening to the customer, understanding their needs, and responding helpfully and enthusiastically. Providing great service and seeing customers leave happy is what I find most rewarding about these types of roles. You'll never catch me without a spring in my step and a smile on my face!"
This answer shows you're a "people person" who thrives on constant customer interaction. Use examples of how you made personal connections and provided amazing service in past roles. Share why mingling and making customers' days is rewarding for you. Let your vibrant personality shine through!
Have you had exposure to food service or making subs before? Are subs something you yourself frequently enjoy?
When the hiring manager asks if you have experience with food service or making subs, this is your chance to win them over. Don't sweat it if you're not a seasoned sub slinger - what matters most is your attitude.
To start, be honest but keep things positive. While experience is preferred, a great attitude and willingness to learn are most important. Focus on any experience you do have, and express your desire to gain more skills.
The interviewer wants to know that you're thrilled about the idea of crafting epic subs. Show them your passion! Say something like:
"Yes, I've had some experience working in food service during high school and really enjoyed interacting with customers. Jersey Mike's subs are the stuff of legend! I've been hooked since my first taste of the Chipotle Cheese Steak. I'm eager to learn how to efficiently prepare quality subs and provide great customer experiences. Jersey Mike's passion for fresh ingredients and authentic sub sandwiches is really appealing to me."
What does providing an exceptional experience for every customer mean to you?
Providing amazing customer experiences is the heartbeat of Jersey Mike's. When the interviewer asks you this question, they want to see you get it - that customer happiness is everything.
The key is to make it personal. Forget about policies and procedures for a second. An exceptional experience means connecting with each and every customer on a human level.
"To me, giving every customer an unforgettable experience is all about listening with my ears and my heart. It means greeting them like a friend the moment they walk through the door, looking them in the eye, calling them by name, and truly hearing what they need. My goal is to make each person who comes in feel like my top priority. I want customers to leave with a smile, knowing I care about making their day and being part of their lives, however small, in that moment. If there's ever a problem, I see it as an opportunity to build that relationship, to go above and beyond. What providing an exceptional experience comes down to is making a personal connection and brightening someone's day in any way I can."
When the hiring manager asks you this, they want to see that you're familiar with the menu and have given some thought as to what you enjoy. They're also looking for enthusiasm and passion for the brand.
To ace this question, do your homework and scope out the menu to find a sub you genuinely love.
Speak passionately about why that sub makes your taste buds do a happy dance. Highlight mouthwatering flavors and aromas, and convey how Jersey Mike's dedication to quality and freshness creates an unparalleled sub experience. Share vivid sensory descriptions to help the interviewer imagine experiencing that first bite right along with you.
The hiring manager wants to see you light up when talking about the food.
If it were us, we'd go with something like this:
"The Chipotle Chicken Cheesesteak puts all other subs to shame. The juicy grilled chicken, melted cheese, and chipotle kick create a flavor explosion in my mouth with every bite! Jersey Mike's uses the freshest, highest-quality ingredients and piles them high on homemade bread. One taste of that cheesesteak and I was hooked. Every time I walk into Jersey Mike's, the smell of that sizzling chicken and the chipotle spices fills the air and my stomach starts rumbling. The Chipotle Chicken Cheesesteak is sandwich perfection!"
Where do you see yourself in 5 years? How will working at Jersey Mike's help propel your growth?
This question is your chance to wow the interviewer with your ambition and enthusiasm for growth at Jersey Mike's. We recommend being authentic while also highlighting opportunities for advancement within the company.
Picture this: In 5 years, you're running the show as an assistant manager or even general manager at your local Jersey Mike's. Sounds pretty sweet, right? With the right mindset, this can totally be your reality.
"In 5 years, I'll be well on my way to a leadership role here. I'm determined to prove myself, build my skills, and climb the ladder. Jersey Mike's commitment to promoting from within is a dream come true for a motivated guy like me! If I work hard, stay focused on the future, and take advantage of every opportunity for advancement, there's no limit to how far I can go. I'm here to make Jersey Mike's proud and show what I've got. The future is bright and I can't wait to grow with this company!"
There are lots of candidates, so what makes you the standout choice for this opportunity?
As a candidate for an opportunity at Jersey Mike's, the interview question should not catch you off guard. The interviewer is trying to determine what makes you uniquely qualified for this role.
We're here to prep you to nail that question with an answer that proves you've got the right stuff.
First, do your research about Jersey Mike's company culture and values. Discuss how your personality and work ethic align well with these. For example, if teamwork and customer service are priorities, share relevant experiences showcasing those strengths. Second, emphasize your relevant experience and accomplishments. Provide a specific example of a time you went above and beyond for a customer or colleague. Your passion and work ethic should shine through.
Most importantly, you need to convey why the chance to work at Jersey Mike's gets you genuinely pumped! An answer like this would make you a standout:
"I believe I am an excellent candidate for this opportunity because I embody the enthusiastic and hardworking spirit of Jersey Mike's. With three years of experience providing excellent customer service in fast food, I understand the importance of speed, efficiency, and quality. My track record of high customer satisfaction scores and employee of the month awards show I thrive in a fast-paced work environment. I love being part of a team focused on exceeding customer expectations, which is why I think Jersey Mike's and I would be a perfect match."
Who is your favorite superhero and what is it about them that inspires you?
The hiring manager is going to ask about your favorite superhero to get a sense of what motivates and inspires you. This is your chance to show them why you're a great fit for the team.
Choose a superhero who represents values like courage under pressure, morality in the face of tough choices, selflessness towards others, or perseverance against all odds. Why? Because those are the qualities Jersey Mike's looks for in their rockstar employees.
For example, you might say:
"My favorite superhero is Superman because he exemplifies the spirit of service and moral courage. His motto, 'Truth, Justice and the American Way' inspires me to stand up for what's right in my own life and community. Like Supes, I believe in using my strengths to help others in need and make a meaningful impact, however I can."
This conveys your admiration for morally upright characters who make a positive difference. An authentic, well-thought-out answer like this is sure to impress the interviewer and give them insight into your values and motivations.
If you were a sub, what kind would you be and why?
We know the "If you were a sub..." question seems weird, but trust us, the hiring manager isn't actually interested in your favorite hoagie. They want to see what kind of employee you'll be. When they ask this, show them you're an upbeat team player who lives and breathes the Jersey Mike's spirit.
So take a deep breath and think: what sub matches your personality? The Italian, maybe, because you're always making people smile? Or the Chipotle Cheesesteak, since you rise to any challenge? Choose a sub that proves you're the perfect fit.
"Me? I'd be an Italian sub because I'm a fun, friendly person others love to be around. Like an Italian sub is full of flavor, I bring a positive attitude and enthusiasm to everything I do. And just as an Italian sub is a classic choice that appeals to many, I'm adaptable in working with all types of customers and coworkers. The mix of meats, cheeses, and veggies reflects how I'm multifaceted in serving the needs of each customer completely."
If selected, how soon could you start working with us?
When the interviewer asks this question, they want to see your excitement about potentially joining their crew. Show them you're ready to dive right in!
Tell them you're available as soon as they need you, just give your current job the standard two weeks. But don't worry about picking an exact start date yet - you don't want to seem pushy.
Just say something like:
"If selected for the position, I would be happy to start as soon as mutually agreed upon following the standard two-week notice period at my current job. Jersey Mike's is my top priority right now, so just let me know what works for your schedule and I can make myself fully available."
Key things to convey: You're flexible, enthusiastic, and once you get the green light, you'll hit the ground running! Make eye contact, flash that smile, and show them you're down for whatever schedule fits their needs.
What do you know about Jersey Mike's?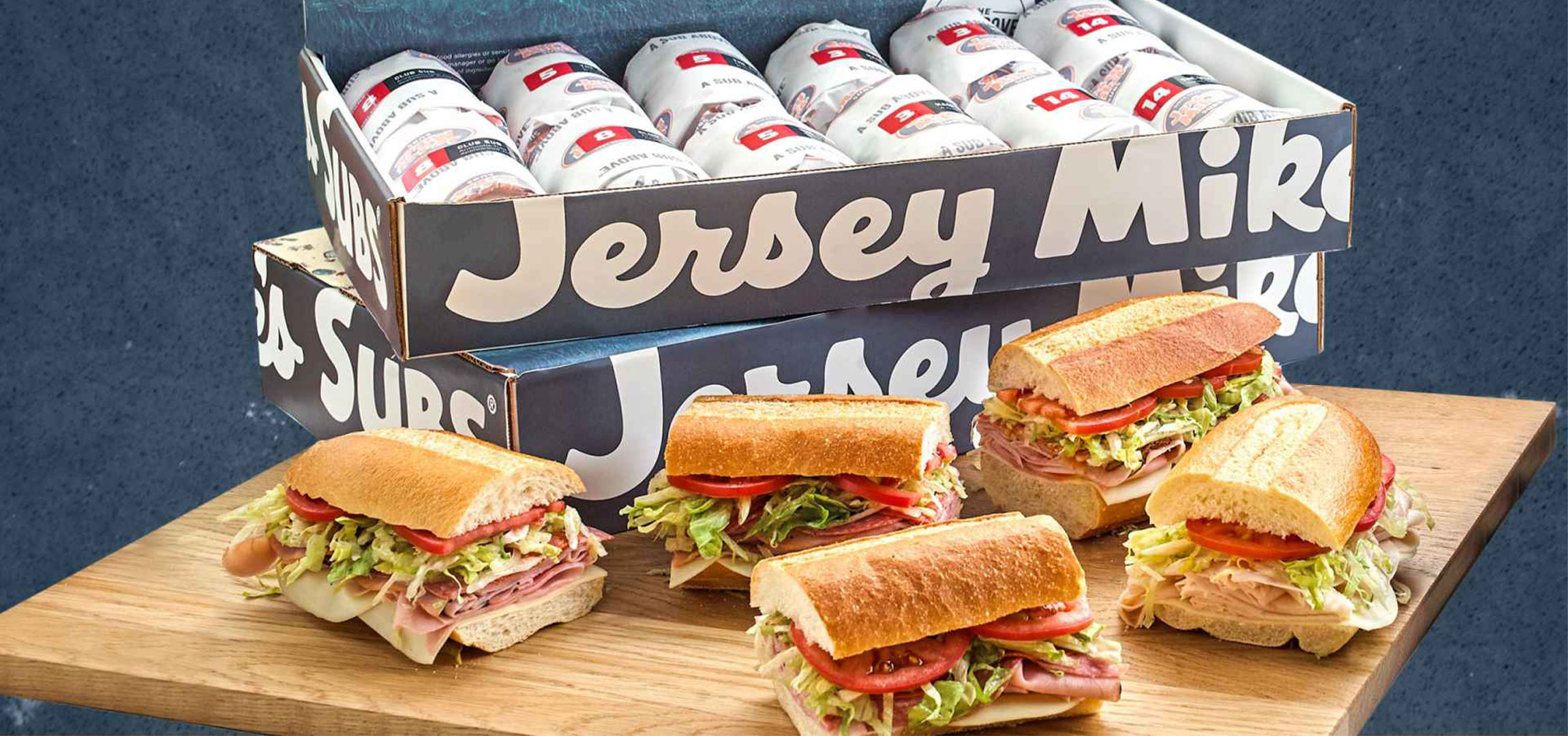 You want to nail this important question in your Jersey Mike's interview.
The hiring manager wants to see if you've caught the Jersey Mike's bug like the rest of us. Show them your passion for those authentic cheesesteaks and East Coast flavors! As long-time Jersey Mike's fans ourselves, we know enthusiasm for the brand is key.
When the interviewer asks what you know about this neighborhood sub shop, be ready to blow them away.
"Jersey Mike's has been fueling my love for authentic subs since I was a kid! Founded in 1956, Jersey Mike's has about 2000 locations but still feels like your local spot. I'm fascinated by how Jersey Mike's has grown nationally while staying true to its roots. Everything about Jersey Mike's says quality and community – from the daily baked bread to fundraising for local organizations. Plus, where else can you get a Philly cheesesteak so juicy it's like you're actually in South Philly? Jersey Mike's commitment to fresh ingredients and neighborhood connections is why I'd love to join the team. This is a company with heart that's only getting better with age, like a fine Italian sub!"
Tell me about a time you resolved a disagreement with a coworker. What did that experience show you about yourself and what it means to be part of our crew?
The interviewer wants to see that you can work through conflicts in a constructive way and be part of the team.
Focus on how you stayed cool under pressure, open to different perspectives, and fixed on finding a solution that worked for everyone. They are looking for candidates who show maturity, care about their coworkers, and know how to compromise. Think of a specific story that demonstrates these qualities.
For example, you might say:
"One time, a coworker and I disagreed on the most efficient assembly order for sandwich orders. I favoured building the sandwich from the bottom up – condiments, then meat, then veggies, then wrapping it. My coworker preferred to group similar items and add them together.
Instead of arguing, we tested out each method by making a few sample sandwiches. While my bottom-up method was a bit faster, my coworker noticed I tended to miss requested condiments near the end. His grouped method led to fewer mistakes, though it took a bit longer.
We realized we each brought something valuable to the discussion. So we compromised by generally following his grouped method, but I double-checked for missed condiments at the end using my bottom-up technique.
Working through this disagreement together not only resolved the issue, but improved our sandwich assembly process overall by incorporating the best parts of both our methods. And since we compromised respectfully, our working relationship stayed positive and we could continue bouncing ideas off each other to find even better solutions going forward."
Describe a time when you were given constructive criticism. How did you handle it and what did you learn from it?
The interviewer is looking to see how you handle challenges and learn from your mistakes. When they ask about a time you received constructive criticism, they want to hear that you're open to feedback and willing to improve. Show them you have a growth mindset.
You've got this. Think of a time when a manager or mentor gave you constructive feedback that stung at first, but ended up helping you level up your skills. Now, put yourself back in that moment. Hear their words echoing in your mind. Feel the initial defensiveness rising up, then take a breath. Remember, they're supporting you - even if it doesn't feel that way yet. Ask clarifying questions. Make a plan to put their advice into action. Notice how much smoother the next rush is because you listened with an open mind.
With that in mind, here is an example of how you could structure your answer:
"There was a time when I struggled to keep up during busy periods as a new crew member. My manager pointed it out, suggesting ways I could work faster. Honestly, my pride was bruised. But after letting it sink in, I realized they just wanted me to succeed. I asked them to explain specifically what I could improve. I committed to implementing their advice, and within a week, I felt like a pro during the rushes. That experience taught me to embrace feedback because, even if it's hard to hear, it's given with good intentions. And it motivates me to keep growing."
Questions to Ask the Interviewer in Jersey Mike's Interview
When the interviewer asks if you have any questions, it isn't simply a routine part of the process. Rather, it's a method for them to measure your interest in the role, as well as your capacity to hold a meaningful conversation.
The interviewer wants to see that you've done your research and have thoughtful questions about the work, team, growth opportunities, etc.
When the time comes, don't say you have no questions! That signals a lack of interest and preparation. Instead, come equipped with a list of smart questions that highlight your relevant experience, skills, work ethic, and desire to grow with the company.
For example, you might ask:
What do you enjoy most about working for Jersey Mike's?
Could you tell me more about the team I would be working with at Jersey Mike's Subs?
How does Jersey Mike's Subs promote and maintain its strong sense of community within the workplace?
I noticed that customer focus and providing an outstanding customer experience is crucial in this role. How does Jersey Mike's measure customer satisfaction?
Can you share more about the training process that Jersey Mike's provides? What skills will it focus on the most?
Jersey Mike's seems to put a lot of emphasis on personal growth. Could you tell me about some opportunities for professional development within the company?
How would you describe the culture at Jersey Mike's Subs?
How does shift scheduling work here? How flexible is it, and how far in advance would I know my schedule?
What would success in this role look like in the first 30/60/90 days?
What qualities do your top employees possess?
What are some of the challenges of this position?
What opportunities are there for growth and career progression?
What is your timeline for the next steps in the interview process?
How will my performance be evaluated, and how often?
What is your training and onboarding like for new hires?
By asking thoughtful, open-ended questions like these, you demonstrate your enthusiasm, preparation, and desire to understand the full scope of the role so you can contribute from day one.
Jersey Mike's Hiring Process
So you applied for a job at Jersey Mike's and got a call back for an interview - congratulations! You're probably eager to learn more about what to expect in the hiring process and interview.
Don't worry, we've got you covered.
Here is what you can expect in Jersey Mike's straightforward yet thorough hiring process:
The first step involves submitting your application, either online, in-store or through a website like Indeed.
Then managers review the applications and call candidates they are interested in for phone interviews or in-person interviews.
The interview will be casual and laid-back, centering around your background, strengths, goals, and availability. Don't be afraid to be authentic - they're looking for candidates who will mesh well with the company culture and values.
The managers will discuss the details of the roles and responsibilities with you transparently. This is your chance to ask any questions you may have and make sure you fully understand what the job entails day-to-day.
Within 2-10 days after your interview, you'll likely receive either a call for a second interview, a job offer, or notification that you were not selected to move forward this time.
If offered the position, you'll go through a comprehensive training program where you'll learn the menu inside and out, proper procedures, and all responsibilities before hitting the floor. Jersey Mike's invests in their employees and wants you to feel fully prepared to succeed in your new role.
Jersey Mike's Interview Tips
Go into your Jersey Mike's interview relaxed and be your authentic self. Show the interviewer why you're interested in Jersey Mike's and why you'd be an asset to the team. Do some light research on company values so you're able to speak to why their mission resonates with you. Focus on your strengths, passions, and career ambitions - convey your enthusiasm for the work. Ask good questions about the role, team, incentives, and growth opportunities.
What to Wear to Jersey Mike's Interview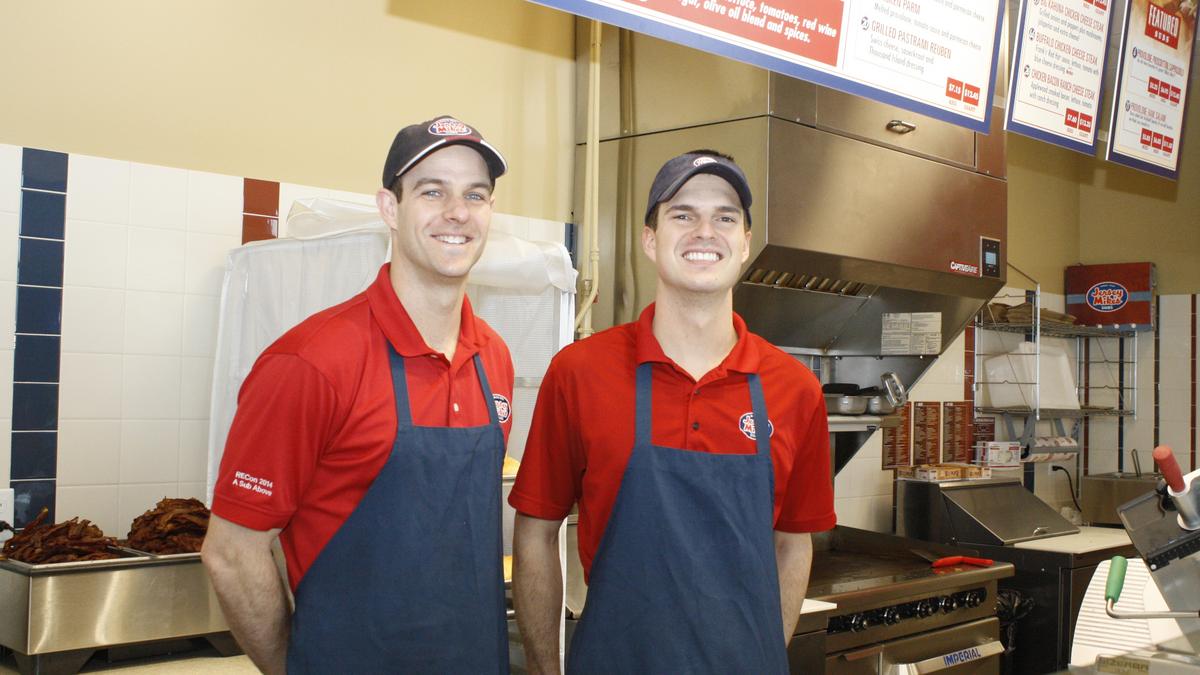 When attending an interview at Jersey Mike's Subs, emulating the company's dress code will give you a huge advantage. Understanding how they like their employees to present themselves shows you're a good fit from the very beginning.
Jersey Mike's Subs' dress code is a company uniform comprising of a tucked-in branded polo shirt, a black belt, long khaki pants (slacks or chinos only), and non-slip black shoes. If worn, undershirts should be solid white or snug-fitting navy blue. All staff must be cleanly shaven with secured long hair. Offensive tattoos must be covered, one small earring per ear is allowed, and other piercings must be removed during work.
For a position as a crew member or team member, aim for casual or business casual. Dark jeans or slacks with a tucked-in polo or button-down shirt is ideal. Wear closed-toe shoes and keep jewelry simple. You want your outfit to be neat, practical and comfortable.
If interviewing for shift leader, assistant manager, or general manager, lean into business casual. Wear dress pants, a button-down shirt and dress shoes. A tie or blazer could elevate your look, but keep it simple. Select classic, well-fitting separates that show you understand professional presentation.
Finally, for interviews at the corporate office, go with full-on business formal. A traditional suit in conservative colors with dress shirt, tie and formal shoes signals you're ready for more responsibilities. Pick high-quality, well-tailored separates to make a polished first impression that will leave the interviewer feeling confident in your abilities.
Conclusion
You now have the knowledge and confidence to ace your interview with Jersey Mike's. With preparation and practice, you'll be able to walk in ready to impress the interviewer with thoughtful responses to their most commonly asked questions. Now go out there and ace that interview! The job—and appreciative customers—are waiting for Jersey Mike's newest superstar employee: you!
Studying these Jersey Mike's job interview questions will give you a leg up on the competition, but securing the position isn't guaranteed. Until you have an official offer letter in hand, keep pursuing other opportunities.
If you're interested in working at Jersey Mike's, consider applying to similar sub sandwich chains and restaurants like Firehouse Subs, Jimmy John's, Potbelly, Which Wich, Jason's Deli, or Subway. While doing well in your Jersey Mike's interview is important, don't put all your eggs in one basket. Spread out your applications to increase your chances of landing a job, whether it's at Jersey Mike's or another restaurant.
Staying active in your job search will help ensure you land in the right role with the right company and schedule for your needs. Keep putting one foot in front of the other, maintain an optimistic spirit, and success will follow. The perfect job for you is out there, so get after it!