27 Jason's Deli Interview Questions (With Standout Answers)
Are you nervously anticipating an upcoming interview with Jason's Deli? Do feelings of anxiety and uncertainty swirl in your mind as you imagine sitting across from the interviewer, your future on the line with every question and answer?
You are not alone. Even the most competent candidates get jittery at the thought of an interview. But there is a way to calm your nerves and walk into that interview feeling confident and prepared.
This blog post is your key to acing an interview with Jason's Deli. In this post, you will find the most commonly asked interview questions at Jason's Deli, along with sample answers to inspire your own winning responses. With these questions and answers in hand, you will have a proven formula to dazzle your interviewer and land that job.
Interviews can feel like complicated equations where one wrong move equals failure. But when you have the solutions in advance, the problem is solved before you walk through the door. Think of this blog post as your cheat sheet, a primer supplying you with everything you need to know ahead of the big day.
While your competition frantically flips through their mental rolodex for answers to interview questions, you will be cool, collected and ready with a stellar response to every inquiry. Knowledge is power, and in the case of a nerve-wracking interview, preparation is your power.
So take a deep breath. Read on and get ready to confidently dazzle the interviewer, because the job, the dream job at Jason's Deli, is yours for the taking.
Are you ready to get started? The future awaits!
Jason's Deli Company Information
You would be wise to arm yourself with key facts about Jason's Deli before your interview. Committing this information to memory will empower you to confidently answer research-based questions and convey your enthusiasm for the company.
| | |
| --- | --- |
| Trade Name | Jason's Deli |
| Type | Fast Casual Restaurant Chain |
| Date Founded | Nov 30, 1976 |
| Founders | Joe Tortorice Jr. |
| Headquarters | Beaumont, Texas, United States |
| Menu | Handcrafted Bowls‌, Soups‌, Salads‌, Muffalettas, Pastas & Potatoes‌, Sandwiches‌, Desserts & Drinks |
| Signature Items | Santa Fe Chicken Sandwich, The Plain Jane, Texas Style Spud |
| Core Values | Community Focus, Quality, Generosity, Adaptability, Flexibility |
| Website | www.jasonsdeli.com |
| Competitors | Subway, Jimmy John's, Jersey Mike's, Panera Bread, Firehouse Subs, Which Wich |
Additional facts:
Established Heritage: Founded in 1976 in Beaumont, Texas by Joe Tortorice, Jr. and his partners Rusty Coco, Pete Verde, and Pat Broussard, Jason's Deli is a family-owned business that has been serving customers for over 40 years.
Commitment to Quality: Jason's Deli places a significant emphasis on the quality of its food. The company was among the first to remove artificial trans fats from their food back in 2005, and they have since eliminated processed MSG, high-fructose corn syrup, dyes, artificial colors, and artificial flavors. They make a commitment to serve only what they would serve to their own families, highlighting a value of respect for customers and a commitment to health and well-being​.
Community Focus: Jason's Deli is family-owned and highlights its focus on the community. They have a community partners program designed to meet the needs of their community partners and the people they serve. This program includes student rewards, fundraisers and spirit nights, sponsorship and donations, a game day box lunch program, and more. They have a special menu built around the needs of their community partners, offer delivery services, and have large dining rooms to accommodate groups of all sizes​.
Convenience for Customers: Jason's Deli offers online ordering with a 4% reward towards future orders. They also offer delivery and pickup services, including curbside pickup.
Nationwide Presence: The company operates 250 delis across 28 states, serving a wide variety of dishes.
Health-Friendly Approach: They were one of the first restaurant groups to remove artificial trans fats from their food in 2005. They've since eliminated processed MSG, high-fructose corn syrup, dyes, artificial colors, and artificial flavors from their menu items.
Variety and Transparency: Jason's Deli features a wide menu including bowls, soups, salads, sandwiches, pastas, and clubs. Many of their dishes use 100% antibiotic-free chicken breast and they offer gluten-sensitive and vegetarian options. They provide specific caloric information for many of their menu items.
Customer Perks: In addition to their health-conscious menu, the deli offers free ice cream to its customers.
Jason's Deli Mission Statement
Our mission is to make every customer happy.
Jason's Deli Interview Questions
This question is a classic opener in interviews, and the Jason's Deli hiring manager will likely ask you this to get the conversation started and learn more about your background.
This is your chance to make a fantastic first impression. Take a deep breath and flash that winning smile. You're going to do great.
"Thanks for taking the time to meet with me today. I have a real passion for providing amazing experiences and top-notch customer service. For the past three years, I've worked at a popular local restaurant where I learned how to make every guest feel like the most important person in the room. I love that Jason's Deli is all about healthy, high-quality food, community involvement, and creating an environment people want to be in. I'd be thrilled to bring my enthusiasm and commitment to going above and beyond for your customers to the Jason's Deli team."
Why do you want to work for Jason's Deli?
The interviewer wants to assess your passion for the brand and ensure you're a good culture fit. Our advice? Do your research and be authentic.
Get pumped about their brand. Jason's Deli is all about serving up delicious, wholesome food in a fun, lively setting. They're also committed to giving back to their communities in big ways. Mention this – it'll score you major points. Speak genuinely about your passion for health, your customer service skills, or love of teamwork. Show them how you'll help them achieve their mission!
"Ever since I was a kid, I've loved the welcoming neighborhood feel of Jason's Deli. Your commitment to using the freshest, highest-quality ingredients and providing nutritious, delicious meals in an upbeat atmosphere really speaks to me. I'm a team player with a knack for customer service, and I'd love the opportunity to apply my skills to create an exceptional experience for your guests. Charitable giving is also important to me, so I really admire the meaningful contributions Jason's Deli makes to the community. I believe my enthusiasm and dedication would make me a great fit for your team."
If you had to describe yourself in just 3 words, what would those words be?
This is a very common question that the interviewer will use to gain insight into how you see yourself and assess if you're a good fit for the company culture.
We know from experience that Jason's Deli loves seeing candidates who are pumped about the work, dedicated to excellence, and all about the customer experience. So when they ask you for three words, go with:
"Enthusiastic. Driven. Hospitable. I'm enthusiastic about providing the best experience for every single guest. I'm driven to constantly improve and push myself. And I aim to be hospitable by making people feel special the moment they walk in our doors."
The interviewer's eyes will light up when they hear this, because those qualities are exactly what they build their crew on. Be ready to give examples of times you went the extra mile to make a guest's day.
What interests you most about the role at Jason's Deli you're interviewing for today?
This question allows the interviewer to determine your motivation and enthusiasm for the position. As hiring managers, we look for candidates who have a genuine passion for the work.
To best answer this question, think about what excites you most about the prospect of working for Jason's Deli. Maybe you're eager to interact with customers and provide great service, or perhaps you're passionate about being part of a team that values quality and community.
When that question comes up, look your interviewer in the eye and say:
"What interests me most is being part of the Jason's Deli family. I believe in providing simple ingredients, scratch-made meals, and an amazing experience for every single customer who walks through that door. And I want to do it alongside co-workers who care as much as I do about supporting our community partners and making a difference. For me, that's what Jason's Deli is all about—and why I can't wait to dive right in!"
How did you first hear about the open position here at Jason's Deli?
This is a common interview question, and the hiring manager will be interested to know how proactively you searched for new career opportunities.
We've been in those interview chairs before, and here's the deal: Do not say you just stumbled upon the listing or that you apply to everything you see. Show them you did your homework. Tell them you've been following Jason's Deli for a while and love their company values. Mention you saw the job posting on their website and on social media, and it seemed like the perfect fit. Enthusiasm – that's what they want to see.
To put it simply: You were searching for a new opportunity, and once you saw this one, you knew you had to go for it. Why? Because you believe in what Jason's Deli is all about.
Here's how you could respond:
"To be honest, I've been a fan of Jason's Deli for years, and I first discovered the job opening on Jason's Deli's careers website while actively searching for new career opportunities. When I saw you had a Front of House opening at this location, I jumped on it. Your company's passion for fresh, quality ingredients and providing the best experience for every single customer really speaks to me. I love the positive impact you have on the community. This position seemed like an amazing opportunity to start a career with a company I already believe in."
If you had a superpower, what would it be why?
This question allows the interviewer to gain insight into your personality, values, and priorities. They want to see your ability to think on your feet and your enthusiasm for the role.
Show them you're passionate, enthusiastic and in it to win it. Focus on a power that would make you the ultimate team player in their restaurant, like super speed, mind reading, or the ability to clone yourself.
"If I had a superpower, it would be the ability to instantly know exactly what every customer needs to have an amazing experience. I would use this power to provide personalized, over-the-top service to each and every guest. For example, if a family came in after baseball practice, I'd have their favorite comfort food on the table before they even sat down. If a couple only had time for a quick bite before the movies, I'd have their to-go order ready in a flash. My mission would be to give every single customer an experience so fantastic they couldn't help but come back again and again."
What would you say are your strengths and weaknesses?
This question allows the interviewer to gain insight into how self-aware you are and how you handle constructive criticism. For Jason's Deli, they want to hire candidates who know their strengths but also areas they can improve.
For a role at Jason's Deli, focus on strengths like providing amazing customer service, being a team player, and thriving under pressure. As for weaknesses, choose something minor that you're working to improve. We suggest something like, "I can be too much of a perfectionist, but I've been learning to prioritize important tasks."
For example:
"My greatest strengths are my ability to provide high-quality customer service and resolve any issues. For example, in my last role, I received consistent praise from customers for my friendly attitude and patience in addressing their concerns. My weakness is that I can be detail-oriented, sometimes spending extra time double-checking my work. But I've been getting better at focusing on high-priority items. With the fast-paced environment here, I'm excited to strengthen that skill."
How many hours per week are you seeking to work at Jason's Deli?
The interviewer's question about your desired hours is their sly way of figuring out if you have what it takes to thrive at Jason's Deli. Between you and us, they want candidates who are all in.
As a candidate for Jason's Deli, we recommend being open and honest in your answer. The hiring manager will appreciate your transparency, and it will allow them to determine if you're the right fit for the position.
That's why when they ask you this question, look them straight in the eye and say:
"I'm looking for a full-time position, preferably 40 hours a week. I have open availability and am willing to work weekends and holidays as needed. I'm passionate about providing great customer service and committed to going above and beyond for Jason's Deli and our guests."
This answer expresses your enthusiasm for the work, desire for a full-time role, and flexibility in working hours—all of which are attributes Jason's Deli wants in a candidate.
How will the experience you've gained translate to success in this role at Jason's Deli?
This is a pivotal question, as the interviewer wants to determine if you have the necessary background and skills to thrive in the position.
As hiring managers, they are looking for candidates who can convey how their experience will allow them to hit the ground running. The best way to answer this question is by highlighting relevant experience, transferable skills, and a genuine passion for the work.
Show them you're ready to hit the ground running by talking up any experience you've got in food service or customer service. Soft skills like patience, hustle, and people smarts are key. Mention the skills and passion that will make you an all-star team member from day one.
For example, you could say:
"I have over three years of experience as a cashier and customer service representative at two different restaurants. Dealing with the general public has taught me patience, communication, and efficiency under pressure. I'm also very detail-oriented, which helps me excel in high-volume situations. The food service industry is fast-paced and challenging but extremely rewarding. I love providing a memorable experience for customers and being part of a team. My skills and passion would allow me to thrive in this role at Jason's Deli."
How would you describe your approach to providing an exceptional customer experience to everyone you serve?
As a candidate interviewing for a position at Jason's Deli, you'll want to prepare an answer for the classic question that allows the interviewer to assess your philosophy on customer service and see if you would be a good fit for their team.
The interviewer is looking for candidates who show a genuine passion for exceeding customer expectations.
Now, it's your turn to shine.
"My approach to customer service is simple: make every single guest feel like the most important person in the world. That means greeting them with a smile, learning their name, recommending my favorite menu picks, and checking in to make sure everything is absolutely perfect. If there's an issue, I'm on it in a flash with a solution and a sincere apology. To me, customer experience is the heart of the job – it's why I want to work at Jason's Deli. I believe that creating personal connections and memorable interactions will build loyalty and keep people coming back for more."
This question is asked to determine if you're able to work well with coworkers in a fast-paced, customer-centric environment like Jason's Deli.
What they're really trying to figure out is if you play well with others. When this question comes up, have a story ready to prove that you're a teamwork superstar! Think of a time you had to work with coworkers to solve a problem or handle a busy situation. Show how you listened to different perspectives, compromised, and came up with a solution together through constant communication.
"One example I can share is from my previous role at a local restaurant. There was one evening when we were understaffed during the dinner rush, and tensions were rising. I brought my team together and asked them each for input on how we could work together to provide the best service possible, given the circumstances. By pooling our ideas, we were able to develop a plan to re-assign tasks, streamline certain processes, and ensure all areas were covered. We ended up having an incredibly successful shift through this collaborative effort. I felt this demonstrated my ability to bring people together, get input and buy-in, and make timely decisions in high-pressure situations for the benefit of the team and our customers."
How do you believe your previous employers or managers would describe your work style and performance?
This question allows the hiring manager to gain insight into how you view yourself as an employee and the value you provide.
They want to see enthusiasm, confidence, and real-world examples. We recommend being honest but focusing on your strengths. Share examples of accomplishments and quantifiable wins from your previous roles that demonstrate your ability. Speak with enthusiasm and confidence about your work style and the positive impacts you had on your team and company.
For instance, you could say:
"I believe my previous managers would describe my work style as hardworking, reliable, and customer-focused. I strive to complete every task with care and attention to detail. Customers appreciate my friendly and helpful demeanor, and I try my best to exceed their expectations in providing an enjoyable experience. My managers have complimented my initiative in volunteering for additional responsibilities and my willingness to help cover shifts when needed. They appreciated my work ethic of always arriving on time, being engaged during my shifts, and never needing to be asked twice to complete a task. While I'm sure there is always room for improvement, I aim to incorporate any feedback into my ongoing performance to develop my skills further."
Would you describe yourself as someone who works hard?
When the interviewer asks this question, don't sweat it. The interviewer is trying to gauge your work ethic and commitment to excellence.
We know this company inside and out, and here's the secret: they're looking for go-getters. People who live and breathe getting the job done with a smile.
So when they pop that question, say something like:
"Definitely. I love being the first one in and the last one out. For example, at my last restaurant gig, I was always offering to take extra shifts and even double up on busy weekends. Keeping customers happy and my team feeling supported – that's what motivates me. I know that type of dedication and work ethic is essential to providing top-notch customer service."
What do you find most challenging about working in a fast-paced, customer-focused and how do you handle it?
Jason's Deli is known for providing customers with high-quality food and an enjoyable dining experience. To uphold their brand standards, they look for candidates who can thrive in a fast-paced, customer-focused environment.
The hiring manager is going to gauge how you handle challenges by asking you a question like this one.
The truth is, there's a lot that can leave you frazzled in restaurant life – from cranky customers to complicated orders to fixing mistakes and doing it all with a smile. But don't tell them all! Instead, pick one element, like multitasking or resolving complaints, and share how you roll with the punches.
First, share what specifically you find challenging, like managing multiple tasks at once or dealing with difficult customers. Then, explain your approach to overcoming these challenges in a proactive, solution-focused way.
For example, you might say you remain flexible, prioritize important tasks, and don't get flustered easily. You should also convey that you genuinely enjoy helping customers and understand that their needs are priority. A friendly personality and patience are key qualities Jason's Deli looks for in candidates.
Here's a sample response:
"For me, the biggest challenge would be handling an upset customer while also attending to other tasks. But I love making someone's day, so if a customer has a problem, I make them my top priority. I'm able to stay focused and calm by quickly determining what they need and finding a solution. Once the situation is resolved and they leave happy, I feel a real sense of accomplishment. The fast pace and constant action is actually exciting to me. I'm in my element when I have a lot of responsibilities and get to interact with many customers. At the end of a busy shift, I feel satisfied knowing I provided the best experience possible for everyone I served."
Where do you see your career in 5 years, and how would this role at Jason's Deli support your progress?
This is a common interview question, and the hiring manager will be looking to gain insight into your career goals and ambition. This is their chance to see if you've got the motivation and drive to thrive at Jason's Deli.
Our advice? Be authentic but ambitious. Tell them your ultimate career goal is to take on a leadership position, overseeing operations and coaching other crew members.
Say something like:
"In 5 years, I see myself advancing into a management role here at Jason's Deli. I want to gain the experience to run this place someday! This crew member role is the perfect opportunity for me to start that journey. I'll work my way up by mastering customer service, learning everything about your menu inside and out, and proving I can lead a team. Jason's Deli has a track record of promoting from within, so this position could help catapult my career if I'm able to excel and take on more responsibility over time. I'm up for the challenge!"
Suppose you have a customer approach you with concerns about potential food allergies. How would you handle inquiries regarding ingredients to ensure their needs are properly addressed?
Addressing customer concerns about potential food allergies is a critical part of working in a food service establishment like Jason's Deli.
This question aims to assess your customer service orientation, ability to think on your feet and ensure the safety of all customers.
Here are the steps you could take:
Listen Attentively: Begin by actively listening to the customer's concerns. Assure them that their safety is a top priority and you understand the importance of addressing food allergies.
Knowledge is Power: Familiarize yourself with the menu and its ingredients. This will allow you to provide immediate feedback to customers about common allergens like peanuts, gluten, or dairy that might be present in certain dishes. If Jason's Deli provides an allergen guide, that's a handy tool to use.
Check with the Kitchen: If you're uncertain about the presence of allergens in a particular dish, don't hesitate to check with the chef or kitchen staff. They'll have the most accurate information about ingredients and preparation methods.
Suggest Suitable Options: Once you understand the customer's dietary restrictions, suggest menu items that are safe for them to consume.
Alert the Kitchen: Ensure the kitchen staff is fully aware of the customer's allergy when an order is placed. This way, they can take necessary precautions to avoid cross-contamination during food preparation.
Double-check: Before serving the food, double-check that the meal is indeed free of the allergen in question.
Now for an example of how you might answer this question in your interview:
"If a customer approached me with concerns about potential food allergies, I would make their safety and experience my top priority. First, I would thank them for letting me know about their allergy and take detailed notes on the ingredients they need to avoid. I would double-check our ingredient lists and menus to determine safe options and ask my manager for guidance if needed. Once I had some recommendations, I would personally speak with the customer again to walk them through the options, answer any questions about preparation methods, and ensure we have taken every precaution to accommodate their needs. At Jason's Deli, every customer's health and satisfaction would be extremely important to me."
What drives you to provide great customer service every day?
As the interviewer asks you this question, know that they want to gauge your motivation and enthusiasm for customer service. At Jason's Deli, customer service is the name of the game, so they look for candidates who live and breathe making every customer's day.
So when it's your turn to answer, don't hold back! Share your passion for people and your motivation for wanting to join the Jason's Deli team. Show them your customer service spirit!
"Customer service is my calling. There's nothing quite like the satisfaction of brightening someone's day with a warm smile, friendly conversation, and a memorable experience. For me, it's all about connecting with people and spreading good vibes. I love getting to know the regulars, learning customer's stories, and being part of a team focused on community. The fast-paced environment at Jason's Deli would motivate me to provide prompt, energetic service. And the opportunity to gain valuable experience in the food industry while also growing in my role? That's the kind of work that gets me out of bed in the morning!"
How would you defuse a stressful situation with an unhappy customer?
You're no stranger to dealing with unhappy customers, but discussing it in a job interview can still feel stressful. Don't worry, with the right mindset you'll ace this question. The interviewer wants to see that you can remain professional under pressure and resolve issues effectively.
Some tips for answering:
Remain patient and empathetic, actively listening to their concerns.
Ask clarifying questions to ensure you fully understand the issue.
Focus on resolving the issue, not defending yourself or your company.
Take responsibility for their experience and work to rebuild trust and goodwill.
Handling customer issues professionally and courteously is key to success in a customer service role.
When dealing with a stressful situation involving an unhappy customer, my approach would be as follows:
First, I would demonstrate understanding and patience: "I understand your frustration completely. Let's sit down and discuss this further so that I can fully grasp the situation. I'm all ears."
Next, I would express empathy: "I can see why this experience would be upsetting. Your feelings are entirely valid, and I appreciate you bringing this to our attention."
Then, I would propose a resolution to the problem: "Let's work together to find a satisfactory solution. Would a refund and a coupon for your next purchase help make this right?"
Once we've reached an agreement, I would express gratitude: "Thank you for allowing us the opportunity to resolve this issue. Your business is truly appreciated, and we hope to serve you better in the future."
We know this question can seem intimidating. But don't worry, with some preparation, you'll ace this part of the interview. The interviewer wants to see that you can stay calm under pressure, think on your feet, and resolve issues to the customer's satisfaction.
Now for the showstopper…your story. Share how you turned an angry customer into your newest fan. Show how you handled the heat and came out as the hero.
"One time, a customer came in complaining that her order was completely wrong and demanded to speak to a manager. I apologized for the mistake and offered to comp her meal. She continued yelling, so I remained patient and empathetic. I asked probing questions to better understand the issue, then worked with our kitchen to remake her order from scratch. When she received the correct order, her attitude did a 180. She thanked me for turning the experience around and left as a happy customer. I was able to resolve the situation through active listening, taking responsibility, and going above and beyond to make things right."
During exceptionally busy periods, how would you maintain composure and uphold a high level of customer satisfaction?
This question aims to assess your ability to remain calm under pressure and ensure quality service.
Jason's Deli is looking for candidates with grace under fire. When the lunch rush hits, and tickets are stacking up, they want someone who can keep their cool while also keeping customers happy. Think you've got what it takes?
To nail this question, share examples from your experience that demonstrate your composure and commitment to customer service. You'll want to convey how you stay focused on the task at hand while also maintaining a positive attitude.
For example, you might say:
"When we're especially busy, I take a few deep breaths to keep my cool. I know customers will understand if there's a longer wait, so I make sure to sincerely thank them for their patience. Whenever I interact with a customer, whether taking an order or delivering food, I smile, make eye contact, and address them by name to personalize the experience. My goal is to make each person feel like the only guest in the restaurant. By keeping the big picture in mind and not getting flustered by the crowd, I'm able to give every customer the high level of service they expect from Jason's Deli."
What course of action would you take if you witnessed a coworker engaging in theft?
As you prepare for your interview with Jason's Deli, you'll want to be ready for scenario-based questions like this one. These types of questions allow the interviewer to assess your judgment and ethics.
We have spoken with many Jason's Deli hiring managers, and they recommend focusing your answer on immediately bringing the issue to a manager's attention. Explain that you would notify management right away in order to stay out of the situation yourself and allow leadership to properly handle the issue.
For example, you could say:
"If I witnessed a coworker stealing, I would immediately report it to a manager. I would say something like, 'I witnessed Jane taking money from the register when she thought no one was looking. I want to report this issue right away so you are aware of the situation and can handle it properly.' It is not my place to confront the coworker or intervene directly. My role is to promptly report the issue to leadership so they can conduct a fair investigation and take appropriate action."
How would you define outstanding customer service? What does it mean to you personally?
Outstanding customer service is at the heart of Jason's Deli's values. When the interviewer asks you to define outstanding customer service and what it means to you personally, they want to make sure you understand this and will uphold their standards.
Take a deep breath. You've totally got the skills and experience to deliver the kind of amazing experience Jason's Deli is known for.
"To me, outstanding customer service means going above and beyond to ensure each guest leaves happy and satisfied. It means greeting every customer with a smile, listening to their needs, and being able to anticipate what will make their experience an enjoyable one. For example, it could be offering a free side or drink if there was an issue, following up to make sure their order was correct, or simply recommending their favorite menu items. Providing outstanding service is about building relationships and loyal customers who want to return again and again."
Why do you believe you would be an excellent addition to our team here at Jason's Deli?
The interviewer is trying to determine if you'll be a great culture fit and team player. They want to see your enthusiasm for the company and role.
Here are a few tips to ace this question:
Show passion for the company mission. Mention specific ways you connect with Jason's Deli values.
Highlight relevant experience. Discuss your track record of strong customer service, teamwork, and leadership.
Express why the culture is appealing. Share what about the company environment motivates and excites you.
Focus on being a great team fit. Emphasize qualities that would make you an asset to work with.
For example:
"I'd be an incredible addition to the Jason's Deli crew because I live for crafting memorable customer experiences and being part of an energetic team. For the past few years as a server and manager at a popular local eatery, I've built a reputation for bonding with customers, solving issues in a flash, and cultivating a positive vibe with co-workers. The chance to bring my enthusiasm and skills to a company as devoted to excellence and community as Jason's Deli would be super rewarding for me."
This question allows the interviewer to gauge your familiarity with the restaurant and its offerings.
This is their chance to see how passionate you are about the brand. And it's your opportunity to win them over with your genuine love of the food.
Share details about your favorite menu items like the Santa Fe Chicken Sandwich or the Spicy Seafood Gumbo Soup. Mention the friendly staff, family-friendly environment, or addictive jalapeño ranch dipping sauce—whatever it is you personally connect with. Speak authentically from your experience as a real Jason's Deli fan.
For example, you might say:
"Yes, I've dined at Jason's Deli many times. In fact, your chicken noodle soup is one of my all-time favorite comfort foods. And the freshness of your ingredients is what makes every bite so satisfying. As someone who really cares about quality, affordable food with healthy options, I'd love the chance to share that same great experience with your customers every day as part of the team."
The interviewer wants to see how you handle difficulties in a mature manner. They're looking for candidates who can stay solution-focused under pressure.
Keep your answer positive – share that you found it challenging but you persevered and turned it into an opportunity to grow.
Now it's time to provide an example.
"Just a few months ago, our point of sale system crashed midday, right during our busiest rush. Talk about stress! But I thrive under pressure. I calmly gathered my team and said, 'Guests come first, no matter what. Who's with me?'. Together, we sprang into action.
I personally visited tables, apologizing and offering coupons. My staff took manual orders and payments to minimize wait times. Though it felt chaotic, we worked as a team to resolve issues on the spot. In 20 minutes, we were back up and humming.
Looking back, I'm grateful for that 'disaster.' My team bonded over the challenge, and we updated our crisis plan to prevent future outages. The guests who received coupons? They've become regulars. It just goes to show the harder the battle, the sweeter the victory."
If we were to hire you for this position, what would be your availability to work?
This is a common question asked by the interviewer to determine your flexibility and commitment to the role. As a candidate, it's important to convey your enthusiasm for the position. We recommend being open, honest, and confident in your answer.
With the right mindset, you'll nail this question.
"Hiring me would be the best decision you've made all week! My schedule is 100% flexible. Whether you need an extra hand during the dinner rush or someone to open on early mornings, just give the word, and I'll be there. I fully understand that succeeding in the restaurant industry requires commitment – and I'm all in. Whatever hours you need, whatever shifts you want covered, I'll make myself available without hesitation. I'm determined to prove I'm the perfect fit for this position and my flexibility is just the start. When do I start training?"
Do you have reliable transportation to get to and from work consistently?
When the Jason's Deli interviewer asks if you have reliable transportation, they want to know you'll actually show up for work on time, every time. After all, deliveries wait for no one, and neither do hangry customers!
With the right response, you'll reassure the interviewer you're a dedicated candidate.
"No need to worry, I've got wheels and a clean driving record. I live just 15 minutes away, so unless there's an apocalyptic traffic jam, you can expect me bright-eyed and ready to go for each shift. I understand that in this job, every minute matters, so you'll never have to wonder if I'm going to make it in. My vehicle and schedule are flexible, and this job will be my top priority."
Questions to Ask the Interviewer in Jason's Deli Interview
When the interviewer asks if you have any questions, they give you an opportunity to show your enthusiasm and interest in the role. This is your chance to stand out from the other candidates. Having a list of thoughtful questions prepared demonstrates your genuine curiosity and excitement about the position and company.
It is important to express that you have done your research in advance. Asking questions about company culture, values, goals, growth, training, and career path can leave a great last impression. The interviewer will appreciate your astute and well-considered questions. They signify that this role and company are important to you.
Here are some questions you could ask your Jason's Deli interviewer to convey your passion for the opportunity:
What are the key objectives you would want someone in this role to accomplish in the first 3 months?
Can you describe your company culture? What is most valued?
What interested you in initially joining the company?
What kind of training programs or professional development is offered?
What is the next step after this role? What kinds of career progression opportunities exist?
How would you describe your management style and the style of the department?
What are your expectations for work hours, work-life balance, and time off for this position?
What are your favorite parts about working at Jason's Deli?
What is your timeline for the next steps in the interview process?
Jason's Deli Hiring Process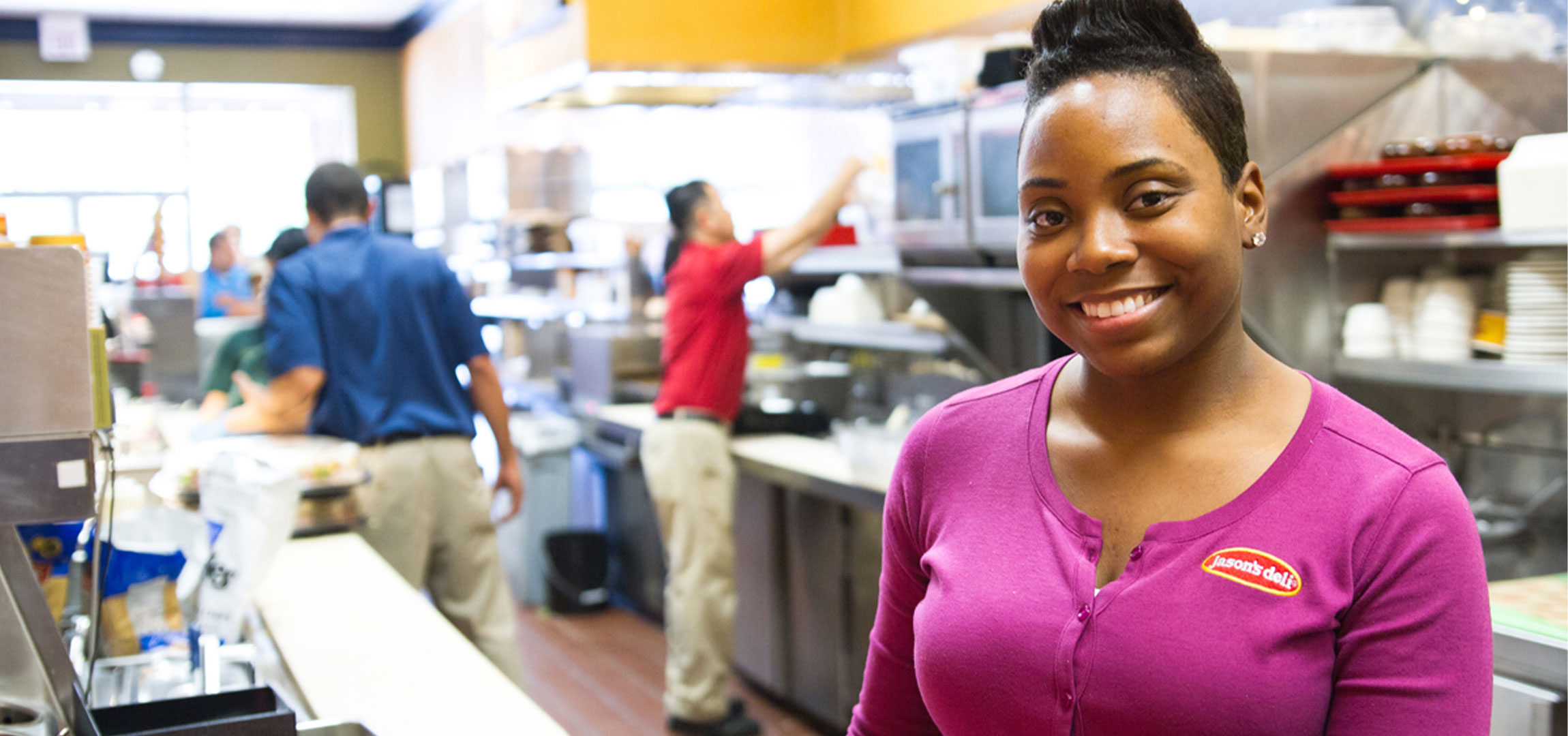 You're on the hunt for a new job and have your eye on Jason's Deli. Their culture seems like a great fit, and you love the food, so you decide to apply. Here's what you can expect in their hiring process:
The application process at Jason's Deli is quick and easy. You can apply on their website or in person at your local restaurant. Don't worry about providing a fancy resume – they're more interested in your availability, work ethic, and customer service skills.
If selected for an interview, you'll first go through a casual phone screen with the hiring manager that will last around 15-30 minutes. Be prepared for basic questions about your relevant experience, strengths, availability, and work values. This is your chance to express your enthusiasm for the company culture and mission.
If you make it to the in-person interview, congratulations! This is a strong sign they see you as a great potential fit. The interview will be at your local Jason's Deli and last 10-30 minutes. Use this valuable face time to ask any questions you have about the specifics of the job, training, and company. With the right attitude and answers, you may even receive a job offer on the spot or within a couple days.
If offered the position, you'll receive a follow-up phone call with a job offer and details about orientation/training. Usually within 1-2 days, sometimes up to 2 weeks after the in-person interview.
Then you'll attend an orientation at the restaurant, which typically lasts 3 to 5 hours. This will include paperwork, training videos, materials, job overviews, and meeting your new team. Then you're ready to start your training on the schedule you were hired for.
Jason's Deli wants candidates who are available, hard-working, and service oriented above all else. If that sounds like you, don't hesitate to start their quick and personalized hiring process.
Jason's Deli Interview Tips
Jason's Deli values personality, positivity, and practical availability. So, be your friendly, enthusiastic self – show them how much you genuinely care about providing great customer service. Have some stories ready demonstrating your reliability and strong work ethic. Be sure to convey your open availability and flexibility since they move quickly to fill roles. Come equipped with thoughtful questions about the job, company, and growth opportunities.
What to Wear to Jason's Deli Interview
Navigating the maze of your upcoming interview with Jason's Deli? Wondering what to wear to score some extra points? We'll guide you through the process of selecting the perfect outfit for your interview.
Now, there's a beautiful principle that can steer you through the waters of dress code decisions – emulating the company's attire philosophy. You see, aligning your interview wardrobe with the company's established dress code is a silent but effective way to showcase your adaptability and respect for the organization's culture.
Let's dive into what makes up Jason's Deli's dress code.
The dress code at Jason's Deli requires employees to wear a company-provided shirt, hat, denim jeans or khaki pants, and slip-resistant shoes while maintaining a neat appearance. No ripped jeans, visible tattoos, extreme hair colors, or unconventional piercings. Men can have goatees or mustaches, but not full beards.
Time to translate this knowledge into specific role-based interview attire.
If you're vying for a Front of House position, a casual or business casual outfit would hit the right note. Think neat jeans, a well-fitted top or shirt, and clean, closed-toe shoes. But remember, 'casual' isn't a free pass to show up like you're going to a weekend barbecue – you're still aiming to impress!
For prospective Shift Supervisors and Assistant Managers, business casual is your best bet. Pair a crisp, button-down shirt with chinos or smart slacks, and you're almost there. Finish off with professional shoes that can walk the talk!
Finally, if you're targeting a position at the Corporate HQ, it's time to step it up a notch – business formal is the way to go. Men, don a well-tailored suit and tie. Women, a suit, or a dress with a blazer and closed-toe shoes would work perfectly. You're aiming for an outfit that mirrors the seriousness and professionalism of the role.
Remember, the clothes you wear to your interview could speak volumes about your enthusiasm, preparedness, and attention to detail. So, approach this with as much diligence as you would your resume and interview responses. And most importantly, wear your confidence – it's your best accessory!
Conclusion
Now that you have insight into the types of questions Jason's Deli likes to ask in their interviews and suggestions for compelling responses, you should feel well-equipped to walk into your interview with confidence.
But even after you ace your interview and hopefully land the job at Jason's Deli, continue exploring your options at similar chains like Subway, Jimmy John's, Jersey Mike's, Potbelly, McAlister's Deli, Panera Bread, Firehouse Subs, and Which Wich, that are always looking for great team members.
No matter how well you prepare, continue applying to as many places as possible until you have a job offer in hand. An interview is a good start, but persistently putting yourself in front of hiring managers at comparable restaurants is the best way to ultimately land a position.
The key is to never stop looking for new opportunities.  Keep putting in the effort, and the right door will open. You've got this! With preparation and persistence, you will find a company that recognizes your talent.