25 McAlister's Deli Interview Questions (And Ideal Answers)
Are you feeling nervous about your upcoming interview at McAlister's Deli? That's completely normal. Interviewing for a new job can be an emotional rollercoaster, especially when you desperately want the position. We've all been there – the sweaty palms, the racing heartbeat, the feelings of anxiety bubbling up as you walk through those doors.
But there's good news. You have the power to turn those feelings into confidence and excitement. How? By walking into that interview prepared. By doing your research, anticipating the questions they'll ask, and crafting your answers ahead of time. With the right preparation, you'll feel self-assured and ready to land your dream job.
In this blog post, we're going to provide you with the most commonly asked interview questions at McAlister's Deli, along with suggested answers to help get you started. By familiarizing yourself with these, you'll have a huge advantage over other candidates. You'll be able to walk in there with your head held high, armed with the knowledge of how to convey why you're the perfect fit for this role.
So take a deep breath and dive in. Prepare thoughtful answers to these questions, practice them, and visualize yourself acing this interview. Because when you're well-prepared, feeling self-confident, and passionate about getting this job – that positive energy will shine through to the interviewer. Before you know it, you'll have an offer in hand to start a rewarding new career with McAlister's Deli.
Now let's get started!
McAlister's Deli Company Information
Familiarizing yourself with McAlister's Deli's background will boost your confidence for the interview. Review the key facts below to handle company-specific questions and show your enthusiasm for the role.
| | |
| --- | --- |
| Trade Name | McAlister's Deli |
| Type | Fast Casual Restaurant Chain |
| Founded | 1989 |
| Founder | Don Newcomb |
| Headquarters | Atlanta, Georgia, United States |
| Menu | Sandwiches, Soups, Salads, Spuds, Beverages, Desserts |
| Signature Items | McAlister's Famous Tea |
| Core Values | Hospitality, Experience, Simplicity, Giving Back |
| Website | www.mcalistersdeli.com |
| Competitors | Jason's Deli, Panera Bread, Subway |
Additional facts:
Unique Origin: McAlister's Deli was born out of an unusual vision. In 1989, a local dentist in Oxford, Mississippi decided to transform an abandoned movie-set diner into a neighborhood restaurant, giving birth to the first McAlister's Deli.
Nationwide Presence: From its humble beginnings in Mississippi, McAlister's has grown exponentially. Today, you can find over 500 McAlister's restaurants scattered across 28 U.S. states, from Alabama to Wyoming.
Classic Menu: McAlister's Deli has stayed true to its roots, maintaining a menu that features their original offerings. Enjoy sandwiches, spuds, and salads, all prepared with local produce and genuine Idaho Russet Potatoes.
Famous Sweet Tea: They are renowned for their sweet tea – a delicious blend of Rainforest Alliance Certified black tea and pure cane sugar. This signature beverage is brewed throughout the day, served in giant 32 oz. glasses with an over-sized lemon wedge, and accompanied by an extra-wide red straw.
Create Your Plate: McAlister's offers a unique "Choose any two" option, allowing customers to mix and match two halves of any item to create a personalized plate.
Inclusive Food Options: McAlister's takes dietary needs seriously. They offer a broad selection of food items, including vegetarian and gluten-sensitive options, ensuring everyone has something to enjoy.
Catering Services: From game days to working lunches and special events, McAlister's has your catering needs covered. They provide an extensive catering menu, and the convenience of pickup, delivery, and even same-day ordering.
Community Engagement: McAlister's Deli is more than just a restaurant – it's a proud community partner. They actively support local initiatives, volunteer at charity runs, assist during disasters, and contribute to various community causes.
McAlister's Deli Mission Statement
To serve handcrafted food and delicious sweet tea that is simple and satisfying – for every palette, even mom's pickiest eater.
McAlister's Deli Interview Questions
So, can you tell us a little bit about who you are and what makes you, well, you?
As you prepare for your McAlister's Deli interview, you'll want to have a compelling answer ready for this opening question. This question is the interviewer's way of getting a sense of your personality, work ethic, and values.
We recommend highlighting your relevant experience, your passion for customer service, and what motivates you as an employee.
With the right preparation, you can craft an answer that will make you a top candidate.
"I would say I'm an upbeat people person who believes every guest deserves to feel like family. Nothing motivates me more than putting a smile on someone's face and crafting an experience they'll rave about. As someone with 3 years of experience as a server, I love engaging with customers, ensuring their needs are met, and building personal connections. My motivation comes from working collaboratively with colleagues to overcome challenges and provide the best service possible to our guests. I'm always looking to develop my skills and take on more responsibility. Overall, my priority is contributing to a positive environment where both customers and staff feel appreciated."
Why do you want to work for McAlister's Deli?
This is a common interview question and one you should be prepared to answer persuasively. The interviewer will want to see your enthusiasm for the company and role.
This is your chance to demonstrate your enthusiasm and passion for the brand.
We know this company inside and out, and here's what we suggest emphasizing: McAlister's strong commitment to customer service, close-knit team environment, and growth opportunities. Speak from the heart about what drew you to a career here in the first place.
For example, you could say:
"Great service and community are at the heart of what McAlister's represents to me. I love that your team seems more like a family, where everyone works together to create a welcoming place where guests want to gather again and again. And the fact that McAlister's provides training and paths for career advancement shows you genuinely care about employees. Mostly, I want the chance to make a difference in people's days, and to be a part of what makes your restaurants so special. McAlister's aligns perfectly with my values and vision for growth."
Why do you think you would thrive in this role at McAlister's Deli?

You want to make a great impression in your McAlister's Deli interview, and a question about why you're the best fit for the role is a perfect opportunity to do just that.
The interviewer is looking for candidates who understand the company culture and priorities. We suggest emphasizing qualities like strong customer service orientation, ability to work in a fast-paced environment, and passion for the company's mission.
Between us, the key to rocking your answer is passion. Show the interviewer you'll go above and beyond for customers and teammates. Say something like, "That's an easy one. I was born to work at McAlister's!" Then share how you'll bring your A-game every single shift.
"I live to make people happy and spread positivity. At my last job, I had regulars coming in just to chat with me! When it's busy, I'm the person my team counts on to keep smiles on everyone's faces. And the food—don't even get me started! I tried the Spicy Southwest Chicken sandwich once, and I've been obsessed ever since. I'd love bringing that kind of enthusiasm to the McAlister's crew and making sure every customer leaves happier than when they walked in."
What does your current availability to take shifts here at McAlister's Deli look like?
This question allows the hiring manager to determine if your availability matches the company's needs.
Now, how should you prepare to answer this question?
We suggest being upfront and honest about your availability while also demonstrating flexibility. Let the interviewer know your ideal work schedule, but also express a willingness to work occasional weekends or holidays if needed.
It's also a good idea to mention any constraints on your schedule due to other commitments like school activities or a second job.
That said, try to frame these constraints in a positive way, focusing on your ability to plan ahead and be dependable.
Here's an example answer:
"My schedule is pretty wide open since I don't have any other jobs. I'm usually free after 3pm and on weekends. I totally get that restaurants need people for nights, holidays and weekends though, so I'm willing to work whenever you need. I'm really organized, so scheduling in advance or covering extra shifts is no problem. You can count on me to get the job done whenever you need an extra hand!"
How reliable is your transportation to get you to and from work?
Transportation is critical for any job, and at McAlister's Deli, the interviewer wants to ensure you have reliable means to get to and from work on time each shift.
As hiring managers, we know that unreliable transportation can lead to attendance issues, missed shifts, and, ultimately, an unreliable team member. So when the interviewer asks how reliable your transportation is, be prepared with a confident answer.
The good news is, this question is your chance to shine. When the interviewer asks, flash them a confident smile and say:
"I have dependable transportation and a few backup options to ensure I never miss a shift. My reliable car gets me to work in under 15 minutes, and I schedule routine checkups to avoid surprises. On the rare chance it's in the shop, I live near bus routes that run right by McAlister's. Between my own wheels and public transit, I've got all my bases covered. Reliability and punctuality are very important to me, so you you'll never have to worry about me clocking in late!"
See what we did there? By emphasizing self-reliance, responsibility, and pre-planning, you'll win over the interviewer in a heartbeat. After all, would they rather hire the candidate with an unreliable ride and a nonchalant attitude or the one with a trusted set of wheels and dedication to always making it to work? The choice is clear.
If hired, when would you be available to start working with us?
When the interviewer asks you this, they really want to gauge your enthusiasm for the role and ensure your timeline aligns with their needs.
Our advice is to express excitement for the opportunity, but don't feel pressure to start immediately if you need to give appropriate notice at your current job or have prior commitments.
For example, try this:
"I am very enthusiastic about the prospect of joining the McAlister's Deli team. That said, I believe in being respectful of prior obligations. So if you can give me 1-2 weeks, I'll be ready to dive in and start serving up delicious deli fare to all your dedicated customers. However, if you need someone sooner than that, I would be open to discussing how I might be able to help in a part-time capacity at first."
This role can be fast-paced at times. How do you remain positive and composed under pressure or during stressful periods?
When the interviewer asks you how you remain positive under pressure, they want to see that you can handle the fast-paced environment of a McAlister's Deli.
As seasoned hiring managers, we know that the restaurant industry can be demanding, so proving you have the right mindset is key. Going into your interview, have a specific example of a high-stress situation you navigated successfully. Explain how you kept your cool and focused on solutions.
Show them what you're made of.
"In my last job, we had shifts where we were seriously understaffed during our busiest rushes. Talk about trial by fire! Instead of panicking, I focused on what I could control. I rallied my team, delegated critical tasks, and made sure we had clear communication. Those shifts were long and frustrating, but I knew if we worked together, we'd get through it. I tried to lift everyone's spirits with a 'this too shall pass' attitude. By staying solutions-focused and optimistic, we were able to power through, provide great customer service, and end each crazy shift as a unified team. For me, it's about embracing the chaos, trusting in my abilities, and supporting my crew. When the pressure's on, that positive spirit and team mentality make all the difference."
What do you know about McAlister's brand and culture that fuels your desire to join our team?
This question is an opportunity for you to demonstrate your knowledge of and enthusiasm for McAlister's brand. The interviewer wants to see that you've done your research and are passionate about the company culture.
We recommend emphasizing the fresh, high-quality ingredients, Southern-inspired menu, and commitment to community that defines the McAlister's experience. As for the culture, focus on words like "friendly," "team-oriented," and "hospitable."
We'll let you in on a secret: McAlister's looks for people with heart. Focus on what really matters to them, like crafting homemade meals, cultivating community, and serving up Southern hospitality.
If that sounds like you, tell them! Share your passion for bringing people joy through simple pleasures like a warm welcome, a delicious sandwich, or a place where everyone knows your name.
Say something like:
"I'm eager to join the McAlister's team because I love your commitment to serving delicious, homemade food in a welcoming environment. McAlister's is all about bringing people together over a great meal, whether it's co-workers on their lunch break or families enjoying dinner. Your team seems to genuinely care about providing guests with a memorable experience during every visit. The culture promotes things like friendliness, cooperation, and going out of your way to make others feel comfortable. These are values I share, and I believe I would be able to contribute to such an upbeat, community-focused work environment. McAlister's is really about nourishment for the body and soul, and that mission resonates strongly with me."
Working in a busy restaurant isn't always easy. How would you handle difficult situations with coworkers?
Working in a fast-paced restaurant environment requires patience, adaptability, and teamwork. As a candidate, when the interviewer asks you questions about handling difficult coworkers, they want to assess your soft skills and see if you would be a good fit for their team.
We suggest focusing your answer on remaining calm, professional, and solution-oriented. Providing a thoughtful example can demonstrate your capabilities to the interviewer.
For instance, you might say:
"If there was an issue with a coworker, I would first address it respectfully in private. I would say something like, 'I've noticed some tension and want to clear the air. How can we work better together?' From there, I would listen to their perspective with an open mind. If we disagreed, I would suggest compromising or agreeing to disagree for the sake of the team and guests. The most important thing is that we support each other and provide the best experience possible for our customers."
Can you describe a challenging situation you encountered at your previous job and how you resolved it?
Challenging situations are inevitable in any role, but how you handle them says a lot about your character.
Hiring managers at McAlister's Deli look for candidates who thrive under pressure and turn problems into opportunities. When the interviewer asks you about a challenging situation, it's your chance to show how you shine in these moments.
Our advice is to think of an example that shows how you turned a challenging situation into a success.
"One situation that comes to mind is when a customer complained that their order was taking too long during a busy shift. I apologized to the customer right away and offered a free appetizer to make things right. But I knew a quick fix wasn't enough. I rallied my team after the rush and asked, 'How can we prevent this from happening again?' We came up with a game plan to reorganize the kitchen, improve how servers and cooks communicate, and streamline certain processes. It wasn't easy, but we were able to turn things around and boost customer satisfaction. I learned that staying positive and solution-focused under pressure can transform a challenging situation into an opportunity for growth."
Do you have a preference for interacting with our delightful guests face-to-face or working behind the scenes to ensure their experience is exceptional?
As an interview candidate, you'll want to prepare thoroughly for questions aimed at determining your preferences for different aspects of the role. This is one such question the interviewer may ask.
We recommend being honest while also conveying your flexibility. Share your strengths in both areas, your passion for providing great customer service, and your willingness to take on whatever will help the team most.
For example, you might say:
"Honestly, I love it all. Connecting with guests and brightening their day is what I live for. But keeping everything running smoothly behind the scenes is also important to me. I want this job because providing amazing experiences – whether face-to-face or behind the curtains – is my passion. I'm here to do whatever it takes to make our customers happy and keep them coming back."
If selected to join our team, how long would you see yourself being part of the McAlister's family?
As a candidate interviewing for a position at McAlister's Deli, you will likely be asked how long you see yourself staying with the company if hired. This is an important question for the interviewer, as they want to make sure any new hires are invested in the brand long-term.
We recommend being honest but also enthusiastic in your answer. Mention your passion for the food industry and desire to grow with the company over time.
This is your chance to show them you're in it for the long haul. Lean in, make eye contact, and tell them:
"I want a career, not just a job. If you hire me, I'll be here for years to come."
Of course, you'll want to elaborate on that a bit! Share your passion for the food industry and how you're looking to grow along with the company over time.
"If selected to join the McAlister's family, I would see myself being part of the team for many years to come. I have a genuine passion for the restaurant industry and for providing high-quality service and food to customers. I would love the opportunity to start in an entry-level position and work my way up, eventually taking on more responsibility as I gain experience over time. My goal is to find a company I can grow and develop with for the long haul, and I believe McAlister's would be an ideal place to do that."
As hiring managers, we'll let you in on a secret: this question is their way of figuring out if you have what it takes to keep customers coming back for more.
The interviewer wants to determine your customer service philosophy and see if you have the skill and judgment to handle difficult situations.
To wow them with your answer, think of a story that shows how you turned an unhappy customer into a lifelong fan. Share the juicy details and talk about how you listened, showed you cared, and came up with a solution that saved the day.
For example, you could say:
"A customer recently called very frustrated because she had ordered dinner for pickup, waited over an hour, then drove home only to find multiple items were missing from her order. I deeply apologized and asked her to provide a list of the missing items. I then made and personally delivered the corrected items, along with a gift card for her next visit. In my follow-up call, I again apologized and asked for feedback on how we could avoid similar issues going forward. She appreciated the personal follow through, and we gained an even more loyal customer."
Outside of work, how do you enjoy spending your time?
This question allows the interviewer to get a sense of your work-life balance and interests outside of your job. This is your chance to show them you're a real person with real interests!
They want to hear authentic passion but be selective—share 2 or 3 hobbies that showcase values of hard work, community, or service that would resonate with McAlister's. For instance, community service proves you care about people, or athletic activities prove you like to challenge yourself.
Take it away with an enthusiastic answer like this:
"Honestly, I try to stay as active and socially engaged as possible outside of work. A few times a week I play in a recreational soccer league—it's the perfect outlet for my energy and competitive spirit. I also volunteer regularly at a local food bank. Giving back and helping others in need is a high priority in my life. When I find free time on weekends, you'll usually find me exploring new restaurants with friends, checking out the latest exhibits at our city museums, or hiking at some beautiful parks. Maintaining a healthy work-life balance with enjoyable hobbies and a strong circle of friends keeps me motivated and excited to start each new day."
Tell us about a time when you took on a leadership role. How did you handle that responsibility, and what was the outcome?
Leadership experience is valuable for any role, and McAlister's Deli wants to ensure you have the ability to handle responsibility.
When the interviewer asks about a time you demonstrated leadership, this is your chance to prove you have what it takes to be a leader at McAlister's Deli. Show them you're a problem solver who isn't afraid to take initiative.
They want someone who spotted an opportunity and took charge to make a real difference. Someone who can handle responsibility with confidence and get results. Are you that someone? Of course, you are! You just need to share the perfect story to illustrate your leadership potential.
Think of a time when you improved things at work. Maybe you noticed an outdated system wasting everyone's time and single-handedly created a solution. Or improved team communication in a way that boosted morale and productivity. When you found that chance to truly shine, how did you make the most of it?
For example, you might say:
"In my previous role as a Crew Member at a local restaurant, I noticed that communication was lacking between shifts which often led to inefficiency and wasted time. I suggested to my manager that we implement a streamlined handoff procedure between the morning, afternoon, and evening crews. With their approval, I created a structured handoff report and process for each station that ensured all essential information was conveyed. This new procedure ended up saving costs from reduced waste and increased productivity. By taking the initiative to identify an issue and suggest a solution, I was able to have a meaningful impact as a leader."
Thinking about your experience working in restaurants so far, what did you like most and least about your own performance?
When the interviewer asks you about your experience working in restaurants, they want to get a sense of your work ethic and values.
When answering this, don't be one-dimensional. Highlight your strongest skill, but also show you've got self-awareness about an area needing improvement. Focusing only on strengths may seem arrogant, while weaknesses alone could be off-putting. Find your balance.
For example, you could say:
"What I enjoyed most was connecting with customers and building real relationships. I've been told I have a gift for making people feel genuinely cared for. However, there were times when I struggled to keep a positive attitude during very busy periods with demanding customers. I've realized a good server isn't just friendly—they're also organized and anticipate needs. I've worked hard to strengthen skills like multi-tasking, efficiency, and staying cool under pressure. Now, I feel confident I can create a welcoming atmosphere for your customers while also delivering on the details."
In the event of an unhappy customer, how would you handle the situation to resolve their concerns and ensure a positive experience?
Dealing with unhappy customers is an inevitable part of any customer service role. As a McAlister's Deli team member, you will encounter dissatisfied guests from time to time. The interviewer wants to see that you can remain calm under pressure, show empathy, and resolve issues to the customer's satisfaction.
When this question comes up, assure the interviewer you understand the importance of positive customer experiences. Explain that you would listen carefully to the customer to understand the root cause of their unhappiness, then take appropriate action to remedy the situation.
We suggest starting with an enthusiastic response like, "I love the opportunity to turn someone's experience around and make their day better!" Explain that you would give the customer your full attention, listen to their concerns, and get the details of what went wrong. Once you understand the issue, assure them you will make things right.
For example, you might say:
"I would apologize to the customer for their negative experience and ask follow-up questions to determine exactly what went wrong. Once I understand the issue, I would take full responsibility on behalf of the company and assure the customer their concerns would be addressed. If their order was incorrect or they received poor service, I would offer a replacement meal or refund. I would also thank them for bringing the issue to my attention so we can make improvements."
Are there any areas of the job you anticipate may be outside of your comfort zone or skill set?
When the interviewer asks if there are any parts of the McAlister's Deli role that may push you outside your comfort zone, don't panic! We're here to prepare you to ace this question. The truth is, any new job takes time to adjust to, and they'll appreciate your willingness to learn.
Take a deep breath. Now, think of one or two skills that, while challenging, you're eager to develop. For example, you might say:
"While I believe I have the core competencies to excel in this role, I understand there is always room for growth. You know, I have limited experience managing other team members or delegating tasks. However, I am eager to strengthen my leadership abilities and collaborate with more senior staff to become adept in this area. Overall, I am confident in my ability to thrive at McAlister's Deli, given my passion for providing high-quality customer service and enthusiasm for continuous learning. Challenging situations are where the most growth happens, right?"
Nothing impresses like genuine enthusiasm for tackling new responsibilities. Your answer shows self-awareness, a desire to continuously improve, and the motivation to thrive under pressure. It highlights your potential while also setting the right expectations. That kind of authenticity and passion is exactly what McAlister's Deli is looking for.
Would you describe yourself as someone with a positive personality?
We've spoken to McAlister's Deli hiring managers, and here's what they're really trying to assess with this question: They want to see that you have an upbeat, enthusiastic attitude that positively impacts those around you.
Showing you have an "infectiously positive personality" is key for a position where you'll frequently interact with customers and team members.
So how do you show you're a natural morale booster?
When they pop that question, flash a genuine smile and say,
"Absolutely, positivity is my superpower! I genuinely enjoy interacting with and uplifting others. When I was a server, my cheerful spirit brightened customers' days and boosted team morale. Coworkers even said I made long shifts fly by! Being positive comes second nature to me. Whether I'm resolving issues or leading rushes, my energy stays high and spreads fast. I'd love to bring that spark to your crew and customers daily."
What would you do if a guest came up to you and complained about the long wait time on their order?
As a candidate interviewing for a position at McAlister's Deli, you'll want to be prepared for questions about customer service scenarios.
This question allows the interviewer to assess your customer service orientation, problem-solving skills, and ability to remain calm under pressure.
When this question comes up, share how you'd turn the situation around with a simple three-step plan:
"First, I'd apologize sincerely and take the blame. I'd say something like: 'I'm so sorry for your frustrating wait today. That's unacceptable, and I take full responsibility.' People just want to be heard, so acknowledging the issue and validating their feelings will go a long way.
Next, I'd get the details on their order on the spot, so I can fix things fast. I may ask, 'What did you order again? Let me check on that right now.' I'd then hustle over to the kitchen, figure out what went wrong, and get their food out in a flash.
Finally, to really turn that frown upside down, I'd bring out their order with an extra special treat on the house. Who could stay angry after that? I'd assure them that we've addressed things to prevent future issues. My goal is that they leave with a smile, eager to return again!"
With a plan like this, the interviewer will see you have what it takes to turn frustrations into five-star experiences and keep customers coming back. If you highlight more examples of how you've handled difficult service situations with care, you'll prove you're perfect for the team!
How do you define integrity, and how would you demonstrate it as a member of our team?
Integrity is one of the most important attributes McAlister's Deli looks for in candidates.
They want candidates who truly understand what it means to serve with integrity in a fast-paced, customer-centric role. Show them that you get it—that you'll treat each guest like family and strive to make their experience unforgettable.
Take a moment to think about what integrity means to you. How have you lived it in your own life? Find an example that highlights your dedication to doing the right thing.
"As for me, integrity is at the core of who I am. To me, integrity is about staying true to my values and doing the right thing, even when adversity strikes and when no one is watching. As a team member here, I would demonstrate integrity in every way possible—from introducing myself to guests with a smile, to double-checking orders for accuracy, to pitching in when a co-worker needs help. If I saw another employee acting inappropriately, I would address it respectfully in private. My goal would be to make a difference to each guest and co-worker I interact with. To serve you and this team with honesty, care, and integrity in all that I do. That is my commitment to you."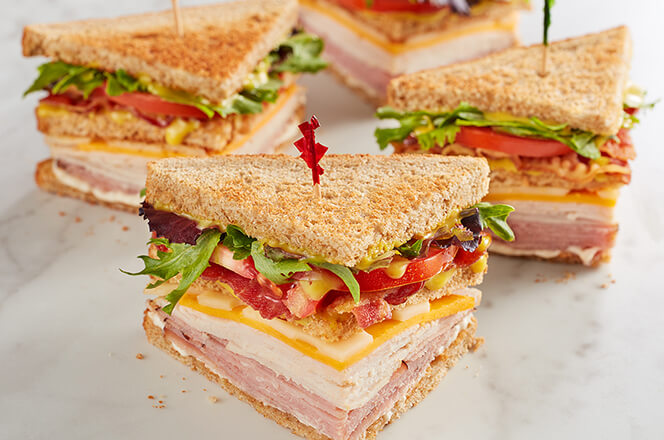 We find this is a common question used to assess a candidate's sales ability and product knowledge. The interviewer wants to see that you are passionate about the menu and can enthusiastically recommend an item.
Take a deep breath and dive right in. You might say:
"Are you in the mood for a delicious sandwich that's been fueling McAlister's customers for years? Then you have to try the McAlister's Club. This sandwich is food for the soul. Smoked turkey, Black Forest ham, crisp bacon, sharp cheddar, Swiss cheese, fresh spring mix, juicy red tomatoes, mayo, and McAlister's Honey Mustard™ – it's a flavor explosion between two pieces of our wheat bread. One bite, and your taste buds will start singing. Not only that, but it's so hearty it comes with a side of your choice. At a price that can't be beat, the McAlister's Club is the ultimate comfort food. Your hunger will be begging you to come back for more. Trust me, this sandwich will rock your world!"
What do you believe are your greatest strengths and weaknesses?
As a McAlister's Deli interview candidate, you can expect the interviewer to ask you about your strengths and weaknesses. They want to get a sense of your self-awareness and confidence.
McAlister's is looking for upbeat, hardworking individuals, so focus on qualities that would rock their world. For strengths, go with things like your magnetic positivity, a knack for solving any problem in a pinch, or superhuman ability to juggle 10 tasks at once. Don't be humble—now's the time to brag!
As for weaknesses, choose one you've acknowledged and are working to improve. Keep things light and end on a high note.
"Some of my greatest strengths are my ability to provide excellent customer service, my problem-solving skills, and my proficiency in fast-paced work environments. In my previous role as a server, I received glowing reviews from customers and managers regarding my friendly demeanor and ability to handle challenges with patience and care. However, I do struggle at times with delegating to others and sharing responsibility. I'm working to improve in this area by communicating more openly with my team and trusting in their abilities."
Change happens in a flash here. How would you handle being thrown into an unfamiliar situation while keeping our customers smiling?
This question aims to evaluate your ability to think on your feet and provide great customer service, even when faced with unexpected challenges.
When chaos strikes, how will you react? Will you panic under pressure or think fast and turn lemons into lemonade? They want to see candidates who can handle unexpected challenges with a level head and a smile. Your answer to this question could make or break your interview.
To answer successfully, you'll want to provide a specific example of a time you handled an unfamiliar situation with composure and ensured customer satisfaction.
"Let me share a story where I faced a crisis and managed to keep my cool. Last summer, I was working as a team member at a local restaurant when our dishwasher called in sick. This sudden absence turned the kitchen into a chaotic mess of dirty dishes, and our cooks were becoming frustrated. Meanwhile, our customers were starting to question why their meals were delayed.
Rather than succumbing to the chaos, I stepped into the dishwashing area and began to tackle the growing pile of dishes. Simultaneously, I was engaging with customers, explaining the situation, offering them free drinks, and trying to keep the atmosphere light with friendly conversation. By the time we regained control over the situation, our customers were not just understanding but even impressed with our service. The management too, appreciated my efforts and how I took control of the situation. I believe in providing the best service even in challenging circumstances. That's the kind of employee I aim to be."
Tell me about your secret sauce – what makes you tick and gets you excited to come to work each day?
This question allows the interviewer to get a sense of what motivates and excites you about the work at McAlister's Deli. We suggest being authentic and highlighting what fuels your passion for customer service and the restaurant industry. Share a story that showcases your enthusiasm and dedication.
With the right mindset, you'll ace this question.
"You know, what excites me most about McAlister's is being a part of something bigger than myself. I've always believed that food brings people together, and at McAlister's, I'd get to help create special moments and memories for guests every single day. There's nothing quite like seeing a regular customer walk through the door, calling them by name, and catching up like old friends. Or helping a family celebrate a birthday or graduation. Those personal connections are what it's all about for me. McAlister's mission to serve high quality, affordable food in a welcoming place just speaks to my soul. If I got this role, work wouldn't feel like work at all – it would be my passion come to life. This role would give me a chance to do what I love every single day."
Questions to Ask the Interviewer in McAlister's Deli Interview
This is the interviewer's chance to gain valuable insight into your enthusiasm and passion for the role by the types of questions you ask. Some candidates make the mistake of asking basic questions or not having any questions prepared at all. That signals a lack of genuine interest or preparation.
You want to knock this question out of the park by being ready to ask engaging and thoughtful questions that show your curiosity and excitement for potentially joining their team. Come prepared with a list of questions that demonstrate you've done your research about McAlister's and the role. Ask about aspects of the company culture, growth opportunities, the team you'd be working with, etc.
Here is a list of great questions to have ready to ask your McAlister's Deli interviewer:
What do you enjoy most about working for McAlister's Deli?
What does success in this role look like to you?
What kind of career growth is possible in this position?
How would you describe your company culture?
What is your timeline for filling this position?
Can you tell me more about your training program?
What is a typical career path for someone in this position?
How much budget responsibility would I have in this role?
Can you walk me through a typical day or week in this position?
What are some of the skills and experiences that would help someone excel in this role?
What is challenging about this role? What is rewarding about this role?
What is your biggest priority for someone coming into this position in the next 3 months?
Where did the last person in this role end up in their career?
What all does being promoted to the next level up entail?
How would you describe the working relationships within your team?
How often do team members get together outside of work?
What's your favorite product or service offered by McAlister's Deli?
Where do you think McAlister's Deli will be in 5 or 10 years? What new initiatives are on the horizon?
What is the next career step after this role?
When can I expect to hear from you about next steps in the interview process?
McAlister's Deli Hiring Process
McAlister's hiring process is very straightforward. Here's a step-by-step breakdown of what to expect in their hiring process:
Once you've submitted an application, whether online or in-person, expect a call from an assistant manager or general manager within a couple of days inviting you in for an initial interview.
This first interview with a manager, typically an assistant manager or general manager will probably only last 10 to 15 minutes. The questions are pretty basic – they'll ask about your availability, strengths, previous experience, and why you want to work there. Many people have been offered a job on the spot after this first short chat, so go in enthusiastic and convey your genuine interest in the company and role.
If a follow-up interview is needed, it will usually be with the general manager. Again, this is typically casual and brief.
The next steps, if you're hired, are completing new hire paperwork, orientation, and on-the-job training. The paperwork includes things like tax forms, direct deposit forms, and schedules. Some locations may require certain licenses or permits, which you would need to obtain.
Orientation lasts a couple of days and introduces you to McAlister's mission and values while training you for your specific position, like cashier, server, or cook.
Once orientation is done, you'll start your new job! Advancement and increased hours are primarily based on your performance and work ethic.
The hiring process at McAlister's Deli is focused on bringing in eager new staff that are ready to jump right in, so highlight your availability and willingness to learn, and you'll have a great shot at joining the team!
McAlister's Deli Interview Tips
McAlister's Deli values enthusiasm and work ethic over strict qualifications. So walk into your interview with confidence in yourself and focus on highlighting your reliability, commitment to great service, and passion for the work. Given the brief nature of their interviews, have some stories ready to share about times you exceeded expectations or won over a tricky customer. But keep answers lighthearted and casual. You want to come across as someone they'll enjoy working with daily.
What to Wear to McAlister's Deli Interview
Nailing an interview is as much about first impressions as it is about demonstrating your skills and knowledge. One crucial aspect that can be easily overlooked in the nerve-wracking hustle and bustle of interview preparation is, you guessed it, your outfit!
Now, an essential nugget of wisdom – one that's as golden as a loaf of freshly baked bread – is to tailor your interview attire to echo the company's dress code. This shows not only your awareness of the company's culture but also your adaptability and readiness to blend in. Consider it a way of visually saying, "I already belong here!"
So, what's the dress code at McAlister's Deli, you ask?
The dress code at McAlister's Deli is a company uniform that consists of a company-provided shirt, hat,  either dark khakis or dark blue jeans, and black non-slip shoes. Unconventional hair colors, jewelry, and fake nails are not permitted.
Now, on to the specific roles and what you should ideally show up wearing.
First up, we have the Team Member and Cashier roles. The keyword here is 'casual' or even 'business casual.' A neat pair of khakis or dark-colored jeans paired with a casual button-down or polo shirt would do the trick. Remember, the goal is to mirror the company's dress code, and the roles you are interviewing for are hands-on, so comfort and mobility are key.
Moving on to the Shift Leader, Assistant Manager, and General Manager roles. Here, the watchword is 'business casual.' Consider a neat pair of trousers or a skirt, combined with a blouse or a button-down shirt. A simple blazer could be an excellent addition for that extra touch of authority. You're aiming to present yourself as someone who is ready to step into a leadership role, and your outfit should reflect this.
Finally, if you're aiming for the stars with a Corporate HQ position, your outfit should convey that ambition. It's 'business formal' territory here. Think tailored suits, crisp shirts, conservative ties or elegant dresses, and polished shoes. You want to show that you can comfortably represent McAlister's Deli in a corporate setting, and a suit is the universal language of 'I mean business.'
Remember, dressing appropriately shows respect for the company and for the opportunity at hand. It's not about impressing with a flamboyant style, but showing that you understand the company culture and are ready to be a part of it.
Conclusion
You now have insight into the questions that McAlister's Deli cares most about and how to best convey your enthusiasm for the company and role. Go into your interview feeling prepared and confident, with compelling stories and examples ready to share.
However, don't stop your job search here – success is never final, and opportunities are always on the horizon. Apply to businesses like Raising Cane's, Zaxby's, or Freddy's that share McAlister's dedication to quality ingredients and customer service. Check listings from competitors like Subway, Jason's Deli, Firehouse Subs, Panera Bread, Culver's, or Dairy Queen, which also provide the comfort of delicious fast-casual fare. You never know which application might lead to new growth and advancement. Staying active in your search ensures you find the right role at the right time for your skills and ambitions.
Even if you end up with multiple interviews or job offers, that just means you'll have more options to choose from. And should things not work out with McAlister's Deli, you'll already have a head start on the next place. The key is to not stop pushing out applications until you have a job offer in hand. Keep your head high – the possibilities ahead are endless if you never stop chasing them.