25 Raising Cane's Interview Questions (Respond Like A Pro)
As you stare anxiously at the clock, counting down the hours until your interview at Raising Cane's, do you feel fully prepared? Are you ready to walk into that interview room with confidence, knowing you have thoroughly anticipated the questions that will be asked and crafted impressive answers? If the answer is no, then this blog post is for you.
In this comprehensive guide, we'll reveal the most commonly asked interview questions at Raising Cane's and provide specific examples of answers for each one. With these insights, you'll be able to go into your interview with a sense of readiness and assurance. No more worrying or wondering—you'll have the tools to shine.
Interviewing is difficult and nerve-wracking enough as it is. Don't make the common mistake of walking in unprepared. Doing your homework and practicing your answers is the best way to stand out as a top candidate and land the job you want. Use this blog post as your secret weapon and watch yourself transform into the kind of interviewee that's irresistible to hire.
Raising Cane's Company Information
Want to blow your Raising Cane's interview out of the water? Then you need to do your homework. This chicken finger giant has quite the origin story, and knowing the key milestones of how they've grown into a national phenomenon will not only impress your interviewer but will also help you speak authentically about why you're so interested in being part of their story.
Reading the facts we've laid out for you below and committing the most interesting ones to memory is worth your time – it could very well be the difference between getting an offer or getting a rejection.
So go grab a snack, get comfortable, and let's explore Raising Cane's.
| | |
| --- | --- |
| Trade Name | Raising Cane's Chicken Fingers |
| Type | Fast Food Restaurant Chain |
| Date Founded | Aug 28, 1996 |
| Founder | Todd Graves |
| Headquarters | Baton Rouge, Louisiana, United States |
| Menu | Chicken Fingers, Crinkle-Cut Fries, Coleslaw, Texas Toast, Drinks |
| Signature Items | The Box Combo, The 3 Finger Combo, The Caniac Combo |
| Number of Locations | 600+ |
| Core Values | Quality, Freshness, Teamwork, Giving Back |
| Website | www.raisingcanes.com |
| Competitors | Zaxby's, Guthrie's, KFC, Bojangles, Chick-Fil-A, PDQ |
Additional facts:
Raising Cane's is a fast-growing restaurant chain that serves chicken finger meals.
Todd Graves founded it in 1996 in Baton Rouge, Louisiana. He opened the first Raising Cane's restaurant near the entrance of Louisiana State University.
Raising Cane's is known for its high-quality chicken, hand-battered by certified "Bird Specialists" and cooked to order. There are no heat lamps in their restaurants because every meal is made fresh!
Their famous Cane's Sauce® is a secret recipe known by only a few and whipped up daily in every restaurant.
The restaurant chain offers a variety of side dishes, including crinkle-cut fries (made from Grade-A potatoes), Texas toast, coleslaw, iced tea, and lemonade.
Todd Graves faced challenges and skepticism while trying to start the business, working as a boilermaker and commercial fisherman to fund the restaurant.
Raising Cane's is named after Todd's Labrador Retriever, who also served as the inspiration for the company's mascot.
The company is actively dedicated to supporting over 30,000 local organizations and making a real impact in their communities, including during the pandemic when it kept many employees and made efforts to support healthcare workers.
Todd Graves has been featured on several TV shows, including Restaurant Recovery and Secret Millionaire.
Raising Cane's has won numerous awards for its chicken fingers, dipping sauce, and loyal fan base, known as "Caniacs."
The chain sells a line of merchandise, including apparel and accessories, on its website.
Raising Cane's Mission Statement
We serve only the most craveable chicken finger meals. It's our ONE LOVE.
Raising Cane's Interview Questions
The interviewer's goal with this question is to get a better sense of your personality and interests outside of work. As an employee at Raising Cane's, strong interpersonal skills and the ability to connect with customers and coworkers are crucial.
By understanding your hobbies and what you're passionate about in your free time, the interviewer can assess if you would be a good culture fit for the company and role.
When answering this question, be authentic but also strategic. Highlight hobbies and interests that demonstrate traits that would be valuable for the position, such as:
"Absolutely, I'd be happy to share a bit about myself. Outside of work, my main passion is volunteering with a local animal rescue organization. I find it very rewarding to help take care of rescue dogs and cats, and work on getting them adopted into forever homes.
Beyond that, I really enjoy various outdoor activities like hiking and cycling. I love being active and challenging myself physically. It's a great creative outlet and helps me relieve stress. I also really value continuous learning, so in my spare time I like to read books on business, leadership, and personal development. I think leading a balanced life with pursuits that energize me in different ways helps me bring a well-rounded perspective to work.
Overall, I'm a hard worker who is able to juggle tasks and priorities while maintaining a positive attitude. I thrive under pressure and enjoy the fast-paced challenges of the restaurant environment. I believe my passion for delivering great customer experiences and track record of teamwork would allow me to excel in this role at Raising Cane's."
By sharing relevant hobbies and connecting the skills and traits you've developed to the requirements of the role, you can make a great impression and stand out as an enthusiastic candidate.
Why do you want to work for Raising Cane's?
As a candidate interviewing with Raising Cane's, this is one of the most important questions you'll need to address. The interviewer is trying to gauge if you've done your homework on the company and see the role as more than just a job.
With an authentic and compelling answer, you can convey your passion for the brand and your fit for the position.
Some tips for answering:
Express genuine enthusiasm for Raising Cane's and its mission. Mention unique aspects of the brand and your alignment with their values.
Highlight relevant experience and skills. Explain how your background will allow you to contribute to Raising Cane's success. Refer to the job requirements to draw relevant connections.
Discuss growth opportunities. Express interest in career development and learning from industry leaders. Raising Cane's promotes from within, so convey your long-term interest.
Use an anecdote. Share a story showcasing your passion for delivering excellent customer service or working in a fast-paced environment. Keep it brief and authentic.
Here's an example answer:
"I'm thrilled at the prospect of joining the Raising Cane's team. Your commitment to quality ingredients, community involvement, and remarkable customer service is inspiring. Having led the training of new team members at my current restaurant, I'm confident I could hit the ground running training and developing crew at Raising Cane's. Long-term, I see a lot of growth opportunities to take on more responsibility and potentially management roles. The passion of Raising Cane's crew and management is clear, and I would love nothing more than to contribute to your mission of "One Love" by doing my part to provide an unparalleled restaurant experience."
If I asked your friends or previous coworkers about you, what would they say are your strengths?
By asking this question, the interviewer is trying to gain insight into your perceived strengths and how others view you as an employee. This helps them determine if you would be a good culture fit for the company and possess the qualities they are looking for.
To successfully tackle this interview question, draw upon feedback you have received from managers or colleagues about your strengths.
Some examples could be:
'My coworkers would say I'm extremely detail-oriented and dedicated to delivering high-quality work.' This shows you have the precision and work ethic required for fast-paced restaurant environments.
'My previous manager would say I'm a team player who maintains a positive attitude. I'm able to take initiative and also work collaboratively to get the job done.' This highlights your ability to work with others and uplift team morale, which is essential for customer service roles.
'My friends would say I'm friendly and outgoing with a gift for connecting with people. I genuinely enjoy engaging with and assisting others.' This conveys your strong interpersonal skills that would be useful for interacting with customers and coworkers.
In your answer, reference 1-2 relevant strengths and provide brief examples to back them up. Most importantly, be authentic and highlight strengths that are truly meaningful to you and aligned with the requirements of the role.
At Raising Cane's, personality and passion are just as important as technical skills. If you could have a superpower, what would it be?
Raising Cane's is looking for employees who will enthusiastically represent their brand and values. By asking about your superpower, the interviewer wants to understand if you have the right personality and passion for the role.
Some tips for answering:
Share a superpower that aligns with the job requirements or company brand. For a restaurant role, consider something customer service-oriented.
Explain why this superpower is important or useful for the role and company. Showcase relevant strengths and your passion for the work.
A strong answer might be:
"If I had a superpower, it would be the ability to make every customer interaction highly positive and memorable. As someone who thrives on delivering incredible customer experiences, I would use this 'superpower' to leave a lasting positive impression and have people looking forward to their next visit. For a restaurant like Raising Cane's built on providing an unparalleled experience, this type of superpower could be very impactful in creating loyal, long-term customers and promoting word-of-mouth marketing."
Customer service is the heart of our business. Can you walk me through a time you wowed a customer with your helpfulness or went the extra mile to turn their experience around?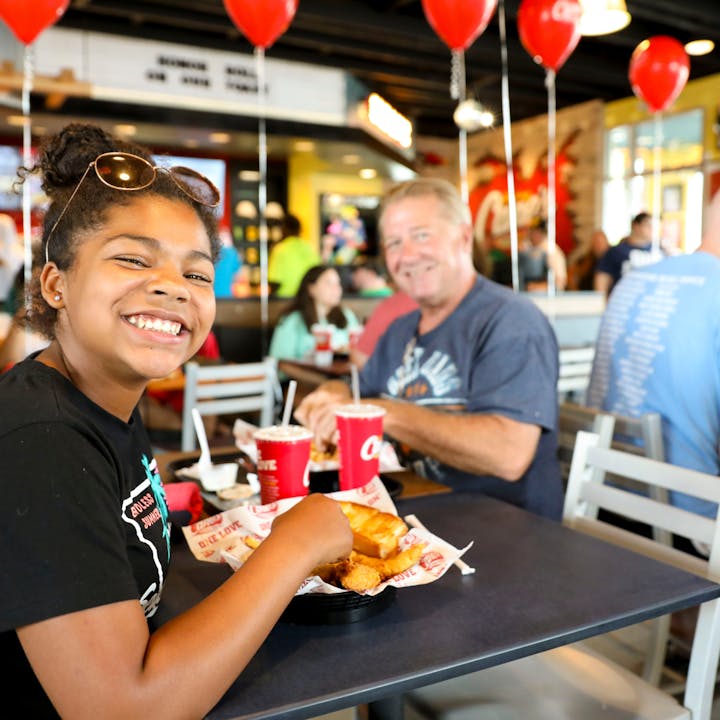 Raising Cane's lives and breathes customer service. As an interview candidate, you need to show you do too.
When the interviewer asks you this question, they want a specific example of how you delivered unparalleled service in a way that aligns with Raising Cane's values. Discuss what you did, why you did it, and the benefits to convey your passion for people and fit for their culture.
To wow the interviewer with your answer:
Explain how you went above and beyond for a customer.
Highlight your empathy, patience, and problem-solving skills.
Note the positive outcome and impact on the customer and restaurant.
Share your passion for service and doing what it takes to leave customers happy.
"In my previous job, once a customer's order had been delayed, and by the time she received it, she only had a few minutes left of her break. I could tell she was upset about potentially not having time to eat, so I rushed to remake her order as fast as possible and didn't even charge her for the second meal. She was so appreciative of how I prioritized fixing the issue promptly that she left an extremely positive review and has been a loyal customer ever since. I'm passionate about service recovery and will always go the extra mile to turn a customer's experience around."
For us, it's all about putting together the right team to deliver on our "One Love" promise to customers. How would you describe the role you typically play when collaborating with others?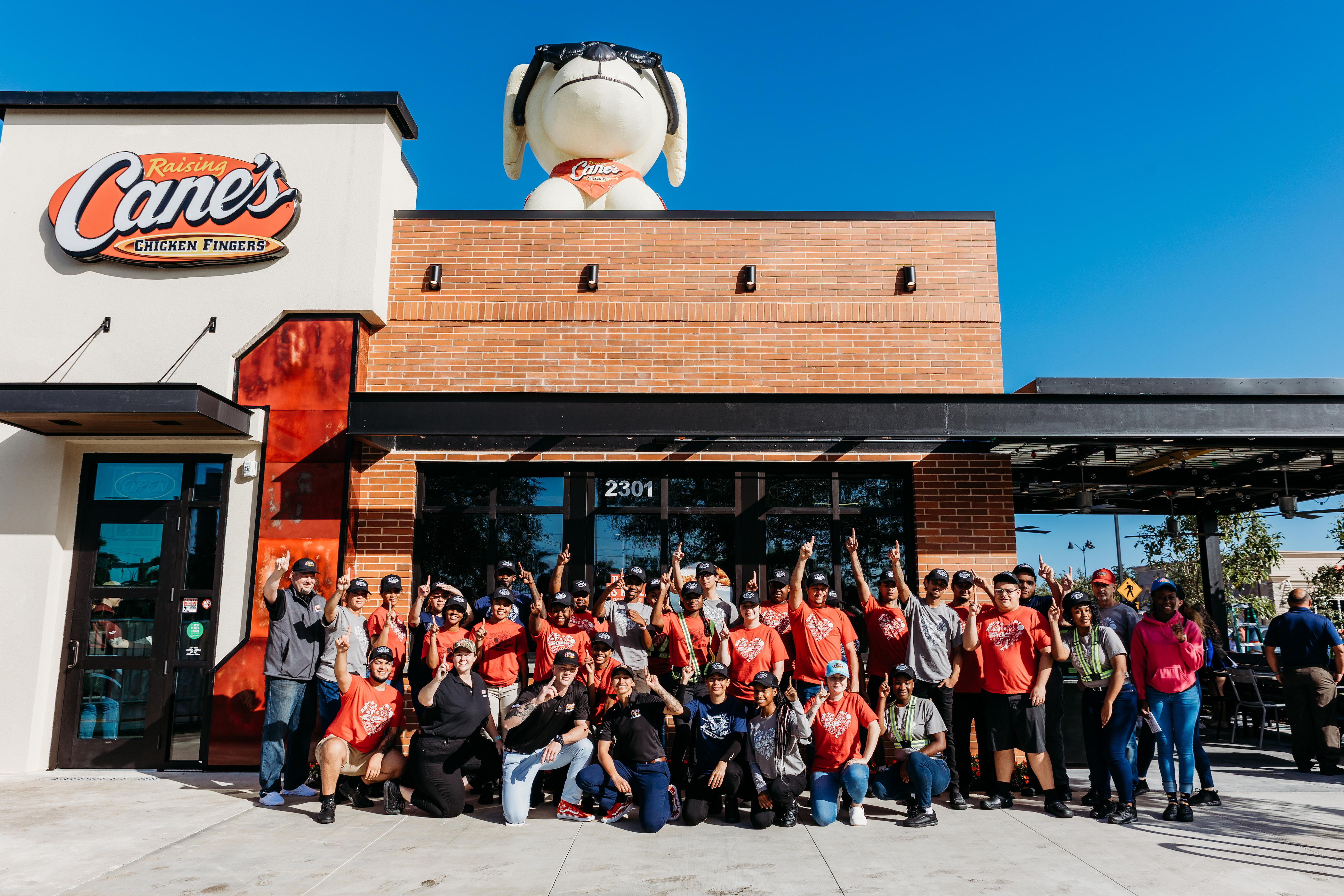 This question is the interviewer's way of evaluating your teamwork skills and understanding the value you would add to Raising Cane's as a team member. The interviewer wants to understand your preferred style of working with others, how you operate in group settings, the strengths you bring to team projects, and your approach to achieving team goals.
To compellingly respond, highlight relevant experience showcasing your ability to work well with others to meet objectives. Discuss the complementary strengths you would contribute and how you proactively ensure high quality teamwork.
For example:
"In team settings, I typically serve as a collaborative and communicative team member. I listen actively to understand varied perspectives and bring people together around a common goal. I leverage my organizational and time-management skills to create a project plan with clear deadlines and responsibilities. I also provide encouragement and recognition to keep team morale and motivation high. By focusing on open communication and harnessing our complementary strengths, I help teams work efficiently and deliver impactful results."
This answer highlights critical teamwork skills and a proactive approach to achieving team goals which would be valuable for the fast-paced, customer service-oriented environment of Raising Cane's.
How do you balance having fun on the job with high performance and a positive attitude?
As a fast-growing restaurant chain, Raising Cane's values employees who can work efficiently while uplifting team morale. This interview question is asking you to show how you can juggle these demands and be a great culture fit for the company.
To answer this question, discuss how you are able to lift team morale and enjoy the work, while still driving strong results. Highlight relevant experience showcasing your ability to boost positivity and performance. Emphasize that for you, productivity and positivity are not mutually exclusive and a vibrant, engaged team dynamic leads to the best outcomes.
For example, you could say:
"I've always been someone who feeds off a lively, collaborative atmosphere to do my best work. In my current role, I make an effort to lead team-building activities and recognition programs because I've seen firsthand how an engaged, supported team leads to higher productivity and morale. At the same time, I'm extremely organized and able to effectively prioritize to ensure all critical tasks are completed on schedule. I view having a positive attitude and strong results as complementary rather than competing, and if selected for this role, would bring that same mindset of balancing enjoyment with high performance."
Can you describe your biggest accomplishment to date, professional or personal, and the key lessons you learned from that experience?
Interview questions about your biggest accomplishments are designed to gain insight into your strengths, values, and potential for growth. The interviewer wants to understand what motivates and inspires you, how you set and achieve challenging goals, and what key lessons you learned in the process that can benefit their organization.
To persuasively address this interview question, discuss an accomplishment from your work or education experience that demonstrates skills and qualities relevant to a restaurant role, such as leadership, teamwork, problem-solving, or a strong work ethic. Explain the goal and obstacles, the action you took, and the results you achieved.
Most importantly, highlight 2-3 key lessons you learned about yourself or what it takes to succeed in a fast-paced work environment. Share how these lessons would be useful in meeting the demands and responsibilities of a Raising Cane's role.
Here is an example answer:
"My biggest accomplishment to date was completing my college degree while working full-time to support myself financially. This was an incredible challenge that required dedication, organization, and perseverance to achieve. Some of the key lessons I learned from that experience:
I can push myself outside my comfort zone and succeed. Completing my degree while juggling work and life responsibilities seemed an impossible task at first, but through systematic steps and maintaining a resilient mindset, I was able to achieve it. This taught me that we are often capable of more than we realize if we have the motivation and determination.
Effective time management and scheduling is crucial. The only way I was able to balance everything was through meticulous planning of each day, week, and semester. I learned the value of prioritizing important tasks, using calendars, and minimizing wasted time. These are skills that have served me well in my career.
Asking for help when needed is important. While I was motivated to complete things on my own, I also learned to seek help from family, friends, and professors when feeling overwhelmed. No one achieves major goals alone, and learning to build a support network and utilize it has been instrumental to my success.
Overall, this experience reinforced that with hard work, passion, and persistence I can achieve challenging goals. It has given me confidence to push myself in my career and always keep learning and growing."
Staying poised under pressure is critical for any fast-paced work environment. Raising Cane's is asking about your ability to do so with this interview question.
The interviewer wants to know if you have the composure and time-management skills to juggle multiple priorities and complete tasks on schedule even when faced with difficulties.
To make a strong impression, discuss a relevant work experience where you managed your time and tasks effectively to meet an important goal or deadline despite facing pressure. Explain the challenges you encountered and how you stayed organized and on track. Highlight applicable skills like prioritization, problem-solving, and communication. Use specific examples to strengthen your answer.
Here is an example answer:
"Yes, I have experience delivering impactful results under pressure while meeting key deadlines. For example, during a busy shift as a server at my previous restaurant job, the head chef called in sick at the last minute. As the most senior server, I had to step in to coordinate the kitchen staff to get all meals prepared and served on time. Despite the chaos, I created a revised schedule, delegated responsibilities, and closely monitored progress to ensure a smooth service with no delays or mistakes. Through clear communication and task organization, we got through the shift and met all our goals. This shows my ability to remain poised under pressure and take initiative to drive results."
What are your goals for the short term and long term? How will this position at Raising Cane's help you achieve them?
This interview question aims to understand your career aspirations and how this role fits into the bigger picture of your professional development. The interviewer wants to assess if you have thoughtful career goals, if you see this position as a step towards those goals, and if you plan to remain committed to the company long-term.
To thoroughly address this interview question, first, discuss your relevant short-term and long-term career goals. For the short-term, mention goals like gaining more experience, developing skills, and taking on more responsibility. For the long term, mention goals like career advancement or transitioning into a management role.
Then, explain how the Raising Cane's position will help you progress towards your goals, such as by allowing you to utilize and strengthen your skills, gain exposure to new areas of the business, and work with strong mentors. Highlight why the company culture and work appeal to you.
Here is an example answer:
"Short-term, my goal is to gain more experience in a fast-paced restaurant environment and develop my skills in food service operations and team management. Long-term, my goal is to advance into a management role where I can have an even greater impact on staff development and the customer experience. This position at Raising Cane's would allow me to gain the experience I need to work towards both my short-term and long-term goals. I would have the opportunity to apply my skills in a quickly growing company and take on more responsibility as I prove myself. The strong training program and emphasis on promoting from within are appealing to me. I see a lot of opportunity for growth at Raising Cane's, and I would appreciate the possibility of a long-term career here where I can contribute to the company's continued success."
How would your current or former employer describe your work ethic, attitude, and impact on their team or business?
As a fast-growing restaurant chain, Raising Cane's is focused on hiring crew members with a strong work ethic and positive attitude. This interview question is seeking insight into whether you would be a great fit for their culture and have the potential to contribute to their success.
To ace this question, reflect on your current or most recent job and how your managers and colleagues would describe your work ethic and general attitude. Think about the specific ways you went above and beyond, took initiative, and made a positive difference.
Some things to highlight could be:
Always being on time and ready to jump in where needed. For example, frequently volunteering to cover shifts or stay late to ensure tasks were complete.
Having a solution-focused attitude. For example, not complaining about problems but instead proposing solutions and taking action to resolve issues.
Building strong relationships and collaborating well with colleagues. For example, consistently helping train new team members or taking a leadership role in high-impact team projects.
Share one or two relevant and specific examples that demonstrate the work ethic and positive impact you would bring to Raising Cane's.
For instance:
"My current manager would describe my work ethic as extremely dedicated and my attitude as relentlessly positive. For example, during busy periods I frequently volunteered to work extra hours doing prep work behind the scenes so that the rest of the team could focus on the rush. I also led the rollout of a new inventory management system, which reduced waste by over 30% and saved the restaurant thousands each month. I'm looking to bring this same dedication, solution-focused mindset, and drive to achieve impact to the Raising Cane's team."
Tell me about a time you demonstrated honesty even when no one was watching. What did you learn about yourself and your values from that experience?
Working in the fast-paced restaurant industry, it can sometimes be tempting to cut corners or be dishonest when no one is watching. However, Raising Cane's is looking to hire honest, integrity-driven individuals to join their team.
This interview question is designed to assess if you have these qualities. The interviewer wants to understand your internal moral compass and see if you will do the right thing even when no one is watching or holding you accountable.
To ace this question and show why you're a great fit for their values, share a relevant story that showcases your honesty and integrity. Emphasize what this experience taught you about yourself.
For example
"There was one time when I found a wallet with a significant amount of cash in it while walking through the parking lot at my previous job. Even though no one had seen me find the wallet and I could have easily kept the cash without getting caught, I made the decision to do the right thing and return the wallet and all its contents to the owner. When I contacted the person and returned their wallet, they were extremely grateful and appreciative.
This experience reinforced for me that my own integrity and honesty are not defined by whether others are watching or would find out but by the values I hold for myself. It confirmed that doing the right thing, even when difficult or inconvenient, is its own reward. It taught me that strong values and morality are shaped by the small, everyday decisions we make, not just the big ones. Honesty and trustworthiness are values I hold deeply and will bring to this role at Raising Cane's."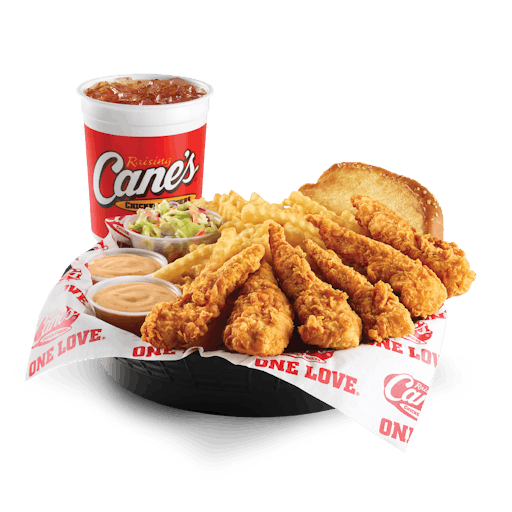 The interview question about recommending an item from Raising Cane's menu is trying to assess your product knowledge, passion for the food, and ability to persuade customers.
As a candidate, this is your opportunity to demonstrate how well you understand the menu and flavors, as well as convey genuine excitement for the food that will get customers hyped to try it.
To answer, first choose an item you personally enjoy and can speak to authentically. Explain why you find it crave-worthy, highlighting flavors and ingredients. Then, translate your passion into convincing customers by focusing on the sensory experience – describe the sight, smell, taste, and textures that make the food so delectable. Share recommendations for customizations or pairings to give a full flavor profile. Your enthusiasm and descriptive details should get customers' mouths watering, convincing them your recommendation is a must-try.
Here's an example:
"I would recommend the Caniac Combo. The bold, smoky flavors of the chicken fingers pair perfectly with the zesty Cane's sauce for an irresistible taste I keep coming back for. As you bite into the lightly breaded fingers, the juices burst with a peppery kick that's balanced by the cool, creamy coleslaw. Customers will be hooked from the first bite and the variety of flavors and textures in this combo is really what sets Raising Cane's apart. One try of this signature dish and people will be Caniacs for life!"
What challenges do you anticipate in this fast-paced, customer service-oriented role, and how would you address them?
As a fast-paced, customer service-oriented restaurant like Raising Cane's, the interviewer wants to ensure candidates understand the role's challenges and have a plan to handle them effectively.
Some key challenges to highlight for your role at Raising Cane's include:
Fast-paced environment: Orders and tasks come in quickly, requiring efficiency and organization to avoid mistakes or delays. To address, mention strategies such as creating routines, prioritizing tasks, and staying focused on one task at a time.
Customers with varying patience/attitudes: You'll interact with a range of customers, from friendly to impatient or rude. Note that you'll remain professional, courteous, and helpful regardless of customer mood. Explain de-escalation tactics you would use if a situation became tense.
Teamwork with coworkers: Effective teamwork is essential to provide quick, accurate service. Discuss how you would communicate and work with coworkers to collaborate and resolve any issues.
Here's an example answer:
"The challenges I anticipated in this fast-paced customer service role include the quick pace of orders and tasks, interacting with customers who may be impatient or rude, and working with a team under pressure. To address these, I would create efficient routines to stay organized, remain professional and courteous regardless of customer attitude, and communicate openly with coworkers to work as a team to provide the best service. For example, if the pace picked up and tasks started slipping through the cracks, I would suggest delegating specific roles and responsibilities to each team member and quickly regrouping if any issues arose. By staying solutions-focused and being prepared for common challenges, I would be able to effectively handle the demands of this role."
What keeps you pumped during the rush or on challenging days? How do you stay motivated?
This interview question is seeking to understand your drive, perseverance, and positivity in the face of demanding work or stressful situations. The interviewer wants to hire someone who will maintain a great attitude even when the going gets tough and keep pushing to get the job done.
To deliver an impressive response to this interview question, discuss what motivates or inspires you to keep going during busy or difficult periods. Mention internal motivators such as a sense of personal achievement or satisfaction from overcoming challenges. Refer to the excitement of fast-paced work, interacting with customers, and being part of a team. Explain how you stay optimistic and keep your energy and motivation up even when tired.
For example, you might say:
"Even during the busiest rushes or most demanding days, I stay motivated knowing that I'm gaining valuable experience, achieving goals, and playing an important role in providing great service to customers. I also keep a positive mindset by reminding myself that the rush will pass and we'll get through it as a team. Getting to interact with and serve so many customers and work with a fun team keeps me going."
Would you be able to handle the physical requirements of the position, such as frequently lifting and moving objects up to 50 pounds?
As a crew member at a fast-paced restaurant like Raising Cane's, you need to be physically equipped to handle the demanding nature of the work. This interview question allows the interviewer to assess if you have the physical abilities required to perform the job successfully.
When answering, be honest but highlight relevant experience or abilities. Mention any previous experience you have with physical labor or food service. Emphasize relevant strengths such as being diligent, hardworking, and able to be on your feet for long shifts. Explain that you understand the physical demands of the role and are committed to safety, efficiency, and delivering the best customer experience possible.
Here is an example answer:
"Yes, I would be able to handle the physical requirements of this position. In my previous role as a server at a busy restaurant, I was regularly lifting and carrying heavy trays of food and drinks, sometimes weighing over 30 pounds. I have always been someone who energizes from fast-paced, active work environments. I am diligent, hardworking, and able to be on my feet for long hours while staying alert and efficient. Most importantly, I am extremely safety-conscious and would make sure to lift and move objects carefully to avoid injury and deliver the best possible service to customers."
How would you rate your verbal and written communication skills?
At Raising Cane's, providing excellent customer service relies on strong communication skills. The interviewer wants to know if you have the skills to clearly and concisely convey messages to coworkers and customers.
As you answer this question, first rate your skills honestly on a scale of 1 to 10 while giving a brief explanation for your rating. Then, provide relevant examples to demonstrate your strengths.
For verbal communication, you might say you're an 8 out of 10 and give an example of defusing an angry customer complaint and finding a resolution.
For written communication, you might say you're a 7 out of 10 and explain how you were clear and concise in writing a manager report.
Be authentic but also convey confidence in your skills.
Here is an example answer:
"I would rate my verbal and written communication skills as 8 out of 10 and 7 out of 10, respectively. Verbally, I'm adept at active listening, speaking clearly and with empathy, and finding solutions. For example, in my current role, I recently spoke with an upset customer and through active listening and a calm demeanor was able to apologize, take responsibility, and offer a resolution that delighted the customer. In terms of writing, I get to the point while maintaining a professional, friendly tone. For instance, my manager consistently provides feedback that my reports are comprehensive but succinct, with a clear call to action."
Customer service is key to our success. Walk me through your approach to handling customer complaints or issues.
Ever received poor service at a restaurant and vowed never to return? Raising Cane's knows that poor customer service can seriously impact business, so they are looking for team members who understand the importance of properly handling complaints.
To nail this question, first highlight your passion for service and understanding of the customer experience. Explain you would listen to the customer carefully, show empathy, and acknowledge their frustration. Then, outline your step-by-step process, for example:
Listen actively and take notes on the issue and customer's desired resolution
Apologize and take responsibility as a company, not individually
Investigate the issue if needed and determine the root cause
Present solutions and seek customer input
Take action on a solution and follow up with the customer
Be sure to note how you would remain courteous, helpful, and solution-focused throughout the process. Mention you would alert managers if the complaint could not be resolved or might indicate a larger issue.
Here is an example answer:
"My top priority is providing excellent customer service, so I would take any complaint very seriously. I would start by listening closely to the customer and jotting down details of their issue and desired resolution. I would apologize on behalf of the company and acknowledge their disappointment. If more information was needed, I would investigate thoroughly to uncover the root cause. Then, I would present some viable solutions, ask for the customer's input, and take action on the selected solution. Throughout the process, I would maintain a helpful, courteous attitude. If the complaint could not be resolved or indicated a systemic problem, I would alert the appropriate manager. This type of systematic, caring approach has helped me win customer trust and defuse difficult situations in my previous role as a server."
With a systematic yet caring approach, you can reassure the interviewer you would keep customers happy and the business thriving.
Everyone has weaknesses. What's one of yours, and what are you doing to address it?
Don't be thrown off by this Raising Cane's interview question about your weaknesses. While revealing flaws can be uncomfortable, this inquiry is a chance to show self-awareness and proactiveness, two qualities that Raising Cane's values in candidates.
To effectively respond:
Be honest but strategic. Mention a genuine weakness that is minor and won't disqualify you as a candidate. For example, you might say you can be impatient at times or get distracted by details.
Discuss concrete actions you are taking to address the weakness. Explain the steps you are taking to overcome your weakness, such as practicing patience through deep breathing or using to-do lists to keep focused on priorities. Showing you are committed to continuous self-improvement will impress the interviewer.
For example, you might say:
"One of my weaknesses is that I can get impatient when tasks are not completed quickly. To address this, I've been practicing deep breathing and giving constructive reminders when needed. I understand speed and teamwork are important at Raising Cane's, so I'm working to improve my patience to be a better team member."
Describe a time you had to address an issue with a coworker or boss. How did you handle the situation and work towards a resolution?
This Raising Cane's interview question is seeking insight into your conflict management and communication skills. The interviewer wants to understand how you handle workplace disagreements and challenging interpersonal dynamics.
A good approach here is to be honest but diplomatic. Describe the issue with your coworker or boss in an objective, non-emotional way. Explain the impact it was having and why it needed to be addressed. Then, explain how you proactively brought up the issue constructively, focusing on the specific behaviors or actions, not personal characteristics. Show that you handled the situation professionally and with maturity.
"At my previous job as a server, I noticed a decline in my coworker Sam's productivity, affecting customer wait times and overall satisfaction. After observing Sam's work patterns, I approached them during a break for a candid conversation, highlighting their valuable contributions before discussing the decreased productivity. Keeping an open mind and non-accusatory tone, Sam revealed they were struggling with personal issues, which they were hesitant to share with the team.
We devised solutions that included Sam talking to the manager for a temporary schedule adjustment, communicating challenges more openly, and me helping with tasks when needed. After implementing these changes, Sam's performance improved, and our team grew stronger. This experience emphasized the importance of addressing issues with empathy and understanding and highlighted the value of open communication and teamwork in overcoming workplace challenges."
Can you effectively perform various roles within the restaurant, such as taking orders, processing payments, and busing tables?
As a fast-growing restaurant chain, Raising Cane's values employees who are willing and able to wear many hats. This interview question is assessing your adaptability and team-player attitude.
The interviewer wants to know that you are willing and able to jump in to help wherever needed, even if a task is outside of your standard job responsibilities.
To ace this question, you need to do more than just say 'yes'— you need to emphasize relevant experience you have that shows you thrive in a fast-paced environment and are a strong team player. Mention specific examples of times you've had to take on tasks outside of your normal role or jump in to assist colleagues. Highlight relevant skills, such as strong communication skills, ability to multitask, and persistence. Express a passion for delivering great customer service.
Here is an example answer:
"Absolutely, I have experience effectively performing various roles and pitching in wherever needed. For example, at my current restaurant job, we often get extremely busy rushes, and I've frequently had to jump on an open cash register to help process payments and get customers through the line faster. I also regularly help bus and reset tables when the dish pit gets overwhelmed. I have strong communication skills, ability to multitask, and a team-first attitude. I'm looking forward to bringing this experience to Raising Cane's and helping however I can to provide fast, friendly service."
Can you describe a time when you successfully juggled multiple, competing priorities simultaneously in a previous role?
This question is designed to gauge how you would respond to the pressures and challenges of simultaneously managing many responsibilities and demands.
The interviewer wants to understand if you can prioritize tasks, adapt to changing circumstances, and achieve goals within deadlines while dealing with various demands on your time and attention.
To strengthen your candidacy, highlight a relevant work example demonstrating key capabilities such as planning, communication, time management, and problem-solving that would be useful in a hectic restaurant environment with numerous priorities and constraints. Mention what the priorities or demands were, your approach to addressing them despite competing needs, and the successful outcomes that resulted.
Here is an example answer:
"In my current role as a server at a busy restaurant, I frequently have to juggle multiple, competing priorities. For example, during a crowded brunch shift last month, I was responsible for a 13-table section. While greeting guests, taking orders, and serving meals, two tables simultaneously requested to split checks, the kitchen fell behind leading to longer ticket times, and multiple guests needed assistance with various issues. Recognizing this chaotic situation, I swiftly reorganized my priorities: I alerted the kitchen to priority tables, delegated simple requests like drink refills to support staff, divided the time-consuming split checks among two coworkers, and calmly but promptly assisted guests with their issues. Though intense, rallying my team and effectively managing demands led to satisfied guests and successful service despite the challenges."
Do you have reliable transportation to ensure punctuality and consistent attendance at Raising Cane's?
The interviewer is asking about your transportation to determine if you will be able to arrive to your shifts on time and be present for all of your scheduled work hours. As a fast-paced restaurant, Raising Cane's values reliability and consistency, and unreliable transportation could lead to tardiness or absences which would disrupt operations.
To convey that you are a reliable candidate, prepare to give a confident and straightforward answer outlining how you will guarantee punctual attendance.
In your answer, mention the specific mode of transportation you will use to get to work, for example, your own vehicle, public transit, ride-sharing, etc. Note any relevant details that showcase the reliability of your transportation, such as minimal traffic or obstacles on your route.
Emphasize that you are committed to professionalism and accountability, and will plan ahead and give yourself ample time and/or backup options to prevent lateness. Highlight past experiences demonstrating your reliability and strong work ethic. Your answer should leave no doubt that you will be present and on time, ready to contribute, for all of your shifts.
Example Answer:
"I have my own reliable vehicle and a straightforward commute to Raising Cane's, allowing me to arrive promptly for all of my shifts. I understand punctuality and consistent attendance are essential, and I am committed to the highest levels of professionalism and accountability. In my current role, I have never been late to a shift, even through difficult weather conditions, and will apply that same diligence to ensure I am present and ready to work at Raising Cane's."
Can you provide details about your availability, including any preferences or limitations regarding days, hours, or shifts?
This interview question directly assesses your ability to meet the scheduling demands of the role.. The interviewer wants to understand if your availability matches the needs of the position and see how well you would fit within the company's existing schedule.
For a fast-paced restaurant like Raising Cane's, having a flexible schedule and being willing to work a variety of hours and shifts is extremely important.
As you answer this question, be honest but emphasize your ability to be flexible. Explain any priorities or commitments you have, such as school or family, but convey that you are willing to work around them and take on whatever hours are needed. Highlight relevant experience you have with irregular schedules or quick turnarounds.
Don't forget to express a genuine enthusiasm for the work, even if it means late nights or early mornings.
Here is an example answer:
"I understand that for a restaurant, having a team that can cover busy and off-peak hours is essential. I have completely open availability, including nights and weekends. I don't have any scheduling restrictions or limitations and am willing to work whatever shifts are required to get the job done. In my previous role as a server, I frequently had to work doubles or get called in on short notice, and I never minded. I really enjoy fast-paced, team-oriented environments, and my top priority is contributing wherever I'm needed. If hired, just let me know what the typical schedule is like and what hours you need covered. I'm there."
How flexible are you in accommodating scheduling needs, including weekends and holidays?
As a fast-growing restaurant chain, Raising Cane's requires extended hours and consistent staffing to serve customers and operate efficiently. This interview question is designed to determine if you have the necessary availability and willingness to work a non-traditional schedule to meet the business's staffing needs.
To convey your fit, emphasize your open availability and commitment to the company's success. Explain that you understand the demands of the restaurant industry and are willing to work weekends, evenings, and holidays as needed. Highlight relevant experience working a flexible schedule. Most importantly, express a genuine enthusiasm for the work schedule and note that you do not have any commitments preventing you from meeting Raising Cane's scheduling needs.
Here is an example answer:
"I understand the challenges of staffing a busy restaurant and am fully committed to being available whenever needed to support Raising Cane's operations. I have several years of experience in the food service industry, routinely working evenings, weekends, and holidays. I do not have any commitments or obligations preventing me from working a flexible schedule to accommodate the business's needs. I am eager to be part of the team and help Raising Cane's serve customers and grow. You can count on me to be there whenever I'm needed."
With a thoughtful, sincere answer and the relevant experience to back it up, you will convey your viability as a candidate who can meet Raising Cane's scheduling requirements.
Questions to Ask the Interviewer in Raising Cane's Interview
As your interview at Raising Cane's winds down, your interviewer will likely ask if you have any questions for them. This is your chance to shine and leave a lasting final impression, so prepare some insightful questions in advance.
The purpose of this is twofold: first, it allows you to clarify any remaining unknowns and ensures you are the right fit for the role and the company culture. Second, it demonstrates your interest and enthusiasm for the position. Coming in with well-researched, thoughtful questions shows your passion and preparation.
Now, here are some sample questions to have ready:
What does a typical day look like for someone in this role? Can you describe the main tasks and responsibilities involved?
How can I best prepare myself for success in this role at Raising Cane's? Are there any specific skills or experiences that I should focus on developing?
Can you tell me more about the training program and opportunities for growth within the company? How do you support the professional development of your employees?
What do you enjoy most about working for Raising Cane's, and what makes this company stand out from its competitors?
How does Raising Cane's maintain its unique company culture and values, both in the restaurant and among the team members?
What does excellence in customer service look like at Raising Cane's? What is the company's approach to delivering a great customer experience?
How does Raising Cane's engage with the local community and support its growth? Are there any volunteer opportunities or community events that employees can participate in?
Can you describe the team dynamic at this particular location? How do team members collaborate and support each other during their shifts?
What is the preferred communication style among team members and management, and how can I ensure effective communication in my role?
How does Raising Cane's handle employee feedback and suggestions for improvement? Is there a formal process in place for sharing ideas and concerns?
How do you envision the future growth and direction of Raising Cane's? Are there any exciting developments or plans on the horizon?
Raising Cane's Hiring Process
Raising Cane's hiring process typically consists of an online application, phone screening, in-person interview, and background check. The duration can vary from a few days to a couple of weeks, depending on the position.
To apply, visit Raising Cane's career website and search for open positions that match your skills and experience. You can either upload your resume via Google Drive or Dropbox, or manually fill in your information on their online application.
Once you submit your application, you can check your application status by logging into your candidate dashboard to view the positions you've applied to and their current status. Don't hesitate to reach out to the hiring manager if you have any questions about the status of your application.
If your application is selected for further consideration, you will be invited to an on-site interview. For crew member roles, the interview is casual and around 10-20 minutes. For restaurant management positions, you may need to go through multiple rounds of interviews.
Raising Cane's Interview Tips
Research common Raising Cane's interview questions and practice discussing your relevant experience, strengths, and goals. Present yourself professionally, arrive a few minutes early, and bring copies of your resume. Show genuine passion for the brand and highlight how you would be a great fit for the team.
What to Wear to Raising Cane's Interview
You've landed an interview at Raising Cane's, so congratulations! Now it's time to prepare, and a key part of preparation is determining what to wear.
One key tip is to observe the company's dress code to demonstrate you are a good fit for their culture and role. You can match the company culture by wearing attire that aligns with their dress code.
Raising Cane's enforces a dress code for all employees comprising a work shirt, a hat featuring the company logo, solid-colored pants, a belt, and non-slip work shoes. Employees with long hair must tie it back, and facial piercings, visible tattoos, and unnatural hair colors are generally permitted as long as they are not offensive.
For crew member roles like cook, cashier, or customer service representative, you can wear casual or business casual attire. For men, this could be khakis or slacks and a button-down shirt. For women, this could be slacks or a knee-length skirt and a blouse. Avoid super casual wear like jeans, t-shirts, shorts, or sneakers.
If interviewing for a supervisory or managerial role like shift manager, restaurant manager, or assistant general manager, dress in business casual. For men, wear slacks and a button-down shirt, and consider a tie or blazer. For women, wear slacks or a knee-length skirt and a blouse or cardigan. Again, avoid overly casual clothing.
For a corporate interview at the head office, dress in formal business attire. For men, this is a suit and tie, and for women, this is a pantsuit or skirt suit.
The key for all roles is to look pulled together and professional. By choosing an outfit that aligns with Raising Cane's dress code, you demonstrate that you understand their culture and are a good fit for the role and company.
Conclusion
With knowledge of Raising Cane's top interview questions and example responses, you now have the information needed to confidently tackle your upcoming interview. Preparation is key, so review the questions and answers again before your interview and practice speaking the answers out loud.
When in the interview, maintain eye contact, speak clearly and with enthusiasm, and relate your experiences to the role and company culture. If you convey a genuine passion for the work and company, as well as your relevant skills and qualifications, you'll be in great shape. Best of luck!
Even after interviewing with Raising Cane's, keep your job search momentum going by applying at other restaurants such as Chick-fil-A, KFC, Zaxby's, Church's Chicken, Popeye's, Dave's Hot Chicken, and Bojangles that may have parallel hiring needs.
The more interviews you go on, the more comfortable and confident you'll feel in the process. Keep an optimistic attitude, and the right job opportunity will come along for you. You've got this!