25 Krispy Kreme Interview Questions (& Irresistible Answers)
The anticipation builds as you step into your local Krispy Kreme, hoping this will be the day your career takes flight. You've dreamed of wearing that iconic hat and serving up sweet smiles and even sweeter glazed donuts for as long as you can remember. But first, you have to nail that interview.
Your future hangs in the balance as you walk through those doors, resume in hand and heart on your sleeve. All those years of dreaming, hoping, and longing for a chance to join the Krispy Kreme crew boil down to the next 30 minutes. Will you dazzle them with your charisma and passion for sugary treats, or will you fumble over your words and watch your dreams dissolve with each lukewarm, meandering answer?
The difference between realizing your fantasy and walking away disappointed lies in the preparation. This blog post is your guide to acing the Krispy Kreme interview and launching the career you've always wanted. The commonly asked questions that trip up even the most enthusiastic candidates have been assembled here, along with sample answers to inspire your own unique responses.
When that fateful interview day arrives, take a deep breath and smile. You've got this. You know what they're going to ask and how to knock each answer out of the park. Now get in there, turn on the charm, and show them why you belong at Krispy Kreme. Your future is glazed and ready – go get it! This is your moment to shine.
Krispy Kreme Company Information
To properly prepare for your interview and confidently answer any questions about Krispy Kreme's history or business, it's invaluable to learn some key facts.
Familiarizing yourself with the following information will equip you with the knowledge to demonstrate your passion for the company and highlight why you're such a strong candidate.
| | |
| --- | --- |
| Trade Name | Krispy Kreme |
| Type | Doughnut Chain |
| Date Founded | July 13, 1937 |
| Founders | Vernon Rudolph |
| Headquarters | Charlotte, North Carolina, United States |
| Menu | Doughnuts, Coffee & Drinks |
| Signature Items | Original Glazed Doughnut, Apple Fritter, Glazed Blueberry Cake Doughnut |
| Core Values | Happiness, Community Engagement, Quality |
| Website | www.krispykreme.com |
| Competitors | Dunkin Donuts, JCO, Tim Hortons, Shipley's, Mad Over Donuts, Duck Donuts |
Additional facts:
???????? Krispy Kreme was founded in 1937 by Vernon Rudolph, who purchased a yeast-raised doughnut recipe from a New Orleans chef and began selling in Winston-Salem, North Carolina.
???????? Located in historic Old Salem, the first Krispy Kreme store rented by Rudolph marked the beginning of a beloved doughnut legacy.
???????? Steady growth led to an ambitious expansion as a public company from 2000 to 2016, which ultimately proved unprofitable.
????️???? In 2016, Krispy Kreme returned to private ownership under JAB Holding Company, a private Luxembourg-based firm.
???????? In July 2021, Krispy Kreme became publicly traded again, making its mark on the Nasdaq.
????✨ The original doughnut recipe featured an unlikely ingredient: mashed potatoes, along with fluffed egg whites, sugar, shortening, and skim milk.
????️???? Founder Vernon Rudolph's ingenuity led him to cut a hole in the side of the first Krispy Kreme building to make a sales window, a tactic still used today.
???????? The iconic "Hot Light" sign, introduced in 1992, doesn't guarantee free doughnuts but does alert customers when fresh, warm doughnuts are available.
???????? In 2021, Krispy Kreme sweetened the deal for vaccinated customers by giving out free doughnuts to those who received their COVID-19 vaccination.
???????? The Krispy Kreme Challenge, an annual 5-mile race in Raleigh, North Carolina, requires participants to devour a dozen doughnuts at the halfway point.
???????? Krispy Kreme holds a Guinness World Record for a replica box filled with a whopping 2,700 doughnuts.
???????? International offerings include doughnut wedding cakes in the UK, showcasing the company's unique experiences and products in different countries.
???????? Krispy Kreme burgers, with doughnuts as buns, can be found at several restaurants and fair food booths across the US.
???????? Organizations raised an impressive $37 million in 2021 through Krispy Kreme fundraising, selling doughnuts at a markup to support their causes.
???????? Krispy Kreme brought Homer Simpson's favorite pink-frosted doughnut with sprinkles, the "D'ohnut," to life for fans of the iconic show.
???????? Krispy Kreme's indulgent collaboration with Twix brings you the Caramel Cookie Crunch Bar Doughnut, a doughnut stuffed with an entire candy bar!
Krispy Kreme Mission Statement
To make the most awesome doughnuts on the planet every single day.
Krispy Kreme Interview Questions
This is a common opening interview question. The interviewer wants to get to know you, assess your background, and determine if you're a good fit for the Krispy Kreme team.
When answering, focus on relevant work experience, transferable soft skills, and enthusiasm for the brand.
To illustrate,
"Thank you so much for inviting me here today. Ever since my first bite of a warm, melt-in-your-mouth Krispy Kreme donut, I've been hooked. I'm your biggest fan and regular customer, constantly raving about your treats to friends and family.
Beyond my love for the brand, I have over 5 years of experience delivering top-notch customer service. In my last role, I worked directly with customers as a cashier and team member, where I earned a reputation for my friendly attitude, patience, and ability to brighten anyone's day. I pride myself on providing an experience that leaves a smile.
I would be absolutely thrilled to bring my enthusiasm and experience to your team. Interacting with your loyal fans and creating memorable moments would be a dream job for me. I know I could hit the ground running and make an immediate contribution to your exciting, fast-paced environment.
Thank you again for your time and consideration. I look forward to speaking with you further about this opportunity."
Why do you want to work for Krispy Kreme?
The interview question is the interviewer's way of determining if your sweet tooth passion translates into drive and dedication for the company. They want energized team players who will go the extra mile to delight customers with melt-in-your-mouth doughnuts and joyful service.
To dazzle in your interview, do your homework and discover the beating heart behind the brand. Krispy Kreme isn't just selling sugary treats, they're selling moments of bliss. Speak sincerely about why their mission of "delivering joy" resonates with you, and your desire to build a career crafting those magical experiences for customers.
Show you're committed to the Krispy Kreme family, and you'll ace this question.
"Ever since I was a kid, the familiar sight of the 'Hot Doughnuts Now' sign lit up my eyes as much as it did my taste buds. Biting into my first warm, sugary treat was a sensory explosion; at that moment, Krispy Kreme secured its place in my heart forever.
As I've grown up, my admiration for your company has only increased. Krispy Kreme isn't just about the doughnuts though – it's about creating moments of joy for customers through top-notch products and excellent service.
Your company's mission to spread happiness through doughnuts inspires me. I see myself growing passionately with the Krispy Kreme family in the long run. I'll work tirelessly to craft the magical experiences for your guests that turned a childhood delight into a lifelong brand of loyalty.
There's simply no other company I'd rather build my career with than Krispy Kreme."
This question is the interviewer's secret weapon to uncover your passion for creating unforgettable customer experiences. They want to see that you live and breathe Krispy Kreme's mission of spreading sweet moments of joy.
To nail this question, share a specific story of how you went the extra mile to put a smile on a customer's face and warm their heart. A tale of how you transformed their ordinary visit into an extraordinary memory that kept them coming back for more.
In that spirit, let us reveal how you could answer:
"Once, while I was working at a local coffee shop, a customer came in complaining that her latte tasted burnt and was unsatisfactory. She was understandably upset, and the barista apologized but seemed unfazed, continuing to take other orders. I stepped in, took the woman's cup, and offered to make her a fresh latte on the house with our sincerest apologies for the poor experience. I remade the drink with extra care and chatted with the customer, taking time to ensure she was fully satisfied this time.
She left happy and now comes in regularly, always requesting her "favorite barista." Turning an annoying situation into an opportunity to delight a customer and strengthen their bond with the brand is exactly the type of experience and passion I would bring to Krispy Kreme. I believe small moments of exceptional service and empathy can make the biggest impacts."
We don't just sell doughnuts, we sell joy! How would you spread joy and delight to our guests with every interaction?
The interviewer wants to know if you have the passion and personality to spread joy at Krispy Kreme. This question is your chance to show how you would delight customers and create memorable experiences that keep them coming back for more.
Some tips: Share your genuine love of providing outstanding service. Explain how you would brighten each guest's day with an enthusiastic "Welcome to Krispy Kreme!" at the door, free samples whenever possible, and complimenting them with a smile. Discuss using guests' names and wishing them a "Wonderful day!" upon leaving to make a personal connection. Showing your enthusiasm for delivering joy will impress the interviewer.
With the right upbeat attitude, you can turn every interaction into an opportunity to delight:
"I thrive on spreading smiles and joy to guests with every visit. As each customer walks in, I would greet them with an energetic 'We've been waiting for you at Krispy Kreme!' and offer a free sample of our melt-in-your-mouth donuts. While serving guests, I would find opportunities to make personal connections by complimenting them and using their name – 'That's my favorite donut too, [name]!' or 'We're so happy you came to see us today, [name]!' When possible, I would offer additional samples to create a fun, memorable experience. As guests leave, I would say something like, 'It was wonderful to see your smiling face, [name]! Come back and bring your sweet tooth again.' I believe that with genuine passion and enthusiasm, I can make every guest's visit to Krispy Kreme a joyful highlight of their day."
If you were a doughnut, what kind would you be and why? Use your creativity and help us understand what makes you uniquely you!
This playful question is your opportunity to dazzle the interviewer with your colorful personality and thinking on your feet. The interviewer isn't just looking for any old doughnut – they want to see one that's as vibrant and memorable as the Krispy Kreme brand itself!
Our advice: choose a doughnut that reflects your personality, share the details that make you uniquely you, and show how you're the perfect culture fit for this sweet company.
Now's the time to be creative and have fun with it!
"If I were a doughnut, I'd be Strawberry Iced Glazed – sweet but full of zest! I'm not your typical choice, but my unexpected burst of flavor will delight and surprise you. Like the Strawberry Iced Glazed, I'm playful but purposeful – sure to put a smile on your face and brighten your day. Behind the sweetness is a solid work ethic, positivity, and a passion for team spirit – the hidden ingredients in every memorable Krispy Kreme experience. The Strawberry Iced Glazed doughnut is a burst of originality that remains true to tradition – just like I would bring fresh ideas and energy to the role while upholding the core values that have made Krispy Kreme a staple for generations."
Where do you see yourself growing with Krispy Kreme in the next 3-5 years?
This question is the interviewer's way of determining if you have the vision and drive to thrive at this company. They want go-getters – people who crave career progression by gaining valuable experience.
So, take a moment to envision where you aspire to be in 3-5 years. Do you dream of mentoring new crew members as a shift lead? Of mastering the art of glazing and decorating as an assistant manager? Maybe even running your own bustling store, delighting customers with melt-in-your-mouth donuts?
The opportunities for growth at Krispy Kreme are as sweet and endless as their confections. With determination, those dreams can be yours.
As for me, in 3-5 years, I see myself as an indispensable member of the Krispy Kreme family. I will have advanced from crew member to shift lead, utilizing my leadership skills to motivate teams and achieve store targets. From there, my goal is to become an assistant manager, honing operational expertise and a keen eye for quality control.
In the long run, it is my ambition to take the helm of my own Krispy Kreme store. I am passionate about this company and its mission of spreading joy through the magic of Krispy Kreme. I know that with hard work, perseverance, and my unquenchable enthusiasm for this brand, I can achieve these goals and build a long-term career of which I can be proud."
What would you say are your strengths and weaknesses?
The "strengths and weaknesses" question—every candidate's nightmare! The interviewer for Krispy Kreme is trying to see beyond your resume. They want to know the real you—your self-awareness, your growth mindset, your passion for doughnuts!
To ace this question, be authentic and frame your traits around the role and company culture. Mention strengths that would make you a star employee and weaknesses that show your desire to improve.
With that in mind, here's how you could dazzle them with your answer:
"My top strengths for this position are:
Passion for service. Nothing delights me more than knowing I've brightened a customer's day. I'll greet each guest with a warm smile and a dozen fresh-baked compliments.
Grace under pressure. I flourish in fast-paced environments where 10 dozen donuts might need to be ready in minutes. I stay upbeat when the conveyor belt is cranking at top speed.
Tech-savvy. Your fancy new cash register will be old news to me within a day. I'm constantly learning new skills to be an even better employee.
As for weaknesses, I can get so eager to please customers that I take on more tasks than I can handle. But I've learned to ask for help when I need it, so I don't drop any donuts! I'm also open to feedback on how I can improve my skills on the job."
How do you handle working under pressure during busy periods?
The scent of fresh donuts wafting through the store, a line of customers extending out the door, phones ringing off the hook – it's every Krispy Kreme employee's dream…and nightmare! The interviewer wants to know you can handle the chaos with grace under pressure.
To nail this question, show your ability to thrive in organized chaos. Explain how you stay cool as a cucumber by prioritizing tasks, rallying your team, and focusing on the rewarding reactions of happy customers.
With the right skills and mindset, those busy periods will seem like a piece of cake – or should I say, a donut!
"I work well under pressure during busy periods. When the pace picks up and there are lots of donuts to make, I take a deep breath and focus on the most important tasks first. I prioritize what needs to get done and make a quick mental checklist. If I start to feel overwhelmed, I ask my manager or co-workers for help so we can work as a team to provide the best customer experience. Staying positive and solution-focused has helped me succeed in previous roles with frequent busy periods. I look forward to the opportunity to take on more responsibility during the exciting rushes at Krispy Kreme."
Please describe your approach to working as part of a team. Do you have any examples of successful teamwork from previous jobs?
As a candidate, this question is your chance to prove you have what it takes to be a stellar team member at Krispy Kreme. The interviewer wants to know you can collaborate smoothly with coworkers, take initiative when needed, and come together to get the job done.
Some insider tips:
Highlight active listening. Say you value all input and build on others' ideas.
Discuss sharing the workload. Explain how you delegate to play to team members' strengths.
Share a success story. Pick an example of teamwork at a past job that led to awesome results. Show how you drove progress.
Focus on the big picture. Talk about compromising for the good of the team and company mission.
Be enthusiastic! Your passion will show you're someone others will love teaming with.
"In my last role, my team was tasked with creating buzz for a new product launch. We crushed it by working collaboratively.
I suggested an interactive social media contest and made prototypes for how it could look. My managers loved the idea so much they ran with it! The campaign ended up being a huge win, and we built a ton of hype.
It showed me the power of passionate teamwork. At Krispy Kreme, I'd love the chance to achieve more wins together – brainstorming with an open mind, playing to everyone's strengths, compromising when needed, and always communicating with a smile.
When you've got a group of people dedicated to the same goal, there's no limit to what you can accomplish. I hope to help prove that on your team! "
What do you know about Krispy Kreme, our brand, values, and products?
The interviewer wants to know if you'll be a great fit for the Krispy Kreme culture. This question is your chance to dazzle them with your knowledge and passion for those melt-in-your-mouth doughnuts!
Do your homework and learn everything from Krispy Kreme's humble beginnings in 1937 to their mission of spreading sugary joy worldwide. Study those Original Glazed doughnuts like your life depends on it. Come prepared to gush about why you find Krispy Kreme genuinely irresistible.
With the right prep, you'll have this question in the bag. Now, picture yourself in the interview and knock their socks off with an answer like this:
"Krispy Kreme isn't just any doughnut shop to me. They've been brightening my days since I was a kid, when my dad and I would bond over a dozen glazed on Saturday mornings. Krispy Kreme aims to touch lives through the magic of doughnuts, and they've certainly worked their magic on me!
I respect how Krispy Kreme started small but now brings bliss to millions worldwide. They value authenticity, generosity, and connecting with customers and communities. Of course, I'm crazy about their doughnuts—who couldn't be dazzled by the melt-in-your-mouth Original Glazed, chocolatey goodness of the Chocolate Iced, or the genius of Maple Bacon?
But beyond the doughnuts, I admire Krispy Kreme's optimistic spirit, philanthropy, and dedication to bringing joy to every customer. This is a brand I believe in and would be thrilled to represent. If you're looking for someone who shares your passion for creating amazing experiences and spreading smiles, look no further!"
What's your favorite Krispy Kreme doughnut and why?
This question is a slam dunk for any true doughnut devotee. The interviewer wants to see your passion for the melt-in-your-mouth rings of heaven that have brought joy to generations.
When they ask, don't hold back—share the doughnut that makes your heart sing! Describe in vivid detail why that doughnut is your everything. If your love for Krispy Kreme flows through your veins like raspberry filling, you've got this!
Now imagine…the sweet aroma of fresh doughnuts floats through the air as you walk through the doors of Krispy Kreme. Your heart flutters in anticipation. There, on the line, is the object of your deepest desires—an Original Glazed doughnut, hot and ready. You clutch it in your hands, eager to experience doughnut bliss in one bite. As you savor the light and airy texture, the richness of the glaze ignites memories of childhood. Pure joy floods your senses.
In that transcendent moment, you would proclaim:
"The Original Glazed doughnut is my soulmate. Krispy Kreme brought us together, and now every melt-in-your-mouth bite fills me with nostalgia and comfort. The buttery aroma, the sugary sheen of the glaze, the way the doughnut seems to dissolve on my tongue—it's a harmony of perfection. Each doughnut is a new chapter in our love story. My love for the Original Glazed will last forever…or at least as long as Krispy Kreme keeps making them!"
In your view, what constitutes good customer service? How would you provide that level of service at Krispy Kreme?
The interviewer wants to see if you have the passion and personality to thrive in Krispy Kreme's lively work environment. They're looking for someone who will make a memorable impression on every customer that walks through their doors.
To nail this question, do your homework and learn what makes Krispy Kreme's customer service world-famous – building real connections with customers, anticipating their needs, and spreading joy with every interaction.
Some keys to highlight are: greeting each customer with enthusiasm, taking time to chat with them, learning their favorites and preferences, maintaining a positive attitude no matter how long the line, and never letting them leave without a smile.
"For me, excellent customer service means making a new friend with every customer and brightening their day in some way. At Krispy Kreme, I would greet customers at the door like they're walking into my home, eager to hear about their morning and how I can make their visit special. While preparing their usual glazed dozen to go, I'd strike up a conversation to learn all about them, from their hobbies to their favorite type of donut. When the line stretches out the door, I'd keep spirits high with some humor and free samples for all. Before any customer leaves, I'd surprise them with an extra donut on the house. To me, each interaction is a chance to spread joy and win over another lifelong fan of Krispy Kreme. I believe it's the personal touches that take customer service from good to great."
If you had to describe the Original Glazed doughnut experience in 3 words, what would they be?
As a starry-eyed candidate, this question is your golden ticket to convey your passion for Krispy Kreme and land your dream job. The interviewer wants to see your enthusiasm for the brand and how you would bring the magical Original Glazed doughnut experience to life for customers.
With a drool-worthy description, you'll have hiring managers lining up to add you to the team.
"Sweet, soft, satisfying. These three enchanting words capture the euphoria of Krispy Kreme's iconic Original Glazed doughnut.
Nothing compares to the anticipation as you walk through Krispy Kreme's doors and smell the aroma of fresh doughnuts being glazed. Your heart races as you watch the doughnuts travel down the conveyor belt, anticipating the moment you'll get to indulge.
When that hot doughnut is finally in your hands, time stops. You take your first bite, and a burst of molten sugar glaze floods your senses. The light and airy dough melts in your mouth, blending perfectly with the glaze in a delicate dance.
Each flavor and texture is purer than the last, wrapping you in a cozy blanket of bliss with every bite. The Original Glazed doughnut evokes nostalgia, joy, and wonder. It's the definition of melt-in-your-mouth magic and the reason I dream of being part of the Krispy Kreme family. With one doughnut, Krispy Kreme delightfully delivers memories that last a lifetime.
This doughnut experience is what I aspire to recreate for customers as a member of your team. Because a day without Krispy Kreme is like a day without sunshine. And together, we can make every day a little brighter."
The interviewer isn't just asking about any run-of-the-mill disagreement. They want to know how you handle workplace conflicts in the chaos of a busy environment
Show them you've got what it takes by describing how you diplomatically resolved a sticky issue with a coworker in the past.
Some pro tips: Focus on listening to understand their perspective, finding common ground, and coming up with a sweet compromise. Let them see that you know disputes are inevitable in any fast-paced team, but with patience and positivity, any challenge can be conquered.
"Working the busy morning shift at my local diner, tensions arose with a coworker over how to prioritize orders during the breakfast rush. I wanted to serve tables chronologically, while my coworker insisted we should serve larger groups first. Instead of arguing, I suggested we take 60 seconds to breathe and proposed we hear each other out.
Turns out we both just wanted customers to have the best experience! We decided on a balanced approach, serving parties with young children or tight schedules first but otherwise chronological. My coworker appreciated me listening, I thanked them for clarifying, and we crushed that shift with a newfound team mentality. Krispy Kreme would be no different—when things get heated in the kitchen, I keep a cool head and work with my crew to whip up solutions."
How you would handle an impatient or frustrated customer to turn the interaction into a positive experience?
The interviewer wants to see that you can remain calm under pressure and resolve issues in a polite, customer-focused manner.
To ace this question, show that you understand the importance of patience, active listening, and resolving complaints.
Explain that at Krispy Kreme, the customer experience is the top priority. Focus your answer on how you would remedy the situation in a caring, professional way and leave that customer satisfied.
With the right mindset, you can turn an impatient customer into a loyal one.
"If an impatient customer started tapping their foot in my line, I'd flash a friendly smile and apologize for their wait and frustration. I'd say something like, 'I'm really sorry for the holdup today. My name is [Your Name]—what can I do to make this right?' After listening to them vent, I'd take full responsibility and say, 'You're absolutely right, and I don't blame you for feeling annoyed. Let me make it up to you.'
Maybe I'd offer them a donut on the house or a gift card for next time. The goal is to not just pacify them but really wow them. I'd continue chatting to rebuild rapport, compliment them on their choice of doughnut once they've calmed down, and thank them for giving us another chance. A little sincerity and personal connection can turn someone's day around and transform them into a customer for life. With patience, a smile, and the ability to make it right, any situation can become an opportunity."
Tell me about a time you took feedback and used it to make real changes to how you work. What did you learn, and how did it help you grow in your role?
The interviewer wants to see that you're open to feedback and willing to change.
In your answer, show how you listened, understood another perspective, and took action. Share a specific example, explain your changes, and discuss the results. Highlight key lessons and how they'll make you a star employee.
For instance,
"In my previous role at a bakery, a customer complained that I lacked product knowledge and seemed unenthusiastic. My manager reiterated this feedback and asked me to make some changes. I took this feedback to heart and asked if I could do extra product training. I also practiced smiling more and engaging with each customer. Within a week, I had a much stronger grasp of the products, and my enthusiasm was shining through. Customers started complimenting me, and my manager noted the positive improvements.
I learned that accepting feedback graciously and making a real effort to improve can lead to growth. Thanks to this experience, I absorbed an essential lesson that would make me thrive in a role at Krispy Kreme: openness to feedback plus effort and action equals progress and success."
How would you handle a situation where a coworker was not adhering to safety or sanitation standards?
Picture this:
You're elbow-deep in dough, chatting with a coworker on the line. Suddenly, you notice they aren't wearing gloves or a hairnet—major safety no-nos! What next?
Here's how you would tackle this challenge with finesse:
"If I noticed a coworker was not following proper safety or sanitation procedures, I would first speak to them privately and tactfully about the issue. I would express my specific concerns for their well-being and our customers' well-being, explain the proper procedures, and ask if there are any issues preventing them from adhering to the standards. If needed, I would retrain them on the procedures. I would then closely monitor to ensure the issues were resolved properly while continuing to offer my support. Only as a last resort would I bring the concern to a manager's attention. My goal would be to remedy the situation discreetly and proactively before the lapse could impact productivity or customer experience."
How would you communicate clearly and cordially with team members and customers despite working under pressure?
The interviewer wants to see if you can handle the heat…literally and figuratively! Krispy Kreme gets incredibly busy, especially during peak hours. They need people who can pump out dozens of sugary treats swiftly while maintaining composure and courtesy.
This question is assessing if you have the patience, focus, and communication skills to thrive under pressure and give great service.
To nail this question, show how you keep your cool in chaos. Describe how you take a deep breath, shrug off stress, and proceed to serve customers cheerfully and efficiently. Share an example of satisfying an annoyed customer during a rush. Prove you can resolve issues, turn frowns into smiles, and spread sweetness even in the most demanding of times.
For instance, you might say:
"Even when it gets extremely busy, I remain patient and focused. I take a deep breath to avoid becoming flustered, then proceed to listen actively and address our customers' needs efficiently. For example, if there are upset customers due to a long wait time, I would apologize sincerely for their experience, thank them for their patience and understanding, then reassure them that I will get their order promptly. I find that communicating in a friendly, empathetic tone helps defuse frustration and leaves people feeling heard and cared for. My goal is to resolve issues and create a positive experience for each customer, regardless of the level of activity or obstacles."
Are you willing to lift, transport, and move ingredients/equipment weighing up to 50 lbs on uneven surfaces, including stairs?
The interviewer wants to know if you're ready to get your hands dirty—literally.
Baking dozens of fresh donuts every day requires hauling hefty bags of flour and sugar, maneuvering bulky fryers and mixers, and lugging trays of delicious treats. This question is their way of figuring out if you can handle the heat…or rather, the heavy lifting.
Show them you've got the grit for this glamorous grunt work.
"Absolutely, I'm no stranger to breaking a sweat. Physical labor does not deter me, and I appreciate how integral it is to operations. As if the intoxicating smell of hot Krispy Kreme donuts wasn't enough motivation, count me in for heavy lifting and then some! I have experience lifting and moving heavy machinery in my previous roles, and safety is always my top priority."
How would you prioritize tasks during a busy shift to ensure that all doughnuts are made on schedule and that the work area remains clean?
As a candidate, this question is your chance to prove you have the skills to thrive under pressure in a fast-paced work environment like Krispy Kreme. The interviewer wants to see that you can deftly juggle multiple priorities, keep the doughnut production line moving at full speed ahead, all while maintaining an impeccably clean shop.
When that "Hot Now" sign is on, dozens of customers will stream in with a craving for melt-in-your-mouth doughnuts. It's go time! How would you orchestrate the Krispy Kreme crew to churn out a mountain of doughnuts on schedule?
With the right system and focus, this challenging situation can be handled efficiently.
"First, I would gather the production schedule to review which doughnuts need to be made and the timeline for each. Then, I would delegate tasks to my team based on each person's strengths and the priorities for the shift. For example, I would have some team members focus on preparing ingredients, mixing dough, and loading ovens while others focus on decorating and packaging finished doughnuts. I would also designate certain team members to periodically check work areas and equipment to perform quick cleans. By effectively distributing responsibilities and continually monitoring progress, we can work together as a team to accomplish all tasks on time while upholding Krispy Kreme's high standards for quality and cleanliness."
Describe a time when you had to make a difficult decision quickly. How did you handle it, and what was the outcome?
The interviewer wants to see if you have the mettle to thrive under the bright glaze of the Krispy Kreme spotlight. They want problem-solvers who can fill in the gaps faster than they fill donuts, strategic thinkers who always rise to the occasion.
When they ask about a time you made a quick decision, give them an example that proves you have the mixing bowl mindset to handle their high-heat, sugar-rushed environment. Discuss how you sized up the situation, whisked through your options, and cooked up the solution that was the best thing since sliced bread. Show how you kept your cool and remembered the top priorities: happy customers with hot donuts.
For instance,
"In my previous role at a local bakery, I had to make an urgent decision when a batch of donuts was not rising properly during baking. The temperature in the oven had dropped unexpectedly, causing the dough to become dense and greasy.
We only had minutes to decide whether to throw out the entire batch or try to salvage it with a higher oven temperature to lighten the dough. After conferring with my manager, I decided we had to act fast to avoid wasting customer orders.
We quickly preheated the oven to its maximum setting and re-loaded the donuts. Although it was touch and go, we were able to get the donuts light and fluffy just in the nick of time for the morning rush.
Making that snap decision demonstrated my ability to think on my feet, take calculated risks, and help ensure we met our freshness standards and customer expectations even in a high-pressure environment. The donuts turned out perfectly in the end."
Have you ever tried your hand at doughnut-making? If yes, what was your experience like?
The interviewer isn't just asking if you've made doughnuts—they want to see your passion for the art of doughnut-making blaze through your words. T
o nail this question, speak enthusiastically about your craving for hot, melt-in-your-mouth Krispy Kreme doughnuts and your ambition to one day master their signature recipe. Pro tip: mention your favorite doughnut and how just thinking about it makes your mouth water!
With passion, your answer will rise above the rest.
"You bet I have! As a hopeless Krispy Kreme addict, I couldn't resist trying to recreate my beloved glazed doughnuts at home. What an undertaking! My kitchen looked like a flour storm hit, but the aroma of fresh doughnuts made the mess worthwhile. While my doughnuts weren't red carpet ready, biting into my amateur attempts reignited fond memories of visiting Krispy Kreme as a kid.
More than anything, my experience proved that doughnut-making is an art form. If selected for this role, I would devote myself to perfecting that art under your guidance. I want nothing more than to learn the secrets behind your light and airy doughnuts so I can bring that joy to customers every day. There's nothing quite like a hot Krispy Kreme doughnut—trust me, just thinking about it now makes my mouth water!"
For scheduling purposes, what hours would you ideally prefer to work? Are there any constraints on your availability?
This question allows the interviewer to determine your availability and see if it aligns with the demanding hours required for the role. Share your flexibility but be honest – if evenings don't work, suggest alternatives.
For the best answer, do some research on Krispy Kreme's hours of operation to understand the time commitments and think about constraints in your own schedule. With the right approach, you can demonstrate your enthusiasm for the work hours.
When the interviewer asks, match their energy and flash a winning smile:
"The chance to start serving donuts at dawn and glazing into the night is exactly why I want to be part of the Krispy Kreme crew! I checked your hours and see you're open from 6.30 AM to 10.30 PM – perfect. I'm free all day and night, any day of the week, so I can work whatever shifts you need, especially those late nights. Nothing beats the thrill of the dinner rush or closing with the team after a long day. Other candidates may burn out, but I'm in it for the long haul. When can I start?!"
On average, how many hours are you looking to work at Krispy Kreme each week?
The interviewer isn't just making casual conversation when they ask how many hours you want to work each week. They need to know you'll show up when expected…and then some!
Flexibility and dedication – that's what they crave. Show you've got it in spades! Picture the graveyard shift, the early morning rush, the constant spin of the "Hot Now" sign. Are you hungry for the pace and chaos of it all? Then say so! Share your eagerness to do whatever it takes to craft the perfect glazed ring or brew the freshest pot of coffee.
How's this:
"The truth is, I don't care how early I have to get up or how late I stay out – I just want to be part of the action! Krispy Kreme is always on, and so am I. You need someone to work the breakfast shift? I'm there. Closing shift? Just try keeping me away. Weekends, holidays, whatever you need – consider me on call 24/7. I know this job demands long hours, late nights, and an endless supply of energy, and I couldn't be more pumped to take it all on. Whatever it takes to keep those hot doughnuts rolling, I'm in for the long haul!
On average, I would expect to work 30 to 40 hours per week, but I'm happy to work more if needed during particularly busy periods or to cover for my coworkers. My schedule is very flexible, and my top priority is contributing to a great experience for our customers and fellow crew members in any way I can."
Do you have dependable transportation to get you to your scheduled shifts on time, every time?
When asked if you have reliable transportation, this is your opportunity to prove you're dependable and dedicated. The interviewer wants to know you'll get there on time, every time, no excuses.
How to nail this question? Share your enthusiasm for the job, your access to your own vehicle, and your flexibility. Let them know punctuality and teamwork are your jam.
With that, here's an example answer:
"Absolutely, I have my reliable car gassed up and ready to go for any early morning or late night shifts you need covered. Getting customers their hot, fresh donuts on time is a priority for me. As an early riser and self-proclaimed punctuality pro, you'll never need to worry about me strolling in late with excuses. I'm committed to being a team player, and that means being present and on time, always. Driven and dedicated – that's me!"
Questions to Ask the Interviewer in Krispy Kreme Interview
As your interview comes to a close, be prepared for the interviewer to ask if you'd like further clarification or information about the role. Don't stress, as this moment provides a valuable chance for you to exhibit your genuine curiosity and excitement about the job.
Some poor responses would be: "No, I don't have any questions" or asking questions that were already covered. You want questions that spark a meaningful discussion.
Here are some insightful questions you could ask the Krispy Kreme interviewer:
What do you enjoy most about working for Krispy Kreme?
How will my performance be measured? What metrics are used?
What sets Krispy Kreme apart from other companies in the industry?
How does Krispy Kreme encourage continuous learning and growth for employees in their roles?
Can you share some examples of how the company has adapted or evolved its doughnut offerings to keep up with changing consumer preferences and trends?
How does Krispy Kreme maintain its commitment to food safety and quality while also staying innovative and creative with its products?
How do you see this role contributing to the overall success of the store and the Krispy Kreme brand?
What are some of the most significant challenges that employees in this role might face, and how does the company support them in overcoming those challenges?
Can you tell me more about the team I would be working with and the collaborative dynamic within the group?
Are there opportunities for employees to get involved in community engagement or sustainability initiatives through Krispy Kreme?
What would a typical day/week look like in this role at Krispy Kreme?
What are the key objectives and priorities for this position in the first 3 months?
What qualities do your top-performing team members share?
What opportunities are there for growth and career progression within Krispy Kreme?
What is the work culture and environment at this Krispy Kreme location?
What are the next steps in the interview process?
When will I hear back from you about the hiring decision?
Remember, the interview is a two-way conversation. Be engaged and enthusiastic, and don't hesitate to ask follow-up questions. Show the interviewer you're serious by coming prepared with thoughtful questions.
Krispy Kreme Hiring Process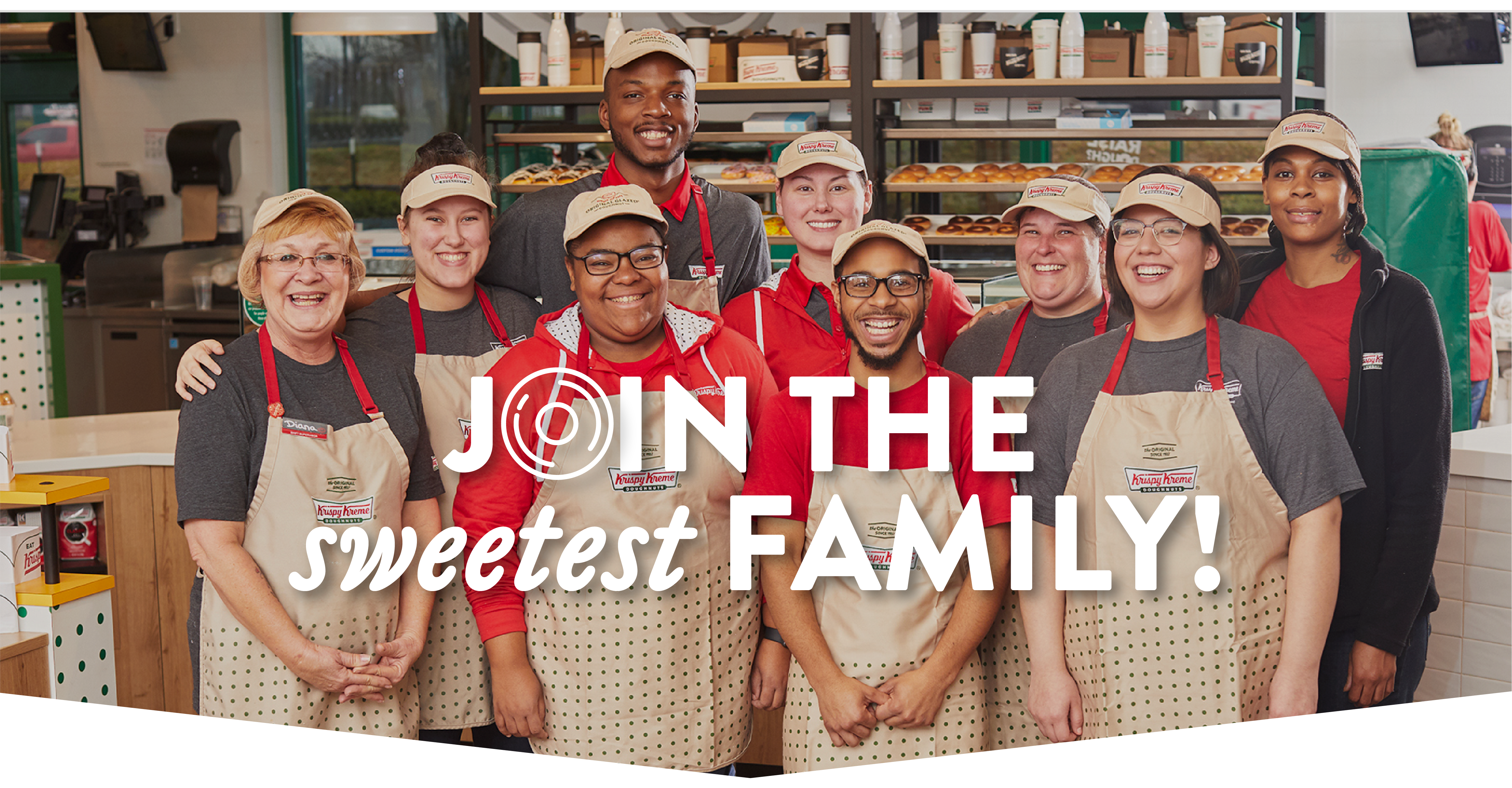 We're here to walk you through the entire Krispy Kreme hiring process so you can feel fully prepared every step of the way.
To start, submitting a stellar job application is critical. Whether you apply online or in person, make sure your application is polished and highlights why you're the perfect candidate for this role.
When your application piques their interest, expect a call from the hiring manager to chat briefly about the position, your experience, and your availability. Think of this as an appetizer before the main course – your face-to-face interview!
The real interview will be a chance for you to shine. Be ready to discuss specific stories and examples from your past that demonstrate your abilities and passion for customer service. The hiring manager wants to get a sense of how you'd approach challenges in that environment. Prepare some scenarios and be ready to problem-solve on the spot. With the right examples and enthusiasm, you'll ace this part of the process.
The background check is simply to verify the information you've provided. As long as you've been truthful throughout, this step should go smoothly.
The entire hiring process can take around two weeks from start to finish, so remain patient and in contact with your hiring manager along the way.
Krispy Kreme Interview Tips
To succeed in your Krispy Kreme interview, prepare stories of your amazing customer service experiences, be ready to speak enthusiastically about the company and brand, and maintain your professionalism.
What to Wear to Krispy Kreme Interview
Heading into your Krispy Kreme interview? You're already one step ahead just by thinking about how to dress for success. While the doughnut-making itself is surely sweet, the work is sweat, so comfort is key.
The dress code at Krispy Kreme is a company uniform that typically consists of a company-branded t-shirt, dark blue or black jeans/slacks, an apron, a hair net, visor, or hat, black socks, and all-black non-slip shoes.
For your interview, follow their lead by choosing an outfit that emulates their relaxed yet professional style. This is the perfect way to show you're a great culture fit.
For a doughnut maker, decorator, or driver role, keep it casual and comfortable. Dark wash jeans or khakis, a simple t-shirt or blouse, and sneakers you can stand in all day. You want to be ready to dive right in, roll up your sleeves and get to work.
Shift supervisors, assistant managers, and GMs have a bit more responsibility, so dress one step up in business casual. Think slacks or khakis, a button-down shirt, possibly a blazer. Dress shoes complete the look.
In the corporate office, you'll find more structure and hierarchy. For these management and executive positions, suit up in business formal attire. Skirted or pant suits for women, suits, and ties for men. Polished flats, loafers, or heels.
No matter your role, remember why you want to work for Krispy Kreme. Capture their spirit of joy, generosity, and deliciousness in the way you present yourself. You'll do great!
Walk into that interview feeling poised and polished yet eager to dive in, get your hands messy, and spread smiles. Just be your wonderfully warm and welcoming self.
Conclusion
You now have the knowledge and confidence to ace your Krispy Kreme interview. Be sure to review the interview questions and answers, think about examples from your own experience that demonstrate your relevant strengths, and go in with a positive attitude. The hiring manager will surely be impressed with your preparation and enthusiasm.
While the interview is an important first step, keep in mind that the job isn't yours yet. Continue applying to other places, networking, and looking for new opportunities. The key is persistence and resilience. Don't get discouraged if it takes time. Stay determined and keep putting one foot in front of the other.
In addition to Krispy Kreme, consider companies like Dunkin' Donuts, Cinnabon, Starbucks, Tim Hortons, Daylight Donuts, and Shipley Do-Nuts. The food and beverage industry would be lucky to have someone as diligent and eager as you.
Remember, you have so much talent and potential to offer. Keep that confidence high, continue gaining valuable experience, and the right role for you is out there waiting. Stay optimistic, and don't give up. Your time is coming, so get out there and show them what you're made of!