25 Cinnabon Interview Questions (And Indulgent Answers)
The anticipation builds as you can already imagine the sweet aroma of cinnamon buns filling the air when you enter Cinnamon. You know you only have one shot to make a great first impression and land your dream job. How prepared are you really for the challenging interview questions that lie ahead?
This blog post is your secret weapon, your key to unlocking a memorable interview experience, and confidence in your abilities. In it, you'll find the most commonly asked Cinnabon interview questions, along with suggested answers that highlight why you're the perfect candidate.
Study these questions and answers, make them your own, and wow your interviewer with thoughtful, genuine responses. You have so much talent and passion to offer, now is your time to shine!
One day you'll look back on this journey to get the job of your dreams. Give this interview your all, connect with your interviewer, and enjoy this important moment in time. You've got this!
Now take a deep breath and dive in, your future with Cinnabon awaits!
Cinnabon Company Information
To set yourself up for success in your Cinnabon interview, familiarize yourself with some key facts about the company. This knowledge will give you the confidence to handle any research-based questions that arise.
| | |
| --- | --- |
| Trade Name | Cinnabon |
| Type | Bakery Chain |
| Founded | 1985 |
| Founders | Greg Komen, Rich Komen |
| Headquarters | Sandy Springs, Georgia, United States |
| Menu | Baked Treats, Cold Drinks, Hot Drinks |
| Signature Items | MiniBon, BonBites, Center of the Roll |
| Core Values | Product Quality, Customer Satisfaction, Community Service |
| Website | www.cinnabon.com |
| Competitors | Cinnzeo, Cinnaholic, Krispy Kreme, Auntie Anne's |
Additional facts:
Founding and Early Success: Cinnabon was born from the vision of a father-son duo, opening its first bakery on December 4, 1985, in Seattle's SeaTac Mall. Their signature cinnamon roll was an immediate hit.
Growth and Global Expansion: Today, Cinnabon bakeries are found nationwide (except for Maine, Rhode Island, and Vermont) and in over 50 countries worldwide, making it a globally recognized brand.
At-Home Experience: Catering to customers' desires to enjoy their treats at home, Cinnabon also sells its products in grocery stores and offers CinnaPacks, packs of their signature cinnamon rolls.
Secrets Behind the Flavor: The unique flavor of Cinnabon's cinnamon rolls comes from the Makara Cinnamon, sourced from Indonesia's cassia trees, and the dough, perfected after numerous trials. The signature cream cheese frosting adds an additional depth of flavor.
Menu Offerings: Besides the classic cinnamon roll, Cinnabon offers a variety of baked goods, such as the Caramel PecanBon, MiniBon Roll, BonBites, and CinnaSweeties. Their beverage menu includes the Mochalatta Chill, Chillattas, Cold Brew Iced Coffees, Hot Cocoas, and Hot Coffee.
Community Commitment: Cinnabon is dedicated to community service, supporting charities like Operation Gratitude, demonstrating the brand's commitment beyond just food.
Cinnabon Mission Statement
To spread warmth – not only in our bakeries, but also in our community.
Cinnabon Interview Questions
This is one of the first questions you will likely be asked in your Cinnabon interview.
The interviewer wants to get a sense of who you are, your strengths, your career journey so far, and if you're the right fit for the role and company culture.
As you prepare your answer, don't just rattle off your resume. Really sell yourself! Share your passion for customer service and making people smile. Talk about how the smell of cinnamon rolls brightens your day. Mention that fast-paced, high-energy work environments are what you live for. Let your enthusiasm show!
As for your experience, focus on stories that demonstrate how you go above and beyond. Maybe you have a knack for handling difficult customers. Or you once noticed a coworker struggling and jumped in to help without being asked. Highlight times you made real connections with people.
Here's an example:
"Certainly, here is a quick introduction. My name is [Your Name] and I have over [X] years of experience in the food and customer service industry. I'm passionate about delivering an exceptional experience to every guest. In my current role as a [Your Title] at [Company Name], I frequently assist high-volume customers, operate quickly and efficiently under pressure, and work collaboratively with team members to overcome challenges. I'm an enthusiastic, hardworking, and dedicated individual. My goal is to leverage my skills and experience to grow with Cinnabon as a company."
Why do you want to work for Cinnabon?
This is your chance to show the interviewer you're as passionate about the brand as they are. We know Cinnabon looks for candidates who genuinely love what they do – so pour your heart out!
When it's time to answer, speak enthusiastically about why Cinnabon's company culture, values, and products resonate with you.
Look the interviewer in the eye, smile, and say:
"I've been dreaming of this moment. Cinnabon is more than a company to me – it's an experience. From the smell of cinnamon rolls baking to seeing customers light up as they take their first bite, Cinnabon is joy and delight in its purest form. I want to be a part of creating little moments of sweetness in people's days and spreading smiles wherever I go. Cinnabon's mission to spread warmth and happiness is exactly why I want to grow with this company. I love your commitment to people, team spirit, and of course, making the world's greatest cinnamon rolls! Making customers smile is what I love to do, and as a Cinnabon team member, I would get to do that every single day. To me, that sounds like the sweetest job on earth!"
What is your greatest weakness?
We know the "greatest weakness" question can seem tricky, but don't worry, with the right perspective you'll nail it in your Cinnabon interview.
The interviewer asks this to gain insight into your self-awareness and how you work to continuously improve yourself. Our best advice is: choose a weakness that you've actively worked to improve, and that won't directly impact the requirements of a Cinnabon role.
With that nailed down, here's an example answer:
"Honestly, my greatest weakness is that I'm obsessed with the details. I have a tendency to check and double check everything to make sure it's absolutely perfect. But over the years, I've learned how to channel that drive into efficiency. For instance, I now set tight deadlines for myself to avoid falling down rabbit holes. I've also gotten better at trusting my first instinct, and only circling back to triple-check the critical stuff. My attention to detail is a strength, but balancing it with productivity has been a journey. I'm getting there, though, and at the end of the day it means I can deliver an amazing Cinnabon experience for every customer, every time."
What events or experiences in your life have brought you to pursue a career with Cinnabon today?
When the hiring manager asks you this question, they want to see your passion in action.
This is your opportunity to share your love of all things Cinnabon and show how you'll spread that joy to customers every day.
Share how the smell of Cinnabon's famous cinnamon rolls is your happy place. Tell them about your lifelong love of baking and putting smiles on people's faces with sweet treats.
For you, Cinnabon isn't just a company – it's an experience you've always wanted to be part of.
"From my earliest memories, Cinnabon has always meant family, joy, and comfort. I grew up with the smell of Cinnabon filling my house on Saturday mornings as my family bonded over your famous cinnamon rolls. As I got older, I came to appreciate Cinnabon as a place where people from all walks of life can come together to indulge in a special treat. I've always loved baking and seeing the smiles on people's faces when they bite into something delicious I've made. A career at Cinnabon would allow me to share that same joy and warmth with customers every single day. I can't imagine a more rewarding career path, and I would love the opportunity to start my journey with Cinnabon today."
Do you have reliable transportation to get to and from work?
We get it, commuting can be a hassle. But for a fast-paced role at Cinnabon, showing up on time is absolutely critical. The hiring manager needs to know you have a solid plan to get there, no matter how early or late your shift is.
The key here is to assure the interviewer that you do have a consistent means of getting to work on time for all of your scheduled shifts.
"Yes, I do have reliable transportation. I have my own vehicle that I use to commute to work. I understand Cinnabon retail roles require availability for early and late shifts, and I am committed to arriving on time for all of my scheduled hours. I live within a 30 minute drive of this location, so barring any unforeseen circumstances outside of my control, you can count on me to roll up ready to serve our hungry customers with a smile…no matter the hour!"
Are you able to work efficiently under pressure while maintaining a high level of accuracy?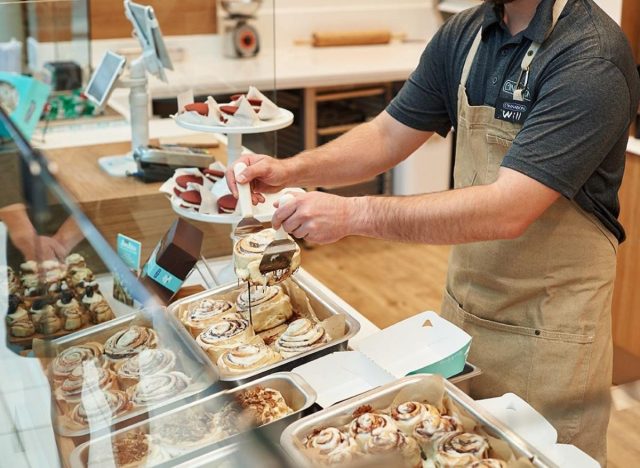 This is a common question Cinnabon asks to find team members who can handle the intensity of the bakery, and one you should be ready to answer confidently.
Between piping hot cinnamon buns fresh out of the oven, a line of eager customers, and meeting strict quality standards, a Cinnabon bakery moves faster than a roller coaster.
The key to acing this question is showing how you stay focused when it feels like everything is moving at the speed of light.
"Absolutely, high-pressure situations are where I thrive. As a barista, there were constant rushes where I had to make complicated drinks with speed and precision while keeping customers happy. I learned that staying calm is essential. I'd take a quick breath, focus on one drink at a time, double-check everything, and ask coworkers for help if I felt frazzled. My habit of moving efficiently and accurately, even when it was crazy busy, earned me amazing reviews and tips. I want to bring that same dedication to quality and customer experience to Cinnabon."
What key strengths would you bring to the Cinnabon team?
This question is a classic that the hiring manager is sure to ask. They want to get a sense of how your strengths and talents will positively impact the team and company.
After all, Cinnabon isn't for the faint of heart! They want someone who can handle the heat and hustle, all while delivering an over-the-top customer experience with a smile. If that sounds like you, you're on the right track.
Now for the million-dollar question. How will you convey to them that you're the ideal candidate?
Here is how:
"Some of the key strengths I would bring to the Cinnabon team are my passion for customer delight, ability to work efficiently in a fast-paced environment, and positivity under pressure. I live to make people smile and provide memorable experiences, whether for customers or coworkers. My upbeat attitude and enthusiasm would allow me to connect with customers, even on the busiest days. Having worked in quick-service restaurants before, I'm no stranger to thinking on my feet and adapting to the unexpected. I understand the importance of teamwork and coming together to deliver an exceptional product and experience for every single customer, no matter what. Overall, my passion for people, positivity, and ability to thrive in a dynamic work environment would make me a great fit for the Cinnabon team. I hope to have the opportunity to prove that to you!"
Here at Cinnabon, our stores can get quite busy, especially during peak hours. How do you effectively handle stress in high-pressure situations?
This question aims to assess your ability to remain calm and focused when things get busy.
The hiring manager is looking for candidates who can think on their feet, delegate effectively, and maintain high standards of customer service no matter the circumstance.
The secret to keeping a busy Cinnabon running smoothly is to stay focused, think fast, and keep smiling. So give a thoughtful, confident answer that demonstrates your relevant experience.
"Pressure? I eat pressure for breakfast. As a barista, our morning rush hour often meant a line out the door, phones ringing off the hook, and a never-ending stream of coffee and pastry orders firing at me. But I live for that kind of challenge. I'd rally my coworkers, divide and conquer to get every customer's order up, fast and perfect. Staying laser-focused, communicating constantly, and keeping a positive vibe were key. No matter how slammed we got, my goal was simple: make sure every single customer left with a smile and plans to come back. The busier and more out of control it got, the more determined I was to win. I've found the more high-octane the situation, the sharper and calmer my mind becomes. Cinnabon's fast-paced, high-volume environment sounds like the perfect place for me to thrive."
If offered a position at Cinnabon, what are you most looking forward to learning?
When the interviewer asks this question they want to see your passion for the brand shine through. They want someone who's pumped to get in there, get their hands messy with dough, and soak up all the secrets behind Cinnabon's success.
If that's you, here's how to ace this answer:
Do your research, focus on the opportunities for growth, highlight your desire to learn from experienced team members, and speak authentically about the aspects of the work you find most interesting.
Take a second to think about why you want this job so bad you can already taste the cinnamon sugar.
Then say something like:
"Everything! I can't wait to perfect the swirl on your famous cinnamon rolls and master the art of customer service. I want to learn how Cinnabon creates marketing magic and displays that make people stop in their tracks. I'm eager to learn from the best of the best how to make every guest's day. Cinnabon is all about growth, and I'm here for it – teach me new things every day so I can help take this company to the next level. There's nothing I'm not willing to learn and no role I'm not willing to take on to achieve Cinnabon's mission."
As you prepare for your Cinnabon interview, you'll want to have a thoughtful answer ready for this question about upselling. The interviewer wants to see that you can upsell effectively because you genuinely care about the customer's satisfaction.
We've got the inside scoop on how to nail this question.
First, express your passion for Cinnabon's products and your desire to provide customers with an amazing experience.
Discuss how you would take the time to get to know each customer, understand their needs, and recommend menu items tailored to their tastes.
Then provide specific examples of how you have built rapport and made personal connections with customers in previous roles.
"My approach would be to greet each customer with a warm smile, make eye contact, and start a friendly conversation to learn about their preferences. For example, if a customer mentions they have a sweet tooth, I might say something like, 'It sounds like you appreciate high-quality indulgences! In that case, have you tried our new Pecanbon cinnamon roll? The buttery pecan filling and homemade caramel drizzle are absolutely delicious.' By taking a personalized approach, I can recommend our premium products in an enthusiastic yet helpful way, without being pushy."
What do you know about Cinnabon – our brand, our products, and our company culture?
This question allows the interviewer to assess your knowledge of the company and see how you would be a great fit for their team.
We've talked to Cinnabon's hiring managers, and here's the inside scoop:
Do your research on Cinnabon's brand story, best-selling products, growth over the years, and company values.
Discuss how you connect with Cinnabon's mission to spread warmth and joy. Share what attracts you most to the company culture.
Do you dream of the smell of fresh-baked cinnamon rolls wafting through the air? Are you someone who loves bringing a smile to customers' faces and helping them indulge in life's little pleasures? If so, you're Cinnabon material!
Share how Cinnabon creates memories and brings people together over the world's most delicious snack. Discuss the company's inspiring growth from a single bakery in 1985 to over 1,200 locations today, all while staying true to its roots. Let your enthusiasm for the brand's vision show through!
When the interviewer asks, dazzle them with this:
"To me, Cinnabon is all about taking a moment to slow down, savor life's sweetness and create connections over the world's best cinnamon rolls. As someone who loves making customers smile and aims to spread positivity, Cinnabon's mission of 'sharing warmth and moments of joy' really resonates with me. The company's impressive growth is a testament to the power of focusing on customer experience and high-quality products. If given the opportunity, I would feel privileged to join the Cinnabon team in creating little indulgent 'me-time' moments and memories for guests."
How would you handle a situation where a customer expresses dissatisfaction or frustration?
This question about handling frustrated customers is common in customer service roles like this. The interviewer wants to see that you can remain calm under pressure, resolve issues efficiently, and provide great customer experiences.
As a customer service pro, you know handling frustrated customers comes with the territory, and we're about to serve you some insider tips for handling such a situation.
First, flash that winning smile. Your positive attitude will speak volumes.
Next, focus on the customer and say something genuine like "I'm really sorry you didn't have a great experience today. My top priority is making sure you leave 100% happy."
Build rapport, get the full scoop on their concerns, and take complete ownership of the solution. Stay positive and patient, never get defensive.
Once you've promised to make things right, spring into action. For example, if they got the wrong order, ask your team to whip up a fresh batch, stat!
And don't forget a coupon or treat for their trouble. Follow up to guarantee their return visit knocks their socks off.
See? With the right strategy, you'll transform any frustration into lifelong loyalty.
Here's how you might put this approach into action:
"If a customer expressed frustration, I would say something like: 'I apologize that you're having an issue today. My priority is making sure you leave happy.' I would listen closely to their concerns, take responsibility for the situation, and assure them I will make things right. Once I understand the problem fully, I would get to work resolving it right away. For example, if their order was made incorrectly, I'd ask our team to prepare it again fresh and also provide a coupon for their next visit. Afterward, I'd follow up to make sure their next experience exceeds expectations. My goal is turning every customer interaction into a positive one."
How many hours would you ideally like to contribute to our team each week?
This question is their way of seeing how all-in you are for the job. So take a deep breath and tell them you're ready to go whole cinnamon roll – ideally 30-40 hours a week or more!
Why so many hours, you ask? Simple. You joined the fan club the first time you smelled a Cinnabon from a mile away at the mall. You live to share the delicious joy of a warm cinnamon roll with as many smiling customers as humanly possible.
The more hours you work, the more rolls you'll get to share – and the faster you'll achieve that coveted "Employee of the Month" recognition!
Unleash your enthusiasm with something like this:
"Ideally, I would love to contribute a full 40 hours or more per week to spreading Cinnabon cheer. I understand store hours can vary, and I want you to know I'm flexible and open to working weekends, evenings, holidays, and everything in between – just point me to the buns and consider them frosted! I'm passionate about providing an unparalleled guest experience, just like Cinnabon is known for. The more I can work, the more opportunities I'll have to achieve my life's mission of delivering world-class customer service and a slice of happiness to everyone who walks through that door."
What is your availability to work different shifts? Do you have any commitments that could impact your availability for different shifts, evenings, or weekends?
Many Cinnabon interviewers will ask about your availability to determine if you will be able to work the necessary shifts, especially evenings, weekends, and holidays.
As we know from experience, Cinnabon stores typically have longer hours and are open every day of the week. The interviewer wants to make sure you understand the demands of the role and have the flexibility in your schedule to meet them.
When they ask about your availability, they're really trying to determine if you have the flexibility and endurance to handle the long, irregular hours that come with the territory.
To stand out in your interview, be upfront and honest about your current commitments.
"I'm available and eager to take on any and all shifts you need covered. My schedule is wide open, and I have no commitments that would prevent me from working evenings, overnights, weekends or holidays. I want you to know that I understand what it takes to work at Cinnabon and keep our customers happy no matter the hour. You can count on me to go the extra mile, pick up shifts without complaint, and make sure our store is fully staffed and ready to serve up those delicious cinnamon rolls!"
How would you describe yourself as a team member? Give an example of how you have worked effectively within a team.
Teamwork is the heart of Cinnabon's culture so the interviewer will be looking to gain insight into your ability to collaborate with others and work effectively as part of a team.
Be authentic and highlight how you build rapport, communicate openly, and support your teammates. Share an example that showcases your adaptability and willingness to step up when needed.
For example, you might say:
"I would describe myself as a collaborative and supportive team member. For example, when I worked as a crew member at a local restaurant, one busy Friday night we were understaffed and struggling to keep up with orders. I volunteered to take on additional responsibilities and help wherever needed, from taking orders and payments to assisting in the kitchen. By working together as a cohesive team, staying positive, and picking each other up, we were able to rise to the challenge and serve all our customers in a timely manner. I believe that kind of teamwork and willingness to go the extra mile is key to success in a fast-paced work environment like Cinnabon."
Can you provide an example of a time you overcame a significant challenge or obstacle in your work?
The hiring manager is going to grill you on how you handle difficulties, so be ready for this classic question.
We know Cinnabon wants go-getters who can stay determined to solve problems. To win them over, share a story of how you faced a work crisis head-on and came out on top.
Something like this:
"One weekend, the bakery I worked at was blindsided by a huge catering order on top of our usual mad rush. We were seriously understaffed. I knew if we botched this, we'd damage our reputation and upset a ton of customers. Not on my watch! I volunteered to work overtime and took charge to get all hands on deck. I reorganized our entire work flow, delegated tasks to maximize efficiency, and we pulled together as a team. Exhausting? Yes, but seeing the look of delight on customers' faces and knowing I helped save the day made the extra effort worth it. Crisis averted, and we came out smelling like roses!"
What personal or professional achievement are you most proud of?
As you prepare for your Cinnabon interview, you should be ready to answer behavioral questions that assess your key achievements. This question allows them to understand what motivates you.
When the interviewer asks about your proudest achievement, share a story that shows your motivation and potential. We recommend focusing on an accomplishment that proves you have the dedication and skills to thrive on the team.
With the right story, you'll be one step closer to joining the Cinnabon team.
"Hands down, increasing customer satisfaction scores by over 25% as a bakery customer service rep in just 6 months. I made genuine connections with our regulars, asked how I could serve them better, and created a rewards program to make them feel special. The program skyrocketed engagement, and it was incredibly fulfilling to get feedback like 'You've made my day!' This achievement demonstrates my passion for delivering an amazing customer experience through creativity and hard work. I'd love the opportunity to bring that same dedication to delighting Cinnabon customers."
In your view, is the customer always right?
This question aims to assess your customer service philosophy and see if it aligns with Cinnabon's values. As a candidate, it's important you demonstrate that you appreciate the customer's perspective while also supporting company policy.
Our advice? Pull from your own experience and give a specific example of how you've gone above and beyond for a customer. Speak energetically about your passion for customer service.
For example, you could say:
"I believe the customer's experience is a top priority. At the same time, company policy is in place to ensure fairness and consistency. As an employee, my goal would be to listen to each customer, understand their concerns, and resolve issues to the best of my ability within company guidelines."
What does exceptional customer service mean to you? What would you be willing to do to go above and beyond for our guests?
Exceptional service is the lifeblood of Cinnabon. As an employee, your goal will be to spread warmth and joy with every guest interaction.
But how will you make people feel special?
Think of examples that showcase your passion for exceeding expectations. Maybe you'll offer enthusiastic menu recommendations, replace an unsatisfactory order on the spot, or hand out coupons to brighten someone's day.
Focus on the human moments – a smile, a kind word, a sincere connection – that turn a quick stop for cinnamon buns into an experience.
When the interviewer poses that fateful question, take a breath and say something like this:
"Exceptional service means creating a welcoming place where guests feel valued. It's my mission to surprise and delight each customer with personalized attention. For instance, if I notice someone can't decide between two options, I'll describe each in mouthwatering detail to help them discover their new favorite treat. And if there's ever an issue, my goal is to make things right as quickly and courteously as possible. I want customers walking away not just satisfied, but eager to return."
What are some of your hobbies and interests outside of work?
Questions like these are designed to gain insight into your personality and see if you're a good culture fit for the Cinnabon brand.
Cinnabon wants to hire candidates who are passionate, hardworking, and dedicated to excellence—both in and outside the workplace.
"Outside of work, I really enjoy baking and coming up with new recipes to share with friends and family. Baking has always been a creative outlet for me, and I love seeing people's reactions when they try something I've made for the first time. I also try to stay active by going for walks around my neighborhood, usually with an audiobook to keep things interesting. Both baking and reading are passions of mine that provide a nice balance to the demands of my work schedule."

The hiring manager will grill you to see if you've got what it takes to spread Cinnabon joy. This is a question they're sure to ask to gauge your genuine enthusiasm for Cinnabon's offerings.
Your answer will reveal how closely you connect with the Cinnabon customer experience and whether you're well-suited to represent and promote their menu offerings.
Here's how to dish up an answer they'll eat right up:
Focus on describing your #1 must-have menu item you genuinely enjoy, your authentic enthusiasm will shine through.
Mention specific attributes – flavors, aroma, ingredients – that excite you. You might discuss the memories and traditions associated with your favorite treat.
And of course express how much you love sharing that experience with customers.
"Without a doubt, Cinnabon's Classic Cinnamon Roll is my personal heaven on earth. The moment you walk into a Cinnabon bakery, the smell of fresh cinnamon rolls baking fills the air. There's nothing quite like that aroma. The Classic Roll is the perfect blend of doughy sweetness, brown sugar, Makara cinnamon, and of course, the legendary cream cheese frosting. Biting into a warm Cinnabon roll is like tasting childhood memories. As an employee, I would love to share that experience and create lasting memories for customers."
How would you greet a new guest walking into Cinnabon?
The hiring manager is eager to find someone who can make every guest feel like royalty. When they ask this question, they want to see your customer service superpowers in action.
Take a deep breath and imagine you're already behind the counter, surrounded by the intoxicating smell of warm cinnamon rolls. A new guest walks in the door, and it's your moment to shine!
"Good morning/afternoon! Welcome to Cinnabon. My name is [your name]. It's great to have you here today. The smell of our freshly baked cinnamon rolls is absolutely amazing, isn't it? Can I start your experience off right by offering you a free sample of our new Pecanbon or Cinnabon bubble tea? We want all of our guests to feel at home and enjoy a little treat. Please let me know if there's anything else I can help you with. I'm here to ensure you have an absolutely delicious experience!"
What do the terms 'guest' and 'customer' mean to you? How are they different in your view?
The interviewer will ask you this question to assess your customer service orientation and how you view Cinnabon's guests.
We want to set you up for success, so we tapped our network of Cinnabon hiring managers to get the secrets for a showstopping answer.
Explain that to you, a 'guest' is someone who comes to Cinnabon for an experience, not just a product. You aim to provide guests with a welcoming atmosphere, high-quality food, and friendly service that exceeds their expectations.
A 'customer,' on the other hand, has more of a transactional relationship, simply purchasing a good or service. At Cinnabon, you believe creating an enjoyable experience for each guest is the top priority.
To summarize, focus on the experiential, relationship-building aspect of serving Cinnabon 'guests' versus the transactional exchange with 'customers.'
Here's an answer that will bowl them over:
"To me, Cinnabon's guests come for more than just our famous cinnamon rolls and coffee – they come for an enjoyable experience. As an employee, my goal would be providing each guest with a welcoming atmosphere, high-quality product, and service that exceeds their expectations. A customer, on the other hand, is primarily focused on purchasing a particular good or service. Cinnabon stands apart by creating a destination where guests feel valued through personal connections and by delivering an outstanding experience on each visit."
If a child came up to you at the counter with all the change in their pocket but was still 50 cents short of the total, how would you handle that situation?
As seasoned hiring managers, we've seen candidates freeze up when asked how they'd handle a child who comes up just short of being able to pay. But you're different – you came prepared!
This question is less about the money and more about your ability to think fast and deliver a solution that creates an unforgettable experience. The interviewer is looking for compassion, quick thinking, and a solution that enhances the customer experience.
The best way to answer this question is with a thoughtful response that highlights your ability to provide great customer service, even in difficult situations.
When the interviewer poses this scenario, flash them a warm smile – you've got this!
"I would smile warmly at the child and say, 'Aww don't worry, sweetie, today's treat is on me!' I'd exclaim with a kind smile, paying the remaining 50 cents from my own tips. 'Cinnamon rolls always taste better when they're a surprise! Why don't we make yours extra fun with extra frosting and sprinkles.' The child's eyes would light up as they enjoyed their special treat. Customer experience is what Cinnabon's all about, especially for a child. 50 cents to make their day? That's a priceless investment in creating lifelong memories and brand loyalty. I live to make customers smile!"
When the interviewer asks about disagreeing with a coworker over a customer issue, they want to see you can stay cool as a cucumber, think critically on your feet, and work as a team.
To answer this question well, you'll need to think of a specific situation with a dissatisfied customer that caused a disagreement between you and a coworker.
"There was an instance when a customer complained that her order was incorrect and demanded a refund. My coworker was ready to apologize and refund her immediately, but I suggested we should first verify the order. I told my coworker that we should stay calm and understand the customer's perspective, then I courteously asked the customer for her receipt to confirm her order. After reviewing the order, it became clear that there hadn't been any mistake. I apologized for the misunderstanding and expressed our commitment to customer satisfaction. To compensate for any inconvenience, I offered her a complimentary cup of coffee for her next visit, which she appreciated. After the situation, my coworker and I reflected on the incident. We concluded that remaining composed, empathetic, and fact-checking carefully before acting are crucial elements of handling such situations."
Questions to Ask the Interviewer in Cinnabon Interview
Towards the close of your Cinnabon interview, it's likely that the interviewer will ask if you have any questions, and for good reason. The interviewer wants to gauge your curiosity and see how well-prepared you are.
The key is asking open-ended questions that spark discussion and demonstrate your passion for the company and your desire to excel in the role, not just simple logistical questions.
You want the interviewer walking away thinking, "This candidate really gets it. They're going to be an amazing addition to the team."
Here is a list of insightful questions you could ask your Cinnabon interviewer:
What do you enjoy most about working for Cinnabon?
What does a typical day look like for someone in this position?
How do you measure guest satisfaction at Cinnabon?
Could you provide examples of how Cinnabon's values are upheld in day-to-day operations?
What strategies do you implement for inventory management to control costs while ensuring product quality and freshness?
Could you describe your expectations for the leadership component of this role?
What type of training programs are in place for the new products? How often are new products introduced?
How does Cinnabon approach team development? What kind of support will I have for my own growth in this role?
What steps does the company take to maintain a clean, attractive work environment and ensure food safety?
How do you balance the need for speed with maintaining the high quality of the products?
How does the organization handle situations when an employee's performance is not up to the mark? Could you explain your approach to performance management and employee relations?
How would you describe the company culture?
What are the values you want to see in team members?
What does success look like in this role in the first 3-6 months?
What are some of the biggest challenges someone in this position would face?
What is your leadership style? What kind of team member works well with your approach?
What attracted you to Cinnabon? What has kept you motivated to stay with the company?
What does career progression look like for this role?
Who are the key people I would work with closely in this role? What are their roles?
What are the next steps in the interview process?
Cinnabon Hiring Process
As a candidate, knowing the hiring process at Cinnabon is helpful so you can feel fully prepared to land the role.
You'll start by submitting an application either online or in-person with your resume. Managers review applications closely, assessing candidates' qualifications, experience, and availability to determine who will move on to the interview stage.
If selected for an interview, you'll meet with a manager or supervisor for 10-15 minutes. Be ready to discuss your relevant experience, strengths, work ethic, and schedule availability. Some locations may conduct a second group interview, especially for leadership roles.
Within 1-3 days, you'll know if you'll receive an offer. Offers can even be made on the spot if Cinnabon has an urgent hiring need.
The onboarding process moves fast. If offered the role, you'll complete 4 hours of orientation and training.
You'll also fill out important paperwork like tax forms, work contracts, schedules, and review company policies. Some locations require additional certifications before your first shift.
New hires then undergo a probationary period, ranging from several weeks to around 3 months, where their performance is evaluated to ensure they're the perfect fit before becoming a long-term member of the team.
Cinnabon Interview Tips
To ace your Cinnabon interview, share a warm smile, enthusiastic attitude, and sincere passion for creating a great customer experience. Focus on highlighting how you can jump right in, take ownership of any role needed, and spread positivity to co-workers and customers alike. Stress your ability to learn new skills quickly. Keep things light and sweet, ask good questions, and convey your genuine desire to become part of the Cinnabon family.
What to Wear to Cinnabon Interview
One crucial aspect of interviewing that's often overlooked is dressing for the part. No matter how well you answer questions or connect with the hiring manager, first impressions can significantly influence how they perceive you. But don't fret! We're here to guide you.
Remember, when deciding on what to wear, it's always a good strategy to mirror the company's dress code. By doing this, you're subtly communicating that you already belong, that you're a perfect fit for the company culture.
The dress code at Cinnabon is a company uniform comprising a Cinnabon shirt, visor, apron, dark, non-ripped jeans or pants, and non-slip shoes. While tattoos and piercings may be permitted at some locations, generally, facial piercings are not allowed, and visible tattoos should be covered while on duty.
Now, let's tailor your outfit to the role you're eyeing:
Team Member, Cashier – Stepping into these roles, a casual or business casual dress code will be your best bet. Think smart dark jeans paired with a nice blouse or shirt. A nice, clean pair of shoes (avoiding sneakers or open-toe shoes) will finish off your look nicely.
Assistant Manager, General Manager – As for management positions, business casual should be your minimum standard. You can't go wrong with a pair of tailored pants or a modest skirt, paired with a crisp, well-pressed shirt or blouse. And a pair of well-polished shoes is the cherry on top of your outfit.
Corporate Office positions – Now, if you're interviewing for a role at the corporate office, business formal is the name of the game. Suits, whether skirt or pants-based, are ideal. Dress shoes are a must.
Dressing appropriately for your Cinnabon interview not only shows respect for the company and when you look the part, you'll feel the part too, allowing you to shine during your interview.
Conclusion
You now have the inside scoop on the most common interview questions posed by Cinnabon recruiters and how to craft strong, thoughtful responses to each one. Armed with this knowledge, you'll walk into your interview confident and ready to showcase why you're the perfect candidate for the role.
However, don't stop your job search efforts just because you have an upcoming interview. Many companies similar to Cinnabon would value your experience and skill set. For example, places like Auntie Anne's, Krispy Kreme, Dunkin' Donuts, Tim Hortons, and Starbucks are all popular, customer-focused franchises constantly on the hunt for talented individuals like yourself.
While you keep your sights set on the Cinnabon role, staying active in your job search will ensure you land in the right place for you, whether it's flipping crullers today or blending frappes tomorrow. Persistence and an unwillingness to settle will serve you well in your career.
Now, go nail the Cinnabon interview with your charisma and passion. You've got this! With preparation and perseverance, your dream job is within reach.