25 Tim Hortons Interview Questions (And Winning Answers)
You've landed an interview with Tim Hortons – congratulations! Now the nerves start to kick in as you think about the questions you may face. How do you prepare yourself to wow the interviewer and land your dream job? This blog post is here to help.
In the coming minutes, you will gain invaluable insight into the minds of Tim Hortons' interviewers and discover the key questions they are most likely to ask. More importantly, you'll find thoughtful example answers to each question, infused with advice to help showcase your passion and talents.
An interview with Tim Hortons is your chance to prove you have what it takes to join their team. Do not squander this opportunity – preparation is key. Pour through each question and sample answer carefully to understand not just what to expect but how to connect your experience and personality with Tim Hortons' values. An hour of your time now could shape the next chapter of your career.
When the questions come, you'll be able to respond with confidence. Your authentic and enthusiastic answers, polished by practice, will spark the beginning of a meaningful conversation. The interviewer will see your genuine motivation to become part of the Tim Hortons family.
Landing a job at Tim Hortons starts here – or rather, starts now, as you take the first step on your journey to interview success. Keep reading to discover the inner workings of the interview process at Tim Hortons, and walk into your interview ready to show why you're the perfect fit. The job – and a whole host of new opportunities – awaits!
Tim Hortons Company Information
Familiarizing yourself with Tim Hortons' history and mission will serve you well in your interview. Review the key facts below to build your confidence in handling any questions about the company and to show your enthusiasm for this opportunity.
| | |
| --- | --- |
| Trade Name | Tim Hortons |
| Type | Quick Service Restaurant Chain |
| Date Founded | May 17, 1964 |
| Founders | Tim Horton, Jim Charade |
| Headquarters | Toronto, Ontario, Canada |
| Menu | Breakfast, Hot & Cold Specialty Beverages, Sandwiches, Wraps, Donuts, Soups |
| Signature Items | Original Blend Coffee, Double-Double Coffee, Timbits, Iced Capps |
| Core Values | Community, Quality, Authenticity, Canadian Pride, Guest-Centric, Philanthropy |
| Website | www.timhortons.com |
| Competitors | Dunkin', Starbucks, Krispy Kreme, JCO |
Additional facts:
The Humble Origins: Tim Hortons started out as a small restaurant called Tim Horton Donuts, co-founded by hockey player Tim Horton and businessman Jim Charade. Originally, they only sold two kinds of donuts and coffee for just 10 cents a cup.
Coffee's Unexpected Journey: Contrary to popular belief, the majority of Tim Hortons' coffee isn't Canadian. The coffee beans are roasted, packaged, and shipped from a plant in Rochester, New York.
Roll Up The Rim Strategy: The chances of winning the Roll Up The Rim competition vary based on geography, not population. You're more likely to win if you live in British Columbia, Ontario, or any of the Atlantic Provinces.
Debunking Coffee Myths: Despite urban legends suggesting otherwise, there are no additives in Tim Hortons coffee to make it more addictive. The company has assured that such claims are entirely false.
Iconic Language: The term "double-double," referring to a coffee with two creams and two sugars, is so synonymous with Tim Hortons that it was included in the Canadian Oxford Dictionary in 2004.
Ownership Odyssey: In 1995, Wendy's bought Tim Hortons for $580 million, making the quintessentially Canadian company American-owned for a while. However, in 2014, Wendy's sold Tim Hortons to Toronto-based Restaurant Brands.
Cultural Impact: Tim Hortons has significantly impacted Canadian culture, with one location for every 9,000 Canadians as of 2016. They also contributed to the popularity of the donut among immigrants who saw it as a part of their new homeland's identity.
Struggles: Despite its cultural status, Tim Hortons has faced significant challenges, including slipping sales and rankings, conflicts with franchisees, and controversial responses to minimum wage increases.
Founder's Legacy: After the tragic death of co-founder Tim Horton, his images were removed from the restaurants due to the circumstances surrounding his passing.
Franchisee Frictions: Tim Hortons has been involved in major legal disputes with its franchisees, leading to an $850 million class action lawsuit in 2017.
Controversial Wage Policies: The company faced backlash when franchisees responded to a minimum wage increase by cutting employee benefits, causing infighting and damage to the brand's image.
The Missing Apostrophe: The famous lack of an apostrophe in "Tim Hortons" is due to a French-Canadian law requiring signs and advertising to be in French, which doesn't use apostrophes. To maintain uniformity, the apostrophe was dropped everywhere.
Free Coffee for Law Enforcement: Tim Hortons has a policy of offering free coffee to law enforcement, which led to a controversial lawsuit in 2006 involving former employees.
The Priestley Donut: After a mention on "How I Met Your Mother", Tim Hortons created a limited-edition donut called "The Priestley", featuring a Timbit inside a strawberry vanilla donut.
Poppy Donut Controversy: In 2017, a Calgary Tim Hortons faced backlash for creating a donut based on the Remembrance Day poppy symbol. The chain later donated all sales from the donut to the Royal Canadian Legion.
Secret Menu: Tim Hortons has an unofficial 'secret menu', which includes creative customizations like warmed-up donuts, sandwiches made with croissants, and the option to replace regular milk with chocolate milk in any coffee.
Chicken Patron: A chicken in New Brunswick crosses a busy street daily to pick up crumbs at a local Tim Hortons, proving the irresistible pull of the chain's offerings.
Tim Hortons Interview Questions
Can you briefly tell me about yourself, your background, interests, and relevant experience?
The hiring manager at Tim Hortons asks this question to get a sense of your personality, work experience, and enthusiasm for the role. They're looking for friendly, hardworking individuals who care about providing great customer service.
So how can you show that you're the right fit? Be authentic and share your enthusiasm for the work. Highlight relevant skills, like hurriedly crafting a perfectly foamy cappuccino during a morning rush. And give me a glimpse into your interests outside of work—whether you're an aspiring latte artist, an avid coffee connoisseur, or just someone who loves putting a smile on a customer's face.
Here is an example of a strong response:
"I'm an upbeat people person passionate about delivering great customer service. I've spent the last couple of years honing my craft as a barista at my local coffee shop, where I've mastered the ability to quickly connect with customers and fulfill their orders with a smile—even during the busiest of mornings.
When I'm not serving up fresh cups of coffee, you can find me practicing new designs for my latte art or researching the latest trends in specialty brews. I'm always searching for ways to expand my knowledge and skills to better serve the customer.
My goal is to bring my enthusiasm and experience to a company like Tim Hortons. I know that, together, we can deliver an unparalleled experience for each and every customer."
What are your interests and hobbies outside of work? How do you like to spend your free time?
The interviewer is always trying to find candidates with passion and personality. When they ask about your interests outside of work, they want to see what really lights you up! The key is to be authentic and share activities that give a glimpse into your character.
Polish up an authentic answer showcasing what motivates and inspires you. A little personality goes a long way in an interview, so be ready to win over your interviewer and show why you'd be an invaluable addition to the Tim Hortons squad.
For instance,
"On the weekends, you'll find me chasing adventure – whether that's mountain biking on a new trail, trying the latest craft brew with friends, or hosting movie marathons. I'm always dragging my pals out for fun. We love games nights too, bonding over board games, cards or a competitive match of Mario Kart.
Staying active in my community is important to me. I volunteer to coach youth soccer in the spring and play on a recreational volleyball league. Team sports are a chance to mentor others and flex my leadership skills in a relaxed way.
Life moves fast, so I unwind by experiencing the simple pleasures – a sunny patio brunch, strolling through the farmer's market, puttering in my garden. I'd love to bring that balanced yet enthusiastic spirit to the Tim Hortons crew!"
Why do you want to work for Tim Hortons?
This question is not just assessing if you've done your company research. The interviewer wants to see true passion – someone who shares their dedication to community, values excellence in customer service, and loves the fast-paced rhythm of the coffee shop world.
When answering, be authentic and help them visualize how you'd be the perfect fit.
For example:
"Ever since I was a kid, Tim Hortons has been part of my daily routine. I've always been impressed by your commitment to giving back and creating a welcoming space for customers from all walks of life. Now, the opportunity to be part of that mission and values that shaped me? It's a dream come true.
I thrive under pressure, love putting a smile on someone's face, and believe that community starts with one act of kindness at a time. As a Tim Hortons employee, I would make sure each customer leaves happier than when they came in. I want this job because I know – without a doubt – that I could help strengthen the foundation that's made you Canada's favorite coffee shop for over 50 years."
Tim Hortons' hiring managers look for candidates with flexibility and positivity in spades. When chaos erupts in their busy stores, they need crew members who can roll with the punches and keep customers smiling.
So when they ask about adapting to change, they want to see that you have these must-have qualities. Share a time when you had to switch gears at work ASAP while keeping your cool. Explain the situation, challenges, actions, and results—and show how you focused on solutions, not problems. A great answer will prove you can thrive under pressure and be an ideal teammate during morning rushes.
For instance, say something like this:
"There was one shift where we were understaffed and had an unexpected rush of customers. Our team had to act fast to keep up with the long lineups while providing good service. I volunteered to take on extra tasks like running the drive-thru, cash, and making coffees simultaneously. It was stressful keeping up with the constant demands, but I kept a smile on my face and maintained a courteous tone with every customer. My team and I worked together to get through the rush. After the crowd dispersed, my manager thanked us for going above and beyond. It showed me that staying adaptable and positive in difficult situations leads to the best results."
How would you go above and beyond to create a warm and welcoming experience for everyone who walks through our doors?
Tim Hortons needs team members who understand that they are not just serving coffee – they are fueling connections, powering communities, and spreading warmth faster than a freshly baked donut disappears!
When the hiring manager asks how you'd create an exceptional experience for each guest, they want to see that spark in your eye as you describe going above and beyond. They want to know you'll make every visit personal, anticipating needs before they arise and cementing lifelong loyalties with each new smile.
Picture this…
"To create an exceptionally welcoming experience, I would enthusiastically greet every customer with a smile, make eye contact, and cheerfully ask how I can personally assist them today. As I prepare their order, I would strike up a genuine conversation, paying careful attention to any details that might make their visit more enjoyable. For example, if a regular customer usually orders a large double-double, I would have their coffee ready for them as they approach the counter. These small personal touches, combined with a positive attitude, help transform a quick stop for coffee into a pleasant part of someone's daily routine."
How would you contribute to the team dynamic at our restaurant? Do you have any examples of how you supported your team members in a past job or role?
Teamwork is the heartbeat of Tim Hortons restaurants. When they ask this question, the interviewer wants to see that you understand the importance of teamwork in a fast-paced work environment like Tim Hortons.
Some insider tips: Focus on being a team player, show that you value open communication, and share a specific example of how you've supported team members in the past.
With this in mind,
"I thrive on building camaraderie with my co-workers and fostering an environment where we all feel motivated to achieve our goals together. For instance, in my previous role as a barista, there was tension between two co-workers that was threatening our team morale. I could sense the strain in their interactions and made it my mission to get to the bottom of it. I arranged a sit-down with each of them privately, and in a caring and compassionate way, got them to open up about their differences.
When they realized they shared more in common than not, it was like watching a light bulb go off. They mended their working relationship, learned to value each other's perspectives, and became a dynamic duo. Our entire team benefited from their renewed partnership and collaboration.
I'd bring that same servant leadership to Tim Hortons, working hard behind the scenes to strengthen how we all connect and build each other up. There's no 'I' in 'team' after all!"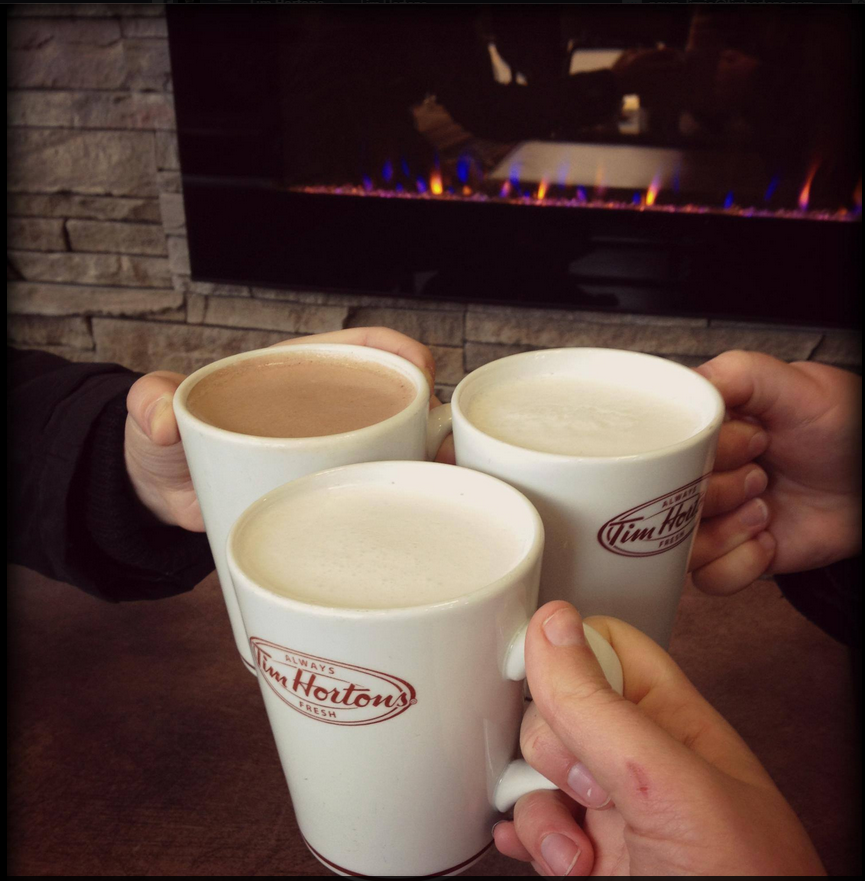 The Tim Hortons hiring manager will ask about your favorite menu item for good reason. They want passionate candidates who know our products inside and out.
Our advice? Do your homework and choose an item you genuinely crave – your enthusiasm will shine through like the sun peeking through on a crisp winter morning.
Don't just say you like the coffee – dazzle them with details. Mention the rich aroma, the fresh grind of the beans, and how the familiar red cup warms your hands. Descriptions like these will leave no doubt you're a true Tims devotee ready to spread the joy one double-double at a time!
With that in mind,
"My heart races at the mere thought of Tim Hortons' White Hot Chocolate. One sip of its velvety blend of steamed milk and white chocolate decadence is enough to transport me to my happy place.
The flavors cling to my tongue as I pick out notes of vanilla and maybe a hint of cinnamon. Like a warm hug in a mug, it's my comfort and solace on a frigid day.
Discriminating taste buds may scoff at its simplicity, but true fans understand. The White Hot Chocolate is a study in balance – not too sweet, not too rich, but simply perfection.
This ambrosia in a cup has fueled me through many a study session and soothed away troubles for as long as I can remember. A constant in a world of chaos, it's no wonder this drink holds a special place in my heart – and always will."
Tell me about a time you went out of your way to support a co-worker. What did you do, and what was the outcome?
At Tim Hortons, teamwork and supporting your coworkers are crucial. So when the interviewer asks this question, they are looking for candidates with empathy, initiative, and a genuine desire to help others succeed.
Our advice? Share a specific story showcasing how you proactively assisted a colleague facing a challenge. Discuss the actions you took, the impact on your coworker, and how it influenced your team dynamic. A strong answer will demonstrate your ability to improve work conditions and boost morale.
For example:
"It was an unexpectedly busy morning at the drive-thru, and my coworker Jenny was drowning in orders. I could see the panic in her eyes as the lineup grew longer and longer. Before she had to ask, I swooped in to help however I could—whipping up coffees, passing bags of food to customers, and cracking jokes to ease her stress.
Together, Jenny and I crushed that shift. After the chaos died down, she turned to me with gratitude written all over her face. 'I couldn't have done that without you,' she said. I just smiled and replied, 'That's what teammates are for.'
This experience showed my manager I could step up in high-pressure situations and support my coworkers to provide the best experience for our customers. But more importantly, it strengthened the bond of trust between Jenny and myself—and there's nothing quite like having a partner in crime by your side on those busy mornings!"
Where do you see yourself in 3-5 years? How will working at Tim Hortons help you achieve your goals?
The hiring managers at Tim Hortons are always on the lookout for ambitious candidates with a thirst for growth. They want to see that you've envisioned a future at Timmy's and have thought seriously about how it can help launch your career.
The best way to win the interviewer over? Lay out a clear yet realistic career plan that proves your drive and passion for the work. Throw in some specifics to show you've done your homework about their opportunities. And, of course, express genuine enthusiasm – they want people who bleed coffee and care as much as we do about building community one cup at a time!
For example, a strong answer might be:
"In the next few years, I see myself taking on new challenges at Tim Hortons, such as becoming a shift supervisor and, eventually, a store manager. I want to master the art of serving up the perfect double-double, learn the ins and outs of running a shop, and work closely with customers and staff to create that signature Timmys experience we're all so proud of.
This job is a chance for me to really grow into a leadership role, strengthen my people skills, and build a long-term career with a company that feels like family. I've always admired Tim Hortons' commitment to its employees and communities. To me, this isn't just another coffee shop gig – it's an opportunity to pursue my passion, gain valuable experience, and become part of the Timmys team for the long run. I can't wait to get started – just give me an apron and point me to the coffee maker!"
Tell me about a time you worked in a team to turn a challenging situation into a winning moment. What role did you play in supporting the team?
Let us clue you in on a secret: teamwork questions are the bread and butter of Tim Hortons' interview process. They want to determine if you have the ability to work with others during difficult situations.
This question is your chance to dazzle the interviewer with a story of how you saved the day through the power of teamwork. Focus on a specific instance where you and your team overcame towering odds, and explain how you provided key support to lead them to triumph and ended up with a success story for the ages. With the right mindset and a little prep, you'll knock this question out of the park!
Picture this scene:
"There was a time during the morning rush when several of my coworkers called in sick, leaving the rest of the team short-staffed and overwhelmed. Rather than panic, I saw it as an opportunity to step up as a leader. I rallied the remaining team members, reorganized workstations to maximize efficiency, and jumped in to help wherever needed. We worked together to get through the rush, with everyone flexing into different roles. By coming together as a team, staying solution-focused, and supporting each other, we were able to turn what could have been a challenging situation into a winning moment. I was proud to play a role in motivating my team and facilitating collaboration that allowed us to rise to the occasion."
Can you describe a time you had a conflict with a colleague and how you addressed it in a constructive manner?
Conflict resolution is one of the most important skills hiring managers look for in candidates.
When they ask about a time you disagreed with a colleague, they want to see how you handled it. Did you stay professional? Did you work together constructively to find a solution? Or did tensions escalate into a full-blown argument?
The best answers show that you can put egos aside, collaborate, and come up with a plan that makes the team and customers happier. So, take a deep breath and think of an example like this:
"One evening, my coworker and I butted heads over how to organize the sandwich station. I thought grouping ingredients by type made sense, while he wanted to arrange everything alphabetically. Instead of locking horns, we talked it over to understand each other's views. Turns out, we both wanted the same thing: to best serve our customers.
We decided to experiment with different layouts, evaluate pros and cons, and get customer feedback to find an optimal solution. Within a week, we introduced a new flow that was easier to navigate and reduced wait times. Best of all, we discovered that communicating openly and being willing to compromise were the keys to overcoming our conflict."
If faced with a difficult or frustrated guest, how would you handle the situation to turn their frown upside down?
This question is asked to determine if you have the customer service skills and composure to handle difficult situations. Staying cool in a crisis and turning complainers into regulars—that's what they're looking for.
Our advice is to give a thoughtful, genuine response that showcases your ability to stay calm under pressure and turn frustration into a positive experience.
With that in mind,
"If faced with a frustrated or upset guest, I would first remain calm and politely apologize for their negative experience. I would then listen closely to them to fully understand the situation, and respond with empathy and sincerity. Once I understand their concerns, I would do everything within my power as a team member to make things right in a timely manner. For example, I may offer a refund or replacement, a coupon for their next visit, or additional items to make their experience a positive one. My ultimate goal would be to leave the guest with a smile, ensuring their frustration has been resolved and they leave with a favorable view of the business and staff. By staying composed, taking ownership of the issue, and doing what it takes to turn a frown upside down, you can transform a problematic situation into an opportunity to provide outstanding customer service."
How would you maintain high energy, focus, and a positive attitude to deliver a great guest experience under pressure?
Tim Hortons hiring managers seek out candidates with a thirst for delivering wow-worthy guest experiences, especially under pressure. They want upbeat, unflappable individuals who can juggle multiple tasks at once while flashing a warm smile.
So when they ask how you'd maintain high energy and a positive attitude during a rush, they want to see your passion for service shine through.
Our advice? Share your commitment to brightening each customer's day, no matter how long the lineup. For example, you might say:
"I would maintain a positive attitude by remembering why I want this job – to serve guests and make their day brighter. When the rush comes, I take a deep breath and concentrate on one task at a time. For example, if I'm taking orders, I give each guest my full attention, make eye contact, smile, and listen actively. Once the order is complete, I immediately move on to preparing the next one. By staying organized, focused, and adopting a positive mindset, I'm able to keep energy levels high and handle busyness with a calm, friendly demeanor. My goal is to make every interaction as pleasant as possible for the guest, no matter how busy it gets.
The thrill of the burst is what I live for—being able to make someone's day a little brighter through fast, friendly service. And with each rush, I get faster, sharper, and more poised. For me, there is no such thing as too busy when it comes to delighting our guests. That positive energy and determination to provide an amazing experience is what I'll bring to Tim Hortons every single day."
Tell me about the best feedback you've ever gotten from a manager or coworker. How did it inspire you to step up your game?
This question is asked to assess your ability to learn from experience and continuously improve. To nail this question, think of constructive criticism you received that motivated you to strengthen an important skill.
When recalling meaningful feedback, be authentic and show the interviewer how you grew from it. Admit your flaws openly, discuss the specific changes you made, and share any results or praise you received as a result.
The feedback that truly transforms us is rarely easy to hear, but it can change the trajectory of our careers if we let it. Use your example to demonstrate that you will accept criticism with an open mind at Tim Horton's and work continuously to strengthen your skills.
With that in mind, here is an example response:
"The best feedback I ever received was from my supervisor at my first job. He told me I had a tendency to move on to the next task quickly without confirming I understood the instructions fully. His feedback made me realize that to provide the best customer service, I needed to slow down, ask clarifying questions, and ensure I grasped each step before moving on. I started implementing this approach immediately by re-reading instructions, taking notes, and asking my supervisor follow up questions. Over time, this extra attention to detail allowed me to work much more efficiently and confidently. My supervisor took notice of my improvement and started giving me more responsibility. His feedback was a pivotal moment that shaped my approach to work and commitment to continuous learning."
This question aims to determine if you have the warmth, friendliness, and ability to make meaningful connections with customers that are essential for success in this role.
The hiring manager is looking for candidates with more than just a friendly smile – they want team members who are passionate about transforming a hurried coffee stop into a warm, memorable experience for each and every guest.
Our advice is to think of your own special story, focus on the human connection, speak from the heart, and convey your genuine enthusiasm for making guests' days. If you can convey your genuine love of people in your answer, you'll rise to the top of the pile.
To illustrate,
"One busy morning, I noticed an elderly regular customer, Mrs. Thompson, struggling to find a seat in our crowded restaurant. I approached her with a smile and said, "Please, allow me – I've saved you your usual spot over there." As I guided Mrs. Thompson to her seat, she squeezed my arm and said, "You're an angel. Small kindnesses like this are what keep me coming back." Seeing the appreciation and relief on Mrs. Thompson's face filled me with joy. It was a simple gesture, but creating that small moment of warmth and connection is exactly why I love helping others.
Moments like these fill me with purpose. People don't remember how fast you served their coffee – they remember how you made them feel. When asked why I love my job, I think of guests like her. And I know that at the end of the day, we have the immense power to lift someone's spirits just by the way we welcome them in and send them back out the door. That is why I'm so passionate about this work and why I know I would be a great fit for your team."
How would you define great customer service? Can you provide an example from your own experience?
As a Tim Hortons candidate, you'll want to brew up a fresh perspective on customer service for your interview. The interviewer is looking to see if you've got what it takes to spread smiles faster than they spread cream cheese. So take a deep breath, pour yourself a virtual coffee, and read on.
To answer successfully, think about Tim Hortons' friendly atmosphere, highlight your ability to anticipate customer needs, and share an example of when you went above and beyond for a customer.
"For me, great customer service means creating a warm and welcoming environment where customers feel valued and cared for. This means greeting every customer with a smile, efficiently preparing their order, and ensuring their experience exceeds their expectations.
Like the time I noticed a regular's usual pep in her step was more of a trudge. Turned out it was her birthday, but her coworkers had left her high and dry. Faster than you could say "Boston cream," I rallied the staff to make her a treat on the house. We brought her a birthday card, a fresh cup of her usual, and sang "Happy Birthday" at the top of our lungs right in the middle of morning rush!
When she left, it was with a grin a mile wide and tears of joy in her eyes. Creating moments like that? Now that's the type of outstanding service I'm frothing to provide at Tim Hortons.
So in my book, great customer service means always going the extra mile to make each guest's day. At Tim Hortons, I'd do whatever it takes to spread a little more warmth, kindness, and joy with each interaction. Hopefully, with me on the team, the only tears your customers will be crying are tears of happiness!"
How would you describe your communication skills?
Communication skills are essential to success at Tim Hortons. They hire friendly, outgoing individuals who can keep customers happy and the team working together like a well-oiled machine.
When asked about your communication skills, don't just list generic terms like "friendly" or "courteous." Show how these skills will benefit Tim Hortons. Share a story that illustrates your ability to connect with customers and coworkers.
With a lively example and the right mindset, you'll dazzle the interviewer!
"I would describe my communication skills as friendly, courteous, and effective. In my previous role as a cashier, I had to communicate clearly with customers to understand their needs and ensure they had a great experience. For example, I often came across frustrated customers and used my communication skills to listen to their concerns, understand the root cause of the issue, apologize, and resolve the situation to their satisfaction. My managers and coworkers could also rely on me to keep the lines of communication open and work together as a team to achieve our goals during busy periods. Strong communication is key to providing amazing customer service and an efficient work environment, which I'm eager to bring to the Tim Hortons team."
What would you say is one of your key strengths that would benefit you in this role?
The interviewer wants to determine if you have the key traits that would make you a great fit for Tim Hortons' fast-paced, customer-centric work environment.
So, our hot tip for you: come armed with examples showing your ability to juggle many tasks at once, solve problems in a flash, spread positivity like wildfire, and chat up customers with ease.
With that, here's how you could answer:
"One of my superpowers that'd make me a perfect fit here is my knack for moving at warp speed without breaking a sweat. In my waitressing days, I got so good at anticipating what customers needed that I had their orders ready before they even asked! Say the coffee queue started spilling out the door. I'd dive right in, getting those cups filled and served in a flash while keeping a smile on my face the whole time. No grumpy customers on my watch! I thrive under pressure and love the rush of a bustling shop. My can-do attitude and efficiency mean I can get to everyone in record time, even during the morning madness. That's the kind of positivity and problem-solving skill I'd bring to Tim Hortons every single day."
What interests you most and least about this role?
The hiring manager is looking to get a sense of your motivation and enthusiasm for the role when they ask this question. They want to see that you've done your research about what the job entails day-to-day and that you have a realistic understanding of both the benefits and potential downsides of the work.
The truth is, this job isn't always pretty. The morning crew starts when most people are still snug in their beds, punching out lattes and baking donuts by the dozen. You'll have frustrating customers, long shifts on your feet, and early mornings that feel far too early. But for the right person, the rewards make it all worth it. Every day you'll get to connect with new people, work with an awesome team, and take pride in crafting Canada's favorite coffee and treats.
The bottom line? Do your homework, be transparent about challenges, and convey unbridled enthusiasm. Show me that you've got the motivation to thrive in this role for the long haul. Come in with a spitfire attitude, stellar customer service skills, and a dedication to crafting the best darn coffee in the country.
Here's what a compelling answer might look like:
"What interests me most about this role is providing great customer experiences and being part of the heartbeat of the morning rush. I thrive under pressure and love the challenge of juggling multiple responsibilities at once while maintaining high energy and a positive attitude. On the other hand, the early morning hours would definitely take some adjustment. I'm not going to lie and say I leap out of bed at 4 am! But I understand that being available during peak hours is key to this role, and it's a sacrifice I'm willing to make to be part of such an iconic Canadian brand. At the end of the day, the opportunity to build relationships with regulars, work with an amazing team, and take pride in everything I produce makes any difficulties worthwhile."
If a customer spilled their coffee, how would you handle that situation? What steps would you take?
When the interviewer asks this question, they're not just looking for the standard "stay calm, apologize, and clean up the mess." They want to see that you have the fire in your belly to go above and beyond for customers. That you have the passion and imagination to transform a frustrated regular into a customer for life.
The key is to treat the spill like an opportunity, not a problem. Move fast, but don't make the customer feel rushed. Ask if they're okay first, then whip out a winning smile and take control of the situation. While you swiftly mop up the spill, bond with the customer and brighten their day with some friendly banter. Let them know we value their patronage and that little hiccups like this happen all the time.
Here's how you could handle it:
"If a customer spilled their coffee, I would immediately apologize and ask if they were okay. I would offer them napkins to help clean up the mess. I would also ask my co-worker to bring more napkins. My top priority would be replacing the spilled caffeinated beverage as quickly as possible, offering the customer a complimentary replacement coffee. As the customer waited for the replacement coffee, I would assure them that spills happen and we all understand. My goal would be to make them as comfortable as possible, clean up efficiently but politely avoid disturbing those around them. Once the new coffee was ready, I would deliver it promptly with a smile, apologizing again for their inconvenience. By remaining focused on service recovery and the customer's experience, I would aim to turn their frustration into a positive interaction and have them leaving with a fresh cup of coffee and a pleasant experience despite the hiccup. The key is staying proactive, not reactive."
What would you say is your biggest weakness?
The interviewer wants to see if you're self-aware enough to acknowledge your own flaws and mature enough to be actively working on them.
So don't claim you're "too dedicated" or "a perfectionist." They'll see right through that! Instead, choose a real but minor weakness, like sometimes missing minor deadlines or struggling to delegate when busy. Show them what you've learned from it, and you're now taking steps to improve.
By explaining your awareness of the weakness, the proactive steps you're taking to address it, and your commitment to growth, you'll convey to the interviewer that your so-called "weakness" won't prevent you from succeeding in the role.
For example, you might say:
"One of my weaknesses is occasional trouble with time management, especially when juggling several priorities. Last semester, I fell a couple of days behind on an assignment while taking extra shifts at work. But I learned from that mistake. Now I'm militant about prioritizing important deadlines. I give myself extra time and don't hesitate to ask my manager or coworkers for help if I feel overwhelmed.
Time management is an ongoing skill, and I'm committed to constantly honing mine. But by being upfront in addressing this and explaining the concrete steps I'm taking, you can feel confident it won't impede my ability to excel in this role."
When the interviewer asks you about managing tasks efficiently. They want to see that you can thrive under pressure while maintaining high standards of customer service.
To ace this question, focus on a specific example that showcases your ability to juggle multiple responsibilities calmly and quickly. By sharing a tailored story that highlights skills like time management, delegation, communication, and teamwork, you'll demonstrate the qualities that make a great Tim Hortons team member. Speak confidently about your relevant experience, emphasizing how you made a positive difference under pressure.
With that in mind, consider this example answer:
"During my previous part-time job, there were always strict timing goals for serving customers efficiently and keeping lines moving. During busy periods like weekends and after school, lines would form quickly. I learned to multi-task and organize my workstation to maximize speed. I would prepare coffee cups and have cream and sugar stations ready before customers arrived. As orders came in, I focused on each instruction carefully to avoid mistakes and remakes while still keeping an eye on the next customers in line. By organizing my work area and supplies in an accessible manner and focusing on execution of each task precisely while multitasking, I was consistently able to meet and exceed the service time targets. Staying calm under pressure of long lines and rush periods also helped me maintain a consistent work speed. I'm confident I could apply these same skills like preparation, multitasking, efficiency, and composure to deliver great speed-of-service at Tim Hortons."
What does your availability typically look like? Are you able to work a variety of shifts, including early mornings, evenings, and weekends?
Nailing the question about your availability and scheduling flexibility is key to landing this job. The interviewer needs to know you'll eagerly work whatever hours necessary to keep the coffee and donuts flowing, be it at the crack of dawn or closing time.
So how should you answer? By emphasizing your open availability, eagerness to work off-hours, and commitment to great customer service, you'll prove to be a scheduling dream. The interviewer will have no doubt you'd thrive as a baker, cashier or anything in between, whenever you're called upon. Just remember, enthusiasm and reliability are key!
For example:
"My schedule is wide open, and I'm ready to do whatever it takes to be a star employee. I pop out of bed with the sunrise each morning, so early shifts are no problem – you'll find me in the store before the roosters are awake! And once evening rolls around, I'm happy to stay late to ensure everything is spick and span after the last customer leaves. Where other candidates might lack availability or motivation, I have it in spades. You can count on me to be there whenever I'm needed with a smile on my face. I want to make Tim Hortons my top priority so we can offer customers an amazing experience morning, noon, and night, every day of the week!"
This job requires you to stand for long periods and occasionally lift heavy items. How do you feel about meeting these physical demands?
This job requires stamina, a cheerful attitude when working long shifts, and enough grit to lift hefty boxes of supplies. But for the right person, the rewards of the work are well worth the effort. There's nothing quite like the smell of fresh coffee and baked goods, the smile of a regular walking through the door, or being part of a team that pulls together when the drive-thru line is wrapped around the building.
The interviewer is looking for candidates with enough moxie to thrive in a fast-paced work environment where you're on your feet for hours serving up double-doubles and timbits to eager customers.
Here's an example answer that would make you a top candidate:
"I understand this position requires physical stamina, and I am up for the challenge. I have experience standing for long stretches from previous retail jobs, so I am accustomed to being on my feet all day. I also don't mind lifting and moving heavy supplies – I regularly help my grandparents haul bags of groceries and gardening equipment. The fast-paced, high-energy nature of Tim Hortons really appeals to me. I love interacting with customers and keeping busy. While the work may be physically taxing at times, the rewards of providing great service and being part of a team make it worthwhile."
Do you have a dependable means of transportation to get you to and from your scheduled shifts on time each day?
The hiring manager at Tim Hortons will surely ask if you have reliable transportation. Why? Because in this fast-paced environment, punctuality and dependability are non-negotiables. They're looking for driven individuals who understand the urgency of this job and will do whatever it takes to ensure they're there on time, every time.
I want to make sure our new recruits understand the importance of punctuality and dependability in a fast-paced work environment like ours. My advice is to convey your understanding of these values in your answer.
So, how can you convey that drive and dedication in your answer? Simply put, convey your understanding of these values in your answer! For example:
"Absolutely, my vehicle is my lifeline to this job! I know that in this role, the coffee never stops brewing, and the drive-thru never stops driving. As an eager new team member, you can count on me to do whatever it takes to get here on time – even if that means setting three alarms or getting out of bed before the sun. I have a need for speed when it comes to being punctual and an itch to jump in wherever I'm needed. Dependability and punctuality are my middle names, and this job is my top priority."
Questions to Ask the Interviewer in Tim Hortons Interview
The dreaded "Do you have any questions?" question. This inquiry, posed at the end of almost every job interview, fills many candidates with dread. However, this question presents an incredible opportunity. It allows you to demonstrate your enthusiasm for the role, display your knowledge about the company, and uncover valuable information to determine if the job is the right fit.
The interviewer asks this question to evaluate several factors. First, they want to see if you have a genuine interest in the work and company. Asking thoughtful questions conveys your enthusiasm and passion for the opportunity. Second, the interviewer assesses your knowledge about the role and company. Questions specific to the organization and position showcase that you have done your research. Finally, the interviewer wants to provide you a chance to determine if there are any hesitations or clarify any uncertainties about the job.
To make the most of this opportunity, prepare a list of questions in advance. Here are the questions you could ask your Tim Hortons interviewer:
What qualities does a successful team member in this role usually possess?
What does a typical day or week look like for the person in this role?
Could you tell me more about the training and instructional materials provided? What does this training process typically look like?
What are some ways the restaurant supports employees in complying with health and safety legislation? Are there any ongoing training or resources available?
Can you share some examples of how the restaurant handles rush periods and how the front counter and drive-thru area are prepared for these times?
Could you provide more details on how the team executes service recovery for guest concerns or complaints?
In the job description, it's stated that the team member would be responsible for ensuring product availability. Can you explain more about the inventory management system in place?
Given the postural and physical demands of the job, are there any health and wellness initiatives or support systems in place for the team members?
Could you describe the team culture here? How do team members typically collaborate?
Are there opportunities for growth and advancement within the restaurant for this role?
What are some of the key performance indicators for success in this role?
Can you share more about the 'Guaranteed Always Fresh procedure'? How does the team ensure the freshness and accuracy of all products?
What are the next steps in the hiring process, and when can I expect to hear back?
Tim Hortons Hiring Process
The Tim Hortons hiring process is generally straightforward and follows a typical application and interview procedure.
The duration of the process depends on the role. It can range from just a few days to around a month for corporate jobs. Restaurant, warehouse, and campus staff positions usually see results within a week, while roles take about the same.
Submitting your online application is simple and quick. You upload your resume and cover letter and answer basic questions.
For hourly restaurant work, you have the option to apply in-store during non-peak times. An on-the-spot interview is possible.
One short 15-20 minute interview with the hiring manager is typical for hourly in-store jobs. They will ask you about your background, customer service experience, cash-handling ability, and baking skills.
Warehouse openings involve a 30-minute interview and a brief safety assessment.
Management positions at stores have two interviews with store and district managers that focus more on evaluating your personality and leadership style.
Corporate roles require either a half-day or full day of interviews that take place at the office or online. You will meet one-on-one or with panels consisting of the hiring manager, potential coworkers, and an HR representative.
Tim Hortons Interview Tips
Focus on stories highlighting your customer service and people skills. Prepare examples of handling complaints calmly. Emphasize your team player attitude. Show genuine enthusiasm for Tim Hortons' culture, products, and customer experience.
What to Wear to Tim Hortons Interview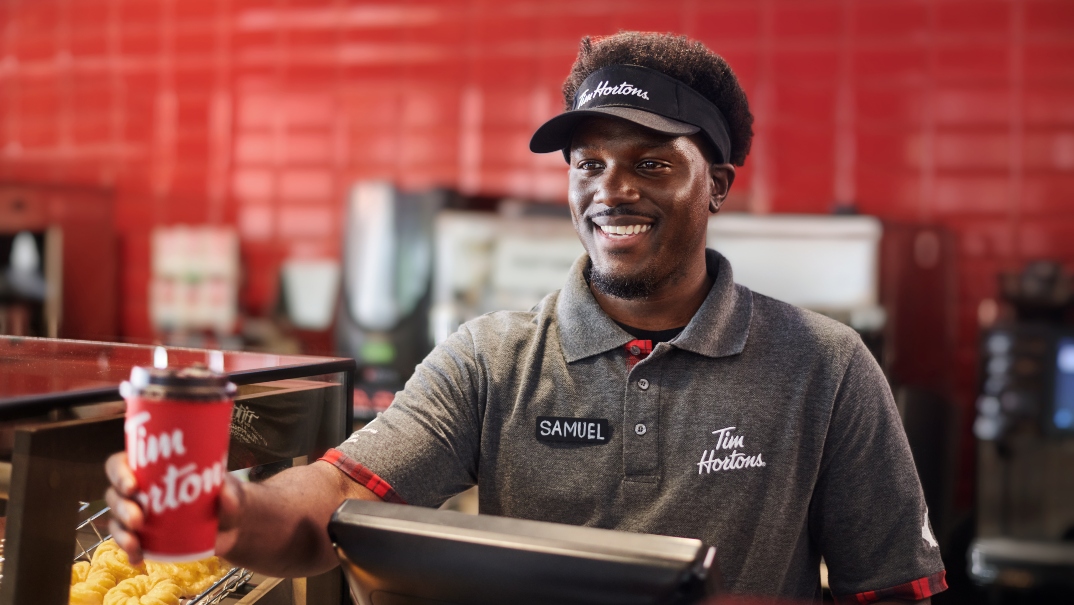 When interviewing at Tim Hortons, emulating their dress code will show your interest in aligning with company culture. Tim Hortons has different uniform requirements depending on your role.
Tim Hortons' dress code requires hourly store employees to wear company-provided uniform, business casual attire for management and corporate roles, and safe casual wear for warehouse staff. Hourly staff receive two logo shirts, a hat/visor, and a name badge but must supply their own black work pants and non-slip shoes. Visible tattoos, facial piercings, and unnatural hair colors are generally permitted at the store manager's discretion.
For customer-facing hourly roles like Team Members and Bakers, you can feel confident wearing casual or business casual clothes to interview. Choose a nice pair of pants and a polo or button-down shirt. Focus on clean, ironed, and neat clothes that show you prioritize professional presentation.
If interviewing for an Assistant Manager, General Manager, or Restaurant Manager role, opt for traditional business casual attire. A smart outfit like dark slacks, dress shoes, a button-down shirt with a jacket will signal to the hiring team that you understand the elevated dress expectations for managers.
Those applying for corporate positions should lean towards business formal when interviewing. Wear a conservative suit and tie for men or a matching skirt or pants suit for women. Solid colors and minimal patterns work best. Polished leather shoes complete the outfit.
Whatever the role, remember modest jewelry, minimal makeup, and well-groomed hair show you are focused on making a great impression, not flashing your personal style. Your outfit choice will demonstrate that you are prepared and ready to align with Tim Hortons' brand standards from day one on the job.
Conclusion
You now have the insight and knowledge to confidently prepare for your interview with Tim Hortons. Armed with the most common questions they ask and suggested responses, you can walk into that interview ready to showcase why you're the perfect candidate for the role. Remember, every question is an opportunity for you to highlight your relevant experience, skills, and enthusiasm for the work. So take a deep breath and believe in yourself—you've got this!
However, your job search shouldn't end here. Even if you ace the interview, keep those applications going and pursue other opportunities in the food service and hospitality industries. Companies like Starbucks, Krispy Kreme, Dunkin' Donuts, Wendy's, and McDonald's are always on the lookout for friendly, customer-oriented individuals like yourself.
While you focus on nailing your Tim Hortons interview, keep an open and optimistic mindset. The next amazing career opportunity could be just around the corner. You have so much talent, passion, and drive, so make sure employers know that you're eager to contribute to their team. Keep up the great work—your ideal job is out there waiting for you!