24 Panera Bread Interview Questions (And Expert Answers)
Imagine This: You just scored an interview with Panera Bread. ???? Your heart's pounding, your mind's spinning like a Ferris wheel on overdrive. "What will they ask?" "How should I respond?" "What if I say something wrong?"
???? Hold up. Take a deep breath.
You just found your "Interview Success" cheat sheet. ???? Seriously. This isn't just a blog post. This is your playbook for totally dominating your upcoming Panera Bread interview.
Here, we have compiled a list of the most commonly asked Panera Bread interview questions, with impressive sample answers to guide you in formulating your own unique responses.
???? Hot Tip: Preparation is like Red Bull for interviews. It gives you wings. Literal "crush any question they throw at you" wings.
So let's turn that interview into your personal victory parade, shall we? ????
Panera Bread Company Information
????️ Know Thy Company: The Pre-Interview Must-Do
Before you even think about strutting into that Panera Bread interview room, you NEED to arm yourself with mega-valuable company intel. Why? Because knowledge isn't just power. It's a Kevlar vest against those tricky "So what do you know about us?" curveballs.
???? Next Up: Your cheat sheet of must-know Panera Bread facts. Read it. Study it. Love it.
| | |
| --- | --- |
| Trade Name | Panera Bread |
| Type | Fast-Casual Restaurant Chain |
| Founded | 1987 |
| Founders | Ken Rosenthal, Ronald M. Shaich, and Louis Kane |
| Headquarters | Sunset Hills, Missouri, United States |
| Menu | Bakery Items, Soups, Salads, Sandwiches, Pasta, Beverages |
| Signature Items | Broccoli Cheddar Soup, Frontega Chicken Panini, Mac & Cheese |
| Core Values | Clean Food, Giving Back, Animal Welfare, Environmental Responsibility |
| Website | www.panerabread.com |
| Competitors | Subway, Chipotle, Corner Bakery Cafe, Starbucks, Jason's Deli |
Additional facts:
???? Humble Beginnings: Panera Bread originated as the Saint Louis Bread Co. in 1987. It was rebranded as Panera in 1993 to appeal to a wider U.S. market.
???? Founder's Vision: Ron Shaich, the founder, aimed to fill a niche for clean, fast, and affordable eating options, transforming a small community bakery into a nationwide chain.
???? Healthy Choices: Panera focuses on clean eating, offering food made without artificial preservatives, sweeteners, flavors, or colors, and was one of the first to display calorie counts on menus.
???? Freshly Baked: Panera makes over 250 million bagels and 50 million baguettes annually, employing over 6,000 bakers.
???? Off-Site Dough: Dough is prepared at Fresh Dough Facilities and delivered to stores for daily baking, maintaining the fresh-bread promise.
???? Low-Carb Adaptation: During the low-carb trend of the early 2000s, Panera managed to keep customers coming by offering some lower-carb options without sacrificing its core bakery products.
???? Pioneering Wifi: In 2004, Panera became the U.S.'s largest provider of free Wi-Fi, making it a go-to place for customers wanting to work or browse the internet while dining.
????️ Fast-Lane Kiosks: Introduced in 2015, self-service kiosks enable customers to personalize their orders and cut down wait times.
????‍♀️ To-Go Stores: In 2022, Panera introduced smaller, to-go stores aimed at facilitating quick pick-ups and catering to urban customers.
???? AI Integration: Panera introduced AI technology for automated coffee brewing and voice-ordering in its drive-thrus as of 2022.
???? Major Mergers: In 2021, Panera Bread merged with Caribou Coffee and Einstein Bros. Bagels, forming a fast-casual dining powerhouse under Panera Brands.
???? Charitable Giving: Through its Day-End Dough-Nation program, Panera donates unsold bread to various community organizations.
Panera Bread Mission Statement
One Panera for a Healthier and Happier World
Panera Bread Interview Questions
Can you give me a quick overview about yourself and your background?
This all-too-familiar question is a golden opportunity for you to make an impactful first impression in your Panera Bread interview.
This is NOT a deep dive into your personal life. The hiring manager is looking for a concise, coherent storyline that sheds light on your ability to perform and contribute in a fast-paced food service environment like Panera Bread.
How you should answer? Remember the "Three S's":
Short
Specific
Service-oriented
A two-minute reply is your sweet spot.
Drill down into your previous roles, but only if they align with the food industry.
Mention your accomplishments. That's how you'll make a mark.
Lastly, shift the spotlight onto your customer service aptitude. It's the backbone of the Panera Bread customer experience.
Next is your turn. Show them what you've got up your sleeve!
"I am a proactive individual with 3 years of experience in the customer service industry, of which the last 2 were spent working in a bustling café much like Panera Bread. Within this setting, I took on a variety of roles including serving, managing the cash register, and even assisting with bakery operations on busy days. I was identified for my excellent customer service, which certainly paid off when I was awarded Employee of the Month twice. My past exposure to a high-energy environment has equipped me with skills to handle pressure and multitask efficiently. Apart from this, I have a degree in hospitality management, which gave me a firm base in the food sector. I am confident that with my customer-centric approach and my can-do attitude, I can add great value to Panera Bread's team."
Why do you want to work for Panera Bread?
This crucial question allows the interviewer to gauge your level of interest, investment, and understanding of the company.
To the hiring manager, your answer directly measures your dedication and indicates your potential future commitment to the brand.
Mastering the Question
Ready for some real talk? You've got to prepare.
Here's a simple strategy:
Immerse Yourself: Start by diving straight into the heart of Panera Bread. Explore the business model, values, culture. How do they connect with the community? What experience do they aim to offer customers?
Emphasize Alignment: Make the connection between your personal philosophy, work ethic, and what Panera Bread stands for.
Add Value: Got a light bulb moment? A tweak that could bring meaningful change? Or a craving to contribute to their high-quality food commitment? Your ability to add value makes you stand out. But remember – specifics are game-changers here.
Now we're clear on what needs to be addressed, let's bridge that preparation to its application.
"Well, during my research, I became intensely drawn to the brand's commitment 'To serve food as it should be.' I love that Panera not only emphasizes quality and healthy ingredients, but also maintains a keen emphasis on societal responsibility. As someone who fundamentally believes in ethical food practices and aligns closely with a wellness focused diet, I feel a strong connection to Panera Bread's values and mission. Moreover, I envision myself contributing to the warm and inviting environment that Panera Bread provides for its customers. With my excellent customer service skills, I believe I can further enhance the customer experience. Lastly, I've noted a few opportunities for deploying reusable mugs to encourage sustainability without disrupting services; I hope I could bring such ideas to the table here. This role provides the perfect opportunity to meld my core beliefs with a career."
No sweat. They're just looking for your problem-solving skills, ability to handle adversity and stress, and capacity to maintain professionalism even under pressure.
Ready to show them how you dance in a storm?
The CAR Story Technique
For this question, put on your best narrator's voice. Highlight Conflict, show Action, and reveal the Result (CAR). And remember: no fairy tales. Keep it real.
First, share a real-life work challenge relevant to the food industry. (Conflict)
Then, unveil your problem-solving moves that saved the day. (Action)
Lastly, tell them about your winning moves' impact on the problem and the organization. (Result)
Here's your moment. The stage is all set for you:
"During my previous stint at a fast-paced diner, we encountered a sudden influx of patrons due to a nearby event. This resulted in an overwhelming rush that put a strain on our kitchen staff and supplies (Conflict). I proactively rearranged our order cycle, devised quick, alternative recipes utilizing available ingredients, and volunteered to apply my multitasking abilities to efficiently handle both cash register and customer queries (Action). As a result, not only did we successfully manage the rush without turning away a single customer, but it also boosted the team's morale, knowing we could handle such busiest instances. Moreover, my solution was later incorporated into the restaurant's procedure for handling unexpected rushes (Result)."
What aspects of baking bring you joy, and what's your favorite item to bake?
Behind The Question
This isn't your regular question. It's like an insight-seeking missile to understand your passion for the craft, your ability to deliver quality, and just how much you could love Panera Bread.
Nailing Your Answer
To answer this question successfully, focus on the joyous elements of baking. Maybe it's the chemistry and precision that fires you up, or perhaps it's the creative freedom to create something delectable from raw ingredients.
Your favorite baked good to create should also reflect the Panera Bread menu. If you love making artisanal breads or scrumptious pastries, great! Even if your favorite thing to bake isn't on the menu, explain why it brings you joy and clearly express your willingness to master Panera's recipes.
Show them you have a genuine fondness for baking and a curiosity to learn more.
Now, we're about to put on our aprons and give you a taste of how to answer this question deliciously.
"I would say it's the process of transforming simple ingredients into something warm, inviting, and delicious. There is an art and a science to it – a delicate balance, if you will – that I find deeply exhilarating. My favorite item to bake? That would be sourdough bread. It's a humble, yet complex beast, and creating that perfect loaf feels like a masterpiece. Even though it's not on the Panera Bread menu, I understand the premium placed on mastering the art of breadmaking here, and I look forward to delivering the same commitment and excellence to the Panera Bread line of baked goods."
How would you handle a customer who came to you with a problem or complaint?
The question isn't just about your problem-solving skills, it's also about empathy, patience, and interpersonal skills.
Your interviewer at Panera Bread is keen to understand how you transform a negative into a positive customer experience – the secret sauce of fantastic service!
Answering The Big Question
When tacking this question, follow these simple steps:
Start with empathetic listening: Comprehending the customer's pain point is vital.
Diffuse the situation: Swiftly apologize and reassure the customer that they're heard and valued.
Problem-solving approach: Work towards an effective solution that aligns with company policies and ensures customer satisfaction.
Learning experience: Reflect on the situation and apply what you've learned to enhance future customer interactions.
Remember, they're aiming to assess your customer service skills, tactfulness, adaptability, and problem-solving prowess.
Ready to whip up an attractive answer like a crew tossing dough on a busy weekend at a Panera bakery? Let us serve you a delicious practical example!
"If a customer approached me with a complaint, my immediate response would be to listen empathetically and validate their feelings. For instance, I'd say, 'I'm really sorry that you had to go through this. It must have been frustrating for you.' This would assure them of my genuine concern and dedication towards finding a solution. After grasping their issue, I'd present an immediate action plan that fits within Panera's policies while prioritizing their satisfaction. This might involve replacing a dish, offering a discount on the next purchase, or even escalating the matter to a manager when necessary. Lastly, I would use this incident as a chance to learn and improve, making sure that such a situation doesn't repeat in the future."
No need to panic! This is a fantastic opportunity. They're checking to see if you're a lone wolf or a true team player, a crucial trait for working in their environment.
Your Mission: Prove Your Teamwork Skills
Get your thinking cap on. Recall a time when you've demonstrated these traits in a team. Did you lead a group project? Played a pivotal role in a sports team? Volunteered with a community organization?
Choose a situation that can highlight your ability to navigate interpersonal relationships, compromise, communicate effectively, and motivate others towards a common goal.
The CAR: Context, Action, Result
Provide context and identify the problem or task at hand. Delve into your specific actions – your contribution, role, and interaction with others. Wrap it up with the result of your team's efforts.
A structured answer like this makes you look more coherent and truthful.
Got Butterflies? That's Good!
You've got this. The butterflies only mean you're prepared and ready to bloom.
"Yes, I'd love to. At my previous job, we were in the peak of holiday season and faced an immense influx of orders, threatening to disrupt our normal delivery timelines. Stepping up as the co-ordinator, I organized our team in shifts, reallocating resources where necessary to ensure work efficiency, even taking on extra hours myself. I communicated clearly, encouraging everyone to pitch in with ideas and to voice any concerns. This approach not only eased stress levels, but it also amplified team spirit. We managed to dispatch all orders on time without compromising on the quality or the customer service. The accomplishment felt shared, and we were all extremely proud of our team dynamics. I am eager to bring that same collaborative spirit to Panera Bread if given the opportunity."
In your own words, what does excellent customer service look like to you?
This seems simple, right?
But this question is a secret weapon interviewers use to measure your understanding of customer needs, empathetic abilities, and dedication to quality customer experience.
Bottom line?
They want to see if you can uphold Panera's high standard of customer service. (And yes, Panera Bread is BIG on customer service!)
Now let's jump on how to craft your killer answer:
Reflect on past service experiences. These experiences don't have to be in food service. But they should provide a handy analogy.
Sweat the details—what exactly happened, how did it affect you or the customer, and why did it matter.
Align with Panera Bread values. This means fast, friendly, attuned service and strong product knowledge.
With those tips in mind, you're now ready to whip up an answer as appetizing as a fresh-baked Panera Bread baguette.
"In my perspective, excellent customer service is a harmonious blend of product knowledge, attention to detail, and genuine empathy. Let me share an experience; once I had walked into a coffee shop, tired and cranky after a long day. The barista noticed my state and not only quickly prepared my usual order but also took a moment to cheer me up with a quick chat. That simple gesture turned my day around. It demonstrated to me the power of attentive and caring service, mixed with speed and efficiency. Like adding the perfect toppings to a Panera Bread sandwich, these ingredients shape an excellent customer service for me."
At first glance, it might seem like a trick question. However, take it from us, it's not. The aim here isn't to trip you up, but for the interviewer to understand you holistically.
They are exploring your self-awareness and how you respond to areas of improvement— components critical for growth in the fast-paced restaurant industry.
Honesty is the Best Policy. Period.
Avoid the old switcheroo – a strength as a weakness and vice versa? No way! Show how your strengths can turn up the heat at Panera Bread's workplace – like team spirit, customer service, or problem-solving.
When tackling your weaknesses, avoid any that could raise a red flag for the interviewer. Instead, focus on those areas you're actively working on to better. Remember to project a sense of optimism and progress.
Ready. Set. Answer!
Now, let's suit up, butter up that proverbial bread, and dive head-first into your potential answer.
"Absolutely! One of my major strengths is my ability to work effectively in a team-oriented environment. During a past experience, I guided my teammates to streamline tasks and fulfil orders efficiently during peak hours, contributing to the overall excellent customer service. As for weaknesses, I've noticed I can get a bit caught up in striving for perfection on tasks, which at times has impacted my speed. However, I'm using this awareness to master the balance between accuracy and efficiency by setting appropriate benchmarks for myself, while remaining committed to Panera Bread's high standards of customer service."
Tell me about a time you faced failure? What was your response?
With this question, the hiring manager is is looking beyond your baking prowess or customer service chutzpah. They're interested in how you handle adversity.
They want to see if you can dust off, bounce back, and learn from your stumbles. Every single professional has faceplanted at some point—it's your reaction and resilience that can set you apart in the Panera Bread interview.
Your Handy Guide to This Tough Question
Don't fret. We're here to help. Use this approach to this common, yet tough, interview question.
Be genuine: Choose an actual instance of failure. Don't make stuff up.
Professional or Personal: You can pull examples from your work or personal life. Just keep it relevant.
Highlight: Be specific about what went sour and how it impacted you.
Focus on positives: Share what you did to turn the situation around and what you learned from it.
Ready for the answer? Here it comes.
"In a previous job, I was responsible for managing the baking schedule. One busy Saturday, I made a miscalculation that led to a shortage of baguettes – a popular item. I felt incredibly guilty as the day went on and customers were disappointed. Rather than dwelling on the mistake, I used it as a turning point. I met with my supervisor to discuss what happened, accepted responsibility, and actively sought advice on avoiding such incidents. To ensure this wouldn't recur, I started double-checking the schedule and even devised a back-up plan. The incident taught me the importance of attention to detail in the baking industry and strategy in managing unexpected situations. In the end, I feel like I emerged more meticulous and proactive from this circumstance."
Are you open to cross-training across multiple positions here at Panera Bread?
Your answer to this question can say a LOT about you. Your flexibility. Your learning cravings. And your hunger to grow within the company.
This is THE moment when they're looking for that readiness in you – to step up and wear different hats when needed.
Striking the Right Chord
So, answering it right is gonna be all about FINDING THAT BALANCE.
How so? Make sure you show you're eager to cross-train. But don't forget to subtly emphasize on your FOCUS towards the role you've applied for.
Start by strongly expressing your interest in learning new roles within Panera.
Then, explain how juggling roles could exponentially Nourish your understanding of company processes…
…And exponentially BOOST your team skills.
Key: Help them understand you'll stay true to your primary role!
Putting it All Together
Ready to give it a shot? Let's SEE IT IN ACTION.
"Yes, I am absolutely open to cross-training across multiple positions here at Panera Bread. I believe having a comprehensive understanding of how the various roles interconnect can equip me with skills to efficiently solve problems and support my colleagues. I recognize the value in cross-training as it can help me better comprehend the workflow and processes associated with running a successful establishment like Panera Bread. However, whilst I'm excited by the opportunity to learn and grow, I assure you that my core focus remains on excelling in the position I have applied for and bringing utmost value through it."
Where do you see yourself in 5 years and how can Panera Bread help you work toward achieving those goals?
We know it's one question we all dread at job interviews. But let's break it down.
The Intent Behind the Question
When the Panera Bread interviewer asks this, it's not about quizzing your future-predicting skills. Rather, they're seeking to understand your career aspirations and whether these goals align with what Panera Bread can offer.
They're gauging:
Your ambition
Your future planning
Your potential tenure at the company
This is more than just a job. It's the food service industry's stepping stone to your future. 
Show Your Enthusiasm for Career Growth.
You don't need to lay out a precise day-by-day plan for the next 1,825 days. Instead, show them your enthusiasm for long-term growth within the company.
What's important:
Taking on new challenges
Growing professionally
Contributing more and more to the company
Aligning Personal Ambition with Panera's Goals.
Showcase your understanding of Panera's growth opportunities. Talk about your aspirations. It might be leadership positions or mastering the art of customer service.
But remember, it's important to strike a balance between your personal ambition and Panera's advancement. Show how both can complement each other.
Creating Your Future Vision.
As they say, "The best way to predict your future is to create it"— so let's craft an answer that'll set you apart.
"In five years, I see myself as an integral component of the Panera Bread team, hopefully in a managerial role where I can share my passion for customer service and my expertise in food operations. My goal is to leverage each opportunity Panera Bread offers– from training programs to daily experience–to develop my leadership and operational skills. This journey doesn't just fulfill my ambition of progressing within the foodservice industry, but also allows me to contribute meaningfully to Panera Bread's mission of delivering exceptional eating experiences."
Describe a time you had to handle an angry or upset customer. What did you do to resolve the situation?
Don't sweat it. This is just a way for them to test your problem-solving skills and interpersonal communication.
All they want to know is, can you keep Panera's reputation for top-notch customer service intact, even during tough times?
Breaking Down Your Answer
The trick to dealing with this query? Think back to your past encounters with disgruntled customers. Then, take the STAR approach (Situation, Task, Action, Result).
Break it down:
Describe the Situation
Explain your Task
Specify the Action you took
Emphasize the Result
The goal? Clearly and concisely depict your problem-solving skills.
Example In Action
Ready to craft a compelling answer? Let us walk you through an example.
"In one of my previous customer-facing roles, I was confronted with a significantly upset customer who had been waiting beyond the expected time for their order (Situation). My responsibility (Task) was to handle the situation calmly and assure customer satisfaction. I stepped forward and, first, acknowledged his frustration, then apologized for the wait. I reassured him that his order was our immediate priority. To make up for the delay, I offered him a complimentary drink while he waited (Action). Ultimately, the customer left happy, acknowledging our efforts to rectify the situation, and even left a positive review online (Result)."
Tell me about a time you went above and beyond to satisfy a customer. What did you do and how did it make that customer feel?
Seems easy, right? But it's about more than showing off your customer service skills.
The hiring manager is digging into your problem-solving skills, creativity, and empathy levels. They want to see you are the 'people person' that Panera Bread's exceptional customer service reputation needs.
Building Your Answer Step-by-Step
Want to hit a home run with your answer?
Start by spotlighting an instance where you totally went the extra mile for a client from your past experience.
Never worked before? Keep calm and think school, volunteer experiences, or everyday life. The goal is to show how you've exhibited similar traits.
You're going to:
Paint a vivid picture of the situation
Highlight the steps you took to deal with it
Showcase the customer's thankful response
Now all of this can be easier if you follow the STAR (Situation, Task, Action, Result) method. It's a proven winner for answering behavioral interview questions.
Now, the stage is set. Here's a real-world example of how to do it right:
"When I was a crew member at a busy café, one day a frazzled mother with her crying newborn came in. On top of her stressed demeanor, it was her birthday. As part of our typical service, we could have just served her the regular orders, but I saw an opportunity to make her day special. I managed to engage her in a light conversation, and subtly coordinated with my colleagues to prepare a little surprise—a complimentary piece of birthday cake with a warm note. Upon receiving this unexpected gesture, her eyes welled up in gratitude and she thanked us for turning her chaotic day into a memorable one. That day, I learned the power of empathy and small gestures—they can truly transform a customer's experience."
What do you think makes Panera Bread stand out from other fast-casual restaurants?
When your Panera Bread interviewer asks you this question, they are not just interested in hearing you gush about your love for the Broccoli Cheddar Soup or the whole grain bagel.
They are assessing your understanding of the Panera Bread brand, its unique selling points, its customer-centric operations, and of course, its position in the market.
Remember, they are looking for future brand ambassadors who understand and can articulate the backbone that makes Panera Bread a giant today.
Your Guideline For A Winning Answer
Don't be a lazy bum! Dive into intense research about Panera Bread. Get your hands dirty! From company history to customer feedback and accolades – drill deep!
Here's the truth: Panera Bread sets itself apart with fresh, wholesome food, transparency, and fast, high-quality service. Apply your personal experiences, but remember to tie it back into Panera Bread's big picture.
Now, let's garnish this heap of tips with an actual slice of an articulate and informed response.
"I would say it's their take on 'Fast casual.' In the era of processed convenience food, Panera has been a refreshing break with its commitment to fresh, wholesome meals. Not just that, their transparent food policy helps consumers make informed dietary choices. I think it was a bold and commendable move for Panera to openly disclose all ingredients in their menu items to customers. Plus, my personal experiences at Panera have consistently mirrored their promise of high-quality speedy service. I can confidently say Panera Bread has skillfully married the concepts of health and convenience, raising the bar in the fast-casual restaurant segment. Moreover, their active CSR initiatives truly resonate with me on a personal level, making them a brand I could deeply associate with."
What's your approach to receiving constructive criticism from a manager or coworker?
This question might even make you feel a slight fluttering of anxiety. Stop right there! There's no need for concern – this is actually a golden opportunity for you to stand out.
The interviewer is trying to gauge your ability to handle feedback, reaction to advice, and capacity to use criticism for self-improvement.
It's about resilience, humility, adaptability. The big three at Panera. A company that thrives on continuous learning and growth.
Handling the Beast – The Right Approach!
Keep it open, mature, and professional.
Depict constructive criticism as an opportunity for professional growth.
Tell them of instances where you welcomed feedback and incorporated it into your work.
Paint it as a learning curve, bringing a shift in your perspective and boosting your performance.
Show them that you appreciate feedback. You know it makes you stronger, more adept.
Underline your commitment to self-improvement. That's the ticket!
Ready to weave magic with your answer? Let's tread these waters together.
"When faced with constructive criticism from a manager or coworker, my initial approach is to listen completely and understand the feedback. For instance, during my previous job at an eatery, my manager pointed out that I was not interacting enough with the customers. Instead of taking offence, I chose to view it as an opportunity to improve my customer service skills. I made a conscious effort to communicate more with our guests, which significantly improved their dining experience, consequently increasing positive reviews for our restaurant. I believe constructive feedback is a stepping stone towards becoming a better professional and I'm always open to embracing change that leads to growth."
We want all our guests to feel welcomed and cared for. How would you connect with customers and make them feel special?
This isn't a test about your mad skills on the cash register or how well you've memorized the menu. Rather, it's about your take on customer service and your emotional intelligence.
Simply put, can you elevate the company's ethos of creating a warm and inviting space for each guest?
Your Approach: Genuine, Personalized Interaction
Start on a foundation of respect for each customer's uniqueness. Make it clear that you understand personalized service is what makes a customer feel like a VIP.
Don't be hesitant while discussing your ability to really listen to your customers. This helps you to tune into their needs and provide a tailored solution.
And remember – never underestimate the power of a friendly smile, a cool demeanor, and basic politeness. These are your bread and butter for awesome customer service.
You could also bring into play prior experiences where you turned a customer's day around.
Now that we've given you the golden nuggets for navigating this question, it's time to serve you up an example answer.
"I'd focus on treating each customer as an individual, not just another transaction. I believe that every interaction is an opportunity to show empathy and warmth. So, I'd listen actively to what the customer needs or wants, pay attention to small details and remember repeat customers' preferences. I understand that people come to Panera not just for the food, but also for the ambience, and as a representative, I would contribute positively to that. Previously, in my job as a server, I regularly received compliments for my attentiveness and friendly approach, which often resulted in repeat customers and a thriving business. To me, guest service means ensuring each person who walks through Panera Bread's door feels acknowledged, appreciated, and eager to come back."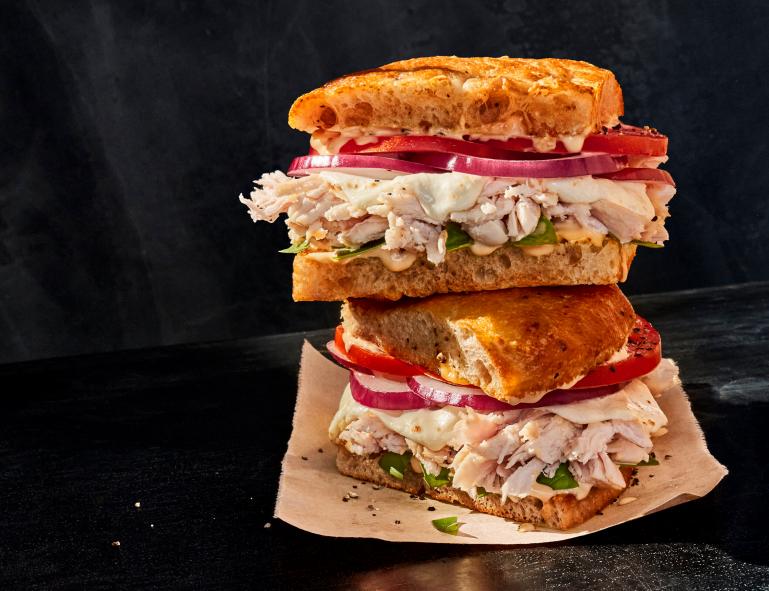 Through this question, the interviewer aims to assess how well you've explored the brand as a consumer, which is an indicator of your passion and engagement with Panera's culture and products.
Spilling the Beans: The Authentic Standout Answer
So how do you nail this? How can you stand out?
Be authentic: Don't just randomly pick an item. Select a Panera special you heartily enjoy. Explain why it's your personal favorite. Quality of ingredients? Fabulous flavors? Dish preparation style? It doesn't matter as long as it reflects your unique taste.
Link to Panera's mission: Now here's the cool part. Try to highlight how this menu item reflects Panera Bread's commitment to wholesome, nutritious, and innovative dishes. Score!
Smile, breathe, and remember, it's just like sharing your favorite food with a friend…
"Yes, I absolutely relish the Frontega Chicken Panini at Panera. Not only because it's an explosion of taste with every bite, combining the smoky chicken, tangy chipotle sauce, and fresh basil. It's also a reflection of Panera's commitment to freshness and quality. I love how they bake their bread in-house daily and source only antibiotic-free chicken. To me, the Frontega Chicken Panini exemplifies the blend of healthy, flavorful food that Panera is renowned for, which I fully align with."
Would you say you enjoy interacting with people?
Panera Bread is all about serving lip-smacking food and warm hospitality. This question is designed to assess if you fit into their customer-centric culture.
Are you a master at fostering positive relationships with a diverse crowd? This is your chance to demonstrate that.
Pave Your Way to the Interviewer's Heart
The secret to winning the interviewer over? Prove your dedication to customer service.
Take a walk down memory lane. Think of all those times when your interaction with folks led to positive results.
Maybe you've worked with teams in the past or taken on roles that required frequent customer interaction.
Now, don't just state that you enjoy interacting with people—show it. Back up your claim with relevant experiences.
Infect the room with your excitement and enthusiasm. Thrill them with your tales and prove beyond a shadow of a doubt that you're indeed a people's person.
At Panera Bread, it isn't just about bread—it's about spreading warmth, one interaction at a time. Remember that.
"I honestly thrive on interaction. I've always believed that positive exchanges with people add flavor to life, much like the fresh ingredients that go into Panera's dishes. In a previous role, I was fortunate to actively engage with customers daily. I found immense satisfaction in listening to their needs, understanding their preferences, and ensuring they left with a smile. This opportunity to create a memorable dining experience for every customer made each day rewarding. So yes, I would say I definitely enjoy interacting with people, especially in a vibrant environment like Panera Bread."
What unique strengths, skills, or perspectives do you feel you can contribute to our team at Panera Bread?
This ain't meant to mess with your mind, folks. It's the hiring manager's litmus test to ascertain if your unique abilities and POV vibe well with Panera Bread's squad.
Preparing Your Knockout Answer
Coming up with the perfect answer takes a little homework.
Get to know Panera's heartbeat — their core values and culture, which scream warmth, fairness, and authenticity.
Then, dig deep into your own past, exploring those personal, academic, or job experiences linking you solidly with these values.
Maybe you excel at setting up a cozy, welcoming vibe. Perhaps you've got a track record for handling conflicts with finesse. An unapologetic fan of Panera bread? You've got something special to help you connect with customers.
Link your answer with real-life examples for a compelling comeback. Remember, they're not just on the hunt for a worker, but a key member of a forward-thinking crew.
Time for an appetizing example to help you brainstorm!
"Well, having worked at a restaurant previously, I've honed my ability to handle high-pressure situations and fast-paced environments brilliantly – traits I believe will help me seamlessly fit into Panera Bread's energetic and dynamic environment. More importantly, as an ardent fan of Panera's comforting menu and welcoming ambiance, I've always admired your commitment to quality and warmth. I aim to bring that shared passion to the table by creating genuine, warm interactions with customers, making them feel special and appreciated. I also believe in the power of continuous learning and look forward to bringing fresh ideas and perspectives based on my experiences to my role here at Panera, thereby contributing to the growth and success of our team."
Panera Bread is all about teamwork and cooperation.
The hiring manager wants to know how well you handle pressure, collaborate, and most importantly, solve conflicts constructively.
Your answer shines a spotlight on these skills.
Tackling the Conflict Question
Stick to the truth: Narrate a real disagreement you had at work. No made-up stories!
Mind your words: Be professional and respectful when discussing past jobs.
Show don't tell: Focus on explaining your strategy and the steps you took to resolve the conflict.
Highlight the right skills: Showcase your ability to compromise, your active listening, and your emotional intelligence.
End of story: Every good story has an ending. Wrap yours up by sharing the positive outcome and the lessons learned.
Let's dive into the kitchens of our past as we concoct the perfect answer to this question.
"In my previous job as a server, I had a dispute with a coworker over how tasks were being allocated during peak hours. She believed that I was leaving most of the cleaning duty to her while I focused on customer service. Initially, I felt shocked as it wasn't my intention. But I chose to engage in a calm and respectful conversation with her. I listened sympathetically to her concerns, then explained my perspective emphasizing that my goal was always team success. We agreed to communicate more openly about our responsibilities and developed a system to rotate tasks fairly. This experience taught me the power of direct communication in defusing misunderstandings, and the importance of maintaining a balanced workload within a team. I believe it ultimately made us a more efficient and cohesive team."
Do you have consistent, dependable transportation to get to and from work?
Your answer can reveal more than you might expect about your reliability and commitment to the job. They're testing if you can be counted on to arrive on time, every time, rain or shine.
The Response Game
Time for the trickier part – how should you answer this question?
Start by being honest. Dishonesty is a big no.
If you have dependable transportation, be clear about it. Own a car? Use public transport? Cycle? Let them know.
Don't have consistent transportation? No sweat! Showcase your backup plans and how you've historically ensured punctuality despite hurdles.
What you're trying to convey is this: despite occasional setbacks, you're committed to putting in the time and effort necessary to get to work reliably.
All these tips are great, but let's put this into practice, shall we?
"Yes, I do have dependable transportation to get to work. I own a car and rarely encounter mechanical issues or traffic congestion that would make me late. In the rare event that I do face unexpected issues, I have a contingency plan in place. I have a neighbor who also works nearby, and we have an agreement to help each other out in such situations. Therefore, you can trust me to arrive at work on time, each time."
If hired, how long would you hope to stay with Panera Bread?
Seems simple? Well… there's a catch!
This question isn't just to gauge your level of commitment.
They want to know if you see a future for yourself in their company and to evaluate whether the time, effort, and resources they are investing in hiring and training you will bring long-term value to their team.
How You Should Respond?
For starters, be honest but strategic.
Don't get stuck on specific timelines. Instead, focus on discussing your growth within the company. Point out how keen you are to add long-term value to the team's success while growing personally and professionally.
You don't need to convince them that you'll retire from Panera Bread. But showing a willingness to stay for a substantial amount of time is a game changer. Especially if you underscore how you can achieve your career goals in parallel with the company's growth.
Now, let's sandwich these layers of advice together into a masterpiece of a response that drips sincerity and ambition.
"If I'm given the opportunity to join Panera Bread, I see myself staying on for a significant period of time. I am inspired by your company's dedication to quality and customer service, and I believe that this is where I can contribute my skills while continually learning and growing. I wish to evolve in my role and responsibilities as the company progresses and if there are opportunities for me to contribute even more to the Panera Bread team. In essence, my hope is to grow and evolve with Panera, investing my efforts in a company committed to mutual development."
Can you please elaborate on your availability and scheduling flexibility?
When the interviewer at your upcoming Panera Bread interview asks this question, they're trying to gauge if your schedule aligns with the needs of the Panera Bread operation.
Flexibility: The Crucial Ingredient
Bear in mind, flexibility is a core expectation in any food industry job, often requiring staff to cover shifts during peak times, holidays, and weekends. It might just be the game-changer in their hunt for the perfect fit.
Honesty and Flexibility: Striking the Perfect Balance
No, you don't have to be at the establishment's disposal 24/7. Balance is key. Reflect on Panera's working hours. Do they align with your personal commitments? If not, communicate your restrictions and also show your readiness to adapt.
Here's a tip: Highlight instances from your past jobs where you exhibited flexibility. This will show that you're responsible and willing to meet their needs without jeopardizing your personal life.
Remember, bend but don't break.
Now, let's take these tips and mold them into a satisfying loaf of an answer so wholesome, it might just land you the job.
"Absolutely, I can elaborate on that. During weekdays, I attend my evening classes till 6 PM but am fully available before that and can begin as early as needed. On weekends, I have more flexibility and am open to working any shift, including the peak hours. During my past job at a local cafe, I often covered shifts for my fellow employees on short notice, particularly over weekends. In doing so, I gained a knack for adapting to changing schedules without affecting service quality. I'm committed to offering the same level of flexibility here at Panera Bread, while maintaining a balance with my personal commitments."
When can you start working at Panera Bread if offered a position?
The interviewer is assessing your readiness to smoothly transition into their team.
They need to align the role with their timeline ???? and find out when you're free to jump on board. This helps them figure out if you're the right fit for the role.
Answering the Big Question
Approach this with honesty, clarity, and flexibility. No rush!
You don't want a job you can't sustain or to over-promise and under-deliver.
So what's the solution?
Tip: Think about the minimal transition time you would need for the new role.
Will you require a week to wrap up things at your current job ?????
Or, are you available to start immediately?
Once you have an idea about these, you can be more specific with your response ✏️.
Let's take an example. Here's your well-prepared answer EXTRA HOT????:
"Assuming that you need me to start as soon as possible, I'd want to provide adequate notice to my current employer. Typically, a two weeks notice is standard but knowing the urgency of this role, I can negotiate with my current employer to shorten that period if need be. So, realistically, I could be ready to kick-start my journey at Panera Bread in one week's time."
Questions to Ask the Interviewer in Panera Bread Interview
Picture This: You've navigated the labyrinth of Panera Bread interview questions like a pro. ???? The end is in sight. Then, out of nowhere, the interviewer flips the script and asks if you have questions for them. ????
Think this is a mere formality? An easy wind-down to your interview? Think again.
???? Turning the Tables: Your Golden Opportunity
Look, "Any questions?" isn't just idle chit-chat. It's your chance to go from interviewee to interviewer. To put them under the microscope for a change. This is where you prove you didn't just show up to play. You came to win. ????
Enough talk. You're here for the real juice, right?
Here is a list of questions so powerful that you'll be leaving your Panera Bread interviewer wondering how quickly they can get you on board.
Can you talk about the day-to-day responsibilities of the position?
How would you describe the ideal candidate for this position?
What skills and experiences would make an ideal candidate?
Can you elaborate on the company culture here at Panera Bread?
How would you describe a typical day in this role?
What are the opportunities for professional growth within the company?
What are some challenges that someone in this position might face?
How did this position become available?
What is the performance review process like?
What type of training programs does Panera Bread offer to its employees?
What are some characteristics of your top-performing employees?
Could you describe the work-life balance in the company?
How have you found working for Panera Bread?
How do you see this position contributing to the success of the organization?
Can you describe the most successful projects that have been accomplished by someone in this role in the past?
What does success look like for this position, and how do you measure it?
Is there anything else I can provide to help you make your decision?
Can you tell me about the team I'll be working with?
How does Panera Bread prioritize diversity and inclusion within the company?
What are the next steps in the interview process?
Panera Bread Hiring Process

Let us walk you through the hiring process at Panera Bread so you know what to expect.
1. Application
The first step is submitting an application and resume, either online or in person at a cafe location. Getting a referral from a current employee can help get your foot in the door.
2. Initial Screening
If your application catches their interest, you may get a call from a recruiter or hiring manager for a short phone screening. This is just to verify availability, pay expectations, and qualifications. Don't worry if you don't hear back right away – they often have high turnover and hire on an ongoing basis.
3. In-Person Interview
If you make it past the initial screening, you'll be invited for an in-person interview at the Panera Bread location. This is usually an informal 15-30 minute chat sitting at a table.
The manager will ask about your availability, reliability, customer service experience, strengths and weaknesses, and your responses to real-life scenarios.
5. Job Offer
If all goes well, you may be offered the job on the spot or get a call back in 1-2 weeks.
6. Onboarding
Once hired, your first day will involve training, orientation, paperwork, and a facility tour before jumping into hands-on training.
7. Trial Period
Expect the first 2-3 months to be a trial period where they evaluate your performance before extending a long-term offer. But don't stress – the manager will check in periodically to ensure your training is going smoothly.
Panera Bread Interview Tips
Go into your Panera Bread Interview prepared to talk up your friendly attitude, work ethic, and eagerness to learn. Share your enthusiasm for serving customers and preparing fresh food. Have some examples ready that show your reliability, teamwork, and ability to resolve tense situations. Ask thoughtful questions that show this job aligns with your passion for the brand.
What to Wear to Panera Bread Interview

You've got the skills, you've prepared for common Panera interview questions, but now comes another challenge: What do you wear?
Here's the secret sauce to interview attire planning: dress in a manner that aligns with the company's culture. Think of it as giving Panera a "sneak peek" of how seamlessly you'll fit into their ecosystem.
The dress code at Panera Bread is a company-issued black t-shirt and apron, dark-colored pants or jeans (without rips), and non-slip shoes. Tattoos, colorful hair, and piercings are allowed unless they're inappropriate.
For Team Member and Baker positions, casual or business casual would work well. A plain polo shirt or button-down paired with khaki pants or dark jeans without rips.
If you're aiming for a managerial position like Restaurant Manager or General Manager, go for business casual—a collared shirt, slacks or a knee-length skirt, and closed-toe shoes.
If you're vying for a corporate role at Panera, business formal is the route to take. We're talking about a well-tailored suit, and dress shoes.
Conclusion
Congrats: You've made it to the end of this Panera Bread Interview Mastery Guide. ???? Armed with A-grade insights, you're not just ready for your Panera Bread interview. You're geared to crush it. ????
???? Your Panera Bread Interview: A Career Milestone, Not the Finish Line
Let's zoom out a bit. Look, you're not just a cog in a wheel. You're the Ferrari engine that could power Panera Bread's whole mission. ????️ But guess what? This interview is just one curve in your career racetrack. Keep that engine revved for other laps and other tracks.
???? Keep Climbing: The Job Search Never Ends (Until It Does)
Even if you're getting all the right vibes from your Panera Bread interview, don't pop the champagne just yet. ???? Keep one foot in the door, sure, but let the other foot explore Au Bon Pain, Corner Bakery Cafe, Bruegger's Bagels, Einstein Bros Bagels, Chipotle, Olive Garden, McDonald's, Starbucks, Subway, and Potbelly.
So there it is: Your Panera Bread interview isn't the end, it's a high-octane beginning. And whether it's Panera or another brand that you align with, always remember that every interview, every application is another shot at a slam dunk. ????
You've got this. The future isn't just bright. It's blinding. ????