22 On The Border Interview Questions (And Winning Answers)
???? Have you ever gazed at the sizzling plates leaving On The Border's kitchen and wondered what it would be like to be on the other side? Well, you're not alone!
Many aspirants, just like you, envision being a part of the On The Border team. But let's face it: the first hurdle is the nerve-wracking interview that looms ahead, filled with intimidating uncertainty.
???? Fear not! We're here to give you the secret recipe to acing your On The Border interview.
In this meaty guide, we'll serve up a curated list of the most commonly asked On The Border interview questions. These will be marinated with detailed and tailored responses to put your worries at ease.
As you navigate through this guide, picture every question as a fiery griddle. Think of each response as the delicious fajita of information that will dazzle your interviewers with cogent answers cooked to perfection.
????‍???? Let's get cooking and dish out the best version of yourself!
On The Border Company Information
Start With Solid Research
A firm grasp of On The Border's key facts will give you a distinct edge in your interview. By digesting the following essential tidbits, you'll be well-equipped to handle research-based questions, leaving a lasting impression on the interviewers.
???? Consider the information below as your starting point but don't hesitate to dig deeper.
| | |
| --- | --- |
| Trade Name | On The Border Mexican Grill & Cantina |
| Type | Casual Dining Restaurant Chain |
| Date Founded | Oct 29, 1982 |
| Headquarters | Irving, Texas, United States |
| Menu | Fajitas, Enchiladas, Tacos, Burritos, Quesadillas, Salads, Margaritas |
| Signature Items | Border Sampler, Chicken Fajitas, Borderita |
| Core Values | Better Together, Always Generous, Up for Fun |
| Website | www.ontheborder.com |
| Competitors | Chili's, Applebee's, TGI Fridays, Chevys Fresh Mex, Pappadeaux Seafood Kitchen |
Additional facts:
????️ Spicy Origins: On The Border began its journey in 1982, with a commitment to the bold flavors of Texas and Mexico. The first location was sparked by a tequila-inspired idea among three friends.
????‍???? Leadership: The President & CEO, Tim Ward, began his career as a dishwasher and aims to deliver a great experience for guests, team members, and communities.
???? Team Spirit: On The Border's teams work tirelessly to ensure exceptional food, atmosphere, and service for every guest.
???? Global Footprint: On The Border operates 150+ locations in the US and Asia, demonstrating significant business growth since its inception.
???? Mesquite Magic: The restaurant uses mesquite-wood grills to infuse special marinades into their signature fajitas, a cooking method tied to the borderlands between Texas and Mexico.
???? Handmade Happiness: Everything from margaritas to chips, salsa, guacamole, and tortillas are crafted by hand daily.
???? Balancing Authenticity: On The Border bridges the divide between authentic and Americanized Mexican cuisine, making it unique in the market.
???? Generous Portions: On The Border isn't just generous with its portion sizes; the restaurant also maintains a generous attitude towards guest needs.
???? Fiesta Vibes: Known for its lively music, shaken margaritas, and sizzling fajitas, the restaurant offers a vibrant atmosphere whether you're dining inside, on the patio, or at the bar.
???? Innovative Deals: From offering $2 margaritas during National Margarita Day to $5 burrito boxes packed with famous chips and salsa, On The Border keeps its menu creatively affordable.
???? Health Heads-Up: While the menu is rich in flavor, it is not designed for the health-conscious. Items like the Tres Enchilada dinner pack a whopping 1,600 calories.
On The Border Mission Statement
To bring Border-style food to as many neighborhoods as possible.
On The Border Interview Questions
Hold up! The On The Border hiring manager isn't asking for your life story or a chronological retelling of your resume. They want relevant skills, experiences, and interests that fit their team.
This is your chance to summarize your unique value proposition and set the stage for the rest of the interview.
Cracking the Code
Got job-related experiences? Start there.
Honed some cool skills? Talk about them and how they are applicable to the position at hand.
Love Mexican food? Delighting customers? Spill the beans.
Pro tip: Keep it short, relevant, and packed with enthusiasm.
Acing the Framing
"With over two years of experience in the food and beverage industry, I've developed a knack for building connections with customers and an appreciation for a fast-paced working environment. My most recent role as a shift manager at a busy local restaurant equipped me with valuable skills in team management, multitasking, and customer satisfaction. Importantly, I am absolutely passionate about Mexican cuisine! Having personally explored various regional recipes, I can bring authentic enthusiasm to On The Border and relate to our customers' interest in our offerings. These experiences, skills, and my perpetual interest in food make me a strong contender for contributing to your team."
Why do you want to work for On The Border?
They want to assess if you align with the company's culture, values, and goals, and if you're genuinely passionate about becoming part of the OTB family.
Doing Your Homework
Get onto their website. Check their mission and vision. Understand their work culture. Research their growth, recent news, and customer reviews.
You could naturally talk about your love for their authentic Mexican cuisine or your respect for their commitment to customer service.
Sell yourself. Talk about your relevant skills or experience that could be a game changer. Show them that you see a future at On The Border, and it's a journey you're excited to embark on.
Let's journey onto the terrain of showcasing it in action.
"I've been a regular customer at On The Border for years, relishing your incredible fajitas and friendly ambiance. Looking at your dedication to fresh ingredients and great service, I can wholeheartedly say that your values align with my passion for providing quality customer service. I was particularly impressed by your recent environmental initiatives and the opportunities you offer to your employees for growth. With my background in hospitality and detail-oriented skills, I see myself thriving in this dynamic environment and contributing positively to the team. I want to work at On The Border because I believe in what you do, and I'm excited to be part of your mission of serving great Mexican food in an inviting experience."
Are you comfortable dealing with difficult customers and talking to new people?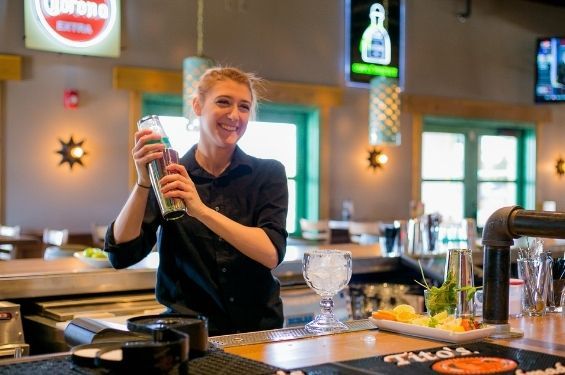 Let's be honest: The reputation and appeal of On The Border can take a serious hit or score a great win based on customer experiences. That's why this is a key question during their interview process.
What's their objective? Simple. They want to test the waters of your interpersonal prowess. They're looking for evidence of your patience, grace under pressure, problem-solving, and adaptability in various service scenarios.
Standout Answer to Ace Your Interview
To nail this question, we recommend you do the following:
Understand: Acknowledge the importance that effective customer interaction holds, especially in dicey scenarios.
Provide concrete examples: Examples are your friend. Illustrate with examples of your patience, empathy, and adaptability in dealing with various customer types.
Show Commitment: Exhibit your dedication to excellent customer service and its role in the success of service-oriented businesses like On The Border.
With those strategies in mind, let's put words into action and craft a compelling response to present to your interviewer.
"Absolutely! Throughout my career, I've learned that each customer, with their unique behaviors and backgrounds, offers new experiences and opportunities for growth. Dealing with difficult customers, for example, has actually been a test of my patience and conflict-resolution abilities. In a previous job, there was a customer who wasn't satisfied with his meal and instantly turned upset. I ensured to listen empathetically, apologize sincerely, and came up with a solution that eventually made him leave the restaurant happily. I see such instances not as hurdles but as chances to learn and improve. Talking to new people, on the other hand, is one of the aspects I enjoy most about my job because it's an opportunity to make someone's dining experience a bit more special. Excellent customer interactions are crucial for any business, and I would cherish being a contributing factor to that aspect at On The Border."
Here at On The Border, our guests are like family. Could you walk me through your approach to handling an upset guest?
Yup, it's a clever trap! But sweat not.
What they seek is your empathy, problem-solving skills, and ability to keep the brand's image intact. It isn't just about shouting out your customer service chops. It's more of showing your skill in creating a familial atmosphere, even when the salsa gets hot.
Ready to dish out the perfect answer?
1. Serve With Empathy
Begin with empathy – just show that you understand. Recognize the root cause and bring out your step-by-step plan to set things right.
2. Add a Dash of Personal Touch
Don't forget to toss in that personal touch. You'd treat your family with respect, right? Same thing here. Chat about how you'd tailor your approach to the issue at hand.
3. Stay True to On The Border's Values
Finally, make sure your answer echoes the On The Border spirit. Be graceful, courteous to the customers, and present solutions that benefit both – the customer and the company.
Brace yourself as we tread the culinary path of quintessential customer service, our secret recipe for handling an upset guest cooked to perfection!
"My first step would be to offer a sincere apology, acknowledging their disappointment. I'd say, 'I'm truly sorry for the mix-up and for the delay, we certainly didn't mean for this to happen. I can see how this might have upset you.' Secondly, I would swiftly correct the order, ensuring it's expedited at no extra cost. I'd tell them, 'Let me correct this for you promptly. I'll ensure your correct order reaches your table as quickly as possible.' Concurrently, I might offer them some complimentary chips and salsa as a gesture of goodwill while they wait. Finally, I'd follow up to make sure they're satisfied with the service recovery. This approach, for me, beautifully represents how family is treated – with respect, empathy, and quick resolution to retain trust and connection."
How do you typically handle high-stress situations that may arise in a fast-paced restaurant environment?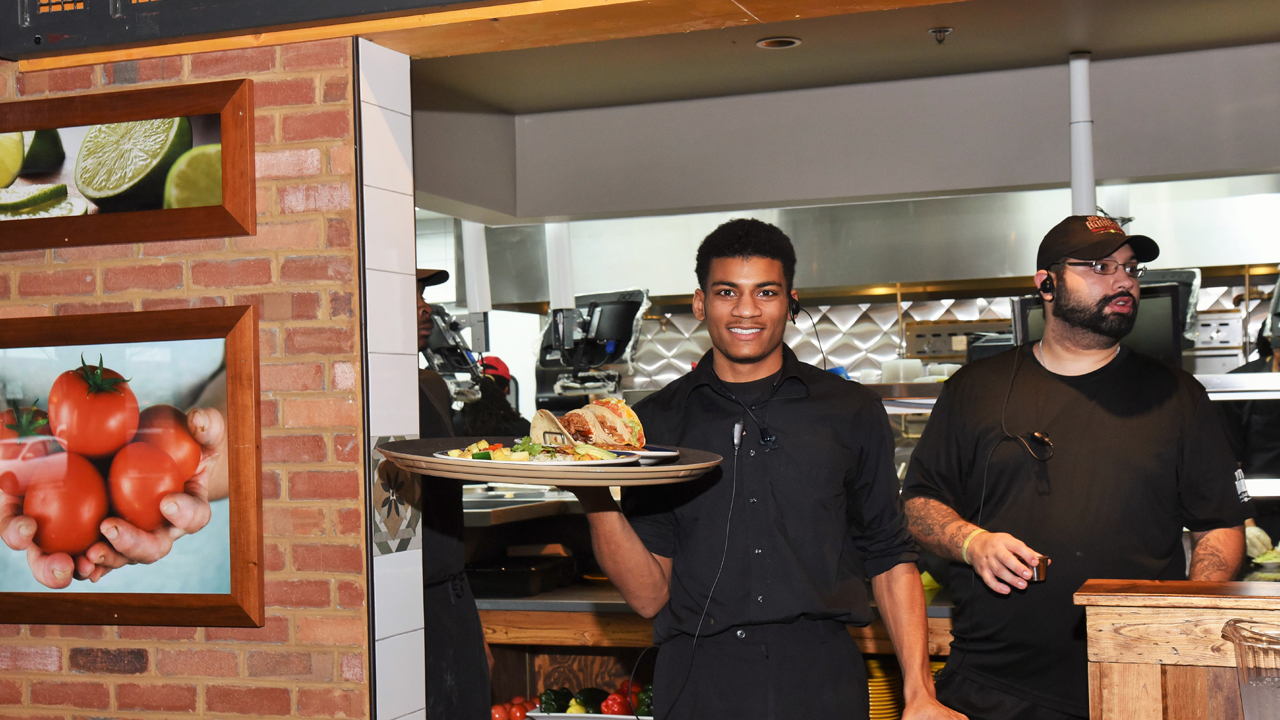 Confused? Relax.
This question is a yardstick for checking out your resilience, stress management mastery, and balancing top-notch customer service under heat.
The high-energy, bustling scene at On The Border calls for it!
Your Stress-Banning Strategy
So, how to parry this toughie?
Don't panic. Heave a deep breath.
Start by laying the groundwork— acknowledge that stressful situations do occur in a restaurant setting, and express your understanding of this fact and its impact on the customer experience.
Next, spin the focus around. Share the positive perspective you have cultivated towards such situations.
Emphasize your ability to stay composed and your problem-solving skills to tackle situations head-on. Maybe, you're good at prioritizing or a champion at communication. Or, you've nailed time management.
Whatever your technique, make sure it demonstrates your capacity to maintain a harmonious restaurant environment.
And don't duck from talking about how you reflect and learn from these situations to curtail their occurrence in the future.
Got your strategy down? Let's give it some real-life flare.
"In my previous role as a server, there was an instance we were understaffed during a busy Saturday night. Initially, I felt stressed, but I quickly recognized the situation and acted, understanding that getting flustered wouldn't help anyone. I communicated openly with my co-workers about what needed to be done and started prioritizing tasks based on urgency. While doing this, it was critical to maintain a cheerful and friendly demeanor to ensure the customers continue to enjoy their experience. It was a demanding evening, but we managed to keep our customers satisfied. I firmly believe that handling such situations is all about staying calm, being strategic, and cooperating as a team. Also, reflecting on such occurrences always guides me on where improvements can be made to reduce future instances of stress in the workplace."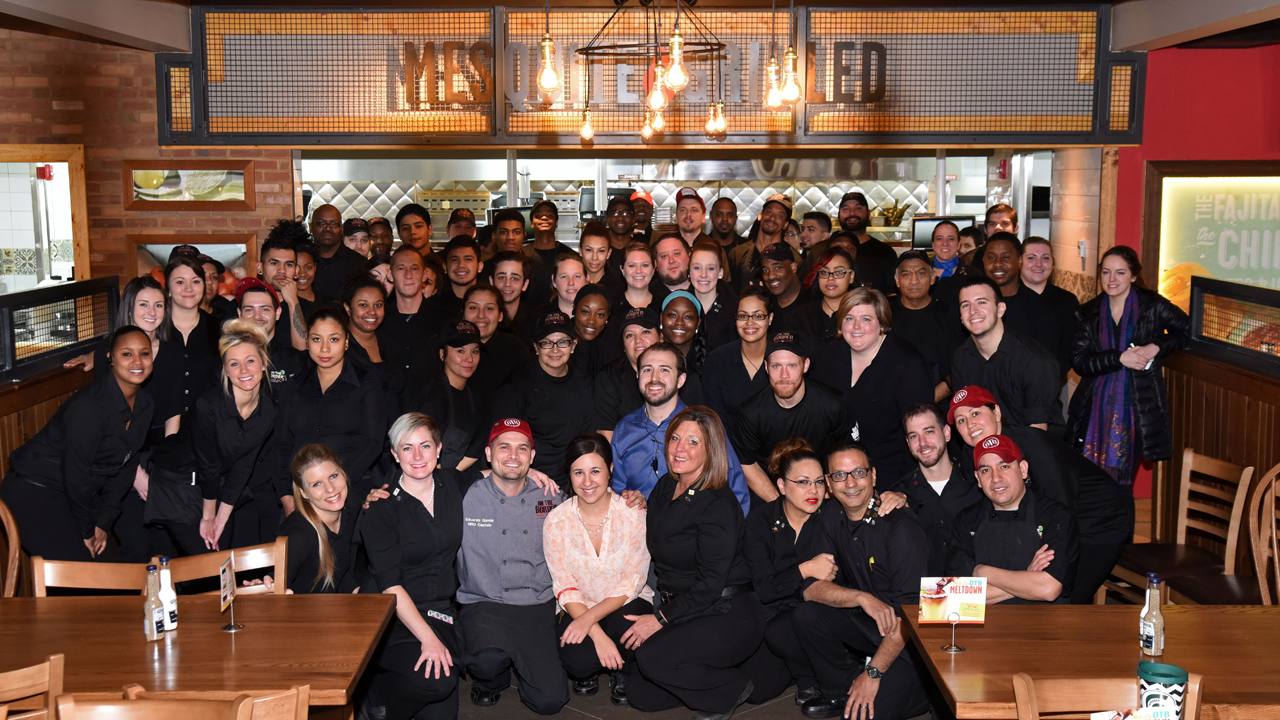 The interviewer wants to know more than just your ability to work well with others. They're assessing your capacities to compromise, handle conflict, and take a leadership role when needed.
The Answer Formula
How to nail this question? Easy. Focus on a specific example where you crushed it with team collaboration.
Describe the situation and challenge.
Talk about your role.
Explain how your actions led to a successful outcome.
Don't forget to highlight your interpersonal skills, and show how you kept a strong bond with your colleagues through it all. On The Border loves team players who stay positive and keep things moving, no matter what.
Now, let's put the spices together and simmer it into a delicious answer.
"In my previous role as a server at a local restaurant, we were tasked with hosting a large corporate event. It was a high-pressure situation with a lot at stake for our establishment. To ensure a seamless experience, I took the initiative to organize a quick meeting with the team. We discussed our responsibilities and divided the tasks based on our individual strengths. During the event, there were inevitable hiccups. However, maintaining open lines of communication with the team helped us quickly mitigate any issues without affecting the service. The event was a huge success and our team received immense appreciation from our manager, stating how effectively we managed everything under pressure. This experience demonstrated to me the strength of working coherently as a team."
What career goals excite you about joining On The Border, and how can this role move you toward them?
This question might seem tough, but guess what? It's a golden chance to showcase your dedication, initiative, and vision.
So, let's dive in!
How to Answer Like a Pro
Round 1: Know your career goals. Keep them clear and crisp.
Round 2: Done your homework about On The Border? Align your answer with the company's culture and values. Show them why On The Border is THE place for your aspirations.
Round 3: Demonstrate how the role you're vying for fits like a glove with your career path. Prove you're not just here for the season but for the long stay.
Ready to cook a jaw-dropping answer? Buckle up!
"I've always been passionate about the restaurant industry, and I'm particularly drawn to On The Border because of its distinct cultural identity and commitment to authenticity. My goal is to grow into a management position where I can contribute to promoting this unique dining experience and creating memorable moments for our customers. This role offers the perfect blend of operational management and customer engagement that I am looking for to build my career in this industry. Furthermore, your culture of continuous learning and development aligns perfectly with my aim to constantly evolve as a professional. In essence, joining On The Border will not only help me achieve my career goals but also gives me an opportunity to contribute positively, bringing my own flavours and influences to an already exceptional team."
Could you describe a time you showed perseverance and determination to achieve a challenging goal?
Our friends at On The Border use this question as a litmus test to gauge your resilience, desire for continuous learning, problem-solving skills, and ability to stay motivated despite difficulties.
Your answer should showcase how you handle professional challenges.
Your Action Plan
First and foremost, pick a time when meeting with significant obstacles didn't hold you back, ideally related to the food service industry or customer service. The more specific, the better!
Briefly describe the initial situation.
Talk about the exact challenges you faced and how you overcame them.
Don't forget your endgame: what was the outcome?
Illustrate your thought process at each stage, emphasizing on qualities like patience, determination, learning, adaptability, and teamwork.
Your goal? Paint a picture they won't soon forget.
"I was working as a server at a busy restaurant that was understaffed for a big anticipated weekend. Our manager was feeling stressed but I was determined to ensure our guests had an excellent dining experience despite the challenges. I rallied up the team, took charge of the larger tables and ensured that each guest request was fulfilled in record time. There were a few snags along the way where orders got mixed up, but instead of panicking, I rectified them with composure and a sense of urgency. By the end of the night, not only did we successfully serve all the guests, but we also received several compliments about our service. It was a taxing but an immensely rewarding experience that highlighted to me the importance of teamwork, swift decision-making, and maintaining a positive attitude in the face of challenges."
If faced with a rude guest, what would you do to resolve the situation?
This question provides the interviewer with insights into your customer service skills, problem-solving abilities, and capacity for maintaining composure in high-tension situations.
It's a test of your professionalism that allows them to gauge how you might contribute to the supportive and welcoming atmosphere that On The Border prides itself on.
How to Ace the Question?
To ace this question, keep these pointers in mind:
Staying calm and maintaining professionalism shows that you are able to handle difficult situations without losing your cool and that you can remain patient and respectful even when under pressure.
Strive to empathize with the guest because everyone has tough days.
But most importantly, seek a solution – let the interviewer know that your end goal is to validate the guest's concerns and provide an optimal solution, regardless of the situations that might arise.
So, how can you put this into action?
"If faced with a rude guest, my first step would be to stay calm and listen actively to their concerns. I'd make sure to communicate that I understand their frustrations and apologize sincerely for any inconvenience caused. By remaining respectful and empathetic, I'd aim to de-escalate the situation. However, I understand that it's not just about managing the situation; it's also about finding a solution. I'd work diligently to resolve their issue promptly and efficiently, ensuring the guest knows that On The Border is committed to providing excellent service at all times. If the situation is beyond my control, I would not hesitate to involve a manager, to ensure the customer feels heard and satisfied."
This might seem like a simple and casual question to make you feel comfortable, but actually, the interviewer is seeking to assess your familiarity with their menu, your ability to sell, and to whether or not you've done your homework.
No question about it: You need to dig into the menu before your interview.
Visit On The Border if you can. Or take a tour of their online menu and social media channels. The goal is to understand what makes their offerings unique. Fire up those customer reviews too. They can provide killer insights on popular dishes.
Choose a top-rated dish that matches your real tastes. After all, authenticity is key. If you're not into spicy food, don't fib and say the Jalapeño BBQ Salmon is your fav! Be ready to explain 'why' the dish you chose is your go-to.
Some things to consider:
Flavor profile
Presentation
Ingredients
The dish's connection to the brand's Mexican roots
And now, as you sit across from them, about to articulate your answer, remember that it's your stage to shine!
"Personally, my favorite menu item at On The Border is the 'Guacamole Live!' There's something incredibly engaging about the tableside preparation and eating freshly made guacamole – it's like a culinary performance. The fresh avocados mixed with pico de gallo, lime juice, and secret spices perfectly encapsulate the authentic Mexican flavor that On The Border is renowned for. Apart from the taste, what I really love about it is how it showcases the brand's commitment to fresh ingredients and innovative dining experiences. It's not just about the food; it's about making memorable moments at the table."
How would you warmly greet and engage with our guests when they first walk into the restaurant?
Seems straightforward, right?
But remember, it's more than just being courteous.
It's about your understanding of hospitality, your interpersonal skills, and if you can create a welcoming atmosphere that's 100% On The Border brand.
Your First Impression Blueprint
Your first impression sets the tone for a guest's dining experience. Here's what you need to do:
Be enthusiastic and approachable
Flash a sincere smile and use friendly body language
Understand their needs promptly without rushing them
Utilize active listening and communication to engage and show genuine interest
Articulate the unique elements of On The Border
So you've got all the tips and tactics under your sleeve. Let's string them together into a perfectly tailored response that endears you to the interviewer.
"Upon seeing guests enter the restaurant, I'd immediately meet them with a warm smile and a hearty 'Welcome to On The Border! I hope you're ready for an incredible dining experience.' After ensuring they're comfortable, I'd briefly highlight some of our specials and ask about any particular preferences. My aim will be to make them feel at home, valued, and excited for a taste of our unique dishes. From the onset, I strive to convey the welcoming, friendly atmosphere that On The Border is known for."
How would your past managers describe your working style?
They're testing your self-awareness, ability to take a hit (read: feedback), and how well you can play ball with the team.
Trust us, they just want to make sure you're not going to break the harmony in On The Border's unique, customer-focused culture.
Here's How You Tackle It:
Dig up your past evaluations and pick the golden nuggets – your amazing working style attributes that your previous managers admired.
Now, link these attributes to your desired role at On The Border. Let's say you're a pressure cooker master, perfectly cooked under the heat of a busy restaurant rush. Now that's a skill On The Border would die for. Go on and dazzle them with your stories of bustling shifts when you kept your cool and kept the team spirit alive.
Throw in specific examples. Shows you're not just full of hot air, but someone who's insightful and reliable.
Authenticity is key. Balance is wisdom. Talk about your strengths, but don't shy away from your need for improvement too.
So, let's plate up an example answer, garnished with the spices of authenticity, relevance, and well, a little bit of bragging.
"They'd probably say describe my working style as 'resilient and customer-centric.' In our fast-paced restaurant, there were certainly stressful moments, like a sudden surge of customers or unexpected staff shortages. Yet, I strived to keep my composure and ensure every customer received top-notch service, a trait I understand is fundamental to working at On The Border. They'd also mention my strong teamwork skills. I believe every successful shift is a team effort, and I always do my best to support my colleagues. However, they would also tell you that I'm always looking for ways to improve. Whether it's my customer interaction skill or keeping up with new menu items, I try to be a little better each day."
Tell me about a time when you received a crazy outlandish request from a guest. How did you react?
Unusual? Maybe. An excellent tool for the hiring manager? Definitely.
With this question, they're getting a sneak peek at your customer service skills, flexibility, and problem-solving mojo.
Put simply, they're checking out your adaptability under pressure and how you steer the tricky landscape of customer whims.
Answering with Confidence
To confidently respond to this question, keep in mind that it isn't just about the absurdity of the request; it's about your capacity to stay calm and levelheaded under stress.
Sketch out an experience where you've handled a challenging customer request successfully, even if it wasn't particularly 'outlandish'.
What truly wins here is when you show the interviewer your positive reaction and creative solution to unexpected situations. Don't pump up your story for the 'wow' effect; instead, be genuine, and let your process shine—your thoughts, actions, and the result achieved.
Strap in your seatbelts folks, let's roll out a whopping example to help you nail this right!
"Once, during a busy evening at a previous restaurant I worked at, a guest requested a vegetarian version of our signature steak dish. It was an unusual request, but I remained unfazed. I calmly and respectfully discussed with the guest what they were hoping for from the dish. After a brief brainstorming session with the kitchen staff, we created a portobello mushroom steak served over a bed of seasoned lentils that captured the essence of our signature dish, while still adhering to the guest's dietary needs. The guest was thrilled, which reminded me that going the extra mile often turns a potentially negative situation into a positive dining experience. It was an engaging challenge, and we all felt satisfied knowing we had exceeded the guest's expectations."
This role requires being on your feet for long periods. Are you comfortable standing for extended shifts?
Looks easy, huh? But this one's checking more than just your stamina.
Think: dedication, reliability, capability to handle fast-paced restaurant environment.
The interviewer needs to know that you're not just fit physically but also prepared mentally for the job.
How to Nail it?
Honesty First: Sure, give a simple "Yes". But, MAXIMIZE.
Showcase your pro-abilities: Recall any instances you toughed out long hours on foot? Here's your chance to bring that into the spotlight. Let 'em know you can stay energetic and focused during hectic shifts.
Experience Speaks: Got experience in a similar role? BETTER! This is where you use it to score points.
It's time to bring it all together with your reply.
"Absolutely, I'm comfortable with standing for extended periods. In fact, during my previous role at a busy, high-traffic diner, I was often on my feet for my entire shift. It efficiently kept me focused and in tune with the fast-paced nature of the work. It was a demanding environment, but I thrived in it. It taught me how to maintain my energy levels, remain alert and provide excellent customer service no matter how busy the shift. So, standing for long durations is something I've grown quite accustomed to and in fact, I believe it's an integral part of the restaurant industry, keeping us on our toes, both literally and figuratively."
What are some of your hobbies and interests outside of work?
What's the big deal about hobbies?
Asked about hobbies and interests at On The Border interview? It's not just some sneaky trick or casual warm-up.
They want to know: Are you well-rounded? Can you handle stress and maintain work-life balance? Will you fit into their team culture?
How to Play The Hobby Card
First, let's think about what empowers you physically, mentally, and emotionally. And no, we're not diving into a controversial territory.
Participating in team sports? Bam! You're a team player.
Obsessed with learning a new language? Bam! You love learning and are adaptable.
Everything you say about your hobbies actually says a lot about you.
But remember: honesty is the best policy. They'll catch a fake answer faster than you can say, "Quesadilla."
Let's whip up a tempting answer, shall we?
"Aside from my passion for the food and beverage industry, I immerse myself in a couple of hobbies outside work that balance me out as an individual. I have a keen interest in learning new languages – currently, I am learning French. This satisfies my intellectual curiosity and opens my mind to different cultures, an aspect that could help provide a welcoming dining experience for diverse customer groups at On The Border. I also regularly play soccer, which, apart from being a great way to stay fit, also helps me understand the importance of teamwork, commitment, and strategy – all crucial values in a fast-paced dining establishment like On The Border."
What makes you think you'd be a great fit for this role at On The Border?
This ain't just any regular question, folks. This is THE scout.
It's asked to unravel your understanding of the OTB culture, the specifics of the role, your qualifications, and most importantly—why you believe your skills and qualifications perfectly align with their needs.
So…How Do You NAIL This Question?
The answer's pretty straightforward. You need to match up the job requirements with your own skill set and demonstrate how they're going to help the team and the establishment.
Step 1: Scrutinize the job description. Figure out what qualities they need in an ideal candidate.
Step 2: Compare the requirements to your own skills, experiences, and qualities.
Step 3: Construct an answer emphasizing the similarities.
The key here? Show them you're great not only on paper but also as an actual team member who understands the nature of the role.
Feeling confident? Stick with us, now it's time to serve up an example.
"Well, based on the job description, you're looking for someone who can handle the fast-paced nature of the restaurant industry while engaging customers and ensuring total satisfaction. With my 2 years of experience as a server at a local restaurant, I've developed a knack for delivering excellent customer service in high-pressure situations. Furthermore, I have lauded proficiency in using POS systems, am able to juggle multiple tables and maintain a cheery demeanor. Besides, I'm always open to learn and adapt to new processes. I believe these experiences align with your expectations. And of course, I love Mexican food, the festive spirit here at On The Border definitely resonates with my energy!"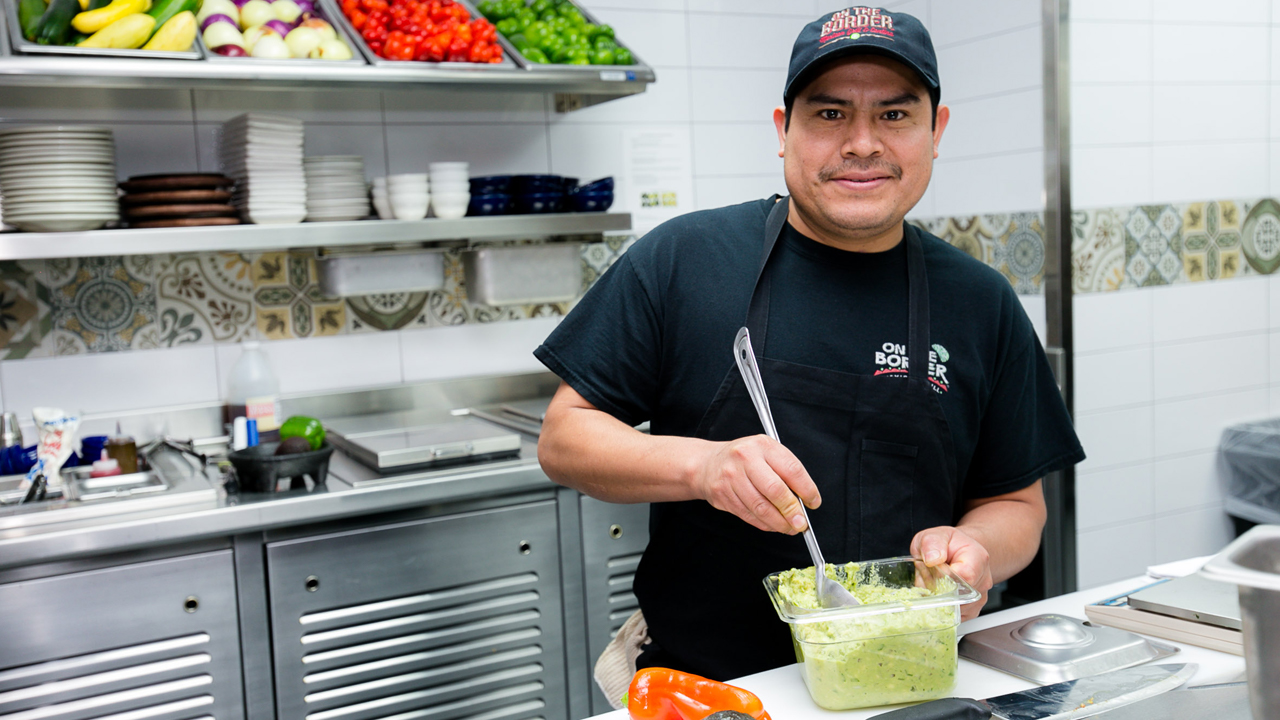 Your story needs to be genuine and engaging, allowing the interviewer to see your capacity to maintain a cool head in the midst of controlled chaos. Above all, keep your focus on revealing your ability to effectively manage multi-tasking at a fast-paced restaurant like On The Border.
Don't brush it off. It's more important than you think.
They're trying to see your ability to prioritize, work under pressure, and keep that stellar customer service going even when things get tough. On The Border is about fast-paced energy, and they want someone who can cope with that.
So, how do you ace this question?
Here's the game plan:
Turn your answer into a compelling story.
Start with the context – when and where it all went down.
Delve into the specifics of what you had to handle.
Spill the beans on how you aced the situation and the results.
Shine a light on your problem-solving skills and cool head under pressure.
But we get it, it's all a bit clean-cut and dry right now. Let's give it some pizzazz!
Your story could go something like this:
"Back when I was a waiter at another fast-paced restaurant, we unexpectedly had two large parties come in at once during a busy dinner service. Though it was daunting, I quietly took a moment to prioritize – I knew I had to keep composure and maintain customer experience while ensuring smooth operation. By quickly assessing the situation, communicating with my team, and effectively splitting my attention between the incoming customers, kitchen, and my current tables, I was able to manage everything successfully. The parties not only complimented our service but became repeat customers. We even saw an uplift in our customer ratings that evening. This experience solidified my confidence in juggling multiple situational demands simultaneously, a skill I'm ready to put to use at On The Border."
Stumped by this curveball question? Don't be.
This question isn't all about testing your menu knowledge or culinary creativity. It's more!
It's all about using the ol' noggin: your interpretive skills, your ability to problem solve and react to unusual situations, and, let's not forget, your dedication to delivering A-grade customer service even in the face of adversity.
The Perfect Response
Your answer should be packing serious heat on two fronts – excellent customer service skills and problem-solving abilities.
First, put their minds at ease. Show them you'd empathize with the customer's request with understanding and patience.
Next, flex your adaptability muscles. Show them you can suggest alternative menu items that could satisfy the customer's desire or dietary limitations.
Last but not least, indicate your readiness to check with the kitchen staff if they can accommodate special requests. Let them know you're all about team collaboration and guest satisfaction, even in unexpected scenarios.
Action!
Here's how your winning response might sound:
"If a guest asked for an item not on our menu, my first step would be to respond with empathy, indicating that I understand their request. I'd say something like, 'I can understand why that dish might appeal to you. While it's not a part of our current menu, let me suggest a few dishes that might offer a similar flavor profile or accommodate your dietary needs.' I'd then offer a few options from our menu that might fit the bill. If none of these seem appealing to them, I'd offer to check with our kitchen staff if they can make minor modifications to meet the guest's preference, without disrupting the kitchen's flow. Ultimately, my aim would be to ensure the guest feels acknowledged and satisfied with their On The Border experience, regardless of the challenges posed."
This crucial question is all about understanding the On The Border goal of delighting every guest, every time.
Prepping Your Answer:
Now, let's get down to the real deal. Your answer has to be specific and personal.
Avoid boring generic statements like "Excellent customer service means satisfying the customer."
How about mentioning something like prompt service, attention to detail, proactive problem-solving, and respect for the customer's needs? And don't forget the ambiance – light-hearted and lively.
Ever heard "Stories sell"? Drop a brief anecdote to demonstrate your understanding. Golden strike, remember?
Hitting the Nail on the Head.
Are you ready? Let's dish out a flavorful answer that checks all these boxes.
"To me, excellent customer service is creating an unforgettable dining experience. It involves quick and efficient service, but it's so much more than that. Think of a situation where a family walks into On The Border, and the kids are visibly excited about the balloons and vibrant decor. I'd not only serve them promptly, but I'd also anticipate their needs. For instance, providing the kids with a fun activity to keep them engaged while waiting for their meals. Furthermore, should an issue arise, like a late dish or a mix-up in the order, I'd proactively address it with a solution, such as offering a complimentary starters or desserts. In essence, excellent customer service for me is a mix of speed, empathy, proactive problem-solving and maintaining a vibrant and cheerful ambiance to create an 'On The Border' experience the guests will want to relive."
Tell me about a time you had a disagreement with a coworker. What did you do to get on the same page?
This question isn't set to trick you. It's there to showcase your inner conflict management wizard.
So, play it smart!
The Hiring Manager's Perspective
Wanna know what they are interested in? It's HOW you handle disputes and convert those moments into stepping stones to better collaboration and productivity.
Your Answer Strategy
Use the STAR method (Situation, Task, Action, Result). It helps you to keep your response crystal clear and full of necessary deets.
Cover these aspects:
Your thought process
The actions you took
The eventual outcome
Remember, don't badmouth a coworker. But do stress on your diplomacy and problem-solving ninja moves.
And, of course, exhibit humility and the flair to learn from the past.
Let's dive into an illustrative answer to get your creative gears revving.
"At my previous restaurant job, a colleague and I disagreed on the best way to handle holiday shift schedules. My coworker believed we should adopt an alternating schedule, while I suggested that we factor in each staff member's preferences and personal commitments. I felt it was essential to discuss this openly, so I requested a meeting with him. During our discussion, I explained my reasoning and listened to his perspectives. We decided to blend our ideas, creating a rotation that accounted for personal needs and evenly distributed the holiday shifts. The outcome was a schedule that everyone was content with, and it also improved the overall morale of our team."
At On The Border, we're all about being there for our guests! When are you typically available to work shifts?
This question seems straightforward but its intention goes beyond just filling out the restaurant's shift schedule.
The hiring manager is also measuring your compatibility, adaptiveness, and how well you grasp the unique needs of the hospitality biz.
You see, On The Border is a high-energy and customer-centric hotspot; it needs its team on their toes, ready to adapt their schedules around the clock.
Your Answer: Honesty Pairs With Savvy
To tackle this question, honesty is vital, but you also need to prove you know the game.
Be frank about your availability. Balancing other commitments like studies or work? Make this clear to prevent any untimely clashes.
Demonstrate your knowledge of the industry. Say you understand the demand for evening, weekend, or holiday shifts.
Show them your enthusiasm. Be ready to step up when needed and contribute to the On The Border family vibe.
Remember, it's not just about when you can work. It's about shining as a team player.
Time To Craft Your Perfect Reply
Enough strategy, let's construct a winning answer:
"I understand the commitment required in the hospitality industry, especially with a vibrant establishment like On The Border. I am available to work shifts during weekdays, mainly in the evenings as I have classes in the morning. However, my weekends are quite open, allowing me to cover shifts as needed. In the spirit of team collaboration, I am willing to step in for unscheduled shifts where necessary, especially during busy times like holidays. I know your guests come first, so I promise to bring my high-energy and commitment to every shift, impacting our guest experience positively."
Do you have reliable transportation to get to your shifts at On The Border on time?
Seems straightforward, right? Here's the catch.
The hiring manager isn't just asking about your car or bicycle. They want to see how serious you are about your job prospects and if you have thought through logistics like commuting to work.
Punctuality and reliability are key traits in the restaurant industry.
Your Confident Answer is Here
Don't just say "Yes" or "No". It's crucial to explain why your transportation is reliable.
Do you own a car that's in good condition?
Live near a reliable public transportation route?
Mention them, and if you have any backup plans, letting them know you're prepared for unexpected situations will definitely resonate well with them.
With a clear understanding of what's expected, let's put all these insights into a proficient answer:
"Yes, I do have reliable transportation. I own a car that's regularly serviced and maintained to ensure it's in good working condition. It's highly dependable and guarantees my punctual arrival to my shifts. Additionally, I live about 20 minutes away from this location, so the commute isn't an issue. Just for the unexpected days or potential car troubles, I have a convenient bus route close to my place, serving as a suitable backup plan. I understand how essential it is in the restaurant industry to be on time, and I assure you I'm committed to meeting that expectation."
Questions to Ask the Interviewer in On The Border Interview
???? Facing an interview can be intimidating, especially when it comes to that final, crucial question: "Do you have any questions?"
This query often pops up as interviewers look to better understand your interest in the role, evaluate your preparedness, and gauge if you'll mesh well with the team culture.
???? Rising to the occasion with an intelligent reply showcases your genuine interest in the job and indicates that you've done your homework about the company.
Wondering how to craft the perfect questions to ask? You're in the right spot!
Here, we've compiled a list of thoughtful questions that you can ask during your On The Border interview. These are designed to give you deeper insights into the nature of your prospective work, the company culture, and what exactly is expected of you.
Can you explain a typical day in this position?
What skills and experiences are you looking for in an ideal candidate?
Can you describe the responsibilities of this role?
How do you evaluate success here?
What are some of the challenges faced by this department?
What's the most important thing I should accomplish in the first few months?
Can you tell more about the team I'll be working with?
How would you describe the company culture?
What opportunities will I have to learn and grow?
Can you describe the performance review process?
How has this position evolved over time?
What are some of the goals for the company for the next few years?
Is there a path for advancement in this position?
What learning and development opportunities are available for employees?
Can you talk about the company's policy on work-life balance?
How do you encourage collaboration among team members?
How would you describe the leadership style of my future supervisor or team leader?
Could you talk about how the company addresses diversity and inclusion?
Do you have any concerns about my qualifications that I can address at this time?
On The Border Hiring Process

Landing a job at On The Border may seem intimidating, but having insight into their hiring process can help you feel confident and prepared.
First, submit an application online or in-person with an updated resume highlighting your customer service skills.
If your resume shows you could be a good fit, expect a call back within 1-5 days to schedule an interview.
The interview will likely happen the same day or within a few days of their call. It will take place at the restaurant and last 15-30 minutes with 1-2 managers like the general manager, assistant manager, or floor manager. Come ready to discuss your personality, customer service abilities, availability, and basic abilities. You may even get some simple math questions.
Don't stress too much though – if your personality fits their service-focused culture and your availability matches their needs, there's a good chance you'll be offered the job right there on the spot after just one short interview. Occasionally there may be a second interview for final sign-off.
Before starting, plan on an orientation day to go over training, review the handbook, and set up your schedule. Know that new hires start out training as hosts/hostesses before transitioning into server roles.
With high turnover, On The Border is constantly hiring and will hire quickly if you have the right demeanor for customer-facing work.
On The Border Interview Tips
When interviewing at On The Border, be ready to smile and highlight your upbeat, team-oriented personality. Their priority is finding people with the right attitude to deliver friendly service, so let your natural warmth shine through. Be prepared to share examples of providing great customer experiences and your multitasking abilities and flexibility.
What to Wear to On The Border Interview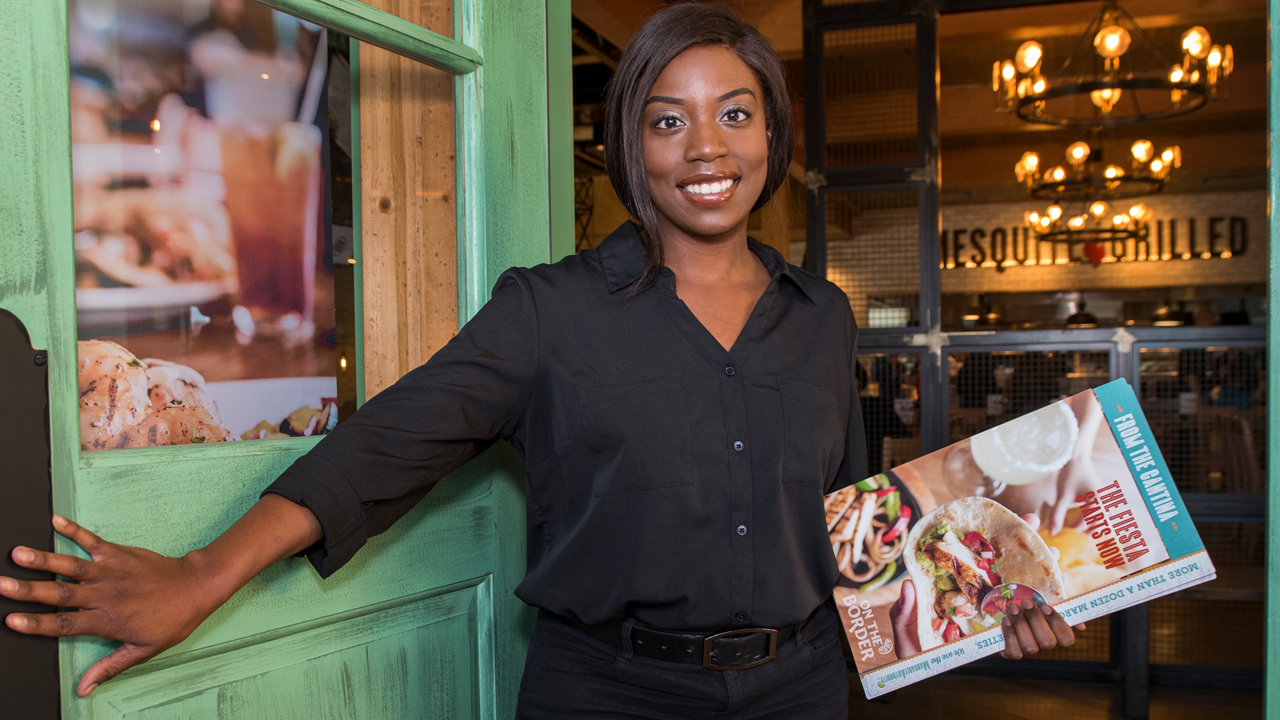 Now, you've done your homework about On The Border (fabulous choice, by the way), practiced answering questions, and are pretty much ready to get in there and dazzle them.
But wait! Before you rush out the door, let's talk about your attire for the interview.
When considering what to wear, the trick is to mimic the company's dress code. This shows the hiring team you already fit in—you're practically part of the family!
Let's demystify the dress code you'll likely adhere to when you land that job.
The dress code at On The Border includes a company-provided shirt, dark jeans (with no holes) or pants, a belt, socks, and slip-proof shoes.
For Dishwasher, Busser, Host, Server, Waiter, Bartender, and Cook roles, you can choose between casual and business casual attire for your interview. Consider a clean, crisp button-down shirt or a polo paired with dark jeans or slacks.
If you're aiming for a Restaurant Manager position, business casual is your go-to. A pair of well-fitted slacks, a button-down shirt, and possibly a blazer to complete the look.
If you're interviewing for a corporate role at On The Border, business formal is your uniform for the day. We're talking suits, ties, blazers—the works. Ladies, a pantsuit or a skirt suit with a blouse works wonders. Gents, you can't go wrong with a tailored suit.
Conclusion
???? Armed with our inside scoop on the most frequently asked interview questions at On The Border, you're now ready to make an unforgettable impression.
Keep Your Options Open
While it's invigorating to look forward to a successful interview at On The Border, don't let that anticipation deter you from exploring other opportunities in the industry.
???? If On The Border excites you, you may also find joy working at other popular restaurant chains like Chili's, TGI Fridays, Applebee's, Olive Garden, Texas Roadhouse, and Red Robin.
Job hunting is unpredictable. While waiting for feedback, be proactive and continue to send out applications to other potential employers. With every interview you attend, you're one step closer to landing your dream job.
Best of luck, and may you find the perfect fit for your skills and passions! ????