25 Auntie Anne's Interview Questions (And Buttery Answers)
The nerves are kicking in as your interview with Auntie Anne's approaches. You know how much you want this job, how much the opportunity would mean to you, but there are always those nagging self-doubts – will you measure up? Will you make a good impression? The truth is, while there are no guarantees in life, you can help stack the odds in your favor.
Preparation is key. By familiarizing yourself with the most commonly asked interview questions at Auntie Anne's and crafting compelling responses, you will walk in there with confidence, ready to share your experience, passion, and enthusiasm. This blog post is your key to unlocking that preparation and confidence.
In this blog post, you'll find the interview questions Auntie Anne's managers and franchise owners ask in nearly every interview, along with sample answers to get your creative juices flowing. Put yourself in the mindset of your interviewer and think about the qualities and strengths you want to convey. Speak from your heart while highlighting your relevant experience. Practice your responses out loud, make eye contact with your reflection, and smile – you've got this!
With the right mindset and preparation, you will shine in your Auntie Anne's interview. This is your chance, your opportunity to show them the value you can bring to their team. You deserve this – now go get it! Believe in yourself and pass that belief on to the interviewer. You will win them over with your enthusiasm, dedication and passion. Success is within your grasp, just reach out and take it. You've prepared, now breathe, walk in there and just be yourself. You've got the power to make this Auntie Anne's job your reality. Now is the time. You've got this!
Auntie Anne's Company Information
Becoming familiar with Auntie Anne's key facts will benefit you greatly during your interview. Equip yourself with essential company knowledge to confidently answer any research-based questions and show your genuine interest in the role.
| | |
| --- | --- |
| Trade Name | Auntie Anne's |
| Type | Pretzel Shop Chain |
| Founded | 1988 |
| Founder | Anne F. Beiler |
| Headquarters | Atlanta, Georgia, United States |
| Menu | Pretzels, Drinks, Dips |
| Signature Items | Original Pretzel, Cinnamon Sugar Pretzel |
| Core Values | Giving Back to the Community, Commitment to Quality |
| Website | www.auntieannes.com |
| Competitors | Wetzel's Pretzels, Pretzelmaker |
Additional facts:
Auntie Anne's was born in 1988 when founder Anne Beiler bought a stand in a Pennsylvania farmer's market.
The initial purpose of Auntie Anne's was to fund free family counseling services in their community.
Auntie Anne's is known for its freshly baked pretzels, assuring quality with a freshness guarantee.
Auntie Anne's prioritizes community service, with a history of impactful involvement in various causes.
Since 2011, Auntie Anne's has been a proud partner of Alex's Lemonade Stand Foundation (ALSF), contributing over $5.1 million to combat childhood cancer.
The company's C.A.R.E.S. Committee, established in 1995, directs focused community support.
Auntie Anne's has also committed to reducing food waste and combating hunger, having donated more than 16.2 million pretzel products since 2010 in partnership with Food Donation Connection.
Select Auntie Anne's locations offer Pretzel Field Trips, where participants can learn about the history of the pretzel, Auntie Anne's journey, and the art of rolling the perfect pretzel.
Schools can benefit from Auntie Anne's Pretzel Pals program, which includes whole grain and white flour options for pretzel nuggets and pretzel dogs.
Auntie Anne's has extended its love for pretzels into homes with their frozen classic pretzels and pretzel nuggets, available at select retailers.
Auntie Anne's Mission Statement
Caring for Other People is Our Purpose.
Auntie Anne's Interview Questions
The interviewer is trying to gauge how well you would fit into the company culture and job role.
Before the interview, reflect on your relevant experiences, strengths, and passion for customer service. We recommend emphasizing any food service or retail experience you have, as well as key soft skills like communication, teamwork, and problem-solving.
When they ask this question, don't just rattle off your work history. Really sell your passion for the brand!
You could say something like:
"I've been a loyal Auntie Anne's customer for as long as I can remember. The smell of warm pretzels has always meant family, fun, and happiness to me. I know your products inside and out, and I get excited just thinking about helping new customers discover their perfect pretzel or lemonade combination.
Beyond that, I have three years of experience in food service, where I learned the importance of speed, efficiency, and keeping a smile on my face even when working under pressure. My friends would say I'm the most outgoing and energetic person they know. I love making personal connections with each customer to ensure they leave with a great experience and come back again and again. Working at Auntie Anne's would be a dream come true!"
Why do you want to work for Auntie Anne's?
This is a common interview question, and the hiring manager is trying to assess your motivation and enthusiasm for the role.
When the question comes up in your interview, don't be shy – share your enthusiasm! Let your passion for the brand shine through. Talk about your favorite product, a great experience in one of their stores, and how you'll make customers smile.
Tell them something like:
"I've been an Auntie Anne's fan since I was a kid! The smell of those pretzels baking, the smiles and laughter in the stores – it's always felt like such a happy, welcoming place. I've seen firsthand, as a customer, the amazing culture you've built and how much your team members genuinely care about each other and your customers. I would love to be a part of that team, help create those moments for customers every day, and spread that same positive spirit. This role is my dream job!"
An answer like that proves you're joining them for all the right reasons. It shows you understand the secret sauce behind their success (it's the experience!), and you're passionate about contributing to it. Most of all, it tells them you're not just there for the paycheck – you really want to be part of Auntie Anne's family.
To ensure we have the right crew scheduling to serve our guests, what does your current availability look like?
This question allows the interviewer to gauge your availability and ensure you can commit to the schedule required for the role. We know from experience that a flexible, reliable schedule is essential for success at Auntie Anne's.
When answering this question, be enthusiastic about the opportunity to take on more hours and responsibilities. You should also convey your openness to working weekends, evenings, and holidays.
With that in mind, here is an example of how you could respond:
"My availability is wide open and flexible right now. I don't have any commitments that would prevent me from working extended hours or varied shifts at Auntie Anne's. I'm available nights, weekends, and holidays without any restrictions. I'm eager to be part of a team that keeps the amazing smell of soft pretzels floating through the mall at all times!"
An answer like this proves you're committed to going the extra mile for customers and coworkers alike. Let the interviewer know that you get how important it is to keep operations rolling day and night, and that you want to contribute 110% to making that happen.
If offered a position, when would you be available to start?
We know this question often catches candidates off guard in an interview. The interviewer is trying to determine your availability and enthusiasm for the role.
The best way to answer is with confidence and by emphasizing your flexibility. You want to convey your excitement about joining the team as soon as possible.
Of course, also be practical. You probably need to give your current job a heads up or finish up other commitments before diving into your Auntie Anne's training apron full-time.
"I'm eager to dive in and get started. My schedule is very flexible at the moment, so I can likely start within a week or two of receiving an offer. But I'm happy to start part-time or evenings/weekends even sooner if you need extra hands on deck!"
In the spirit of continuous self-improvement, what are your strengths and weaknesses?
The hiring manager is going to ask about your strengths and weaknesses – it's inevitable. But don't sweat it, we've got you covered.
Auntie Anne's wants candidates who know themselves inside and out. They're looking for people with the self-awareness to thrive in their fast-paced, customer-first environment.
So when the interviewer asks about your strengths and weaknesses, be authentic! Share the qualities that would make you a pretzel-twisting superstar, like:
"My greatest strengths are my ability to connect with customers, my passion for providing great service, and my eagerness to learn. For example, in my previous role at a bakery, I frequently received positive reviews from customers and was recognized by management for my customer service. However, I know that to succeed at Auntie Anne's, I will need to strengthen my time management skills. At times, I can get caught up interacting with customers and fall behind on tasks. I understand the importance of efficiency and am working to improve in this area through the use of schedules and to-do lists."
What is it about our company culture and values that resonates the most with you?
Auntie Anne's is all about scrumptious pretzels, top-notch customer service, and a pristine environment. Translation: friendliness, quality, and cleanliness. Those values are their bread and butter (or should we say pretzel butter?).
If that's not music to your ears, this probably isn't the gig for you. But if you live to make personal connections, love whipping up mouthwatering treats, and cringe at the thought of an unclean kitchen – you've got an opportunity of a lifetime!
As for your answer, go with something like this:
"What resonates most with me about Auntie Anne's company culture is the focus on providing high-quality service and products in a spotless environment. I love interacting with customers and making personal connections, so the company's emphasis on friendliness and customer service is very appealing to me. Baking pretzels and other treats fresh throughout the day in an open kitchen shows a real dedication to quality and transparency. And of course, cleanliness is key – no one wants to eat at a dirty restaurant! The company's values around quality, service, and cleanliness directly align with my own priorities and work ethic. I would be thrilled to be part of a team that shares those same values."
What's your personal favorite Auntie Anne's pretzel?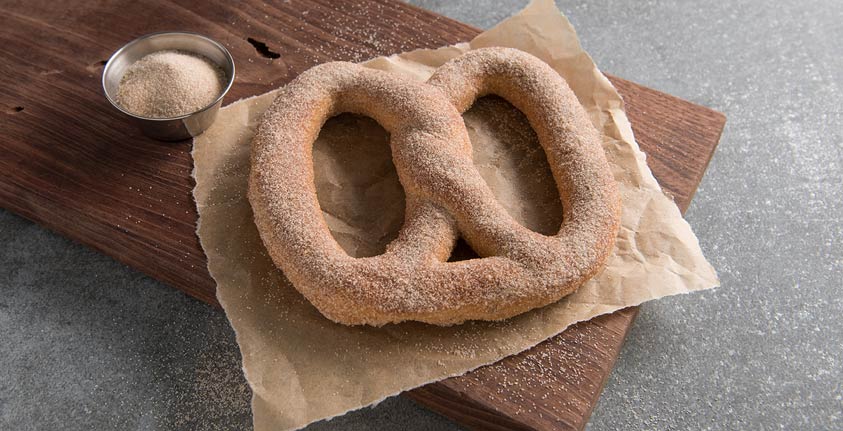 The interviewer is looking to get a sense of your product knowledge and enthusiasm for the brand. We want to set you up for success, so here are some tips for crafting a great answer:
Focus on the pretzels, not the snacks or beverages. Share some of the pretzel options that you genuinely enjoy and why.
Talk about the smell, taste, and texture. Discuss the sensory experience of your favorite pretzel to demonstrate how memorable and crave-worthy you find their products. This will highlight your passion for the brand.
Share a personal story. If you have a memory of enjoying Auntie Anne's pretzels with friends or family, briefly share that story. Help the interviewer understand why that particular pretzel sticks out in your mind.
This question is a softball pitch right down the middle. Knock it out of the park by talking about the pretzel that makes your mouth water just thinking about it.
Picture this scenario for the interviewer: You've just stepped up to the counter, your heart set on that Cinnamon Sugar Pretzel. The server hands you the warm, golden brown twisted treat, its edges freckled with red-brown sugar crystals. You take a bite and sweet bliss envelops you. The rush of nostalgia and joy is real. This is the stuff cravings are made of!
To bring this story into your answer, you could say:
"My personal favorite Auntie Anne's pretzel would have to be the Cinnamon Sugar Pretzel. The sweet and spicy cinnamon and sugar coating is so addictive, and the soft, warm pretzel on the inside is the perfect companion. The smell of the cinnamon and freshly baked pretzel dough immediately takes me back to family vacations growing up where Auntie Anne's was always a stop we had to make. The Cinnamon Sugar Pretzel is a classic, delicious treat that represents childhood memories and comfort for me."
Our stores maintain an energetic pace to serve our guests. How do you typically handle the pressure of a fast-paced work environment?
This question is the hiring manager's secret way of asking if you can hack it in Auntie Anne's high-energy, fast-paced stores. They want to see that you're someone who stays cool as a cucumber when the pretzel ovens are blazing, and customers are lining up out the door.
When they ask how you handle pressure, don't panic—we've got you covered. Think of times you've had to deal with crazy demands, like cranking out a last-minute group project at school or handling a rush of hangry customers at your old job. How did you stay on top of everything without losing your mind? Did you make a plan, delegate to your teammates, keep people informed of the game plan? Discussing specific strategies will win major points.
When they lob this question your way, take a deep breath and respond with confidence:
"At my previous restaurant gig, we would frequently experience huge influxes of customers that resulted in a mountain of orders in a short time. But over the years, I developed a method for keeping my cool during the madness. I would re-prioritize on the fly, direct my teammates to where help was needed most, and make sure everyone knew the game plan for getting food out accurately and efficiently. Staying flexible, communicating clearly, and tackling problems as a team helped turn potentially stressful situations into well-oiled assembly lines. That's the kind of mindset I would bring to maintaining Auntie Anne's signature speedy service under pressure."
What passions or interests fuel your enthusiasm outside of work?
As an applicant for Auntie Anne's, you can expect the interviewer to ask about your passions and interests outside of work. The interviewer wants to see that you have a fulfilling life outside of work and are capable of managing work-life demands.
This is your chance to show them the fun, interesting person you are.
Take a second to think of something you genuinely geek out over. Maybe it's walking dogs at the local animal shelter or coaching your kid's soccer team. Whatever it is, now's the time to enthusiastically gush about it.
For example, you could say:
"Honestly, one of the highlights of my week is volunteering at the animal shelter down the street. I'm a total crazy dog lady! Playing with those pups just makes me smile. On weekends you'll usually find me covered in fur, walking dogs, cleaning up kennels, helping new owners pick out their perfect new family member. It's the best kind of rewarding chaos. Caring for animals in need has always been a passion of mine, so any chance to support local shelters is time well spent, as far as I'm concerned."
An answer like this shows them you have a life outside of smelling pretzels all day – and an admirable one at that! Speaking passionately about something you genuinely care about will make you shine like a star. It says you're capable of having work-life balance, even in a fast-paced job.
How do you typically approach resolving conflicts or disagreements with colleagues?
Conflicts at work are inevitable, but as Auntie Anne's candidate, the hiring manager wants to see that you can handle them like a pro.
When they ask you about resolving disagreements with coworkers, tell them how you stay cool as a cucumber. Share a story that shows you know it's all about communication, compromise, and keeping your eyes on the prize. Highlight your ability to remain calm and objective, see multiple perspectives, and resolve issues through open communication and compromise.
With the right mindset and approach, you can feel fully prepared to discuss this topic confidently in your interview.
In your words, tell them something like this:
"Disagreements happen, but that's no reason to get bent out of shape! In my experience, the best way to resolve conflicts with colleagues is through respectful communication. For example, if a coworker and I disagreed over how to delegate responsibilities for an important task, I would first listen to their concerns openly. Then, I would explain my perspective and try to find common ground and a mutually agreeable solution. If needed, I may suggest compromising by dividing the work in a way we both felt comfortable with. The key is to stay focused on the shared goal, address issues promptly and directly, and maintain a cooperative attitude."
Where do you envision your career path leading you over the next few years, and how does a role at Auntie Anne's fit into those goals?
When the interviewer asks where you see your career in a few years, they want to know you're in it for the long haul. Show them your ambition and passion for Auntie Anne's brand.
We've talked to tons of successful store managers, and they all had one thing in common – a vision for how they could grow with the company.
With the right mindset, this question is an opportunity to showcase your potential.
"In a few years, I see myself as an integral part of the Auntie Anne's team, hopefully as a Store Manager. I want to start my journey here by learning the ropes in an entry-level role, building my knowledge of store operations, and connecting with customers. Once I've proven myself, I would love the opportunity to become a Shift Manager, motivating employees and making sure we provide an unforgettable experience for every guest who walks through our doors. Ultimately, my goal is to run my own store, create a warm and welcoming environment, hire an amazing crew, and share my passion for Auntie Anne's with customers and employees alike. I'm committed to this company and plan to grow with Auntie Anne's for the long run."
Pretzel perfection is our passion. What drives your desire to pursue excellence in customer service?
You'll want to prepare thoroughly for this popular interview question. The interviewer is trying to gauge your passion for customer service and whether you'll be a good culture fit. As hiring managers ourselves, we know excellence in customer service is vital for any Auntie Anne's employee.
The interviewer wants to see that you have what it takes to deliver pretzel perfection. As longtime hiring managers ourselves, we know the secret sauce for any stellar Auntie Anne's employee is a genuine desire to make customers smile.
When it comes to customer service, it's go big or go home.
"For me, creating an amazing customer experience is what makes the job so rewarding. There's nothing quite like seeing a customer's eyes light up when they take the first bite of a warm, cinnamon sugar pretzel. I love chatting with customers, learning about their day, and finding ways to make them laugh and brighten their mood. If I can send them off with a belly full of pretzels and a smile, I know I've done my job well. Excellence in customer service, to me, means never settling for good enough. I want to connect with each customer, spread positivity, and give them a little extra something special so they leave already planning their next visit. If given the opportunity, I'll bring that same passion for pretzel perfection and creating memorable experiences to the team at Auntie Anne's each and every day."
If you were an animal, which would you be and why?
This classic interview question is your chance to show the hiring manager what an asset you'd be to Auntie Anne's team.
We know you want this job, so put some thought into your answer! Think of an animal that shares your best qualities—the ones that would make you a pretzel-twisting superstar. Are you social and collaborative like a dolphin? Determined and focused like a tiger? Friendly and energetic like a squirrel? Choose wisely, because your answer gives insight into how you see yourself, and what you can contribute.
With some reflection, an animal that fits your personality and strengths will come to mind.
"If I were an animal, I'd be a dolphin. Dolphins are very intelligent, social, and collaborative in nature. They work together in close-knit pods, just like the team atmosphere I'd help create at Auntie Anne's. I'm a people person at heart, so collaborating with coworkers to keep customers happy and pretzels twisting would be my joy. Like a dolphin navigating the seas, I'm quick thinking and adapt well to change. In a fast-paced job, those qualities help me anticipate challenges and pivot quickly. Most of all, dolphins brighten the lives of those around them. If chosen for this role, that's exactly what I'd strive to do for Auntie Anne's customers and my fellow crew members each and every day."
Can you walk me through how you would handle an unsatisfied customer who came up to the counter and said their pretzel was cold and stale?
The hiring manager is going to grill you on how you would handle unhappy customers. Why? Because at Auntie Anne's, customer satisfaction is everything.
Don't sweat it, we're here to give you the inside scoop.
We recommend showcasing that you stay calm under pressure, take responsibility, and turn the situation around to leave the customer happy.
Now, let's see an example of how to answer this question.
"First, I would apologize to the customer and thank them for bringing this issue to my attention. I would offer to replace their pretzel immediately at no cost. As I prepare them a fresh, hot pretzel, I would try to determine why their pretzel may have been cold or stale and take steps to prevent the issue from happening again. For example, I may check the temperature settings on the ovens or warming trays. I would also offer the customer a coupon for a free pretzel on their next visit for their inconvenience. My goal is to make things right for the customer and turn their experience around so they leave happy and continue to be a loyal Auntie Anne's customer."
Customer satisfaction is the cornerstone of any successful business, especially in the food service industry.
As an interviewee for Auntie Anne's, the hiring manager will likely ask you about a time you handled a stressful situation with a customer to gauge your problem-solving skills and commitment to quality service.
When asked this question, you want to emphasize how you resolved the issue in a caring, compassionate manner. Share a specific example of how you calmed an upset customer, addressed their concerns, and turned their experience around. Focus on the actions you took and the outcome.
"Once, there was a customer who approached me at my counter, clearly annoyed that her bagel didn't have enough poppy seeds. She complained that this had been a recurring issue at our bakery. I immediately apologized for the inconvenience and understood her frustration. I suggested that we bake a fresh bagel for her, ensuring that it had an adequate amount of poppy seeds. Additionally, I handed her a coupon that entitled her to a free bagel on her next visit. As I presented her with the freshly baked bagel, she expressed gratitude for my understanding, meticulousness, and the complimentary coupon. She left our bakery feeling content and has been a loyal customer ever since."
As you can see, the most important part of your answer is demonstrating how you show care and concern for the customer. Explain that you sought to understand the issue, take responsibility, and go above and beyond to make things right. Focusing on customer service fundamentals like these will make you a great fit for Auntie Anne's team.
What would you like to see in your fellow team members at Auntie Anne's?
This is their chance to get inside your head and see what really matters to you in the people you work with.
As hiring managers ourselves, we know the interviewer will be looking for one answer: team players. They want to hear about friendly, enthusiastic people who live to serve the customer.
So when this question comes up, look them straight in the eye and say:
"I would like my fellow team members at Auntie Anne's to share my passion for providing world-class customer service. Give me a team of go-getters who smile, work hard, and always have each other's backs. We're all in this together to create an amazing experience with every single guest who walks through our doors. If you've got a crew with infectious positive attitudes, the sky's the limit for what we can achieve. Together, we'll make Auntie Anne's the brand that everyone's talking about!"
How would you describe your ability to connect with our guests and provide exceptional customer service?
Connecting with customers is the heart of working at Auntie Anne's. When the interviewer asks you this question, they want to ensure you have the soft skills and personality to thrive in a fast-paced, customer-facing role.
The keys to acing this response are demonstrating your genuine enjoyment of interacting with people, your ability to provide high-quality service with a smile, and concrete examples of how you've built rapport with customers in the past.
See where we're going here? Share a story like this with the interviewer:
"Connecting with customers on a personal level is what I do best. In my previous role at a popular bakery, I quickly learned how to greet customers with enthusiasm, anticipate their needs, and make personal connections through friendly conversation while serving them efficiently. For example, I had a regular customer named Jenny who came in every week on her way to work. Over time, I got to know her usual order and would have it ready for her as she walked in the door. We also bonded over our mutual love of swimming, and I always asked how her swim team was doing. Building those kinds of relationships is my favorite part of the job, and I look forward to doing the same at Auntie Anne's and creating a welcoming environment for all guests."
Would you consider yourself more of a leader or a follower? Why would that be the case?
When the interviewer asks you this, they want to gauge how you view yourself in a team setting and the value you could provide to their team.
To answer this question effectively, you'll want to strike a balance between showing leadership qualities and being a team player. As hiring managers, we recommend emphasizing flexibility and focusing on what is best for the team and company goals.
"I would say I'm a versatile team member who can fill both leadership and supportive roles as needed. I'm the type of team member who will step up and lead when creativity or problem-solving are needed, but I'm also happy to follow directions from others. What matters most to me is that we work together to bring out the best in each team member so we can achieve amazing results. At Auntie Anne's, it's all about teamwork, isn't it?
An answer like this highlights your ability to adapt to different roles, your collaborative mindset, and your focus on achieving company goals above all else. By emphasizing shared success over personal gain, you show the hiring manager you would be an asset to their team.
What accomplishment in your life are you most proud of so far? How did you achieve it?
We know the interviewer is looking to gain insight into what motivates and inspires you, so make sure your answer highlights an achievement that demonstrates your key strengths and values.
This is the perfect chance to show how you'll go the extra mile for your team and customers. So think of an achievement that demonstrates how crafty, motivated, and customer-obsessed you are.
For example:
"One achievement I am particularly proud of dates back to when I was working at a popular local bakery. I noticed that our system of handling the morning rush wasn't very efficient, leading to longer wait times and frustrated customers. I didn't have the authority to make any sweeping changes, but I felt a responsibility to improve the situation.
I started by observing the pattern of orders and the workflow during the morning rush hours. After several days, I had an idea for a 'fast lane' for customers who wanted our popular items, like our signature bagels and croissants, which were pre-made each morning. I proposed this to my manager, who appreciated the initiative and agreed to a trial run.
We implemented the 'fast lane' system for a week, and the improvement was remarkable. The wait times were reduced significantly, and the feedback from customers was overwhelmingly positive. What's more, my manager made the 'fast lane' a permanent feature of our morning service and commended me for my insight.
While it may seem like a minor thing, I am proud of this accomplishment because I made a significant positive impact on our operations and customer satisfaction, despite being an average employee. This experience has taught me that everyone, regardless of their position, can contribute valuable ideas and make a difference."
Using a specific example like this, with measurable results, clearly demonstrates your motivation, work ethic, and leadership abilities. Finish strong by sharing why this accomplishment makes you a great candidate for the role at Auntie Anne's.
How do you typically deal with the demands of serving numerous guests at once during busy periods?
As an Auntie Anne's associate, dealing with high volumes of pretzel-craving customers during busy periods is an essential part of the job.
The interviewer will ask you this question to determine how you handle stress and demanding workloads. We advise being honest but highlighting your ability to multitask and maintain a positive attitude.
When the interviewer poses this question, flash a winning smile and say something like:
"Busy shifts are my jam! I thrive on the fast pace and interacting with customers. I come in early to set up and organize so I've got a system in place to efficiently take and prepare orders even when it's swamped. Staying positive and patient is key. I focus on each customer and work through the orders one by one while keeping an eye on new guests walking in. It's almost like a game to see how fast and accurately I can serve everyone. At the end of a big rush, I feel an amazing sense of accomplishment knowing I provided great service to so many customers in a short amount of time!"
What specifically interested you most in a role with Auntie Anne's compared to other chains?

This question is aimed at determining your motivation and enthusiasm for the brand. Auntie Anne's is looking for candidates with genuine enthusiasm for the brand.
To answer, you'll want to convey your genuine passion for the company culture and values. Say something like:
"What interested me most in Auntie Anne's is the company's commitment to high quality products and customer experience. As someone who grew up enjoying Auntie Anne's pretzels, I've always appreciated the care and craft that goes into each pretzel. I believe strongly in providing customers with an exceptional experience, and Auntie Anne's emphasis on courtesy, cleanliness, and efficiency aligns perfectly with my own values. I'm eager to contribute to a brand that not only produces delicious food but also fosters such a positive environment and community presence. This role is the perfect opportunity for me to contribute to a brand I genuinely care about."
Have you had any experience hand-rolling and shaping soft pretzels or working with similar types of dough in a food service setting?
The interviewer is really trying to figure out if you have the chops to handle shaping mushy pretzel dough all day. They want someone who won't be afraid to get their hands messy and can master the art of pretzel-rolling.
When answering this question, you'll want to emphasize any relevant experience you have, your enthusiasm for learning, and your ability to master new skills quickly.
"Yes, I have experience hand-rolling and shaping dough from a previous role at a local pizzeria. For over a year, I was responsible for making fresh pizza and calzone dough from scratch every day. I enjoyed the process of kneading and rolling out the dough, and received positive feedback from customers on the final product. My hands-on experience with pizza dough, which requires similar stretching and shaping techniques, would allow me to pick up the pretzel-making process very quickly. I love working with my hands and creating food that makes customers smile."
Our crew hustles together all day, every day to raise the standard of snacking. Can you tell me about a time you went above and beyond to support your teammates?
The interviewer wants to know that you're the type of candidate who will do whatever it takes to support your crew and keep customers smiling.
We know Auntie Anne's values team players who aren't afraid to get their hands dirty. So, take a deep breath and think of a time when you were all-in for your teammates.
Have an example in mind? Great, now put yourself back in that moment. Remember the buzz of the busy atmosphere, your coworkers hustling around you, the long line of customers waiting to be served. You saw the strained looks on your teammates' faces as they struggled to keep up with the rush. But you weren't going to let them drown – you were determined to do your part to turn the tide.
"One Saturday last summer, we were extremely shorthanded as several employees had called in sick. The lines were out the door, and my coworkers were clearly stressed trying to keep up with the demand. I had come in on my day off to pick up my paycheck, but upon seeing how frantic everything was, I offered to stay and help. I assisted with taking orders, handling the ovens, and serving customers for over 6 hours until the rush had died down and the rest of the crew had caught up. Though it was an exhausting day, my managers and coworkers were extremely appreciative of my willingness to jump in – and the customers were none the wiser to how much we were struggling. I was happy to go above and beyond for my team to ensure the quality and standard of service our customers expect from Auntie Anne's."
Can you tell me about a time you took feedback from your manager and used it to strengthen your performance?
As part of the interview process, the hiring manager is likely to ask you about a time you took feedback from a manager and used it to improve your performance. This is a common interview question, and the interviewer wants to see that you're open to feedback and able to learn from it.
As seasoned hiring managers ourselves, we know how important a candidate's response to this question can be. The key is to choose an example that showcases how you listened to the feedback, understood the issues, and took actionable steps to strengthen your performance.
For example, you might say:
"When I first started working at my previous job at a local bakery, my manager told me that I needed to be more energetic when interacting with customers. I took that feedback seriously as excellent customer service is crucial in this industry. The next shift, I made a conscious effort to smile and greet every customer who walked in and make more eye contact and speak with more enthusiasm when taking orders. I could see that it made a real difference – customers seemed to appreciate the extra friendliness, and I received a couple of compliments. My manager noticed the change as well and mentioned I had taken the feedback well, and it was improving my performance. I have continued to keep that in mind and ensure I always greet customers with a smile at Auntie Anne's as well, as I know that small things like a friendly greeting and smile can make customers feel welcomed and leave with a positive experience."
Auntie Anne's hiring managers want candidates who truly understand the power of customer connection. When they ask about building rapport and loyalty, they're looking for specific stories that show how you've gone the extra mile to turn customers into lifelong fans.
Want the inside scoop? Share an experience that tugs at the heartstrings.
"In my previous role as a barista at a local coffee shop, I made an effort to get to know our regular customers and provide highly personalized service. For example, there was an elderly customer named Ed who came in every Tuesday and Friday morning. I learned that he always ordered a medium black coffee and a blueberry muffin. After a few weeks, I began to have his order ready for him as soon as he walked in. When I saw him waiting in line, I would greet him by name with a smile and hand him his usual items. Ed always seemed appreciative of this gesture, and over time he began to open up to me, sharing stories about his grandchildren and favorite hobbies. I was able to build a meaningful connection with Ed through consistent, thoughtful customer service that showed I valued him. The loyalty and rapport I built led to Ed becoming one of our most vocal advocates, frequently recommending our shop to friends and neighbors. I believe in providing every customer with this same level of personalized attention and care."
Questions to Ask the Interviewer in Auntie Anne's Interview
As the interview winds down, the interviewer will likely ask if you have any questions for them. This is not the time to ask about salary, benefits, or time off. Instead, focus on learning more about the role, team, growth opportunities, company culture, and mission.
Asking insightful questions demonstrates your genuine interest and enthusiasm. It also allows you to gather information to determine if this role and company are the right fit for you.
Here are some questions you could ask your Auntie Anne's interviewer:
What do you enjoy most about working for Auntie Anne's?
What does success look like in this role in the first 3-6 months?
What opportunities are there for growth and career progression?
What values are most important to the company culture?
How would you describe the dynamics of the team I'd be joining?
What challenges are you hoping the person in this role can help solve?
What are the key priorities for this position over the next year?
How does this department support the key goals of the company?
What makes Auntie Anne's stand out compared to competitors?
What has been your career path to get where you are now?
What attracted you to Auntie Anne's when you joined the company?
What is the typical career path for someone in a role like this?
What excites you about the future direction of the company?
What is the company's mission and how does this role contribute to it?
What is the company's growth plan over the next 3-5 years?
What extracurricular activities or community engagement does the company support?
How would you describe the company culture? What is most valued?
Is there anything else I should know about the role or company that would be useful?
What is your timeline for the interview process and when should I expect to hear from you?
Do you have any concerns or hesitations about my background and experience for this role that I can address?
Auntie Anne's Hiring Process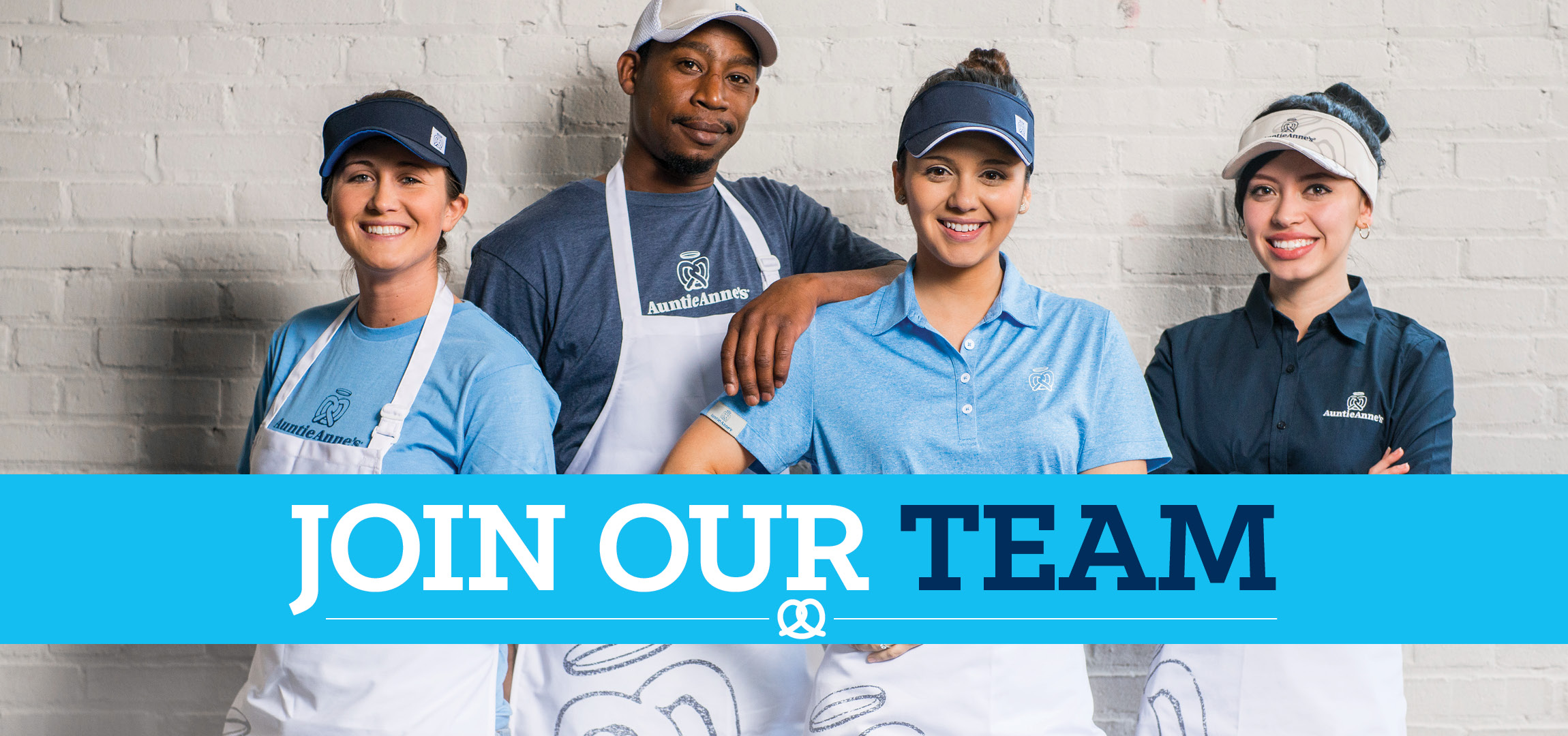 So you're interested in working at your local Auntie Anne's and becoming part of their warm, friendly team. That's great news! Auntie Anne's hiring process is designed to be relaxed and casual, focusing on finding candidates with a positive attitude and genuine desire to provide quality service to their customers.
Here is what you can expect in Auntie Anne's hiring process:
To apply, you have two easy options. You can drop by your local store with a printed resume or fill out an application on the spot. Or you can apply online through the Auntie Anne's website or on Indeed.
Either way, if the store manager reviews your information and sees you as a potential fit, they will reach out to schedule either a quick phone call or in-person interview. This initial screening is just to confirm your availability and enthusiasm for the role.
If selected for an interview, just be your natural self! The in-person interview will be casual and conversational. You'll chat with the store manager, and possibly the owner or district manager, about your strengths, work experience, availability, and desire to be part of their team. As long as you convey a genuine passion for customer service and ability to work with others, you're on the right track.
If the interview goes well, you may receive a conditional job offer on the spot! The offer is contingent on passing a background check and providing proper documentation. Once the offer is official and you accept, you'll go through onboarding which includes orientation, food safety training, and job shadowing to prepare you for success. You'll receive your work schedule and uniform and be ready to start serving customers in no time.
During your first 3 months, you will be in a probationary period so Auntie Anne's can confirm you are the right fit before making you eligible for additional benefits and pay increases. But as long as you maintain a positive attitude, commitment to quality, and team spirit, you'll do great!
With a company like Auntie Anne's that values its employees and customers, you're sure to find a rewarding experience and community.
Auntie Anne's Interview Tips
Auntie Anne's is looking for friendly, hardworking team players, so just be your charming self. Discuss relevant experience you have from school or sports that demonstrates your ability to work under pressure as part of a team. Show them you're willing to work weekends and holidays if needed. Do some research and think of a few questions to show your enthusiasm for the company and position.
What to Wear to Auntie Anne's Interview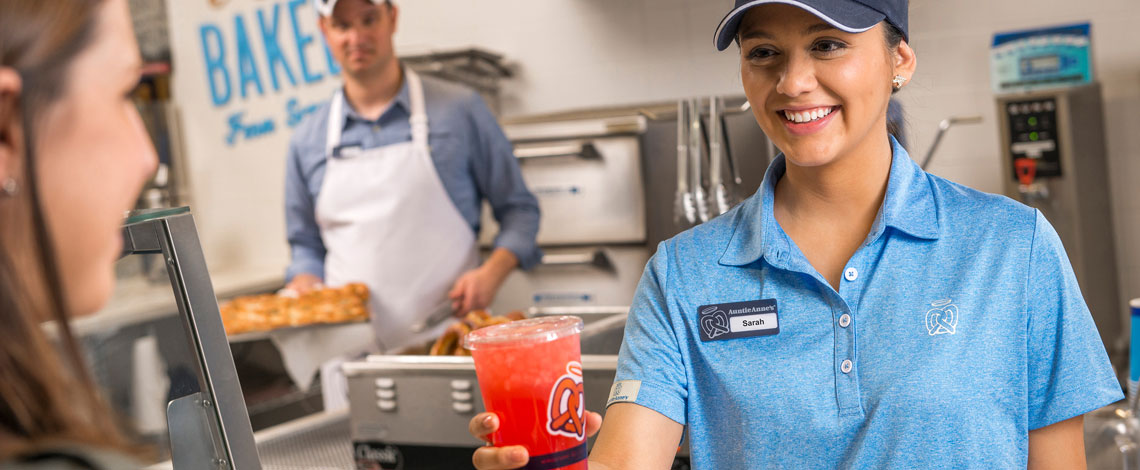 Dressing for an interview doesn't have to be a daunting task, but it does require a pinch of planning, a splash of savvy, and a dab of dedication. One clever strategy is to mirror the company's dress code, a move that subtly demonstrates your keen understanding of the company culture and your adaptability. Now, what does this mean in the context of an interview at Auntie Anne's? Let's dive in.
The dress code for Auntie Anne's employees is a uniform, typically consisting of a blue branded shirt provided by the company, a name tag, an apron, a hat or visor, jeans or khaki pants, and non-slip black shoes.
While you might not have the same uniform, the underlying principle of the dress code is a clean, functional, and professional presentation, something you should aim to mimic for your interview.
Now, let's get specific about your interview attire according to the role you're applying for.
If you're seeking a position as a Team Member or Cashier, aim for an outfit that's casual or business casual. This could be anything from a neat polo or blouse paired with clean jeans or khakis. Be sure to wear closed-toe shoes to align with the company's safety-first culture. Remember, Auntie Anne's environment is about delivering comfort, and your attire should mirror that.
On the other hand, if you're pursuing a role as a Shift Manager, Assistant Manager, or General Manager, you might want to turn up the notch a bit to business casual. Think chinos or dress slacks, coupled with a polished shirt or blouse. A blazer can add a professional touch but is not mandatory. Opt for clean, black, non-slip shoes to give a nod to Auntie Anne's uniform and the practicalities of the role.
For those aspiring for a position at the corporate office, your outfit should reflect the business formal dress code. A tailored suit or dress, complemented by professional footwear, is a safe bet. Accessories should be kept minimal and tasteful, and the overall appearance should be polished and refined. Remember, your attire should communicate your readiness for the corporate realm.
So, there you have it! Dressing appropriately for an interview at Auntie Anne's isn't just about looking good, it's about showing that you understand and fit into their culture. Take these guidelines, mix them with your own style, and you'll have the perfect outfit to help you feel confident and prepared for your upcoming interview. Remember, the way you dress is a visual resume; let it tell your story, and let it shine!
Conclusion
You now have the knowledge to ace your Auntie Anne's interview. Go in confident that you thoroughly understand what they are looking for in a candidate and have prepared compelling stories and examples to demonstrate why you are the perfect person for the job. However, don't stop there – continue honing your interview skills and applying to other companies. The job market is competitive, so cast a wide net.
Wanting to work for Auntie Anne's means you're likely interested in other pretzel chains or quick-service restaurants. Places like Cinnabon, Wetzel's Pretzels, Pretzelmaker, and even larger chains such as Pret a Manger or Panera Bread are all worth submitting applications. The key is persistence – keep putting yourself out there until you land the right job.
You have so much talent, skill, and potential to offer the right company. So be persistent and stay determined. With hard work and perseverance, you will land an opportunity that allows you to thrive and grow. Believe in yourself, and don't get discouraged. Your perfect job is out there waiting for you. Keep up the good work! Success will be yours.