23 Waffle House Interview Questions (And Appetizing Answers)
Picture this: your palms are sweaty, your heart is thumping, and your stomach churns with a blend of excitement and dread. You're seated in the familiar plastic chair, waiting for your name to be called. All around you are the enticing smells of crispy bacon, fluffy waffles, and the scent of freshly brewed coffee. This is it! The big day has finally arrived – your long-awaited interview at Waffle House!
Now imagine walking into that interview room bursting with unshakable confidence, equipped with all the perfect answers to the most commonly asked interview questions. You dazzle the hiring manager with your eloquence and leave them no choice but to offer you the job. It's not a fantasy, dear reader – it can become your reality! How? By reading this spectacular blog post and absorbing every golden nugget of wisdom it has to offer.
Let's face it: job interviews can be nerve-wracking, and ones at highly desired companies like Waffle House even more so. But there's an adage as old as time: knowledge is power, and we're here to arm you with the knowledge you need to make a lasting impression on your future employer. Our blog post contains the most commonly asked Waffle House interview questions, along with detailed example answers that will showcase your expertise.
This invaluable resource will be your guiding light in your journey to secure your dream job. But it's not just about memorizing some answers to questions – it's about understanding your strengths and presenting them in the best possible light. This blog post will help you do just that, so that when the moment comes, you'll be ready to step into the spotlight.
So, take a deep breath. Let go of your fears, embrace the anticipation, and dive into the ocean of knowledge that awaits you. This blog post is the key to unlocking the door to your future at Waffle House. Let the journey to your dream job begin!
Waffle House Company Information
Acquaint yourself with some crucial information about Waffle House before stepping into the interview room. This insight will not only set the stage for confidently tackling research-based questions but also highlight your genuine interest in the company. Begin with the following key points and delve deeper into your research journey:
| | |
| --- | --- |
| Trade Name | Waffle House |
| Type | Casual Dining Restaurant Chain |
| Date Founded | September 5, 1955 |
| Founders | Joe Rogers Sr., Tom Forkner |
| Headquarters | Norcross, Georgia, United States |
| Menu | Waffles, Pancakes, Omelettes, Burgers, Sandwiches, Steaks, Hashbrowns, Pies, Beverages |
| Signature Items | All-Star Special, Hashbrowns All-The-Way |
| Core Values | Quality, Friendliness, Service, Cleanliness |
| Website | www.wafflehouse.com |
| Competitors | IHOP, Denny's, Cracker Barrel, Village Inn, Roscoe's, Huddle House |
Additional facts:
???? Humble Beginnings: In 1955, Waffle House started as a modest 24-hour diner in Avondale Estates, near Atlanta. It was founded by two neighbors, Joe Rogers Sr., a World War II vet, and Tom Forkner.
???? Simple Menu, Big Dreams: The original Waffle House menu had just 16 items! The restaurant was named after the most popular order, waffles. From the get-go, Waffle House's mission was to serve comforting food that makes customers feel at home.
???? Exponential Growth: What started as a single diner rapidly expanded, with the second location opening just two years later. Today, Waffle House boasts close to 2,000 restaurants!
???? Sounds of Waffle House: Surprisingly, Waffle House has its own record label! Founded in the mid-1980s by Joe Rogers Sr., it produces songs across various genres that reference Waffle House or food.
???? Hash Browns Galore: With over 1.5 million possible variations, customizing hash browns at Waffle House is a culture of its own. "Smothered" for onions, "Covered" for cheese, and the list goes on.
????️ The Secret Language of Condiments: Waffle House employees use an ingenious mark system, where condiments and utensils communicate orders to the cooks. For example, a mustard packet signals a pork chop, while a butter packet indicates a waffle.
???? The Waffle House Index: FEMA uses the "Waffle House Index" to measure the severity of natural disasters. Green means everything is normal, yellow indicates limited operations due to the disaster, and red means the Waffle Houses are closed and it's time to evacuate!
???? Celebrity Haven: Waffle House counts many celebrities among its fans, including the late Anthony Bourdain, who described it as a "beacon of hope and salvation." Notable rappers like Ludacris, Migos, and Jay Z have also expressed their love for the restaurant.
???? Cash is King: Waffle House has a long-standing tradition of accepting and paying in cash. It did not start accepting card payments until 2006, and employees have the option to be paid in cash.
❗ Controversies: It's important to acknowledge that Waffle House has faced accusations of racism and gender discrimination. The company has been embroiled in several lawsuits due to such claims.
????️ Non-Traditional Advertising: Waffle House doesn't rely on traditional advertising. Instead, it's grown mainly through word-of-mouth and strategic placement of its restaurants at high-traffic locations near highways and interstates. This has made Waffle House an iconic part of road trips and traveling culture in the United States.
???? World Record Holder: In 2005, Waffle House claimed a Guinness World Record for the largest seven-layered waffle stack, standing at an impressive 23 inches tall!
???? Waffle House Museum: The original Waffle House location in Avondale Estates, GA has been converted into a museum, preserving the history and growth of the company.
???? Serving the Community: Waffle House takes pride in staying open 24/7, even during extreme weather conditions. During natural disasters like hurricanes, Waffle House staff often work tirelessly to provide hot meals to both the community and first responders.
???? Eggstravaganza: Waffle House serves more than 2% of all the eggs used in the US food service industry. That's around 340 million eggs per year!
???? Holiday Tradition: Being open 365 days a year, Waffle House has become a holiday tradition for many families who stop by for a meal on Christmas or Thanksgiving Day.
???? King of Waffles: Waffle House has sold over 1 billion waffles since its inception. If stacked, the waffles could reach nearly 80,000 miles high, which is more than three times around the Earth!
 ???? Employee Benefits: Waffle House offers notable perks to retain employees, such as health insurance since the 1980s.
It promotes employees exclusively from within. Employees, including cooks, can earn bonuses and stock options. Managers are guaranteed a six-day-on, two-day-off schedule.
???? The Origin of the Name: Although known for its tasty waffles, the reason behind the name "Waffle House" is profits. Waffles' ingredients are cost-effective, allowing for higher markups.
????️ The Waffle House Museum: The original Waffle House in Avondale Estates, Georgia, has been transformed into a museum. It showcases over 60 years of history, with free tours on Wednesdays. Visitors can enjoy free waffles and souvenirs during the tour.
???? Georgia (The Waffle State): Georgia, the home of the first Waffle House, boasts 436 out of the 1,972 locations. Atlanta, the largest city in Georgia, has 37 Waffle Houses within city limits.
???? Waffle & Steak in Indiana: In Indiana, the chain was initially named Waffle & Steak due to an existing Waffle House.
Waffle House serves around 2.1 million T-bone steaks per year, making it the world leader in serving T-bone steaks.
???? Chick-fil-A Connection: Waffle House used to serve Chick-fil-A sandwiches in the 1960s. The chain eventually developed its chicken sandwiches after realizing profits were low from selling Chick-fil-A sandwiches.
???? Valentine's Day Extravaganza: Waffle House goes all out for Valentine's Day, with mood lighting, roses, special menus, and decorations. The tradition began in John's Creek, Georgia in 2008, and around 175 restaurants participate annually.
???? Disaster Readiness: Waffle House is known for staying open during disasters, utilizing four different menus depending on the conditions.
Waffle House Mission Statement
Providing the friendliest service in town, while also offering the opportunity for rewarding and quality careers.
Waffle House Interview Questions
Why do you want to work for Waffle House?
Now, the reason your Waffle House interviewer asking this isn't that they want you to wax poetic about their delicious waffles, but rather to gauge how well you understand their company values, culture, and what you can bring to their team.
When responding, make sure you focus on the aspects of Waffle House that truly resonate with you, such as their commitment to providing a warm, inviting atmosphere for customers or their emphasis on working as a team to ensure smooth service.
Key aspects that the hiring manager may look for are your passion for the food service industry, how you think you'd fit into the existing team dynamics, and how you'd handle the fast-paced environment. After all, they want to hire someone who will thrive in their unique setting and build strong connections with coworkers and customers alike.
Take a moment to collect your thoughts, and let's cook up your ideal answer.
"Working for Waffle House has always been a dream of mine because I'm passionate about crafting unforgettable moments for customers in a warm, inviting atmosphere. I've had my heart set on the food service industry, and I know that Waffle House's unwavering dedication to teamwork matches my personal values to a tee. I'm more than confident that my skillset, positive attitude, and commitment to hard work will allow me to be a valuable addition to the team and contribute significantly to this location's flourishing success. Moreover, I deeply admire Waffle House's devotion to fostering employee growth through continuous training and advancement opportunities. This will undoubtedly propel my personal and professional growth throughout my time with the company."
What does your weekly schedule currently look like and how flexible are you to work the necessary hours required of the position?
One particularly important question you might face in your Waffle House interview will be about your weekly schedule and flexibility to meet the demands of the job. Your hiring manager wants to ensure you can commit to the role while still managing any personal, school, or work-related commitments.
The secret to a top-notch response is knowing the ins and outs of Waffle House shifts and showcasing your adaptability. Start by diving deep into the position requirements and matching your availability accordingly. Be upfront about your existing commitments, but emphasize your dedication to fitting perfectly into the Waffle House team.
As you smile, confidently express your excitement about the opportunity and your commitment to delivering outstanding customer service.
"For my current schedule, I'm attending classes from Monday to Thursday during the day and working part-time in the evenings. However, I'm thrilled to make room for the amazing opportunity to join the Waffle House family. My schedule is open for Friday, Saturday, and Sunday shifts, and, if needed, I can be available early mornings or late nights on weekdays. Moreover, I'm ready to jump into action on holidays, understanding that Waffle House stays busy at all times. With your trust, together we'll create a delightful experience for every customer, even during the busiest hours."
Things can get stressful at times. How do you typically handle stressful and demanding situations while maintaining a positive attitude?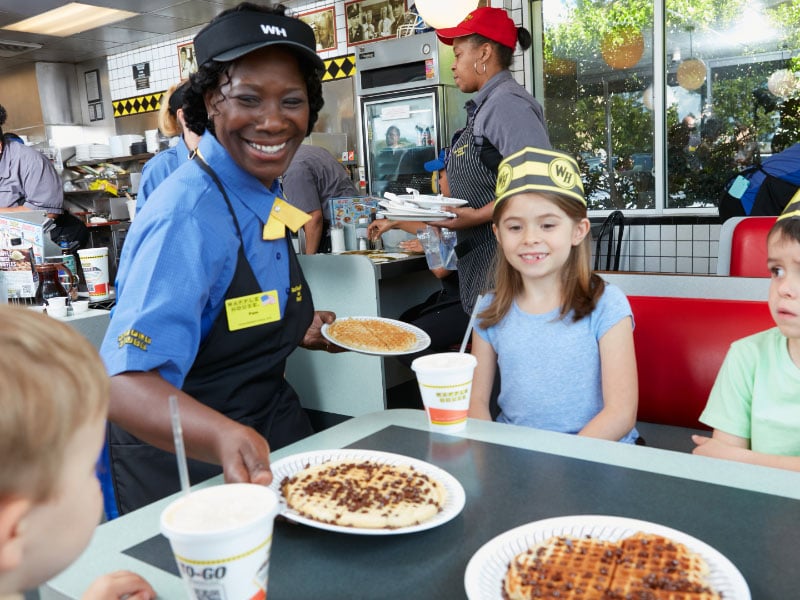 This is one question that could make or break your chances of landing the job at Waffle House.
The hiring manager is looking to assess your ability to stay calm under pressure, maintain a customer-focused approach during peak hours, and your overall resilience in the fast-paced restaurant environment. But fear not, as we've got you covered with our expert tips and a tailored answer for this critical question.
In order to impress your interviewer with your response, take a moment to reflect on your previous experiences in demanding situations. Focus on demonstrating your understanding of effective stress-management techniques and showcasing your skills in handling challenging scenarios. Key components to include in your answer are: acknowledging the stress, emphasizing on staying organized, prioritizing tasks, and maintaining open communication with your team members. In addition, it's essential to exhibit that you can maintain a positive attitude to ensure a pleasant experience for customers and colleagues alike.
And now, for the pièce de résistance…
"During a particularly busy weekend shift at my previous job, I noticed the line of customers building up rapidly, and I could feel the stress levels rising. To handle the situation, I quickly acknowledged the challenge and maintained a calm demeanor. I prioritized the tasks at hand and communicated effectively with my team members, ensuring we were all on the same page. I made a conscious effort to stay positive and keep a smile on my face while interacting with customers, as I recognize that a positive attitude can be contagious and contribute to a better experience for everyone involved. By staying organized, focused, and communicative, I was able to successfully navigate a high-pressure situation while keeping customers happy and ensuring my team's satisfaction."
Could you provide an example of a time when you went above and beyond to provide outstanding customer service?
This question serves not only to gauge your knack for retaining loyal patrons but also to explore how deeply you've embraced the contagious Waffle House spirit that serenades every guest with exceptional service. The interviewer is probing to see your aptitude for handling tricky situations and transforming them into unforgettable guest experiences.
To tackle this question, mentally revisit instances in which you've pushed the envelope to ensure solid customer satisfaction. We recommend presenting a situation showcasing your empathetic listening, gutsy initiative, and inventive problem-solving prowess.
Charm the interviewer by illustrating how you tirelessly prioritized a guest's happiness, deftly steering the interaction to a memorable conclusion, despite the odds. Spice up your response with vibrant specifics to draw the listener into your tale, and watch their eyes light up as your words paint a stunning portrait of your actions and decision-making process.
Now, take a deep breath, gather your thoughts, and get ready to dazzle the hiring manager with your phenomenal response.
"During my time as a server at a bustling restaurant, I encountered a disappointed group of five. Their crestfallen faces told me they were crushed to learn we had sold out of their all-time favorite dessert. A staple in their family tradition, I knew I had to act fast. With a stroke of inspiration, I offered to curate a one-of-a-kind dessert platter featuring the finest sweet treats from our menu. Assembling a visually arresting masterpiece, I incorporated their top selections from our available desserts, leaving no detail untouched. The family's elation leaped off their grinning faces, and their profuse appreciation meant the world to me. Crafting their unforgettable night, I discovered the value of going the extra mile to meet each customer's desires, and I eagerly anticipate bringing that same verve and dedication to Waffle House."
There are occasions where conflicts may arise with coworkers or customers. How would you professionally and respectfully handle such situations?
The interviewer asks this question to assess not only your conflict resolution skills but also your ability to maintain Waffle House's commitment to exceptional customer service while working in a team-oriented environment.
To ace this question with confidence, start by highlighting your knack for active listening and staying composed under pressure. Discuss your belief that identifying the root of the conflict is key to reaching a resolution. Be sure to mention your willingness to own up to any mistakes and work towards an outcome that benefits everyone involved. Moreover, emphasize the significance of showing empathy and understanding the other person's perspective. Finally, touch on the need to adhere to company policies and guidelines when resolving workplace conflicts.
Now, let's take these core principles and weave them into a stellar response that's sure to impress the hiring manager.
"In a scenario where I find myself facing conflict with a coworker or customer, my initial step would be to remain composed and attentively listen to their concerns. I believe that uncovering the root of the problem is fundamental in paving the way for a resolution. By actively listening and empathizing with the other person's viewpoint, I can show my dedication to addressing the issue with professionalism. If I am at fault, I'll have no reservations about owning up and apologizing. Most importantly, I'll work alongside all parties to uncover a solution that satisfies everyone, making sure to adhere to Waffle House's policies and guidelines throughout the entire process."
Could you walk me through a challenging work situation you have faced in the past and the outcome that resulted?
This question allows the interviewer to dig into your problem-solving skills, uncover your resilience and adaptability, and learn how you handle the heat in high-pressure work situations.
Before answering, take a moment to simmer in your past work experiences and bring to the surface a situation where you faced a whopping challenge or difficulty. To satisfy the interviewer's appetite, provide context, describe the actions you cooked up to overcome the issue and savor the flavor of the outcome that resulted.
Keep in mind; the interviewer wants to see that you can whip up solutions, face adversity with determination, and learn from your kitchen conquests. Focus on tangible results and the impact your actions had on the situation. And if it's relevant, don't hold back on adding a pinch of lessons learned and a dash of how this experience will make you the perfect recipe for success at Waffle House.
Now, let's sip some sweetness from the tips above and drizzle them over a hot example answer.
"During my prior job as a cook, our team found themselves in a sticky situation when a wave of customers swamped our restaurant during a bustling holiday weekend. Our usual recipes for success were left in the dust, leading to longer wait times and a side of unhappy guests. I decided to take action by stirring up the kitchen team and rearranging the cooking stations like a culinary maestro. By making prep time more efficient and concocting a system for prioritizing orders, we managed to clear the backlog and serve up satisfied customers. Through this experience, I learned the secret sauce of adaptability, the power of proactive problem-solving, and the importance of teamwork – all key ingredients for thriving amid the fast-paced feast of a Waffle House."
Are you experienced in preparing and cooking eggs? If so, what styles are you comfortable making?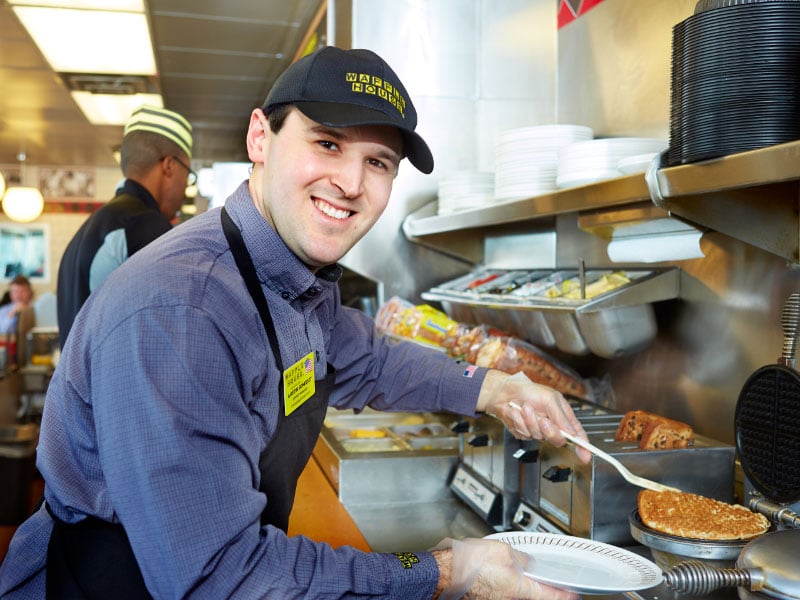 The Waffle House team is on a quest to find egg-citing candidates with a passion for egg-centric dishes that will delight their diverse clientele. Your answer to this question will reveal whether you have the skills and artistry to join the ranks of these breakfast masters.
To hatch a winning response, whisk together your egg-speriences (see what we did there?) from kitchen conquests both professional and personal. If you've wielded a spatula in a bustling restaurant, don't be shy in showcasing your training and battle-tested skills. Conversely, if you've been honing your egg-pertise in the comfort of your home or through culinary side quests, proudly present your knowledge of various egg styles. Being honest and confident about your abilities will demonstrate your passion and potential to flourish within the Waffle House realm.
Now, let's serve up a mouthwatering answer.
"Without a doubt! I absolutely relish experimenting with eggs and exploring the various culinary magic that they can create. Over the years, I've mastered the art of scrambled, fried, over-easy, and over-hard eggs, as well as crafting delectable omelets to please any palate. While I have yet to embark on a formal culinary adventure in a commercial kitchen, I have sharpened my skills through home cooking and hands-on classes. As a passionate and driven individual, I am excited to expand my knowledge and adopt any specific techniques that the Waffle House realm demands. After all, creating scrumptious dishes and bringing smiles to customers' faces is my ultimate mission!"
What are your career goals, and how does Waffle House fit into your long term plans?
The purpose behind this question is not only to find out how ambitious you are in your professional journey but also to assess whether Waffle House can genuinely align with your aspirations. The hiring manager wants to ensure they're making an investment in a candidate who sees Waffle House as a place where they can grow and develop within their company.
So, how can you impress the interviewer while staying true to your own goals? First, make sure you've done your research on the organization and its opportunities for growth, development, and advancement. In your response, highlight specific aspects of Waffle House's culture and values that resonate with you. Next, present a clear, achievable career path, taking care to emphasize ways in which Waffle House's offerings can help you reach your milestones. Finally, demonstrate genuine enthusiasm and commitment – a job at Waffle House should be more than just a paycheck to you.
Alright, time to take the leap from expert guidance to powerful action!
"In my journey so far, I've uncovered a raw passion for delivering top-notch customer service within a lively, dynamic environment, driving me towards my ultimate goal of becoming a restaurant manager. Waffle House's unwavering dedication to crafting that home-away-from-home ambiance for patrons and nurturing camaraderie amongst team members has always struck a chord with me. To start, I envision myself diving into the role of a server, mastering the unique Waffle House rhythm, and steadily scaling the ranks, possibly even enrolling in the Waffle House Management Training program. Having caught wind of the company's devotion to shaping each employee's progression and success, I am certain that Waffle House is an ideal launchpad for achieving my career dreams, while simultaneously propelling the beloved brand to even greater heights."
What are you hoping to gain from joining the dedicated team here at Waffle House?
First, understand the "Why" behind this question. It's not just about your need for a job; the hiring manager wants to assess your personal motivation and long-term goals to see if you'll be a valuable addition to their team. Do you align with the company's values and culture? Knowing the purpose of the question is the first step to crafting a winning response.
To answer the question with flair, get ready to channel your authenticity, passion for the restaurant industry, and desire for personal growth. Zero in on the specific qualities that make Waffle House the ideal fit for you – the adrenaline rush of a fast-paced environment, the warmth of team dynamics, or the thrill of mastering new skills. Of course, research is key, so familiarize yourself with the company's mission and values. Demonstrating a genuine interest in these aspects will make you an attractive potential team member.
Here's an example of a dazzling response that'll have the hiring manager wishing they could hire you on the spot:
"I've always been drawn to the electric atmosphere of the food industry, and I see Waffle House as the perfect stage for me to express that passion. The tight-knit, dependable team that Waffle House prides itself on truly resonates with my belief in the power of collaboration. By joining your team, I can not only sharpen my server skills but also drive customer satisfaction and loyalty by creating unforgettable dining experiences.
What truly sets Waffle House apart for me is its commitment to nurturing talent from within. This inspires and motivates me to invest my best efforts in your success, knowing that my personal and professional growth will be rewarded. So, what am I hoping to gain from joining your dedicated team? Simply put, growth, both for myself and for the beloved Waffle House brand."
What aspects of this role at Waffle House do you anticipate finding most challenging?
This isn't just a throwaway question intended to trip you up. The interviewer truly wants to understand your potential pain points and assess how you might overcome challenges to succeed in the role. By delving into your answer, they're looking to gauge your self-awareness, resilience, and problem-solving abilities.
To make sure your response stands out, we advise being candid about the hurdles you might encounter yet showcasing your determination to conquer them. Take a beat to identify your key concerns and then share your game plan of overcoming each one. For instance, you may confess that juggling multiple tasks during crazy busy hours isn't always your strong suit, but stress that you're pumped to refine your multitasking abilities through practice, prioritization, and time management strategies. The idea is to convey to the interviewer that when the going gets tough, you're unstoppable.
Now, let's put the pedal to the metal and share an awesome example response we've whipped up just for you:
"To be completely honest, the part of this role at Waffle House that I think I'll find most challenging is adapting to the lightning-speed pace during peak hours. But instead of feeling overwhelmed, I see this as the perfect chance to hone my multitasking skills and thrive under pressure. How will I tackle this challenge head-on? Easy: by methodically prioritizing my tasks, staying super organized, and always rocking a positive mindset when my workload cranks up a notch. With dedication and practice, I'm confident that I'll be able to not only keep up with the fast-paced environment but truly excel at providing top-notch service to our awesome diners."
What can you tell us about Waffle House?

Ah, the ever-important question. It may seem simple, but in a Waffle House interview, this question carries a lot of weight. The interviewer wants to assess whether you've done your homework and are genuinely passionate about working for the company. By inquiring about your knowledge of the company, they are ultimately gauging your enthusiasm and whether you'll be a good cultural fit.
So, time to showcase your inner Waffle House encyclopedia! Begin by bringing up the company's heartwarming origin story, with all the zeal Joe Rogers Sr. and Tom Forkner had when they opened their first humble diner in 1955. Talk about how Waffle House transformed from a single spark of an idea into a beacon of hope for hungry travelers, how it selflessly keeps its doors open 24/7, through crises and calamities – earning its heroic title as "Disaster Dining."
Of course, what's Waffle House without its enthusiastic commitment to customer satisfaction? The intoxicating scent of waffles may draw guests in, but the real secret ingredient is its irresistible warmth and familial atmosphere. It's crucial to emphasize this infectious spirit which unites employees and customers alike, and how you're eager to be a part of this epic story.
And now for the grand finale, the perfectly delivered answer to their question:
"Waffle House embodies the very spirit of comfort food, a fact that has endured since its conception by Joe Rogers Sr. and Tom Forkner in 1955. From a single diner, it now proudly serves up warm waffles and welcoming smiles in over 2,000 locations across the nation. Braving storms, floods, and disasters, it has become more than just a 24/7 restaurant; it's a symbol of hope under the banner of "Disaster Dining." Through their unwavering commitment to customer satisfaction, Waffle House has created a cozy haven for everyone, a sanctuary where weary travelers can find solace on their journeys. As a potential team member, I can't wait to contribute to this legendary brand's story, keeping the 'Waffle House magic' alive for generations to come.'"
Why do you believe you would be a great fit as a Waffle House employee?
The purpose of this question is to give the Waffle House interviewer insight into your personality, skills, and motivation. It helps them to determine if you align with the company's values and culture, which is crucial for building a strong team.
But no need to panic! We've got your back with tips and tricks to craft a winning response that will leave your interviewer impressed.
First, pinpoint your standout qualities that make you an ideal candidate. Are you a natural-born team player? Do you possess top-notch customer service skills? Is your work ethic off the charts? Shout it from the rooftops (or, more realistically, tell your interviewer)!
Next, connect your real-world experience to the role. Did you crush it in a past foodservice gig? Tell them your story! And remember, enthusiasm is contagious. Make sure they know working at Waffle House is your dream, thanks to their reputation for unbeatable teamwork, mouthwatering food, and an all-around legendary dining experience. Stay true to who you are and what you bring to the table.
Ready for the pièce de résistance? Here's an example response to inspire your masterpiece:
"I'm a true believer in turning breakfast into a memorable experience, which I did as a server at a bustling breakfast spot. There, I not only fine-tuned my customer service skills but also proved that I can stay calm under pressure and juggle several tasks like a champ. I thrive on connecting with guests and ensuring they leave with happy hearts and full bellies. My passion for Waffle House's iconic brand, coupled with my devotion to teamwork, makes me the ideal candidate for this role. I can't wait to join the Waffle House family and make culinary history, one waffle at a time!"
Do you have access to reliable transportation that would allow you to travel to and from work during varied shifts?
While it may not seem like a deal-breaker, we've seen enough interviews to know that this question serves a critical purpose. The Waffle House interviewer is trying to assess your reliability, punctuality, and commitment to the job, as well as your ability to fulfil shift requirements with ease.
Fear not, because we've got the insider scoop on how to knock this one out of the park.
Let's break it down to the essentials: Are you a car person, biker, public transit rider, or a walk-to-work enthusiast? Whatever your mode of transport, be sure to express how it'll work in your favor, even during ungodly hours or in the face of unforeseen weather shenanigans.
Don't forget to emphasize your understanding of punctuality's importance and your readiness to go the extra mile (literally) to ensure timely arrival for all of your shifts. Bonus points if you come up with a backup plan (think: Uber or a friend network) for those rare occasions when your go-to transportation method fails you.
Armed with your transportation strategy, you're all set to tackle this question like a Waffle House superhero.
"I'm a proud car owner and punctuality enthusiast. My car is always tuned up and primed to glide me to work on time, every time. I know that in a fast-paced world like Waffle House, every minute counts, and I'm more than willing to set my alarm early or postpone my Netflix binge to clock in promptly. And in case my trusty car takes an impromptu day off, I've got rideshare services and a band of friends ready to come to the rescue and get me to work without fail."
Can you describe for me a time when you had to work with a colleague you did not see eye to eye with?
This classic question is a favorite among hiring managers, including those at Waffle House, as it sheds light on your conflict resolution skills and your ability to work well with others, even when you may not agree with them. It's important to nail down a solid response to this question before walking into your Waffle House interview, as it's likely that you may encounter varying personalities and opinions within your team.
To impress the interviewer, focus on developing an answer that showcases your ability to be patient, empathetic, and solution-oriented. Start by outlining the situation in a concise manner, highlighting the differences you experienced with your colleague. Then, explain the steps you took to resolve the disagreement, emphasizing your willingness to listen and find common ground. Finally, describe the outcome of the situation, pointing out any lessons learned or personal growth achieved.
And now, for the story with some oomph…
"In my previous job at a local diner, I had a coworker who consistently refused to follow our team's clean-up procedures, which led to additional work for the rest of us. I didn't see eye to eye with them, but I decided to approach the situation with an open mind. I privately discussed the issue with my colleague, giving them a chance to explain their perspective and share any possible reasons for their reluctance to follow procedures. Together, we reviewed the clean-up guidelines and found a simpler way to address the problem which both of us agreed upon. This not only improved our working relationship but also made our team more efficient overall. Through this experience, I learned the importance of effective communication and being open to compromise when resolving conflicts."
When the interviewer poses the critical question, they want to gauge if your experience, communication style, and overall disposition would complement their existing team, ultimately making you the right fit for Waffle House. It is your opportunity to showcase your collaborative skills, highlighting specific instances where you worked hand-in-hand with your teammates to accomplish a common goal.
To approach this question effectively, we suggest adopting the STAR technique – Situation, Task, Action, and Result. In your response, set the scene by describing the situation, identify the task you were collectively working towards, detail the actions you took to collaborate with your teammates, and finally, share the outcome of your joint efforts.
The hiring manager wants to know about your role in the team, so be sure to emphasize your personal contribution and the skills you employed.
And now, for some magic to bind it all together…
"In my previous role as a server at another restaurant, we were experiencing a sudden increase in customers due to a local event. The situation required the whole team, including kitchen staff and servers, to work together seamlessly to meet the demand without compromising customer satisfaction. My task was ensuring accurate order-taking and timely delivery of meals to tables. I collaborated with my teammates by maintaining clear communication with the kitchen staff, keeping them informed about special requests and dietary restrictions. I also volunteered to assist bussers with clearing tables when I saw them struggling, which reduced their workload and allowed us to serve more customers promptly. As a result, we received many compliments on our service that evening, and the team as a whole felt a sense of accomplishment. I believe it was our ability to work together and support one another that made this possible."
When the Waffle House hiring manager asks you to share your greatest accomplishment and what you've learned from it. This isn't just a casual conversation starter – it's an opportunity to show off your reflection skills, problem-solving prowess, and ability to grow from experience. It's also a window into your work ethic and values, helping the manager envision you as a cherished member of the Waffle House family.
To ace this question, you've got to serve up an achievement that feels tailor-made for the Waffle House scene. Highlight the skills and qualities you showed off in reaching this pinnacle, and explain how they fit the Waffle House ethos like a smothered, covered, and chunked hashbrown stack. And follow up with a generous helping of lessons learned and how you've put them to work. As with any well-told tale, the tastiest details will set your story apart.
Ready to whip up a winning answer? Let's dig into a mouthwatering example.
"During my time as a server at a local diner, I was given the responsibility of leading the team during our busiest days – the weekends. My main task was to efficiently coordinate orders, table assignments, and special requests, ensuring that every guest had a great experience. What began as a challenging and daunting responsibility soon became my proudest accomplishment, as I managed to increase customer satisfaction rates and reduce order errors by 20% in just three months. From this accomplishment, I learned that effective communication, attention to detail, and leading by example are essential ingredients for success in the service industry. I believe these skills will make me a valuable team member at Waffle House."
If hired, when are you available to begin working at Waffle House?
Sounds simple enough, right? But what they're trying to assess through this question is your commitment and interest in the role, your ability to adapt, and an understanding of your current schedule. As seasoned experts in the art of interviewing, we've constructed a foolproof roadmap to guide you through this seemingly innocent question, ensuring you leave the interviewer impressed.
In answering this question, it's essential to be honest and upfront while also showing your enthusiasm for the position. Start by giving a specific window or date when you can ideally start, but also mention that you are open to negotiating the start date depending on their requirements. This demonstrates flexibility and a willingness to accommodate their needs. Be sure to emphasize your excitement to begin your journey at Waffle House, as your eagerness to join the team can make a lasting impact on the interviewer.
Now, let's connect the dots to craft your perfect response.
"The soonest I can start is two weeks from receiving a job offer, as I have to fulfill my current obligations. However, I would be more than happy to discuss an alternate start date if required, as I'm truly excited about the opportunity to contribute to the Waffle House team and grow within the company."
When you're asked this during your Waffle House interview, the hiring manager is trying to assess your ability to collaborate and problem-solve effectively within a group dynamic. As a staple of the restaurant industry, teamwork is crucial at Waffle House, and interviewers want to feel confident that you can contribute positively to the team, even in challenging circumstances.
When preparing your answer, think back to a specific time when you faced a challenging situation with a team, perhaps related to miscommunication, clashing personalities, or tight deadlines. Focus on the actions you took to overcome these hurdles and the positive outcome that resulted from your efforts. Be genuine and honest in your response, showcasing your strengths such as active listening, adaptability, and conflict resolution. Remember that your answer should showcase not only how you successfully managed the situation but how you learned from it and applied that lesson to future teamwork situations.
As with any good story, it's all in the delivery, so let's cook up a winning answer together.
"In a previous food service job, my team and I faced a difficult situation when we were understaffed during a particularly busy weekend shift. I noticed tension brewing among the staff as everyone struggled to keep up with the growing number of orders. I decided to step up and take on the role of shift leader, helping to delegate tasks and streamline communication. I actively listened to my coworkers' concerns and made an effort to improve morale by encouraging and acknowledging their hard work. As a result, our team managed to complete the shift successfully, with customers leaving satisfied, and our staff feeling more cohesive. This experience taught me how crucial it is to be adaptable and maintain open communication with my team in challenging situations."
Are you able to stand for extended periods, clean efficiently, and maintain a quick pace in a fast-paced work environment?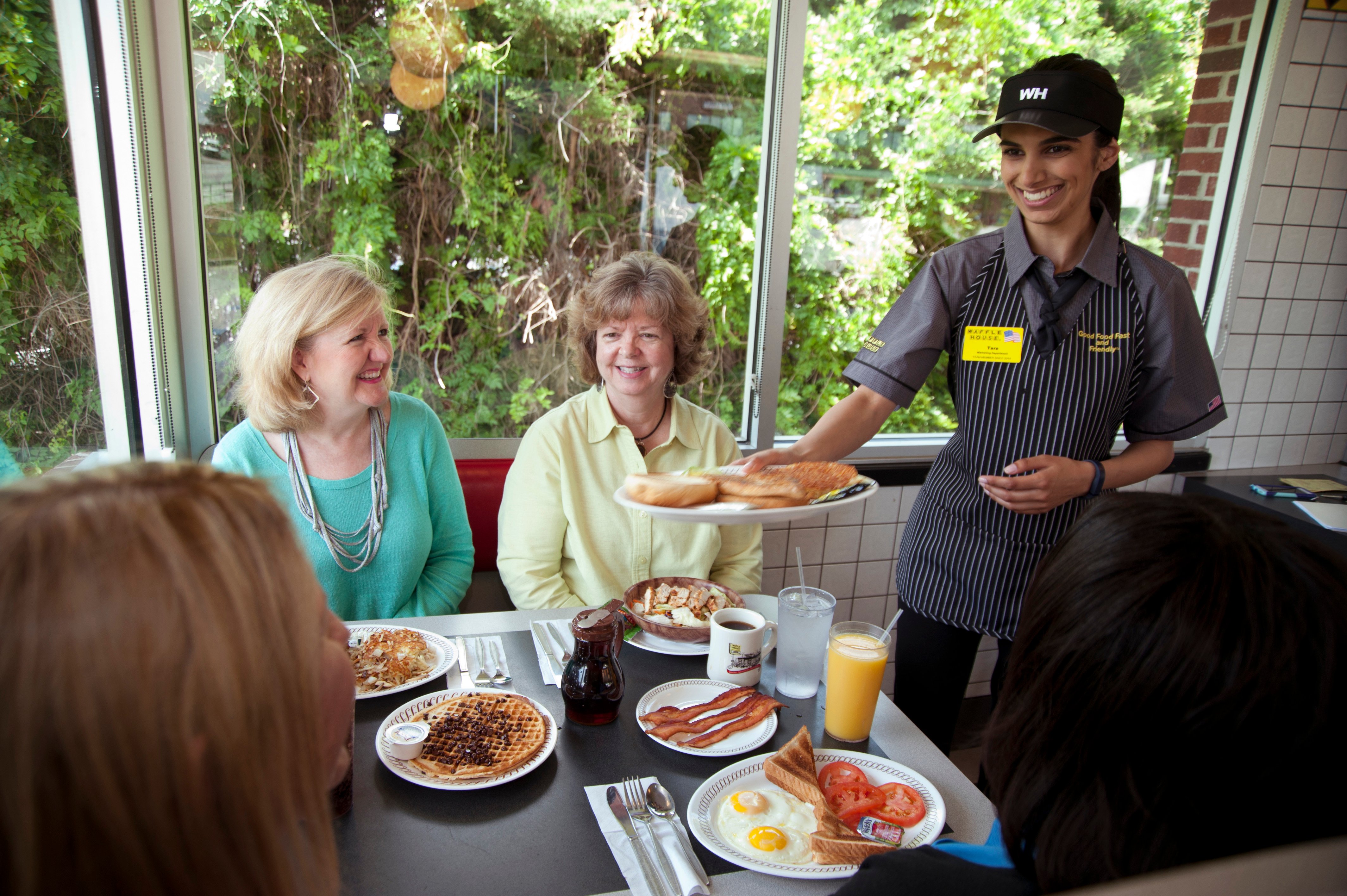 Before we dive into how to tackle this question like a pro, let's explore the true intent behind it. The interviewer aims to find out if you possess the stamina, adaptability, and multitasking skills necessary to excel in a bustling Waffle House setting where employees juggle multiple responsibilities while being on their feet for hours at a time.
With the goal in mind, let's gear up to deliver a winning response. Start by highlighting your energy and enthusiasm for an active lifestyle. Share any personal habits or previous experiences that demonstrate your proficiency in staying energized and on the go. Next, put your adaptability and quick thinking on display by recounting instances where you managed multiple tasks and excelled under pressure. Finally, emphasize your commitment to maintaining a clean and hygienic work environment. With this game plan in mind, you'll feel confident and prepared to ace this question and make a lasting impression.
So, let your response sizzle like well-crafted waffles, served hot and fresh.
"I'm the kind of person who truly enjoys keeping active – from my morning jogs to joining weekend dance classes, I love staying on my feet. This energy translates into my work life as well. In my previous role at a popular coffee joint, I expertly juggled handling multiple orders, assisting customers, and maintaining a clean and inviting atmosphere all at once. Through this experience, I've honed my skills in managing high-pressure, fast-paced situations with ease. Plus, I'm a stickler for cleanliness and understand the crucial role it plays in the food industry. You can count on me to keep my work area – and the entire Waffle House – immaculate while ensuring that delicious waffles reach our customers with efficiency and a smile."
There may be times when you have to handle a difficult or upset customer. How would you turn their frown upside down and give them a memorable Waffle House experience?
This answer speaks volumes about your commitment to customer service and your ability to handle even the most difficult situations with grace and positivity. Good luck at your Waffle House interview!
his question isn't just about gauging your ability to manage tough situations; it also offers insights into your communication abilities and dedication to delivering top-notch customer service.
To truly impress, focus on three vital aspects: empathy, communication, and problem-solving. Start by demonstrating that you genuinely relate to the customer's emotions and understand their frustrations. Follow this up by stressing your capacity to actively listen and communicate effectively, ensuring the customer feels seen and heard. Lastly, shine a spotlight on your problem-solving prowess, showcasing just how you'd work toward finding a satisfying solution for your customer. Remember, your interviewer is looking for proof that even under less-than-ideal conditions, you can still create a standout experience for Waffle House guests.
Now, it's time to bring it all together and craft a response that will leave your interviewer dazzled:
"I believe the secret sauce to dealing with upset customers is a blend of respect, empathy, and patience. If faced with a challenging customer, I'd start by offering a heartfelt apology for any inconvenience they may have encountered, before attentively listening to their concerns. I'd reassure them that their happiness is my top priority and that I'm committed to finding a solution that would transform their day from drab to fab. Depending on the circumstances, a complimentary coffee or dessert might also be in order—after all, a little sweetness can go a long way in showing we at Waffle House genuinely care about their experience."
Tell me about a time you got constructive criticism at work that stung – how did you take it and come out the other side?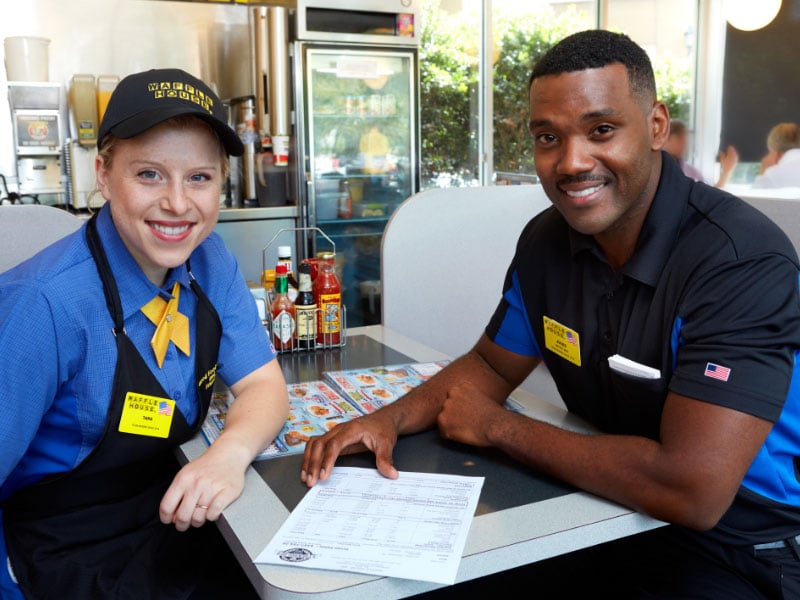 Take a deep breath, because believe it or not, this question is a golden opportunity to show off your resilience, adaptability, and growth mindset. So, let's dive into cracking this tough nut, shall we?
When formulating your answer, paint a vivid picture of the situation where constructive criticism came your way. Then, let the interviewer in on the emotional roller coaster you experienced while showcasing your ability to see the silver lining in the feedback. Next, walk them through the steps you diligently took towards resolving the issue or elevating your performance, all the while emphasizing your tenacity and the positive outcome it led to. Ultimately, the hiring manager wants to see that you're keen on learning and committed to bettering yourself.
Ready to sprinkle some storytelling magic on your answer?
"During my previous stint as a server, my supervisor once commented that I wasn't as attentive to customer needs as I could be. I must admit, the remark stung initially, but I knew they were only trying to help me grow. I decided to request a one-on-one meeting with my supervisor to discuss this issue in depth. I took notes, asked for specific examples, and actively listened to their suggestions for improvement. After this conversation, I implemented the feedback by providing more frequent check-ins with my guests and empathizing with their concerns. Over time, I noticed a significant increase in customer satisfaction, as well as a boost in my tips. This experience taught me the value of being receptive to constructive criticism and using it as fuel for growth."
How would you start a conversation and build rapport with Waffle House customers?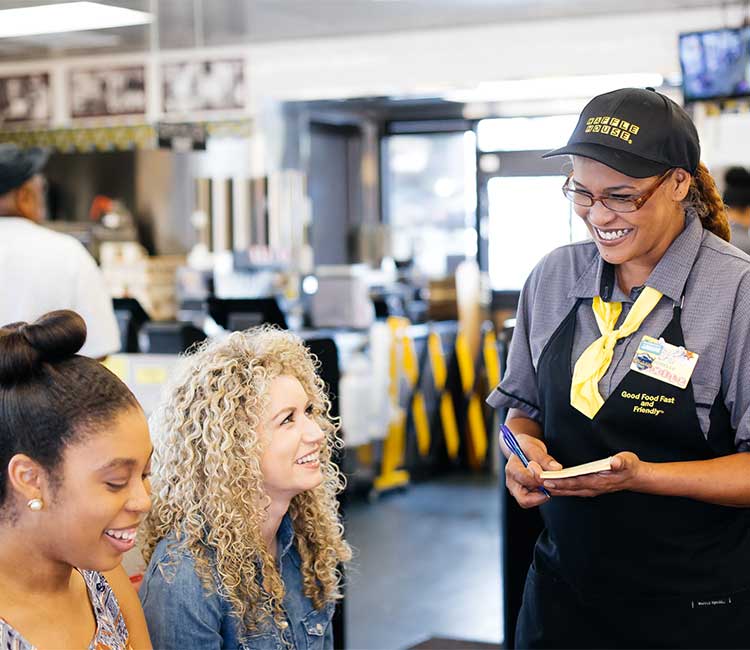 The interviewer isn't just looking for any old response to this question. They want a glimpse into how your approachable personality and dedication to creating lasting connections contribute to the warm, friendly vibe that is quintessential Waffle House. With this in mind, demonstrating your genuine excitement for engaging with customers and your active listening skills is a must.
In answering this question, begin by showcasing your enthusiasm for engaging with customers. Highlight your active listening skills and your desire to discover common ground with them. Remember to emphasize your sincerity when chatting up guests—nothing builds rapport faster than being genuine and attentive. You could also cite examples of opening questions or icebreakers to show your approach to starting conversations. Importantly, make it clear that you understand the need to balance engaging with customers while still managing your tasks, ensuring that their dining experience remains positive and efficient.
Ready to bring it home? Here's a rockstar response that'll leave no doubt in the interviewer's mind that you're the perfect fit for Waffle House:
"When building rapport with Waffle House customers, I'd start by genuinely welcoming them with a warm smile and asking how their day is going. I'd listen carefully to their response, and if the opportunity arises, I'd look for topics of common interest to engage in a more meaningful conversation. For example, if they mention attending a local event, I would share my experience or ask them more about it. My priority is to create a comfortable atmosphere while remaining attentive to their needs, ensuring we provide excellent service. By being personable and finding common ground, I'll help create a memorable experience for our guests at Waffle House."
If I asked your previous managers about your strengths and weaknesses, what would they say?
This may seem like a simple query, but it packs a mighty punch. The interviewer is trying to gauge your self-awareness, candor, and capacity to grow from past experiences. So, how do you respond in a way that leaves them truly impressed? Don't worry; we've got your back!
To kickstart, craft a well-rounded answer by pinpointing a genuine strength and a weakness. Be sure to emphasize how your strength meshes with the Waffle House's dynamic environment, as well as the steps you've taken to progress in overcoming your weakness. Remember, authenticity and self-awareness are crucial, so steer clear of clichéd answers (like claiming to be a perfectionist) and zoom in on specifics relevant to the position.
Now, let's cook up an irresistible reply!
"In my previous position, my manager would absolutely praise my ability to efficiently handle several tasks, even during the peak hours. Amidst bustling shifts, I managed multiple orders seamlessly, all while keeping a friendly, vibrant attitude.This resulted in higher customer satisfaction ratings and contributed to faster service. On the flip side, they might admit that I had a tendency to take on every task myself instead of effectively distributing the workload. To address this, I took a course on team-building and collaboration and have since become more conscious about effective delegation and teamwork to achieve smooth and efficient operations."
Questions to Ask the Interviewer in Waffle House Interview
You've aced the first part of your Waffle House interview, impressing the manager with your confidence, experience, and passion for providing excellent customer service. But then, you face a crucial question that could make or break the conversation: "Do you have any questions for me?" This question might seem simple, but if answered strategically, it can greatly improve your chances of getting a job offer.
The main reason your interviewer is asking if you have any questions is to assess your level of interest and enthusiasm for the position. They want to know if you have thought carefully about what the role entails and whether you will fit seamlessly into the team at Waffle House. Your questions can also reveal your thought process, problem-solving skills, and attention to detail, all of which are crucial factors in employment decisions.
So, how do you ensure that you are well-prepared to ask insightful questions that will make you stand out from other candidates? Let's dive into a list of stellar questions that will not only help you learn more about your potential workplace but also showcase your skills, persistence, and eagerness to grow at Waffle House.
How would you describe the company culture at this Waffle House location?
What is the employee training process like, and how long does it usually take?
What are the expectations for new employees in their first few weeks on the job?
Can you share how performance is evaluated for employees in this role?
Are there opportunities for professional development and growth within the company?
How does Waffle House support a healthy work-life balance for its employees?
What are the primary challenges faced by employees in this position, and how do they overcome them?
How is communication between management and staff as well as among team members facilitated?
How long do employees typically stay at this Waffle House location before they move on or are promoted?
How diverse is the workforce at this location, and does the company have any diversity initiatives or plans in place?
What measures does Waffle House take to ensure a safe, clean work environment for employees?
How would you rate employee job satisfaction at this particular location?
What are some fun, lesser-known aspects of working at this Waffle House location?
Can you describe the busiest day in terms of customer traffic and how the team handles it?
What is the overall management structure at this location?
How is the work schedule for employees determined? Can team members be flexible with their hours?
Are there any specific qualities or skills that you consistently see in successful employees here?
How does leadership support employees in their daily tasks and long-term career goals?
What advice would you give to a new employee to ensure their success at Waffle House?
What is your favorite part about working for Waffle House?
By asking these questions, you can demonstrate your curiosity, commitment, and ability to think critically about how you can succeed in your new role. Remember, the interview is a two-way process – these questions can not only help you stand out in the minds of your interviewers but also give you essential information to make an informed decision about your future career.
Waffle House Hiring Process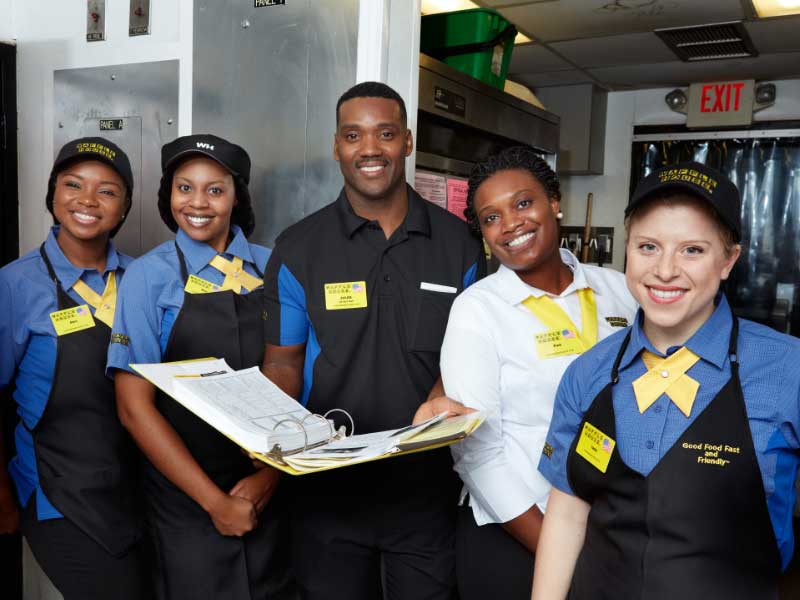 The hiring process at Waffle House is straightforward and quick. As someone looking for work, this is encouraging to hear as you want to find a job as easily as possible.
Once you submit an application, either online or in person, you can expect a call for an interview within a couple of days if selected.
The interview itself is casual and typically lasts 5 to 30 minutes. As an applicant, you'll meet with a store manager and discuss your availability, experience, and how you would handle customer service situations.
For some positions, there may be a follow-up interview with higher-level managers. If chosen to proceed, you need to pass a background check and possibly a drug screening.
If you make it past the interviews and screenings, orientation and training are next. You'll receive a manual to study, and you have to pass an exam to start work. Consider this a crash course in all things Waffle House operations and procedures. Don't worry, you'll also receive on-the-job training, shadowing experienced staff so you learn responsibilities like cooking, cleaning, serving customers, handling payments, and more.
With some guidance, you'll start as an entry-level employee. Over time, with solid performance, you can work your way up to shift supervisor and manager roles. All positions require you to maintain flexible availability, as Waffle House is open 365 days a year, 24 hours a day.
The Waffle House hiring process is meant to find candidates that will fit right in with the company culture. Show them you have what it takes, and the job can be yours.
Waffle House Interview Tips
Remember, Waffle House interviewers want to see friendly, hardworking team players. In your interview, be your naturally warm and enthusiastic self. Share examples of times you went above and beyond to satisfy a customer or employer. Discuss how much you enjoy keeping busy, learning new skills, and being part of a fast-paced work environment. Ask questions that show your curiosity and passion for the work. Convey your flexibility, strong work ethic, and dedication by highlighting your open availability.
What to Wear to Waffle House Interview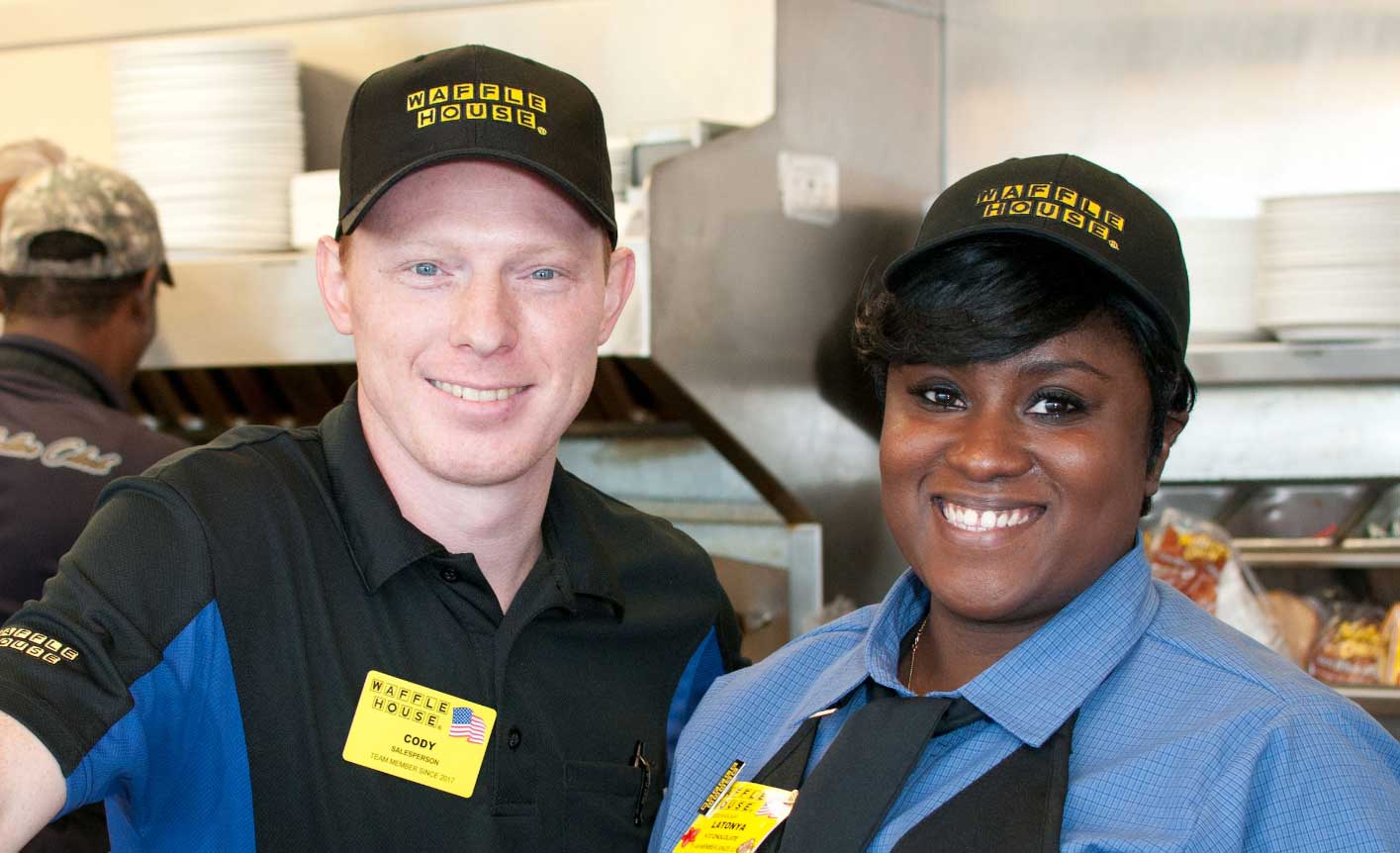 When it comes to job interviews, first impressions are everything, and a crucial part of that impression is your attire. A smart move for your Waffle House interview would be to align your outfit with their standard dress code. This not only shows your familiarity with the company but also indicates your preparedness and ability to fit seamlessly into the team.
Now, you might wonder what exactly is the dress code at Waffle House?
The dress code at Waffle House is a company uniform that comprises a Waffle House-branded shirt, an apron, and a hat paired with black dress pants and black non-slip shoes for safety reasons. All visible tattoos must be non-offensive and should be covered where possible. As for piercings, employees are generally permitted to wear a single stud in their face and one in each ear, gauges are usually acceptable, and dangling or excessive jewelry is prohibited.
Let's delve a bit deeper and explore what this means for various positions within the company.
Cook, Grill Operator, Server, Wait Staff: As hands-on, frontline positions, the vibe here is more on the casual or business casual side. A nice pair of slacks or khakis with a clean, collared shirt will do the trick. Darker colors are a plus as they closely resemble the company's dress code. Remember to keep accessories minimal, adhering to Waffle House's rules regarding piercings and tattoos.
Shift Supervisor, Restaurant Manager, General Manager: These positions demand a slightly higher level of formality. Opt for business casual attire that leans more toward business than casual. Consider wearing a button-down shirt with dress pants or a professional skirt. A tie or a blazer might be a thoughtful touch to show your serious intent. Remember, the goal is to appear ready to take on a leadership role.
Corporate Office Positions: If you're interviewing for a corporate role, it's time to pull out all the stops. Business formal is the order of the day. A well-fitted suit in conservative colors like navy blue, gray, or black, paired with a crisp white or light-colored shirt will send the right message. For women, a pantsuit, skirt suit, or a dress with a blazer are appropriate options. Don't forget to complete your look with well-polished shoes.
Remember, the key to nailing an interview is feeling comfortable and confident. By understanding the dress code and aligning your outfit accordingly, you're setting yourself up for success. This isn't about losing your personality in the process, rather, it's about showing your adaptability and your readiness to become part of the Waffle House family.
Conclusion
Preparing for these most commonly asked Waffle House interview questions is just the beginning to securing not only your dream role in this iconic restaurant chain but also making a lasting impression. With detailed responses under your belt, you can stride into your Waffle House interview confident in the knowledge that you have armed yourself with invaluable insights into what to expect and have practiced crafting equally brilliant answers.
Who knows? You may even find that extra drizzle of initiative could propel you into a future leadership role within the delicious world of Waffle House.
However, even as you savor the sweet taste of a successful Waffle House interview, it's important not to rest on your laurels. Keep the momentum going by continuing to send out applications and building a network in the food service industry. Check out other establishments with a vibe similar to the beloved Waffle House, and consider applying for roles there as well. For example, you might explore options at Sonic Drive-In, IHOP, Denny's, Cracker Barrel, and Bob Evans – all reputable chains with a variety of job opportunities available. By broadening your horizons, you not only increase your chances of employment but also pave the way to diversify your skill set and experiences.
Now, go forth and conquer those interviews with the confidence of a syrup-smothered waffle, knowing that you have the tools and the perseverance to ensure your success in whichever direction your career takes you.