25 Denny's Interview Questions (And Outstanding Answers)
When you're about to be interviewed for a position in a well-known and reputable diner like Denny's, the nerves can start nipping, knotting your stomach into a ball of anxiety. But what if we told you that acing your Denny's interview doesn't have to be a nerve-wracking experience?
Welcome, dear reader, to your personal tool kit, your guide to conquering the most commonly asked Denny's interview questions. This blog post will prepare you so thoroughly that you'll walk into the room brimming with confidence, the butterflies in your stomach silenced.
In the throes of this competitive job market, being well-prepared is not a luxury but a necessity. So, pull up a chair, grab a pen, and prepare to step into your future with Denny's, radiating confidence. After all, dear reader, you deserve nothing but the best!
Your journey to acing your Denny's job interview starts right here, right now.
Denny's Company Information
Prepare for your Denny's job interview by familiarizing yourself with essential company information and facts.
This background knowledge not only increases your chances of successfully answering research-based questions, but it also shows your strong interest in the organization.
Take a look at these key points to deepen your understanding:
| | |
| --- | --- |
| Trade Name | Denny's |
| Type | Diner-Style Restaurant Chain |
| Founded | 1953 |
| Founders | Harold Butler, Richard Jezak |
| Headquarters | Spartanburg, South Carolina, United States |
| Menu | Breakfast, Lunch, Dinner, Desserts, Beverages |
| Signature Items | Grand Slam Breakfast, Moons Over My Hammy, Build Your Own Burger |
| Core Values | Guests First, Embrace Openness, Hunry To Win, Power Of We, Proud Of Heritage |
| Website | www.dennys.com |
| Competitors | IHOP, Cracker Barrel, Waffle House, Perkins |
Additional facts:
???? Donut Beginnings: Denny's originally opened its doors in 1953 as a humble donut stand named Danny's Donuts, only to evolve into the diner we know today after several name changes.
⏰ 24/7 Commitment: Denny's has a long-standing policy of staying open 24/7. In 1988, they had to install locks in over 700 locations for the first time just to close on Christmas Day!
⚾ Grand Slam Homage: In 1976, the Grand Slam breakfast was introduced to honor retired baseball legend Hank Aaron. It has since become an iconic part of Denny's menu.
????️ Special Locations: Not all Denny's are created equal! The NYC Financial District location offers a $300 Grand Cru Slam with Dom Perignon, while the Las Vegas outlet has a wedding chapel.
????‍???? Climbing the Ladder: Dawn Lafreeda, once a Denny's waitress, is now the largest franchise owner in the company with 82 restaurants and an annual revenue of about $85 million.
⚖️ Facing the Past: After settling a $54 million racial discrimination lawsuit in the '90s, Denny's made sweeping changes, including sensitivity training and better representation in advertising.
???? Social Media Wins: Their "zoom in on the syrup" meme became the most liked and shared social media post for Denny's, proving their knack for online engagement.
???? Animal Welfare: Denny's is committed to serving 100% cage-free eggs by 2026 and sources pork from farms that avoid using gestation crates.
Denny's Mission Statement
To build, nurture and grow Denny's culture, wildly diverse, demonstrably inclusive and unquestionably fair and equal in opportunity for all.
Denny's Interview Questions
Can you tell me a little about yourself and your background?
The hiring manager is simply trying to gain a holistic understanding of who you are, both personally and professionally. This is an opportunity for you to share your experiences, unique skills, and what you bring to the Denny's table (pun intended).
When addressing this question, make sure to keep things professional.
Discuss your work history in the food service or customer service industry if applicable, including any specific roles, responsibilities, and skills you've developed.
If you're just starting out, consider talking about your academic achievements or any volunteer work you've done.
Remember to also connect your answer directly to the job posting. We suggest briefly discussing some of your soft skills such as teamwork or problem-solving abilities – traits the restaurant industry values highly. Highlight how these skills make you a perfect fit for the diner environment and the Denny's family.
Let's get you to the finish line with a perfect plate of an example.
"Of course, I'd be glad to. I'm originally from a small town where people value strong sense of community and good food – two things your brand embodies perfectly. I kick-started my professional career as a part-time server at a local café during my college years, where I learned all the nitty-gritties of managing a fast-paced environment and providing high-quality customer service. I also volunteered at local community events, which helped me hone my problem-solving skills and understand how team dynamics work. I believe this combination of experience and skills makes me well-suited for the Denny's team. Furthermore, I am a big fan of your 'America's Diner' concept and would love to add onto this legacy while growing professionally."
Why do you want to work for Denny's?
When you are asked the question during your interview, understand that it's not just the hiring manager trying to make conversation. Their intention is far more strategic.
They are assessing your understanding of Denny's and its operating values. It's also a subtle probe into your motivations and how well they align with what the company embodies.
Crafting a winning answer calls for some preparation.
First off, dig into the company culture. Is it the teamwork, positivity, or their dedication to serving quality food in a welcoming environment that excites you?
Also, make sure to highlight any personal interactions that influenced your decision, maybe that Sunday brunch you always have with your family, for instance.
Additionally, tying your long-term career goals into this narrative can show dedication and forward thinking.
Remember, authenticity is key, so be genuine in your response and show them that you aren't just looking for any job, but a role at Denny's specifically.
Now, buckle up! It's time to put all this advice into one comprehensive, killer response.
"Throughout my job search, there was something about Denny's that refused to fade into the background. I've always admired how Denny's places a great emphasis on teamwork and delivering top-notch customer experiences. In fact, my personal interactions with the staff during breakfast with my family on weekends left a profound impact on me. I saw how Denny's wasn't just a restaurant, but a community. It made me want to be a part of this dynamic team. Also, I'd like to bring my passion for customer service and culinary skills to Denny's and grow within your established brand. Working for Denny's aligns well with my long-term goal of building a rewarding career in the hospitality industry."
Do you have consistent and dependable transportation to get to and from work?
Dependable transport plays a big part in ensuring punctuality, so they're essentially checking if you'll be able to show up consistently when you're needed without any transportation-related delays.
Answering this question demands both honesty and tact.
Of course, your circumstances may not allow for a personal vehicle, and that's perfectly okay. What they're interested in is consistency.
Even if you depend on public transport, emphasize its reliability. You could mention bus schedules that align with your work shifts, or the multiple transport options you have available. Maybe you have a friend or family member as a backup transport option.
Bottom line: The Denny's hiring manager wants to hear that you've thought about this and won't let transport issues compromise your work.
Now, let's get you in the right mindset for the upcoming answer reveal.
"Absolutely! I have a reliable car that's just undergone maintenance, and I always ensure it's fuelled and ready to go. But on the off chance that there'd be an unlikely issue, I've got a backup plan. There's a consistent bus service that runs near my place, and the schedules complement my potential work hours. So, regardless of the circumstances, I'll always have a dependable way to get to work and fulfill my responsibilities in a punctual manner."
How do you effectively manage your time when things get busy?
With a question like this, the Denny's hiring manager is trying to gauge not just your organizational skills and ability to multitask, but also your resilience and adaptability under pressure.
As you probably already know, Denny's is a fast-paced environment with little time for hesitation and plenty of room for foresight and planning. This is their way of determining if you can handle the heat, both figuratively and literally.
When approaching your answer, remember, your goal is to demonstrate you're capable of maintaining efficiency and productivity, even when things get busy.
Firstly, mention a system or method you use to prioritize tasks; this could be anything from a written list to an advanced software tool, depending on your familiarised approach.
Next, emphasize your ability to quickly make decisions under pressure to prevent becoming overwhelmed.
Thirdly, mention any strategies you use to stay focused, such as taking quick breaks or using stress management techniques.
Express your understanding that unexpected situations can arise and the importance of being adaptable and managing those moments effectively.
Time to whip your answer into order, just like a Denny's omelette gets its fillings!
"When things get busy, I find that effective prioritization is key. I use a task list to keep track of what needs to be done and provide a visual of where I am in my process. It's important to make quick decisions on what's a priority at any given moment, especially in a fast-paced restaurant environment like Denny's. Ideally, you want to stay ahead of the curve. If I start to feel overwhelmed, I take a brief moment to regroup and refocus, it helps me increase my work efficiency. Lastly, I understand that in the hospitality industry, unexpected situations can crop up at any time; hence, adaptability is paramount, and I always remain open to re-strategizing my approach to manage such unpredictable instances effectively."
When you're feeling stressed, what strategies do you use to stay focused?
The notorious question may crop up during your Denny's interview. Yes, it can seem daunting, but rest assured, it's an opportunity to highlight your problem-solving and resilience skills.
The hiring manager is trying to assess how you handle pressure and whether you can maintain efficiency during challenging times, both of which are critical characteristics in the fast-paced hospitality industry.
Paving your answer with authenticity is key.
Everyone faces stress differently so there's no one-size-fits-all answer, though a recommended framework would be to confess experiencing stress, reveal the coping strategy, and demonstrate the positive outcome of your stress management.
Avoid the temptation to say you never get stressed, as they'll likely know it's an exaggeration.
Remember to keep it professional – talk about stress related to work, not personal life.
You might express your affinity for the organization or your regular mindfulness practices, or perhaps you might mention your ability to break down tasks into manageable parts to maintain focus and efficiency.
And now, for the magic trick of pulling all the mentioned tips together.
"Certainly, stress is a fact of life, especially in high-turnover industries like food service. What I've found works for me is to first acknowledge the stress, then turn it into a productivity catalyst. For instance, during higher-stress periods where we have high customer volume, I prioritize my tasks, breaking them down into smaller, manageable parts. This allows me to focus on one task at a time without being overwhelmed. Furthermore, I practice mindfulness at the start of each day, which helps me maintain a calm and positive demeanor throughout my shift. This approach has always helped me deliver high-quality service, even in the most stressful situations."
How did you first hear about job openings at Denny's?
This interview question might initially seem strange, yet it presents a prime opportunity.
The Denny's hiring manager isn't just curious about your research skills. In hidden depths lies an unspoken question: "Why Denny's?".
Deeply embedded, this query seeks to unveil your interest and motivation, level of initiative and resourcefulness, and compatibility within their team culture.
We suggest you approach this on two fronts.
First, recount the source of the job opening honestly – maybe it was a friend, social media, or a random search. A meticulous answer clarifies your active job-seeking techniques and research skills.
But don't stop there.
Elevate your response by mentioning the factors that attracted you to Denny's. Is it their strong brand value, commitment to customer service, or the learning opportunities the position promises?
Whatever your reasons, the key here is to present authenticity and curiosity, which will demonstrate your alignment with Denny's values.
Now, let's paint your thoughts into a picture-perfect response, tailor-cut to resonate with Denny's.
"Keeping it as real as it gets, my initial brush with a job vacancy at Denny's came during a LinkedIn expedition. One day while meticulously tracking opportunities, a Denny's vacancy caught my attention. What intrigued me beyond the job description was Denny's reputation for its robust, people-first culture and focus on delivering stellar customer experiences. Considering my previous experience and passion for hospitality, I saw a perfect bridge between my ambitions and Denny's core values. Thus, I decided to embark on the exciting journey of becoming part of the Denny's family.".
This might seem like a simple question, but its significance is tremendous.
The interviewer is trying to find out if you can work the hours that the establishment needs, keeping in mind that Denny's is open 24/7, and may require flexible work hours.
They are attempting to gauge whether your schedule coincides with the restaurant's needs and if you are willing to negotiate and adapt depending on the situation.
As you prepare your response, switch into strategic mode.
First, be honest; do not commit to times you can't follow through with, as this will only cause issues down the line. You want to be seen as reliable.
Second, highlight your flexibility. If you're able to work at odd hours when many others can't, make sure you mention it.
Moreover, be sure to emphasize your eagerness to adapt and your understanding of the needs of a 24/7 operation. Showing willingness to work on weekends or holidays – when staffing can be a challenge – will certainly make you stand out.
It's time to serve up a stellar response, dishing your availability information just like hot pancakes at a Denny's counter.
"Absolutely, I understand how crucial flexibility is when working in a 24/7 establishment like Denny's. I am fully available to work any shifts from Monday to Friday, as I believe this can maximize my experience without conflicting with my personal commitments. However, being aware of the weekend and holiday rush in restaurants, I'm more than willing to extend my availability during these peak times as I understand the importance of excellent customer service during these crucial hours. It's all about finding the perfect balance and I'm committed to working out a schedule that benefits everyone."
This isn't merely a nice, cozy question about your Denny's experiences.
It's a cleverly disguised probe into how well you align with the brand and connect with its customers.
Don't fret if you haven't nibbled a Moons Over My Hammy or wolfed down a Grand Slam Breakfast yet. All is not lost.
Scour the Denny's menu and zero in on the comfort dish you'd pounce on first. Explain why it calls to you.
This is your chance to subtly showcase your understanding of Denny's customers' tastes, your affinity for delicious food, and how in sync you are with the brand's ethos.
Let's leap into an example that shows you exactly how to blend personal experience and professional insights into a winning answer.
"Yes, I do have a favorite Denny's dish. It's the All-American Slam breakfast, because I am a classic breakfast person – I simply love how it encompasses so many components, each complementing the other perfectly. As a guest, I remember being so impressed by the consistency in taste and presentation across multiple visits. As a potential employee, I think it reflects the quality of Denny's – the place isn't just about serving good food, it's about ensuring a warm, consistent experience to every customer every single time. And that's something I'd love to be a part of."
How would you professionally handle difficult customer situations should they arise?
Here comes the million-dollar question at your upcoming Denny's interview.
This is where you'll demonstrate a trifecta of qualities that the interviewer is on the lookout for – problem-solving acumen, a high empathy quotient, and the ability to remain unfazed amidst chaos.
To charm your Denny's interviewer with your response, ensure you exhibit your calm demeanor and professional approach to conflict resolution.
Our tip? Use the STAR method – Situation, Task, Action, Result – to narrate a past experience where you handled a difficult customer.
Make it relevant, showing your deep understanding of the hospitality industry and the common challenges encountered.
Empathize with the customer's perspective, state your on-the-spot assessment, relate your chosen action, and highlight the positive outcome achieved.
Show them you're not just good under pressure; you're excellent.
Just imagine, the interview room goes quiet, and then, you breathe life into it with your story.
"In my previous role as a server, I had a situation where a customer complained about their meal being undercooked. Being aware that the 'customer is always right,' I calmly apologized for the inconvenience and assured them I would promptly address their concern. I took the plate and communicated the issue to the kitchen, where they promptly prepared a new meal. While waiting, I ensured to regularly update the customer of the progress and offered complimentary coffee as an apology for the inconvenience. Ultimately, the customer was satisfied with the resolution and left a generous tip. I believe in turning disappointments into opportunities to reveal the capacity for great service."
This is not a trick question or an attempt to trip you up, but rather, a chance for the Denny's interviewer to assess your self-awareness and honesty.
They're looking to understand if your strengths align with the job needs, and if you're self-aware enough to recognize and work on your weaknesses.
Now, let's navigate this crossroad together.
We recommend you highlight strengths that directly connect with the job you're interviewing for. Being a team player, handling high-pressure situations well, or possessing exceptional customer service skills are all strong points for a role at Denny's.
When it comes to weaknesses, pick something genuine yet not crippling to the role. More importantly, it would be best if you demonstrated how you're making efforts to better this weakness.
Remember, honesty wins this question, not perfection.
Ready to cook up your answer? We've got a stellar example lined up for you.
"One of my greatest strengths is my ability to foster a team-focused environment. I believe that being a reliable team player, particularly in a fast-paced setting like Denny's, is crucial for overall efficiency and guest satisfaction. Now, as for my weaknesses, I tend to overcommit to tasks at hand. I sometimes find myself going beyond my shift to ensure everything is perfect and ended up compromising my work-life balance. However, I've been polishing my time management skills and learning to delegate effectively to deal with this, and I can confidently say that I've seen significant improvements."
What are some key qualities you look for in a work environment?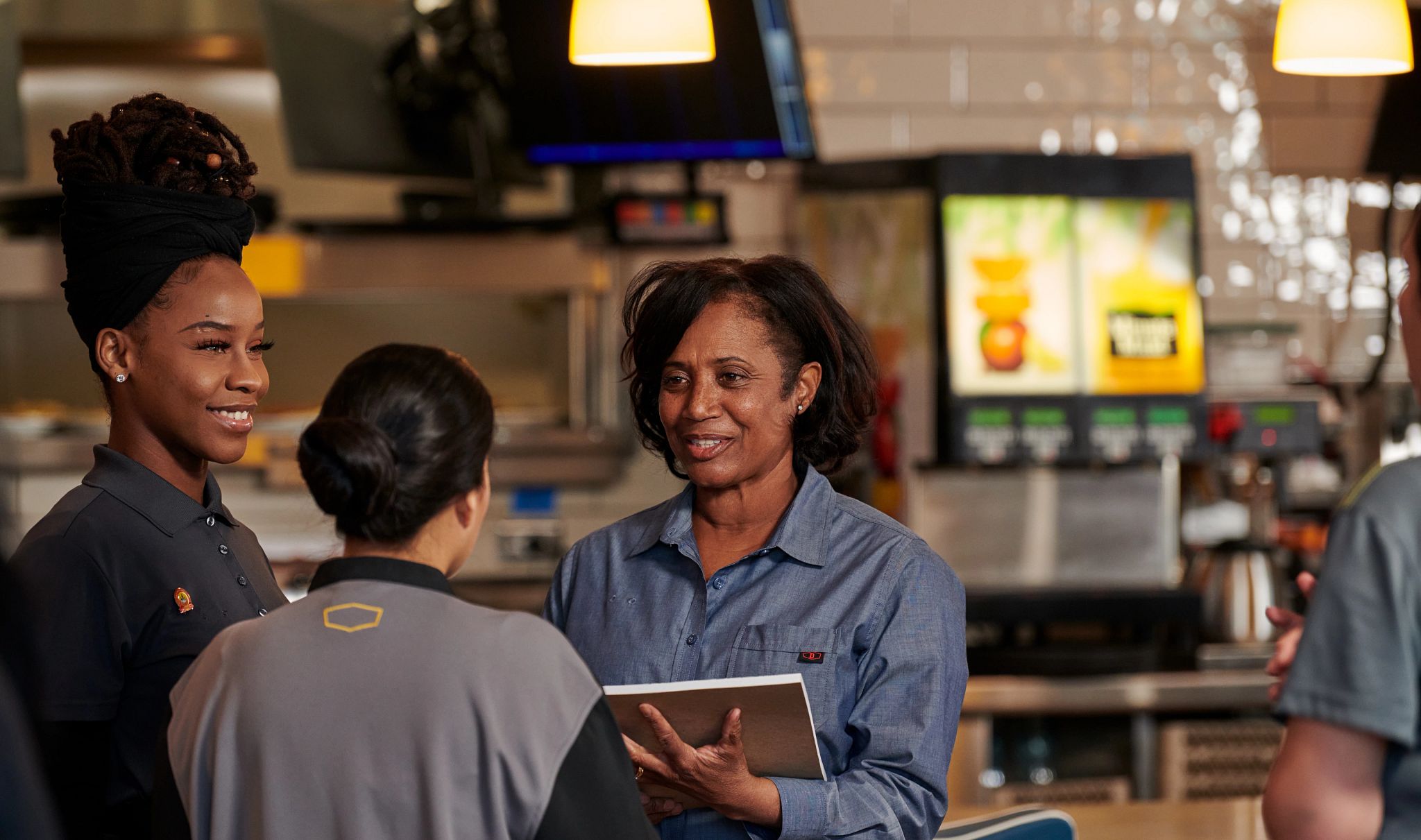 Understanding your idea of an ideal workplace enables the interviewer to determine if you would fit well within their team and contribute to Denny's commitment to delivering an outstanding dining experience.
When responding to this question, we suggest drawing on your personal experiences and observations of Denny's operations.
First, consider Denny's dedication to providing a welcoming, family-like atmosphere, both for its customers and its staff. If you're keen on working in a positive and friendly environment, underline this aspect.
Second, note the value Denny's places on teamwork. Express your preference for a team-oriented workplace.
Lastly, Denny's champions consistent and exceptional service delivery, so emphasise your interest in working in an environment that promotes high standards of service.
Let's orchestrate these insights into a harmonious answer that will resonate with the hiring manager.
"In my ideal working environment, the first critical element would be a soulful, welcoming atmosphere. From my understanding of Denny's, your close-knit staff fosters a family-like environment. I am more productive and motivated in such a friendly setting. Additionally, I value teamwork. Being in a setting where colleagues support each other in achieving shared goals aligns with my teamwork ethos. Lastly, I strongly believe in delivering exceptional customer service consistently. Denny's reputation for high service standards is something I'm particularly drawn to. I feel the most fulfilled when I am part of a team that prioritizes quality over mere productivity."
When you have multiple tasks or customers to handle at once, how do you go about prioritizing what to do first?
Stepping into your Denny's interview, you might encounter a series of situational questions crafted to evaluate your competence and behavioral traits. This is one such notable question that often crops up.
The hiring manager is probing to uncover your decision-making abilities, multitasking skills, as well as your understanding of excellent customer service—all crucial components for success in the frenetic, fast-paced world of Denny's.
Navigating this question successfully requires a thoughtful response flush with authenticity and factual relevance.
First off, you need to underline the fact that customer needs are your top priority. Then, in order to assure them of your multitasking skill, talk about how you determine the urgency of tasks and execute them effectively.
Adaptability is key here. Exhibit your ability to adjust priorities based on changing situations, while maintaining a calm demeanor. Remember, Denny's values team players capable of delivering exceptional dining experiences.
Are you ready to cook up an answer that will leave the hiring manager's palate yearning for more?
"In situations where I am faced with multiple tasks or customers, my primary objective is to ensure every customer is satisfied. First, I would assess the level of urgency of each task. If two customers need attention simultaneously, I'd quicken the pace to serve their needs, ensuring each one feels valued and taken care of. I might also leverage the support of available teammates, sharing tasks if necessary. This way, tasks are completed in a timely, efficient manner; the customers are happy, and the team spirit is reinforced. Changing scenarios have taught me to manage priorities swiftly and effectively. Consequently, I'm often ready to adapt as needed, always keeping Denny's commitment to an exceptional dining experience at the forefront."
When you envision your career 5 years from now, what does that look like to you?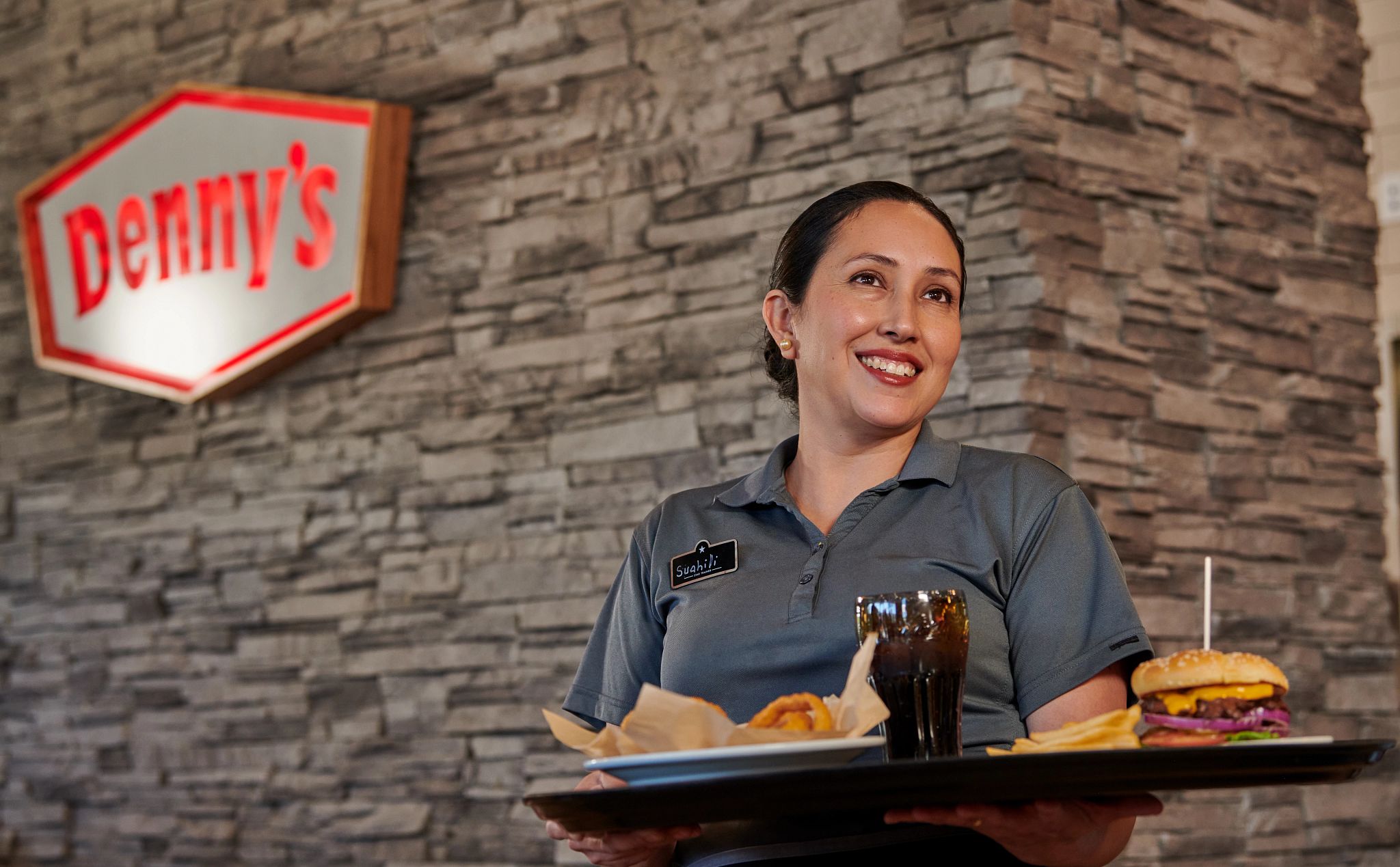 The hiring manager wants to understand your professional aspirations, whether your future goals align with what Denny's can offer you, and if you see yourself growing and contributing to the company's vision in the long term.
Let's dive into the practical tips on how to address this question eloquently.
First, before the interview, research Denny's corporate culture, their future plans, and the career path for your role, so you can align your answer fittingly.
Ensure your response is realistic, ambitious yet attainable, and, most importantly, showcases a genuine interest in sticking around with Denny's.
Speak about what skills you intend to acquire, what milestones you aim to achieve in your Denny's career, and how your growth impacts Denny's positively.
Keep a balanced focus on your individual growth and the value it would bring to the company.
Now that we've navigated the subtleties of preparing your answer, are you ready to dive into an example response?
Here is a thoughtful, forward-thinking response you might give:
"In five years, I see myself growing both personally and professionally with Denny's. I anticipate honing my culinary skills to a great extent, stepping into a team leader role, and maybe even training newcomers. My vision is not just about climbing the career ladder; it's about absorbing Denny's culture and becoming an integral part of the team. I look forward to contributing innovative menu ideas, driving customer satisfaction, and upholding Denny's reputation as a family-friendly restaurant. Ultimately, I see myself as not just an employee but a proud ambassador of the Denny's brand."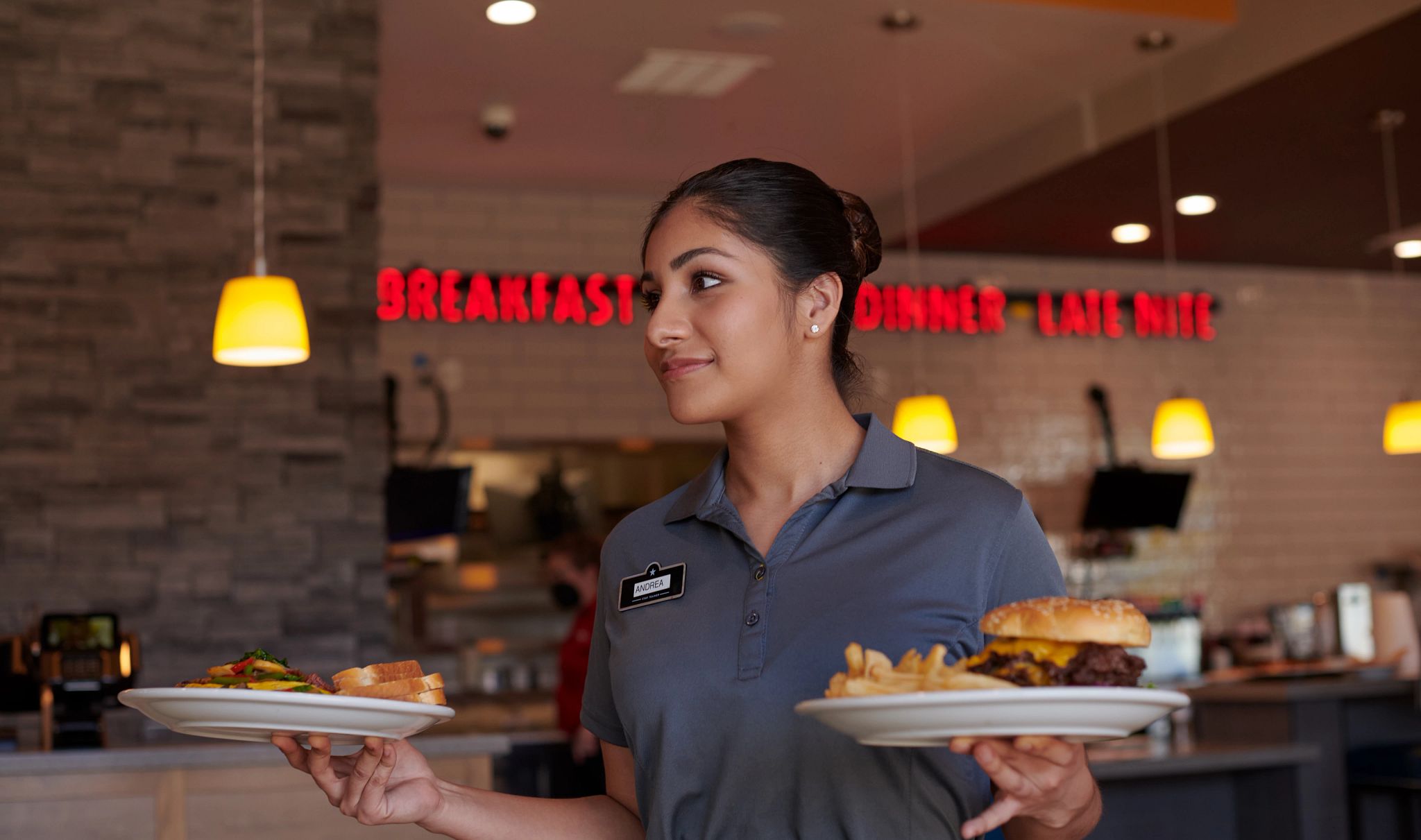 Delving into the heart of the customer-centric ethos that Denny's embodies, this question is a critical piece of the puzzle in your Denny's interview.
The interviewer is trying to gauge if you can uphold Denny's commitment to provide a comfortable, enjoyable dining experience by handling guest interactions with empathy, professionalism and a dash of personal flair.
Addressing this question with authenticity and depth should be your guiding marker.
For starters, convey your understanding of customer service being more than mere transactions. Highlight how it involves creating enriching experiences, setting the right tone from the first greeting, through meal service, all the way to the farewell.
Discuss your belief in proactive service (like anticipating customer needs even before they articulate them) and your focus on maintaining a positive, calm demeanor, even in stressful situations.
Don't hesitate to mention how you believe in giving every customer your undivided attention, treating them with utmost respect, and always aiming to exceed their expectations.
Now, what's next? Well…Cue the drumroll, please.
"In my previous role as a server at XYZ Restaurant, I prided myself on treating every guest as if they were dining in their own home. For example, regular customers Mr. and Mrs. Smith were celebrating their golden anniversary with us. Remembering their fondness for the house red from their previous visits, I suggested a complementary bottle to mark their special occasion. Their beaming smiles made my day! It's in these personal connections and thoughtful gestures where I find true fulfillment. At Denny's, I intend to carry on this approach of personalized service, carefully aligning it with Denny's 'guest-first' values to create memorable dining experiences for everyone who walks through the doors." Keep in mind, the key here is to provide tangible examples reflecting your understanding and application of quality customer service skills.
Why do you feel you would be a great fit for our team here at Denny's?
Don't be fooled by its simplicity; this question is your golden ticket to captivating their attention and setting yourself apart. Your mission? To prove that you get who they are and that your own work philosophy marries perfectly with theirs.
The key to nailing this answer lies in insightful research and displaying a genuine connection with the Denny's brand.
Before the interview, study Denny's core values, mission statement, and their commitment to service.
What you're looking for are aspects that resonate with you – perhaps their commitment to quality, customer service focus, or community involvement.
Referencing these in your answer will communicate that you appreciate and can naturally align with their culture.
But don't forget to couple this with your personal attributes, professional experiences, and specific talents that can add value to their team.
Keeping all this handy advice in mind, let's take a leap into a captivating example answer.
"I believe I would be a fantastic fit for the team here at Denny's because I closely identify with your commitment to providing superior service and using quality ingredients. This has always been a cornerstone in my own professional experience within the hospitality industry. I love that Denny's isn't just about serving meals, it's about creating memorable experiences for every customer. To that effect, I've honed my interpersonal skills to create a warm and welcoming environment for patrons. Furthermore, with my proven experience in efficient kitchen operations and my dedication to cleanliness and organization, I can support the team in maintaining the quality standards that Denny's is known for. In essence, my personal work ethic is an echo of the Denny's ethos, making me a perfect candidate to join your family."
Sounds challenging, right? Well, not to worry, we've got your back.
The intention behind this question is not to probe into your past job misadventures, but rather they're interested in seeing your interpersonal skills in action and how you uphold Denny's philosophy of providing a pleasant dining experience, even in challenging situations.
When answering this question, remember to breathe, stay calm, and recall a real-life incident where you had to grapple with a difficult customer.
Be specific, focusing on the actions you took, and draw their attention to the resolution you achieved.
Showcase your positive attitude and your knack for transforming a potentially negative experience into a positive one.
Keep your narrative concise yet comprehensive, and avoid blaming the customer at all costs. After all, a vital part of working at Denny's, or any role in the service industry for that matter, involves handling a variety of customers with grace and understanding.
Now, let's turn our roadmap into a destination.
"When I was working at my previous restaurant job, we received a complaint from a customer who was unhappy with his meal. He was quite irate, raising his voice and attracting attention from other diners. Rather than getting defensive, I apologized immediately for his disappointing experience and assured him that we'd make it right. I offered him a replacement meal and took the opportunity to guide him through our menu to help him find something to his liking. Meanwhile, I alerted the chef about the situation to ensure that this time, the next dish would be flawless. The customer was pleasantly surprised with our quick resolution and left a glowing review later in the evening. He even became one of our regular customers. This experience taught me the importance of listening to customers and swiftly resolving their issues while ensuring that they still had a positive impression of our service."
Are you comfortable working split shifts as needed to help serve our guests?
This question is not a curveball, but it serves as a litmus test for the hiring manager to see if you can adapt to the fluctuating restaurant needs, be team-oriented, and demonstrate a strong commitment to the Denny's brand.
When answering this question, the key is to convey your adaptability and your dedication to providing excellent customer service, no matter the shift.
Remember, Denny's is a 24/7 operation, so being flexible is a plus, but you don't need to neglect your own needs completely. Be honest, but considerate of the business needs.
Mention any previous experience of working split or flexible shifts. This shows that not only are you open to the idea, but also lets them know that you are capable of it.
Also, don't forget to empathize with the goal of the question: serving the guests to the best of your ability.
Now that we've whipped up a strategy, it's time to dish up your deliciously tailored answer.
"Yes, I absolutely understand the importance of flexible scheduling in the restaurant industry. From my past experience at XYZ Restaurant where I worked split shifts, I know it can be a challenge but it also offers the opportunity to interact with different sets of customers, enhancing my skills in dealing with diverse situations. While I do have personal commitments, I fully comprehend that the needs of Denny's guests are paramount. So yes, I am comfortable working split shifts as needed and confident that I can handle the rhythms of such a schedule, while maintaining the high level of service Denny's guests expect."
Failure should never be something you shy away from since every hiccup in your life is a stepping stone to growth, especially in the hospitality industry.
Every trial, every error, is a lesson in disguise, and this is what your Denny's interviewers are keen to assess. What they want is a candidate who can dust themselves off after a setback and use their experience as fuel to forge ahead.
To tackle this question adroitly, you should respond with honesty while demonstrating your ability to learn and improve.
Start by choosing a genuine failure related to the job you're interviewing for—remember, we all err; there's no need to fabricate a mistake—then explain what happened and why.
Follow this up with the essential part, what you learned from the failure, and how you've since implemented that lesson.
Rather than focusing solely on the mishap, concentrate on how you corrected the situation, developed strategies against recurrence, and what you did to make amends.
Meanwhile, maintaining a positive tone throughout your answer can communicate to the hiring manager that you see failures as opportunities for growth rather than harbingers of doom.
Now, let's turn this preparatory information into a cohesive response.
"So, there was this instance when I was working as a server at my previous job. I had just started, and during a particularly busy shift, I miscalculated an order and ended up missing two meals for a family of four. They were understandably annoyed, and I felt absolutely mortified. Instead of letting it completely ruin my shift, I apologized sincerely to the customers and rushed the missing meals to the table. But importantly, I used this experience as a lesson to develop strategies to prevent such errors, like double-checking orders before sending them to the kitchen, and continuing to strive for excellent customer service. From this experience, I learned that admitting my mistakes, rectifying them swiftly, and learning from them is essential in the hospitality industry. It also taught me the significance of prioritizing customer satisfaction, even when things don't go exactly as planned."
How would you handle a situation in which a customer is upset about their wait time and wants to leave?
This Denny's interview question is more than meets the eye.
It's not just about factoring in your patience or ability to say sorry – it's a question to assess your conflict resolution skills, commitment to excellent customer service, and knack for quick thinking under pressure.
The hiring manager wants to unravel how driven you are towards maintaining Denny's reputation of being "America's Diner," a friendly and welcoming place for all at any time of the day.
Now, let's guide you through navigating the perfect answer.
Begin by showing understanding and empathy for the upset customer. This builds a bridge towards a resolution.
Next, discuss how you would communicate with the individual – remember, a cheerful and calm tone can go a long way.
Demonstrate your problem-solving skills. Maybe you'd offer a free appetizer or a discount on their meal to smooth things out, or perhaps you'd assure them their food is on the way and thank them for their patience. Don't just react – strive to solve.
Lastly, show you'd take this as an opportunity for growth by voicing that you'd communicate the issue to management to prevent such incidents in future.
Now, shall we put this all together?
"Sure, If I was faced with a customer angry about their wait time and on the verge of leaving, firstly I'd respond with understanding and empathy. I mean, all of us have been in situations where we've had to wait longer than expected and it can be truly frustrating. I'd assure the customer, 'I completely understand your situation and I sincerely apologize for the inconvenience caused. At Denny's, we pride ourselves in valuing our customers' time. I believe food tastes better when served hot and on time. Let me check with the kitchen and see how we can expedite your order.' Then, to make up for the wait, I'd offer them a complementary appetizer or a discount on their bill, subject to my manager's approval of course. After resolving this issue, I would report the incident to my manager to brainstorm ways to avoid such delays. Providing excellent customer service is of paramount importance and this approach ensures that despite the initial hiccup, the customer's overall dining experience remains positive."
What are some of your hobbies and interests outside of work?
This Denny's interview question might seem a bit off-beat but serves an important purpose.
The hiring manager is trying to uncover more about your personality, your work-life balance, and how your outside interests might enhance your fit within Denny's culture and team.
They are not just looking for an employee who can flip pancakes and serve coffee, but someone who adds value, and brings a unique perspective and energy to the team.
When approaching this question, it's crucial to be authentic and share interests that truly resonate with you. Fabricating hobbies isn't advisable, as it may come across as insincere.
Make sure to also think about how your hobbies might reflect qualities that are beneficial to the position you're applying for.
For example, if you enjoy team sports, it might show that you're a team player. Dabble in cooking or baking as a hobby? It shows a love for the gastronomic world, a big plus for any food-service industry job!
It's all about connecting dots – your genuine hobbies and the valuable skills they potentially demonstrate to your prospective employer.
Now, let's cook up an example answer that serves up authenticity with a side of relevancy to Denny's.
"Outside of work, I absolutely love being part of my local community softball team. It's not just about playing the sport, but more about working together as a team and creating bonds with diverse individuals. Also, I enjoy experimenting in my kitchen, where I try recipes from around the globe. It helps me appreciate the culinary world's vastness and intricacy. I believe these hobbies make me a better team player and enhance my understanding of food, which I think aligns well with the values and spirit here at Denny's."
What do you enjoy about interacting with customers and guests?
While it may sound like a breezy get-to-know-you type question, make no mistake; it's a secret weapon in the hiring manager's toolkit.
They're slyly gauging your interpersonal skills, verve for delivering stellar customer service, and perspective on this part of the role.
So how do you respond to this critical question?
Let's start by focusing on authenticity. Speak from your heart about what truly fuels your passion for customer interaction.
Maybe you enjoy the chance to create a warm, inviting atmosphere, perhaps you find joy in the human connection, or you relish the challenges that come with meeting and exceeding customers' expectations.
Your answer should reflect your personality and resonate with Denny's commitment to providing a comforting environment where people can enjoy great food and companionship.
And remember, while it's crucial to emphasize your skills, it's equally vital to show your enthusiasm and empathy.
Now let's frame these elements into a compelling narrative showcasing your understanding of the role and authenticity.
"I must say it's the combination of human connection and the opportunity to create positive experiences that truly excites me. I love that each interaction is unique and offers a chance to create a memorable moment for someone, whether it's through a warm greeting, understanding their preferences, or even resolving an issue in a kind manner. In the hospitality industry, we serve not just food but warmth, comfort, and relaxation. It fulfills me knowing I'm contributing to Denny's legacy of creating a 'home-away-from-home' sensation for every customer walking in, and that's what I enjoy the most."
Tell me about a time you had to work through a challenging situation with a coworker. What steps did you take to resolve it?
Through this question, the Denny's interviewer is testing your interpersonal and conflict-resolution skills, vital components in a fast-paced restaurant environment like Denny's.
They're looking for a strong symbol of your ability to maintain harmony within the team while ensuring optimal productivity. It's not just about the conflict, but also your response and the resulting resolution that truly matters to them.
Start your answer by clearly defining the challenging situation you and your coworker faced. You should create the base for your tale, so the interviewer can comprehend the complexity or urgency of the situation.
Make sure to describe specific actions you took as a part of your conflict-resolution strategy, indicating your demonstration of diplomatic communication, actively listening, and seeking a mutual resolution.
It's crucial that you don't bash your coworker or solely blame them for the issue; instead, focus on your role, actions, and the learning you derived from the experience.
With your pointers sharp and shining, you're now ready to delve into storytelling.
"In my previous role, there was a coworker with whom our communication styles simply weren't syncing. This resulted in a few misunderstandings and increased tension during the busiest shifts. Recognizing this, I proposed a meeting between us during a less hectic time. I began by acknowledging the issue and expressed my perspective, ensuring to be respectful and open-minded. I eagerly listened as she did the same, ultimately realizing both of us had valid points but were expressing them differently. We agreed on a communication strategy using shift briefings for clearer work instructions. Following this meeting, our partnership improved significantly and even resulted in us being commended by our manager for handling a busy weekend shift with excellent efficiency. This experience taught me the power of open communication and active listening in resolving workplace conflicts."
This question uncovers your problem-solving abilities, interpersonal skills, and your commitment to providing exceptional service—all key traits Denny's seeks in its new hires.
When crafting your response, remember the secret lies in the details.
Recreate a vivid scene that drills into specifics, such as the customer's needs, your thought process, the actions you took, and the eventual outcome.
Do not just narrate a story; make sure to link your actions to the positive results for the customer. They're after insights into your customer service skills—in particular, your ability to anticipate customer needs, finding innovative solutions, empathize, and ensure satisfaction.
Quoting a real experience will display your authenticity and sincerity, and we recommend rehearsing your answer beforehand to speak confidently and naturally during the interview.
With our tips freshly served, you're now primed to cook up an irresistible answer to this pivotal question.
"Absolutely! During my previous job at a restaurant, a customer with special dietary requirements came in. They seemed unsure about what to order, so I took the initiative to help them navigate through the menu, suggesting dishes compatible with their needs. Noticing their continued apprehension, I decided to go a step beyond and consult with the chef about adapting an attractive dish to suit their diet. The customer was delighted with the personalized service and grateful that we considered their comfort. This instance gratified me that my role allows me to make meaningful impacts on a customer's dining experience, which I plan to do at Denny's if given the opportunity."
To provide excellent service at Denny's, we have to be open to feedback. How do you handle feedback or criticism from others?
At Denny's, customer satisfaction reigns supreme, and a key component of this satisfaction is your ability to receive and act upon feedback, whether positive or negative.
Now, let's put this in perspective: how do you answer?
Firstly, be straight and to the point. The interviewer understands that accepting criticism can be challenging, so a dose of honesty here will do you good.
Start by acknowledging that feedback, whether it is constructive or positive, is a vital part of professional growth.
Secondly, illustrate how you don't just 'take' the criticism, but also 'act' on it. This can include examples where you have implemented changes based on the feedback received.
Remember, they don't want to hear that you are just 'okay' with feedback. They want to see that you welcome it as an opportunity to learn and grow both personally and professionally.
Our simplest advice: emphasize growth through feedback.
"To be honest, receiving criticism hasn't always been easy for me. But over the years, I learned that feedback is not a personal attack, but an opportunity for me to improve and grow. For example, when I worked at XYZ Restaurant, a customer once complained about the speed of service. Instead of getting defensive, I took it as constructive criticism. I involved my team and brainstormed ways to enhance our service speed without compromising the quality of food. We implemented several tactics, like reorganizing the kitchen layout and providing additional training for staff. The same customer returned weeks later and expressed satisfaction with our improved service time. This experience made me realize that feedback, if received and acted upon positively, can transform into opportunity."
At Denny's, connecting with guests is so important. How would you make each guest feel welcomed and cared for from the moment they walk in?
This interview question is a fantastic way to showcase your knack for customer connection. A meal at Denny's isn't just about the food. It's about creating lasting, memorable experiences.
The key to success here lies in your ability to make genuine connections, stay on your toes, and create a friendly, inviting atmosphere.
While answering this golden question, keep in mind that the interviewer genuinely wants to know what sets you apart as a communicator and a potential team player.
Firstly, emphasize your listening skills – this shows that you value guests' ideas and conversations.
Secondly, customer care also looks like being three steps ahead in anticipating the customer's needs. Do they seem lost? Offer to guide them to their table. Are their hands full? Offer to handle their luggage or coats.
Lastly, don't overlook the importance of personalization – use guests' names where you can and when it feels appropriate.
Now, let's roll out your red carpet, inspiring every guest that walks through that Denny's door.
"'Warm greetings! Welcome to Denny's, my name is [Your Name], and I am thrilled to see you today. I'd like to create an amazing experience for you. I believe in listening keenly, so your thoughts and preferences will form my road map to serving you best. I always endeavor to anticipate needs and provide solutions even before they are expressed – for example, helping you handle your belongings or guiding you if you seem a bit lost. I firmly stand by addressing guests by their names because it fosters a home-like environment and a personal touch. With me by your side, every moment will be memorable, and every experience at Denny's will feel like a warm embrace, making you want to return for more.'"
Questions to Ask the Interviewer in Denny's Interview
When Denny's interviewer places the ball in your court to ask questions, they are assessing your curiosity, engagement level, and how serious you are about the role.
You're being offered a chance to peek behind the veil and discover if Denny's is the right fit for you. Moreover, smart questions verify your preparation and demonstrate your comprehension of the company's needs, setting yourself apart from others.
So how do you create your questions? Consider recapitulating what you've observed, researched, or are concerned about. Show your excitement about potentially joining the Denny's team, but also underline that you are thinking diligently about your future with the company.
Now, let's whet your appetite with a full feast of insightful questions for you to ask during your Denny's interview:
Can you provide me with deeper insights into Denny's culture?
How do you envision my role contributing to the overall goals of Denny's?
What distinguishes successful employees at Denny's?
Could you clarify your expectations for this role in the first 30 to 60 days?
How can I grow and progress within the company?
Do you foresee any significant changes in the company or my potential department?
How would you describe the management style at Denny's?
May I know more about the team that I'll potentially be joining?
Can you tell me about the last person who held this role?
What are the opportunities for professional development here?
How is performance measured and reviewed at Denny's?
What's the most challenging aspect of this job?
Are there any special projects or initiatives you want me to focus on?
Could you tell me about some of the important milestones my team is focusing on right now?
How can I contribute towards Denny's mission from this position?
What is Denny's promotion policy?
Is there anything I should be aware of regarding the job I'm applying for?
When can I expect to hear from you about the next steps in the hiring process?
Denny's Hiring Process

If you have an interview coming up at Denny's, you're probably wondering what the hiring process will entail. Understanding the steps and being prepared can help you feel more confident and increase your chances of getting hired.
This insider look at Denny's hiring process will let you know exactly what to expect.
Application: The first step is submitting an application, which can be done online through websites like Snagajob or Craigslist, or in-person at your local Denny's restaurant. Many candidates have shared that they simply walked into a Denny's location near them and filled out a paper application onsite.
Interview Call: Within a few days of applying, you can expect a call from a Denny's manager to schedule an interview. This is a good sign that they are interested in your application!
In-Person Interview: Interviews are typically conducted one-on-one with the General Manager, Hiring Manager, or Operations Manager. They tend to be brief, lasting around 15-30 minutes. This casual, conversational interview will focus on learning about your availability, previous experience, customer service skills, and assessing your overall fit and competency for the role through basic questions. You may be asked some simple math questions as well.
Job Offer: Good news – many candidates are hired on the spot after having a successful interview. If you are the right fit, you may receive a job offer as soon as the end of your interview.
Paperwork: Shortly after a job offer, you will need to complete some paperwork and go through any drug testing required. Within a few days of your interview, plan to come back and complete these necessary steps.
Training and Orientation: The hiring process moves quickly at Denny's! You can expect to start orientation and training within a week or less after finishing your paperwork. Then you'll be ready to get started as a Denny's employee!
Denny's Interview Tips
When interviewing at Denny's, be ready to talk about your availability and customer service skills. Keep in mind the manager is looking for someone eager to join their team with a flexible schedule. Emphasize your ability to adapt to different roles and situations. Show them you work well with others and have a positive attitude. Ask questions to learn more about training and growth opportunities.
What to Wear to Denny's Interview
You've done your homework, nailed your application, and now you've landed an interview with Denny's. Well done! But now, the inevitable question lingers in your mind: what should you wear?
Before we talk about the specifics, here's an invaluable tip to keep in mind: whenever in doubt about what to wear for an interview, take inspiration from the company's existing dress code. This will make you blend in naturally, portraying you as part of the team from the moment you walk in for the interview.
Now, let's talk about Denny's dress code.
The dress code at Denny's is a company-provided black shirt bearing the Denny's logo, black pants, and black, non-slip shoes. The shirt is generally expected to be tucked in, and employees must ensure their hair is appropriately tied back or kept up.
So, keeping this dress code in mind can give us an idea of what you should wear to your interview.
If you've secured an interview for a position as a Server, Cook, Operator, or part of the Wait Staff, we suggest casual or business casual attire. A neat pair of jeans coupled with a solid-colored shirt can be a good starting point.
Should you be stepping into the shoes of a Shift Leader, Restaurant Manager, or General Manager, business casual is the way to go. Consider a pair of dress pants or khakis, and team them up with a collared shirt.
But what if you're aiming for the corporate stratosphere? For Corporate Office positions at Denny's, business formal is your go-to. We're talking about a professional suit, a collared dress shirt, and a tie for the gentlemen. For the ladies, a pantsuit, skirt suit, or professional dress can work well.
Conclusion
This list of most commonly asked Denny's interview questions and strategic responses is your ticket to acing that interview at Denny's. Solid preparation is undoubtedly half the battle won.
However, remember, the job search doesn't end after one successful interview. Continually strive to unlock more doors of opportunity.
Consider similar businesses that might need your skills and talents, such as IHOP, Cracker Barrel, Waffle House, Bob Evans, Applebees, and Sonic Drive-In. Each establishment offers unique environments and opportunities where you can thrive while honing your craft in the food service industry.
Your perfect fit could be just an application away, so don't stop looking. Be proactive, tenacious, and unwavering. Keep networking, keep broadening your horizons, and above all, maintain your zest and enthusiasm.
You've got this, and we're rooting for you!