26 Sonic Interview Questions (And Answers To Land The Job)
You've finally landed an interview at Sonic Drive-In. Your heart races with excitement and nervousness. You know how competitive it is to get a job there.
This could be your chance to gain valuable work experience, earn a paycheck, and start building your career. But to have a shot at getting the job, you need to absolutely crush the interview. How do you do that?
By being prepared. Really, really prepared.
In this post, we're going to walk you through the most common interview questions asked at Sonic Drive-In and provide you with verbatim examples of compelling answers. We'll give you insights into what the interviewer is looking for in each response so you can tailor your answers accordingly.
Preparation is key to ace this interview. When you walk in, you'll exude confidence knowing you have examples and strategies in your back pocket for any question that comes your way. You'll convey your enthusiasm for the job and show just how perfect of a fit you'd be.
So get ready. Do your research. And gear up for an interview that will change the path of your career. You've got this! The job at Sonic Drive-In is within your reach.
Sonic Drive-In Company Information
During your interview, you might be asked questions that test your knowledge of Sonic Drive-In's background. To be ready for this, take time to learn some important facts about the company.
| | |
| --- | --- |
| Trade Name | SONIC Drive-In |
| Type | Fast Food Restaurant Chain |
| Date Founded | June 18, 1953 |
| Founder | Troy Smith |
| Headquarters | Oklahoma City, Oklahoma, United States |
| Menu | Burgers, Hot Dogs, Sandwiches, Breakfast Items, Sides, Beverages, Desserts |
| Signature Items | Footlong Quarter Pound Coney, Classic Sonic Cheeseburger |
| Number of Locations | 3545 |
| Core Values | Respect, Relationships, Entrepreneurial Spirit, Fun, Surprise & Delight |
| Website | www.sonicdrivein.com |
| Competitors | McDonald's, In-N-Out, Whataburger, Burger King, Dairy Queen |
Additional facts:
Root Beer Beginnings: SONIC Drive-In's roots can be traced back to founder Troy N. Smith, Sr., who purchased land in Oklahoma with a root beer stand called Top Hat. After realizing the stand's profitability, Smith turned his attention to expanding the business.
Sonic's Name Evolution: Originally called Top Hat, the name "Sonic" was adopted in 1959 to match the brand's "Service with the Speed of Sound" slogan after discovering that "Top Hat" was already trademarked.
Skating Servers Strategy: Smith introduced roller-skating servers as a business strategy, inspired by another drive-in's car-side speakers. The move proved successful, enhancing the Sonic experience and boosting profits.
Nationwide Coverage: With locations in 47 states and territories in the United States, Sonic has made its delicious offerings accessible to most people across the country.
Beach Vibes: Sonic Beach, located in Miami, offers a unique beachfront experience, complete with an air-conditioned dining room and a selection of beer and wine to complement the classic drive-in menu.
Master of Milkshakes: With seven standard Real Ice Cream Shake flavors and countless mix-and-match possibilities, Sonic has earned a reputation as the ultimate milkshake destination.
Drink Combinations Galore: Sonic boasts an astounding 1,063,953 drink combinations, thanks to its extensive selection of fountain drinks and slushes, ensuring there's a beverage for every taste.
Secret Menu: Sonic is known for its customization options, and discontinued items can often still be ordered if the ingredients are available, keeping fan favorites alive for those in the know.
Happiest of Hours: Sonic's daily happy hour (2-4 pm) offers customers a refreshing break with half-price drinks and slushes, as well as limited-time snack deals for an affordable, tasty treat.
Annual Skate-Off: In partnership with Dr. Pepper and RC Sports, Sonic hosts an annual skating competition to find the best-skating carhop within its system, showcasing the talents of its roller-skating servers.
Iconic Ad Campaigns: Sonic featured 1950s teen heartthrob Frankie Avalon in ad campaigns from 1987-1993, tapping into nostalgic charm and pop culture to promote their fast-food offerings.
NASCAR History: From 2001 to 2003, Sonic sponsored NASCAR driver Dale Earnhardt Sr., and later his replacement Kevin Harvick, demonstrating the brand's commitment to sports and entertainment partnerships.
Commercial Stars: Improv actors T.J. Jagodowski and Peter Grosz starred in memorable Sonic commercials from 2002-2010 and later participated in a publicity stunt in 2012 to re-promote the brand and the duo.
Sonic Drive-In Vision Statement
To become America's most loved restaurant brand
Sonic Drive-In Interview Questions
Can you tell me about yourself and your interests?
The interviewer isn't just asking about your interests to make small talk. They want to see if you'll mesh with Sonic Drive-In's fun and youthful culture.
Showcase your personality by highlighting 2-3 interests that ignite your passion. Talk about them enthusiastically, like how you're on a quest to find the best burger in town or how photography allows you to see the world through a creative lens. Focus on being your authentic self—let your passions shine through!
Picture yourself in the interview and give an answer like this:
"I'm always chasing new adventures outside of work, especially ones that involve great food or the outdoors! You could say I'm a bit of a burger fanatic on a quest to discover the best burger joint in the city. I also love capturing life through a camera lens—there's beauty in the little details if you look closely enough. On the weekends, you might find me on a scenic hike at a state park or teaching myself new photography techniques. I really value experiences that spark all the senses."
In the end, share what genuinely fuels your fire. Let your enthusiasm take center stage as you reveal the depth and intrigue of your interests. An authentic, memorable answer will convince the interviewer you'll energize the team and customers. March into that interview and dazzle them with everything that makes you, you!
Why do you want to work for Sonic?
When they ask why you want the job, this is your chance to win them over with your passion.
Here's how to craft an answer that will leave them más excited than a half-price cheeseburger special.
First, do your homework. Learn what makes Sonic tick—their community spirit, fun culture, and life in the fast lane. Mention something specific you admire about them. This shows you care enough to research the company beyond their menu.
Next, share your relevant experience in an energetic, enthusiastic way. Your high-octane attitude will get their motors revving.
Finally, explain why the role is your dream job. When you convey genuine passion for the work itself, they'll be convinced you're the carhop for the job.
"I'm really impressed with Sonic's fun, community-oriented company culture and am eager to be a part of it. My three summers of experience at a fast-paced drive-in restaurant will allow me to hit the ground running. I also love how involved Sonic is with charity fundraisers and fun community events. The roller-skating carhops and lively social media campaigns show how much Sonic values an energetic, lighthearted environment, which is exactly the kind of place I want to work. Overall, Sonic's brand and culture seem like the perfect fit for my work style and priorities."
Tell me about a time you had to deal with an unhappy customer. How did you make it right?
The interviewer isn't just looking for customer service skills—they want to see that you have the composure to thrive under pressure and the problem-solving skills to turn unhappy customers into loyal fans.
Focus on the steps you took and on the outcome. Share how you made the customer feel and the lessons you learned. Showing your ability to connect with customers on an emotional level and gain insights from mistakes will prove you're perfect for this role!
Here's an example:
"Once an angry woman clutching her wrongly made burger at my drive-thru window wasn't just upset—she was questioning why she even bothered coming to the place. I apologized, looked her straight in the eye, and asked how I could make this right. She vented, I listened. Then I offered to replace her meal and also gave her a coupon for her next visit. She thanked me for my understanding and left happy. She left knowing we valued her time, her feedback, and her business."
Showing this mindset will prove to the interviewer you have the motivation and creativity to thrive at Sonic Drive-In. You'll tackle problems with empathy, see complaints as chances to excel and find innovative solutions to delight each customer.
This question tests your passion for the food and brand. Don't just list an item, describe the flavor explosion that sends you cruising to your happy place with every bite!
Here are some tips to nail your answer:
Pick a signature favorite with flavors that fuel your foodie passion.
Describe the flavor experience in a fun, vivid way to showcase your enthusiasm.
Mention the good vibes and nostalgia the item evokes to connect on an emotional level.
Keep it short and sweet. Too much gushing may come across as overzealous. Share what makes the item distinctly Sonic to show your brand know-how.
"My favorite Sonic menu item would have to be the Route 44 Ocean Water. One slurp of Sonic's Ocean Water and I'm instantly transported to the summer nights of my childhood. The lip-puckering cherry and blue coconut flavors create a tropical escape in my mind with each icy burst of fruity slush. No other treat compares to this taste of nostalgia in a cup, which is why Sonic has always been my go-to for fun, flavorful fare. It's a treat I can only find at Sonic, which is one of the many reasons I'm excited to be part of the team."
With an answer like this, you'll dazzle the interviewer with your passion, and they'll be handing you the job in no time!
This question is the interviewer's chance to get to know you on a deeper level and understand what you can bring to the role and company culture.
Here are some tips to share the very best of yourself:
Focus on your top strengths for this role and show how they'll benefit Sonic.
For weaknesses, pick minor ones and discuss your proactive self-improvement.
Most importantly, let your passion for serving up smiles shine through!
Want to see these tips in action? Check out this example answer:
"My biggest strength is delivering a beyond-expectations customer experience. I've honed this skill during 5+ years of customer service work, like at my recent gig at a hopping ice cream shop. Despite long lines and impatient customers, I always maintained a positive attitude and got people what they needed, stat with a smile.
Sure, I get so focused on service that delegating tasks is tough. But I'm actively working on trusting my teammates more – because at the end of the day, a smooth operation where all teammates contribute is key to an amazing customer experience.
What makes me fab? An endless enthusiasm for bringing people joy, a knack for instantly connecting with customers, and a deep love of your fun and friendly brand. I'd come alive with the opportunity to provide unforgettable Sonic experiences and be part of your one-of-a-kind team. When I say I'm passionate about this position, I mean it from the bottom of my Route 44 cup!"
Picture this: a customer needs change, can you do the math off the top of your head to keep things cruisin' smoothly?
Picture this: You're in the midst of Sonic Drive-In's lunch rush, and a hungry customer hands you a ten spot for their $6.32 order. Can you make change in the blink of an eye and keep the line moving? This make-or-break interview question tests if you have the math chops and composure to thrive under pressure in this fast-paced job.
To nail this question,
Here's the scoop on how you can answer:
"Absolutely, I can do that math quickly and accurately in my head to provide change promptly and keep operations moving efficiently. Providing great customer service is my top priority, so ensuring a smooth experience by expediting transactions and handling payments professionally are areas I excel in. I have strong mental math skills that would allow me to calculate change accurately even while juggling multiple responsibilities and keeping the line moving. I'd flash a smile and say, 'Your change is $ (amount). Have a Sonic-tastic day!' as I smoothly hand the customer their change."
See, making quick change is a cinch with some mental math magic and a cool, collected attitude. Practice counting coins and bills in your spare time, and you'll gain the skills and confidence to speed through transactions when the pace heats up.
Let's talk pressure: how do you keep your cool and deliver a SuperSONIC experience under pressure?
You're probably anxious about this question, and for good reason. The interviewer wants to see if you can handle the heat – when angry customers tap their feet, orders back up, and chaos threatens to overtake the kitchen.
But don't sweat it. Here are some tips to nail this question:
Take a deep breath. Feeling panicked will only make the situation worse. Staying calm is key.
Tune out the chaos. Focus on each customer and their needs. Forget the rest – you'll get to them.
Plaster a smile on your face. A positive attitude is contagious and will keep tensions from rising.
Ask for backup if you need it. Don't try to be a hero. Get help from your team so you can serve customers quickly and correctly.
Move with urgency but purpose. Rush, and mistakes will be made. Take efficient action and you'll get into the rhythm.
Want to see these in action? Here's an example:
"When the pressure mounts and multiple customers are waiting or impatient, I don't get flustered easily. I take a deep breath, put on a smile, and focus on serving each customer to the best of my ability. My priority is giving the customers a great experience, not rushing to get the line moving quickly. I communicate in a friendly, audible voice to ensure each customer's needs are met. If at any point I feel overwhelmed, I ask a coworker for an extra hand so that nothing gets missed. Remaining positive, composed, and efficient allows me to keep delivering SuperSONIC service, even when under pressure."
The interviewer wants a team member who can keep their cool under pressure and turn any frown upside down. They want to see that you have the poise to endure an angry customer and the problem-solving skills to make things right.
Some tips:
Stay frosty. Take a deep breath and count to five before responding. Rushing will only rile them up more.
Hear them out. Listen to their concerns and show you understand why they're upset. Say something like "I can see why that would be frustrating."
Take the hit. Admit fault and apologize sincerely. Say "I take full responsibility for this mistake. Please accept my apology."
Make it right. Do what it takes to fix the issue—refund, replacement, coupons, etc. Ask "What can I do to make this right?" and go above and beyond.
Kill them with kindness. Smile, make eye contact and keep your tone friendly no matter what. Staying positive and polite will help defuse the situation.
Win them over with your charm, and they'll become your newest loyal customer! Now, onto an example answer of how to put these tips into action…
Paragraph 3:
"One time, I had an angry customer yell at me over a long wait and incorrect order. I apologized sincerely, took responsibility for the error, and offered a refund or replacement immediately. While the customer continued venting, I listened patiently and acknowledged how frustrating this experience must have been. Once they were done, I again apologized, asked for another chance to make things right, and provided extra coupons for their next visit. My patience and willingness to take ownership of the problem transformed their anger into delight. I strive to make each customer leave happier than when they came in."
Ready to land your dream job at Sonic Drive-In? Acing the interview is key, and a question about teamwork is sure to come up.
Think team first. The interviewer wants to know you can work with others, not just take all the glory. Discuss how the team dynamo hummed together, not what a solo star you were. Share a time when synergy with your crew led to a big win or conquering an epic challenge. Explain each person's part – give props to your teammates!
Share lessons learned. Say how it helped you level up your collaboration game. Maybe you improved how you communicate under pressure, or gained skills in resolving conflicts while still delivering. Explain how you'll apply your spidey senses at Sonic, like anticipating what cooks or cashiers will need during the dinner rush.
Check out this example answer:
"My team at a popular restaurant had our skills put to the test when over 200 hangry customers stormed in during a huge event – but we crushed it! Our manager split us into teams with specific roles – greeting customers, taking orders, cooking, serving food, handling payments.
As cooks, we were a model of teamwork in action. We communicated on the fly, divvied up tasks like a pit crew, and just clicked. I realized how vital communication, fluid planning, and a willingness to pivot are when the heat is on.
At Sonic, I'd tap into what I learned, especially when it's all hands on deck. I'd check in proactively with cooks and cashiers, offer help wherever needed, and suggest ways we can work more efficiently together for fast, accurate service. Teamwork is my jam – just give me a crew with drive, and we'll absolutely dominate any rush!"
How do you feel about taking directions from your manager to keep this place running right?
Here's the deal: Sonic managers don't have time for ego. They need crew members who will follow directions, work hard, and do whatever it takes to serve up meals fast and keep customers happy.
Our advice? Focus on your willingness to accept feedback, work as part of a team, and desire to provide excellent customer service.
For example, you could say:
"At Sonic Drive-In, my top priorities would be delivering fast, friendly service and maintaining high food quality standards. To achieve this, I know I need to listen to and respect the guidance of my manager and more senior team members. If my manager directs me to refill condiments, wipe down tables, or expedite orders during a rush, I will do so promptly and without complaint. I understand that every role, no matter how small, contributes to the overall experience of your customers. My goal is to do my part to keep your restaurant running smoothly and keep your customers happy."
This answer shows you're willing to do what's needed with a positive attitude. You get that it's about working together to keep the drive-thru cranking and customers satisfied. That's exactly the mindset Sonic managers want to see.
If you run into an issue with a coworker, how would you work it out and keep the SONIC spirit alive?
The interviewer wants to know how you handle conflicts and difficult situations with coworkers while still maintaining a positive team environment.
Focus on maintaining positivity and open communication. Explain you'd listen to your teammate and understand their concerns. But you'd also search for common ground and a compromise that keeps everyone smiling. After all, Sonic is about happy customers and a fun work environment.
With the tips in mind, here is an example answer:
"If a teammate and I disagreed, I'd say 'Let's take a sec to get on the same page.' Then in private, I'd ask them to vent while I listened. Once they finished, I'd say something like 'I can see why you felt that way. You make some good points.' That validation can defuse tensions fast! Then I'd share my side before suggesting a solution we both liked, focusing on the goal of a good partnership, not 'winning' the argument. I might say 'We're a team, so we need to find common ground. What if we tried X next time?' Compromise and positivity are key in any workplace, but especially at Sonic where we should be putting out good energy as much as good food!"
How did you catch wind that we're looking for some fresh faces to join our crew?
The interviewer wants to see your drive and passion for working at Sonic Drive-In! They're looking for more than just another fast food junkie — they want to see that you've got some skin in the game.
Some insider tips: Talk up how you're a regular at Sonic and can't get enough of their footlong Coney dogs and Cherry Limeades. Mention that you've always been impressed with Sonic's crew and how they operate like a well-oiled machine.
Share any experience you have in fast-paced customer service and say you're stoked to be part of such an iconic brand. This will prove you're in it to win it!
Want to know what a winning answer sounds like? Check this out…
You can't keep me away from Sonic — seriously, I'm there at least three times a week! I don't know what it is, maybe the tasty eats or the nostalgia, but Sonic just feels like home to me. The crew at my local drive-in has customer service down to a science, and they always brighten my day. I've been working in food service for over two years now, so I know I could hit the ground running at Sonic. This job would be a dream come true for me. When can I start?!"
On a scale of 1 to 10, how fast do you pick up new skills? We need someone who can get up to speed pronto around here!
The Sonic Drive-In interviewer wants to know how quickly you can master new skills on the job. Can you handle the fast pace of the restaurant industry, learn new menu items in a flash, and keep customers happy? This question is your chance to prove you've got what it takes.
When they ask, don't just give a number rating – dazzle them with an example of your ability to pick up new tricks at lightning speed. For instance, you might say:
"On a scale of 1 to 10, I'd rate myself a solid 9 for picking up new skills fast. For example, at my last job as a short order cook, I mastered using our new panini press in under an hour. By the end of my first chaotic lunch shift, I was making paninis faster than anyone else on staff. I really enjoy the challenge of learning on the fly, so I know I could get up to speed pronto at Sonic. Whatever you need to teach me, just show me once, and I'll take it from there!"
An answer like this will leave no doubt in the interviewer's mind that you have the ability and attitude to thrive in their high-energy environment. You're eager to learn, you pick up new techniques in a flash, and you stay cool under pressure. Those are exactly the qualities that make a great Sonic team member.
Time management is key in our fast-paced environment. How do you prioritize tasks and make sure everything gets done without missing a beat?
The interviewer wants to know if you can handle Sonic Drive-In's controlled chaos. This isn't a job for the faint of heart!
Sonic wants someone who won't buckle under their rapid-fire workload. Show you're that person by demonstrating your ability to organize efficiently, rapidly shift gears, maintain a great attitude, and keep all plates spinning – no matter how many they give you.
To ace this question, describe how you stay laser-focused in chaotic conditions, rapidly shifting priorities at a moment's notice. Mention creating an efficient schedule custom-built for Sonic's pace, using lists to keep all balls in the air, delegating when possible, and maintaining an upbeat attitude no matter how slammed you get. Show them that Sonic's drive and energy fuel your own.
For instance,
"Thriving under pressure and thinking on my feet are what I do best. Sonic's high-speed environment is my jam! I'd create a streamlined schedule customized for your rush hours to ensure all tasks are done lightning-fast yet perfectly. My lists keep every detail at my fingertips, so there's never a dropped ball. I delegate whatever I can to my team so I can focus on the most critical priorities. And when in the weeds, my positive attitude kicks into overdrive – the busier and more chaotic things get, the more energized I become! I was made for the controlled chaos of a place like Sonic Drive-In."
We love friendly and welcoming individuals! How would you make guests feel right at home during their SONIC experience?
The interviewer isn't just asking about your customer service skills—they want to know if you'll fit into the fun, friendly culture at Sonic!
Show off your bubbly personality and passion for creating memorable experiences. Flash that megawatt smile, make eye contact, and speak with energy in your voice. Pay attention to each guest and anticipate their needs, like offering extra napkins or a refill without being asked. Prove you'll go the extra mile to make a lasting impression.
Wondering how to put this into action? Here's an example answer to steal the show:
"When guests walk up to my drive-in stall, I'll greet them with an enthusiastic 'Welcome to Sonic—we're gonna have a blast!' I love seeing the smiles on customers' faces, so I go all out to make sure everyone leaves happy. I pay close attention to guests in my stall and run out to grab extra ketchup or a refill before they even ask. I also try to make a personal connection, complimenting a team jersey or asking how their day is going. The best part of my job is turning a quick drive-thru run into an experience people look forward to. I want every guest walking away thinking, 'That was the best Sonic run yet!'"
Are you ready to cross-train in all of the stations? Tell us about your adaptability and willingness to learn.
The interviewer isn't just asking if you can make a Cherry Limeade in under 30 seconds. They want go-getters—adaptable team players pumped to take on any challenge with a smile.
When they ask if you're "ready to cross-train in all of the stations," what they mean is: "Do you have the motivation to hustle between the registers, the drive-thru, and the grills? And will you do it with all the energy of a cheerleading squad?"
Express your flexibility, eagerness to learn, and high-energy team spirit. Share examples of how you've rapidly picked up new skills in fast-paced environments before. Let them know you're hungry for the organized chaos of the dinner rush. If that doesn't show them you're Sonic Drive-In material, nothing will!
For instance, you could say:
Paragraph 3: "I understand working at Sonic Drive-In means routinely switching between different stations to meet the needs of customers and the team. The controlled chaos of the restaurant industry is where I thrive. Give me a uniform and a crew to collaborate with, and I'll show you how fast I can go from taking orders at the registers to plating desserts—all with a smile. At my last job, I learned three different stations in under a month. My managers knew they could count on me to jump in wherever I was needed, whether that was expediting food, handling the deep fryers, or cleaning up in under 30 minutes after closing. I love the pace, the challenges, and the opportunity to make people's day a little bit better. To me, being 'ready to cross-train in all of the stations' would be a dream come true!"
Constructive feedback helps us improve. Tell us about a time when you received feedback and how you used it to grow personally or professionally.
The interviewer wants employees who are hungry to improve. When asked about receiving feedback, discuss a time you actively listened to constructive criticism and then devoured the opportunity to grow.
Some tips: Frame the feedback as a chance to develop new skills, not as a personal attack. Explain how you digested the criticism and then took decisive action, leaving the interviewer confident in your ability to thrive under guidance.
For instance,
"A few months into my job as a drive-thru attendant, my manager took me aside and gave me some tough but fair criticism. My customer service was falling flat – I wasn't smiling enough, I mumbled on the speaker, and I struggled with complicated orders. At first, her criticism stung, but I was determined to improve. I knew drive-thru customers expected fast, friendly service. When I got home, I rehearsed greeting customers clearly and confidently in front of a mirror until sounding enthusiastic became second nature. I created cheat sheets for complicated orders and committed them to memory. During my next shift, I put my practice into action. Customers complimented my friendliness and efficiency. My manager noticed the immediate improvement and praised my initiative. Rather than make excuses, I devoured that initial criticism and asked for seconds. I grew into a role I initially struggled in, and made drive-thru customers happier in the process. To this day, I appreciate any feedback that helps me improve my performance."
We all make mistakes, right? Tell us about one you bounced back from like a superstar!
Mistakes happen to all of us, but how you pick yourself back up says everything about your character.
As you gear up for your Sonic Drive-In interview, remember that the interviewer wants to see if you have the grit to take responsibility for your blunders, learn from them, and power forward better than before.
Here are some tips to nail this question:
Be candid yet poised. Calmly own up to your mistake without excuses. Say, "I fully understand I dropped the ball on that one." They'll respect your honesty and humility.
Share key takeaways. Discuss 2-3 things you gained from your mistake and how you've already applied them. For example, "I learned how important attention to detail is, especially in a fast-paced work environment."
Highlight concrete changes. Share practical steps you took to avoid repeating history. For instance, "To prevent that from happening again, I implemented a double-check system for all orders before handing them off."
Convey a growth mindset. Express that you see mistakes as opportunities to grow, not failures. Say, "While mistakes are never ideal, they've made me a wiser and more competent employee."
Check out this example answer:
"One mistake I made as a cashier was forgetting to charge a customer for an extra item in their order. I realized my error after the transaction was complete. I immediately told my manager, apologized, and offered to pay for the item myself. My manager coached me on being more meticulous in the future. From that day on, I implemented a habit of double-checking each item before finishing an order to prevent the same mistake. I learned that honesty, taking responsibility, and improving processes are the best ways to overcome errors. Though embarrassing, this experience made me a much better cashier."
The interviewer wants energetic team members who can turn first-time customers into regulars. They're looking to see how well you can navigate each diner through Sonic's endless options and craft an experience as unique as they are.
Do your homework and master that menu. Be ready with questions to uncover their culinary cravings. Then, recommend must-try combos with the passion of a true foodie. Showing you can give every customer a taste they'll never forget is sure to land you the job.
Curious about what that might sound like? Here's how you could answer.
The secret is tapping into what people really want. I would start by asking the customer about the kinds of flavors and foods they enjoy. Maybe they're craving something spicy to beat the heat. If so, our new Chili Cheese Wrap and Blazin' Buffalo Ranch Burger will do the trick. Got a sweet tooth? Our Ice Cream Cookie Sandwich and Peanut Butter Fudge Shake can't be beat.
Once I get a sense of their tastes, the fun begins. I'd say, 'We've got the perfect meal for you: a Triple Cheeseburger, Bacon Double Crunch Tots, and Cherry Limeade to wash it all down. Our Triple Cheeseburger is a juicy blend of fresh beef and melted cheddar, Swiss and pepper jack. The Tots are crispy on the outside, fluffy on the inside, and sprinkled with smoky bacon bits. And our Cherry Limeade is the ultimate retro refreshment.' Describing each special ingredient and tempting taste will have their mouth watering in no time. My goal with every customer is to discover the flavors they crave and serve up a world-class experience that keeps them coming back for more. If given the chance at Sonic, that's exactly what I'll deliver: a memorable meal with every single visit."
What strategies would you use to ensure all safety and sanitation standards are met when handling food and operating equipment?
The interviewer is assessing your knowledge of safety and sanitation standards as well as your ability to effectively implement strategies to ensure high standards are consistently met, which are essential for any role in the food service industry.
This role is crucial—one slip-up could mean a lawsuit or even closing down the restaurant!
To ace this question, show your passion for safety by discussing a proven system to guarantee food is handled properly from delivery to serving. Mention how you'll drill safety procedures into every employee and monitor compliance like a hawk. Express a commitment to stopping hazards in their tracks before they become issues. Safety should be your top priority—make that crystal clear!
Curious what a rockstar answer might sound like? Read on!
"Safety is not just a priority, it is the foundation of delivering an amazing experience for every customer. I would implement rigorously enforced policies, like proper hand washing, precise cooking times and temperatures, and equipment cleaning checklists. During training, employees would repeat safety procedures until they know them cold. Then, we'd use fail-safe checks to catch any slip-ups—like a 'secret shopper' to evaluate real-world practices. If we ever received a complaint, had an accident, or noticed unsafe behavior, I would take swift action to resolve the issue, retrain staff, and ensure it never happens again. At Sonic, I won't rest until we have the safest, most sanitary restaurant in the region. When families come to our drive-in, they can have peace of mind that everything is handled just right!"
The interviewer wants to know that you understand the importance of quality and consistency in food service. Explain that you would follow strict recipes and preparation procedures, monitor portion sizes, and conduct regular taste tests.
Showcase how you would be absolutely dedicated to making the perfect burger or icy Coke every single time. With practice, ensuring quality and consistency will become second nature.
You might say:
"Some may see fast food as a soulless job, but I see an opportunity to make someone's day. Quality and consistency are my obsessions! I would treat every recipe like my own personal masterpiece. No detail would be too small, no burger would be left imperfect. I would weigh, measure, and time each meal to absolute perfection. No customer would get a soggy fry or subpar shake on my watch. By diligently following procedures and guidelines, I can deliver the same crave-worthy taste and memorable experience to each and every Sonic Drive-In customer."
Where do you see yourself progressing in your career in the next few years?
The interviewer wants candidates who are ambitious go-getters eager to dive in and commit to the company long-term. So focus on growth within Sonic, not leaping to another chain in a few months.
Mention you want to master your role, develop new skills, and take on more responsibility over time. Discuss advancing to team lead or even managing your own location someday. Highlight your work ethic, ability to learn fast, and dedication to the company.
Prove you're there to build a career, not just pick up a paycheck.
Check out this example answer:
"I'm hungry to grow my career at Sonic, not just fill a uniform. In a few years, I see myself taking on extra responsibility and becoming an all-star team member you can count on. I'll start by learning the ins and outs of my role, wowing customers, and proving I have drive and initiative.
Once I've proven myself, I would like to take on additional duties, perhaps training new team members or leading busy shifts. I want to show my dedication and that I have the skills to manage staff and operations.
Eventually, my goal is to work my way into a managerial position where I can leverage my experience to manage staff and ensure high quality and efficiency. I'm committed to growing my career at Sonic Drive-In and hope to become a long-term member of the management team,
I know it won't be easy, but I'm not afraid to work hard, put in the time to learn, and earn my place. I hope to become a long-term member of the Sonic family and build a lasting career here."
Do you fully understand that cleaning responsibilities, while not always glamorous, are essential to this role?
Listen up, this question is your chance to shine. The interviewer isn't just asking if you'll unclog toilets or scrub floors. They want to know that you realize cleanliness is crucial to delivering a stellar customer experience.
Explain that you understand food safety standards are non-negotiable, and you see cleaning as a vital team effort to provide an amazing experience for every guest. Mention you don't mind getting your hands dirty when needed to exceed health regulations. Set the record straight that you're ready for any job that helps the team.
Here's an example of how to win them over:
"Cleaning responsibilities are absolutely essential to providing an unparalleled customer experience. As an employee, my top priority is keeping guests safe and happy through impeccable service and hygiene. All jobs at Sonic Drive-In matter to me, from preparing quality food to maintaining spotless dining areas. I understand following health regulations to a T. However mundane some tasks may be. When it comes to cleaning up, I'm happy to do whatever it takes to contribute to my team and provide the excellent service Sonic is known for."
What days and hours can we count on you to keep the good vibes going at our drive-in? Are you up for working flexible hours, nights, weekends, and holidays?
The interviewer isn't just asking about your schedule – they want to see if you have the pep and dedication to thrive in a fast-paced burger joint.
To ace this question, here are some pro tips:
Flash a smile and convey genuine enthusiasm. Say something like, "I'm all about bringing positive energy and great service, no matter if it's the lunch rush or the late night drive-thru!"
Highlight your flexibility, but focus on your commitment to the work. For example, "Whether it's a busy Friday or a holiday, you can count on me to keep the good vibes and grub going. I'm in it for the long haul!"
Share your team spirit. Explain that you love collaborating with others and stepping in wherever needed. For instance, "I'm a team player through and through. Just give the word, and I'll come in or stay late. We're all in this together to make sure every customer leaves happy!"
Express willingness to cover shifts on short notice. You might say, "I understand staffing needs can change quickly, and I'm always available for extra shifts, even on short notice."
Now, here's an example answer:
"I'm excited to work any hours needed to provide Sonic's customers with a memorable drive-in experience. My schedule is completely open, and I'm available nights, weekends, and holidays – whenever I'm needed. I understand that sometimes extra shifts come up on short notice, and I'm always ready to cover in order to help the team. I know the fast food life isn't always glamorous, but that's what makes me love it even more. For me, the schedules and hours don't matter as much as delivering awesome service and a great product to every customer. You can count on me to keep the good vibes and great food coming anytime at your drive-in."
Do you have reliable transportation to get to and from work?
The interviewer wants to know if you'll actually show up for your shift on time, every time. They're trying to avoid hiring someone who frequently has car issues or lacks a reliable way into work, leaving them scrambling to cover your shift. So be enthusiastic as you assure them that transportation is no problem for you!
Mention how you've never missed an obligation due to lack of transportation in your life. Convey your utter dedication to punctuality and attendance. Let them know that a role at Sonic Drive-In is so important to you, that you would walk barefoot on hot coals to get there if you had to! Okay, maybe not that extreme, but you get the idea.
As you'll see in the example answer, showing genuine passion and commitment in your response is key.
"Absolutely, I have extremely reliable transportation to and from work every day. I have my own extremely dependable vehicle and have never missed a work commitment in my life due to car issues or lack of transportation. Reliability and punctuality are personally very important values to me, and particularly crucial for a customer service role like at Sonic Drive-In. You'll quickly see that I am the most dependable and passionate employee you've ever had. I can't wait to show you how reliable and dedicated I will be!"
When would you be available to start working if offered this position?
The interviewer is trying to gauge your enthusiasm for the job and know you'll hop on board ASAP. How should you answer?
First, flash a smile and convey your eagerness to join the team immediately! Mention you can start "within the week, if not sooner." Emphasize your flexibility – you're happy to work any shifts and learn the ropes fast. Avoid mentioning any extended time off or waiting periods.
You can say you would need to provide adequate notice to your current employer, if applicable, but you're ready to dive in quickly.
"I'm thrilled for the opportunity to start at Sonic right away. My schedule is wide open, and I'm eager to dive in as soon as possible if I'm selected for the position. Within a few days, I can be fully trained and part of the team, helping out wherever I'm needed.I'm eager to become part of the team as soon as possible."
Questions to Ask the Interviewer in Sonic Drive-In Interview
The interviewer is sure to end the interview by asking if you have any questions for them.
This is your chance to blow the interviewer away and land the job, but only if you're ready with some serious questions that show how much you've researched the role and the company.
The interviewer wants to see how passionate you are about the work. Are you going to ask some run-of-the-mill questions that reveal you just skimmed the job listing? Or will you probe deeper with insightful queries that highlight your dedication? The questions you ask could make or break your candidacy, so you've got to come prepared to knock the interviewer's socks off!
Here is a list of questions you can ask your Sonic Drive-In interviewer to highlight your interest and ensure this position meets your needs:
What do you think sets SONIC apart from other food service companies in terms of guest experience and employee satisfaction?
Can you tell me more about the cross-training program for different stations? How does SONIC ensure employees become well-rounded in their roles?
How does SONIC stay involved in the local community, and are there any charitable initiatives or partnerships that the company is passionate about?
What skills and goals do you want someone in this position to focus on in the first 3-6 months?
What does a typical day look like for someone in this role at SONIC
Can you share some examples of employees who have grown within the company or have had a significant positive impact on the business?
What is the best piece of advice you could give someone who is joining the team to ensure their success and enjoyment in the role?
What is the company culture like? What kinds of qualities and attitudes are most valued in employees?
Can you describe a typical career path for someone in this position? What opportunities for growth exist?
What's your favorite part about working at SONIC, and how has the company culture contributed to your experience?
What is the next step in the process? When can I expect to hear from you about a decision for this role?
Sonic Drive-In Hiring Process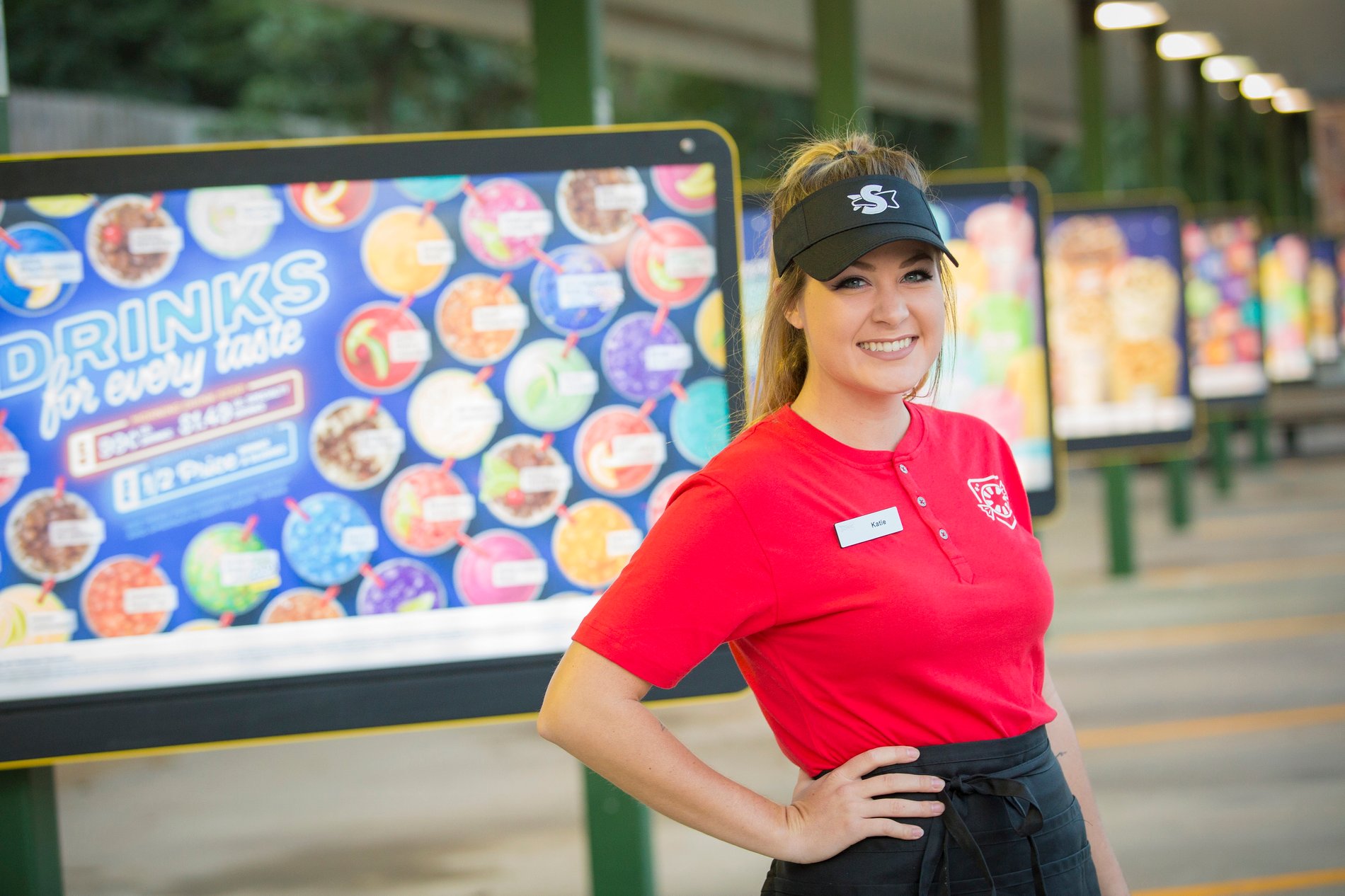 You're about to dive into the Sonic Drive-In hiring process to pursue your dream of working for the popular fast food chain. Knowing what to expect will help you feel confident and prepared along the way. The good news is that Sonic uses a straightforward process for all positions, whether you're applying to be a crew member, carhop, or manager.
After submitting your application and resume online or in person at your nearest Sonic, you can typically expect a response within a week. Qualified candidates are then invited to an in-person interview at the specific store location. This will include things like a tour of their facilities, meeting the team you'd be working with, and a one-on-one interview with the hiring manager.
The interview content will vary depending on the role.
For a crew member position involving customer service and food prep, they'll likely ask about your experience in the food industry and your approach to customer service.
Carhop candidates should be prepared to demonstrate their roller skating or blading abilities.
Managerial roles may require discussing your leadership experience, problem-solving skills, and ability to resolve conflicts.
Rest assured, the hiring process usually only takes 1 to 2 weeks, sometimes even shorter for entry-level crew roles. While it can be nerve-wracking, remember that Sonic is looking for candidates with the right attitude and motivation to provide fast, friendly service.
Work on your confidence, think of relevant examples from your background, and practice your responses to the common interview questions discussed above.
Sonic Drive-In Interview Tips
Demonstrate your enthusiasm for the work, ability to thrive in a team environment, and dedication to excellent customer service. Stay positive throughout the process, and picture yourself in that new Sonic uniform serving up delicious burgers and ice-cold shakes. With the right attitude and outfit, you'll nail that interview in no time.
What to Wear to Sonic Drive-In Interview
Congratulations on landing an interview with Sonic Drive-In!
While the company is known for its casual and fun work environment, it's always better to be overdressed than underdressed for an interview. Your attire is a chance to make a professional first impression, so take it!
For your interview attire, take cues from Sonic's dress code policy and emulate their style.
Sonic Drive-In's dress code typically requires employees to wear company-issued shirts, dark pants, and logo hats or visors. Slip-resistant shoes are required, except for skating carhops. Managers have discretion over some clothing items. Tattoos, piercings, and hairstyles are generally permitted, but restrictions may apply for safety or offensive concerns.
For crew member, cook, or carhop roles, opt for casual or business casual wear like a button-down shirt or blouse paired with dark jeans or khakis. Complete the look with comfortable close-toed shoes. This style shows you'll fit right in with the work environment while appearing put-together.
If interviewing for a managerial position like assistant manager or general manager, step it up a notch to business casual. Think slacks or a knee-length skirt, a blazer, and possibly a tie for men. Polished dress shoes are a must. This professional yet approachable attire reflects your leadership potential.
For roles at the corporate support center, suit up in business formal wear. Sport a pressed button-down shirt, slacks or skirt, suit jacket, and possibly a tie or pantsuit for women. Shined dress shoes are de rigueur. This crisp, formal style demonstrates your ability to adapt to a corporate setting.
Walk into your Sonic Drive-In interview dressed to impress, flash a friendly smile, and convey your enthusiasm for the role.
Conclusion
You now have insightful knowledge of the top questions asked during Sonic Drive-In interviews. Armed with examples of strong answers, you can feel well-prepared to impress the interviewer with your enthusiasm and experience. Believe in yourself and go into that interview ready to show them what an amazing candidate you are.
However, don't bank everything on a single interview, no matter how well you think it went. Continue to refine your resume, network, and pursue other promising opportunities at fast-food chains and restaurants like Whataburger, In-N-Out Burger, Five Guys, Culvers, Dairy Queen, and Steak 'n Shake. The more interviews you go on, the more experience you gain and the more job offers you have to choose from. When the perfect opportunity comes along, you'll be ready.
Remember, the job market is competitive but with hard work and persistence, you will land the right job for you. Keep your head up and keep pushing forward. Success will be yours! You've got this, now go out there and shine.