27 Dairy Queen Interview Questions To Scoop Up The Job
Are you nervous about your upcoming Dairy Queen interview? Of course, you are – interviews can be anxiety-inducing, especially for a job you really want. But don't worry, you've come to the right place. In this blog post, you'll find the most frequently asked questions in a Dairy Queen interview and examples of thoughtful answers to help you nail it.
You know the feeling – the sleepless nights leading up to the interview, the pit in your stomach as you walk through the doors, the dry mouth and scramble for the right words to say. We've all been there. The good news is, with preparation comes confidence. And confidence, my friend, is exactly what you need to land this job.
When that day comes for your Dairy Queen interview, you'll walk into their office with your head held high, because you'll have the answers they want to hear already in your back pocket. You'll be able to share your genuine enthusiasm for the work, connect with your interviewer, and show them why you're the perfect fit for the team.
So take a deep breath and dive in. Familiarize yourself with the questions. Practice your answers. Picture yourself knocking each one out of the park. When you do, you'll realize something important: that anxious, nervous feeling has disappeared. In its place is a quiet confidence, knowing this opportunity is yours for the taking. All you have to do now is go after it.
Dairy Queen Company Information
It would be prudent to familiarize yourself with Dairy Queen's history and key milestones. Knowing some essential facts about this company will equip you to tackle research-related questions during your interview and showcase your enthusiasm.
| | |
| --- | --- |
| Trade Name | Dairy Queen |
| Type | Fast Food Restaurant Chain |
| Date Founded | June 22, 1940 |
| Founders | John Fremont McCullough, Alex McCullough, Sherb Noble |
| Headquarters | Bloomington, Minnesota, United States |
| Menu | Burgers, Sandwiches, Chicken Baskets, Snacks, Sides & Salads, Blizzard Treats, Cakes |
| Signature Items | Royal New York Cheesecake Blizzard, Chicken Strip Basket, FlameThrower Stackburger |
| Core Values | Empowered, Inclusive & Diverse, Forward-Thinking, Better Together |
| Website | www.dairyqueen.com |
| Competitors | McDonald's, SONIC, Culver's, Carvel, Baskin Robbins, Burger King |
Additional facts:
The birth of soft-serve ice cream can be attributed to Dairy Queen's founders John Fremont McCullough and his son Bradley, who experimented with a soft frozen dairy product in 1938, making Dairy Queen a pioneer in the world of soft-serve.
Dairy Queen's recipe for its iconic soft-serve remains a closely guarded secret since its development in 1938, locked away in a safe deposit box with only a few keys.
The signature swirl on top of Dairy Queen's soft-serve cones, designed to resemble a "Q," is a unique and trademarked feature that sets the brand apart.
The first-ever Dairy Queen store opened its doors in 1940 in Joliet, Illinois, marking the beginning of the popular fast-food chain.
The original Dairy Queen location at 501 North Chicago Street in Joliet, Illinois, is considered a landmark, even though it ceased to be a Dairy Queen store in the 1950s.
Texas takes the crown for having the highest number of Dairy Queen locations, boasting around 600 stores, despite the chain's origin in Illinois.
The largest Dairy Queen in the United States, featuring a 5,000-square-foot space with a 140-seat dining room, three fireplaces, and a patio, is in Bloomington, IL. The biggest Dairy Queen in the world, however, is in Riyadh, Saudi Arabia.
Dairy Queen's international presence extends across 27 different countries, including Egypt, Thailand, and Costa Rica.
The iconic Dairy Queen Blizzard, a delicious blend of ice cream and various toppings, was first introduced in 1985, with over 175 million sold in the first year alone.
As a testament to the thickness of Dairy Queen's Blizzards, employees perform an upside-down demonstration before serving them to customers.
The popular '90s rock band No Doubt was formed at a Dairy Queen in the late '80s, when band members Eric Stefani and Greg Spence met while working at the fast-food chain.
During the '90s low-fat diet craze, Dairy Queen briefly served frozen yogurt but discontinued it due to a lack of customer interest.
In 2002, billionaire businessman and Dallas Mavericks owner Mark Cuban managed a Dairy Queen in Coppell, Texas, for two hours as part of a publicity stunt.
The world's largest Dairy Queen Blizzard, weighing 8,224.85 pounds and standing 22 feet tall, was created on June 21, 2005, in Springfield, Massachusetts.
Dairy Queen also owns the fast-food chain Orange Julius, which is famous for its fruit smoothies, with some Dairy Queen locations featuring Orange Julius smoothies on their menus.
Dairy Queen Mission Statement
To create positive memories for all who touch DQ
Dairy Queen Interview Questions
We'd love to hear a bit about yourself and any previous experiences that make you a great fit for our fun, fast-paced environment.
This question is the interviewer's chance to glimpse your dazzling personality and see if you'd shine in Dairy Queen's lively setting.
To nail this question, highlight your relevant experience, transferable skills, and passion for delighting customers. Show how these qualities would allow you to thrive in DQ's high-energy, fast-paced world.
With that in mind, picture this example answer:
"Nothing thrills me more than a long line of customers and the chance to make each person's day. I have over 2 years of experience in customer service roles, where my ability to stay upbeat and efficient under pressure earned me 'Employee of the Month' two months in a row. My recent role as a cashier at a bustling grocery store sharpened my skills in speed, accuracy, and remembering pages of items.
At Dairy Queen, I would get a kick out of mastering your menu in a flash and keeping the line moving like clockwork. But most of all, I love connecting with customers and regulars to discover their favorite treats. My goal is to send each person off with a smile and a lingering taste of just how much I value their visit. When things get wild, my cheerful spirit and quick-thinking skills kick into high gear. I was born to scoop and serve in a fun, fast-paced environment like yours!
There's nothing quite like the atmosphere of a Dairy Queen, and I would feel right at home whipping up deliciousness and memories for your customers. I'm looking for a place I can grow with on the long run, and Dairy Queen seems like an ideal fit for my energy, enthusiasm, and ability to thrive under pressure while delivering an amazing experience."
Why do you want to work for Dairy Queen?
This question is the perfect opportunity to demonstrate your enthusiasm for the company and win over your interviewer. This role isn't just another job for you, it's a chance to be part of a community that delivers joy with every Blizzard and cone.
To ace this question, do more than scratch the surface. Dig into DQ's values, rave about your favorite menu items, and share how they've built cherished memories in your life.Express a genuine passion for customer service, quality, and being a team player. Highlight relevant experience and how you'll contribute from day one.
With the right preparation, you'll have your interviewer eager to get you behind the counter! The secret is speaking from the heart.
"Ever since I was a kid, a trip to Dairy Queen has meant more than just a sweet treat—it's about creating moments of happiness and togetherness. I've always admired DQ's commitment to community and customer experience, which is why I'm thrilled to be interviewing for this role.
Over three years slinging burgers at a busy diner, I've mastered efficiency, teamwork and staying cool under pressure. But more than that, I've learned the power of a smile, a kind word, and going the extra mile to brighten someone's day. I know I could bring all that and more to DQ.
This isn't just another job for me, it's the opportunity to play a part in something bigger—creating memories one cone at a time. I can't imagine a better place to for a contribution I'd be prouder to make. That's why DQ is at the top of my list!"
In your opinion, what's the key to delivering exceptional customer service that keeps them coming back?
As a candidate interviewing for a role at Dairy Queen, you know that acing the interview comes down to one thing: proving your passion for people. When asked this question, don't just give a generic answer. Share your vision for creating magical customer experiences that leave a lasting mark.
Transport the interviewer to a world where every patron feels like family the moment they walk through your doors. Where crew members know regulars by name and have their usual Blizzard ready before they even order. Where you leave kids grinning from ear to ear by spontaneously drawing their favorite cartoon character on their cup. Where no concern is too small, no problem too big to remedy with a smile.
With that in mind, here's an example answer:
"For me, exceptional service means crafting personal connections and memories that last long after the treat is finished. It's the grandmother who comes in every Tuesday with her grandkids, so you have puppet shows and lollipops at the ready. It's learning how the 10-year-old with the peanut allergy likes his sundae so you can make it perfectly every time. It's rushing out to help an elderly couple when you see their car battery has died, just because it's the right thing to do. That's the kind of heartfelt service that resonates and builds real loyalty."
The interviewer isn't just looking for someone to scoop ice cream and ring up orders. They want to hire friendly, charismatic employees with irresistible people skills—someone who will dazzle customers with charm and make their Dairy Queen experience unforgettable.
This role is all about connecting with customers, so be ready to share specific examples of how your fun-loving personality and knack for great conversation will turn first-time customers into regulars. Explain how you anticipate customers' needs, spread positivity, and handle complaints in a way that leaves people smiling. Show that you have the social skills to take this job from ordinary to extraordinary.
"Putting customers at ease and making personal connections is my superpower. I'm never afraid to strike up a lively conversation, ask questions to discover customers' favorite treats, and offer enthusiastic recommendations to help them discover something new to love.
For example, if a customer seemed undecided, I might say with a grin, 'We have so many amazing options, it's hard to choose just one! Can I offer you a free sample of our new Peanut Butter Cup Blizzard to help you decide?'
Little things like remembering someone's usual order or offering a kids' sticker on their way out the door go a long way in building loyalty. I strive to be the social spark that ignites extra scoops of joy for every customer. With my people skills, wit, and passion for the job, Dairy Queen won't just be serving ice cream—they'll be selling smiles and memories."
This question is the interviewer's way of peeking inside your self-awareness. They want to see if you can be honest with yourself, own your flaws, and show the drive to improve.
When answering, open up in a genuine way and highlight your growth potential. Show them you have the motivation and ability to transform your weaknesses into strengths.
"I tend to be a detail fanatic, agonizing over every little thing to make sure it's perfect. In the past, this perfectionism caused me to lose sight of the bigger picture. But I've since learned how to channel that hyper-focus into a superpower.
By relentlessly analyzing processes, I've optimized efficiency and consistency at lightning speed. For instance, at my ice cream shop job, I crafted detailed checklists to flawlessly open and close up shop every day.
My keen eye for detail helps me churn out top quality work and deliver killer customer service. I may still obsess over every cherry on top, but now I do it with the vision to see the whole sundae."
What are your top strengths, and how do they align with this role at Dairy Queen?
The interviewer wants to know: Do you have the right stuff to thrive in Dairy Queen's fast-paced work environment? To crush this question, highlight strengths that will make you a blizzard-whizzing, customer-conquering pro.
We're talking skills to juggle nonstop demands, serve up smiles in seconds flat, and master the menu tout de suite.
With the right prep, you'll nail this soft serve slam dunk.
"My top strengths for this role are my ability to work well under pressure, provide great customer service, and quickly learn new skills.
I was born to whip up Dilly Bars at record speed while keeping an even longer line of customers chill and happy. Pressure is my middle name, and at the first whiff of a rush, my heartbeat quickens with excitement, not panic. I love the adrenaline surge of a nonstop workload and find ways to work smarter, not slower.
When it comes to customer service, I'm all about the thrills, not the frills. My goal is to serve up exactly what customers want – stat – with a side of friendly banter. Regulars will be calling me by name before I finish my first shift!
Learning new skills at warp speed is a signature strength. Just show me how to blast-freeze a perfect twisty cone, and I'll have the technique down frozen solid within the hour.
Why am I so confident in my ability to bring my A-game to Dairy Queen? Simple: when ice cream and fast action combine, I'm unstoppable."
How would you manage a situation with a customer who is already unhappy when they approach you?
The interviewer wants to know: can you turn an unhappy customer into a loyal one? This question is your chance to prove you have the skills to thrive under pressure and provide legendary customer service.
Focus on the 3 C's: Stay calm. Listen and show you Care. Take ownership by sincerely apologizing and Committing to a solution. Let the interviewer know you'll stop at nothing to make customers smile again.
"When an unhappy customer approaches me, my mission is clear: Time for a comeback!
First, I flash a sympathetic smile, make eye contact, and say, 'I'm really sorry we disappointed you. That's not the experience we aim for. I'm here to make this right.'
Then, it's time to listen and learn exactly how I can turn their frown upside down. I ask questions like, 'What seems to be the trouble?' and 'How can I fix this and make you smile?'
Once I understand the issue, it's time for action. I might say: 'You're completely right. We really botched things up, and I sincerely apologize. Let me make up for our mistake. What can I get started for you – on the house, of course!'
After delivering their order lightning fast with a smile, I hand them a coupon for their next sundae on me and say, 'Thank you for giving me the chance to serve you. I hope this turns your day around, and we see you again soon!'
I would be determined to prove Dairy Queen is their happy place, no matter what. With the right attitude, every customer can become a fan for life!"
If you had to describe yourself as an inanimate object, what would it be and why?
Picture this: you walk into your Dairy Queen interview, eager to land the job. The manager smiles and asks this question. Don't panic. This is your chance to show creativity and passion for the work.
Think: what object embodies your strongest qualities? Maybe a blender, constantly spinning to create delicious treats. Or a freezer, preserving refreshment on even the hottest days. Choose something that proves you'll thrive under pressure and deliver customer joy.
With enthusiasm, you could say:
"A soft serve machine, no doubt. Like one of your machines, I'm built to work hard through the heat and hustle. My purpose is churning out smiles – dozens of cones an hour, each handcrafted to sweet, chilled perfection.
Sure, it's tiring. Summers get hot. Kids get cranky. But I pride myself on powering through, just like your loyal soft serve machines, to give customers an experience that makes the stress melt away with each tasty bite. I'm dependable, fast, and committed to the job, no matter how high the demand soars.
At my core, I'm an expert at spreading joy under pressure, one cone at a time. And when the doors close and it's time for cleanup? The mess just shows it was a successful day fulfilling my purpose, bringing a little treat to every customer who walked through your doors. That's why a soft serve machine is the perfect choice: it's what I'm built for."
How do you cope with working under pressure and managing stress in a fast-paced environment?
As a Dairy Queen candidate, you can bet your Blizzard that you'll be asked how you handle stress. The interviewer wants workers who thrive under pressure, not melt under it! To stand out, share a specific time youkept your cool during a rush and dished out amazing service.
With the right scoop on stress management, you'll ace this part of the interview. Now, time for a taste of an answer:
"When I worked at a busy coffee shop, we'd sometimes get slammed with a line out the door and orders piling up like a mountain of whipped cream. But I kept my hands moving and my smile on, because the customers counted on me. I focused on one drink at a time, starting with whoever had been waiting longest, and communicated with my team like a well-oiled machine.
Even when it felt like a tornado had hit, I stayed positive and plowed through. Stress is just another flavor of challenge to me, and I love mastering a new recipe! Thanks to experiences like that, I can keep calm and dairy on in any environment. And if it does get overwhelming, I know how to ask for backup in a blizzard."
The interviewer wants to see if you can rally a team to achieve a common goal. They're looking for key leadership qualities like clear communication, problem-solving skills, and the ability to motivate others.
When answering this question, think of a time you led a team project that required persistence to accomplish. Share how you inspired your team and overcame obstacles together. Some tips: Focus on listening to your teammates and being flexible. Explain how you delegated responsibilities to utilize everyone's strengths. Discuss how you kept the team motivated and on the same page every step of the way. Show how your leadership directly led to success.
For instance,
"There was nothing quite like the hustle and bustle of a Friday night dinner rush when I worked at a local eatery in high school. Lines out the door, orders piling up—it could be chaotic. One night, just as the dinner crowd descended, our soda machine and ice cream soft serve machine both broke down at once. My manager was out for the night, so as crew leader I jumped into action.
I gathered my team and said, 'Okay guys, it's time to band together. This will be all hands on deck, but if we work as a team, I know we can get through this rush with smiles on our faces and cones in our customers' hands!'
We figured out workarounds on the fly, with some doubling up on the remaining machines and others taking orders and handling payments to speed things along. Though it was our busiest night of the week, the rush passed in a flash thanks to the team's positive attitude and cooperation. We had exceeded the odds and it showed what we could accomplish under pressure as a team. My proudest moment was seeing the excitement and confidence on my crew's faces at the end of the night, knowing we had nailed it."
The interviewer wants to know if you have the scoop on ice cream making! Don't worry if you've never crafted a Blizzard before. What matters most is showing your enthusiasm for the job and ability to serve up smiles faster than you can say "banana split."
Highlight skills that will make you a soft serve sensation, like:
A passion for customer service that's sweeter than a sundae.
Staying cool under pressure and working fast enough to beat the dinner rush.
A friendly attitude and willingness to learn – you'll be an ice cream pro in no time!
With the right touch of preparation, you'll have this question topped in no time.
"The biggest cone I've made is a basketball-sized waffle for my little brother's birthday, but what I lack in ice cream experience, I make up for in customer service skills. I love working in a fast-paced environment, thinking on my toes, and bringing smiles to every customer's face. Busy nights, long lines, grumpy customers? Bring it on! I'm always upbeat and ready to make someone's day.
While Dairy Queen would be my first time behind an ice cream counter, I'm eager to learn the ropes – and create killer cones – as fast as possible. For me, the best part of the job is knowing I made a difference in someone's day. I may not have ice cream experience yet, but I have all the ingredients to become a DQ pro: a pinch of passion, a scoop of speed, and a whole lot of smiley service. Who's ready for their Blizzard?!"
Which high school did you attend, and how has your education prepared you for this role?
While this question may seem simple on the surface, the hiring manager is probing to see if you have the essential skills to thrive in a fast-paced, customer-facing role.
The key is to highlight relevant soft skills and traits you developed in high school that will translate well to a customer service role.
With that in mind, here is an example answer:
"I'm a recent graduate of Springfield High, where I spent four years honing the communication and teamwork skills that would make me an invaluable member of your crew.
In my classes, I learned the art of active listening – locking eye contact, nodding along, and rephrasing what the other person said to make sure I understood them correctly. I also took multiple speech and debate courses, so I'm no stranger to thinking on my feet in a awkward or tense situation – like an upset customer!
Outside the classroom, I stayed busy with extracurriculars like student council and the school play. There, I mastered the ability to collaborate with all kinds of people (even difficult ones!), resolve conflicts, and ensure things ran smoothly under tight deadlines.
From my education, I gained a set of soft skills that reach far beyond the basics. Combined with my enthusiasm for delivering exceptional service with a smile, I know I could hit the ground running at Dairy Queen and become a vital part of your team in no time at all."
This question is the interviewer's secret weapon to find candidates with a true passion for Dairy Queen. To knock it out of the park, share a vivid memory that transports the interviewer into your nostalgic love for the brand.
Describe the sights, sounds, and—of course—the tastes that make Dairy Queen so memorable for you. Explain how that memory motivates you to provide unforgettable experiences for customers today. In a word: nostalgia.
Here's an example answer:
"My heart swells with nostalgia when I think of childhood summers at Dairy Queen. I can still taste my first Peanut Buster Parfait—rich vanilla ice cream layered with hot fudge and chopped peanuts, an explosion of flavors in my mouth with every bite. My little league team would pile into the parking lot after games, grime-stained uniforms and all, jostling with excitement to get our treat of the week.
For us kids, Dairy Queen wasn't just an ice cream shop. It was a sanctuary of joy after the crack of the baseball bat, a place where we bonded over blizzards and the joys of youth. Those memories are seared into my soul, and if I'm lucky enough to join the Dairy Queen team, I'll work each shift with the goal of giving customers an experience that creates nostalgia for years to come. I want Dairy Queen to be a place where memories are made, and childhoods are defined by the simple pleasure of a cone on a sunny day."
How did you learn about this job opening at Dairy Queen?
The interviewer wants to know you're pumped about the prospect of scooping Blizzards and Banana Splits, not just needy for any job that pays the bills.
When they ask how you discovered the opening, flash a smile and share your enthusiasm for the DQ brand. Focus on your passion for their iconic treats, dedication to the community, and desire to advance their mission.
Show you've done your soft-serve homework, and you'll ace this question.
"The job listing popped up while I was browsing DQ.com to get my weekly fix of sundae inspiration. As a lifelong fan of the DQ experience, I was stoked at the chance to officially join the team. DQ holds a special place in my heart, from celebratory trips for Dilly Bars as a kid to fundraising Blizzard runs for my school's band program. Beyond your bold flavors and secret recipes, I respect how DQ makes improving communities a vital part of the business. I'm eager to do my part, whether that's crafting a five-star Banana Split or volunteering at the next Miracle Treat Day. This role is my opportunity to combine passion and purpose, all while growing my skills in a classic yet innovative brand. I may not have DQ running through my veins—yet—but I do bleed soft-serve chocolate and cherry red!"
How would you communicate clearly and quickly with your co-workers to ensure customers receive the correct order?
This question is key to nailing your Dairy Queen interview. The interviewer isn't just assessing your teamwork skills—they want to know that you'll go the extra mile to keep customers happy.
So how can you craft a killer answer? Focus on being proactive, resolving issues, and delivering five-star service. Explain how you'll communicate openly to avoid mistakes in the first place, double check orders, and make things right if something does go awry. Show them that you care as much about the customer experience as they do.
Want an example? Here's what you can say:
"Fast-paced environments like Dairy Queen require constant communication between team members. I wouldn't just call out orders and slide them through the window — I'd build rapport with my co-workers so we can anticipate each other's needs. If I ever noticed something amiss with an order, I'd say something immediately like, 'Hold up, did they want hot fudge with that?' or 'Just double checking — did they ask for almonds on the banana split?' I know how much return customers and word-of-mouth marketing matter, so I won't serve an item unless I'm 100% sure it's correct.
And if we do make a mistake? I'll apologize sincerely and work with my team to make it right as fast as possible. Dairy Queen's reputation and customer satisfaction mean everything to me. I want every guest walking away not just with a full stomach, but a smile and a story they can't wait to share about their experience. That's the kind of memorable service I'm all about delivering."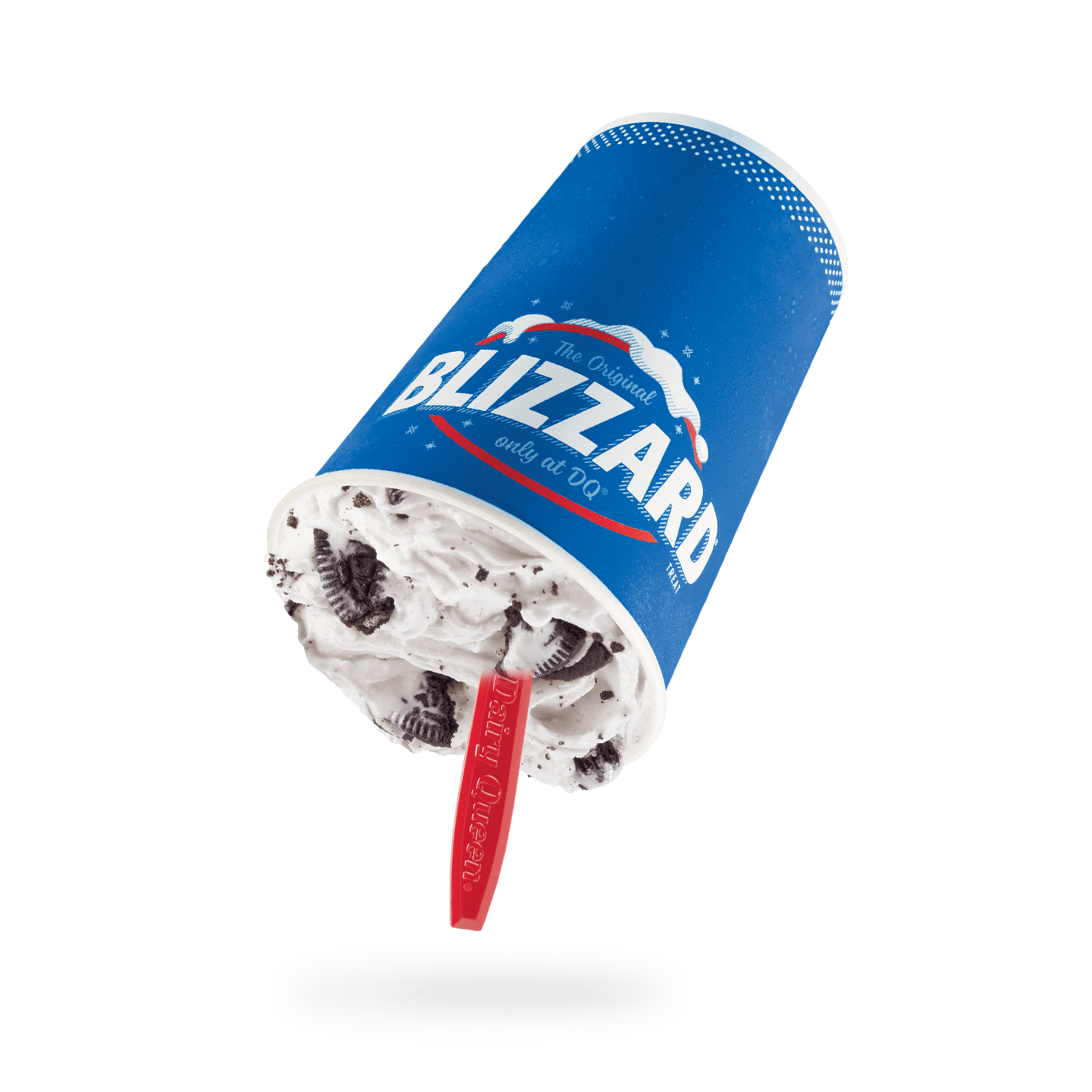 This Dairy Queen interview question may seem simple, but it's actually a trick. The interviewer wants to see if you've done your blizzard homework. Name your favorite treat, give a crave-worthy description, and share your passion for the DQ brand. Make the interviewer wish they had your favorite treat right then and there!
With preparation, you'll ace this frosty interrogation.
"Hands down, the Oreo Blizzard is DQ royalty. Those tiny Oreo pieces swirling in creamy soft-serve are sheer bliss in every spoonful. As an Oreo addict and blizz fanatic, nothing makes me happier than dunking a warm chocolate chip cookie in that chilled, chocolatey perfection.
Beyond the irresistible flavor though, the Oreo Blizzard holds sentimental value. Growing up, my family always stopped at Dairy Queen on road trips for this special treat. Now, enjoying an Oreo Blizzard transports me back to those simple, happy memories. Given the chance, I would love creating new memories and Blizzard bliss for DQ guests every day."
Are you comfortable lifting up to 25 pounds, stock ice in dispensers, and using sanitizing solutions frequently?
The interviewer wants to make sure you understand the physical demands of the Dairy Queen crew member role and are comfortable working with food and following proper sanitation procedures.
This question is their way of finding out if you can walk the talk. Be honest, but also convey your determination and willingness to go the extra mile for customers. Let your enthusiasm shine through as you assure them you're up for the challenge.
Time to give it your all!
"Absolutely, I'm no stranger to physical work and understand the demands of the food industry. I may not have made blizzards before, but I'm eager to learn the ropes and become a Dairy Queen pro. You can count on me to lift up to 25 pounds, fill those ice dispensers, and keep everything sparkling clean. Serving customers and being part of a team is rewarding to me, no matter the effort required. I didn't apply to Dairy Queen for an easy job – I'm here because I want a place to grow and pursue my passion for delivering great experiences."
Where do you see yourself in 5 years, and how do you see this opportunity at Dairy Queen aligning with your long-term career goals?
This question is the interviewer's way of figuring out if you're the right fit for the Dairy Queen team. They want driven candidates who can rise through the ranks to become leaders. To ace this question, show your passion for growth and commitment to the DQ brand.
Imagine this: Five years from now, you're running the shift as an assistant manager, serving up blizzards and smiles. You've worked your way up from crew member through sheer dedication. Leading a team to achieve daily goals gives you a sense of purpose. Nothing is more rewarding than seeing a family light up over your banana split or a kid's first ice cream cone.
Now, here's an example of how you can convey this:
"Five years from now, I see myself growing into a leadership role at Dairy Queen, such as an assistant manager, inspiring my team to make every customer experience memorable. I'm determined to start as a crew member and work hard to earn more responsibility. My goal is to become a leader who upholds the values that have made Dairy Queen so beloved. I believe in this company's mission and want to dedicate myself to its success. If you give me a chance, I'll prove I have what it takes to advance into management within a few years."
As a DQ team member, the ability to foster positive relationships and bring people together is essential. The interviewer wants to know that you can do just that.
To nail this question, share a memorable story showcasing your team-building skills in action. Discuss how you identified tensions or challenges within a group, took initiative, and brought people together around a common goal. Explain the actions you took, the bonds you formed, and the victories you achieved as a team.
For instance:
"At my last job, I noticed a divide forming between two coworkers that was hurting our team dynamics. But instead of standing by, I stepped up as a leader to bridge that gap. I organized a team pizza party and facilitated an open discussion where we could address problems and find our shared purpose again.
We laughed, bonded over our struggles, and reconnected over what first brought us together. By the end of the night, grudges were mended, and we were high-fiving over future goals with renewed team spirit. Not only did we become far more effective and productive, but my teammates became my close friends.
Moments like these taught me the ability to unite people is a powerful skill. At DQ, I would love to build an environment where team members support each other not just as coworkers but as friends. I thrive on bringing people together, solving problems, and making a positive impact on those around me. If faced with challenges, I would take initiative to strengthen team dynamics and re-focus us on our shared mission of creating joyful DQ experiences."
The interviewer wants to know if you can handle tense coworker conflicts in a mature and productive manner.
Think of an example that shows you can stay cool under pressure, listen with empathy, and find a compromise that benefits everyone.
Some pro tips: Focus on common goals, not personalities. Explain how you bridged differences through open communication and a willingness to meet in the middle. Showing these soft skills will convince the interviewer you're management material!
With this in mind, here's an example answer:
"There was one situation early on in my previous job at a burrito restaurant where I had to work through a conflict with a coworker. We both wanted to take on more responsibility in managing the food prep and line cooking operations, but we had very different styles and approaches. She tended to be more disorganized, while I like to develop very structured systems and checklists.
At first, we were butting heads over how certain tasks should be carried out, which caused delays and frustration during busy periods. Before things escalated, I asked if we could take a walk to get some air and perspective. Then we openly communicated how we viewed our different styles as beneficial overall, we just had to find the right way to leverage each other's strengths.
We compromised by developing hybrid systems that incorporated the best of both our methods. We also made a pact to be more transparent in how we were approaching new initiatives going forward. After some trial and error, we ended up with a great system that allowed us to work together seamlessly despite our differences. It ended up helping the restaurant improve food quality, reduce waste, and increase customer satisfaction scores.
Conflicts happen, but how you handle them shows what you're made of. I'm proud of how I stayed calm, built rapport, and found a creative compromise through open communication. I learned that listening with an open mind and willingness to meet halfway can turn tensions into teamwork."
How do you handle receiving constructive criticism or feedback from your supervisors or colleagues? Can you provide an example of how you've used feedback to improve your performance?
When the interviewer asks how you handle feedback, this question is really about your potential for growth. Do you get defensive or see critiques as a chance to improve? Interviewers want team players eager to learn.
Here's how to ace this question:
First, smile and convey enthusiastic appreciation for constructive feedback. Explain that you view it as a gift – an opportunity to better yourself and advance your career. Ask clarifying questions to ensure you understand the key points. Jot down specifics and then "diamond mining" – extract the valuable nuggets of guidance.
For instance, you might say:
"Feedback is a gift I warmly receive. Recently, my manager suggested I improve my speed and efficiency in completing daily tasks. I asked for examples and took notes on ways I could be more efficient. One tip was batching similar tasks together, so I started doing that. Another was minimizing distractions. I began turning off email alerts and wore headphones to signal 'Do Not Disturb!' Within a week, my manager praised my progress. I was thrilled to incorporate her advice and become a stronger team member."
Are you open to performing various cleaning tasks, such as washing counters, tables, restrooms, and trash receptacles?
The interviewer wants to know if you're comfortable with performing essential yet unglamorous tasks that come with the job. Be honest but express a willing and positive attitude.
Explain to the interviewer that you understand every role in the DQ family matters, and you're not afraid to get your hands dirty for the good of the customer—or your team. Focus on your desire to go above and beyond expectations and your commitment to collaborating with coworkers.
With the right attitude and work ethic, no job is too small.
"Absolutely, I'm ready to do my part—no matter what that means. At my core, I believe in doing what it takes to get the job done right and deliver an exceptional experience for every customer. If that means mopping up a spill, clearing tables, or cleaning bathrooms, I'm happy to help in any way I can. My goal is to make life easier for my coworkers and managers, and to provide memorable visits for our customers. They can count on me to tackle any task, no questions asked, and with a smile on my face. I understand that it's teamwork, determination, and a whatever-it-takes attitude that make a DQ location successful."
How do you stay motivated and focused during long shifts or during periods of high customer volume?
As a candidate, this question is your chance to prove you have the drive and perseverance to thrive under pressure. The interviewer isn't just looking for someone to scoop ice cream or ring up orders—they want a motivated superstar who will make each customer's experience memorable.
Show them you have the heart of a champion by talking about your passion for customer service, your ability to rise to any challenge, and your knack for keeping a smile on even during a madhouse rush.
When the lines get long and the orders pile up, lesser candidates might crumble. But not you! You have the fire to persevere and the positivity to power through.
"Staying motivated during a busy shift is no problem for me—it's what I live for! I feed off the energy of a big crowd. I love chatting with each new customer, learning about their day and their go-to treat. No two interactions are the same, so every time I serve someone it's a new opportunity to make a great impression. When the pace picks up and my coworkers start to stress, I kick into high gear and do my best to lift everyone's spirits. A good attitude is contagious, so I always make an effort to rally the team. At the end of a long day full of challenges, there's no better feeling than looking back at all the customers I served and knowing I gave it my all."
In your opinion, what sets Dairy Queen apart from other quick-service restaurants?
The interviewer wants to know if you understand what makes Dairy Queen unique. This question is your chance to show off your enthusiasm for the brand!
Do your homework and learn about DQ's history, menu, values, and community impact. Come prepared with a passionate answer that proves you're the perfect fit for the DQ team.
"As I see it, Dairy Queen is an iconic brand that has mastered the art of the experience. For over 80 years, DQ has been serving up magical memories along with the best soft serve and Blizzards around. Unlike most quick-service restaurants, DQ fosters a family-friendly atmosphere where guests can enjoy quality time together. They're also deeply invested in the local community through fundraisers, donations, and sponsorships. Everything about the DQ brand, from their homemade treats to their hometown charm, is uniquely feel-good and nostalgia-inducing. To me, that heart and heritage set Dairy Queen miles apart from any other quick-serve restaurant."
The interviewer isn't just making casual conversation—they want to know if you'll be available when they need you most. Weekends, holidays, early mornings, late nights…working at Dairy Queen often means irregular hours. But don't worry, with the right approach you'll show them your flexibility and dedication.
Picture this: a long line of hot, tired customers waiting for their Blizzard fix on a busy summer Saturday. When the interviewer asks about your availability, it's your chance to prove you'd thrive in that environment. Show them you're hungry for any and all shifts they throw your way!
"Bring on the weekends and the overtime! My class schedule ends at 3 pm each day, and after that, any time is Dairy Queen time. Holidays too—you name it, I'll be there with a smile and a pair of steel-toed shoes. I know the job comes first, especially during your busiest seasons. Dairy Queen isn't just a summer job for me, it's a top priority."
Do you have reliable transportation that will allow you to arrive at work on time and consistently fulfill your scheduled shifts?
As a Dairy Queen candidate, this question is aimed at determining if you'll actually show up for your DQ shift on time, in uniform, and ready to scoop some blizzards! The interviewer wants to hire someone dependable who won't leave them in a lurch on busy nights or important events.
To nail this question, be enthusiastic about your reliable wheels or other foolproof methods for getting to work. Briefly mentioning a backup plan will put their mind at ease that you've thought through any potential issues. But avoid lengthy excuses, and focus on your dedication to the job.
The key here is conveying your commitment to the role and work ethic above all else.
"Absolutely, I have a tried and true car I've owned for years that will get me to my DQ shift, rain or shine! Public transit is also an option for me in any unlikely emergency. But to be honest, once I land this role, you'll have to chase me away with a Blizzard at closing time – that's how dedicated I'll be! I understand how crucial it is to show up on time and ready to go for a busy shift, especially in the customer service industry. DQ can count on me to always put my responsibilities first and give 100%."
When can you join us and start creating positive memories for our fans?
The interviewer wants to know if you bleed DQ red. They're trying to assess if you have the passion and drive to deliver legendary customer experiences from day one.
To ace this question, show your enthusiasm is unparalleled and you're committed to putting smiles on every face that walks through those doors. Tell them you were born to dip cones, blend blizzards, and spread sweet summer joy.
The DQ logo might as well be tattooed on your heart, you're that dedicated. As for when you can start? How about right now—this instant—you'll work the lunch rush on your way to fill out the new hire paperwork. Okay, maybe after you sign on the dotted line.
"The opportunity to make lasting memories for DQ fans is a dream come true. I've been a fan since my first Peanut Buster Parfait at age 5, and now my nostalgia for those perfect summer nights eating Blizzards on the patio with family is fueling my passion to provide that same experience for your customers.
I am available to start as soon as you need me. I love the nostalgic, community feel of Dairy Queen and would be honored to start making lifelong memories for your customers right away. Creating positive experiences through friendly interactions and high-quality service is extremely important to me. I want fans to leave with a smile and a story they can't wait to share. If selected, I will hit the ground running, soak in all the training, and make the most of every opportunity to spread the joy of DQ. Just say the word, and I'm Queen for life!"
Questions to Ask the Interviewer in Dairy Queen Interview
When the interviewer asks if you have any questions, don't waste it by simply saying "no." This is a chance for you to show your enthusiasm and interest in the role.
Ask thoughtful questions that demonstrate you've done your research about the company and role. The interviewer wants to see that you care enough about the job to have put in effort beforehand.
Here are some questions you should consider asking the interviewer in your Dairy Queen interview:
What does a typical day look like for someone in this role at this Dairy Queen location?
Can you share any recent initiatives or promotions that were particularly successful at this location, and how did the team contribute to that success?
What kind of training and development opportunities are available to grow within the company?
How do you maintain a fun, positive, and energetic work environment for your team members?
Are there any specific challenges that the team faces during high-volume periods or seasonal promotions, and how do you overcome them?
Can you share an example of a team member who has grown within the company and what contributed to their success?
What are some ways that Dairy Queen supports its employees in maintaining a healthy work-life balance?
What does success look like in this position in the first 3 months? (This shows you're already thinking about achieving objectives and meeting key performance indicators.)
What do you enjoy most about working for Dairy Queen? (This builds rapport and shows your interest in the company culture.)
What career paths exist for someone in this role? (Expressing interest in career growth demonstrates your ambition.)
What does your ideal candidate look like for this position? (This clarifies the key attributes and skills the interviewer is looking for so you can emphasize how you're a match.)
What does training for this role entail? (Asking about the specific onboarding and training process conveys your desire to prepare for the role.)
What current challenges exist in this role/department? (This displays a willingness to problem solve and an interest in the specifics of the work.)
What are the next steps in the hiring process, and when can I expect to hear back from you?
Dairy Queen Hiring Process

Unlike some companies, Dairy Queen has a straightforward and streamlined process that gets candidates hired swiftly.
Whether you submit your application online or in person, you can expect to hear back from the managers within 7 to 30 days, depending on the position. They thoroughly evaluate each application to determine which candidates they want to bring in for an interview.
If selected, you'll receive a call or email to schedule an in-person interview at your local Dairy Queen location.
Arrive a few minutes early for your interview—you don't want to make a bad first impression! The interview will last 30 to 45 minutes and include one or two rounds with different managers. They'll ask you questions about your relevant experience, strengths, career goals, and what makes you a great fit for the role. Provide specific examples to highlight your qualifications.
Convey your passion for the work, your desire to grow with the company, and your ability to deliver excellent customer service with every interaction. The managers want to see if you'd be a great addition to their team, so highlight how your skills and enthusiasm will benefit Dairy Queen.
After the interviews, the managers will conduct a quick background check before extending a job offer. Once you accept the position and the check clears, you'll come in for a short orientation to learn about Dairy Queen procedures, policies, and training. Then you'll dive right into your daily duties, ready to provide smiles, great service, and delicious treats to all your customers.
We hope this behind-the-scenes look at what to expect has you feeling completely ready to land an interview and thrive in your new role. Remember to be yourself—your perfect personality is why Dairy Queen wants to hire you!
Dairy Queen Interview Tips
For a successful Dairy Queen interview, familiarize yourself with the company values and emphasize your enthusiasm for the brand. Show your commitment to exceptional customer service, clear communication, teamwork, and adherence to health and safety standards.
What to Wear to Dairy Queen Interview
Presenting yourself in line with Dairy Queen's dress code for an interview can show your commitment to the company's values and create a favorable impression. Dairy Queen has a strict policy regarding uniforms to promote sanitation and food safety standards, so wearing clothes in a similar professional yet casual style will demonstrate your fit for the culture.
The dress code at Dairy Queen is a company-provided branded t-shirt or polo, black pants, a Dairy Queen hat, black slip-resistant shoes, and black socks. Long hair must be restrained for hygiene and safety purposes.
With this in mind, here are some recommendations for your Dairy Queen interview outfit:
Crew Member or Team Member roles: Stick to casual and comfortable clothes like black pants or khakis, a solid color polo or button-down shirt, and comfortable sneakers. This role requires a lot of time on your feet, so prioritize breathability and mobility.
Shift Lead, Assistant Store Manager, or General Store Manager roles: For these positions, business casual is appropriate. This could mean pressed black slacks or khakis, a crisp shirt, and possibly a blazer. Flats, loafers, or oxfords would complete the look.
Corporate roles: At the corporate level, business formal or professional business attire is expected. Think suits, dress shirts, ties, skirts/pantsuits, or dresses. Accessorize minimally but tastefully.
It is better to be overdressed than underdressed for an interview, so when in doubt, go with the more formal option. Make a great impression and bring home that Dairy Queen job!
Conclusion
With the knowledge you now have about the most common Dairy Queen interview questions, you can walk into your interview feeling ready to impress. Do your research, practice confident and enthusiastic answers to these questions, and highlight why you're the perfect candidate for the job. You've got this!
But don't limit yourself after a successful Dairy Queen interview; continue to explore job opportunities at other fast food chains and restaurants. Fast food chains and restaurants like Sonic, Wendy's, McDonald's, Burger King, Carvel, Arby's, and Culver's are constantly hiring, and having multiple options can only benefit you.
With the skills and experience you have, the opportunities are endless. Keep putting yourself out there, learn from each interview, and the right job for you is bound to come along. You have so much talent and potential, so keep working hard and don't get discouraged.
The food service industry would be lucky to have you, so go show them what you've got! Success is out there waiting for you, you just have to grab it. Now get to it!