23 LongHorn Steakhouse Interview Questions (And Expert Answers)
Are you filled with anticipation, ready to take a bite out of the job opportunities at LongHorn Steakhouse? Picture the sizzle, the aroma, the lively atmosphere, and the shared camaraderie. Exciting, right? But wait—before you step into that deliciously bustling scene, there's an essential stage to get through first: the interview.
Just imagine it—you, sitting in that interview chair, confidently responding to each question, your preparation shining brightly. It feels empowering, doesn't it? That's exactly what this blog post aims to gift you with—a radiant aura of confidence. We've got a juicy list of the most commonly asked interview questions at LongHorn Steakhouse, bar-grilled to perfection with expertly cooked example answers. So why is this crucial for your interview preparation?
Reading this blog post is as vital as properly seasoning a steak—it has the potential to turn a good performance into a memorable one. Each question carefully compiled here is a stepping stone towards your future role; each answer is valuable advice to help you articulate your skills, your passion, and what you bring to the LongHorn table.
You see, preparation isn't just about demonstrating what you know—it's about showing who you are. And we all know that the heart of LongHorn Steakhouse is beating strong with passion, dedication, and exceptional customer service.
So, are you ready to marinate in this succulent wisdom and grill your way to success? You bet! Keep reading and let's feed that hunger for success, turning you into the delectable main course that LongHorn Steakhouse simply can't resist. Remember, there's a chair waiting for you in that lively scene you pictured earlier. Let's help you claim it.
LongHorn Steakhouse Company Information
Before heading into your interview, have a solid grasp of the important details about LongHorn Steakhouse. We encourage you to delve into the following key points as a starting point and expand your understanding from there.
| | |
| --- | --- |
| Trade Name | LongHorn Steakhouse |
| Type | Steakhouse Restaurant Chain |
| Date Founded | Aug 10, 1981 |
| Founders | George McKerrow Jr., Brian Sullivan |
| Headquarters | Orlando, Florida, United States |
| Menu | Steaks, Chicken, Ribs, Seafood, Sandwiches, Sides, Salads |
| Signature Items | LongHorn Porterhouse, Outlaw Ribeye, Renegade Sirloin |
| Core Values | Being of Service, Respect, Teamwork, Excellence, Always Learning & Teaching |
| Website | www.longhornsteakhouse.com |
| Competitors | Outback Steakhouse, Texas Roadhouse, Saltgrass, Black Angus |
Additional facts:
Humble Beginnings: LongHorn Steakhouse was founded by George McKerrow in the early 1980s, capitalizing on the rising popularity of Texas-style steak restaurants. The first location was in Atlanta, in a building that was once an adult bookstore.
Initial Struggles: Financial struggles nearly sank the restaurant before it even opened. McKerrow's business partner disappeared, leaving him to turn to his father for the funds needed to finish renovations. The early hurdles forged McKerrow's tenacity, a quality that contributed greatly to his success.
A Turn of Luck: A freak snowstorm in 1982 brought an unexpected lifeline for the struggling restaurant. With a promotional offering of $1 drinks while it snowed, the LongHorn was able to attract a significant number of customers, putting it on the map.
Growth and Expansion: The snowstorm's silver lining allowed LongHorn to open a second location by 1983. By the end of the 1980s, the chain had expanded to 15 locations, stretching beyond Atlanta into North Carolina.
Billion-Dollar Sale and a New Venture: In 2007, LongHorn Steakhouse was sold to Darden Restaurants Inc. for a whopping $1.4 billion. George McKerrow, however, wasn't done with the restaurant industry. He partnered with media mogul Ted Turner in 2002 to launch Ted's Montana Grill, a sustainability-focused restaurant that prioritizes serving bison.
Grilling Tips and Tricks: To help its customers, LongHorn Steakhouse launched a grilling hotline in 2013, providing grilling tips and techniques from the restaurant's certified Grill Masters.
LongHorn in Pop Culture: An unlikely online romance with Denny's began when an anonymous employee running the LongHorn Steakhouse Tumblr account made a humorous comment. Fans responded by creating an array of romantic stories and drawings involving the two restaurant chains, leading to the creation of the fictional relationship dubbed "Denhouse."
Sharing the Love: LongHorn Steakhouse freely shares recipes inspired by their chefs on their website, helping fans recreate their favorite dishes at home.
Variety on the Menu: LongHorn Steakhouse offers a variety of cuts of meat, including special-selection cuts hand-picked for their unique marbling and textures.
Grilling Secrets: LongHorn Steakhouse prides itself on using fresh, never frozen steaks and insists on maintaining a clean grill to prevent sticking. These are among the restaurant's shared secrets to grilling the perfect steak.
Resilience During a Pandemic: The COVID-19 pandemic saw LongHorn Steakhouse pivot to a takeout model, making it the most visited fast-casual restaurant in its home state of Georgia.
LongHorn Steakhouse Mission Statement
At LongHorn, we do things the right way because that is what great steak deserves. And, more important, it's what you deserve.
LongHorn Steakhouse Interview Questions
Can you tell me about yourself and your background and experience that brought you here?
This question allows the interviewer to gain an insight into your skills and qualifications and understand your passion for the food industry and your motivation for choosing LongHorn Steakhouse in particular. They're seeking a sense of your suitability for the role and a glimpse into what unique value you might offer to their team.
To give a compelling response, we recommend adopting a three-part approach: Briefly outline your background, underscore how your past experience relates directly to the role you're applying for, then drive home why LongHorn Steakhouse is specifically appealing to you.
Ready to serve a dish of words bound to impress your prospective employer? Consider answering something along the lines of,
"I began my culinary journey studying hospitality at college, where I fell in love with creating delicious experiences for people. I've been honing my skills ever since working in various eateries and honed my skills in customer service and kitchen operations. A major highlight of my career so far was working in a farm-to-table restaurant where I learned the importance of sourcing quality ingredients, which I see reflected in LongHorn's menu. I've always appreciated LongHorn Steakhouse's commitment to quality food, served in a friendly, inviting ambiance, and I am excited to contribute my skills and passion for creating memorable dining experiences to your team."
Why do you want to work for LongHorn Steakhouse?
This question, as simple as it may seem, holds great significance. This is not just about whether you want a job, but whether you want THIS job, at THIS company. Your answer will help them gauge your understanding of the brand, your alignment with their values, and most importantly, your passion and motivations that you're bringing along with you.
So, when answering, do your research. Understand and articulate what makes LongHorn unique, which could encompass their focus on exceptional customer service or their commitment to serving high-quality, perfectly seasoned steaks. Align your personal values with those of the company. Finally, exhibit genuine enthusiasm that comes from a place of shared values and personal ambition.
Armed with this powerful inside knowledge, let's get you ready to hit this question out of the park.
"Well, I have always been a fan of LongHorn Steakhouse's commitment to customer satisfaction and excellent quality food. I firmly believe that an organization's culture is reflected in its service level, and it's clear that there's a significant emphasis on ensuring a memorable dining experience here. Besides, the company's value of 'Doing what's right, what's smart, and what's gonna make our guests feel special' resonates with me. I envision building a career in a place where I can give my best to make guests' day better while adhering to these values. Moreover, I am eager to work in and grow with LongHorn Steakhouse, utilizing my skills and passion for the restaurant industry to contribute to the team, and more importantly, to the guests' dining experience."
How did you first hear about LongHorn Steakhouse?
What might seem like mere small talk, is actually another means to dig deeper into your motivation and curiosity about the company. They want to assess how well-researched you are and how you engage with the brand.
Are you someone who merely walked by and applied, or someone who did thorough research, respects the company culture, and genuinely wants to be a part of the growth story?
Now, to ace this question, be real and be you. If you came across LongHorn Steakhouse while binge-watching your favorite food show, say that, and preferably share what enticed you about the brand at that moment. However, if you've been an ardent customer, infuse your experience.
But remember to emphasize what lead you to perceive them as an attractive employer. Perhaps it was the excellent customer service, the quality of food, or the overall atmosphere. Be truthful, and project enthusiasm for the brand. This helps to showcase your interest beyond a mere paycheck.
Now take a deep breath. Let your heart simmer with that sunny-side-up optimism, as we reel in a tangible example.
"I first heard about LongHorn Steakhouse from a friend's recommendation. He was glowing about the perfectly grilled steaks and the warm, welcoming ambience. I had to try it for myself, and I immediately fell for the juicy steaks and courteous staff. Thereafter, I admired the brand more profoundly when I read about LongHorn's initiatives toward sustainable sourcing and giving back to the community. It fascinated me how they seamlessly blended quality service and positive impact. So, the choice was clear when I decided to pursue a career in the food service industry. I wanted to work for a company that is committed to quality and community, like LongHorn Steakhouse."
Seems pretty straightforward, right? Well, you'll find it's really a sneaky way of seeing if you're familiar with their menu and if you can wax poetic about their food. They're basically sizing you up on your attention to detail, your enthusiasm for the brand, and if you've got that sales mojo – all super important in the hospitality gig.
In preparation for this question, we advise you to dine in at the LongHorn Steakhouse before your interview, or at least, explore their menu extensively online. Look for something that stands out to you, note its unique characteristics, and think about why it appeals to you.
Now, this shouldn't be a simple "I love how it tastes"; go beyond and elaborate on its ingredients, presentation, and even the feelings it evokes when you eat it. Remember, the purpose here is to showcase your passion, your storytelling skills, and your knowledge about the product.
Imagine you are not just a candidate for a job but also a passionate food lover who is sharing his favorite dish with a fellow enthusiast.
"My absolute favorite item on the LongHorn Steakhouse menu has to be the 'Flo's Filet.' The tenderness of the center-cut filet, cooked to a perfect medium-rare, is practically unmatched in the world of steak. The seasoning gives it this exquisite spicy yet slightly sweet flavor I can never seem to forget. And the presentation? Sublime. The steak sits majestically on the plate, like a queen on her throne, immediately commanding your attention. The first bite is pure joy – the tender, juicy meat just melts in your mouth, triggering a fabulous burst of flavors. For me, 'Flo's Filet' encapsulates the essence of LongHorn Steakhouse – quality ingredients, perfectly cooked, and presented with pride."
The interviewer wants to gauge your customer service skills, commitment to providing a memorable dining experience, and the extent of your initiative and resourcefulness.
LongHorn Steakhouse prides itself on embodying the spirit of the West, where hospitality comes first. Your answer should reflect that spirit, showing them that you're capable of living up to the high standards set by their reputation.
When preparing your response, recall a specific event where you made considerable effort to please a customer. The more vivid and tangible your story is, the better. Use the STAR method: detailing the Situation, Task, Action, and Result. This approach helps you present a structured, concise, and clear story. Make sure your answer emphasizes your ability to empathize with customers, make spot-on decisions, solve problems, and your dedication to excellent service. Even minor details about how you can make customers feel special count.
Got it? Good! Now, let's walk through a stellar example:
"Once at a previous restaurant job, I noticed a couple that seemed a little uncomfortable with their table's location as it was near the kitchen. The restaurant was packed, but I took the effort to speak with my manager and arrange another table at a quieter part of the restaurant for them. After moving them, I also offered some complimentary appetizers as an apology for the initial inconvenience. They appreciated the gesture and left promising to return. This situation taught me that even small initiatives can dramatically improve a guest's dining experience and make them loyal to the venue. At LongHorn Steakhouse, I will strive to apply the same customer-first approach to ensure every guest feels valued and enjoys their visit."
Our guests are the heart of LongHorn. How would you strive to keep them coming back again and again?
The heart of every LongHorn Steakhouse lies in its patrons; it's this intimacy that forms the crux of the LongHorn interview. This famous question is designed to assess your ability to cultivate a warm, welcoming atmosphere that encourages guests to return time and again.
Prepare for this question by demonstrating empathy and understanding of customers' needs.
Here are a few tips to tackle it head-on.
First, emphasize your capacity to provide consistent, outstanding service – this forms the backbone of any successful hospitality business.
Secondly, explain how you would keep keen attention to details, ensuring each guest's needs are addressed promptly and satisfactorily. Thirdly, show your enthusiasm for the LongHorn brand; this includes the food and atmosphere, which are both crucial components of the guest experience.
Lastly, make it personal: Discuss how building genuine relationships with patrons, getting to know their specific likes and dislikes, is key to making them feel appreciated and inclined to return.
Now that we've unpacked what they're looking for, let's wrap it up with a savory example you can serve to your interviewer.
"Understanding that our guests are the heartbeat of LongHorn, my goal would be to create an unforgettable dining experience each time they visit. I would do this primarily by providing excellent, attentive service. For example, if I know a regular guest's favorite meal, I would ensure it's prepared just the way they like it, making them feel acknowledged and valued. Furthermore, I would maintain an active presence on the floor, ready to promptly address any needs or concerns. Being passionate about LongHorn's trademark steaks and comfortable ambiance, I believe I can genuinely recommend our offerings and create an atmosphere that resonates with our guests and keeps them coming back for more."
The interviewer is seeking insights into your problem-solving skills and how you handle stress under pressure. More importantly, they're testing your customer service acumen, your empathy, and your ability to maintain LongHorn's reputation for excellent service, even when things get rough.
Crafting your answer is all about spotlighting your skills in a real-world context. Your experience doesn't necessarily have to be from the restaurant industry, but it should demonstrate your ability to turn a difficult situation into a positive one. The STAR approach is your best friend here; outline the Situation, Task, Action, and Result. Deliver your narrative clearly, succinctly and ensure the focus remains on your problem-solving prowess and customer service skills.
Remember, the ultimate goal is to reassure the hiring manager that you can manage whatever comes your way while keeping customers satisfied.
Suddenly, the light bulb above your head ignites. You've got the perfect story to share.
"In my previous role as a server at a busy city restaurant, we had a regular diner who was notoriously hard to please. One evening, he ordered a dish that had been taken off the menu. When informed about this, he became rather upset and demanded to speak with the manager. I calmly explained that the manager was currently occupied, but I would do everything I could to assist him. I empathized with his disappointment and assured him that I understood his desire for his preferred dish. Instead of dismissing his request, I consulted with the chef, who agreed to make the dish especially for him, even though it wasn't on the menu. The customer was incredibly appreciative and even apologized for his earlier behavior. It was a challenging situation, but it taught me the value of maintaining composure, empathizing with customers, and finding proactive solutions. I believe this experience has equipped me well to manage similar situations here at LongHorn Steakhouse."
What strengths, skills, and qualities would you bring to our LongHorn team?
The underlying intent of this LongHorn Steakhouse interview question is to assess if you're both a cultural and practical fit for the company.
They are looking for attributes that align perfectly with the LongHorn ethos of creating remarkable experiences through personal commitment and delivering superior quality, handcrafted food with passionate service. They are also keen to identify the practical skills and strengths you bring which can enhance their business operations and customer service excellence. The perfect answer should seamlessly blend both elements.
When formulating your response, you should highlight your team-oriented perspective and flair for providing excellent customer service. Do some research to understand LongHorn Steakhouse's culture and tailor your response according to these findings. Perhaps you have an infectious enthusiasm that enlivens any room or a habit of going the extra mile just to put a smile on the customer's face.
You may also have specific skills – culinary, managerial, mathematical – that would be a great asset to the team. Don't forget to mention any relevant experiences in your past where you have manifested these strengths and abilities.
Alright, let's move on to crafting your answer.
"I'd like to refer to my ability to connect with customers and create a warm, inviting atmosphere as my main strength. During my previous role, I consistently achieved high feedback scores and was often mentioned in glowing customer testimonials. I'm a team player to the core and my steadfast ability to work well with others and maintain a positive outlook consistently contributes to an uplifting work environment. Professionally, I bring excellent time management skills to the table, having juggled multiple responsibilities successfully in my past roles. I am highly skilled at engaging each customer, turning their dining into a remarkable experience, and that aligns perfectly with what LongHorn Steakhouse values – 'Making Every Guest Count'. I truly believe these qualities, coupled with my passion for delivering top-notch food service, are what makes me a great fit for the LongHorn Steakhouse team."
Could you walk me through your approach to solving a problem when the solution is not readily apparent?
The real essence of this question lies beyond your knowledge of delectable steaks or your culinary prowess. This question is designed to probe your analytical thinking, problem-solving prowess, resourcefulness, and your ability to remain composed under pressure.
To provide a stellar response, it's essential to interpret the question as an opportunity to illustrate your critical thinking skills and adaptability. Begin by explaining your usual process, which might involve identifying the problem, analyzing potential causes, implementing a solution, and reviewing the results for effectiveness. Pepper in some hard-earned wisdom to distinguish between a merely good answer and an outstanding one. Sharing specific techniques like brainstorming, prioritizing, or seeking mentor advice can impress the interviewer. But remember, your answer should reflect your reality and not just be what you think they want to hear.
Now let's serve up an answer as mouthwatering as a perfectly grilled T-bone steak!
"When confronted with an ambiguous problem, my tactic echoes the primary principles of the culinary world – strategy, balance, patience and creativity. I start by defining the problem at hand while generating and exploring all possible solutions. The 'mise en place' of problem-solving, if you like! I weigh the pros and cons of each, prioritizing them based on feasibility, resources needed, and desired outcome. For any overwhelming task, I aim to break it down into manageable 'courses', handling each with focus and precision. I often seek guidance from mentors or team members, appreciating the varied perspectives they bring. Once a solution is implemented, I monitor its impact diligently, ready to readjust my approach if required. Just like crafting the perfect steak at LongHorn, problem-solving, for me, is an art that requires both unwavering focus and flexible adaptation!"
When the LongHorn Steakhouse interviewer asks you to recount an instance where you grappled with a high-stress situation at work and demonstrate how you resolved it, they're not trying to unsettle you. Rather, they're seeking an understanding of your problem-solving skills, resilience, adaptability, and aptitude for managing stress.
The key to sailing through such a question lies in the 'S.T.A.R' method – Situation, Task, Action, and Result. Start with detailing the Situation you found yourself in. Next, articulate the Task that lay ahead of you. Then describe the Action you took, detailing your thought process, and finally, enlighten them about the Result.
It helps to choose an instance that demonstrates one or more of the traits LongHorn seeks in its employees; think teamwork, initiative, customer service, or problem-solving. Remember to maintain an honest portrayal of events, while highlighting your role and impact.
Now, enough of the theory park, let's drive you through the practical lane with an example, shall we?
"During one particular evening's rush hour at my previous restaurant, we had a large party reservation for 15 people. At the last minute, the group increased to 25. Faced with this unexpected need to accommodate extra people – the Task, my first Action was to stay calm and come up with a quick solution. I initiated a swift team meeting and proposed we join two adjacent tables. Thankfully, those tables were about to clear out, and I arranged to have them cleaned and set immediately. At the same time, I communicated the situation to the kitchen to ensure they were prepared for the larger order. The Result was seamless service; despite the sudden change, the guests were none the wiser and truly enjoyed their experience. This experience reinforced my belief that remaining calm under pressure, effective communication, and quick thinking are essential in the fast-paced restaurant environment."
How confident are you in your ability to multitask in a fast-paced restaurant environment?
The allure of perfectly cooked steaks, sizzling hot and dripping with flavor, is enough to draw anyone into a LongHorn Steakhouse, including the eager job applicant.  But a crucial part of the interview process revolves around this seemingly simple but deeply probing question.
Behind the veil of this question, hiring managers are looking for assurance that you can handle the bustling atmosphere, numerous tasks, and high pressure of a thriving restaurant like LongHorn Steakhouse. They want an applicant who can spit-sear a steak to perfection, manage several complex tasks simultaneously, and maintain that sunny disposition, all while keeping the wheels of this culinary juggernaut spinning seamlessly.
Answering this question confidently requires more than just expressing your belief in your abilities. It's about providing concrete instances from your past experience where you have demonstrated this skill. To tackle this question, start by dissecting your previous work experiences and identifying moments where you have excelled at multitasking under pressure.
Remember, situations from non-restaurant jobs could also highlight your multitasking skills. Quantify your experience wherever possible, using numbers and specifics to further illustrate your point. Lastly, also emphasize your ability to stay calm, composed and customer-focused during high-stress situations.
Now, let's add some sizzle to your response with an example as juicy as a well-grilled steak.
"Yes, I am entirely confident in my ability to multitask effectively in a fast-paced restaurant environment. In my previous job at a busy pizza joint, I often managed up to eight orders simultaneously during peak hours, handling the entire process from order taking to dispatching for delivery—a testament to my multitasking abilities. I quickly learned how to prioritize tasks and manage time efficiently. Despite the velocity of work, I maintained a 98% accuracy rate with orders and successfully helped boost overall customer satisfaction ratings. Moreover, I made sure to keep my cool even in the most stressful situations, always greeting customers with a cheerful smile, and providing assistance promptly, a trait I am ready to bring to the LongHorn Steakhouse team."
Can you tell me about a time you disagreed with a manager and how you moved forward?
At first glance, this question may seem like a curveball being thrown at you in your LongHorn Steakhouse interview. This question, however, is an excellent opportunity for them to assess your conflict resolution skills, teamwork, and willingness to voice your opinions, all of which are highly valuable in the dynamic restaurant environment at LongHorn Steakhouse.
While answering this question, remain professional and objective. Begin by giving a concise description of the disagreement, focusing on the issue at hand, not the people involved. Describe how you approached the situation tactfully, ensuring you respected the hierarchy while voicing your views.
Finally, demonstrate how you cooperated with your manager to reach a resolution, highlighting your skills in compromise and teamwork. Don't forget to relay what you learned from the experience and how it helped you grow as an employee.
As we know, well-cooked examples are the secret sauce to a flavorful interview response!
"Once at my previous serving job, I disagreed with my shift manager about adjusting my schedule to accommodate a team member who frequently requested last-minute changes. Rather than expressing my frustration directly, I approached my manager and proposed a fairer, more systematic way to manage shift-switch requests which would not jeopardize customer service. While my manager initially disagreed, he appreciated the logic and fairness of my proposal when I presented it with a focus on maintaining team harmony and optimal customer service. Together, we fine-tuned my method and soon implemented it. This incident taught me the value of constructive feedback and assertive communication in a team-oriented environment like LongHorn Steakhouse."
Let's say a guest at one of your tables was unsatisfied with their steak being overcooked. How you would handle that situation?
This question isn't just about steaks, it's about assessing your customer service skills, your problem-solving abilities, and your alignment with the company's core value of treating diners like family. How you'd react in a real-life, non-ideal scenario reflects your adaptability in managing dissatisfaction and your capacity to turn the tables, so to speak.
So how can you ace this question?
First and foremost, remember the rule of thumb in hospitality: the customer is always right. Your answer should reflect empathy for the guest and a keen interest in rectifying the situation swiftly and efficiently.
Talk about the steps you would take, keeping LongHorn Steakhouse's reputation for high customer service standards in mind.  Ensure you stress the importance of communicating effectively with the guest and the kitchen staff to reach a resolution.
Lastly, highlight the fact that you would handle everything with a warm smile, leaving the customer feeling valued regardless of any imperfections in the initial service.
Let's put the butter on the steak now, shall we?
"If faced with such a situation, my immediate response would be to genuinely apologize to the guest. 'I'm so sorry that your steak isn't how you expected it, let's fix that right away.' I would then assure them that I'd communicate their dissatisfaction to the kitchen and promptly request for their steak to be re-cooked to their preference. While waiting, I'd maintain a friendly conversation, maybe suggest a complimentary side or drink, in short, anything that could enhance their dining experience in that moment. It's paramount to ensure the guest feels listened to, and more importantly, catered to."
What would you say are some of your biggest strengths and weaknesses?
This classic interview question is designed to assess your self-awareness, honesty, and capacity to adapt and develop. The interviewer isn't just interested in knowing what sorts of skills you possess; they're seeking to understand how you perceive yourself and handle areas of improvement while capitalizing on your strengths.
This part might seem tricky but bear with us. For the strength part, focus on ones that resonate with the LongHorn Steakhouse's culture of passion, integrity, and teamwork. Talk about your impeccable customer service skills or your ability to work well as part of a team.
When it comes to weaknesses, approach it with a two-step strategy – Agree & Counter. Agree by admitting a genuine weakness but make sure it's something that won't impede your ability to work in a restaurant setting. Counter by describing how you're proactively working to overcome this weakness.
With these tips securely under your apron, you're ready to serve up the perfect answer.
"One of my greatest strengths is my ability to connect with people. It just comes naturally, and I use it to make customers feel warmly welcomed and looked after. In past roles, that skill alone has gained repeat customers and positive reviews. In terms of weaknesses, I tend to be too detail-oriented at times which can sometimes slow me down. However, understanding that efficiency is vital in a fast-paced restaurant environment like LongHorn Steakhouse, I've been taking steps to find a better balance by prioritizing tasks and managing my time more effectively."
How would you handle a situation where a guest makes an unreasonable request?
This question invites you to showcase your conflict resolution skills, emotional intelligence, and customer service prowess all in one fell swoop. Remember, the magical essence of hospitality lies within your ability to provide outstanding service, even in the face of unforeseen challenges.
First, you must understand that there's no one-size-fits-all approach to this. Breathe, and think carefully before responding.
Start by saying that you would remain calm, understanding, and professional. Paint a picture of a server who can empathize with the guest's situation – understanding not just the request, but also the emotions behind it.
Emphasize how important active listening is, as it shows respect for the customer's feelings. Though you must uphold company policies, communicate the importance of delivering a solution that fosters goodwill, such as suggesting alternative options or escalating the issue to a supervisor if necessary.
Then comes the scenario, a story that retains the aroma of a sizzling well-cooked steak garnished with your keen problem-solving skills and a side of practicing excellent customer service!
"In a situation where a guest requests a menu item we don't offer, for instance, asking for a vegan meal at our steakhouse, I would handle it with empathy, understanding their needs. First, I'd apologize for the inconvenience, and then I'd present them with alternative options. I'd say, 'I understand you are looking for a vegan option, and while we are known for our prime steaks, we do have mouthwatering options like our Seasoned Rice Pilaf or Fresh Steamed Broccoli that you may enjoy. I can also check with our chef to see if we can accommodate a special vegan dish for you.' That way, I'd stay considerate of the guest's needs while ensuring that LongHorn Steakhouse resources and offerings are effectively communicated. If the guest remains unsatisfied, I'd politely request assistance from my manager to solve the situation. Maintaining the guest's comfort and satisfaction is my top priority."
Tell me about a time you faced a challenge working with your team. How did you pull together to overcome it?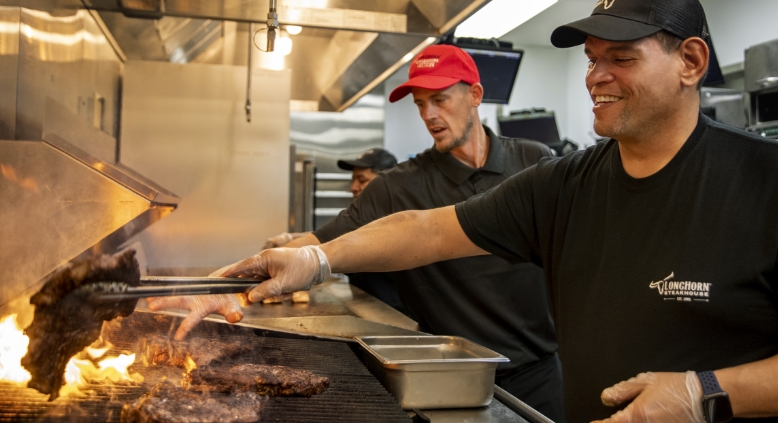 This question serves as a window for the hiring manager to peek into your overall teamwork and problem-solving skills. Stories are a powerful way to showcase your experiences, and your ability to articulate a well-thought-out story can give the interviewer deeper insights into your character, resilience, and team spirit.
The golden rule for answering this question is to make your story specific, clear, and reflective of your role in the team. Start by setting the scene and explaining the challenge. Then, move on to discuss your role, the actions you took, and how those actions led to a successful resolution. Ensure you highlight the part where you and your team pulled together to bring out the best result.
Ready to dive into an example that could turn this challenging question into your winning play? Buckle up!
"During my days as an assistant manager at a local restaurant, we were suddenly faced with an acute staff shortage during our busiest season. Responsibilities were reshuffled overnight, and I was tasked with leading the reduced team. Understanding the team's stress, I organized a meeting to openly discuss our concerns and potential solutions. We decided to cross-train in various areas to ensure efficient service. I took the initiative to learn from the head chef so I could step in during rush hours. After two weeks of relentless efforts, not only could we manage the workload, but we also received positive feedback from customers on our exceptional teamwork. This experience was a testament to how good communication and willingness to step outside of our comfort zones can strengthen a team during testing times."
Could you walk me through your approach to ensuring every guest is satisfied with their visit?
This is a pivotal question that holds a lot of weight – a real dealbreaker, as the interviewer is trying to assess your customer service skills, problem-solving abilities, and commitment to providing a top-notch dining experience. They want to hear clear strategies, proactive behavior, and a genuine understanding of what would make the customer leave with a desire to return.
We'd recommend that you start by emphasizing your proactive approach to making the guests feel welcomed right from the beginning. Show them that you understand the importance of the minutest details – how you greet the guests, guide them through the menu, check on them during their meal, and the list doesn't end. Discuss how you would handle difficult situations or complaints, showing your ability to stay calm, empathetic, and solution-focused.
Remember, they want employees who can turn a tense situation into a positive experience. Moreover, showcasing your understanding of LongHorn Steakhouse's values and how you'd embody them in your interactions with customers would seal the deal!
Now buckle up, we're going to serve you a sizzling example response that's perfectly flame-grilled for your LongHorn Steakhouse interview.
"At LongHorn Steakhouse, the guest experience begins before any interaction with a guest. It begins with my mindset and attitude coming into work, understanding that my primary goal is to ensure every guest feels welcomed, appreciated, and leaves with a memorable dining experience. I take the time to know the menu well, so I can confidently guide our guests through it, making thoughtful suggestions based on their preferences. During the course of the meal, I'd check in at appropriate times to ensure the food and service are meeting their expectations. If a guest has a concern or complaint, rather than viewing it as a problem, I see it as an opportunity – an opportunity to exemplify our LongHorn promise. I would listen attentively to their concern, empathize, apologize, and act promptly to make it right. And of course, at the end of their meal, thanking them and inviting them to visit us again would be key in creating a lasting impression."
How would you describe your customer service philosophy?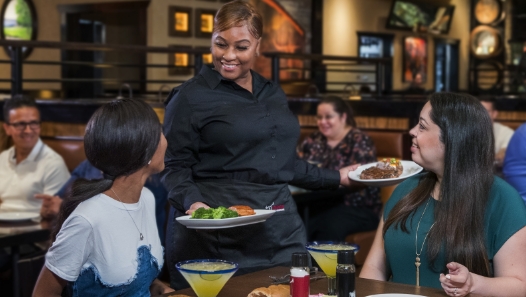 This is a probing question designed to assess your approach towards dealing with guests, your ability to solve problems and still keep a smile on your face, making customers feel valued, and ultimately, if your philosophy aligns with the LongHorn Steakhouse experience.
Now, let's equip you with some strategies.
Firstly, it's essential to research LongHorn Steakhouse's customer service standards so that your philosophy resonates with theirs. You might mention values like hospitality, creating positive, memorable dining experiences, or a commitment to delivering excellent service each time.
Secondly, think of examples from your past where you exemplified great customer service. Maybe you received positive feedback from guests or improvised under pressure to keep a customer happy. Use these scenarios to vividly illustrate your philosophy in action, ensuring you emphasize how you communicated effectively, maintained a positive demeanor, and prioritized the customers' needs throughout.
With those golden nuggets of wisdom tucked away, it's time to grill up a sizzling response.
"Given my understanding and admiration of LongHorn Steakhouse's commitment to creating memorable dining experiences, my personal customer service philosophy directly aligns. I believe that 'customer service is not just a department, it's everyone's job.' I am committed to delivering excellent service each time, making guests feel valued and welcomed like I would in my home. In fact, while working as a server in my previous role, I had a situation where a customer was dissatisfied with their meal. Rather than merely apologizing, I went the extra mile to engage them, understand their issue, offer alternatives, and ensure they left smiling. This experience further reinforced my belief that effective communication, empathy, and fast problem-solving skills are at the core of excellent customer service. In a nutshell, my philosophy is to treat every customer like a guest in my home, and with LongHorn Steakhouse's values in mind, I would dedicate myself to creating these memorable experiences for every customer."
How does this position at LongHorn Steakhouse fit into your future career goals?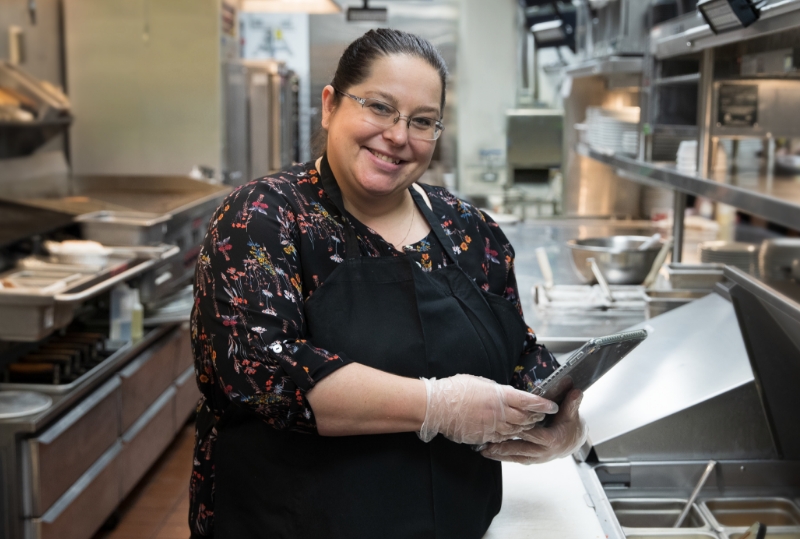 A low-key important question, this might very well be your golden ticket to secure the job.
The interviewer aims to assess your ambitions, the measure of commitment you're ready to furnish, and how aligned this position at the restaurant is with your career path. Their underlying motive? To invest their resources in someone who views this job as a stepping stone towards a greater plan, not merely a stopgap arrangement.
Answering this question just right requires you to connect the dots between the current job role and your future goals. Start by thoroughly understanding the responsibilities & skills required for the job.
Now, couple this information with your own career aspirations. In a well-articulated response, explain how this position will aid in acquiring the skills, knowledge, or experience you need for the future. Be realistic and show them you've thought this through.
So, are you ready to put your tailored response under the spotlight? Here's a sample response you'll find helpful:
"I have always been passionate about the hospitality industry, particularly culinary management. In my future career path, I aspire to manage a restaurant of my own. This position at LongHorn Steakhouse offers a unique blend of culinary and managerial responsibilities that will equip me with necessary insights and practical knowledge. I envision learning to execute high-quality services while working in a fast-paced environment here, mastering necessary leadership skills, and understanding daily restaurant operations. To sum up, this position is the perfect stepping stone towards my goal of becoming a successful restaurateur, and I am thrilled for this opportunity."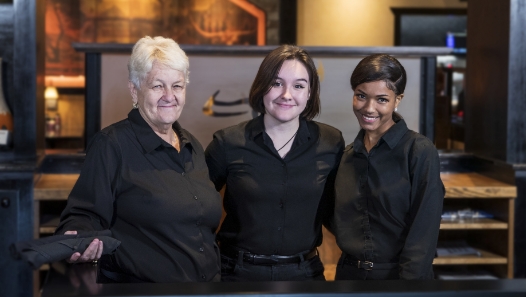 This question, while seemingly simple, serves a clear purpose. The hiring manager wants to gauge your ability to work with diverse teams, assess your communication skills, and understand your problem-solving capacity.
In short, they're trying to see if you'd fit into the awesome work family at LongHorn Steakhouse, where teamwork isn't just a nice idea, it's the secret ingredient to their success sauce.
In answering this question, it's crucial to highlight an instance where you actively contributed to a team's goal. More importantly, narrate the context — what was the situation and the ultimate objective? Then, share your specific role in the team, the strategies you applied to foster collaboration, and how you handled any conflicts that arose.
Finally, emphasize the result of this teamwork and what you learned from the experience. You might not have restaurant-specific experiences to share, and that's okay. Any team dynamics, even from school projects or community activities, can offer rich insights if positioned rightly.
Now, let's get ready to dive under the spotlight – it's showtime.
"Absolutely, I can share an example from my time as a shift leader in a fast-paced coffee shop. We had a power outage in the middle of a busy day. Our team had to quickly work together to find a solution as we had a cafe full of waiting customers. Since we couldn't use the coffee machines, I suggested we could promote the sale of our freshly made pastries and cold brew coffees. I delegated tasks to ensure smooth communication with our customers about the situation, and others took up the task of handling the modified orders. Despite the adversity, we surpassed the sales made during the same hours in previous days. It was a real testament to the power of teamwork and quick thinking. Given LongHorn Steakhouse's emphasis on teamwork, I'm excited to bring my collaborative skills to your restaurant."
Tell me about a time you had a disagreement with a coworker. How did you work to resolve it?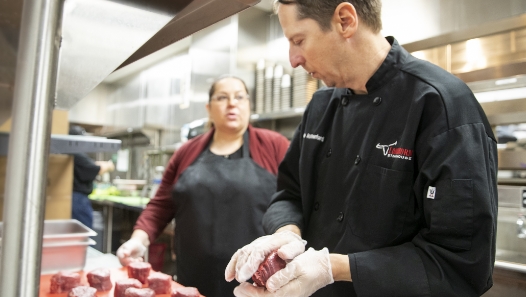 This is a common question asked during a LongHorn Steakhouse interview, and it allows the interviewer to gauge your interpersonal skills and problem-solving abilities. They want to see if you are capable of settling conflicts in a mature, constructive manner while preserving work relationships.
Nailing this question isn't as tough as it seems. All you need is a sprinkle of prep, and, of course, we're here to help. Remember to use the STAR (Situation, Task, Action, Result) method while crafting your answer. Paint a picture of the situation you faced and the role you played in it. Let them in on what steps you took to untangle the conflict and what happened in the end.
The whole idea is to show them that you're a good listener, a clear communicator, and above all, that you're willing to tweak and trim things a bit to find the best resolution.
Ready for the juicy part? Here's a sizzling example to flame-grill your response to this question at a LongHorn Steakhouse interview.
"During a busy Friday night shift at my previous restaurant, a coworker and I disagreed upon who should handle the larger tables, both of us feeling overwhelmed. Instead of letting this disagreement affect our service, I suggested a brief chat during our break. I communicated that by splitting the large tables evenly, we could manage our work without overburdening the other. My coworker agreed, so we implemented this solution that night itself. We noticed an improvement in not just our cooperation, but also our efficiency and the customer feedback was positive. We sustained this approach ongoingly and it even got adopted by other team members, leading to a more organized service overall at the restaurant."
What is your scheduling availability, and are you able to work evenings and weekends?
When you're answering this all-important question in your upcoming LongHorn Steakhouse interview, remember this: The hiring manager isn't just asking to double-check that you're a night owl or a fan of working weekends.
They're probing deeper into your commitment level, time management abilities, and how well you can adjust to the need for flexibility that often comes attached to jobs in the restaurant industry – like at LongHorn Steakhouse.
Don't let this deter you, though. In fact, take this chance to turn the tables in your favor.
We advise you first to find out their peak hours of operation and assess if you are realistically able to work those shifts. This will show the hiring manager that you understand the dynamics of the restaurant business and are prepared to contribute effectively.
Always remember, honesty is the key. Over-promising availability could lead to job burnout or letdowns when schedule conflicts arise.
So, now that we've primed you with these tips, let's paint a picture of how you might construct your response.
"While I am currently attending school in the mornings until 2pm, I'm fully available in the evenings and have open availability on weekends. I understand the importance of flexibility in the restaurant industry, and can accommodate fluctuating shift requirements. I'm more than willing to work during peak hours to help the restaurant run smoothly. However, I'd appreciate a predictable schedule overall, for which I assure to show my utmost commitment and dedication."
Could you confirm if you have reliable transportation to work?
The interviewer just wants to know that you can get to work on time and won't leave them in the lurch because your ride fell through. Being punctual and dependable is important to any place of work, and LongHorn Steakhouse is no exception.
In preparation to answer, first, take a moment to appreciate the straightforwardness of this question. They are not trying to trip you up, rather they are assessing the logistical aspect of your potential employment.
If you have your own private vehicle, that's great. But worry not if you don't. You need to ensure that your mode of transportation is reliable and will get you to your job consistently and punctually.
If you use public transportation, have the bus or train schedules handy. If you share a vehicle with someone, present a clear plan of how you'll manage it efficiently to maintain punctuality.
Be honest – if you foresee any issues, let them know and suggest possible solutions.
Let's turn this advice into a winning answer, shall we?
"Oh yes, I do have a reliable method of transportation. I own a personal vehicle which is well-maintained and reliable. However, I believe it's always good to have a backup plan. So in case of an unlikely event where my personal vehicle is unavailable, I live in an area that is very well-connected with public transportation. So, commuting to the restaurant won't be an issue. Plus, the LongHorn Steakhouse is just a 10-minute drive from my residence making it very accessible for me in any condition."
Questions to Ask the Interviewer in LongHorn Steakhouse Interview
Once you've navigated through the interviewer's questions about your background and skills, there's one final moment that can set you apart as a determined, curious, and motivated candidate. This is when the opportunity arises for you to turn the tables and ask questions.
An interview is not just the company assessing your suitability, it also allows you to evaluate if this is the right place for you to thrive and grow. So, when asked if you have any questions, they are gauging not just your interest in the role, but also in LongHorn Steakhouse. Reflecting on this question even before you step into the interview will give you an edge over others.
Now, you might be wondering what you can ask that portrays you in a positive light. To take the guesswork out of this equation, here is a meaty list of questions you can ask your LongHorn Steakhouse interviewer.
Can you share more about your management style and company culture?
What kind of growth opportunities are available within the company?
How does LongHorn Steakhouse plan to evolve in the next five years?
Could you tell me about the team I would be working with?
How would my success in this role be measured?
What are the challenges this restaurant faces currently?
What are the qualities of your most successful employees?
What does a typical workday look like for someone in this role?
How does LongHorn Steakhouse encourage learning and personal development?
What is your favorite thing about working for LongHorn Steakhouse?
How has the company adapted to recent trends in the restaurant industry?
What is the main thing you would like to see accomplished by the person in this position?
How does this restaurant give back to the community?
What sets this location apart from other LongHorn Steakhouses?
Where do you see the greatest opportunity for growth within the company?
What has the turnover rate been in this position?
How do you promote diversity and inclusion within the team?
What are the next steps in the hiring process?
LongHorn Steakhouse Hiring Process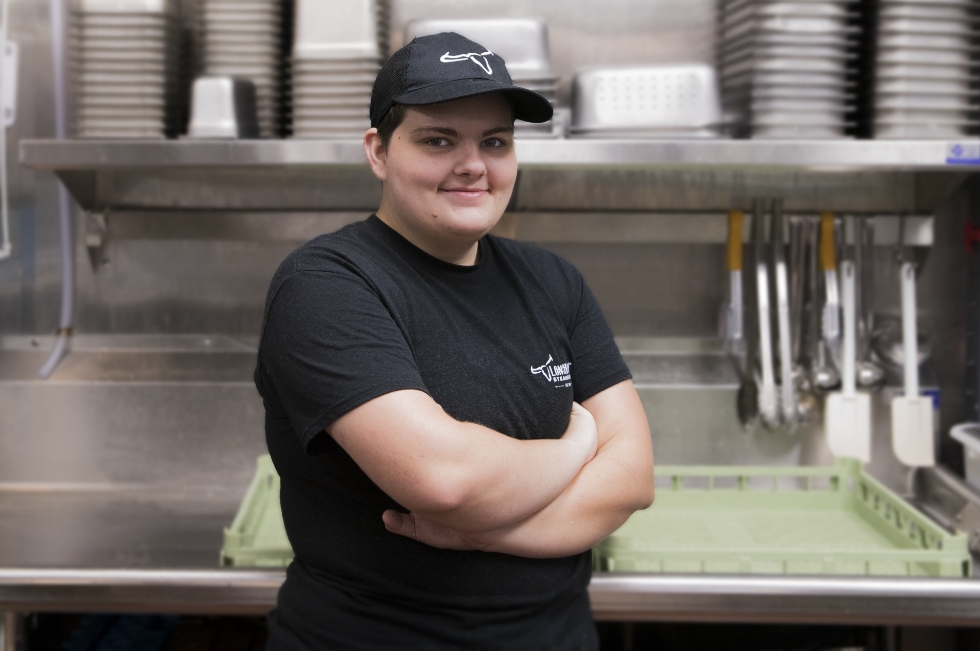 Applying for a position at LongHorn Steakhouse is easy when you know what to expect. Here's a step-by-step overview of the LongHorn Steakhouse hiring process so you can ace your interview and land the job.
First, submit an application online on the careers website or apply in person at your local restaurant. Be sure to attach an up-to-date resume highlighting your serving experience.
Within a few days, you'll likely get a call or email from a LongHorn manager to schedule an initial interview.
At the first interview, you'll meet with the server manager to discuss your skills and experience as a server. They'll want to learn about your availability, communication abilities, and overall fit for the role. Bring your warm personality, share examples of great customer service you've provided in past jobs, and convey your enthusiasm for the brand.
If all goes well, you'll be invited back for a second interview with the general manager. This is your chance to learn more about day-to-day operations, LongHorn culture, and expectations for servers. Be prepared to answer situational questions and talk about salary requirements. With an engaging, can-do attitude, you'll likely walk away with a job offer on the spot.
Once hired, complete new hire paperwork like tax forms and attend orientation. Then you'll start hands-on training to learn LongHorn standards and menu offerings.
LongHorn Steakhouse Interview Tips
In your LongHorn Steakhouse interview, be ready to speak in detail about your schedule availability, serving knowledge, and why you want to work for LongHorn specifically. Make sure to highlight any serving, hospitality, or customer service experience you have on your resume. Have a positive attitude, smile, and emphasize your reliability and ability to learn quickly. Share examples of times you went above and beyond for customers or worked well with others.
What to Wear to LongHorn Steakhouse Interview
As you prepare for your job interview at LongHorn Steakhouse, one of the most essential factors to consider is what to wear. Like they say, "Dress for the job you want," and it's no different when it comes to interviews. But what does that mean exactly? Put simply, it's a practice that calls for you to mirror the company's dress code in your interview attire.
The dress code at LongHorn Steakhouse is a black shirt, black slacks or pants, black socks, and black non-slip shoes. Visible tattoos and a small facial or tongue piercing are permissible. However, the ball or stud for facial piercings must not be larger than the post, and hoops or barbells aren't acceptable.
With this understanding, let's discuss what you should wear to your interview based on the role you're applying for.
For Dishwasher, To Go Specialist, Host, Server, Bartender, Prep Cook, Line Cook roles, which are the backbone of the restaurant, opt for a casual or business casual outfit. Gentlemen, a nice pair of khakis or dark jeans, coupled with a clean, collared shirt or polo will do the trick. For ladies, a skirt or slacks combined with a blouse or sweater would work perfectly.
If you're applying for the restaurant manager position, business casual outfit is the sweet spot. Men, consider a pair of dress pants, a button-down shirt, and a pair of clean dress shoes. A tie or jacket can be a great addition but is not strictly necessary. Women, a nice dress, skirt and blouse, or well-tailored pantsuit would be ideal.
For those of you aiming for corporate office positions, you'll want to lean more towards business formal attire. This is where your sharp suit, crisp shirt, and polished shoes come into play, gentlemen. Ladies, a suit, a professional dress, or a skirt and blouse combination paired with closed-toe shoes would be ideal.
Conclusion
In wrapping up, keep in mind that knowledge is power. By familiarizing yourself with the most frequently asked interview questions at LongHorn Steakhouse, you've just gained a leg up on the competition. You're no longer merely a job seeker but a candidate who can anticipate the dialogue and confidently articulate your dynamic qualities. Stand tall in the knowledge that you've done the preparatory work to showcase your best self.
But remember, you should never rest on your laurels. Even if your interview with LongHorn Steakhouse went excellently, continue to showcase your ambitious mindset by pursuing other opportunities. Think about other restaurants and steakhouses similar to LongHorn Steakhouse, such as Outback Steakhouse, Texas Roadhouse, and Morton's. They value the same set of skills and could offer an equally engaging work environment.
By casting a wider net, you broaden your chances of landing that quintessential role that syncs perfectly with your goals. Your preparedness and relentless determination will eventually yield the rewarding career you've been striving for. Keep hustling, the world is your oyster!