27 Chick-fil-A Interview Questions (With Perfect Answers)
The interview is here at last – your chance to land that dream job at Chick-fil-A. You've wanted to work there for as long as you can remember, ever since those memorable family trips to the restaurant as a kid. The smell of freshly fried chicken still makes you smile, remembering how happy you felt with a cup of lemonade in one hand and a cookie in the other.
Now that possibility is within your reach, but don't blow this opportunity by being unprepared. You need to know exactly what to expect from the interviewers and have examples ready to highlight your fit for this role. The questions they ask will say as much about your passion and enthusiasm for the job as they will about your experience. Be ready to win them over with your knowledge of Chick-fil-A's mission, values, and commitment to service.
This blog post contains the questions most commonly asked in Chick-fil-A interviews, along with authentic examples you can use to express your passion. Read carefully, learn from the insights, and prepare yourself fully.
When you walk into that interview, know that you did everything possible to land that job. With the right preparation, that Chick-fil-A role could soon be yours. Now get researching – your future here depends on it!
Chick-fil-A Company Information
| | |
| --- | --- |
| Trade Name | Chick-fil-A |
| Type | Fast Food Restaurant Chain |
| Date Founded | May 23, 1946 |
| Founders | S. Truett Cathy |
| Headquarters | Atlanta, Georgia, United States |
| Menu | Chicken Sandwiches, Nuggets, Strips, Wraps, Salads, Breakfast Items, Sides, Desserts, Beverages |
| Signature Items | The Original Chick-fil-A Chicken Sandwich, Waffle Potato Fries |
| Number of Locations | 2800+ |
| Core Values | Serving Others, Fostering Teamwork, Being Purpose-Driven, Embracing Innovation |
| Website | www.chick-fil-a.com |
| Competitors | McDonald's,  KFC, Popeyes, In-N-Out, Wendy's, Church's, El Pollo Loco |
Additional facts:
Established in 1946 by the visionary S. Truett Cathy, Chick-fil-A has humble beginnings as the Dwarf Grill in Hapeville, Georgia. The fast-food giant has come a long way from its modest roots, shaping the taste buds of America for generations.
In 1961, Truett Cathy hit upon a culinary goldmine by inventing the original Chicken Sandwich, a simple yet scrumptious recipe. This iconic sandwich continues to be the star attraction of the Chick-fil-A menu, adored by millions across the nation.
The Chick-fil-A name is derived from the comparison of chicken breasts to a beef fillet, with the capitalized "A" symbolizing the highest quality food. With a storied history and a bright future, Chick-fil-A continues to win the hearts of fast-food lovers across the nation.
Chick-fil-A is proud to serve a delectable variety of menu items, with options including salads, wraps, and nuggets. There's something to tantalize every taste bud, from the health-conscious to those seeking a comforting meal.
Chick-fil-A is known for its commitment to quality ingredients and suppliers, ensuring that every meal is crafted from the freshest produce and highest-grade poultry. They stand firm in their dedication to a "No Antibiotics Ever" policy, setting themselves apart from competitors.
A testament to the company's strong Christian roots, Chick-fil-A remains closed on Sundays, a tradition that has been in place since its founding. This practice reinforces the importance of work-life balance and allows employees to spend time with their families and communities.
Chick-fil-A has an unwavering commitment to giving back to the community, demonstrated by their various charitable initiatives. The Chick-fil-A Foundation focuses on youth and education, providing scholarships and supporting programs that instill leadership skills and values in young people.
Emphasizing the importance of family connections, Chick-fil-A hosts an annual Daddy-Daughter Date Night at many of its locations. This heartwarming event, typically held in February, encourages fathers to spend quality time with their daughters, creating precious memories over a shared meal.
The famous Chick-fil-A sauce, a unique blend of honey mustard, barbecue, and ranch flavors, was accidentally created in the 1980s by a franchise operator in Fredericksburg, Virginia. Today, this legendary sauce is a fan favorite, adding a burst of flavor to countless meals.
Chick-fil-A Mission Statement
To be America's best quick-service restaurant at winning and keeping customers.
Chick-fil-A Interview Questions
Can you please tell us about yourself and your hobbies?
This open-ended question is a chance for you to shine and convey your enthusiastic and friendly personality to the interviewer. They want to get to know you beyond just your work experience and see if you're the type of person who would thrive in a customer service role at Chick-fil-A.
Stack the odds in your favor by practicing your answer ahead of time. Highlight what makes you unique and remember to keep things positive.
 By revealing your passion for serving others, you'll give the interviewer insight into why Chick-fil-A would be more than just a job to you.
"I absolutely love interacting with and helping people. In my free time, I volunteer at an animal shelter where I walk dogs and play with cats to help make them more adoptable. I also coach a kids soccer team at my local YMCA on weekends. Making a positive impact on others' lives brings me a tremendous amount of joy and fulfillment. I hope to continue doing just that as a team member at Chick-fil-A, delivering exceptional experiences to each and every customer."
Why do you want to work for Chick-fil-A?
This question is designed to test how #TeamChickFilA you are. The interviewer wants to see your fire and passion for delivering an unparalleled customer experience.
To ace this, do your research on what makes Chick-fil-A so beloved. Craft a answer that has the interviewer shouting "This candidate is ready to serve!"
 Imagine breathing life into Chick-fil-A's purpose with every interaction.

"I want to work for Chick-fil-A because I believe in transforming lives and communities through memorable acts of service. As a Chick-fil-A team member, I would arrive at each shift pumped and primed to spread happiness with every smile, greeting, and meal. I'm obsessed with Chick-fil-A's mission to inspire hope and bring people together. Chick-fil-A feels like a second family where I can achieve my dreams, develop my talents and make a huge impact inspiring others through over-the-top hospitality. This is my opportunity to pursue a passion that fuels me. I hope to strengthen Chick-fil-A's loyal community through heartfelt service and crazy delicious food for years to come as a proud member of Team Chick-fil-A! Chick-fil-A has my heart, and I'm ready to serve!"
This question is your big chance to shine! The interviewer wants to see if you have the heart of a Chick-fil-A team member. Do you embrace the values that make Chick-fil-A known for service with a smile? Are you ready to spread kindness wherever you go?
To knock this question out of the park, tell a story of going above and beyond for someone else recently. Share how you #LemonadedLife and turned a simple situation into a truly meaningful experience. With the right tale, you'll convey your passion for people in a way numbers never could.
One small act of service can speak volumes about your heart and passion for people.
"For example, when I noticed an elderly couple struggling to carry their groceries to their car in the parking lot, I quickly rushed over to help them load their bags into the trunk, then offered to help carry anything else to their car. What started as a simple good deed turned into a delightful 10-minute conversation where I learned all about their sons who are often deployed overseas and the pride they felt as grandparents. My small act of kindness not only brightened their day but strengthened my own sense of purpose and reminded me of the profound impact we can have through compassion and care."
Can you tell us about a personal challenge you've faced in your life, how you overcame it?
Don't stress over this question – you've got this! The interviewer isn't looking for a perfect obstacle, just an authentic struggle you persevered through.
Share a battle scar that made you stronger, not one that left you defeated. When adversity strikes, choose growth. Whenever times get tough, remember that challenge is only temporary – but the grit you build is forever.
"My biggest victory? Conquering calculus, of course! At the time, I felt overwhelmed and underprepared, questioning whether I had made a mistake in my course selection. But instead of giving up, I visited my professor during office hours, formed a study group, and practiced problems from old homework sets. While the material was still challenging, developing that growth mindset helped me persevere. Earning an A in that class taught me the power of persistence and believing in myself, even when things seem impossible. "
Just like a muscle, courage is built through consistent effort over time. Share how you strengthen yours through struggle, emerge stronger on the other side. Remind them that you don't back down when the path forward seems difficult. That you forge on, undaunted, relentlessly moving closer to your goals each and every day.
What do you believe are your strengths and weaknesses?
The infamous strengths and weaknesses interview question is a chance to dazzle the hiring manager with your self-awareness and passion for the work. Don't bore them with generic platitudes, instead craft an answer that shows why you're Chick-fil-A material.
The interviewer wants to find out if you have a balanced and realistic view of yourself. Don't dwell on generic strengths like "hardworking" or "fast learner", instead share a few authentic strengths that make you a great fit for a Chick-fil-A crew member.
As for weaknesses, don't apologize for them, instead frame them as opportunities for improvement by exploring ways to build on existing skills. With preparation, you'll find the perfect answers to impress the interviewer.
"My top strengths are my positive can-do attitude, ability to form genuine connections, and willingness to do whatever it takes to get the job done right. My weakness is sometimes saying yes when I should say no. But I'll work weekends if needed to catch up, ask a hundred questions if one will do it, and perform any task with a smile on my face and love in my heart. My coworkers can count on me to jump in and assist in any role as needed, from greeting guests and fulfilling orders to running deliveries and closing up shop. I'm eager to grow into whatever responsibilities will help this restaurant excel and build the beloved brand Chick-fil-A is known for."
What are your goals for the next five years, and how does working at Chick-fil-A fit into those plans?
Are you ready to launch your dreams? Chick-fil-A wants to help make that possible.
When the interviewer asks this question, they aren't just making small talk. This question is a chance to unveil your blueprint for success and inspire confidence in your future potential.
To answer like a pro, craft a vision so compelling it leaves no doubt – you were born to build a career at Chick-fil-A. Picture yourself thriving in a fast-paced, customer-focused environment where you'll develop skills that transform lives. Envision stair-stepping into management and beyond, growing your team, and growing the business.
See yourself gaining experience that can't be learned in a classroom, evolving into a leader others aspire to become. In five years, imagine emerging from this role as a force to be reckoned with in the restaurant industry.
Now, look them in the eye, stand up straight, and say:
"My goals are big, and at Chick-fil-A, I've found the place to make them a reality. Over the next five years, I aim to advance into a restaurant manager position and beyond, gaining the experience required to eventually take on a multi-location franchise. Chick-fil-A is building leaders, not just employees, and I want in. I see a bright future for myself and many opportunities for growth within your system. My time at your company will transform me, prepare me, and set the foundation for me to build a career as successful as Chick-fil-A itself. This is only the beginning!"
In your opinion, what is the key difference between a leader and a manager, and which role do you think is more crucial for a successful Chick-fil-A restaurant?
The interviewer is really asking if you have the vision and passion to lead teams to new heights, or if you're happier maintaining the status quo. Leaders inspire change, while managers stabilize systems. They want to see that you understand the unique responsibilities of each role and can demonstrate how those insights would benefit Chick-fil-A.
By articulating a thoughtful, strategic answer, you'll make a strong first impression and highlight your passion for Chick-fil-A's mission.
"Leaders inspire and motivate, while managers implement and organize. As a leader at Chick-fil-A, I would empower associates to provide extraordinary customer service through shared purpose and clear vision. Managers maintain day-to-day operations, ensuring efficiency and accountability, but leadership is far more impactful, shaping the culture and driving business results. Chick-fil-A needs inspiring leaders, not just competent managers, to achieve continued success and better serve their communities. Ultimately, leadership is the foundation upon which a thriving restaurant is built."
You see what we're getting at here? This question is a chance to tell Chick-fil-A why you're fit to lead their mission and teams to unprecedented success. So believe in yourself, ensure every word rings with passion, and remember – leadership makes dreams take flight.
What does teamwork mean to you, and can you provide an example of when you contributed to a team?
Want to deliver a home run in your Chick-fil-A interview? Showcase your teamwork superpowers! The interviewer is asking for an insightful example of how you work with others to achieve amazing results.
To knock this out of the park, you need to provide a genuine example of teamwork you have demonstrated, not just general phrases about the importance of teamwork.
Say something like:
"Teamwork means working together with a shared purpose and mutual support to achieve goals and thrive as a collective. Effective teamwork involves bringing out the best in each member by valuing individual strengths and utilizing them for the good of the team and, ultimately, the customer.
As part of the opening shift crew, we worked seamlessly together to ensure the restaurant was ready to welcome customers during our busiest time of day. I took initiative to have the lobby thoroughly cleaned, the condiment stations fully stocked, and the breakfast sandwiches prepped ahead of time to save time during the lunch rush. My manager recognized how my proactive work helped the team move faster and provided an even better experience for our customers. Building that cohesive team dynamic and delivering a memorable experience for customers is what I aim to do at Chick-fil-A as well."
What do you think sets Chick-fil-A apart from other fast-food restaurants?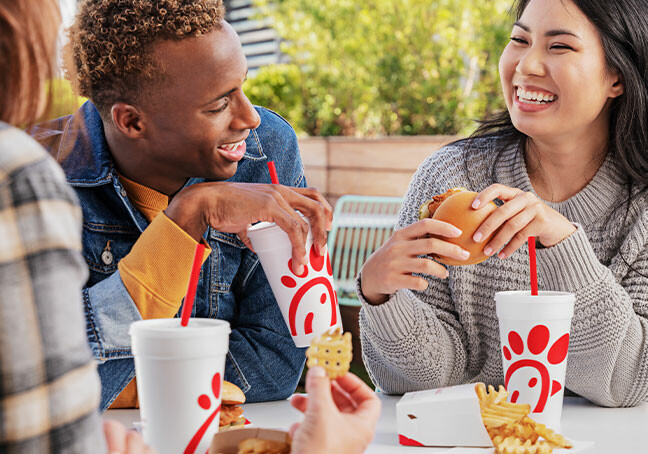 This question is meant to assess how well you understand Chick-fil-A's brand and values. The interviewer wants to hear what specifically sets Chick-fil-A apart and makes it unique.
To truly shine while addressing this interview question, think about Chick-fil-A's mission, customer service philosophy, and corporate culture. Consider key differentiators that distinguish Chick-fil-A from competitors and craft your response around these key points.
"Chick-fil-A's remarkable commitment to hospitality, quality, and community spirit is unparalleled in the fast food industry. Whether it's the friendly team members, the fresh and delicious food, or the welcoming atmosphere, every detail is thoughtfully designed to provide a memorable experience for every guest. Chick-fil-A uses the highest quality, freshest ingredients to prepare simple, classic meals that are crave-worthy and crave-inducing. Above all else, Chick-fil-A aims to make a positive difference in people's lives and communities through thoughtful service and meaningful connections."
How would you handle a situation where a team member is not following policies and procedures?
This tricky question is designed to see if you've got the leadership skills to wrangle a rebellious team member and steer them back on course. Don't sweat it, we've got your back!
The interviewer wants to see how you would address the situation promptly and professionally while still maintaining a positive attitude. One wrong move could damage team morale or reflect poorly on you as a leader.
"If I discovered a team member was not adhering to our procedures, I would first have a private and constructive conversation with them to understand the reasoning behind it and see if there are any opportunities for additional training or support. I believe in transparency and second chances. If the behavior continued after clarifying expectations, I would bring the issue to my manager's attention while proposing a corrective action plan. As a leader, it is my responsibility to set clear guidelines, enforce them fairly, and work with my team to resolve any problems. Chick-fil-A's vision and values would remain my top priority throughout the process."
Picture this – it's your interview at Chick-fil-A, and the big moment has arrived. The interviewer leans forward, looks you in the eye, and asks, "So, what's your favorite item on our menu and why?" This isn't just any question, this is THE question.
The answer will make or break your chances of wearing that iconic Chick-fil-A Cow apron. You've got to knock this out of the park!
"The Chick-fil-A Chicken Biscuit. Every bite is pure comfort and joy. The flaky, butter-infused biscuit perfectly housing a juicy, tender all-white meat chicken breast is a taste bud explosion I never tire of. The sweet, tangy Chick-fil-A sauce cascading over the top with each bite adds the perfect finishing flavor kick to transport me back home with every savored chewing experience. For me, the Chick-fil-A Chicken Biscuit is a reminder of home, community, and the little moments that make life sweet each and every day. That is why it is my favorite Chick-fil-A menu item."
How would you describe your work ethic, and how do you believe it will contribute to Chick-fil-A's success?
This question is your chance to show them you're the dynamic, results-driven teammate they're looking for at Chick-fil-A.
Here's how you'll ace it: Convey a fired-up work ethic that matches Chick-fil-A's mission and values. Talk about bringing 110% every shift, going that extra mile without being asked, and continuously finding ways to boost success. Give vivid examples of exceeding expectations while spreading positivity. When you speak, make it clear that you don't just meet standards – you smash them every time.
Knowledge is power, so here's an example answer that will land this job in the bag:
"My work ethic is to do whatever it takes to get the job done right. I believe that Chick-fil-A's success depends on providing an unmatched customer experience and I will tackle each task, no matter how small, with that goal in mind. Whether greeting customers with a smile, preparing food with care, or cleaning thoroughly, I approach everything I do with a positive 'this is my job to do well' attitude. I don't clock in and out, I'm always looking for ways I can contribute to improving processes, helping colleagues and enhancing the experience of each customer. That mindset has helped me exceed expectations in my previous roles, and I would bring that very same dedication and results-driven work ethic to benefit Chick-fil-A's success."
To answer this common interview question effectively, you need to show how you are adaptable to change while maintaining a positive attitude.
The interviewer wants to see how well you can handle transitioning to new ways of doing things at work. By sharing a thoughtful example of adapting to a policy change, you demonstrate your flexibility and team spirit.
With this in mind, here is how you can craft the perfect answer:
"One time at a restaurant, the manager implemented a new customer feedback policy to improve service. We had to gather feedback from customers and team members to identify areas for improvement. Even though some procedures changed as a result, I recognized this was for the greater good of providing excellent experiences. I worked with my team to ensure we understood the new policies thoroughly before rolling them out to the entire staff. Despite the adjustments, we saw customer satisfaction soar as a direct result of the changes. It was rewarding to be part of creating a better approach and see the positive impact it made."
How would you maintain a positive attitude even during busy periods or stressful situations?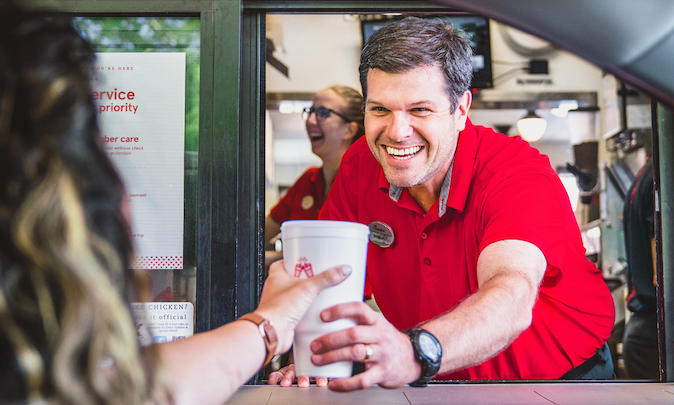 Picture this: It's just another busy Sunday at Chick-fil-A. The line is out the door, customers are impatient, equipment is malfunctioning, and half your staff just called out sick. Panic starts to set in as frustration mounts, but WAIT—this is your chance to shine!
This is the moment the interviewer wants to see. How will you rise above the chaos and keep that positive Chick-fil-A attitude? When everything seems broken, your solution-focused smile and "can-do" spirit will make all the difference.
"Whenever issues come up, I say, 'Okay, how are we going to make this work?' rather than complaining about the problems. My goal is to provide the best experience possible for every customer, no matter the obstacles. I find positive solutions by looking for ways to simplify and streamline wherever I can. Whether I'm handling back-to-back orders, dealing with equipment malfunctions, or staffing shortages, my approach never wavers. I smile, make eye contact, and ask 'what else can I do to help?' Maintaining a positive attitude is absolutely key to success in the fast-paced environment at Chick-fil-A. When one door closes, I find another way in – and keep that friendly, can-do spirit alive for the benefit of our guests and team."
This question is really about showing how you're able to stay positive under pressure and go above and beyond for every customer. The interviewer wants to see your "can-do" attitude in action.
Some tips for navigating this interview question like a pro:
Share real stories of complex issues you resolved with a positive attitude. Bring those stories to life with dynamic language and emphasize the good outcomes.
Discuss how you evaluate issues empathetically to understand root causes before crafting creative solutions. Explain that you thrive under pressure to make things right.
Highlight your ability and passion for delivering over-the-top customer service consistently, even when facing unreasonable demands or difficult customers.
Emphasize that challenges are chances to build lifelong relationships by exceeding expectations and making people smile.
Express excitement at the prospect of collaborating with an amazing team to break records and create legendary customer experiences each and every day.
Here's how you can swagger into this question:
"For example, I remember a particularly difficult interaction with an irate customer who felt we ruined her special birthday meal. Rather than arguing or making excuses, I apologized sincerely, and offered a refund and a FREE meal on her next visit. I also arranged a complimentary dessert and sang 'Happy Birthday.' By the end of our conversation, she was happy again and even left a warm note for my manager praising my approach. Facing challenges head-on while boosting the customer experience is exactly what I stand for."
Is there any reason you would not be able to lift and carry up to 65 lbs frequently or work on your feet for long shifts?
Don't worry, they aren't really asking if you're physically fit enough to join the Olympic weightlifting team!
This question is just to make sure you've got the stamina and strength to handle the essential job functions of a crew member without issue. As long as you live an active lifestyle, the occasional 65 lb lift or 8 hour shift on your feet will be a breeze.
Nevertheless, it is important that you give an honest yet tactful answer. Telling the interviewer you have a condition that prevents you from doing the job is better than being hired under false pretenses.
You could confidently reply:
"I may not be the Incredible Hulk, but I stay in great shape through my running training and have no problems handling weight or being on my feet for long periods. The only thing that might slow me down is the occasional chocolate shake! Seriously though, I've completed several half marathons this year, and my doctor says I'm as fit as a fiddle. Most days, I'm up and moving for 12 hours straight between work, exercise, and life's adventures. A typical Chick-fil-A shift would be a walk in the park for me. I know I could jump right in and get to work!"
Chick-fil-A asks team members to multitask, act quickly while also being thorough and accurate. How would you achieve this balance and ensure high quality work and service in a fast-paced environment?
As a Chick-fil-A candidate, you'll need to be ready to effectively balance speed and thoroughness. When this query comes your way, here's how you'll ace it.
To convince the interviewer you're the ideal team member for this role, you'll need to highlight realistic strategies you already implement.
For example,
"I thrive under tight deadlines and high expectations because I've perfected the art of 'efficient excellence.' I create detailed checklists and schedules to keep me on track while also remaining flexible and willing to pivot as needed. Whether taking dozens of orders during the lunch rush or carefully preparing food with the utmost care and accuracy, I leverage my ability to concentrate fully on the task at hand while also maintaining awareness of the bigger picture. Chick-fil-A customers can always count on me to get it right the first time, every time, no exceptions."
How long do you envision yourself working with Chick-fil-A?
This question is a golden opportunity to sell yourself as the perfect long-term employee and future leader at Chick-fil-A. The interviewer wants to ensure you see Chick-fil-A as a long-term career move, not just a temporary job.
Envision a passion-filled career where you transform lives through each delicious chicken sandwich. Picture progressing from team member to team leader to general manager, helping new hires realize their full potential along the way.
Ultimately, the ideal answer shows you have done your research on Chick-fil-A's culture and growth and see a bright future for yourself within the organization.
For example,
"I envision building a long and successful career at Chick-fil-A, ideally over the next 5-7 years. Chick-fil-A's purpose inspires me to be the best version of myself each and every day. I aim to grow with this company for years to come, just as it grows with the millions of communities it serves. I see tremendous opportunities for growth within a company that promotes from within, and I hope to eventually take on more leadership responsibility to help shape the future of this fast-pledged, dynamic organization. My goal is to dedicate the next decade and beyond to achieving new milestones together. Chick-fil-A feels like family, and that's the kind of long-term commitment I'm looking to make."
Are you willing to perform various tasks, including cleaning public restrooms, as part of your role at Chick-fil-A?
This question is testing your dedication to excellence and willingness to go above and beyond. The interviewer wants to ensure you have the right mindset and drive to keep Chick-fil-A clean, safe, and spotless while delivering great customer service each and every day.
This opportunity requires commitment, so think carefully about your answer. When they ask if you're willing to clean restrooms, don't hesitate – say yes! After all, cleaning thoroughly is how you'll ensure guests encounter a sparkling clean space.
"Absolutely, I'd be happy to clean restrooms or assist with any other task needed to keep this restaurant running smoothly. Chick-fil-A's values are rooted in serving with a smile, and I don't mind getting my hands dirty to help achieve that goal. Whether it's mopping floors, washing windows, or deep cleaning bathrooms, I'm able and eager to do whatever is required to help create a welcoming environment where our customers feel valued."
How would you handle stressful situations at Chick-fil-A, such as long lines of customers or a busy rush?
Don't panic. The interviewer isn't throwing you into the deep end – they're testing you. They want to see if you have what it takes to keep your cool under pressure and deliver knockout customer service, even when chaos erupts around you.
By understanding their goals and preparing examples of how you've thrived in similar circumstances in the past, you'll be ready to impress the interviewer.
"As a crew member at a similar restaurant, I quickly learned how to stay solutions-focused even when faced with impatient guests and a mile-long line. I've navigated shifts where the line seemed endless, and every minute felt like an hour. But here's the secret: My guests left smiling because I never stopped smiling. Whether helping a family find available tables, cheerfully hurriedly taking orders, or finding a way to make every meal extra special, each guest received my full attention and enthusiasm. Stress is only stressful if you let it stress you out. I chose to embrace the adrenaline, rally my team and turn it into a fun challenge. Keeping a positive attitude and solutions-oriented mindset became second nature, and now stressful situations no longer faze me – they simply inspire me to rise to the challenge!"
How would you remain calm and composed while interacting with an angry or irate guest?
The interviewer is assessing your ability to remain professional, composed, and service-oriented even when interacting with an angry or upset guest. They want to ensure you can defuse tense situations and meet the guests' needs despite their emotional state.
Here's the secret to dealing with any angry guest: stay professional, not personal.
Remember that the guest's anger is rarely about you. Stay focused on listening, validating their concerns, and resolving their issues, not their hostility. Speak in a calm, caring tone. Make eye contact, listen actively, and validate their feelings. Say, "You're absolutely right. I understand why you feel that way." Take responsibility on behalf of your team and do whatever it takes to remedy the situation.
Before you know it, that same furious customer will be thanking you for your excellent service. And when that happens, you'll realize the interviewer knew exactly what they were assessing with that question. They'll see your potential to turn grim faces into bright smiles through your integrity, empathy, and dedication to the perfect Chick-fil-A experience.
'If an irate diner came yelling about undercooked fries and poor service. I'd meet their fury with confidence, looking them in the eye and saying, "I apologize for ruining your experience today. Let me make it up to you." Then, I'd get to work, personally ensuring a fresh, hot meal and cold, crisp coke. Sometimes, that's all angry customers really want. I will speak in a calm and caring tone, making eye contact, nodding, and saying 'I understand.' I will ask questions to ensure I fully grasp the issue, then take responsibility and apologize on behalf of the restaurant."
Can you give me an example of a time you received constructive criticism, reflected on it, and made adjustments to better your performance or results?
The purpose of this interview question is to assess how you handle feedback and make improvements. The interviewer wants to see that you can listen to constructive criticism objectively, maintain a positive attitude, and use the feedback to enhance your performance.
Some tips for answering? Take time to thoughtfully recall an actual experience, be specific about the feedback given and how you responded, and emphasize the meaningful ways in which you grew personally and professionally as a result.
You flash a warm smile, lean forward, and begin to weave a tale of transformation that leaves them nodding along, already envisioning you as a key player on their team.
"As a crew member at a family-owned restaurant, I consistently aimed to provide the best possible customer experience. After six months, my manager requested a meeting to discuss some recent feedback from customers about me being 'indifferent' in my service. I was taken aback but recognized the feedback as fair and helpful. I asked for specific examples and ways I could improve. She gave several concrete suggestions, and we developed an ongoing coaching plan so I could apply what I learned immediately. A couple of months later, during another meeting, my manager expressed how pleased she was with my progress and improvement in customer service. I had internalized the feedback and made it a habit to greet each customer warmly, make eye contact, smile, and use an enthusiastic and helpful tone. The feedback that was initially difficult to receive ended up shaping me into a stronger, more empathetic team member. The results of this experience prove that with reflection and action, even constructive criticism can be leveraged into tremendous growth."
How would you take initiative to improve processes, provide helpful feedback to team members, and recommend new ideas to leadership? Give me an example of a constructive suggestion you've provided in the past.
Want to land that dream job at Chick-fil-A? You gotta nail that interview question about improving processes, developing your crew, and pitching fresh ideas to the bigwigs.
This question is designed to assess your leadership potential and propensity for action. The hiring manager wants to see that you think proactively and strategically about improving processes, developing team members, and effectively implementing new ideas.
"I once analyzed the workflow of our drive-thru staff and found we could decrease wait times by 25% if we reorganized responsibilities and cross-trained team members on complementary tasks. I presented a proposal to leadership with charts and graphs showing the impact, and they approved a pilot program in select locations. Based on the success, the redesigned processes were implemented company-wide, improving customer experience and employee morale."
Do you have a reliable mode of transportation to and from work at Chick-fil-A?
What's the deal with this transportation question anyway? The interviewer wants to make 100% sure you'll actually show up for your shift, duh. Don't just give the make and model of your ride, paint a picture! Give the details that will convince them your set-up is bulletproof.
To ace this question, be prepared to provide details on the make, model, year, and mileage of your vehicle as well as any public transit options you intend to use. With the proper information, you'll convey confidence and competence.
Here is an effective answer:
"I have a very reliable 2009 Toyota Camry with only 85,000 miles on it. I've owned it for over five years, and it's never left me stranded. I also live close enough to work that I may bike on nice days or use public transit as a backup option if needed. My mode of transportation is extremely stable and will absolutely not be an issue."
What is your availability for working at Chick-fil-A, including days and hours?
The interviewer is really gauging how dedicated and reliable you'll be as an employee. So when they ask about your availability, don't just list off some hours, bring your A-game! Talk about your flexibility, your enthusiasm, your passion for the work.
You can say something like:
"My availability is extremely flexible and unlimited. I live and breathe Chick-fil-A's core values, and I promise I won't just meet the minimum, I'll exceed it in every way. Whether it's opening the restaurant, closing up shop, or working weekends, just tell me what needs to get done and I'm there, ready to get to work. I have no constraints on my time and I'm fully committed to providing the best customer experience possible during every single shift."
What do you know about Chick-fil-A's values and mission, and how do you see yourself contributing to them?
This question is specifically designed to assess how well you understand Chick-fil-A's core values and mission, and how dedicated you are to upholding them in your role.
To ace this question, do your research ahead of time and learn Chick-fil-A's mainstream values inside and out. Gain a deep, personal understanding of why they're important and how you can bring them to life each and every day. With authentic examples, explain how you're a perfect fit for their culture and purpose.
"Chick-fil-A's purpose, 'To glorify God by being a faithful steward of all that is entrusted to us,' guides everything I do. I seek to honor God in my work, treat every customer with courtesy, respect and dignity, and help them find joy in every meal and experience. Chick-fil-A's core values of service, teamwork, purpose, and growth-oriented progress are my personal values as well. I will contribute to these values through leading by example, working tirelessly as part of a team to achieve company goals, doing the right thing even when no one is watching, and striving to always give my best effort. 
Chick-fil-A's advertising slogan is 'Eat Mor Chikin,' and I aim to help share that message and serve that food with a smiling face and winning attitude every and every day. I was created by God to serve others, and that is exactly what I seek to do at Chick-fil-A."
If you were to be hired, when would you be able to start working with us at Chick-fil-A?
This question is designed to assess your availability and enthusiasm to start working for the company. The interviewer wants to know if you have any commitments preventing you from beginning employment right away.
With the right approach, you can nail this question and land that coveted Chick-fil-A gig. The secret is expressing your eagerness to dive in while also guarding your flexibility. Be inspiring in your interest but realistic in your availability.
"As an eager and available candidate, I would be ready to dive right in and learn the ropes the moment I receive an offer. That said, I have a few loose ends to tie up in my current role that I want to handle professionally before fully transitioning to Chick-fil-A. If offered the position, I would aim to start within 1 week to accommodate this transition while still getting up to speed quickly. I look forward to becoming a vital part of the team and achieving great things for the company as fast as possible. Please let me know if this start date works with your timeline or if any additional flexibility may be available. I am committed to making this work for both of us."
Questions to Ask the Interviewer in Chick-fil-A Interview
When the interviewer asks if you have any questions for them at the end of your Chick-fil-A interview, this is your chance to shine. Don't just say no or stare blankly—this is an opportunity to demonstrate your enthusiasm and initiative.
The question is not meant simply to be polite. The interviewer wants to see how interested and engaged you are in the role, team, company goals, growth opportunities, and more. Do you care about succeeding and advancing in your career at Chick-fil-A? Are you eager to hit the ground running or willing to learn to improve and develop your skills? Asking insightful questions shows all of this and more.
We want to empower you with some thoughtful questions to ask your Chick-fil-A interviewer. These questions cover reasons for the role, key responsibilities, challenges of the position, company priorities, growth path, leadership styles, opportunities for feedback, and possibilities for progression.
What does success in this role look like after the first 3/6/12 months?
What is the career path for this position within Chick-fil-A?
What opportunities exist for cross-training or developing new skills?
Can you share more about the company culture at Chick-fil-A and how it differs from other fast-food chains?
What do you believe sets Chick-fil-A's customer service apart from other restaurants, and how can I contribute to that level of excellence?
What are the most important qualities that Chick-fil-A looks for in its employees to ensure they align with the company's values and mission?
How does Chick-fil-A invest in the professional development and growth of its team members?
Can you share some examples of employees who have progressed within the company, and what steps they took to achieve their goals?
What are some upcoming initiatives or projects that Chick-fil-A is working on to continue enhancing the guest experience?
How does Chick-fil-A maintain its commitment to serving local communities, and what opportunities are there for employees to get involved?
What are some of the key performance indicators that Chick-fil-A uses to measure success in this role?
Can you share more about Chick-fil-A's efforts to promote sustainability and reduce waste within its operations?
How does the company approach employee feedback, and what channels are available for employees to voice their concerns or ideas?
What strategies does Chick-fil-A use to maintain a positive work environment and encourage teamwork among its employees?
How does Chick-fil-A handle conflict resolution and ensure that employees feel supported and heard?
Can you share more about the onboarding process for new employees and the training resources available to help me succeed in this role?
What are some unique challenges that Chick-fil-A faces in the fast-food industry, and how does the company plan to address them?
How does Chick-fil-A stay ahead of industry trends and continuously innovate to meet the evolving needs of its guests?
Chick-fil-A Hiring Process
As an eager applicant, you know the competition will be stiff, so it's important to go in prepared. The exact Chick-fil-A hiring process will vary depending on the position, from crew members to managers and beyond, but you can expect some common steps no matter what role you pursue.
First up, complete Chick-fil-A's application on their website or at your local restaurant. This will get your foot in the door and allow you to highlight why you're the ideal candidate for this job.
Within a few days, you'll likely receive a call for a phone screening to discuss your experience, strengths, and goals. Make a great first impression and express your passion for delivering exceptional service.
If selected, you'll be invited to an in-person interview at the restaurant. For this, be ready to share stories of dealing with challenges in your previous jobs and what you learned from them.
Restaurant roles especially will require discussing how you thrive under pressure while juggling many responsibilities at once with a smile. Come prepared with questions that show your enthusiasm and desire for growth opportunities.
Some positions, especially managerial ones, may require additional interviews. Be ready to meet with a panel, do an impromptu assessment, or answer screening questions online. The more senior the role, the more extensive the evaluation process will be. However, at every step, remain confident in your abilities and remember why this job at Chick-fil-A is perfect for you.
The Chick-fil-A hiring process can take between a few days to a couple of weeks, depending on the position. With preparation and persistence, you'll make it through the hiring process and eventually start living your dream as a member of the beloved Chick-fil-A brand.
Chick-fil-A Interview Tips
Study the Chick-fil-A menu inside out. Practice your customer service skills by role-playing different scenarios. Prepare examples of working under pressure and problem-solving on the fly. Make a strong first impression with a friendly attitude, enthusiasm, and professional dress.
What to Wear to Chick-fil-A Interview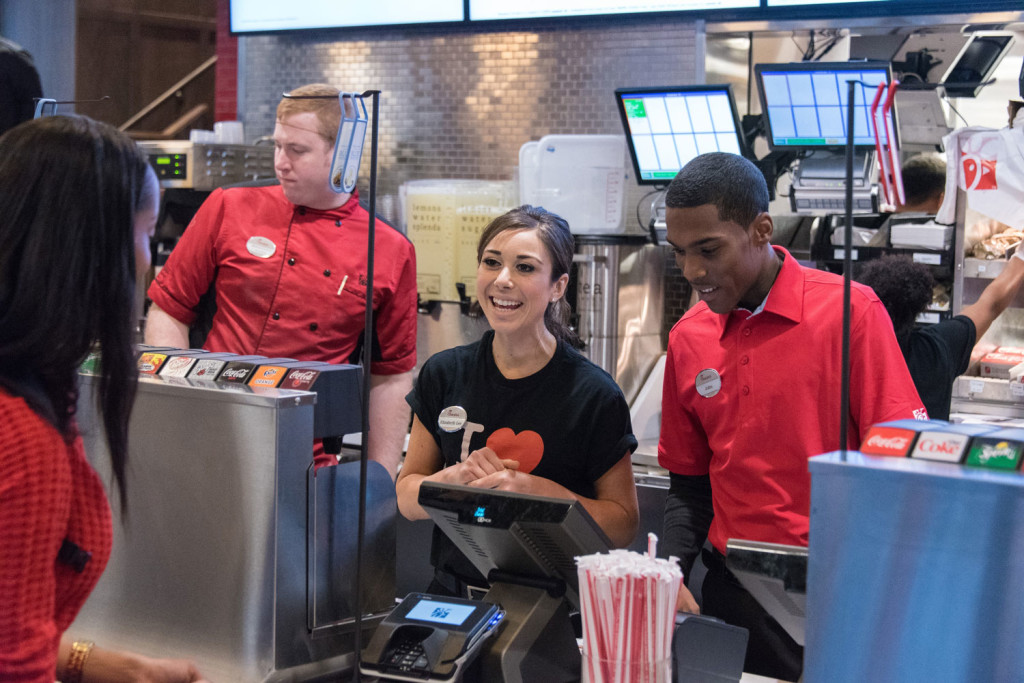 Chick-fil-A values looking professional and polished at all times, so studying the dress code guidelines and emulating that style for your interview is smart.
Chick-fil-A's dress code depends on the employee's role: trainers wear blue striped shirts, team members don red, and managers or above wear solid blue. Black shirts indicate director-level positions. Hair must be pulled back, and some locations may prohibit acrylic nails, facial piercings, or visible tattoos.
Choosing the right outfit will demonstrate your enthusiasm for the company and your ability to play by the rules. As interviewers ourselves, we can say with certainty that your attire is the first hint we get at how seriously you take the job.
For a team member or delivery driver role, opt for casual and comfortable yet pulled-together clothes in solid colors like navy, black, or khaki. Khakis or black slacks paired with a fitted blazer make for a stylish option. Or dress up dark jeans with a button-down shirt and blazer. Avoid anything too flashy, patterned, or unkempt.
For roles like shift leader, restaurant manager, and director, lean into business casual attire. That means dress pants or a knee-length skirt, a blazer, and either a dressy top, crisp button-down shirt, or fitted blazer. For women, a pantsuit is always a safe choice. For men, stylish slacks or khakis, a button-down dress shirt, and a sport coat or blazer create a polished, put-together look.
Corporate positions call for full business professional attire. As a rule of thumb, if you can't overdress for the interview, you're probably underdressed. Suit separates, dress shirts and blouses, closed-toe heels, or dress shoes are expected. You want to look put-together from head to toe.
Conclusion
You now stand ready to ace your interview at Chick-fil-A, armed with insider knowledge and confidence in your abilities. Believe in yourself and your potential, for you have proven you have what it takes to succeed.
What's more, prepare to convey your newly honed skills with ease to Wendy's, In-N-Out, McDonald's, KFC, Panda Express, and the like – you've got this! With each interview, you grow stronger, craftier, and wiser. Believe in your polished stories of success, your passion for food service, and your unyielding work ethic.
Even if Chick-fil-A (or any company) says no this time, keep swinging for the fences. Tenacity and perseverance will pay off when the right organization finally sees what you're truly capable of.
Remember, the road to your dream job is paved by many milestones along the way. Stay confident, stay resilient, and stay in the game – your time is coming! Keep putting one foot in front of the other, and chances are, it'll find you first.