21 Panda Express Interview Questions (And Enticing Answers)
Picture this, you've just been called for a coveted position at Panda Express, one of the largest and most respected fast casual dining chains in America. How do you feel? Excited? Nervous? Maybe a mix of both? That's perfectly normal! The imminent interview can indeed prod the butterflies in your stomach into a frantic frenzy as you ponder over what questions may be thrown your way.
This is where we come in, acting as your lifeline to guide you through these turbulent waters. In this comprehensive blog post, we meticulously reveal the most frequently asked Panda Express interview questions. But wait, there's more! For each question, we also provide a thoughtfully crafted example answer to ensure you knock the ball out of the park.
The importance of being well-prepared for an interview cannot be overemphasized. Anticipating and eloquently responding to questions can dramatically tilt the scales in your favor. Understanding this, we've burned the proverbial midnight oil, meticulously analyzing countless Panda Express interviews to curate this list so you can step into the interview room instilled with confidence, ready to create that oh-so-crucial stellar first impression.
This resource is not just a focus on the questions; it's a journey into the heart of understanding what lies beneath them. So come, let us illuminate this path together and approach the impending Panda Express interview with poise, preparedness, and positivity. You've got this!
Panda Express Company Information
Swing into your interview with Panda Express with confidence by brushing up on some crucial company trivia.
| | |
| --- | --- |
| Trade Name | Panda Express |
| Type | Fast-Food Restaurant Chain |
| Founded | October 1983 |
| Founders | Andrew Cherng, Peggy Cherng |
| Headquarters | Rosemead, California, United States |
| Menu | Orange Chicken, Kung Pao Chicken, Beijing Beef, Chow Mein, Fried Rice, and more |
| Signature Items | Orange Chicken, Broccoli Beef, Honey Walnut Shrimp |
| Core Values | Proactivity, Respect/Win-Win, Growth, Great Operations, Giving |
| Website | www.pandaexpress.com |
| Competitors | Pei Wei, P.F. Chang's, Chowking, Chipotle, McDonald's, Chick-fil-A |
Additional facts:
???? From Immigrants to Entrepreneurs: Andrew and Peggy Cherng, the co-CEOs, started their journey together as two Baker University students in Kansas who fell deeply in love. Both came to the U.S. as Chinese immigrants in the mid-1960s, showcasing a tale of perseverance and dedication.
???? A Humble Start: The family's first endeavor, Panda Inn, was opened in Pasadena in 1973. From a dilapidated coffee house, it evolved into an upscale sit-down restaurant.
???? Global Footprint: With over 2,000 locations in the U.S. and establishments in countries like Japan, Saudi Arabia, and Aruba, Panda Express is globally recognized.
????‍????‍???? Family First: The Cherng legacy continues with their daughter Andrea serving as the company's chief marketing officer.
???? Unique Business Model: Unlike many chains, they own and operate almost every restaurant instead of franchising.
???? Tech-Savvy Beginnings: Peggy Cherng, with her profound educational background, was pivotal in introducing portable computers for order processing at every outlet.
???? Data-Driven Decisions: Leveraging technology, they analyze what dishes are selling and which aren't, ensuring continuous improvement.
???? American Chinese Fusion: Founded by Chinese immigrants, they adapted traditional Chinese recipes to cater to the American palate.
???? A New Take on Authenticity: Just as one wouldn't question Pizza Hut's Italian roots, Panda Express represents an authentic blend of American Chinese cuisine.
???? A Lab for Foodies: The Panda Express Innovation Kitchen in Pasadena allows customers to customize their meals and try out new exciting menu items.
???? Orange Chicken Galore: Selling around 70 million pounds annually, their iconic dish has seen various iterations, from bone-in versions to orange chicken and waffles!
???? Bites of Wisdom: Distributing 282 million fortune cookies annually, they once renamed them "Fortunate Cookies" to spread gratitude and kindness.
???? Messages that Warm the Heart: Fortunes like "You are exactly where you're supposed to be" and "Your kind attitude will keep others afloat" ensure every meal ends on a sweet and positive note.
???? PETA's Influence On The Menu: Thanks to over 234,000 messages from PETA supporters, in 2019, for the first time, plant-based items like spring rolls, eggplant tofu, and Super Greens veggies were added to their menu. Prior to the change, even vegetable-based dishes were flavored with meat seasoning.
❤️ More than Just a Job: Andrew Cherng believes in developing his people both inside and out. Workers enjoy perks like health care, paid time off, and even theme park discounts.
???? Message of Love: An actual "Love" sculpture graces the company headquarters, emphasizing the importance of trust and love.
???? Two Birds, One Stone: The Cherngs started Hibachi-San to counter potential competition, ensuring they always have a win-win scenario.
???? Everywhere and Anywhere: From shopping malls to military bases, there's probably a Panda Express nearby, with the Ala Moana Center outlet in Honolulu being the most profitable.
???? The Killers' Fortune Cookie Quest: The band found lyrics from their song "Smile Like You Mean It" in a Panda Express fortune cookie and cheekily requested a lifetime supply of orange chicken.
???? Diving into Digital: Panda Express is preparing to set foot in the metaverse with its upcoming "Pandaverse."
❤️ Panda Cares: Founded in 1999, this charity initiative by Panda Express supports disaster relief and volunteerism and provides scholarships, among other commendable efforts.
???? No MSG Drama: All dishes at Panda Express claim to have no added MSG, busting myths around the additive.
???? A Surprise in Store: Some Panda Express locations offer tea bars with a variety of milk teas, fruit teas, and boba!
Panda Express Mission Statement
Deliver exceptional Asian dining experiences by building an organization where people are inspired to better their lives.
Panda Express Interview Questions
This question isn't just a casual ice-breaker designed by the hiring manager to ease you into the interview process. It's purposefully devised to evaluate your interpersonal skills, knowledge about Panda Express, and compatibility with the company's culture and values.
The key to delivering a stellar response to this question lies in a three-pronged approach: brevity, relevancy, and alignment.
Start by providing a concise summary of your career or academic experience, focusing on highlights most relevant to the job.
Discuss how your skills align with the demands of the position, and express your eagerness to contribute to the team.
DO NOT forget about Panda Express's focus on family and good food. Show them you understand the importance they place on being a "family restaurant" and explain how you had served or could serve in a similar capacity.
Lastly, show your passion for the food industry and tie this to what Panda Express is all about.
Let's add a touch of soy sauce to our rice now, shall we?
"Having worked as a server for a couple of years at a local family-run restaurant, I learned the true meaning of providing a friendly and inviting experience for every customer. This, coupled with my passion for the food industry, which started when I was a kid helping my mother in the kitchen, makes me believe I can contribute significantly to the Panda Express family. My strong communication skills, problem-solving abilities, and warm personality were of immense help while collaborating with my previous team and interacting with diverse customers. I've always admired Panda Express's commitment to serving delightful meals in an incredibly warm, family-friendly environment. I am excited to bring my skills directly to your customers, ensuring they have a dining experience that is as delicious as it is enjoyable."
Why do you want to work for Panda Express?
This question is a key opportunity for the interviewer to gauge your knowledge about their fast food brand, to see if your motivations align with the company's values, and to assess if you have a genuine interest in the role beyond simply earning a paycheck.
If you're not prepared, this question might feel like a gaping pothole, but worry not—we've got tips to help you easily traverse this crucial part of the interview.
Start with showing enthusiasm for the company—maybe chat up their cool company culture or sterling reputation. Then bring up your career ambitions and how working at Panda Express is like the golden ticket to meet those dreams. And for the cherry on the top, showcase your A-game on the role you're applying for and how your skills fit like hand in glove.
But here's the kicker: be real and make it personal. Authenticity is a superpower, you know!
Alright, are you ready for the fun part? Brace yourself, because here comes the high-impact example response you've been waiting for.
"The reason I want to work for Panda Express is that I've always had great experiences as a customer here. I love the energetic yet welcoming atmosphere, the dedication to providing quality food, and the commitment to stellar customer service. Additionally, working at Panda Express aligns with my career goals—I seek to delve deeper into the food industry and work in an environment where my customer service skills would be put to great use. So, I see this job as a win-win. I get to learn and grow, while also giving back to the company by ensuring customers leave with a smile wider than a mile!"
Where do you hope to see your career in 5 years and how will this role at Panda Express help you get there?

This question allows the interviewer to understand if your career plans resonate with their need for committed, growth-driven, and loyal employees. They want to get a sense of your long-term ambition, career plan, and values, thereby ensuring that you are a good fit for the organizational strategies and culture at Panda Express.
When you answer this, make it a point to share your realistic and attainable goals, ensuring that they align with the career path Panda Express provides. Speak about how specific skills or experiences from this role can aid your long-term career growth.
Avoid giving a vague answer, instead, connect the dots between your career aspirations, the role you are applying for and how Panda Express fits into this picture. Remember to express enthusiasm for the journey ahead and confidence in your ability to grow within the company.
Now, let's transform that knowledge and those tips into a compelling answer to woo the Panda Express hiring manager right off their feet!
"In 5 years, I hope to see myself as a seasoned professional in the fast-food industry, equipped with an in-depth understanding of operational and customer service aspects. This role at Panda Express is the ideal platform as it offers an opportunity to learn and grow, both professionally and personally. By working on the front line, I hope to interact directly with customers, handle various operational scenarios and tackle challenges on-the-go. These enriching experiences would lay a robust foundation and steer me towards my goal of becoming a Restaurant Manager. I am confident that with Panda Express' constant support and my persistent efforts, I will get there."
In what ways are you hoping to positively contribute as a team member if hired?
When the Panda Express interviewer asks this question, they are looking for depth beyond the glossy surface of your resume. They want to understand your proactive approach, your passion for the brand, and most importantly, how you can make a real impact at Panda Express.
So, how do you articulate a killer response that will knock them off their feet?
Start by diving into specific aspects of the role that you find exciting and express a genuine interest in contributing to those. Show that you've taken the time to research and understand the brand values of Panda Express, aligning them with your personal work strategies. Pinpoint particular skills you possess that can be of great benefit to the team.
Your response should radiate enthusiasm and a keenness to make a difference.
Let's transform your insights into persuasive words.
"Being a big fan of Panda Express, I believe that excellent customer service is at the heart of its success. I plan to contribute positively by utilizing my proactive approach and strong communication skills to work seamlessly with the team, ensuring that every customer leaves with a smile. My past experience in fast-paced environments has honed my ability to multitask and work efficiently, skills I plan to bring on board. Moreover, as a strong advocate for the brand's value of continuous learning, I aim to learn, grow, and inspire my fellow team members to do the same, further elevating Panda Express's standards and customer satisfaction."
Could you please describe what you consider to be your greatest strength and weakness?
When you're sitting across from the hiring manager at Panda Express, and they ask this question, they genuinely want to understand what you bring to the table and where your areas for growth lie.
This question also allows you to demonstrate that you can analyze yourself objectively and have strategies in place to work on your weaknesses.
Here's how you can ace this question.
When discussing your strengths, make sure to choose a trait that aligns with the role for which you're applying. For example, if you're applying for a customer service role, a strength could be your outstanding communication skills.
When it comes to your weakness, choose one that won't directly sabotage your job performance. The trick here is not to pretend you're perfect but to show that you're aware of your areas for improvement and actively working on them. After stating your weakness, be sure to follow up with what actions you're taking to improve in this area.
Now, let's move on to an example that will bring these tips to life.
"In terms of my strengths, I pride myself on my strong communication skills. Having worked in customer service roles previously, I've learned the art of understanding the customer's needs unambiguously and also conveying information clearly and effectively. This ability to 'speak the customer's language' allows me to provide superior service, something that I know is hugely important in any role at Panda Express. As for my weakness, I would say that I can be too detail-oriented, often spending more time than necessary perfecting tasks. However, I've been working diligently on this by setting time limits for tasks and learning to prioritize my workload better, ensuring efficiency while still delivering high-quality work."
The hiring manager asks this question to gauge how well you've researched their company and how much you align with their business ethics. They want to ensure they're selecting staff members who naturally embody their core values, creating a harmonious working environment where everyone is working towards the same mission.
First off, show them you've done your homework. Familiarize yourself with Panda Express' core values—Proactive, Respect/Win-Win, Growth, Great Operations, and Giving. Each of these elements gives you an insight into what Panda Express believes, so weave these values into your response, linking them to your personal experiences, behaviors, or beliefs.
Additionally, acquaint yourself with Panda Express' mission—delivering exceptional Asian dining experiences. Illustrate how you can contribute to this mission, using examples from your past or highlighting your skills.
Now that you've got the core ingredients of a successfully constructed answer, it's time to sauté your words into a perfect stir-fry of a response!
"Absolutely, I'd love to share my understanding of Panda Express' core values and mission. The core values being Proactive, Respect/Win-Win, Growth, Great Operations, and Giving really resonate with me. I am naturally proactive, always seeking to solve issues before they occur and respecting everyone's viewpoints to create a win-win situation. I believe in continuous growth, always striving to learn more and improve, ensuring the operations I'm involved in run smoothly. My past experiences have taught me the importance of giving back, understanding that success should also enable positive change in our communities. Panda Express' mission to provide an exceptional Asian dining experience excites me—my skills in ensuring excellent customer service and my passion for Asian cuisine can contribute substantially to this mission."
Tell me about a time when you had to deal with an unhappy customer. What was the situation, and how did you handle it?
By asking this, the hiring manager intends to assess your problem-solving skills and your ability to handle pressure. More importantly, they want to understand your customer service skills and your ability to effectively resolve a negative situation, transforming it into a positive customer experience.
Here's our insider advice on how you should answer this question.
Firstly, remember to set the scene and elaborate on the situation clearly. Next, you want to discuss what the issue was, emphasizing the negative impact on the customer.
Then comes the most crucial part: How did you resolve it? Here's where you get to showcase your ability to think on your feet, your problem-solving skills, and your outstanding customer service attributes.
Conclude by explaining the positive outcome derived from your actions, portraying how you were able to turn the situation around.
Now, brace yourself, because we're about to dive into the perfect exemplar answer that will surely knock the interviewer's socks off.
"I recall while working my previous job at a fast-food restaurant; we had a regular customer who was dissatisfied because his favorite dish was unavailable due to limited supplies. He was visibly upset and considering leaving without ordering anything else. I approached him calmly and offered to suggest a few similar dishes that he might enjoy. He agreed, and I recommended him an alternative, ensuring him that the flavor and quality would be just as pleasing. He agreed to give it a try and ended up liking it very much, expressing his satisfaction before leaving. The situation taught me the importance of diplomacy and quick thinking in customer service, demonstrating that every negative can be turned into a positive if addressed correctly."
This subtly poised question has been designed to reveal your ability to handle interpersonal conflict and determine how well you can sustain healthy work relationships in a dynamic and fast-paced environment like Panda Express.
A simple and engaging way for you to answer this question is by following a storytelling approach with the trusty STAR (Situation, Task, Action, Result) method. Start with the Situation when you had to wrangle with differing ideas or a full-blown tiff at work. Then, spill out the Task that was stuck in the mud because of this thing. Follow up with the Action you took to set things right. And finally, tell 'em the Result, focusing on the high notes and valuable lessons gleaned.
Ready to translate these insights into your response? Hold on to your seat; the next part is incredibly exciting.
"When differences of opinion or conflict arise at work, my first step is to try and understand the other person's perspective to see if there may be information I was not aware of that could help resolve the situation. I then bring up the issue in a calm and respectful manner, focusing on the problem itself rather than accusing the other person.
If the other team member also approaches the discussion openly, we can often find a compromise that satisfies both parties. However, if one or both of us are unable to discuss the issue productively, I will involve a manager to mediate the situation in a fair way. Creating a positive and respectful work environment where team members can voice differing opinions appropriately is important for achieving the goals of the restaurant."
When is the soonest you would be available to start working with us?
This all-important question in your upcoming Panda Express interview is more than just a scheduling inquiry. The hiring manager is aiming to evaluate two key aspects of your candidacy—your eagerness and readiness to take on the role.
Okay, so how to ace this one? Keep it real.
If you've got final exams coming up or a previous employment commitment to wind up, mention it. Remember, it's not a race!
On the other hand, don't prolong it unnecessarily. If you're able and ready to start working at the drop of a hat, say so.
Just remember to justify your timeline in a way that underscores your professionalism and respect for all parties involved. Express your excitement to join the Panda Express family, but at the same time, demonstrate that you also value orderly transitions.
Striking the balance between enthusiastic readiness and calculated professionalism can be a culinary art in its own right. Take this well-cooked answer as an example:
"Should all go as planned, I'd ideally like to embark on my journey with Panda Express two weeks from now. This would allow me adequate time to respectfully wrap up my current commitments. I am incredibly eager to bring my fast food expertise to your team but also want to ensure a smooth transition. This timeline, I believe, will allow me to start my new role entirely focused and completely devoted to the fantastic work that Panda Express does."
Could you describe a time when you were under pressure in a difficult situation? How did you handle it?
During your interview, this one question is as unavoidable as the fortune cookie after your meal at Panda Express. The interviewer brings up this question, not for the sake of playing devil's advocate, but rather, to assess your problem-solving skills and your ability to stay level-headed during a crisis. After all, the fast-paced environment at Panda Express means, there'll be times when the heat isn't just in the kitchen.
Now, how do you answer this nerve-racker? Here's a hot tip – Stick to the STAR method. It's no rocket science, really – Situation, Task, Action, Result. You start off with a situation where you were in a tight spot or dealing with a tough cookie. Next, you share what task you had to master. Then, dish out the action steps you took to nail it and voilà, wrap up with the results. But hey, don't just stop with what went wrong. Highlight how you spun it around to sort it out. It'll get them to see you've got resilience, smart thinking, and a knack for adapting on the fly.
Picture this as your 'Bruce-Lee-fighting-bad-guys-narrative', where you faced a challenge, tackled it with your skills and came out victorious.
"My stint as a restaurant manager in my previous job effectively honed my ability to handle pressure. For instance, one busy Saturday night, we were understaffed and two key members had called in sick. Our establishment was flooded with customers. As the manager, I knew I had to ensure a seamless service, regardless of the circumstances. I first helped in the kitchen, filling in wherever necessary, and then moved on to handle the cash register during peak hours. I also coordinated with my staff to pull together as a team, and each of us took on multiple roles for the night. Despite the daunting challenge, we managed to handle the situation successfully. There were no complaints, and some customers even complimented us on our efficiency. This experience taught me the value of adaptability and team coordination during a crisis."
How would you describe your ability to collaborate and work effectively in a team environment?

Arguably, the essence of the Panda Express experience rests on teamwork.
With efficiency, synergy, and customer satisfaction rooted in cohesive team dynamics, the hiring manager assesses your interpersonal skills and tries to gauge your ability to integrate smoothly into their well-oiled, customer-centric machine.
Here's your recipe to nail this question: Think of some great incidents where you took one for the team and things turned out marvelously. Maybe your communication skills came to the rescue, perhaps your quick-thinking solved a big problem, or your adaptability saved the day. Use the magical STAR approach (Situation, Task, Action, Result) to tell your tale.
Keep it crisp and compelling. And remember – nothing trumps empathy and respect for diversity at a brand like Panda Express.
Now, let's put theory into practice. Brace yourself; it's showtime!
"In my previous role as a server at a busy restaurant, team collaboration was key. For instance, during a particularly frantic New Year's Eve shift (Situation), our team had to cater to a record number of customers and deliver an exceptional dining experience (Task). I quickly suggested strategic areas of specialization to each member such as attending to the tables, handling billing, re-stocking supplies, all communicating effectively to stay updated (Action). The result was a successful evening with happy customers, increased tips for everyone, and recognition from our manager for effective teamwork (Result). I bring this same level of enthusiasm, adaptability, and respect for my peers to any team environment and I look forward to bringing these skills to the Panda Express family."
What makes you uniquely qualified for this position at Panda Express compared to other candidates?
This question is your golden opportunity to shine! The interviewer is looking to uncover who you are as a person beyond your resume – your values, skills, and personality traits that set you apart from others. They're trying to determine if you have that secret sauce that makes you the ideal fit for the Panda Express team and culture.
Don't think of this as just rehashing your resume – boring! Instead, show off the things you've achieved that make you super relevant for the job. For example, talk about when something you did lead to real results.
But also remember, they want to see your personality, too. Panda Express prizes a few things – team spirit, accountability, and never stopping to learn. If that sounds like you, make some noise about it!
But be real. The last thing you want to do is come off fake. Ensure you're showing genuine excitement about the job, the company, and what they stand for.
Voila! Now that you have the roadmap, it's time to embark on this journey of self-discovery and preparation.
"I believe I'm uniquely qualified for the position at Panda Express because, in addition to my past experience in fast-paced food service environments, I have consistently demonstrated a commitment to excellence. I have spent the last three years refining critical skills like teamwork, customer service, and accountability, all of which align with the Panda Express culture. For example, in my previous role, I spearheaded an initiative to improve team communication that reduced order errors by 25%. Beyond these experiences and skills, I am genuinely excited to be part of the Panda Express family. I truly resonate with the company's mission and commitment to continuous learning and growth. I am confident that this combination of experience, skills, and passion sets me apart from other candidates."
It may seem straightforward, but this question is their way of analyzing your problem-solving skills, ability to uphold company values, and commitment to delivering exceptional service, all of which are integral to succeeding in Panda Express's fast-paced, customer-centric environment.
Now, let's strategize on how to nail this question.
To start, reflect on your past experiences. The hiring manager wants real-life examples, so think about any specific instances where you went above and beyond to serve a customer. Maybe you resolved a tough issue or turned around a customer's bad day with your positivity and solution-oriented approach.
Structure your response using the STAR method – Situation, Task, Action, and Result. This way, your answer will have a clear narrative and showcase your excellent customer service skills in a concise and captivating way.
So, armed with these tips, let's dive into how a robust answer to this question might look.
"One remarkable experience I had was during my time at a local fast-food restaurant. On one particularly busy Saturday (the Situation), a customer came in upset about receiving the wrong order. (the Task). Instead of simply apologizing, I reassured them that we would make it right. I promptly replaced their order and offered them a complementary dessert to compensate for the inconvenience (the Action). This not only resolved the issue but also turned the situation around completely. The customer left with a smile, promising to return thanks to the great service they had received (the Result)."
How you do enjoy spending your free time outside of work?
Often, this question catches candidates off-guard as they anticipate questions focused strictly on their competency and proficiency.  Yet, this question is a golden gateway for the interviewer, allowing them to peek into your life beyond the walls of Panda Express and determine how well-rounded of an individual you are, whether you maintain work-life balance or not, your passions and motivations, and generally, if you are a cultural fit for the team.
Tackling this question is a bit like spinning plates. Honesty is your North Star, but at the same time, you want to make sure your answer paints a picture that resonates with what Panda Express stands for.
Love spending time with family? Talk about how that helps you recharge and be more productive.
If you're a fitness enthusiast, that can suggest you value health and wellness.
Volunteered somewhere? Heck, that shows Panda your big-hearted nature – something they dig given their own commitment to community service.
Just avoid stretching the truth or inventing interests to charm them – that could come back to bite you.
Remember, the essence of this question isn't to judge, but rather to understand you better, so let's dive into an example showcasing how to authentically narrate your leisures.
"Outside work, I immensely enjoy cooking various cuisines. Trying new recipes and revisiting old ones give me the opportunity to explore, learn and be creative. I believe this syncs well with Panda Express's mission of providing innovative, fresh and exotic foods. Apart from this, I often participate in local community service on weekends. This largely stems from my belief in giving back to society, a trait I love about Panda Express seeing how involved they are in supporting communities. Altogether, my hobbies help me to stay grounded, constantly learning, and emotionally aware, attributes necessary for a successful career."
Could you walk me through a time when you solved a difficult problem or overcame an obstacle?
This question isn't framed to grill you or put you on the spot. Rather, the hiring manager is looking for insights into your problem-solving abilities, critical thinking skills, and your potential as a team player – all pivotal elements to thrive in their fast-paced work environment.
When it comes to answering this question, start by selecting an incident where you genuinely faced an issue rather than fabricating a scenario. Don't shy away from explaining the gravity of the problem. This isn't the time to be modest; let them know what challenges you faced.
Once you've set the scene, articulate the steps you took to address the problem and ensure you highlight your innovative approach, effective decision-making, and resilience. Moreover, don't forget to share the outcome – both what it meant for you and how it positively affected your team or organization.
Now, let's go from explaining how to answer to showing you an ideal response – this approach is better served hot, just like your favorite Panda Express dish!
"in my previous role as a supervisor in a busy fast-food restaurant, we found ourselves in a tricky situation when our shipment of key ingredients didn't arrive due to a logistical issue. I remember it was a Friday evening – one of our busiest times. Instead of panicking or turning away customers, I quickly improvised a limited menu using the available ingredients. I explained the situation to the customers and offered them alternatives from the improvised menu. Most of them were understanding of the situation and appreciated our efforts to cope with the challenge. In the end, not only did we manage to serve our customers, but we also received positive feedback on some of the unique dishes we improvised that day. The experience taught me the importance of quick thinking, resourcefulness, and clear communication in the face of unexpected challenges."
If you had to choose one word to describe yourself, what would it be and why?
This question is the hiring manager's way of evaluating your self-awareness, personal attributes, and how you perceive your role in a team environment. They genuinely want to know about you –  the good, the bad, and everything in between.
When prepping your answer, we advise you to choose a word that highlights a relevant strength for the job role you're applying to at Panda Express. Your choice should underscore values that align with the Panda Express culture, such as teamwork, integrity, respect, and commitment to remarkable guest service.
While describing why you chose the word, provide an instance in your past where you lived out this attribute. The hiring manager would undoubtedly appreciate a well-thought-out and personalized answer, giving them a glimpse of your character and work ethic.
Even in the hustle and bustle of the restaurant world, always remember that unique personalities add flavor to a remarkable guest experience.
"If I were to choose one word to describe myself, it would be 'committed.' Whether it's my commitment to delivering exceptional service to our guests or my unrelenting determination in mastering a new recipe, I believe that steadfast commitment is crucial in this industry. For example, at my previous job, I volunteered to stay longer hours during a particularly busy period. My goal was to ensure that despite the increased workload, the quality of our service remained top-notch. I see a similar sense of commitment echoed by the Panda Express family, making this an environment I'd be eager to join."
Sure, it seems like a simple enough question. But listen up, they're not just fishing for your gym routine details or quizzing you about the last self-help book you read. They're trying to figure out whether what matters to you is a match for what matters to them. Can you talk the talk and walk the walk when it comes to keeping your body and mind healthy and staying curious?
To ace this question, start by discussing your dedication to health and fitness, enlightening them on how you keep your body and mind balanced, be it through yoga, running, or clean eating habits. Drive home the understanding that you see wellness as not just a physical journey but an emotional and mental one too. Injecting personal anecdotes would certainly help.
As for continuous learning, let them glimpse your curiosity in action, perhaps by revealing the new cooking technique you're perfecting, the language app you swear by or that book on your bedside table.
It's not solely about what you're doing, but why – opening up about your intrinsic motivation will certainly create a strong impression.
Moving along, let's be real. A captivating story is going to stick in their minds way more than a dull run-down of your daily play-by-play.
"To keep fit – both physically and emotionally – I enjoy 'rock climbing.' It's more than just a workout; it's my go-to therapy session, my escape, and my playground, effectively satisfying my quest for health and wellness. On average, I climb two to three times per week, and I complement this routine with a balanced diet, avoiding processed foods and emphasizing fresh produce and lean proteins.
My pledge towards continuous learning? Well, I am currently reading 'Kitchen Confidential' by Anthony Bourdain and experimenting with his recipes at home. This fascinating peek into the culinary industry, combined with hands-on cooking practice, has deepened my understanding of food, which I believe aligns beautifully with the spirit of Panda Express. I'm always eager to learn more and take on the challenge—my kitchen successes and failures being testament to that. So, while I strive to balance my holistic health and continuous learning in the personal realm, I'd be thrilled to translate these values professionally at Panda Express too."
Tell me about a time when you received constructive criticism at work. How did you respond?
This question is asked to understand how you handle feedback and adversity and whether you're able to use it as an opportunity for growth. Believe us, every Panda Express interviewer wants a candidate who thrives on constructive criticism and uses it to better themselves.
So, how should you tackle this question?
Start by recalling an instance in which you received feedback that initially felt like a setback, but ultimately led to positive change.
The key here isn't to focus on the negative aspect of the criticism but to emphasize how you used it to grow and improve your performance. Detail the steps you took to respond to that feedback in a constructive and proactive manner.
Practice humility: acknowledge that nobody – not even you – is perfect, and it's important to accept feedback graciously for continuing growth and improvement.
Now, let us show you how the magic unfolds when you incorporate these tips into your response.
"Once, my manager pointed out that I wasn't communicating effectively with our team, which was affecting the efficiency of our operations. Instead of taking that as a negative, I decided to use this as an opportunity to develop my interpersonal skills. I requested feedback from colleagues, took an online communication course, and started implementing specific strategies like arranging weekly team huddles and keeping more open lines of communication with my team. Consequently, our team's efficiency improved, and my manager acknowledged my efforts in turning around my communication skills. I learned valuable lessons from this feedback – accepting my areas for improvement and turning them into strengths."
Tell me about a time you had a disagreement with a coworker. What steps did you take to resolve it?
Panda Express is known for its delicious cuisine and extraordinary customer service. This is reflected not just in the products served but also in their team dynamics and interaction.
Consider this intimidating question as an opportunity for the hiring manager to dissect your ability to maintain respect and professionalism amidst conflict and your problem-solving skills in a team-based environment.
Tip the scales of success in your favor by demonstrating your maturity, patience, and strong interpersonal skills.
Start by picking a genuine scenario, preferably one where the disagreement was not personal. Show them that you value different viewpoints and respect others' rights to disagree.
Next, paint the picture of how you sought to comprehend the other person's perspective and were eager to find common ground.
Clearly state your actions – did you offer to discuss the issue privately? Did you propose a compromise?
Lastly, showcase the outcome, should it be a positive or a learning experience.
Now, let's take these tips and plate them up on a silver platter, ready to be served to the interviewer.
"When I worked at my previous restaurant, a co-worker and I had a difference of opinion about the optimal way to manage the lunch rush. I suggested that we should focus on speed, while he believed that emphasizing quality, even if it meant slightly longer wait times, was the only way to go. Instead of letting our disagreement escalate, we mutually decided to discuss the issue after our shift. We recognized that both speed and quality were important and needed to be balanced. So, we ended up proposing a solution to our supervisor to re-arrange staff during the rush hours that allowed for quick service without compromising on quality. As a result, customer feedback improved, and we realized the importance of constructive dialogue in problem-solving."
How do you see your skills and experience as being a great match for the needs of this position?
The question seeks to gauge how you'll apply what you've learned and accomplished in your past roles to deliver exceptional results in your new role. It is your golden chance to shine.
Firstly, think ahead about the key responsibilities of the role you've applied for. Drilling down the job description can point out what Panda Express seeks in an ideal candidate for the role.
Then, reflect on your skills and experiences that align with these requirements. It's not just about listing off keywords from your resume; supporting your claims with concrete examples will help the interviewer see the connection more clearly.
Remember, the essence of your answer lies in your ability to demonstrate how your past experience will benefit Panda Express.
Like weaving together golden threads of your past, let's craft an answer that brings this tapestry to life.
"Sure, as a restaurant manager for the past two years, my job involved tasks similar to those listed in your job description. I pride myself on my ability to manage teams effectively, and communication is a skill that I've honed over the years. On several occasions, I was able to turn around low-performing teams, leading them towards notably better efficiency and customer satisfaction. I have a firm grasp of administrative tasks, including inventory management and scheduling. My experience aligns perfectly with the role at Panda Express, and I'm confident that my skills developed over the years will enable me to excel and drive success."
What is your availability for shifts throughout the week?
This question may sound simple, but it packs quite the punch. Trust us, this is where the hiring manager is trying to figure out how committed you are to the job, whether you fit into their shift schedules, and most importantly, if you're ready and willing to ride the roller coaster of the ever-changing hospitality world.
So how do you knock this question out of the park? It's pretty simple, actually. Be upfront and honest, but also show some adaptability.
Try to avoid vague phrases like "I'm free all the time", unless of course, that's the honest truth. Instead, chalk out specific times when you can be at work, and don't forget to let them know if you're game to pitch in during those crazy peak hours, the ever looming weekends, or even during holidays. That's when most people tend to avoid working, but that's also when the hospitality industry needs you the most.
But hey, if there's a time slot you absolutely cannot make, do mention it politely. And if overtime or cover-ups are on the table for you, let them know. It just makes you look like a team champ.
Now that we've ironed out the strategy, it's time to stitch words into a persuasive response…
"My availability for work is flexible. I can comfortably cover weekday shifts from 2 PM to 10 PM, and I'm also open to working on weekends when business often picks up. Moreover, if there's a need, I can extend my hours or cover additional shifts, especially during holiday season when more helping hands are required. However, Wednesday mornings are dedicated to my community service commitments, so I wouldn't be available during that time. I'm eager to contribute my part to the Panda Express team, and I'm happy to find a schedule that works best for everyone."
Questions to Ask the Interviewer in Panda Express Interview
When you're asked if you have any questions, the Panda Express interviewer is not just asking for politeness' sake or trying to fill time. This is a calculated move designed to gauge your interest, engagement, and critical thinking skills.
Having a few insightful questions ready to ask reflects your passion, curiosity, and commitment to the job. By actively participating in the conversation, you're essentially telling them you're seriously considering being a part of their team.
So, without further ado, here is a list of carefully curated questions you can ask your Panda Express interviewer to make a lasting impression:
Can you tell me more about the day-to-day responsibilities of this role?
What are the immediate priorities for someone in this position?
How would you define the company culture here at Panda Express?
Could you describe the type of employee who typically succeeds here?
How does this role contribute to larger company goals?
What would success look like in this position after six months or a year?
How is performance measured and reviewed?
Are there opportunities for professional development or advancement?
Can you tell me about the team I'd be working with?
What are some challenges that will face the person filling this position?
How has this position evolved since it was created?
What kinds of processes are in place to help me collaborate effectively with my team?
What is the turnover rate here, and what steps are taken to retain quality staff?
How are decisions made in this company?
How does management deliver feedback to employees?
What does the onboarding process look like for a new hire?
Can you describe a typical day at Panda Express?
What is your favorite thing about working for Panda Express?
How do you encourage work-life balance for your employees?
Where do you see Panda Express heading in the next 5 years?
Panda Express Hiring Process
You've spotted a "Now Hiring" sign at your local Panda Express and are interested in joining their team. But what can you expect from the Panda Express hiring process? Don't worry, we've got you covered.
The first step is applying, which you can do easily online or in-person at any Panda Express location.
Within a few days, you'll likely get a call to schedule an initial video or in-person interview.
This first interview is casual and conversational. You'll speak with the hiring manager or store manager and can expect questions about your work experience, availability, strengths and weaknesses, teamwork abilities, and your passion for Panda. Show your authentic self and emphasize your people skills.
If all goes well, you'll be scheduled for a second interview, either via video call or in-person. This one is with a district or general manager. You'll cover similar topics as the first interview. Be ready for some basic math questions too.
For management positions, there may be 3-5 total interviews over 1-2 months. But for most roles, the process is just these first two interviews. Expect to hear back on a hiring decision within 1-3 weeks. Don't be afraid to follow up if you don't hear from them.
Once hired, you'll get the good news over a phone call and can start very quickly, usually within days. Be ready to dive into on-the-job training and learning the Panda way! With preparation and confidence, you'll be serving up tasty Chinese food with a smile in no time.
Panda Express Interview Tips
Going into your Panda Express interview, relax and be your authentic self. Come prepared to talk about your relevant work experience, availability, and interest in joining the Panda team. Share examples that show your strengths in areas like teamwork, customer service, and taking initiative. Be ready to answer situational questions and talk through how you would respond. It's more of a casual conversation, so engage with them and ask thoughtful questions too.
What to Wear to Panda Express Interview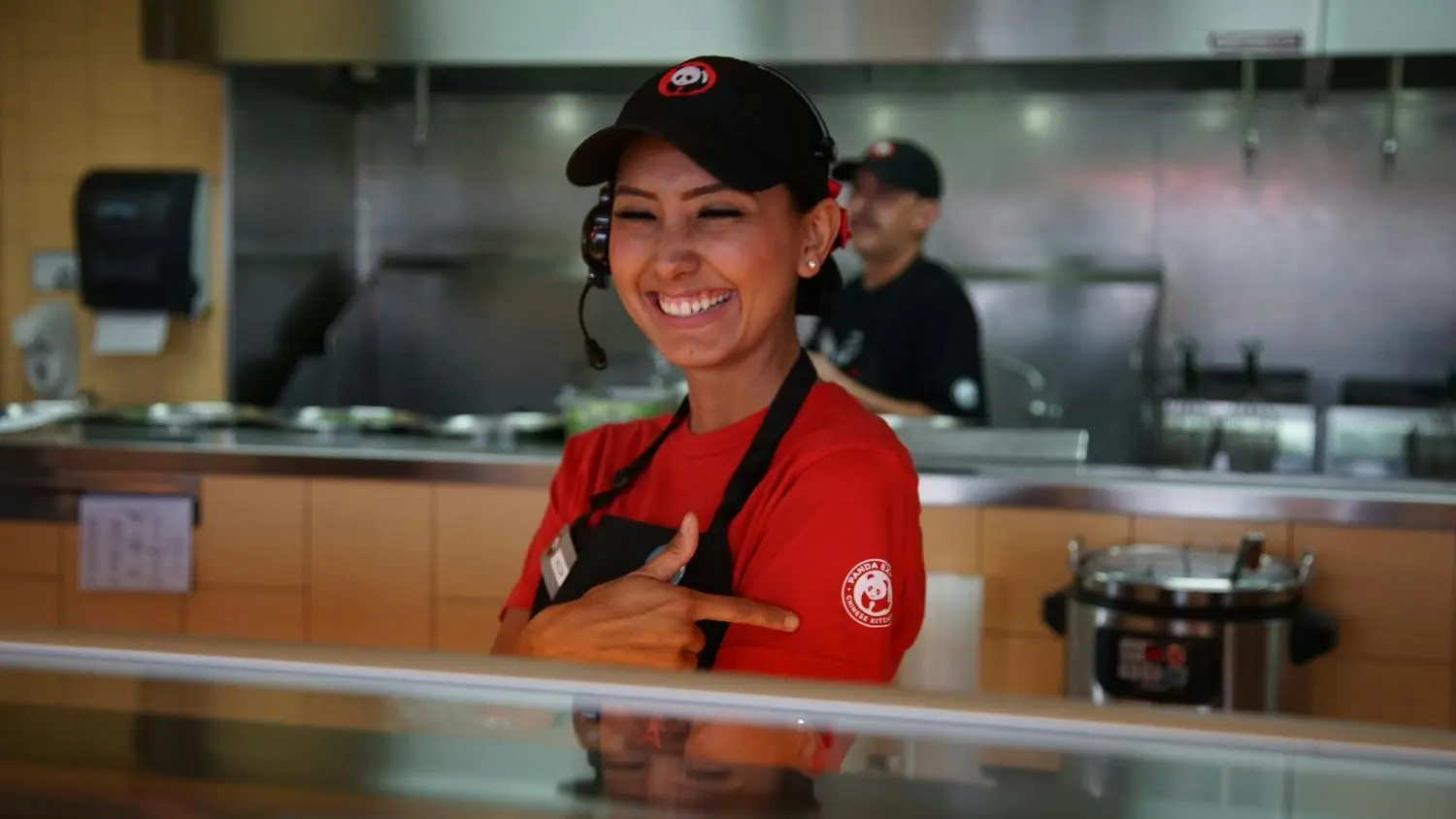 When you're preparing for an interview, it's easy to get lost in the whirlwind of practicing answers, researching the company, and brushing up on your skills. But, remember, first impressions last. And nothing makes a more immediate impression than your choice of attire.
Ever thought about mirroring the company's vibe when selecting your interview outfit? It's a smart way to showcase your commitment and subtly indicate that you're already in sync with the brand culture.
Let's first get acquainted with the Panda Express dress code.
The dress code at Panda Express is a company uniform that consists of a company-provided shirt accompanied by a visible name tag, black slacks, a black apron, and a company hat. In addition to this, hair must be pulled back and secured with a hairnet, which must be worn consistently. Black non-slip shoes are necessary for safety, and facial hair is prohibited.
When interviewing for the Restaurant Service and Kitchen Team roles, keep it simple with casual or business casual clothing. Think neat jeans or slacks, paired with a nice blouse or shirt. You want to convey that you're ready to dive into a bustling environment and serve with a smile or cook up a storm.
Business casual is the way to go for Restaurant Manager and General Manager roles. This could be a pair of tailored trousers or a skirt, coupled with a collared shirt or chic top. Throw in some classy shoes, and you've got an outfit that says, "I'm ready to lead."
When stepping into the corporate arena, it's time to up the ante. Business formal is the order of the day. For the gentlemen, think suits, ties, and polished shoes. For the ladies, a structured dress, blazer, or a sleek suit would do wonders. It's not just about looking the part, but exuding the confidence and gravitas that a corporate role demands.
Conclusion
As we wrap up our exploration of the most common interview questions you will encounter at Panda Express, we hope the detailed responses have instilled confidence in you.
Remember, every question is an opportunity for you to illustrate your unique skills and experiences, along with your commitment to the job you're applying for.
Despite the gratifying sigh of relief that may follow a successful interview, remind yourself that the job hunt is a process, and it's always wise to keep searching and applying. Just as diverse flavors are part of the Panda Express appeal, diversifying your opportunities contributes to the richness of your career journey.
Consider exploring opportunities at other companies like Chipotle, Five Guys, Taco Bell, Sonic Drive-In, Checkers & Rally's, Jack in the Box, Carl's Jr., and Whataburger. These companies offer similar roles and working environments, and your skills and experiences could very well be just what they're looking for.
Confidence comes from preparedness, and with the strategies outlined in this article, you're well-prepared to conquer any interview challenge that comes your way.