25 Five Guys Interview Questions (And Answers To Nail Them)
Ready to land that job at Five Guys? Dive into these MUST-know Five Guys interview questions.
Ever imagined yourself in the vibrant, aroma-filled environment of Five Guys? ???? Yeah, we've all been there. That tantalizing scent of burgers, the energy, the rush… and now, you're just an interview away.
The BIG Question: Are you geared up for the interview?
Look, it's not just about the passion for burgers (though it helps!). To truly stand out, you need to be prepared. And we mean: REALLY prepared.
So, here's the deal:
In this post, you'll uncover:
The Most Common Five Guys Interview Questions (their hiring managers LOVE to ask these).
Power-Packed Answers that showcase you're the real deal.
Whether you've had Five Guys on your career wish list for eons, or you're just in it to win it—this post is your secret sauce.
Enough talk. Time to fry those interview jitters. ????
Five Guys Company Information
Thinking of impressing in your Five Guys interview? Here's the golden rule: KNOW the company. And not just the burger-topping options. We're talking history, values, and the nuts and bolts of their operations.
Look, any candidate can say they want the job. But by immersing yourself in the Five Guys universe, you're not just wanting – you're living it. This is your ticket to be that standout candidate.
Ready to devour this knowledge? Let's bite in. ????????
| | |
| --- | --- |
| Trade Name | Five Guys |
| Type | Fast-Casual Restaurant Chain |
| Year Founded | 1986 |
| Founders | Jerry and Janie Murrell |
| Headquarters | Lorton, Virginia, United States |
| Menu | Burgers, Hot Dogs, Sandwiches, French Fries, Milkshakes |
| Signature Items | Bacon Cheeseburger, Bacon Burger, Bacon Cheese Dog, Cajun Fries, Double Grilled Cheeseburger |
| Core Values | Integrity, Get It Done, Enthusiastic, Competitive, Family |
| Website | www.fiveguys.com |
| Competitors | McDonald's, Wendy's, Carls Jr., Burger King, Jack in the Box, Shake Shack, In-N-Out Burger, Chick-fil-A |
Additional facts:
????‍???? Family Legacy: The Five Guys name represents Jerry Murrell and his sons. Instead of college, they chose to start a business together, valuing family unity.
???? Global Presence: Five Guys was founded in 1986 in Arlington, Virginia, and has since expanded to over 1,600 locations worldwide, proving its global appeal.
???? Franchising Journey: While initially resistant to franchising, after embracing the model, Five Guys quickly sold out franchising rights in Virginia in just three days.
???? Commitment to Freshness: There are no freezers in Five Guys. They use only fresh ground beef for their burgers and hand-cut Idaho-grown potatoes for their fries.
???? Freshly Baked Daily: Their dedication to freshness is evident in their in-house bakery that bakes buns daily.
⏲️ Intuitive Cooking: At Five Guys, cooking doesn't need timers. The strict kitchen rules, like a specific order for toppings, ensure unmatched quality in their burgers and fries.
???? Burger Possibilities: With options like grilled mushrooms, grilled onions, jalapeños, and more, there are over 250,000 possible combinations to order a burger at Five Guys.
???? Secret Menu Items: Beyond the standard menu, Five Guys boasts a secret menu, featuring specialties like the Artery Annihilator and Double Grilled Cheeseburger.
????️ Made-to-Order: Five Guys prides itself on customizability. Your burger is prepared just as you like it, demonstrating their commitment to individual customer satisfaction.
???? No Delivery Policy: Even when the Pentagon requested delivery, Five Guys proudly declared "Absolutely No Delivery" emphasizing the quality of their product.
???? Shaq's Stake: Basketball legend Shaquille O'Neal once owned over 150 Five Guys franchises, covering about 10% of their global locations.
???? Perfect Fries Formula: Five Guys has a meticulous process involving power washing, pre-cooking, and a final fry, all to serve you the perfect fry using healthier peanut oil.
???? Potato Sourcing: A staggering 5% of Idaho's potato sales go to Five Guys, showcasing their dedication to quality.
???? Unwavering Peanut Tradition: Despite rising peanut allergies, Five Guys stands by its peanut offerings and peanut oil usage, taking precautions to warn guests of allergens.
???? Flexible Pricing: Prices at Five Guys can vary based on market conditions and ingredient costs, showing their commitment to quality over uniform pricing.
???? Mystery Shoppers: Instead of traditional advertising, Five Guys invests in mystery shoppers to ensure quality and reward top-performing stores.
⚖️ Antibiotics Concern: Despite many chains moving towards antibiotic-free beef, Five Guys has not made a public stance, receiving criticism from health advocates.
Five Guys Mission Statement
We are in the business of selling burgers.
Five Guys Interview Questions
How do you define excellent guest service, and what steps would you take to achieve that in this role?
Ah, Five Guys. Famous not just for its burgers but also for that top-notch guest experience.
The interviewer wants to see that you view guest service as going above and beyond to leave every customer satisfied, that you are diligent about the details that add up to a great experience, and that you have a proactive mindset for identifying and addressing guest needs.
To answer this question, first define excellent guest service in terms relatable to the fast food industry, such as promptly and politely taking orders, accurately fulfilling orders, maintaining a clean and welcoming environment, and thanking customers for their business.
Then, outline the steps you would take, for example:
Pay close attention to guests as soon as they enter to anticipate and meet their needs.
Take the time to get orders right and be generous with portions and condiments.
Periodically check on guests and refill drinks to demonstrate you care about their experience.
Stay on top of maintaining a spotless restaurant and freshening up tables quickly.
Thank each guest sincerely on their way out and invite them to return again.
Following this structure will demonstrate that you are a great fit for Five Guys' culture.
"To me, excellent guest service is about creating memorable moments. When a guest walks into Five Guys, they're not just looking for a meal; they're looking for an experience. It begins the moment they walk in. A warm greeting, an environment that's clean and inviting, and an attentive staff set the tone. Ensuring orders are taken promptly, double-checking for accuracy, and always serving with a smile are basics I swear by. But it's the little things that can elevate the experience. I believe in being observant – maybe refilling a drink before they even realize it's low, or asking them how their day was and genuinely listening. And, it's crucial to wrap it all up by expressing gratitude as they leave, making them feel valued. At Five Guys, my aim would be to turn every transaction into a connection, ensuring each guest leaves thinking, "I can't wait to come back.""
What does working as a team mean to you, and how would you contribute to the team's success?
Teamwork. It's a buzzword, isn't it? But here at Five Guys, it's the secret sauce.
The interviewer is asking this question to assess your teamwork skills and attitude.
Think about it:
What makes a team gel? Collaboration. Communication. Got each other's backs. That's what they're after.
Your answer should showcase your past experience working on teams and the qualities that made you a great team member.
Were you that guy in a group project who made sure everyone was heard? Or perhaps you balanced tasks to everyone's strengths?
Mention things like listening to others, dividing work evenly, meeting deadlines, and maintaining a positive attitude.
Showing that you understand team dynamics and can adapt to different team environments will impress the interviewer.
Let's put it into words.
"At Five Guys, teamwork is essential to efficiently serving customers and meeting performance goals. I would contribute by communicating openly with my coworkers to divide tasks like cooking, cleaning, and taking orders. If one area was falling behind, I would flexibly jump in to assist so that we could serve customers promptly and accurately. I work well with a range of personalities, so I could collaborate with my coworkers and managers to solve any issues. A positive attitude is also important in a fast-paced environment like Five Guys, so I would maintain that attitude to keep the team motivated and supportive of one another."
Can you describe a situation where you had to work in a fast-paced environment and what you did to keep up?
Picture this: A packed restaurant during lunchtime. The line's out the door, and orders are flying in.
Five Guys, especially during peak hours, can be a whirlwind. So, how do you navigate that storm?
Well, that's precisely what this question's about.
Your goal? Show you're no stranger to high pressure. That even when things get hectic, you're not losing your cool.
Emphasize relevant experience and what you would specifically do in a fast-paced Five Guys setting.
For example, you might say:
"In my previous role as a line cook at a busy restaurant, I frequently had to juggle multiple orders at once with tight deadlines. To keep up, I would prioritize orders by deadline, prep ingredients in advance when possible, and remain laser-focused on one task at a time to avoid errors or burning food. If orders started backing up, I would ask the team for help instead of trying to do everything myself. With this experience, I know I could thrive in the fast-paced environment of a Five Guys and would use similar techniques to ensure a great customer experience and minimize delays."
How would you handle multiple tasks while maintaining quality and accuracy?
Juggling tasks? It's an art. Especially in a dynamic place like Five Guys where the buzz never seems to stop.
Now, this question.
It's digging deep into your ability to multitask, prioritize, and deliver high-quality work under pressure.
So, how do you ace this?
Start with understanding: At Five Guys, it's not just about speed. It's about delivering every time, without fail.
Then, discuss your proven approach for staying organized, focusing on one task at a time, and avoiding dropping the ball.
To-do lists are lifesavers. I jot down tasks. Seeing them helps me get a grip.
What's urgent? What's important? That's my next filter.
Distractions? Nah. I zone in. Phones on silent, 100% on the task.
And sometimes, a breather helps. A quick two-minute pause can recharge the focus.
Armed with this strategy, you're not just efficient. You're Five Guys efficient.
Piecing it together:
"At Five Guys, there are often many orders up at once and tasks to juggle, such as preparing ingredients, cooking, cleaning, and serving customers. I would create amaster to-do list and tackle priority items one by one, minimizing distractions. If orders started backing up, I would ask a coworker for help to ensure high quality and accuracy under pressure. With my organized approach and ability to both work efficiently and collaborate, I will be able to handle a fast-paced workload and meet Five Guys' high standards."
What are your thoughts on cleanliness and hygiene in a fast food restaurant like Five Guys?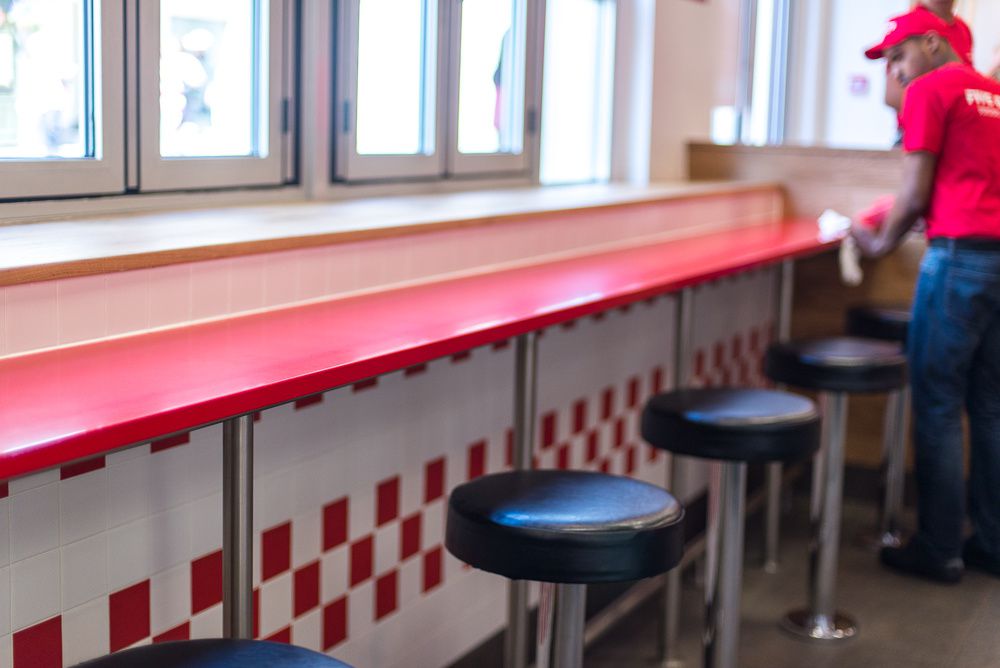 Cleanliness and hygiene are essential to Five Guys' operations and guest experience.
The interviewer wants to see that you recognize keeping the restaurant clean and following proper hygiene procedures is critical for food safety, workplace safety, and guest satisfaction.
You know, people don't just come for those mouth-watering burgers, they also expect a neat, hygienic space.
Let's break it down:
Convey that cleanliness and hygiene are priorities and not afterthoughts. In a fast-food restaurant, all areas must be cleaned regularly to control contamination risks.
Highlight the importance of staff following hygiene requirements, such as proper handwashing, handling raw foods appropriately, and not working when ill.
Note that maintaining high standards may require going above and beyond at times to resolve issues quickly.
For example:
"Cleanliness and hygiene are absolutely essential in a fast food restaurant. I understand that all areas, equipment, and surfaces must be properly cleaned and sanitized on a regular basis to stringent standards to avoid contamination and illness. Proper handwashing and hygiene procedures must be strictly followed by staff at all times as well. I do not view these as mundane tasks, but as critical responsibilities, and I would be diligent in doing my part to maintain the high level of cleanliness and hygiene that Five Guys is known for."
What experience do you have in the fast food industry, and how do you think it will help you succeed in this role at Five Guys?
So, you're diving into the bustling world of fast food, particularly at a hotspot like Five Guys. It's a ride, believe us.
Here's the deal:
The interviewer wants to know if you understand the unique challenges of this fast-paced work environment. They want to hire someone who can hit the ground running, as there is a steep learning curve and little time for training.
Now, this question—it's all about perspective.
Sure, it's about the experience. But it's also about what you learned from that experience. Did you juggle busy shifts? Handle complicated orders? Connect with hundreds of customers?
Bring that to the table.
To answer this effectively:
Highlight any experience you have working in fast food or a similarly fast-paced restaurant.
Mention the skills you developed that would be useful for this role, such as efficiently taking orders, coordinating with a team to prepare food quickly, or working cleanly and safely with food.
Discuss how this experience has equipped you with the ability to thrive under pressure while delivering great customer service.
As an example, you could say:
"I have over two years of experience working at a busy burger restaurant, where I honed my ability to multitask and work efficiently under tight deadlines. Taking up to 10 customer orders at once and coordinating with team members to prepare the orders quickly taught me strong communication and organizational skills. I also learned the importance of maintaining a clean and safe cooking environment and following proper food handling procedures. This background has prepared me well for the fast-paced and detail-oriented nature of a role at Five Guys, and I would appreciate the opportunity to bring my experience to your team."
What motivates you to work for Five Guys?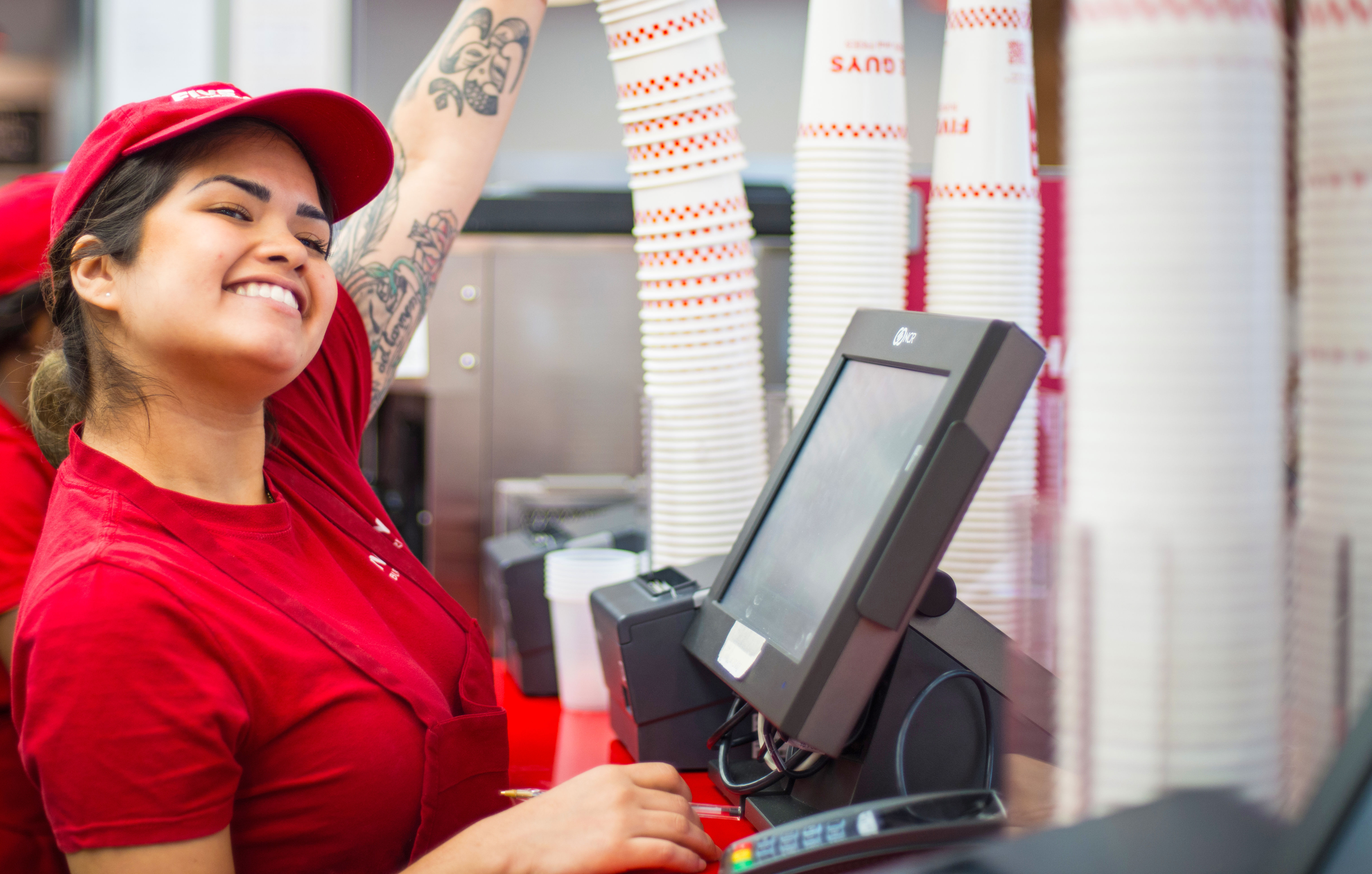 Now, Five Guys isn't just another fast-food joint. Nope. It's a brand that resonates with many.
The interviewer wants to determine if you did your research on Five Guys and the culture, if your motivations and goals align with the company's brand and mission, and if you would be enthusiastic and dedicated as an employee.
Do your homework on Five Guys and note what stands out to you about the company and its values.
Express your passion for delivering exceptional service and a premium product.
Highlight relevant experience you have in the fast food or hospitality industry.
Explain how the company's focus on quality ingredients and customer satisfaction motivates you to achieve high standards.
Share one of your key motivations, such as ongoing growth and learning or working with a fun, collaborative team.
An example answer:
"After learning about Five Guys' commitment to serving fresh, hand-crafted burgers and fries and providing a welcoming space for customers, I'm excited by the prospect of contributing to that positive experience and brand. My time working in fast food cultivated my passion for delivering fast, friendly service with a smile. I pride myself on my ability to thrive in a fast-paced environment while maintaining high quality and cleanliness standards. The opportunity to grow with a company as dedicated to fresh food and customer service as Five Guys motivates me to exceed expectations in this role."
By voicing this, you're not just another applicant. You're someone who sees and values the Five Guys vision.
How would you manage your time effectively and prioritize tasks in a busy work environment?
Ah, the art of time management, especially in a buzzing setting like Five Guys.
The hiring manager wants to know that you can effectively juggle multiple tasks, meet deadlines, and prioritize in a fast-paced work environment with limited time and resources.
It's almost like choreographing a dance, isn't it?
Let's get down to it:
Handling pressure, multitasking, and prioritizing—these are the tricks of the trade. And every move counts.
To address this question, first acknowledge the challenges of the environment.
Then, highlight your relevant experience and the strategies you would employ, such as:
Creating schedules/to-do lists.
Focusing on high-impact tasks. Everything else, queue 'em up.
Minimizing disruptions. Every little distraction can slow the pace.
Asking for help when needed. It's not about juggling alone. It's about ensuring nothing drops.
With this, you're not just answering a question. You're showing your mastery over the chaos that defines the fast-food world.
Joining the dots, you could say:
"I understand that in a busy fast food restaurant like Five Guys, things can get hectic, and there are many tasks vying for attention at once. However, this type of environment is where my time management skills shine. I would start by creating a daily schedule for the most important tasks, like food prep, and blocking off time for those. I would focus on the high-impact items first and be disciplined to avoid distractions. If I got behind, I would re-prioritize and streamline where possible. I'm also not afraid to ask coworkers for help if needed to ensure all tasks are completed on time and to the expected standard. My experience in similarly fast-paced roles has prepared me to hit the ground running at Five Guys and keep the operation running smoothly amid the chaos."
Are you comfortable working in an open kitchen environment with loud team communication?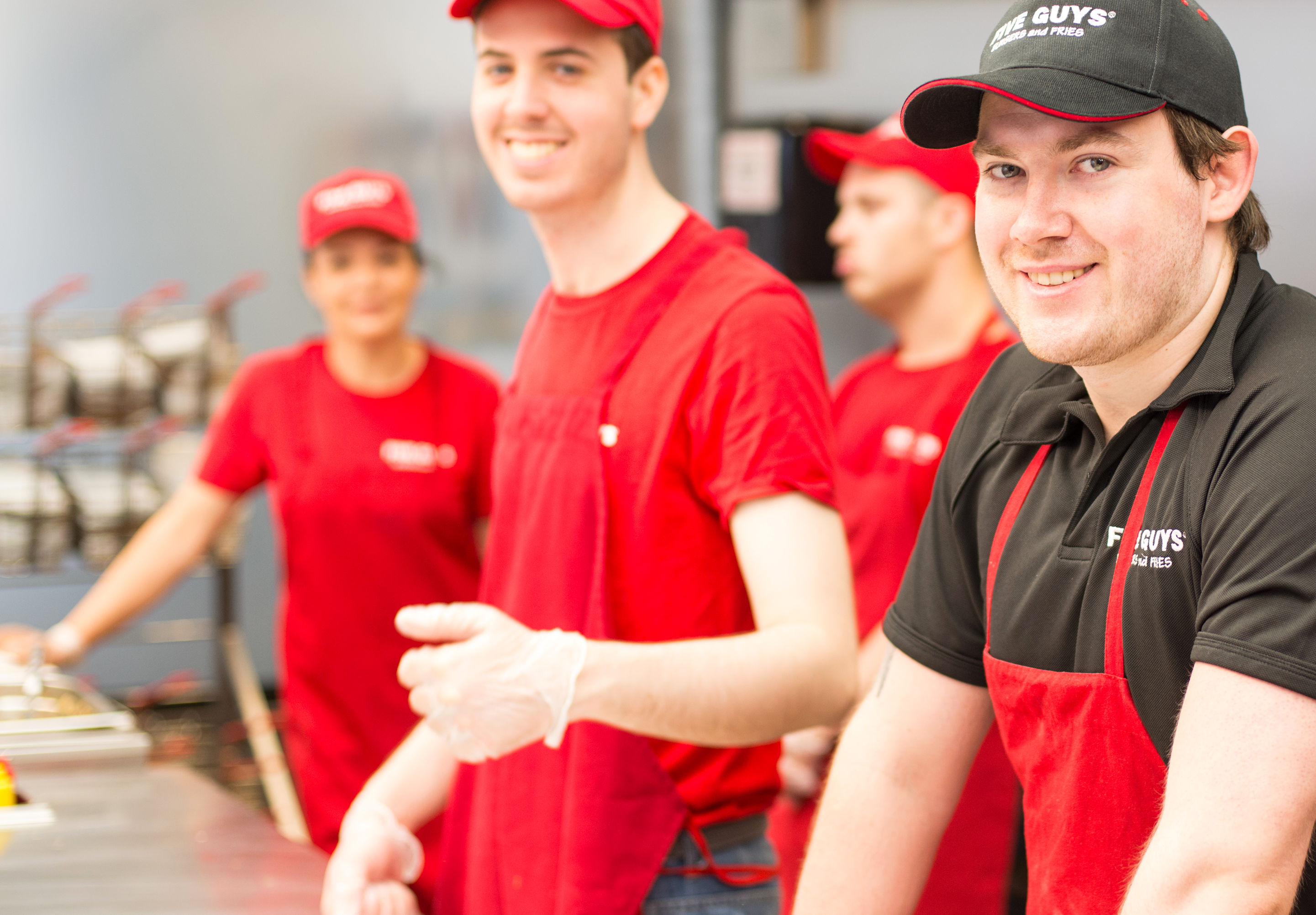 Picture this:
An open kitchen buzzing with action, shouts of "order up!" and the sizzle of the grill.
Sounds overwhelming, right? But not for everyone.
The interviewer is asking this question to assess if you would be a good fit for Five Guys' fast-paced, team-oriented work environment.
They want to know if you can handle the noise, chaos, and frequent communication that comes with preparing and fulfilling orders together as a team.
To answer this question effectively:
Emphasize your ability to thrive under pressure, communicate clearly, and collaborate with colleagues.
Highlight relevant experience you have working on a team in a fast-paced environment.
Explain that the bustling atmosphere and constant communication would not faze you and that you work well with others to get the job done.
A strong answer could be:
"I am very comfortable working in a fast-paced, team-oriented environment with ongoing communication. In my current role, my team frequently has to collaborate to meet tight deadlines, often under high-stress conditions, while resolving issues or questions as they arise. The open kitchen and team-based environment you describe at Five Guys would allow me to draw on my experience delegating tasks, communicating updates, and troubleshooting on the fly. I work well with my peers and thrive under pressure while staying positive—the lively atmosphere would keep me engaged and the team-based aspects of the work appeal to me. I would appreciate the opportunity to contribute to the team and provide great customer service."
What is your availability like, and are you willing to work on weekends and holidays?
Now, the fast-food world doesn't stick to the 9-5, does it?
It's alive when the world is—weekends, holidays, all those peak moments.
By asking if you're willing to work weekends and holidays, the interviewer wants to confirm you have the flexibility needed for the schedule.
To answer well:
Express a flexible schedule and highlight your reliability.
Mention any constraints upfront, then emphasize your openness to work weekends and holidays as needed.
Follow up with questions about specific scheduling needs to confirm you would be a good fit.
Get to the core:
"For me, commitment is about aligning with the job's demands. I know Five Guys is bustling, especially on those peak days. And that's where reliability plays its part."
Draw from life:
"Over the past few years, my roles have often seen me working weekends and holidays. Did I miss a few family gatherings? Sure. But there was a purpose—serving customers, being there when the team needed it the most. That's a trade-off I understood and embraced."
Tie it in:
"As someone seeking a long-term position with opportunities for growth at Five Guys, I recognize weekends and holidays are important times to have full staffing. My current schedule is flexible, with few constraints, so I would be available to work weekends and holidays as needed to support the business. Having worked in food service before, I understand the demands and am used to a varied schedule. You can count on me to provide reliable and consistent availability and to be present when the restaurant is busiest. Do you have specific scheduling needs I should be aware of for this role?"
Can you describe a time when you had to quickly adapt to a new situation in your work environment?
Five Guys thrives on speed and adaptability. When they ask you this, they're really testing your agility. The kitchen's pace can be dizzying, and the unexpected is pretty much… expected.
Think of a specific example of a time when plans changed unexpectedly at work, and you had to adjust course. How did you handle it? What did you learn?
Discuss how you stayed positive, thought logically through solutions, and took initiative to get the job done.
Highlight relevant soft skills, like communication, problem-solving, and resilience in a difficult situation.
With an enthusiastic, can-do attitude, show how these skills will benefit Five Guys.
Here's an example answer:
"A good example would be a busy Friday night shift when we were suddenly down two team members due to no-shows. As the most senior crew member on-site, I stepped in to redistribute tasks and prioritize what was essential to keep the restaurant operating. I jumped on the grill and fryers to get food out quickly, asked the manager to step in for order taking and payments, and worked with the remaining team to blitz clean between orders so we didn't fall behind. It was chaotic, but we managed to make it through the dinner rush without issues. From that experience, I learned the importance of staying positive under pressure, collaborating with colleagues, and being willing to get hands-on to get the job done, whatever it takes. I would bring this 'all hands on deck' mentality and ability to adapt to unexpected situations to Five Guys."
How do you handle criticism and feedback from your managers, and what steps do you take to improve your performance?
No one's perfect. Five Guys knows that.
This question isn't about dragging your flaws into the spotlight. It's about your ability to accept feedback and constructive criticism, reflect on it, and take action to improve.
They want to see that you are coachable and open to personal growth.
When answering, convey that you do not take feedback personally, but view it as an opportunity to learn and develop.
Share that you actively listen to feedback, ask clarifying questions if needed, and take time to reflect on the feedback afterwards.
Explain the steps you take to apply the feedback, such as setting goals to work on your weaknesses or meet the feedback points.
Highlight your follow-through and how you track your progress.
For example, you could say:
"If I received feedback that I was taking too long to prepare some menu items and it was resulting in longer customer wait times and food waste, I would first thank the manager for the feedback. I understand they are investing in helping me improve to benefit both myself and the team. I would ask follow up questions to fully understand the feedback and take notes. On my own time, I would reflect on specific instances where my prep speed impacted our metrics. I would then set measurable goals, such as preparing certain items within a target time frame. I would practice and time myself to work towards the goals. Weekly, I would meet with the manager to review my progress and get more coaching until the feedback was addressed. I appreciate all opportunities to better serve our customers and team."
What are your long-term career goals, and how do you think working at Five Guys can help you achieve them?
In your Five Guys interview, you'll likely be asked about your long-term career goals and how working at Five Guys can help you achieve them.
This common interview question is asked to assess your motivation, ambition, and fit for the role and company.
Who doesn't have dreams and aspirations, right?
Now, let us give you a piece of advice.
First, keep it real. Dive deep and think of one or two career goals that truly resonate with you. Maybe you've always pictured yourself managing a bustling Five Guys outlet? Or, dreamt of harnessing those restaurant skills for your own venture someday?
Next, connect the dots. Tell them how grinding at Five Guys can pave the way to your dreams. Maybe it's the rapid-paced, in-the-trenches experience that attracts you. Or, perhaps you've heard legends of Five Guys' epic promote-from-within culture. Show them how you think that dedication and hustle can help you climb the ladder.
But hey, don't forget to flaunt a bit. Let them know what you bring to the table. Maybe it's your uncanny ability to lead, or perhaps you're the problem-solving champ in any crisis. Do you pride yourself on crafting memorable customer experiences? Let them know! And of course, your zest to crush both team and personal goals.
Here's an example answer:
"My long-term goal is to eventually manage my own Five Guys restaurant. I see a lot of opportunity for growth at Five Guys, and I hope to start by learning practical skills on the ground level and proving my abilities. The fast-paced, high-volume nature of Five Guys would allow me to quickly gain food service experience and learn operational skills. With my strong work ethic, leadership abilities, and passion for delivering a great customer experience, I hope to earn additional responsibilities and advance to a management position over time. The company's promote-from-within culture and my ability to thrive under pressure will help me achieve my goal of running my own profitable Five Guys location within five years."
Tell us about a time when you went out of your way to help a customer. What did you do, and what was the outcome?
Now, if you're gunning for a position at Five Guys, you gotta know they're all about top-notch customer service. We mean, who isn't? But they really take it to heart.
This interview question is designed to assess your customer service skills and see how you would handle challenging customer service situations.
Imagine you're the interviewer. You want stories, real-life tales that prove you're the kind of person who'll go to the moon and back for a customer. So, what's your story?
Discuss a specific example of a time you assisted a dissatisfied or difficult customer.
Explain the steps you took to help the customer and the positive outcome that resulted from your actions.
Some things you could mention include:
Listening to the customer and acknowledging their concerns
Taking ownership of the problem and apologizing for any inconvenience
Brainstorming creative solutions and alternatives when standard procedures were insufficient
Following up with the customer afterwards to ensure maximum satisfaction
By sharing that genuine tale of how you pushed boundaries for customer satisfaction, you're not just answering their question. You're showing them why you're perfect for Five Guys.
For example,
"Providing great customer service is very important to me. One time, I had a customer who was disappointed to find we had left out one of the items they ordered after waiting in line. Instead of just remaking the item, I offered them a complimentary side or drink for the inconvenience. They were pleased with how the situation was handled, and it led to a positive interaction and loyal customer. I strive to pay attention to the details of each order and go the extra mile to make things right if there's an issue. This approach has led to grateful, returning customers at my current job, and it's the kind of excellent service I would provide to every customer at Five Guys."
Can you give us an example of a time when you had to deal with a difficult coworker, and how did you handle the situation?
Ah, the age-old tricky coworker question! But hey, who hasn't had to work with someone a tad challenging? It's a fast-food jungle out there, right?
The interviewer wants to see that you can handle interpersonal issues professionally and not get easily flustered.
First things first, it's crucial to let them know: You get it. Difficult coworkers? They're part of the game, but they won't shake you.
Now, share your story. Maybe you remember keeping your cool, even when things got heated. Did you tackle things head-on? Did you grab a coffee with that coworker, trying to iron out those misunderstandings? Tell them.
Show them you're the guy or gal who listens, trying to see the other side. And while at it, let them in on how you're always seeking that middle ground, that sweet spot of compromise.
Here is an example answer:
"At my current job, a new coworker and I initially disagreed on the best way to prepare ingredients and assemble burgers. Our different approaches disrupted our efficiency and team dynamic. To resolve this, I asked my manager if we could privately talk through our procedures to identify the most effective methods. In our meeting, we listened to each other's experiences and perspectives. We found that combining particular elements of each approach led to the best outcomes. We then worked together to train the rest of the staff on the agreed-upon procedures. This experience reinforced for me the importance of open communication and a willingness to cooperatively problem-solve with colleagues to meet team goals."
What do you think sets Five Guys apart from other fast-food chains?
Alright, so you're in the hot seat at Five Guys. They drop the big one on you: What makes us different?
Here's your moment. Dive deep into your reservoir of Five Guys intel.
Kick off by painting a mouth-watering picture. You know, those hand-crafted patties that taste just right. Or those fries, golden and crispy, dripping in that unique peanut oil goodness.
But hey, it's not just about the food. Tell them how Five Guys is in a league of its own, more gourmet diner than fast food.
Let them visualize it—the open kitchens where the magic happens, that minimalist menu promising quality over quantity. And, for the love of burgers, don't forget to mention the zero-tolerance policy for frozen foods and heat lamps.
Wrap it up with a nod to the experience. Talk about the staff who don't just serve food—they create memories. How every interaction with customers is more than transactional. It's personal.
By intertwining these points, you aren't just answering the question. You're painting a vivid picture of why Five Guys isn't just another burger joint—it's an experience.
Here's an example of how to tie it all together:
"Five Guys is unique in the fast food industry due to their commitment to fresh, high-quality ingredients and premium customer experiences. Rather than frozen foods and heat lamps, they have open kitchens where food is handmade to order. They also emphasize friendly service and interactive staff, creating positive word-of-mouth that fuels their growth. This focus on ingredients, experience, and service shows Five Guys' dedication to a superior fast-casual model, which is more fulfilling for both customers and employees. This aligns well with my own values, and I would appreciate the opportunity to contribute to this brand experience and company growth."
Tell me about a time when you had to manage multiple tasks and priorities in a short amount of time.
The interviewer wants to assess your time management skills and ability to prioritize in a fast-paced work environment.
At Five Guys, schedules can be hectic, and tasks come at you quickly, so the ability to juggle multiple demands is crucial.
To answer this question,
First, acknowledge the difficulty of the scenario.
Then, discuss how you would organize the tasks by priority and importance.
Explain your system for keeping track of the tasks, whether through lists or a project-management approach.
Highlight relevant experience you have successfully managing competing deadlines.
Showing a calm, structured approach will demonstrate your potential.
Here's an example answer:
"Handling multiple, time-sensitive tasks is challenging, but I have experience prioritizing effectively even under pressure. I would first make a master list of all tasks and deadlines, then determine key priorities, factoring in customer impact and task urgency. I might allocate longer tasks to slower periods when possible. I'd tackle high-priority items right away while delegating what I could to coworkers. Regular check-ins and updates would ensure everything is on track. For example, during a busy lunch rush at my current fast food job, I have to coordinate several orders at once, monitor food quality, and assist customers. By staying organized and working with my team, we're able to serve customers quickly while meeting all health and safety standards."
Can you describe a time when you had to work with a difficult or demanding guest, and how did you handle the situation?
This behavioral question aims to understand your conflict resolution approach and see if you have the patience and composure to deal with upset or rude customers.
The interviewer wants to know that you can remain professional, courteous and solution-focused even under pressure.
To answer effectively:
Briefly describe the scenario and the customer's concerns or frustrations. Keep your answer concise while highlighting the key points of conflict.
Emphasize your listening and communication skills. Explain how you actively listened to the customer and expressed empathy for their experience. Highlight how you clarified the issues and verified their concerns were understood.
Share how you problem-solved and worked towards a resolution. Discuss the steps you took to resolve the situation, meet the customer's needs, and leave them satisfied. Note any follow up actions as well.
Keep it upbeat, positive, and dripping with professionalism. Because that's how you roll.
For example, you could say:
"A customer once grew frustrated waiting for their order during a busy lunch rush. I listened to their concerns, apologized for the delay, and offered a meal discount. I expedited their order and checked back to ensure the issue was resolved, and they enjoyed the rest of their meal. Through active listening and fast problem-solving, I was able to defuse the tension and leave the customer satisfied."
The Five Guys interview question about your favorite menu item is designed to assess more than just your taste in food.
The interviewer wants to see how well you can think on your feet and highlight your ability to pick up on the company culture.
When answering, demonstrate your understanding of Five Guys' focus on quality ingredients and highlight a menu item that aligns with this. Maybe it's a juicy burger or those crispy-on-the-outside, soft-on-the-inside fries.
Then, go culinary on them. Drop some flavor bombs, talk about the distinct taste profiles, how every bite is a medley of yumminess. If you've got insights on preparation, sprinkle that in.
But remember, always circle back to the customer. Highlight how this dish isn't just mouth-watering but a testimony to Five Guys' commitment to offering the best to their patrons.
Because at the end of the day, a happy stomach means a happy customer, and that's what it's all about.
A strong example answer could be:
"My favorite menu item is the bacon cheeseburger. I love how Five Guys uses fresh, hand-formed patties and slices their bacon and cheese to order. The way the melted cheese, crispy bacon, grilled onions, and mushrooms blend together creates an explosion of flavors with each bite. This focus on high-quality, made-to-order food that doesn't compromise on taste is what I admire about Five Guys and what leads to such a great customer experience. If I'm fortunate enough to join the team, I would bring this same passion for the product and service to my role."
How would you handle a situation where a customer is unhappy with their food, even though it meets brand standards?
At Five Guys, where the fries are hot and the burgers are divine, customer satisfaction is their top priority.
Now, let's dive deep.
You're in an interview. They drop this question. What's your move?
First, empathize. We're all human, right? Recognize their feelings, and stay upbeat.
"You seem disappointed with your meal. Tell me more."
Dig deeper. What's the real issue here? Get to the heart of their unhappiness. Listen and find that remedy.
Mistakes? They happen. If there's a genuine blunder, own up. Say "sorry" like you mean it.
"I apologize for that mix-up. How about a replacement on us?"
It's not about pointing fingers. It's about solutions. Offer a make-good – maybe a fresh burger, a refund, or a coupon for their next visit. Wrap up strong.
"Our goal is always to serve you better. Thanks for your feedback."
And boom! You've shown them your commitment to Five Guys' high standards.
"I understand the customer is disappointed, so I would listen to their concerns compassionately. My goal would be to resolve the issue and leave them with a positive impression of Five Guys' commitment to excellence. I would ask questions to fully understand the problem, apologize for any errors, and offer reasonable accommodations to make it right, like a fresh order or refund. The customer's satisfaction is my priority, so I would do whatever it takes to turn their experience around."
How do you feel about taking orders, and how would you ensure that you get the order right every time?
Five Guys, right? It's not just a burger joint; it's a bespoke burger haven.
Each order is a unique masterpiece crafted to customer whims. So, nailing the order? Non-negotiable.
The interviewer is asking you this question to assess whether you have the attention to detail, patience, and focus required to take orders accurately in a fast-paced environment.
Your response?
Start by setting the stage. Express your understanding of the importance of accuracy and detail.
"I understand that precision is the name of the game."
Got past experience? Flaunt it! Maybe you've juggled custom orders at another diner.
"I've taken detailed orders at [Previous Job], ensuring each was perfect."
It's about those key skills. Active listening. A step-by-step approach. And always, always double-checking.
"If I'm unsure? I'll ask. 'Extra pickles, right?' Better safe than sorry."
Explain how you would ask clarifying questions if needed and be fully focused on the customer's order to capture all details.
Wrap it up like a boss.
"Ensuring the customer gets exactly what they asked for? That's the Five Guys way. And it's my way, too."
There you go, champion. You're not just taking orders; you're making dreams come true, one burger at a time.
"Getting customer orders exactly right is very important to me. I have experience taking complicated orders at a pizza restaurant, where there were many options and opportunities for errors. I would listen carefully to the customer's full order, repeat it back to confirm, and have them verify all details before submitting the order. I work in a structured, detail-oriented way and would not get rushed or distracted. It's crucial that I get the specifics of the burger, toppings, and sides correct, so I will ask questions if needed and remain fully focused on accurately processing the order to meet the customer's needs."
Can you explain how you communicate with others in a busy, fast-paced environment?
Picture this: The kitchen's buzzing, orders are pouring in, and it feels like the whole world's decided to drop by for a burger feast at Five Guys. How do you keep your cool and communicate?
That's what the interviewer is digging for.
They want to know that you can effectively relay information, listen to colleagues, and work together as a team, even when things get hectic.
Start with your track record.
"I've always thrived in bustling settings. Makes me feel alive."
Now, dive into your strategies. Discuss how you prioritize important information and requests.
"When the heat's turned up, clarity's my best friend. I've learned to cut the fluff. 'Need those fries, ASAP!' – concise, yet polite."
Got a fast-paced job in the past? That's gold. Flaunt it.
"Back in [Previous Job], it was like a lunch rush every hour. Kept me on my toes. Taught me the art of active listening while flipping burgers and ringing up orders."
Express your composure under pressure.
"High-pressure? That's my jam. I keep my cool, and that zen vibe? Infectious. Helps the whole team stay upbeat and on point."
By conveying these skills and experience, you will show the interviewer you have what it takes to communicate effectively amid the fast-paced environment of Five Guys.
"In my previous role at a bustling cafe, I often found myself in the middle of the lunchtime rush. The key? Always staying laser-focused and composed. I developed a system of using short, clear phrases to communicate essential information with my teammates, ensuring no details got lost in the noise. Moreover, active listening became my go-to. I'd quickly repeat back an instruction or a request to confirm understanding. This prevented miscommunication and kept us all on the same page. At Five Guys, I'm confident that my proven approach to prioritizing and streamlining communication will keep operations running smoothly, even during the busiest shifts."
Can you describe a time when you had to work as a part of a team to achieve a goal?
Teamwork? It's like the secret sauce at Five Guys.
And they want to know if you've got the recipe to collaborate with others, resolve conflicts, communicate effectively, and ultimately get work done.
To ace this question:
Set the scene. Think of the busiest day you've ever had in a restaurant or any other job.
"It was a Saturday night. The line was out the door. Felt like the Super Bowl of burger nights."
Delve into the challenge.
"We had a massive group order. Every burger different. It was a relay race against the clock."
Then, the approach.
"Communication was key. I was on grill, constantly syncing with the fries station and cash register. We had to be in harmony."
What did you bring to the table?
"I took charge of the assembly line, ensuring each order was spot on. Asked questions, double-checked, and kept the pace."
Wrap up with the takeaways.
"We nailed it! It taught me the value of each team member. And at the heart of it? Effective communication and trust."
Now you've painted a picture. One where you're not just flipping burgers, but orchestrating a symphony of deliciousness.
"At my previous job, my coworkers and I often had to team up to handle a sudden influx of customers. One busy lunch shift, 4 separate large orders came in at once, and we had to work together to prepare everything accurately and promptly. I delegated tasks, retrieved ingredients, and assisted others as needed. Though tensions rose at moments, we kept open communication and adapted to setbacks. By dividing the work and holding each other accountable, we served all customers with a smile and without errors. Through this, I reinforced how transparency, division of labor, and maintaining composure as a team are key to achieving goals efficiently even under pressure."
How would you describe your biggest strength and how do you think it will help you excel in this role?
The interviewer wants to understand what you consider your key strength to be and how it would be advantageous for the position and Five Guys.
They want the best. You know, that thing you absolutely rock at.
Some strengths that would be relevant for a fast food role are: strong attention to detail, ability to thrive under pressure, excellent communication skills, problem-solving skills, and leadership ability.
To answer this question effectively, first reflect on your relevant strengths and select the one you can give a compelling example for. Then, explain how this strength will benefit Five Guys.
Kick off with conviction.
"My biggest strength? I'm a master of [strength, e.g., 'attention to detail']."
Share a tale.
"Remember that time at [Previous Job]? We had [specific challenge]. But with my [strength], we not only tackled it but soared."
Now, here's where the magic happens. Make it all about them.
"Five Guys is all about precision and quality. And with my [strength], I can ensure every burger and every customer experience is impeccable."
Leave them thinking, "We need this person on our team."
"One of my standout strengths is my ability to stay composed and methodical, even in the most chaotic situations. This trait has been honed from my past experiences in fast-paced environments, where split-second decisions can make all the difference. When the restaurant is packed, orders are flying in, and everything seems a whirlwind, my calm demeanor ensures that tasks are handled efficiently, mistakes are minimized, and the team feels a sense of stability. It's this capacity to be a grounding force, coupled with my knack for prioritizing tasks, that I believe will make me a valuable asset to the Five Guys team. I see every challenge as an opportunity, and I am excited to leverage this strength to elevate the guest experience and team dynamics at Five Guys."
Can you tell me about a skill you are working to improve or an area where you would like to grow?
Ah, the ol' weakness question.
It's not about being perfect; it's about striving for it. They want to see the real, evolving you.
To answer this question effectively, reflect on your genuine areas of desired growth and how those connect to the requirements of the role and the company's goals. Showcase a strong work ethic and passion for personal and professional development.
Some things you can mention as weaknesses (areas you are aiming to strengthen) include: time management to increase efficiency, leadership abilities to take on more responsibility, technical skills to advance in your career, or communication skills to collaborate better with colleagues and serve customers.
Explain what you are doing to develop the skill, such as taking a course or practicing a habit. Highlight why improving in this area would benefit you in the role and benefit the company.
Be authentic but also strategic in how you frame your response.
Start with transparency.
"I've got my strengths, but I'm also laser-focused on upping my game in [specific skill, e.g., 'time management']."
Give them the backstory.
"In my current role, I noticed [specific challenge relating to the skill]. So, I decided to level up."
Share the action.
"I've enrolled in [specific course or method], and every day, I work on honing this skill."
Then, bring it home.
"With Five Guys' fast-paced environment, I believe improving my [specific skill] will not only make me more efficient but will also contribute immensely to the team."
Finish with a sprinkle of ambition.
"I always believe there's room for growth. And every day, I aim to be a better version of myself. For me, and for Five Guys."
You've just shown them you're not only a valuable player but one who never stops evolving.
"One area I'm always working to improve is being a bit impatient at times. I like to be efficient and get things done quickly, so I can sometimes get frustrated with inefficiencies or delays. However, I understand the importance of process and teamwork in a fast-paced environment like Five Guys. My strong work ethic and ability to learn from others helps me collaborate well and meet work objectives. At the end of the day, what's most important is delivering a great customer experience and high-quality work, and I'm able to keep that ultimate goal in mind even when faced with challenges or inefficiencies. Continuous self-improvement is important to me, and I hope to grow in a company that values that as well."
Questions to Ask the Interviewer in Five Guys Interview
As your Five Guys interview wraps up, your interviewer will likely pose that familiar yet important question: 'Do you have any questions?'
This is your opportunity to leave a lasting impression and demonstrate your enthusiasm for the role and company.
Asking insightful questions shows your interest and enthusiasm, gives you a better sense of the role and team, and allows you to determine if it's the right fit for your needs as well.
The interviewer is trying to assess:
Your interest level in the role and company. Are you engaged and enthusiastic?
Your preparation and research. Did you do your homework to understand the company and role?
Your communication skills. Can you ask clear, concise, and targeted questions?
To make the most of this opportunity, prepare questions in advance. Some great options include:
What does success look like in this role? What goals or metrics will I be measured against?
What's the career path for this position? What's the potential growth for someone in this role?
What's the company culture like? What's most valued and encouraged?
What's the next step in the hiring process, and when can I expect to hear back from you?
What are the current challenges in this role/department? How could I help address those challenges?
What do you think are the most important qualities you're looking for in a candidate for this role?
What's the training process like for this role? What resources are available for professional development?
What do you like most about working for Five Guys?
What are the current goals or challenges for the company? How does this role contribute to those?
Can you describe a typical day or week in this role? What are the day-to-day responsibilities and priorities?
What's the timeline for the hiring and onboarding process? When would the role start?
Are there any concerns you have about my qualifications or experience for this role?
How has this company adapted to changes in the industry or market over the last few years?
Five Guys Hiring Process
As you prepare for your Five Guys interview, it's helpful to understand their standard hiring process and know what to expect.
For restaurant positions, you can apply online or in person at your local Five Guys location. Check their career portal to view current openings and job descriptions so you can find a good fit for your skills and experience.
If your application is selected, you'll be invited to schedule an on-site interview with the hiring manager. This 15 to 30-minute interview includes a quick tour of the restaurant and sometimes a complimentary meal.
For corporate positions, submit an online application with your resume and cover letter.
The initial application includes questions about your behavior and skills to determine if you'd be a good match for the role and company culture.
If your application is selected, you'll go through a brief phone screening followed by an on-site interview at their corporate office.
Expect a series of interviews, including one-on-one and panel interviews with the hiring manager, department head, potential team members, and HR.
Be prepared to demonstrate your work efficiency, leadership abilities, and passion for Five Guys' brand.
Five Guys Interview Tips
Throughout the interview, be authentic and highlight why you're interested in joining the Five Guys team. Discuss your customer service approach, food industry experience, and personality. Showcasing a positive attitude and team-oriented spirit will serve you well.
What to Wear to Five Guys Interview
When you're preparing for an interview, remember this golden nugget: giving the impression that you belong is half the battle won. One way to do this? Dress as though you're already part of the team.
Now, before you stress about digging through your closet or heading to the store, let's talk about the dress code at Five Guys.
At Five Guys, the dress code is a company uniform consisting of a shirt (red for crew and black for management), jeans or black pants, a company hat or visor, and closed-toe non-slip shoes. Underlying shirts can be white or black, with long-sleeved versions being strictly black. Shorts, leggings, and skirts aren't permitted.
For restaurant roles like Crew Manager, Shift Leader, or Shift Manager, opt for casual or business casual attire. This could be nice dark jeans or khakis, a fitted blazer or cardigan, and a solid-colored shirt.
For restaurant management roles like Assistant Restaurant Manager or Restaurant Manager, business casual is appropriate. For men, wear slacks and a button-down shirt, potentially with a tie. For women, slacks or a knee-length skirt with a blouse is suitable.
If interviewing for a corporate position, dress in formal business attire. For men, this is a suit and tie, for women a pantsuit or skirt suit.
Conclusion
Dove deep into these common Five Guys interview questions and now feeling pumped for the interview? Awesome.
Remember: it's not just about the knowledge. It's how you serve it.
Key Takeaways:
Precision is Power: Short, sizzling answers always outshine rambling ones.
Storytime: Your experiences? They're gold. Use them.
Fit Factor: Show them you're not just an employee; you're part of the Five Guys family.
Got it all? Amazing. But here's a spicy nugget:
Even if you nail the Five Guys interview (which, let's face it, you're gonna), why stop there?
Branch out. Try out big names like In-N-Out Burger, Shake Shack, McDonald's, Wendy's, Carls Jr., Burger King, Jack in the Box, Chick-fil-A, and more. Heck, explore your local scene for spots that scream quality.
Because here's the thing: the more you're out there, the closer you are to your dream gig.
Stay relentless. Hustle hard. And remember: in the world of fast food, the persistent ones always get the juiciest burgers. ????????
Keep cooking that magic. You've got it in you!