27 Which Wich Interview Questions (With Satisfying Answers)
Are you nervous about your upcoming interview at Which Wich? Do you feel unprepared for the questions they may ask and worry you won't have the right answers? You're not alone. Interview anxiety is completely normal. The good news is, with some preparation, you can walk into your Which Wich interview feeling confident and ready to land the job.
This blog post is your secret weapon to alleviate anxiety and ensure you make a great first impression. We will provide the most commonly asked interview questions at Which Wich, along with suggested answers to inspire your own unique and thoughtful responses.
As you read each question and sample answer, imagine yourself in the interview, making a genuine connection with your interviewer. Visualize yourself conveying your passion for the work and company culture. You have so much amazing experience and value to offer – now is your chance to share that with them!
Now take a deep breath and dive in. You've got this!
Which Wich Company Information
Commit to memory a few essential facts about Which Wich before your interview. This foundation of knowledge will enable you to impress the interviewer and handle any research-based questions with confidence.
| | |
| --- | --- |
| Trade Name | Which Wich |
| Type | Fast Casual Restaurant Chain |
| Founded | 2003 |
| Founder | Jeff Sinelli |
| Headquarters | Dallas, Texas, United States |
| Menu | Sandwiches, Salads, Wraps, Shakes, Beverages |
| Signature Items | Wicked Sandwich, Thank You Turkey, The Avocado, Elvis Wich |
| Core Values | Smile, Love, Voice, Music, Peace, |
| Website | www.whichwich.com |
| Competitors | Subway, Jimmy John's, Jersey Mike's, Panera Bread, Firehouse Subs |
Additional facts:
Innovation in Ordering: Which Wich revolutionized the fast-food ordering process by using a unique bag system. Customers mark their preferences on a bag, ensuring custom-made sandwiches that align perfectly with their preferences.
Embracing Technology: To streamline the process further, the company offers online and app-based ordering, available on both the Apple App Store and Google Play Store.
The Power of the Vibe: The company's founder, Jeff Sinelli, doubles as the "Chief Vibe Officer," responsible for maintaining and propagating the company's vision, mission, and values, which hang in yellow and black circles at every franchise location.
Rewarding Loyalty: The Vibe Club Rewards is a loyalty program offering members bonuses such as a free sandwich for every 75 points earned, and a free sandwich on their birthday.
Giving Back: Which Wich practices conscious capitalism through its Project PB&J, where each sandwich sold from the kid's menu leads to a donated sandwich to those facing food insecurity or affected by natural disasters.
Franchisee Support: The company provides extensive support to its franchisees, helping to ensure their success with a comprehensive "template" for managing a franchise effectively.
Record Breakers: Which Wich has broken two Guinness World Records for the most number of sandwiches made in an hour, with the record-breaking sandwiches donated to various charities and individuals in need.
Global Presence: The sandwich chain boasts over 400 franchises not only across the United States but also internationally, marking its global success.
Acclaimed Quality: The chain's offerings have received widespread acclaim, with accolades including being named among "The Best Sandwiches in Dallas" by D Magazine and having the best fast casual kids' menu in America by Restaurant Hospitality.
Sustainable Growth: Which Wich has consistently grown over the years, achieving milestones such as opening their 50th, 100th, 250th, 300th, and 350th stores in quick succession.
Which Wich Mission Statement
We're committed to making the world a better place. We get to do that in a small way, every day, by providing each customer with a great sandwich and great service.
Which Wich Interview Questions
Would you mind sharing some details about yourself and your background?
This is a common opening question in interviews. The interviewer uses this question to get a sense of who you are and assess if you're a good culture fit.
When the interviewer asks this, don't just rattle off where you went to school and your past jobs. Really share who you are – your personality, interests, and goals.
For example:
"Well, I'm an outgoing foodie who loves trying new restaurants. I was drawn to Which Wich because you seem to value individuality and building close-knit teams. In my free time, I like seeing live music shows and hiking. Professionally, I have two years of experience in customer service. I started as a barista, where I learned how to craft high-quality drinks and provide amazing service. I then moved into a server role at a popular diner, where I frequently handled large sections of up to 60 guests at once. My experience in fast-paced, demanding settings has taught me the importance of efficiency, multitasking, and staying cool under pressure."
Why do you want to work for Which Wich?
The interviewer is trying to gauge your passion and enthusiasm for the brand and role. This is your chance to show them you're meant to join the team.
Here's how you do it.
Do your homework. Learn what makes Which Wich tick—their mission, values, charity work, you name it. The more you know about what gets them excited, the more you can get excited too. Mention specific things that make your eyes light up, like creating new menu items or building a loyal customer base. Let your passion shine through!
With the right preparation, you'll be ready to provide an answer like this:
"I want to work for Which Wich because I'm extremely passionate about your mission of creating an amazing guest experience through customization and community. I love experimenting in my own kitchen, so the opportunity to develop new sandwiches and sides would be a perfect creative outlet for me. I'm also drawn to Which Wich's culture of supporting charities and bringing people together. Having a career where I can pursue my culinary interests while also positively impacting the community is very appealing to me."
How do you typically approach and handle stressful situations in a fast-paced work environment?
This is a common question in Which Wich interviews and one the interviewer will use to gauge how well you'll adapt to the fast-paced, high-pressure environment in one of their restaurants.
They are looking for candidates who remain calm under stress, think quickly on their feet, and focus on solutions rather than problems.
To prepare, think of examples from your relevant work experience that demonstrate these qualities.
"In my previous role at a local restaurant, there were many stressful situations with impatient customers, equipment malfunctions, and staffing shortages. However, I always took a step back, took a deep breath, and focused on resolving issues one by one. I would calmly gather all the relevant information, evaluate my options objectively, and make a decision to overcome the issues as efficiently as possible. For example, if our milkshake machine broke down during our busiest time, I would notify the customers waiting, come up with alternatives to offer them, call the repair company, and work with my team to minimize wait times until it was fixed. Staying positive and solution-oriented allowed me to handle the stress and push through challenges."
Why do you believe you would be an excellent candidate for this position at Which Wich?
The interviewer will be trying to determine several things with this question. Primarily, they want to assess your enthusiasm for the role, your relevant experience, core strengths, and potential for career growth.
To answer this question effectively, focus on your passion for the company and role, relevant experience, transferable skills, and career ambitions. Share specific examples and metrics to demonstrate your points.
Now for the showstopper – an example answer:
"I would be an incredible candidate for this position because providing over-the-top customer experiences is my jam! For over two years, I've thrived in a high-volume environment at a local sandwich shop, where I've built a track record of boosting customer satisfaction scores and skyrocketing repeat customers in my region. My hospitality degree gave me the tools to turn customers into raving fans, and I can't wait to do the same for Which Wich! Ultimately, I aspire to take on more responsibility here and work my way into management. I'm dedicated to advancing my career with a company as committed to excellence as I am."
How many hours are you looking to work at Which Wich per week?
This query is more about enthusiasm than availability. The interviewer wants to gauge your commitment to the role and ensure your availability aligns with their needs.
Show them you're ready to dive in and make that sandwich masterpiece!
We recommend being open and honest in your response. While you don't want to overcommit, think about the minimum hours needed to thrive in the role. Then add a few more for good measure. Provide a range rather than an exact number to allow for flexibility.
For example, you might say:
"For this opportunity, I'm all in. I can start with 30-35 hours a week, minimum. My schedule is wide open and I'm always ready to do what it takes to get the job done right – whether that means an extra long shift or coming in on short notice. I want to be the one my team counts on when you need an extra pair of hands."
What does your current availability look like in terms of the hours and days you are available for work?
The hiring manager is trying to determine if your schedule matches the needs of the role.
When asked this question, you'll want to be clear, concise, and convey flexibility. Mention the specific hours and days you can dedicate to the position.
For example, you might say:
"My current availability is very open and flexible. I am available to work weekdays and weekends, and I don't have any recurring commitments that would interfere with my work schedule. I am happy to work mornings, afternoons, evenings, and occasional holidays as needed to meet the demands of the business."
If you had one superpower, what would it be and why?
This question allows the interviewer to gain insight into your personality, values, and priorities. We recommend thinking of a power that aligns with the Which Wich brand and culture.
Show them what a perfect fit you are for the Which Wich culture.
"If I had a superpower, it would be to make every customer glow with positivity. I'd love the ability to brighten people's days and spread good vibes. In a fast-paced environment like Which Wich, staying upbeat and delivering amazing customer service is a must. With the power to make people smile, I could ensure each guest leaves with a happy memory of their experience and comes back for more."
What would you consider to be your greatest strengths and weaknesses?
This is one of the questions that the Which Wich interviewer is sure to fire at you. We've been in the hiring trenches for years and want to give you the secret weapons to ace this question.
The interviewer isn't trying to trip you up here. They want to see that you can speak genuinely about yourself. Be real but strategic. Show how your strengths will benefit them, like efficiency, communication skills, or problem-solving abilities. As for weaknesses, pick ones you've outgrown. Give real examples of how you've improved. Stories are memorable and help you connect.
Ready for a sample answer? Here goes:
"My greatest strengths are my strong communication skills, ability to connect with customers, and efficiency. In my last role, I streamlined processes to reduce customer wait times by over 50%. My weaknesses include that I can be impatient at times and want to move quickly. However, I've learned the importance of slowing down to ensure important details aren't missed. I think my ambition and ability to identify solutions would allow me to thrive in the fast-paced environment here at Which Wich."
What aspects of Which Wich brand strongly resonate with you?
The interviewer wants to see that you've done your research on Which Wich and understand their values. This is your chance to show how pumped you are about their company.
When this question comes up, speak genuinely about what you love about Which Wich.
"I'm really drawn to Which Wich's commitment to customization and quality. As someone who values creativity, I love that you offer more than 40 toppings to choose from to craft my perfect sandwich. I also appreciate your dedication to using the freshest ingredients and providing healthy, affordable options with wholesome ingredients. Most importantly, I resonate with the positive energy your brand promotes and your commitment to making superior sandwiches and contributing to a better world. Those are values I try to bring to all areas of my own life as well."
If selected for this role, when would you be available to start?
This question is the interviewer's way of determining just how serious you are about the role. As a candidate, your goal here is to convey maximum enthusiasm and flexibility. We know how eager you are to become part of the Which Wich team, so this is your chance to let that excitement shine through!
With the right approach, you'll nail this question and prove you're the perfect fit.
"For the opportunity to join the Which Wich team, I'm available immediately. I left my previous job a couple weeks ago so I'm all yours. Just say the word, and I'll hit the ground sprinting! Starting right away means I can dive in, learn the ropes, and start contributing as quickly as possible. My schedule is wide open because after searching for the perfect next role, I'm set on Which Wich. This is where I want to be, so just let me know when you want me to start, and I'll be there!"
What are some of your interests or hobbies outside of work?
This is one question the Which Wich interviewer is sure to ask to get a sense of your personality and passions beyond your professional life. This is their chance to get to know the real you.
We've talked to Which Wich hiring managers, and here's their insider tip: hobbies and interests that light you up and showcase your positive qualities. Are you active, creative, or adventurous? Now's the time to share that side of yourself!
"Outside of work, I really enjoy being active and spending time outdoors. I run 2-3 times a week, and on the weekends you can find me hiking and exploring the local parks. I also love to cook and try out new recipes. Cooking is a creative outlet for me to unwind, and I like to cook meals for family and friends whenever I get the chance. Those are a few of my biggest interests outside of work."
Can you describe for me how you would handle an upset or difficult customer in a calm, respectful manner?
As a candidate for Which Wich, you should expect the interviewer to ask you questions about how you would handle difficult customer service situations. They want to ensure you have the patience, empathy, and conflict resolution skills required for the role.
When answering, here are some tips to keep in mind:
We recommend providing a thoughtful, compassionate response that focuses on listening, validating the customer's feelings, and resolving the issue. Explain that you would remain calm and courteous, ask open-ended questions to understand the root cause of their frustration, and work with them collaboratively on a solution. This approach shows your ability to diffuse the situation through active listening and a solution-oriented mindset.
For example, you could respond:
"If faced with an upset customer, I would say something like: 'I apologize for the frustration. Please know that I am here to listen and help. What seems to be the issue?' I would give them my full attention, empathize with their concerns, and take responsibility for resolving the problem. Once I understand the situation, I would provide options to remedy the issue to their satisfaction. For example, I may say: ' I can understand why that would be upsetting. Here are a couple of solutions I can offer…' I would do everything possible to turn their experience around and make things right before they leave."
What interests you about Which Wich specifically, as opposed to other sandwich stores?
The interviewer will ask this question to determine your level of enthusiasm for the brand and ensure you're the right culture fit. Really think about what attracts you to Which Wich. Is it the ability to customize your sandwich? The unique ordering system? The fresh, high-quality ingredients? Mention one or two specific attributes that genuinely excite you.
A personal story or memory is even better. Really sell your enthusiasm—it's contagious!
Now for the example that's going to seal the deal:
"Which Wich has been my not-so-secret obsession for years. The moment I first walked in and saw the rows of toppings and breads waiting to be crafted into my ideal sandwich, I was hooked. But what really keeps me coming back is getting to unleash my creativity. I love grabbing a Sharpie and designing my bag—each sandwich feels like a new masterpiece! I want to bring that same passion for crafting amazing customer experiences here. When I'm working the line or register, you'll see me striking up conversations, suggesting new sandwich combos, and making sure everyone leaves with a smile."
In your view, what is the most crucial aspect of being an effective team member?
This question is one of the Which Wich interviewer's favorites. We've seen many candidates stumble over this question. But follow our advice, and you'll nail it.
First, remember that the interviewer wants to see you value teamwork. So think of times you collaborated with others at work. Focus on what made you such an all-star team player in those situations. Did you keep things positive? Communicate openly? Compromise when needed? Bingo.
Now, put that experience into your own words. For example, you could say:
"For me, the most critical aspect of being an effective team member is maintaining an open, positive attitude. I try to enter each new team situation with curiosity about my colleagues and enthusiasm for our shared goals. When challenges arise, I remain optimistic that together we can find a solution. I ask questions to make sure I understand different perspectives, and I share my own thoughts respectfully and constructively. Overall, bringing positive energy, strong communication, and a willingness to compromise has allowed me to build trust and be a valuable member of many teams."
In the event that you are closing up the store for the evening and in the midst of securing the registers, how would you handle a customer arriving just after closing requesting service?
As longtime hiring managers, we know exactly what the Which Wich is looking for in this question. More than anything, they want to see your customer service skills in action. This is the time to flash that winning smile, make eye contact, and show how friendly yet professional you can be, even in a tricky situation.
To ace this question, focus on providing great customer service while following company policy. Explain to the interviewer how you would politely let the customer know you're closed for the evening, express understanding for their frustration, and offer an alternative like a coupon for their next visit. The key is to remain friendly yet firm, and turn a negative into a positive.
"I would smile, welcome the customer, and say 'Good evening! I'm so sorry, we've actually just closed up for the night. I completely understand you came in hoping for a sandwich, and can't tell you how much I wish I could still make you one tonight. Unfortunately, our registers are shut down, and associates have gone home for the night, but I'd be happy to provide you a coupon for your next visit to make things right.' I would thank them for their patronage, hand them a coupon or gift card if possible, apologize again for the inconvenience, and wish them a good evening."
What would you consider one of your biggest professional failures or missed opportunities, and what key lessons did you take away from that experience?
Don't panic when the interviewer asks you about your biggest professional failure. This question is a gift, not a trap! The hiring team at Which Wich wants candidates who are self-aware, humble, and able to turn mistakes into learning opportunities.
We asked several Which Wich hiring managers for their best advice, and they unanimously agreed that the best way to answer this question is with a real example, told honestly but tactfully, with a clear lesson learned. One of them told us, "We're not looking for perfection. We're looking for real people who've messed up, dusted themselves off, and become better because of it."
So take a deep breath and think of an experience from your career that challenged you in a meaningful way. Once you've got your example, here's your chance to shine!
You might say something like:
"When I first started working in a local fast-food restaurant, I was still getting the hang of multitasking and managing time effectively. One day, we had a sudden rush of customers, and I was in charge of taking orders. Overwhelmed by the sudden influx, I made mistakes with several orders which led to customer dissatisfaction and longer wait times.
Looking back, it was a missed opportunity for me to step up and handle the situation more effectively. I learned from that experience the importance of maintaining calm under pressure and developed strategies to manage such situations better, such as repeating orders back to customers to avoid errors and practicing time management skills.
This experience, though a failure at the time, became a valuable lesson. It made me realize the importance of efficiency and accuracy in this industry, and since then, I have worked hard to improve these skills. If given the opportunity to work at Which Wich, I would apply these lessons to ensure a smooth and efficient service for customers."
What steps would you take to provide an exceptional experience for each Which Wich customer?
The interviewer is trying to assess your customer service orientation and see if you have what it takes to create a great experience for every Which Wich guest. A strong answer revolves around going above and beyond for customers and enhancing their experience at every opportunity.
To do this,
"First, I would greet each customer with a genuine smile, make eye contact, and enthusiastically welcome them to Which Wich. Next, I would ask open-ended questions to determine their needs and provide recommendations based on their preferences. As I prepare their order, I would engage them in friendly conversation to help the time pass quickly and ensure they feel valued.
Once their order is ready, I would deliver it promptly while also checking in on any other customers waiting. I would ask each customer about their experience as they are leaving to identify any opportunities to improve for their next visit. By focusing on the little details, using a caring and thoughtful approach, and really listening to the customer, I believe I can provide an amazing Which Wich experience every single time."
What are your career aspirations over the next 3-5 years?
As a candidate for Which Wich, you'll want to go into your interview with a clear vision of your career aspirations. The interviewer will likely ask you a question like this to determine your career motivations and growth potential.
They are looking for candidates with a genuine passion for the restaurant industry and a drive to advance their careers.
So, take a minute to envision what you could achieve at Which Wich in the next few years. Maybe you see yourself mastering your role, then training new team members. Or managing your own location and mentoring other leaders. Perhaps even taking the reins as a district or regional manager, shaping the future of multiple locations!
Express your passion for leadership and desire to advance, all while remaining realistic about the timeframes for progressing through various roles.
When the interviewer asks about your aspirations, go ahead and paint that picture for them:
"Over the next 3-5 years, I aspire to take on more responsibility at Which Wich and eventually advance into a management role. I'm passionate about delivering an amazing customer experience, building a great team, and helping the business grow. Within the next year or so, I would like to master my role as a crew member and begin training new team members. A few years down the line, I hope to be managing my own location and mentoring other leaders. My ultimate goal is to progress into a district or regional manager position where I can make an even bigger impact."
Can you describe an experience you've had as a customer where you received poor service?
We know it's not exactly your favorite trip down memory lane. But approach this question with confidence – it's your chance to show how you take negative experiences in stride and focus on solutions.
As hiring managers, they are looking for candidates who can reflect on the experience objectively and discuss how the situation could have been handled better by the company, not just complain about poor treatment.
However, one experience can't define a company's overall service standards, so avoid being overly critical of the organization as a whole. Focus on the specific interaction and what was lacking. Explain how the experience shaped your own approach to customer service.
For example, you could say:
"Recently, I placed an online order for delivery from a local restaurant. After over an hour passed beyond the estimated delivery time, I called to check on the status of my order. The employee I spoke with was rude and unapologetic. He made no effort to remedy the situation or provide updated information about my order. I received my food over 30 minutes later, and part of my order was incorrect. From that experience, I learned the importance of communicating with customers, taking responsibility for mistakes, and going above and beyond to make things right."
Can you give some examples of how you have worked with colleagues to achieve a common goal?
This is one question the interviewer is likely to ask to assess your ability to collaborate effectively with others.
They're looking for go-getters who can rally a team, break through barriers, and push each other to be their best. So take a deep breath and think of stories that show your ability to inspire and collaborate. Discuss specific times you listened to different views, compromised to find common ground, and motivated your team to exceed expectations.
For example, you might say:
"When I worked as a crew member at my last job, there were a few occasions where we had an unexpected rush and were understaffed. Stress levels were high, customers were impatient, and we knew we'd never make it through alone. I said to my team, 'Hey guys, we've got this—let's work together!' We huddled up, tossed out ideas, and came up with a system to speed up service. By splitting tasks, communicating on the fly, and having each other's backs, we powered through with smiles on our faces. The key was putting customers first as a united front. At the end of the shift, we saw what a great team we were. Moments like that are what I live for!"
We know this question is really a test to see how passionate you are about the brand. The good news is, as a self-proclaimed Which Wich fanatic, passion is something you've got in spades!
When this question comes up, look the interviewer in the eye and say:
"Are you kidding? I absolutely love Which Wich! I've been hooked since my first bite of the Thank You Turkey sandwich years ago. The flavors are to die for. And don't even get me started on how you can customize your sandwich exactly the way you like it. Which Wich is more than just a sandwich shop to me – it's an experience. The energy, the service, the food – it's always an adventure. I find any excuse I can to pop in, even if just to grab a bag of chips! As someone who already loves being a Which Wich customer, I'd be thrilled for the opportunity to spread that enthusiasm to others on your team."
How would you go about resolving an issue for a customer who expresses dissatisfaction?
You're smart to prepare for this common interview question ahead of time. The interviewer will want to see how you handle dissatisfied customers and resolve issues.
We have insights into what Which Wich hiring managers are looking for in a great answer.
First, assure the interviewer you understand that customer satisfaction is a top priority. Explain your process for actively listening to the customer and empathizing with their frustration. Share that you would take ownership of the issue and work to find a solution as quickly as possible. Discuss how you would follow up to ensure the customer remains satisfied.
With the right approach, you can turn a frown into a smile and an angry customer into a loyal fan. Now, let's put this into action.
"I would start by sincerely apologizing to the customer and letting them know I understand why they are dissatisfied. I would ask questions to fully grasp the situation and repeat their concerns back to them to ensure I understood properly. I would take responsibility for making things right as fast as possible, whether that meant providing a refund or a remake. After that, I would check in with the customer, see if the resolution met their needs, and ask if there's anything else I can do to make their experience a positive one. My goal is to resolve issues in a way that leaves customers feeling heard, respected, and eager to return."
If there was one thing you could change about yourself, what would that be?
The hiring manager isn't trying to trip you up with this question. They really want to see that you're committed to continuous improvement.
We recommend focusing on developing one of your strengths even further. For example, you might say you want to become an even stronger communicator to engage with customers or a better organizer to maximize efficiency. We would suggest avoiding answers related to weaknesses and instead framing this around continuous self-betterment. Come prepared with a thoughtful, realistic answer that demonstrates your drive and enthusiasm for the work.
Play your cards right, and this question could be your chance to shine.
"You know, I've always considered myself skilled at getting a lot done in a short amount of time, but I want to take my time-management abilities to the next level. For instance, I would start implementing new habits like crafting detailed daily to-do lists, minimizing interruptions, and improving how I estimate the time for specific tasks. Strengthening my time-management skills would allow me to accomplish even more in an efficient, productive manner. In a fast-paced place like Which Wich, constant self-improvement is key to success. I'm eager to achieve my full potential here through continuous progress."
Here at Which Wich, we strive to maintain a family-like atmosphere. How would you describe your ability to work well with others in a collaborative setting?
This question is your chance to show them you've got what it takes to join their crew. When the interviewer asks about working with others, they want to know you can thrive in their close-knit, family-style environment.
We've got the inside scoop for you. Focus on how you love to communicate openly, deal with issues respectfully, and go out of your way to support your team. If you've worked somewhere with a similar vibe before, definitely play that up. Speak from the heart about how pumped you are to potentially be welcomed into the Which Wich family.
For example, you could say something like:
"Collaborative work environments are my jam. I'm all about teamwork, tackling problems together, and the relationships that come from that. Communication and conflict resolution are my strong suits – I believe in talking things out and coming to a solution that works for everyone. And you better believe I will cheer on my coworkers like they're my own siblings. The tight-knit community you've described sounds ideal to me, and I'd be over the moon to contribute to that as part of the Which Wich crew."
Can you describe a challenging situation you faced at work and how you overcame it?
The dreaded "describe a challenging work situation" question is going to come up in your Which Wich interview, but don't sweat it. We're going to give you the inside scoop on how to hit this one out of the park.
The interviewer wants to see what you're made of. They're looking for someone who can stay cool as a cucumber when the pressure's on, think fast on their feet, and problem-solve like a pro. So have a story ready to go that shows how you took the bull by the horns, rallied the team, and came out victorious. As hiring managers, we can tell you firsthand that initiative, leadership, and teamwork are what they want to see.
When that fateful question comes, look the interviewer straight in the eye, give a winning smile, and say:
"During my previous job at a local bakery, we faced a challenging situation where our main oven broke down in the middle of a busy day. We had a line of customers waiting and a number of special orders that needed to be fulfilled.
Rather than panicking, I quickly organized my team to use the smaller, secondary oven we had. We prioritized the orders based on their due time and the availability of products. We also communicated the situation to our customers, apologizing for any inconvenience and offering them a small discount as a gesture of goodwill for their patience.
The situation was stressful but it taught me the importance of quick thinking, resourcefulness, and good communication. We managed to fulfill most of our orders that day and received appreciation from customers for handling the situation professionally.
If I face a similar challenging situation at Which Wich, I would apply the same principles of quick problem-solving, effective teamwork, and clear communication to overcome it."
As you gear up for your interview with Which Wich, you're probably wondering about those tricky behavioral questions designed to get a glimpse into how you really operate. Questions like this one are your chance to shine and show how professionally you can navigate differences of opinion.
We're going to let you in on a little secret based on our years of experience as hiring managers: What the interviewer really wants to see is how you bring people together. So when this question comes up, share a story of a recent disagreement where you listened to other perspectives, built consensus, and came up with a solution that was a win for everyone. Focus on mutual understanding, not proving you were right. Explain what you gained from the experience.
Here's an example:
"In my previous job as a crew member at a different fast food restaurant, there was a time when my team was introducing a new promotional sandwich. One of my colleagues suggested that we prepare the sandwiches ahead of time during peak hours to save time. However, I disagreed because I believed that this could compromise the freshness of our food, one of the key tenets of our service.
Instead of dismissing his idea, I tried to understand his perspective. He was mainly concerned about efficiency and reducing customer waiting time. I appreciated his focus on customer service, but I also emphasized the importance of delivering fresh food to customers.
We decided to bring the matter to our supervisor, who appreciated our proactive thinking. We were able to come to a compromise: during peak hours, we would prep the ingredients for the promotional sandwich, but we wouldn't assemble them until an order was placed. This approach allowed us to maintain the freshness of our food while also streamlining our process to serve customers quickly."
How do you approach building new relationships and connecting with new people in a fast-paced work environment?
This question aims to assess your interpersonal skills and ability to adapt to different work cultures.
When the interviewer asks how you build new relationships quickly, flash them a smile and confidently share your secret weapon: empathy.
We know from experience that candidates who lead with empathy and positivity tend to thrive at Which Wich. Why? Because in the hustle of the sandwich line or buzz of the dining room, real connections happen through understanding people.
To answer this, say something like:
"In a fast-paced environment like this, I focus on really listening to people and putting myself in their shoes. When I meet someone new, I ask lots of questions to find common ground and show I genuinely care about who they are. Once we've bonded over our favorite sandwich or sports team, I check in regularly to see how they're doing and lend an extra hand when they need it. Over time, as we build trust, we become a team – sharing ideas, laughs, and reaching goals together. My philosophy is that we're all in this together. By leading with empathy and a positive 'we' mindset, there's no relationship I can't build and no work culture I can't adapt to."
Questions to Ask the Interviewer in Which Wich Interview
Many candidates feel put on the spot when the interviewer asks if they have any questions and struggle with how to respond. However, this is actually an opportunity for you to shine and demonstrate your enthusiasm and preparation.
The interviewer is trying to assess a few things with this question. First, they want to see that you've done your research about the company and role. Thoughtful, targeted questions about the position, team, goals, challenges, etc., show your keen interest and enthusiasm. Second, they want to make sure you have a genuine interest in the work – not just trying to fill the role for a paycheck. Asking insightful questions about day-to-day responsibilities, growth opportunities, company culture, etc., proves you care about the work itself.
Lastly, asking good questions is a chance for you to learn more about whether this position and company will be the right fit for your needs and priorities. Don't miss this opportunity! Be prepared for this question in advance and enter the interview ready with a list of questions that will both impress your interviewer and give you crucial information to determine if this is the ideal next step in your career.
To give you an idea of the types of questions that will achieve all these goals, here is our list of recommended questions to ask your Which Wich interviewer:
What is your favorite part about working for Which Wich?
What does success look like in this role in the first 3 months? First year?
What are the biggest opportunities for growth and career advancement?
What is the company culture like? What is most valued?
What are your expectations for this position in the next year? Long term?
What are the most challenging aspects of this role?
What does your ideal candidate for this position look like?
How would you describe your management style?
What career paths have other people in this position pursued?
What current initiatives or priorities is your team focused on?
What attracted you most to Which Wich?
What opportunities are there for professional development or continuing education?
What is the company's mission and values? How do they influence day-to-day work?
How has this team or department evolved in the last few years?
What is the turnover rate in this department? What contributes to employee longevity?
What skills or talents would make someone successful in this role?
Is there any other information about the position or company that would be useful for me to know?
What is the next step in the interview process? When can I expect to hear from you?
Which Wich Hiring Process
So you've decided to apply for a job at Which Wich – great choice! Which Wich is all about fun, innovative sandwiches in a laid-back environment. Their hiring process reflects this casual and lively brand personality. As an applicant, this means you can go into your Which Wich interview feeling relaxed and just being your friendly self.
First, you'll apply on their website or Snagajob with some basic info about your availability and work experience. Don't stress over this, it's very casual. If they like your application, you'll get a quick call within a couple days to come in for an interview.
The interview is super laid-back, only around 10 to 30 minutes. You'll chat with the store manager or franchise owner about details from your application (like availability, experience, schedule, etc.) to make sure you're a good fit. But mostly, they just want to get a sense of your upbeat personality and passion for customer service. Show them how much you enjoy engaging with people and making their day. The interviewers aren't there to grill you, they just want to fill the position with someone who shares Which Wich's values of fun and positivity. Candidates with open availability, especially on weekends, are preferred.
If you hit it off, you'll get an informal offer on the spot or over the phone shortly after. They're eager to get new staff on board and trained, so you'll start within the week. Training only lasts about a week, where you'll learn the basics of crafting their creative sandwiches and providing quick and friendly service. After that, you dive right in, gradually taking on more responsibility.
Working at Which Wich is all about energy and experience. If you're someone with an enthusiastic and carefree personality who thrives in a fast-paced environment, this is the perfect place for you. Go into your interview with a smile, show them your passion for the brand, and the job is yours! The hiring process is meant to be easy and find the right cultural fit. So just be your fun-loving self – that's exactly what Which Wich is looking for.
Which Wich Interview Tips
Since Which Wich is clearly focused on filling the role quickly, show them that you're eager and available. Smile, make eye contact, and convey genuine enthusiasm for the work. Don't be intimidated by the casual vibe; it's your chance to shine through and show them what an upbeat, dedicated employee you'll be. Come ready with questions that demonstrate your knowledge of and interest in their food and company.
What to Wear to Which Wich Interview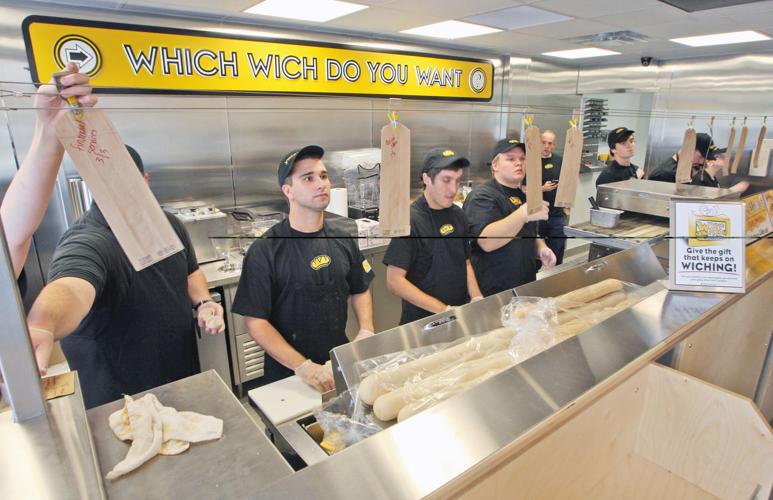 Paying keen attention to the company's dress code and reflecting it in your interview outfit can go a long way. The logic is simple: If you show up looking like you already belong, you're telling the interviewers that you're serious about the role, respect their culture, and are ready to become a part of their team.
So, what's the dress code at Which Wich? The dress code at Which Wich mandates employees to wear a company-provided branded T-shirt and hat while on duty, accompanied by their own well-maintained, damage-free dark jeans or pants and plain non-slip shoes in black or yellow. Personal clothing worn for work must be devoid of any printed materials or logos.
Now, let's dive into what you should wear to your Which Wich interview, depending on the role you're interviewing for:
Crew Member – The keyword here is relaxed but neat. Opt for business casual or casual attire. Think crisp, dark jeans or khakis paired with a neat, wrinkle-free shirt or blouse. Clean sneakers or casual shoes would fit right in. Just remember, the key is to look comfortable yet professional, showing that you're ready to roll up your sleeves and deliver exceptional service.
Shift Leader, Assistant Manager, General Manager – This is a step up in the leadership ladder, and your attire should reflect that. Lean towards the business casual side of the spectrum. Consider slacks or neat khakis with a professional blouse or shirt. Dress shoes would be the ideal footwear choice. This attire signals your readiness to take on the responsibilities of a leadership role.
Corporate HQ positions – For these roles, it's time to bring out the business formals. A suit and tie for men, or a suit, dress, or skirt and blouse for women, should do the trick. Don't shy away from showing your professionalism and keenness for the role. Polish off the look with a pair of dress shoes. Remember, at corporate HQ, it's about reflecting the company's professionalism and readiness to make important decisions.
Conclusion
You now have the knowledge and confidence to ace your interview with Which Wich. Be prepared to highlight your relevant experience, skills, and passion for customer service. Share your enthusiasm for the company and your desire to grow with them. With the right attitude and preparation, you'll be well on your way to landing an offer for an exciting new role where you can thrive.
Studying these Which Wich interview questions will give you an advantage, but securing the position is never guaranteed. Until you have an official job offer, keep submitting applications to similar chains like Subway, Firehouse Subs, Jimmy John's, Jersey Mike's, Panera Bread, or Potbelly.
Diverse opportunities await in this industry, so cast a wide net. The next offer you receive could be an even better fit. Stay determined, and don't get discouraged. With hard work and persistence, you will find the right match. You've got this! Keep your head up and keep moving forward. The perfect job for you is out there, so get after it.