21 Chopt Interview Questions (And Answers To Get You Hired)
Landed an Interview With Chopt? This is Your MUST-Read Guide ????
You did it! You've scored an interview with Chopt, THE trailblazer in fast-casual salads. ???? That's not just a pat on the back. That's a full-on parade marching in your honor. ???? Why? Because you're THIS CLOSE ???? to joining a super dynamic team that's all about redefining the salad game.
Feeling jittery? Pumped up? A little of both? ???? No worries. We've all been there.
????‍???? Why This Guide is Different ????‍????
Think of this post as your personal coach, loaded with REAL Chopt interview questions and tailor-made answers. ???? And listen, we don't mess around. We've pulled out ALL the stops to make this guide your go-to resource in that crazy maze called "interview prep."
???? We're With You All the Way ????
Stepping into that interview room like a champ, brimming with confidence that says, "Hey, I got this!" That's the aim. Preparation? It's not just good. It's GOLDEN. ???? And today, we're handing that golden key over to you. ????
Ready to level up your career game? Let's GO. ????
Chopt Company Information
Getting a grip on significant details about Chopt can truly set you apart during your job interview. Dive into the following snapshots of information and let it guide your further discoveries:
| | |
| --- | --- |
| Trade Name | Chopt Creative Salad Co. |
| Type | Fast-Casual Restaurant Chain |
| Founded | 2001 |
| Founders | Tony Shure, Colin McCabe |
| Headquarters | New York City, New York, United States |
| Menu | Salads, Wraps, Grain Bowls, Soups, Beverages |
| Signature Items | Mexican Caesar Salad, Spicy Santorini Salad, Cobb Salad |
| Core Values | Innovate, Serve with Urgency, Be Generous |
| Website | www.choptsalad.com |
| Competitors | Sweetgreen, Just Salad, Panera Bread, CoreLife Eatery |
Additional facts:
???? Rooted in NYC: Chopt opened its first store in Union Square, New York City, in 2001, aiming to make salads the star of the culinary world. Founders Tony and Colin were college friends who wanted to turn the salad from a side dish to the main event.
???? Spicing it Up: Tony gave the traditional Caesar salad a unique twist by inventing the Mexican Caesar Salad, now a fan favorite.
???? Smart Financing: With backing from major investors like Catterton and Hain's Celestial Group, Chopt has been profitable since day one.
???? Rapid Growth: Despite stiff competition, Chopt has expanded into 11 markets, including CT, NJ, PA, D.C., MD, VA, NC, TN, GA, and AL.
???? Leadership: CEO Nick Marsh highlights sustained and continuous growth as key to the brand's success, fueled by a focus on product quality and innovation.
???? Broad Choices: The menu offers over 60 ingredients and 18 house-made dressings, giving customers the freedom to choose between healthy and indulgent options.
???? Global Flavors: With a mission to offer a diverse menu, Chopt sources unique artisanal ingredients from around the world.
???? Quality First: The company maintains close relationships with farmers to ensure the use of high-quality, locally sourced ingredients.
???? Tech-Savvy: Chopt 4.0 introduced new ordering technology and a streamlined in-store and online experience.
???? Inclusive Pricing: Chopt is exploring ways to make its offerings more affordable, aiming to serve not just big cities but also small towns.
???? Community Partnerships: Following its "Be Generous" core value, Chopt has teamed up with Wellness in the Schools, bringing healthy habits to NYC public schools.
♻️ Eco-Conscious: Sustainability is a core value, with initiatives like 100% compostable bowls and the elimination of single-use plastics.
???? Green Goals: Chopt is committed to reducing its Greenhouse Gas (GHG) emissions by 25% through various sustainable practices.
???? Dressing Galore: Creativity shines in their 200th limited-time dressing, as the company never stops innovating.
Chopt Mission Statement
To make healthy eating exciting for all people.
Chopt Interview Questions
You might think this is simply a friendly get-to-know-you gesture, but it reaches deeper than that.
The Chopt hiring manager is looking into your personal history leading up to this decisive moment. They want to see your potential fit at Chopt and how your past shapes you for their specific role.
Here's How To Nail It Down:
Firstly, your answer should be concise yet packed with relevant information. Don't stray too far into personal stories unless they can be linked back to your professional growth or capabilities.
Keep it organized. Follow the 'CAR' technique: Context, Action, Result.
Finally, show your enthusiasm. Make them feel you're excited to bring your impressive qualities to the Chopt team.
Now, let's apply these tips and craft a compelling response that has you standing out amid the spread of aspirants.
"I have several years of experience serving customers in fast-paced restaurant environments. At my last job at a local cafe, I enjoyed building relationships with guests and ensuring they left with a smile on their face. When we started getting some negative reviews about long waits, I stepped up to help improve our process. I proposed a new system to track orders from the moment they were placed so nothing fell through the cracks. This helped speed up service and get customers on their way faster. My managers were really impressed with the results. More than anything, I love being part of a team and helping create positive experiences for people. I think my approach to problem-solving and focus on excellent customer experiences would be a great fit with Chopt's values. I'm passionate about healthy eating and caring for the community, so this role is a dream opportunity for me."
Why do you want to work for Chopt?
Why This Question Matters
The interviewer is looking for two things:
Your engagement: Have you leveled up and done your homework?
Second, your aspirations: Does your future vibe with Chopt's growth?
Chopt loves transforming raw, healthful ingredients into craveworthy meals, are you on board with that? They are equally into your passion for living a balanced lifestyle as they are into your skill set.
Harness Your Enthusiasm
Show your genuine enthusiasm for the brand. That post-workout Chopt salad you hog with friends? It's time to share that story!
Don't beat around the bush. Tell 'em straight how you love the fresh and wholesome stuff that Chopt serves. How you value health and fitness and admire how Chopt serves that up on their menu.
And hey, do you sync with Chopt's multicultural, diverse salad offerings? If so, don't forget to brag about how it reflects your take on the world: all-inclusive and global.
With a dash of passion and a sprinkle of personal touch, let's concoct the perfect answer!
"I've always been an advocate for healthy living, and I'm truly impressed with Chopt's dedication towards creating nutritious and imaginative salads. I love the innovative spirit applied to something as simple as a salad – turning it into a unique flavor-packed experience. Like the multicultural inspiration behind Chopt salad recipes, I also believe in embracing diversity and creativity. Plus, I've always been the person making healthy yet tasty lunches for my colleagues. I can't imagine a better place to expand that passion than at Chopt. Their philosophy aligns perfectly with my personal and professional aspirations."
Here at Chopt, things move quickly. Do you feel confident in your ability to thrive in a fast-paced work environment?
Don't be caught off guard by this query.
The interviewer is less interested in your speed and more intrigued by how well you adapt to a dynamic setting. They're looking for indications of resilience, resourcefulness, and the ability to maintain composure when things don't go as planned.
Your answer will help them assess if you'll flourish in Chopt's vibrant and fast-moving environment.
So, how should you approach this question?
First, provide examples from your previous experiences where you've proved adept at navigating high-pressure situations. Talk about how you prioritize your tasks, manage time, and use problem-solving skills to meet deadlines.
Then, take it up a notch with your enthusiasm for the challenges that come with a fast-paced job.
And for the finishing move? Showcase your zen-like calm in the face of pressure.
Now that we've fueled you up with the essentials, it's time we put it all together, all revved up for the performance of a lifetime.
"Definitely, I thrive in fast-paced environments. In my previous role, we had a period of unexpected rapid growth. Many people found the pace stressful, but I saw it as an exciting challenge. I developed a strategy to prioritize my tasks based upon deadlines and importance, and made it a point to communicate effectively with my team to avoid any misunderstandings. I also made sure to take small breaks to clear my head, which greatly improved my focus in high-stress situations. I honestly believe a fast-paced environment brings out the best in me. It pushes me to be resourceful, strengthens my decision-making ability, and I look forward to bringing these skills to the table at Chopt."
How did you first hear about Chopt? What appealed to you about our company and inspired you to apply?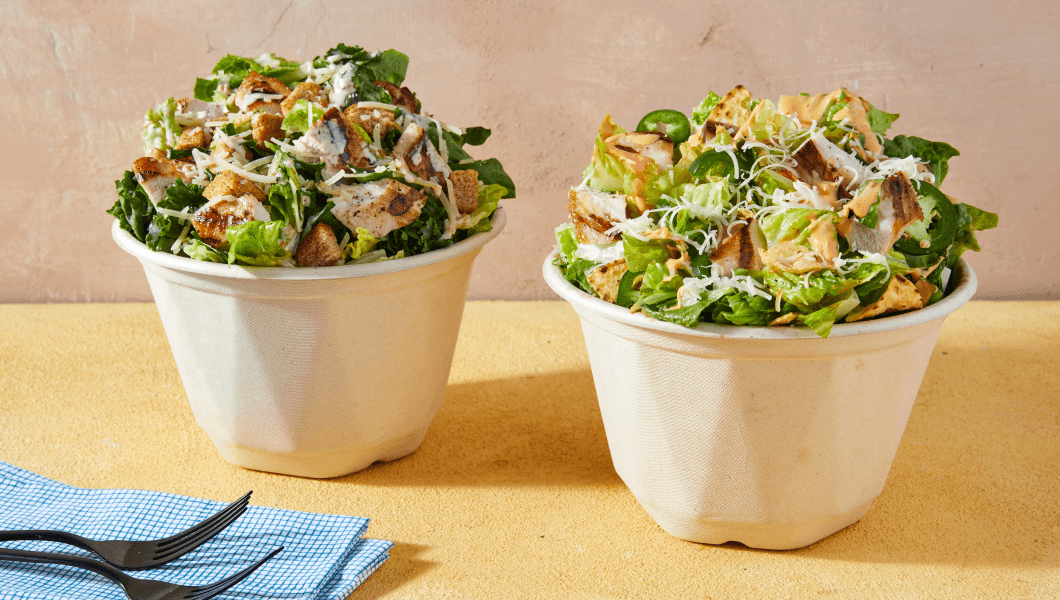 This question is more than just idle curiosity. They're looking to assess your research skills, understanding of their brand, and motivation for applying.
In short, they want to see if you're a long-term fit for the Chopt culture and values.
To ace this question, you'll need to do some digging.
Uncover what makes Chopt tick. How are their core values aligned with yours? Don't just tell 'em they make a killer salad. Show them WHY that matters to you. It might be their focus on fresh, creatively crafted salads or their devotion to sustainability.
Think about where you first heard about them. Was it a chance encounter? A friend's recommendation (hats off to them)? Or did a social media post catch your eye?
Showing a personal connection allows you to display passion, which is something interviewers appreciate.
Now, it's time to craft your stellar reply.
"I first heard about Chopt when I was researching sustainable and health-conscious eateries. As an advocate of healthy living, I was captivated by your commitment to fresh ingredients and innovative, delectable salads. What truly appealed to me though, was your ethos – your devotion to sustainability and community involvement. It resonated with my own beliefs and I felt compelled to be part of a team that stands for more than just delivering great food. The desire to work in a company that shares my values and where I can contribute positively is what really inspired me to apply."
Now, understand that Chopt prides itself on excellent, personalized customer service, and your interviewer will assess your skills in this department closely. Essentially, they want to see how you handle pressure, deal with conflict, and employ problem-solving techniques to leave the customer satisfied.
Here's how you keep your answer convincing:
Select a specific situation with a positive outcome.
Paint a vivid description using the STAR method: Situation, Task, Action, and Result.
Show your dedication by sharing the lessons from the experience.
Putting it all together can seem tricky. Let's do this together, shall we?
"Absolutely. I was once tasked with handling a customer at a previous food service job who wasn't satisfied with their order. The burger was 'undercooked', they alleged. Recognizing the situation's urgency (Situation), I knew my task was to resolve this issue amicably (Task). I initiated by calmly acknowledging their dissatisfaction then went ahead to offer a redo of the order, adding a complimentary dessert as an apology (Action). Ultimately, the customer left content, appreciating our swift response, and I learned the significant impact of prompt, empathetic service on customer satisfaction (Result). This experience has encouraged me to always view complaints not as criticisms, but as opportunities to improve our service and cement customer loyalty (Lesson)."
Multitasking is key for our crew. How do you juggle multiple tasks and prioritize effectively when things get hectic?
Amidst each salad tossed and every bowl delivered, this question is the essence of what Chopt operates on – Can you keep your cool in the culinary chaos?
Show Your Multitasking Muscle
Highlight your knack for multitasking and your logic behind prioritizing.
Gave a taste of your past multitasking triumphs. It doesn't have to be industry-specific; even babysitting, studying for finals while working part-time, or organizing a family reunion can demonstrate your ability.
Mention your go-to strategy for tackling multiple jobs. Perhaps you utilize a to-do list or a method like the Eisenhower Box.
As we always say, the key isn't just to tell them – it's to show them, cinematically.
"Well, in my previous role as a server in a bustling cafe, I had to handle multiple orders, assist my colleagues, and also ensure customer satisfaction. In these scenarios, I leveraged my multitasking skills effectively. For instance, I would remember the orders, plan out the most efficient route to deliver them, and ensure any special requests from the customers were taken care of. To prioritize, I adopted an approach similar to the Eisenhower Box. It was crucial to address 'urgent and important' tasks like large or complex orders first, followed by 'important but not urgent' tasks such as restocking supplies or assisting colleagues. 'Urgent but not important' tasks like handling inquiries were assigned to times when the cafe was less busy. This approach not only helped me keep my cool during hectic times but also ensure efficient operations and customer satisfaction. I believe this experience and ability to multitask and prioritize will serve me well at Chopt."
Can you tell me your favorite salad at Chopt and why you enjoy it?
On the surface, this question might seem light and straightforward. But, in reality, it serves a dual purpose.
First, it's designed to reveal if you've familiarised yourself with their products, showing your level of interest and initiative.
Second, it's a creative way to assess your communication skills, how you articulate your preferences and explain the 'why' behind your choices.
Prep Up: It's More than Just a Salad
Before your interview, take time to sample the different salads that Chopt offers. Consider nuanced things like the balance of flavors, the nutritional value, and even the presentation.
Put your insights into an insightful and thoughtful response. Get into the meat of it: discuss specific salad ingredients, why you enjoy it, and the emotions it stirs up in you.
Maybe the combination of certain ingredients reminds you of a memorable family gathering. Or, perhaps you appreciate the nutritional benefit it delivers.
Whatever your reason, be prepared to share it in a clear, concise, and infectious way, showcasing your ability to make personal connections and your understanding of healthy eating.
Now, let's shift our focus to an example of a compelling answer to this question.
"Given a choice, my favorite salad at Chopt would be the 'Mexican Caesar' salad. From the rich, creamy cotija Caesar dressing to the heartiness of the warm grains, each bite provides a fusion of flavors that I can't resist. Besides being delectable, I am also impressed by its nutritious value. The salad is packed with protein from grilled chicken, dietary fiber from Romaine lettuce, and grains. It manages to maintain a delicate balance between satisfying my hunger, meeting my nutritional needs, and delighting my palate, the primary reasons it tops my list at Chopt."
Could you describe a time when you worked efficiently under pressure to meet a tight deadline?
This is your litmus test. A full-on assessment of your abilities to stay calm, prioritize, and deliver under stressful conditions.
Essentially, they're looking to see if you have the chops to handle the fast-paced nature and sudden curveballs that are part and parcel of the restaurant industry.
Your Answering Strategy
This isn't a bragging contest. The goal here? Prove your ability to navigate stress and meet timelines. Like a Boss.
Select an instance that:
Displays your problem-solving skills
Shows your resourcefulness
Highlights your adaptability
Structure your response using the STAR (Situation, Task, Action, Result) technique. Describe your experience, the decisions you had to make, and the lessons you learned. No need to shy away from sharing your growth.
Now that we've placed the ingredients neatly on the chopping board, let's blend them together to create a storytelling salad that serves a perfect answer.
"When I was working as a shift leader at a busy coffee shop, we once had a last-minute catering order for a large local event, in addition to our usual operations (Situation and Task). Feeling the crunch of the imminent deadline, I quickly divided my team into two — one to handle the shop customers and one to focus solely on the catering order (Action). We coordinated seamlessly without impeding the everyday operations, thanks to clear communication and delegation. Despite the stress, we fulfilled the order on time and received commendations from the event organizers for our efficiency and quality of service (Result). This experience reinforced my belief in the power of teamwork and effective communication under pressure."
We're obsessed with giving our guests an incredible experience. What does excellent customer service mean to you?
One of the essential aspects they are keen on uncovering at Chopt is how you perceive quality customer service.
Indeed, the Chopt interviewer is aiming to ascertain your commitment to creating unforgettable experiences for their customers.
Behind the Counter:
Chopt is NOT just a salad shop. It's about fresh, creative meals with a keen focus on customer experience.
Think of experiences where you've gone above and beyond to provide exceptional service or times when you've been on the receiving end of such treatment, and the impact it had.
Here's the step-by-step guide:
Treat customers as guests welcomed into your home: With utmost care and respect.
Create a valuable environment: Make customers feel valued, heard, and appreciated.
Go the extra mile: During my previous role as a restaurant server, I had a regular customer with specific dietary needs.
I went above and beyond to learn his requirements and suggested new dishes tailored to his health needs.
Generate Loyalty: This made him feel cared for, and he became a more loyal customer.
If you clinch a role at Chopt, bring the same level of dedication. This is what ensures every guest feels understood, satisfied, and eager to return.
Now, step into the exciting whirlwind of a Chopt service encounter!
"My philosophy has always been to treat customers as guests welcomed into my home, with utmost care and respect. To me, excellent customer service is about creating an environment where customers feel valued, heard, and appreciated. For instance, during my previous role as a restaurant server, there was a regular customer with specific dietary needs. I took the initiative to memorize his requirements and suggested new dishes tailored to his health needs. This made him feel cared for, and he became a more loyal customer. If successful in securing a role at Chopt, I aim to bring this same level of dedication, ensuring every guest feels understood, satisfied and eager to return."
Could you walk me through how you would handle an angry customer at Chopt?
This question isn't as intimidating as it seems. They're just probing your:
Empathetic listening skills
Problem-solving aptitude
Poise under pressure
But more importantly, it's your golden ticket to show how your customer-centric mindset aligns with Chopt's mission to create an uplifting and innovative salad experience.
Here's the winning strategy:
Step 1: Show empathy and understanding towards the hypothetical angry customer's situation. Make them feel heard and validated.
Step 2: Reassure them that you're there to help and share how you would take ownership of resolving the situation.
Step 3: Highlight any follow-up actions you would take to prevent such issues from recurring. Trust us, Chopt loves proactive go-getters who solve AND anticipate problems.
Putting theory into practice:
"Upon realizing a customer is unhappy, my first step would be to remain calm and understanding. I would assure them by saying, 'I understand how you feel, and I'm truly sorry for any inconveniences. Let's figure this out together.' Then, I would attentively listen to their concerns, ask probing questions if needed, and provide a viable solution promptly. If it's an issue regarding our menu or something within my purview, I'd take immediate action, like offering a salad remade to their preference. If the issue is beyond my scope, I'd include my manager professionally and efficiently. Then, I would document the incident to discuss with my team, aiming to use the experience as a learning opportunity to prevent similar occurrences in the future. This approach, I believe, exemplifies Chopt's customer-centered values and commitment to an enjoyable dining experience."
How do you envision this role at Chopt aligning with your passions and interests?
This question holds significant value for the Chopt hiring manager as they use it to assess if the role you're applying for is more than just a paycheck to you.
They want to know if you're genuinely passionate about the food industry and Chopt, and if you're likely to stay long-term, thus becoming a valuable asset to their team.
Now: What's the best way to answer this tricky question?
First, be clear on passions. Do some soul-searching. Identify your interests and passions, and how they fit with the Chopt values and mission. Have you ever been influenced by Chopt's emphasis on responsible ingredients, innovative recipes, or promoting a healthy lifestyle? Let that shine.
Heads up: Authenticity wins. Let your answer underscore your enthusiasm for the role and the industry at large. Bonus points for any personal stories that led you to the food industry.
Let's turn your passion for food and dedication toward customer service into an eloquent response that leaves a lasting impression on the interviewer!
"I've always admired Chopt for its commitment to serving high quality, fresh, and innovative food choices. Growing up in a family with a deep love for cooking and healthy eating, I developed a passion for culinary arts and customer satisfaction from an early age. That passion led me to pursue a career where I can contribute to an industry that I genuinely care for. As someone who practices mindful eating and actively promotes it within my community, this role at Chopt offers the perfect synergy. I envision joining the Chopt family and utilizing my skills to create memorable dining experiences for customers, while continuously learning about seasonal, sustainable food sources. Ultimately, being part of a team that leverages food not just as a necessity, but an agent of community and environmental wellbeing, that is how this role aligns with my interests and passions."
How do you feel about standing for long periods and doing physically demanding tasks like lifting up to 20 lbs?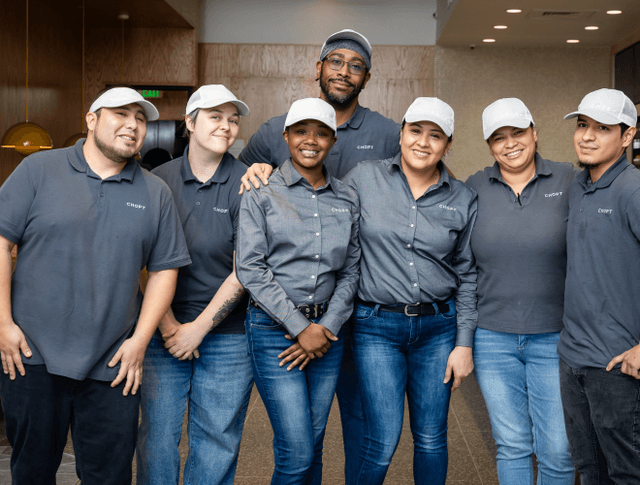 Straightforward? Maybe. But…
… it's also a prime opportunity for the interviewer to assess your physical endurance and your grit. Yep, they want to know if you can handle the hustle and energy Chopt is known for. So, let's get strategic.
Your Answer: Strategic Yet Authentic
Keep it honest. But remember, this is about your capability, your willingness, your hard work. Got experience handling physical demands in previous jobs? Got 'em listed.
And hey, if you're the new kid on the block with no prior job experience, don't sweat. Talk about your sports activities, your hobbies. Maybe you've done some volunteer work involving physical tasks. Flaunt them too!
Because, let's face it, your answer to this question can be the lint that tips the employment scales in your favor.
"I completely understand the physical demands this role requires and I'm more than ready to meet them. In my last job as a warehouse employee, I was accustomed to standing for 8 hours shifts and regularly lifting items weighing up to 25 lbs. Plus, I personally enjoy an active lifestyle, regularly participating in physically demanding sports like hiking and crossfit. I believe that these experiences have well conditioned me for a fast-paced environment such as Chopt. Importantly, I feel that the ability to deliver in physically challenging environments goes beyond strength; it reflects a mindset of resilience and commitment, qualities that I possess and am ready to bring to your team."
Describe a time when you had to provide excellent customer service. What did you do to ensure the customer was satisfied?
This question evaluates your commitment to customer satisfaction and your ability to create memorable experiences.
The interviewer is looking to understand your approach to resolving customer issues, your interpersonal skills, and your capacity to maintain the high standards that Chopt is renowned for. Your goal is to highlight these.
Select a specific experience that shows how you dealt with a tough customer situation. Ensure your example clearly shows your actions, how you communicated with the customer, and the positive result.
Structuring your response? Use the STAR method (Situation, Task, Action, Result). It'll keep you organized and provide a complete, engaging answer.
Ready to bowl over the hiring manager with your adeptness in customer service? Let's dive into an example:
"At one of my previous roles in a busy restaurant, we had a regular customer who, one day, expressed dissatisfaction with a dish that we had been serving for years. I took it upon myself to address the situation. I apologized, assured him that his satisfaction was our priority, and quickly replaced the dish with another one of his choice. I then followed up with him after his meal to ensure he was satisfied and relayed the feedback to the kitchen team. This process resulted in two things: we were able to maintain our relationship with a valued customer, and his feedback sparked an internal review of the dish that led to an overall improvement in our menu. This experience taught me the importance of listening to the customer's needs and using that feedback as an opportunity to improve our service.'"
Explain your experience working in a team setting. How do you contribute to team dynamics?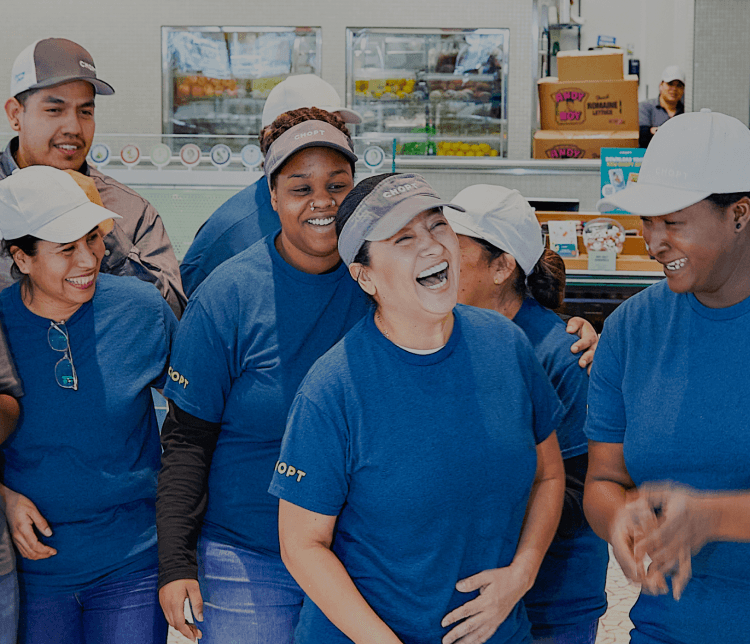 At Chopt, the essence of creating fabulous, flavorful salad masterpieces lies in team dynamics. The hiring manager wants to understand your problem-solving skills, communication capabilities and how well you collaborate with others.
Highlight specific instances when you've excelled in a team. Discuss a situation where your roles in collaboration and compromise led to success.
Remember, the hiring manager is eager to know if you can fit into Chopt's collaborative environment and contribute to it in a positive manner. Therefore, be transparent about your role and your contributions that lead to overall success.
Hold on tight to your chef's hat because here comes the secret sauce of lucid storytelling.
"Well, in my previous job at a fast-paced restaurant, I was part of a five-member team. We were tasked with revamping the menu for a seasonal change. At the onset, I facilitated a brainstorming session where everyone felt comfortable to share ideas. Using my organizational skills, I volunteered to consolidate the suggestions, which gave us a clear direction to assign tasks based on each team member's strengths. I was assigned to experiment with and finalize the salad options. I was able to successfully introduce two new popular salads to the menu. This experience taught me that honest communication, respect for diversity in skill sets, and shared responsibility create a successful team dynamic. I can bring this same spirit to Chopt, contributing innovative salad ideas and fostering open, respectful communication with my team members." Enjoy the confidence that comes from being well-prepared for your Chopt interview, and remember, every answer you give is another ingredient in the unique salad that is you.
Do you have any experience with food preparation, specifically assembling salads or similar dishes?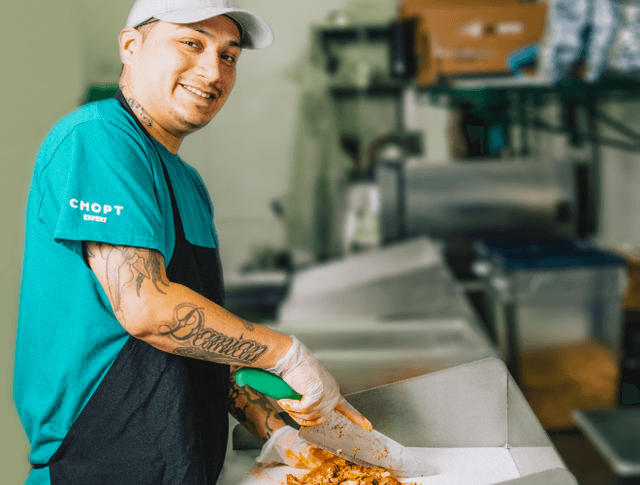 Excited about your salad-tossing skills? Wait – because here's the catch:
Salad-making at Chopt is more than just combining greens. It's art. It's about understanding how fresh, quality ingredients add to the essence of Chopt's salads. And how you handle these ingredients matters.
So, how to answer this one?
The answer is deceptively simple: Honestly.
No professional salad-making experience? No problem. If you've whipped up salads at home, volunteered at a food shelter, or attended a cooking class – it all counts.
Your focus:
Emphasize your experiences
Stress your belief in quality ingredients
Highlight your understanding of hygienic food preparation
For those of you who do have experience, ensure to give a detailed account, focusing particularly on your skills, techniques, and priorities when preparing salads or similar dishes.
Brace yourself, this is the moment of truth – the bridge between theory and practice.
"Honestly, I haven't had the opportunity to work in a professional environment like Chopt where I'd regularly prepare salads or similar dishes. However, I have spent a lot of time in my own kitchen experimenting with different kinds of salads, trying out diverse ingredients and honing my knife skills. I believe quality of ingredients is key and I always ensure they're fresh, clean, and handpicked. I've also volunteered at a local food shelter where I've had to prepare large volumes of food while maintaining cleanliness and hygiene. These experiences have made me understand the importance of precision, timing, and maintaining a clean workspace, and I'm excited to bring these skills to a dynamic environment like Chopt."
Tell me about a time when attention to detail was crucial in your work. How did you ensure accuracy and quality?
Psst! The Chopt interviewer isn't probing your past just for fun. They're testing you on your capability to manage meticulous tasks while staying true to Chopt's quality commitment.
Remember, every salad at Chopt is a finely crafted symphony of flavors. Only those who can strike a chord with precision and quality make it to their stellar ensemble.
Your Tale of Excellence
Reflect on a moment when you had to administer tasks with precision, using organizational skills, cross-checking, and tech tools (if any).
Think of your answer as a salad, made fresh; your actions are the crunchy veggies, your skills the tangy dressing, and your results? They're the juicy, perfectly ripe tomatoes, lending a satisfying sweet-tart crunch to the end of your narrative.
"While working as a kitchen assistant in a busy restaurant, being meticulous was not just desired, it was survival. We had to prepare large orders during peak time, ensuring each dish met the client's specifications and the restaurant's quality standards. My role was to cross-check the orders, comparing them against the dishes prepared. I created a color-coding system using sticky notes to track progress and accuracy. A yellow note meant 'preparation in process,' and green indicated 'order ready and cross-checked.' This simple yet efficient system increased our order processing speed by 30% without compromising accuracy or quality. It was a vivid example of how a keen eye for detail and innovative problem-solving can transform the food and service industry scenario."
What are your professional goals for the next 3-5 years, and how could this role at Chopt help you work toward achieving them?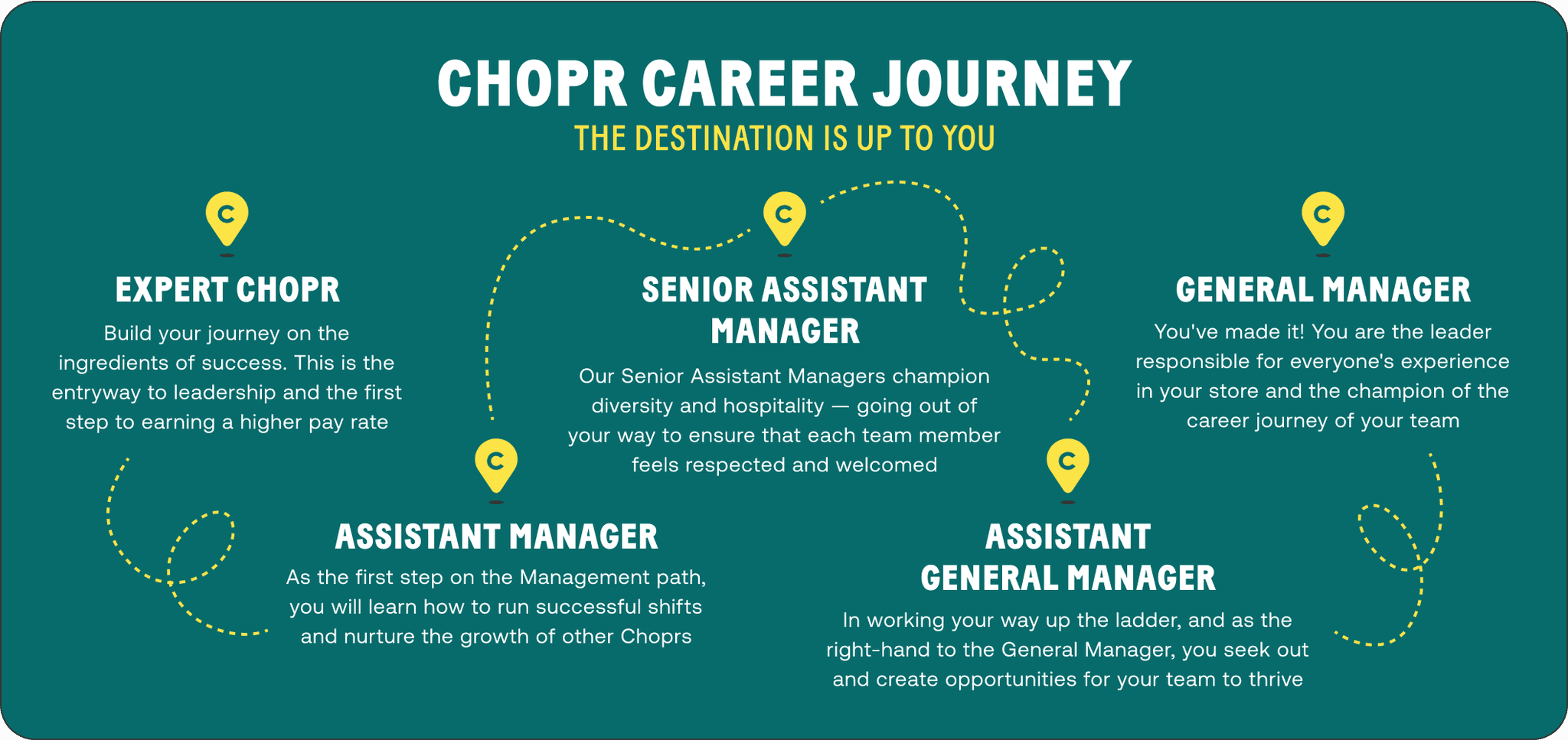 Behind The Question
The hiring manager's on a mission:
To peek into your medium-term professional aspirations.
To see how these sync up with unique growth opportunities at Chopt.
It's not just another tick-box exercise: you need to prove that Chopt isn't just a layover on your career flight path.
How to nail this?
Craft clear, practical goals that meld naturally with the post you're gunning for.
Look up Chopt's ethos, values, and promotion avenues. Weave these into your response to show your keen interest and understanding of the company.
Strike a balance between ambition and realism. You're eager – but also informed about the sweat equity required.
You're painting Chopt's role as more than just a job – it's a critical stepping-stone towards your career ambitions.
Ready for a stellar answer?- Our solution, served fresh and warm, is coming right up!
"In the next 3-5 years, I envision myself cultivating proficiency in team management and customer service. This aligns perfectly with the responsibilities in the role at Chopt, as your brand places a key focus on customer delight and ensures opportunities for leadership roles. I also aim to learn more about the fast-casual food industry's sustainability practices. I am particularly impressed with Chopt's commitment to sustainability and would relish the chance to contribute. This role is a brilliant opportunity for me to marry my long-term professional goals with the company's vision, making for an enriching and rewarding career prospect."
Tell me about a time you had to overcome interpersonal challenges with a coworker. How did you handle it while still delivering great work?
This is no random chit-chat. It's a sneaky way for the Chopt hiring manager to test your social competency and problem-solving skills. They want to know if you can handle conflicts and keep the ball rolling.
Real talk: It's all about how well you complement Chopt's team-oriented environment.
Frame Your Answer Like a Pro
It's simple. Pick instances that reflect your positive conflict navigation skills. But here's the catch: Be distinct, diplomatic, and unbiased.
First up, set the stage. Explain the conflict and why it mattered. Second, walk them through how you tackled it. Show your logical thought process and soft skills. Communication. Empathy. That's the stuff.
Last but not least, highlight the positive result and what you learned.
Quick tip: The size of the issue doesn't matter here. It's all about how mature and effective your response was.
Ready for a real-life example? Allow us to serve you a tailored one relevant to your Chopt interview right on your plate.
"At my previous job in a bustling salad bar, there was a time when a colleague and I had a scheduling mix-up, leading to tensions and impacting our performance. Recognizing that our personal dispute shouldn't tarnish the customer experience, I proposed a friendly chat over coffee. We talked openly about the problem, I expressed my understanding of his perspective and we agreed that the end goal was to ensure seamless service to our patrons. We worked together to modify the rota, which not only resolved our issue, but also improved our communication. We both started performing better, our team spirit was enhanced, and our customers got the great service they deserved. I learned that resolving conflicts right at their onset and considering the views of coworkers are crucial in a team-focused setting like Chopt's."
Tell me about a time you disagreed with a feedback you received. How did you respond?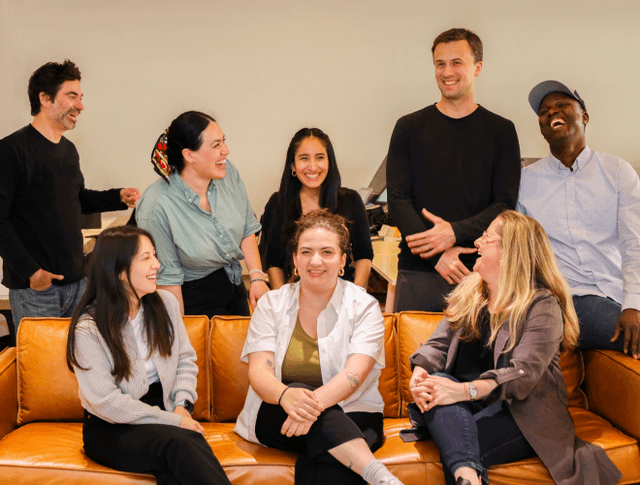 The Chopt interviewer is not just being mean. They want to know whether you have the maturity, the flexibility, and the approach needed to take constructive criticism.
Cracking the code to answer this question involves striking a BALANCE.
You don't want to come off as a pushover…or a defensive player. You need to find that sweet spot between accepting feedback without question and deflecting criticism.
How to Nail It
Highlight a challenging feedback situation.
Focus on something that didn't wreck your job or your relationship with the giver, though.
Show, don't tell, your open discussion. You offered your take, you valued theirs.
Finally, spell out the outcome. What did you learn? How did you grow?
So much for the theory, let's jump into a real-life scenario!
"An instance that comes to mind was during a busy lunch rush when my supervisor suggested that I was 'too meticulous' with the salad preparation, which was reportedly slowing down service. Initially, I disagreed as I believed adhering to high food quality standards was paramount. So, I expressed my concerns during a quiet moment, highlighting the importance of upholding our brand's reputation. From his perspective, balancing speed and quality was critical during peak hours. Hearing that, I embraced his feedback, and together we worked to develop a strategy that maintained our food quality standards and service rate. This process taught me the significance of balancing attention to detail with operational efficiency. Plus, it proved that open dialogue can result in satisfying solutions, even when opinions initially differ."
What is your availability for this role at Chopt? Are you able to work early mornings, evenings, weekends, and holidays?
No secret traps here, just good old-fashioned assessing your availability against their needs. Especially since Chopt operates during diverse hours, including early mornings, late evenings, weekends, and even holidays.
Mastering the Balance—and Your Answer
It's a balancing act. You need to be this circus acrobat—flexible and ready for action. But remember, honesty holds the safety net here.
State your high-level schedule upfront.
Address each point in the question. Early mornings? Evenings? Weekends? Holidays?
Honesty is a must-have ingredient in this recipe. Can't work Sundays? Say it.
Being assertive about your time limitations is applauded, not sneered upon.
Enthusiasm sells. Be transparent, be eager, and add a generous sprinkle of enthusiasm.
"Yes, I am typically available to work during various shifts throughout the week. I understand that Chopt requires flexibility, and I'm prepared to work early mornings and late evenings. I can also comfortably accommodate work during the weekends and holidays, as I think these are when restaurants like Chopt buzz with life and energy. However, I do want to mention that due to my family commitments, Sunday evenings will be challenging for me. Other than that specific timeframe, I am excited about the opportunity to be part of your dynamic team."
How reliable is your current transportation situation for consistently getting you to and from work on time?
Hold up. This isn't a peek into your lifestyle. It's the checkmark on your punctuality, your consistency, and the ability to function despite the wrath of weather gods or trickster traffic.
Honesty is the Best Policy
When you're about to knock this query out of the park, remember you aim to assure them that you'll be there, clock-in ready, every day!
What's your current transport method? Public transit, your car, bike, or just good old walking? Share your mode. No shame.
Give them some anecdotes. Those instances when your transport held up like a champ and those times when it didn't, but you played smart.
Round it up with a pledge of punctuality. This will leave them no room for doubt.
Picturing it all together, you might feel like a pilot detailing your flight plan to air traffic control. But such meticulous detailing will project you as a reliable individual who has got it all figured out!
"On a normal day, I rely heavily on my bike to get to work. It's not only a healthy habit, but it has proven to be a highly reliable mode of transportation. I live within biking distance of this Chopt location and have alternative bus routes memorized too for dire weather conditions. I have a solid track record of punctuality in my previous jobs, which can be confirmed by my previous employers. In fact, I take pride in being that individual who's always 10 minutes early for everything. I understand that in a fast-paced environment like Chopt, consistency, and punctuality are crucial, and I assure you I can deliver on those counts."
Questions to Ask the Interviewer in Chopt Interview
So, you're gearing up for that BIG Chopt interview. You've rehearsed the classics: your strengths, weaknesses, where you see yourself in 5 years. ✅
But wait. There's a curveball that might just get you.
The question? It's as innocent as they come: "Do you have any questions for me?" ????‍♀️
Hold up.
???? Why Saying 'No' is a No-Go ????
Don't even think about shrugging this off. Saying, "Nope, you covered it all," isn't just a missed shot. It's like walking off the court before the game ends. ????
Why?
Because this question isn't filler—it's your shot to prove you're not just interested but INVESTED in a future at Chopt.
???? Ready to Turn the Tables? ????
Sharpen those pencils. ???? Or hey, open up a fresh doc. ???? We've got a list of showstopper questions that will leave your interviewer thinking, "Wow, this one's a keeper."
Can you describe the day-to-day responsibilities this role entails?
How would you describe the ideal candidate for this position?
Could you tell me about the team I'll be working with?
How do you define and measure success in this role?
Can you tell me a bit more about Chopt's company culture?
How does Chopt promote professional development and growth?
What's the onboarding process like for new hires?
How do you address feedback from employees?
What kind of projects will I be working on?
How does Chopt inspire its employees to deliver their best?
How big is the team I'd be part of?
What is the career progression like for people in this role?
Can you tell me about some recent accomplishments this team has celebrated?
Are there opportunities for mentoring or coaching within the company?
How does Chopt promote a balance between work and personal life?
Can you tell me more about the company's strategies for the next few years?
What sets Chopt apart from other restaurants?
How does Chopt reduce its environmental impact?
How important is teamwork within Chopt's culture?
What do you enjoy most about working at Chopt?
Chopt Hiring Process
As you prepare for your upcoming interview with Chopt, it's helpful to understand what their hiring process typically entails. Here's an overview of what you can expect:
The process starts when you submit your application either online or in-person with a resume.
If Chopt is interested, they'll reach out by phone or text to schedule a first interview. This is usually a short, 25-30 minute chat with a hiring manager or general manager focused on your availability, experience, and personality fit.
If that initial interview goes well, you may be asked back for a second interview with a district or regional manager. Here, you may participate in activities like working a sample shift to demonstrate your skills.
For corporate roles, there may be multiple interviews, sometimes spanning several weeks, where you'll meet with VPs and executives.
Hiring decisions tend to be made within two weeks of your final interview. However, there has been inconsistent communication about the application status during the process.
Before your first day, you'll complete new hire paperwork, get assigned a schedule, and receive job training. Overall, the hiring process is relatively informal, with fit and personality weighing heavily in the final decision.
Chopt Interview Tips
As you prepare for your Chopt interview, keep in mind that they want to get to know the real you. Take a moment beforehand to center yourself, breathe, and reflect on what makes you a great fit for the role. When answering questions, speak from the heart about your skills, experience, and passion for the brand. Ask thoughtful questions to show your interest. Stay positive throughout.
What to Wear to Chopt Interview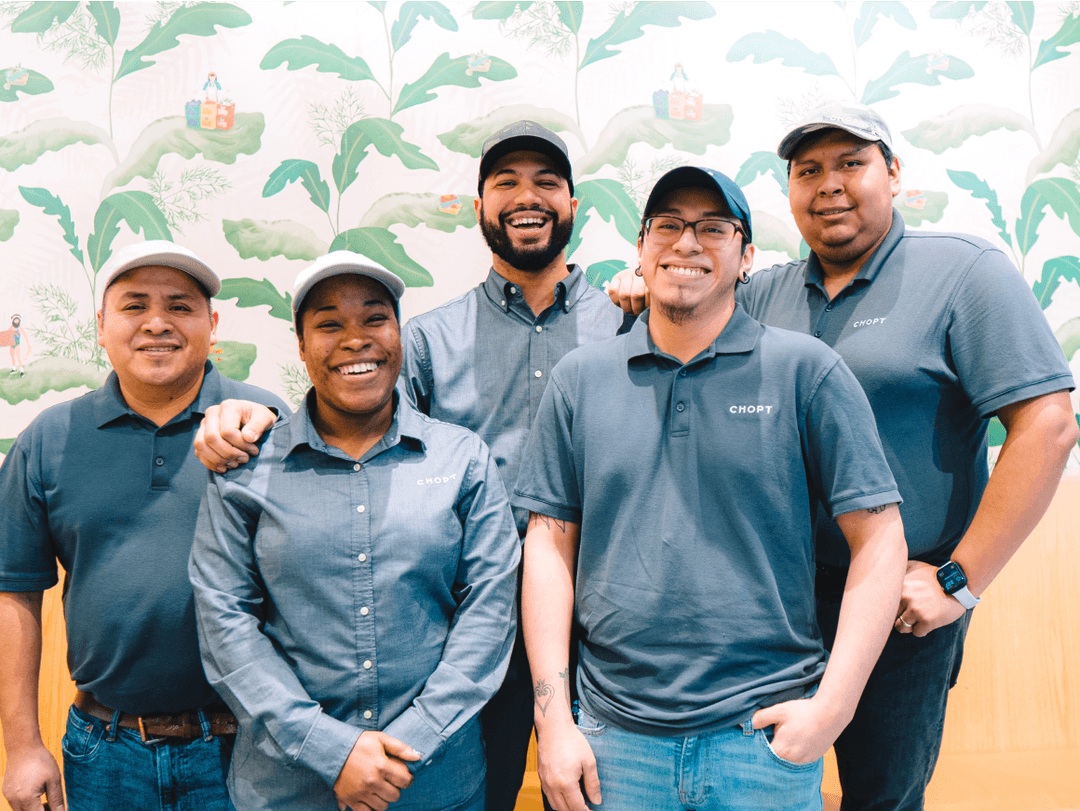 Ah, the Chopt interview! You're just one step away from stepping into your dream role. But wait, what about the outfit? After all, they say, "Dress for the job you want, not the job you have."
So how do you make sure your attire complements your ambition? Allow us to let you in on a little secret—mirror the company's dress code to not only show that you're a culture fit but also that you pay attention to detail. It's like bringing a knife to a salad bowl; you're simply more effective!
First things first, let's decipher the Chopt dress code.
The dress code at Chopt is a company-issued shirt and hat, casual jeans, and black shoes. Nails must be kept short, and only clear or light-colored polish is permitted. Bright nail polish and long acrylic nails are not allowed. Hair color must also be kept in natural shades, avoiding bright or unconventional colors.
If you're vying for a role like a Team Member, Salad Maker, Cashier, or Shift Supervisor, think business casual or just plain casual, but with an air of refinement. Men might opt for a nice polo shirt or a casual button-down shirt paired with clean, dark jeans or khakis. For women, a casual blouse and skirt, or even a pair of tailored jeans would work perfectly.
As for the Restaurant Manager or General Manager roles, go for a business casual look. Men should consider wearing a crisp dress shirt and slacks. Women, think about a knee-length skirt and a smart blouse or a tailored dress.
If you're applying for a corporate role at Chopt, you'll want to go all out—business formal is the name of the game. Men, think suits, and not just any suits but well-fitted ones, with a tie to complete the look. Women, a pantsuit or a skirt suit would be ideal here.
Conclusion
???? The Final Act: How to Close the Curtain Like a Pro ????
And just like that, you've reached the end of your ultimate guide to CRUSHING your Chopt interview. But wait. The climax isn't a triumphant exit. It's knowing what comes next. ????
???? Beyond the Interview: Your Next Moves ????
Hey, acing the interview is a big deal. But let's think BIGGER. If Chopt's got your heart, why not check out Saladworks, Sweetgreen, Just Salad, Chicken Salad Chick, CAVA, and Panera Bread? ????
Ever considered Sonic Drive-In, In-N-Out Burger, Five Guys, Jamba, and Auntie Anne's? ???? These brands, like Chopt, are on the hunt for people who put customers at the heart of it all.
The mantra? Don't just shoot one arrow; unleash the whole quiver. ????
???? Unstoppable You: Action + Ambition = Success ????
Apply, apply, and apply again. In this fast-food game, persistence isn't just a strategy; it's THE strategy. Your career destiny? It's written by you, one application at a time. ????