25 Cold Stone Interview Questions (With Creamy Answers)
Your Cold Stone Creamery interview is looming around the corner. Your heart races just thinking about it. You want this job more than anything, and the thought of not getting it fills you with dread. The competition is likely fierce, with many other candidates vying for the same position. How can you stand out? How can you prove you are the best person for this coveted role?
The answer is simple – preparation. Preparation is the key to overcoming your fears and acing this interview. In this blog post, we are giving you the inside scoop on the most commonly asked interview questions at Cold Stone Creamery and detailed example answers to help you prepare. With the help of these insights, you will walk into that interview room bursting with confidence, ready to dazzle the interviewer with your well-thought-out responses.
This blog post is your key to unlocking your dream job. The effort you put into preparing now will reward you tenfold later. You have so much amazing potential to offer Cold Stone Creamery, so use this opportunity to make them see that!
Keep reading to discover the secret to a flawless interview and land the job of your dreams. You've got this! Now take a deep breath, believe in yourself, and let's get started.
Cold Stone Company Information
Preparing for an interview is key to showing the interviewer you are excited about the company. Learn a few core facts about Cold Stone Creamery to impress the interviewer and tackle any research-related questions.
Expand your knowledge with the following information to start, then go read on to review the common interview questions asked.
| | |
| --- | --- |
| Trade Name | Cold Stone Creamery |
| Type | Ice Cream Parlor Chain |
| Founded | 1988 |
| Founders | Donald Sutherland, Susan Sutherland |
| Headquarters | Scottsdale, Arizona, United States |
| Menu | Ice Cream, Ice Cream Cakes, Cupcakes, Pies, Shakes, Ice Cream Cookie Sandwich, Smoothies, Frappés |
| Signature Items | Chocolate Devotion, Birthday Cake Remix, Silk Chocolate Almondmilk, Founder's Favorite |
| Core Values | Integrity, Excellence, Empowerment, Happiness-Driven, Teamwork |
| Website | www. coldstonecreamery.com |
| Competitors | Baskin Robbins, Marble Slab, Dairy Queen, Haagen Daz, Brusters, Carvel, Kevin Owens |
Additional facts:
A Chilly Beginning: Cold Stone Creamery was co-founded by Donald and Susan Sutherland in 1988, opening its first store in Tempe, Arizona.
Frozen Inspiration: The company's name, Cold Stone Creamery, comes from the frozen granite slab used to mix ingredients into the ice cream.
In-House Churning, Factory Mixes: Cold Stone ice cream is churned in-house from premade bases and mixes, delivered to each location.
Franchise Growth: Cold Stone Creamery opened its first franchise store in 1995 and now has about 1,500 locations in 30 countries worldwide.
Mixing It Up: Patrons can customize their ice cream by selecting mix-ins such as candies, nuts, brownies, and syrups.
The Creamy Merge: In May 2007, Cold Stone Creamery merged with Kahala Corp to form Kahala-Cold Stone, collectively owning 13 brands.
Co-Branding Adventures: Cold Stone Creamery has co-branded with companies like Tim Hortons, Soup Kitchen International, and Rocky Mountain Chocolate Factory to expand its presence and offerings.
Free Flavor Mixing: Customers can mix as many ice cream flavors as they want for free, as long as they fit into the designated cup sizes.
Gaming Treat: Cold Stone Creamery: Scoop It Up, a simulation video game, was released for the Wii in 2009.
Partnering Up: The company has entered partnerships with Kraft Foods for its Jell-O brand and Jelly Belly for jelly bean flavors based on popular ice cream offerings.
Legal Challenges: Cold Stone Creamery has faced allegations from independent franchises about the company's business practices and the impact on their competitiveness.
Singing Tradition Fading: While some locations still sing, many don't on slower days; customers can request to skip the singing.
Free Replacement Policy: Cold Stone will offer free replacement to customers if they don't like their ice cream creation.
Headquarters: Originally headquartered in Tempe, Arizona, Cold Stone Creamery moved its headquarters to Scottsdale, Arizona, in 1997.
Cold Stone Mission Statement
We foster a work environment through collaboration and partnerships that increase employee engagement, strengthen our business relationships, encourage innovation, influence multicultural markets and make Cold Stone the Ultimate Ice Cream Experience® for everybody!
Cold Stone Interview Questions
Can you tell me about yourself and what hobbies or interests you have?
The question is one of the most common opening interview questions, and it's your chance to make a dazzling first impression! The interviewer wants to see your passion ignite as you discuss the role, your interests, and how they fuel your ambition. This question reveals if you're a culture fit—your enthusiasm for ice cream should shine through!
Show your relevant skills and experience, but emphasize your passion for people. Discuss hobbies highlighting your upbeat personality and dedication to customer delight. With an engaging answer, you'll bowl the interviewer over!
"Well, I recently graduated from college with a degree in communications. I'm a creative, social person who loves developing relationships and providing great experiences for customers. Outside of work, I enjoy creative activities like photography, trying new recipes, and staying active. Ever since my first scoop of mint chocolate chip, I've been hooked on ice cream! I'm really passionate about the customer service aspect of this role and being part of a team that provides people with a fun experience and great product."
Most of all, I love bringing joy to customers. At my last job, I increased our customer satisfaction by over 30%! I'm driven to provide the friendliest service and highest quality product, just like Cold Stone. I couldn't imagine a more perfect role, and would love to bring my enthusiasm to your team!"
Why do you want to work for Cold Stone?
The interviewer isn't just asking about your love of ice cream – they want to know you're hungry for the job! Cold Stone Creamery is looking for employees with a sweet tooth for success.
To nail this question, do your homework. Learn about Cold Stone's origins, mission, and what they value in employees. Show how your own priorities and pep align with theirs. Discuss your passion for dishing up smiles along with the goods and creating unforgettable customer experiences.
With the right prep, you'll have the interview in the bag. Now, let your enthusiasm shine through!
"I have always loved Cold Stone Creamery's fun and creative environment. To me, it isn't just another chain – it's a place of joy and wonder. I love watching kids press their nose against the glass, mesmerized by the mix-ins. And who can beat that first spoonful of a fresh-made creation? Cold Stone Creamery values delivering premium quality products as well as premium customer service. I share these same priorities in my own work. I am a hard-working, enthusiastic team player passionate about exceeding customer expectations and crafting unique experiences. I would love the opportunity to start my career with such an innovative company, and I look forward to contributing to Cold Stone Creamery's continuing success."
What makes you excited about the possibility of creating the ultimate ice cream experience for our guests every day?
The interviewer wants to see your passion ignite when discussing the prospect of creating magical moments for Cold Stone customers every day.
Convey authentic enthusiasm for the work, not just the paycheck. Share how you thrive in a fast-paced team environment, connect with people, and find purpose in serving others. Focus on the human aspects of the job that fuel your excitement like hearing delighted laughter from a family enjoying your waffle cone masterpieces or seeing loneliness dissolve into joy as an elderly regular walks through the door. Explain that you see this role not as "just a job" but as an opportunity to spread smiles, forge connections, and lift spirits through the power of ice cream.
With passion and the right mindset, you'll soar in this position.
The thought of crafting little tastes of joy for Cold Stone guests and becoming part of the fabric of their lives is what excites me most about this role. I relish jobs where I can connect with people, lift their moods, and deliver memorable experiences. To me, Cold Stone isn't just ice cream—it's a place where dates become unforgettable, where strangers become friends over a shared love of Mint Mint Chocolate Chip, and where fun is always on the menu. I thrive on the fast pace, team spirit, and the chance to make each guest's experience brighter and better than the last. Nothing feels quite as rewarding as putting a smile on someone's face or having a regular walk in and call out my name. I can't wait to make Cold Stone moments that guests will cherish for years to come. This isn't just a job for me, it's an opportunity to spread joy and sweetness in the world—one scoop and one smile at a time."

The interviewer isn't just asking about good customer service. They want to see that you can create real connections with people and go above and beyond to spread joy. Think of a time you provided outstanding service that led to an unforgettable interaction. Have a story ready that shows your ability to connect, serve, and delight customers in a meaningful way.
For example, you can paint a picture like:
"One evening, a couple came into our bakery looking to get an ice cream cake for their daughter's 16th birthday party. They told me it was a surprise sweet 16 for her, and they wanted to make it really special. I could tell how important this was to them, and wanted to do everything I could to make it an unforgettable experience for their daughter.
I took extra time to decorate the cake beautifully with her favorite colors and flavors. I also added some personal touches, like piping her name on the cake and adding decorations that spelled out "Sweet 16." When the parents came to pick up the cake, I could see how delighted and appreciative they were with how it turned out.
A couple of days later, the daughter posted a photo of her cake on our store's social media, raving about the cake and how it was the highlight of her party. She mentioned me by name and thanked me for making her birthday so special. Seeing her reaction and knowing I helped create such an important memory for her family gave me a tremendous sense of pride and purpose in my role. That is the type of memorable experience I aim to create for all of our customers.
To me, that's what this job is all about—spreading bursts of joy and making personal connections. I'd love to bring that same passion for delighting customers to your Cold Stone Creamery team!"
How would you handle a situation where you and a coworker disagreed on the best way to decorate an ice cream cake for a customer?
The interviewer wants to see how you would handle conflict with a co-worker professionally and productively. This question is your chance to show you can remain poised, collaborate, and resolve disagreements in a way that still delivers for the customer.
Some tips: Express you would stay calm and focus on finding common ground. Explain you'd discuss each perspective openly to blend the best of both into an even better final product. Ask probing questions to ensure any solution delights the customer. Showing you can put aside differences for the team and customer's benefit will impress.
"I'd say something like, 'We both want to wow this customer, so let's figure out a way to combine our ideas into an epic cake they'll never forget.' Then I'd ask questions to make sure I fully understood their vision and reasoning, share my perspective, and suggest ways we could incorporate both. I'd highlight how our differing viewpoints could lead to an even more creative solution if we work together.
The most important things are delivering an amazing cake, learning from each other, and showing team spirit. If we stay focused on the big picture, I'm confident we can merge our ideas into something extraordinary.
Thinking outside the box and challenging each other will only improve our cakes in the long run. As long as the customer leaves happy, that's a win for our whole team!"
Where do you see your career going in the next 3-5 years, and how will working at Cold Stone Creamery help support your long-term plans?
The interviewer wants to know: Do you have vision and ambition? Or are you just looking for any job to pay the bills? This question is your chance to show your passion and enthusiasm for building a career at Cold Stone Creamery.
Tip: Focus on your aspirations for growth and how this role will help you achieve them. For example, say you hope to become a franchise owner one day. Explain your desire to learn the ins and outs of the business, take on additional responsibility over time, and eventually run your own store. Showing your genuine excitement and dedication will prove that you're invested in Cold Stone Creamery for the long haul.
Imagine the possibilities! With hard work and determination, Cold Stone Creamery could be your gateway to a sweet future.
"In the next 3-5 years, I see myself moving up from a crew member to a store manager at Cold Stone Creamery. My ambition is to master each element of the business, from perfecting the ultimate milkshake to delivering the unparalleled customer experience you're known for. Ultimately, my goal is to advance into a higher-level management role and maybe even run my own store one day!
Cold Stone Creamery's culture of delivering 'the ultimate ice cream experience' aligns perfectly with my values of providing exceptional customer service, operating with integrity, and driving continuous improvement.
This isn't just another paycheck for me – it's the opportunity of a lifetime. The chance to learn from the best, to build my skills each and every day, and to grow my career with a company as admired as yours. I know it won't be easy, but for the opportunity to achieve my dreams, I'm willing to put in the work. And I can't wait to get started!"
Can you describe your creative decorating abilities and how you deliver visually appealing and customized products for our customers?
The interviewer wants to see your inner ice cream artist emerge! This question is a chance to dazzle them with your decorating skills and passion for crafting Instagram-worthy treats that leave customers ecstatic. Showcase your creativity and enthusiasm for delivering an unparalleled experience. Share specific examples of how you transformed a basic ice cream order into a spectacular, memorable dessert.
Now, imagine this example answer:
"I have always loved experimenting with unique decorating techniques and coming up with innovative ways to customize products in an eye-catching manner. I thrive on challenges that fuel my creativity, like when a customer gives me full artistic liberty to design their dream dessert. I might top their double dark chocolate with crushed Oreos in a firework burst formation or write an enchanting message in strawberry sauce.
My proudest creation was a unicorn-themed banana split for a little sister's birthday. I dyed the bananas lavender, dotted the rainbow sherbet with glitter, and crafted a purple marshmallow horn. Her face lit up brighter than the sparklers on top!
Being able to inspire that kind of joy through such a fleeting but memorable experience is why I love this job. I hope to bring that same passion for crafting delightfully over-the-top treats to Cold Stone Creamery."
If you were to describe yourself as an ice cream flavor, which one would you choose and why?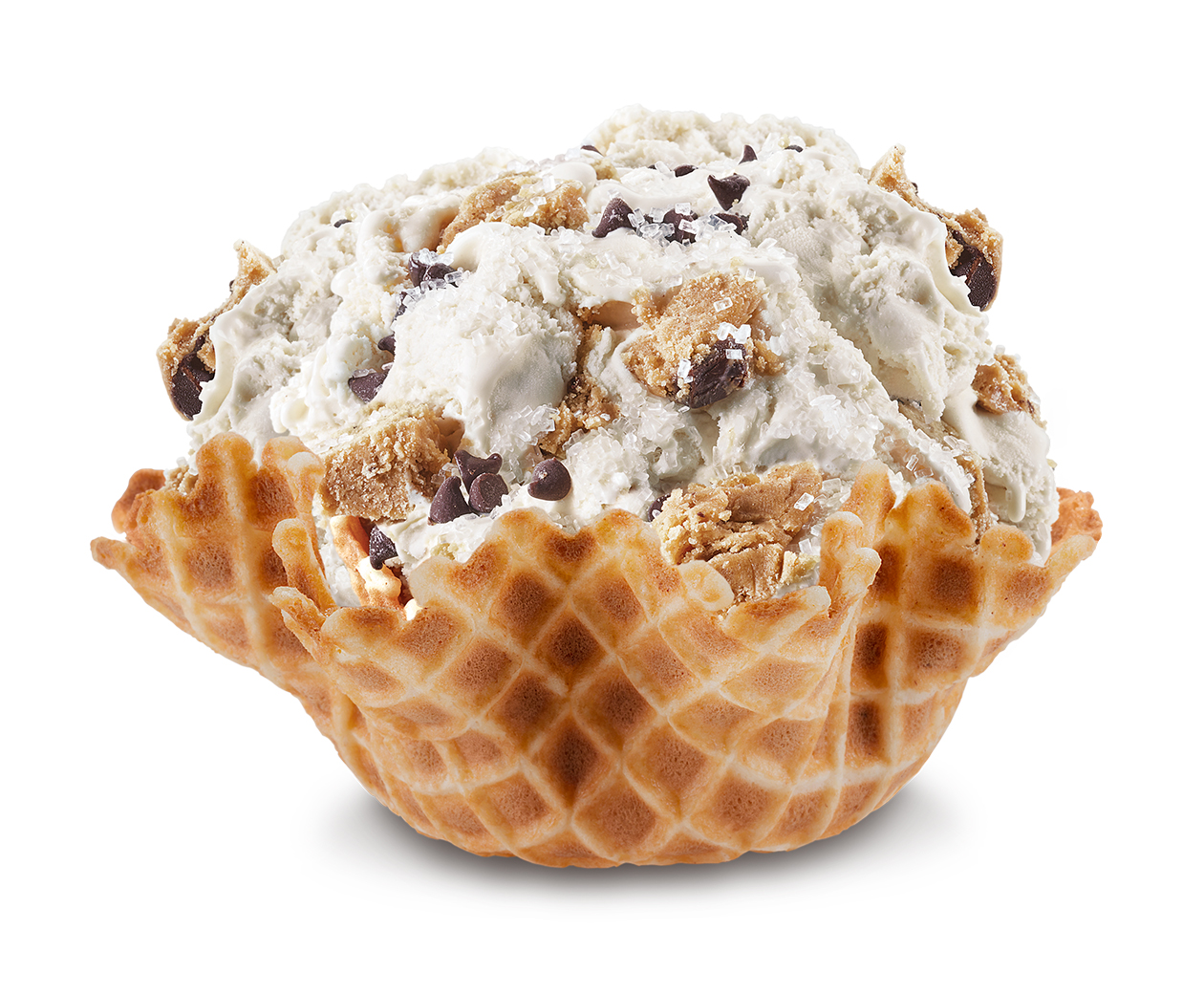 This question is a scoop into your personality. The Cold Stone interviewer wants to see how you hold up under pressure and think on your feet.
Be ready to serve up a flavor that shows your strengths, with a cherry on top of an explanation for why you're the perfect mix. Consider something lively like cookie dough, bright like mango, or classic like mint chocolate chip. With the right flavor and fresh response, you'll have this question on lock.
Now, dig in and discover your flavor…
"I would be cookie dough ice cream, loaded with chunks of raw talent waiting to be baked into something amazing. Like cookie dough bits, I have bursts of creativity and humor that make every bite – or in this case, every task – fun and interesting. But I also have an ambitious, hardworking core that allows me to get the job done. You can look forward to plenty of laughs and lots of hustle if they scoop me up for this role. Overall, I'm a flavor that is full of personality and potential, just waiting to be molded into Cold Stone's next MVP!"
Uh oh, an ice cream creation didn't turn out quite right, and the customer is disappointed. How would you sprinkle your magic to turn this experience around for them?
The interviewer wants to see if you have the magic touch to dazzle customers and flip any situation on its head. Show them you can sprinkle positivity and problem-solving pixie dust to turn a frown upside down!
With a wave of your wand,
"I would sincerely apologize to the customer for their disappointment and assure them that I will make it right. I would ask them what specifically did not turn out as they expected with their creation. I would then offer to remake their treat to their exact specifications, free of charge. As I remake the creation, I would engage them in friendly conversation to lift their mood and hopefully make them smile. I may even offer them a discount on their next visit for the inconvenience. My goal would be to replace their disappointment with an amazing experience they won't forget."
How would you handle needing to switch between different tasks quickly while maintaining a positive attitude?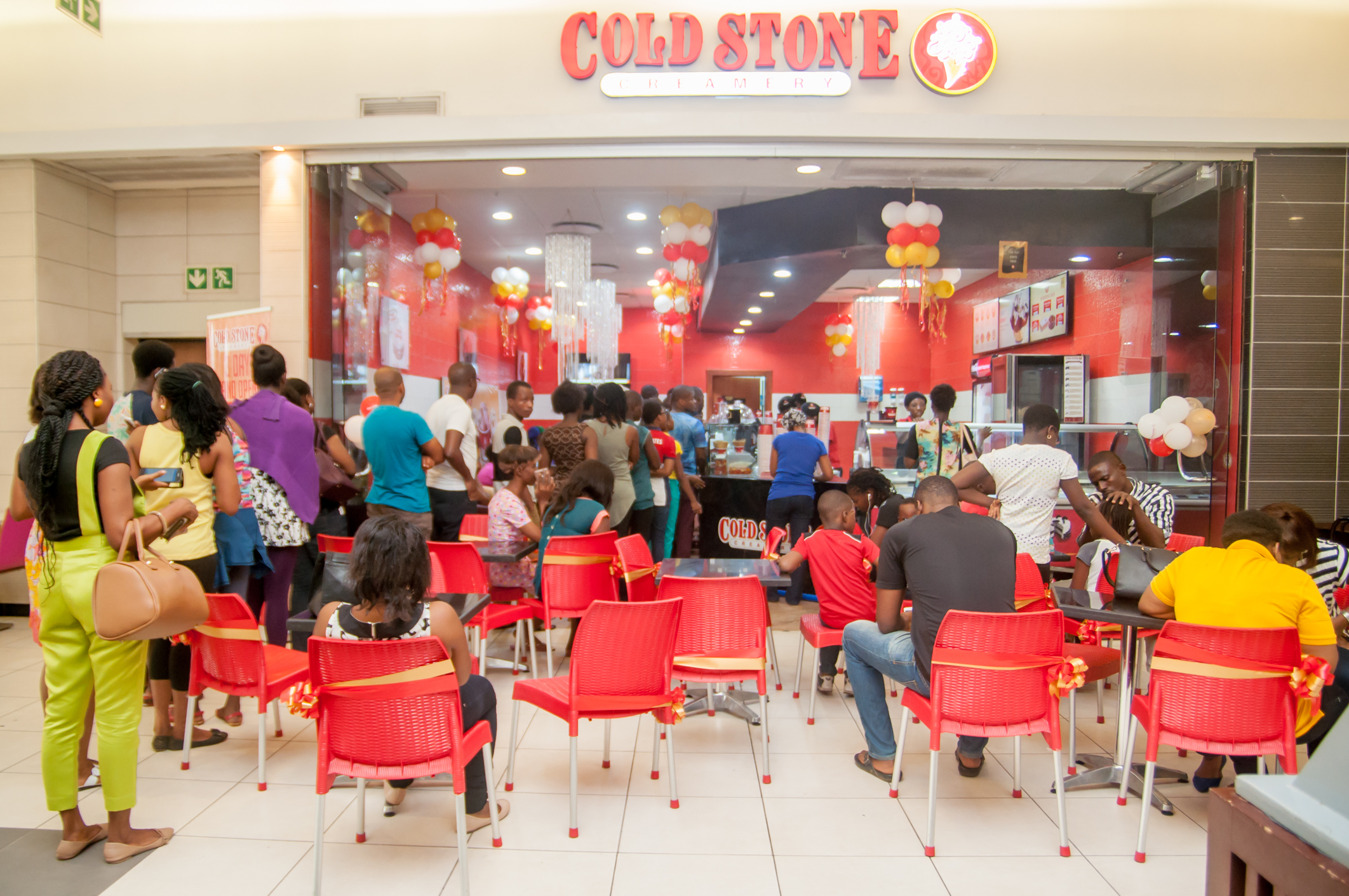 The Cold Stone Creamery interview question about juggling multiple responsibilities is the interviewer's way of discovering if you have the hustle to thrive in their fast-paced work environment.
To crush your answer, show how you effortlessly pivot between tasks with a smile. Share specific times you skillfully handled a barrage of duties without breaking a sweat. Portray yourself as a problem-solving machine who brightens everyone's day along the way.
With the right passion and positivity, you'll be dancing behind that ice cream counter in no time.
"I operate best when I'm busy busy busy! There's no task I can't energetically tackle with a smile. For instance, at my previous job as a diner server, I could take an order, pour coffee, deliver pancakes, bus tables, and host new guests all at the same time. No problem was too big and no customer left without a little sunshine from me. I know that Cold Stone Creamery gets hectic, especially on hot summer days with a constant flood of customers. But that's when I'm at my best – keeping the line moving, getting orders right the first time, handling any issues, and making sure our guests leave with sweet memories of their experience and a taste for coming back. I thrive under pressure and pivot at lightning speed all while spreading positivity. To me, staying upbeat and solution-focused during chaos is what makes the job fun!"
What strategies do you use to stay organized in a fast-paced work environment?
This question is the interviewer's way of figuring out if you can handle the chaos. They want servers who can juggle dozens of tasks, spin on a dime when things get crazy, and still scoop the perfect peanut butter cup ice cream cone with a smile. Showing them you have the skills to thrive under pressure is key.
Some insider tips: Highlight relevant experience, give vivid examples, and express genuine enthusiasm for the brand. If your preparation is on point, you'll have this question on lock.
With adequate preparation, this question will be a breeze for you. Here's how:
"To stay organized in a fast-paced environment like Cold Stone Creamery, I rely on several strategies. First, I prioritize important tasks and deadlines to ensure nothing slips through the cracks. Second, I maintain a highly systematized approach to my work. Checklists help keep operations running smoothly. Finally, I remain flexible to handle any obstacles and adapt to change at a moment's notice,
Chaos is my element. Give me a noisy room of impatient customers, last-minute catering orders, and temperamental equipment any day – I'll get the job done and keep a smile on my face the entire time. Years of experience in high-volume restaurants have honed my ability to organize chaos. I prioritize like a pro, tackling the most urgent things first so nothing slips through the cracks. I'm also obsessed with efficiency – if there's a faster, simpler way of doing something, I'll find it.
For me, the fast pace, constant activity, and opportunity to make people smile are what make Cold Stone Creamery such an exciting place to work. I can't wait to dive in and deliver the world's best ice cream experience, one customer at a time!"
The interviewer wants to see if you can handle challenging group dynamics. To nail this question, show you understand that collaboration requires flexibility, not forcing your way of working onto others.
Share how you tailored your approach to connect with colleagues different from yourself. Prove you can create harmony out of discord. Some tips: Listen actively. Find common ground. Compromise when needed.
Teamwork is all about bringing out the best in each other, regardless of styles or temperaments.
"At my last job scooping ice cream at a local ice cream parlor, I had the daunting task of training two newbies who couldn't have been more different. One was a human tornado of energy, chatting a mile a minute. The other was soft-spoken and shy, rarely making eye contact.
At first, their differences threw me for a loop. But I soon realized I couldn't have asked for a more perfect duo. I gently asked the chatterbox to give our shy teammate some space to come out of their shell at their own pace. And I made an extra effort to draw out the quiet one's input, showing their ideas were valued.
When we were busy in the weeds, I strategically teamed them up, channeling my bouncing-off-the-walls coworker's enthusiasm to help bring the other out of their comfort zone. And it worked! Their strengths played off each other perfectly.
Adapting my style to connect with each of them was challenging but so rewarding. By meeting them where they were, I was able to mold these polar opposites into a power duo and help make our store a success. When there's a will, there's a way!"
Are you comfortable singing for tips or showcasing your talents in front of customers?
Cold Stone isn't just dishing out scoops, they're serving up smiles and laughter! The interviewer wants someone who can sing, dance and showcase their personality all while crafting the perfect peanut butter cup perfection. This isn't your typical job—they're looking for entertainers and experience makers.
So when they ask if you're "comfortable singing for tips," they really want to know—can you bring the fun?
"You bet your cherry chocolate chip I can! I live to liven up people's days and make unforgettable memories. Handing me a microphone and a captive audience of ice cream lovers would be a dream come true! I've always been the ringleader of shenanigans among friends and family, and now I want to bring that sense of fun and community to my job. Cold Stone is in the business of spreading smiles, and I want nothing more than to contribute to that mission. Need me to lead an impromptu song and dance routine? Consider it done. Want me to engage with shy little kids and make them giggle while their parents enjoy a much-needed treat? I'm your girl! I don't just want to serve up scoops, I want to serve up joy. There's no such thing as too much laughter or too much fun for me."
Tell me about a time you received feedback that was hard to hear but extremely valuable. How did you stay open-minded and use it as an opportunity to improve?
The interviewer isn't just asking about a time you received criticism. They want to see that you can handle harsh truths with grace, and have the determination to transform yourself for the better.
To nail this question, show how you stayed poised, kept an open mind, and took concrete action. Describe the situation briefly, then focus on your mindset and resolve for change. Prove that you're the type of person who thrives on feedback, rather than crumbles under it.
For instance,
"It was my first week dishing out double-scoop cones at an ice cream shop, and I thought I had the hang of it. Until my manager reviewed my work, that is. According to her, I looked stiffer than a week-old waffle cone, and my chilly demeanor was melting profits faster than the ice cream.
At first, her words stung like dabbing hot fudge on a sunburn. But I knew she cared about my success, so I swallowed my pride and asked her to clarify. As she explained, I realized she was completely right – and had just handed me the keys to becoming an A+ employee.
That day, I made it my mission to dish out smiles and laughs as generously as hot fudge and cherries. Soon, I had regulars lining up just to chat with their new favorite sweetheart.
Thanks to my manager's priceless advice, I transformed myself into a model employee and developed a loyal following. Her feedback was a gift I've continued to benefit from throughout my career. If hired, I'll bring the same determination to learn and improve that has served me so well in the past."
Are you willing to learn and memorize recipes for the various ice cream flavors and products we offer?
The interviewer wants to know if you have the dedication and mental chops to master Cold Stone's playbook of recipes. This question is their secret test to see if you have what it takes to craft the perfect scoop of sweetness for every customer that walks through their doors.
To crush this question, show your passion for learning the art of mix-ins. Talk about how you love tackling new recipes and the challenge of memorization. Mention any experience you have with learning menus or processes on the fly. Show them that quality and service are your highest priorities, no matter how long it takes you to prepare.
Now, it's time to put your flavor-packed answers to the test.
"Yes, I would be happy to learn and memorize the recipes to properly serve customers. I live for opportunities to expand my knowledge of crafting the perfect treat. Learning new recipes is a fun challenge for me, like a puzzle I have to solve. In my last job, the menu was always changing, so I got used to memorizing new ingredients and techniques quickly.
The chance to master Cold Stone's lineup of flavors and creations would be an absolute dream. In my free time, I would study the recipes and try every single combination to achieve expert-level mix-in mastery.
My goal is to turn first-time customers into lifelong fans by delivering a taste experience they will never forget. Pour on the recipes – my mind is an open cart, ready to be filled with the secrets of ice cream alchemy!"
How did you hear about this job opportunity at Cold Stone, and what aspects of the role caught your interest?
This question is the interviewer's secret weapon to really see if you did your homework and have a passion for ice cream…or at least, for the job! Picture the interviewer arching a skeptical eyebrow, waiting to see if this is just another run-of-the-mill answer. Now is your chance to dazzle them with your enthusiasm and knowledge about why this role at Cold Stone Creamery is your dream job.
Do some digging and find out what specifically sparks your interest about Cold Stone's company culture, values, and of course, delicious ice cream. Explain how you creatively uncovered this hidden gem of a job opportunity. Show them you have the motivation and resourcefulness to get the job done right.
With the right scoop, you'll have this question on lock.
"Ever since my first sweet spoonful of Cold Stone Creamery's cake batter ice cream, I was hooked! I visit my local store at least once a month, often more. So, when I heard from my fellow ice cream fanatics on Instagram that Cold Stone Creamery was hiring, I was thrilled! What interests me most about this role is the opportunity to turn first-timers into loyal, lifelong customers just like me.
Cold Stone Creamery is all about bringing joy one cup at a time through an unforgettable experience, high quality ingredients, and over-the-top service. That kind of passion for delivering only the best resonates deeply with me. I know that bringing my enthusiasm for your brand and my dedication to customer delight would make me an invaluable member of your team. There's nothing quite like the taste of Cold Stone Creamery, and I'd love to ensure that every customer walks away with a smile and a craving to come back for more!"
Can you create a short song or jingle about ice cream to showcase your creativity?
The interviewer wants to see your creativity explode like fireworks in this question! They're looking for pizzazz, passion, and Cold Stone charisma.
Come equipped with an upbeat jingle highlighting what makes Cold Stone tantalizing: their ooey-gooey cookie dough, thrilling mix-ins, and feel-good atmosphere. Practice your mini-masterpiece and deliver it with flair. Unleash your enthusiasm and show them you're meant for this frozen fantasy land!
Now it's time to unveil your creativity:
"Oh, the flavors, the flavors,
A frozen dream for all savors!
Cookie dough, brownies in line,
In sundaes or shakes, a treat so fine.
Cherry delight, pumpkin pie,
Sweet cream swirling high!
Mix-ins aplenty,
Joy unbounding,
In this ice cream haven we're surrounding!
Cold Stone Creamery, taste so divine,
Crafting ice cream to please all kinds!
A cheerful crew, serving you,
In a league of their own, it's true!"
Can you describe a situation where you had to do what's right while stepping out of your comfort zone?
The interviewer wants to see that you can make good decisions under pressure while providing great customer service. Think of a story showcasing your positivity, problem-solving skills, and ability to create a memorable experience.
With the perfect example in mind, craft an answer that will dazzle them.
"One busy Saturday night during my summer job at an ice cream shop, there was a line out the door and frazzled customers waiting to be served. In the chaos, I noticed a regular customer struggling at the counter. She had come in with her service dog hoping for her usual order but didn't have enough to pay.
My heart sank imagining her leaving empty-handed. I knew what I had to do. Slipping in beside her discreetly, I said, "Tonight's on me." A smile lit up her face as the tension visibly left her body.
Carefully, I guided her through choosing her favorite flavors. "Two scoops of mint chocolate chip?" She laughed, realizing I remembered her go-to order.
As I topped off her cone with sprinkles, she squeezed my hand gratefully. "You have no idea how much this means to me." Helping her to a table, I said, "It's my pleasure. Enjoy!"
The buzz of the shop faded around us as I saw her take the first blissful bite. In that moment, I remembered why I want to be part of the Cold Stone crew—to make every customer feel special and spread a little sweetness wherever I go."
How confident are you in your ability to handle simple math tasks during your shift?
The interviewer wants to know if you can hustle through the mental math behind the creamy chaos at Cold Stone Creamery. Can you whip up change faster than an ice cream mixer? Calculate scoops quicker than customers can say, "Gotta have chocolate peanut butter cup"?
Fast math and an even faster smile—that's the recipe for success in this role.
Take a deep breath and smile. You've got this! Now, dazzle them with an answer like this:
"I am extremely confident in my ability to handle the math requirements of this role. I have always been adept at mental math and take pride in my precision. When working a cash register during my previous role at an ice cream shop, I was routinely able to give customers correct change within seconds of their order and keep my cash drawer balanced at the end of each shift. I understand the importance of scooping the proper portion sizes to be efficient while maximizing profits and customer satisfaction. You can feel assured that I will serve your customers well and support the success of this store through accurate and speedy math skills, should I be selected for this opportunity."
What strengths and weaknesses do you possess, and how will they impact your performance at Cold Stone?
The interviewer wants to know the real you—your superpowers and your kryptonite. Be authentic but also strategic. Focus on strengths you can bring to the job today and weaknesses you can turn into strengths with the right support and development.
Cold Stone is looking for more than just a scooper; they want someone with passion, personality, and hustle. Sound like you? Great. Now, show them.
"Connecting with customers comes as naturally as breathing to me. I live to make people smile and ensure they leave with a sweet treat and a great memory. My enthusiasm is as endless as Cold Stone's flavor options!
That said, I can improve on delegating tasks during busy periods. At times, I take on more than I can handle efficiently.—I have trouble saying 'no' when people need help. I'm working on recognizing when it's time to call in backup from my teammates instead of trying to do it all myself.
With your training and support, I know I can become a master at balancing my give-it-all spirit with efficiency. With my positivity and devotion to top-notch service combined with an improved sense of pace, I will make killer milkshakes and memories that bring customers back again and again."
What do you know about Cold Stone Creamery's history and values, and what aspects resonate with you the most?
The interviewer wants to see your passion for Cold Stone Creamery shine through. Do your research and show that you understand what makes the company culture so special.
Some key points: Cold Stone Creamery was founded in 1988 by two ice cream lovers chasing their dream. They created an interactive ice cream experience focused on excellence, integrity, and simplicity. Mention how these values resonate with you. Come prepared with examples of your relevant experiences to make a memorable impression.
Picture yourself already part of the Cold Stone Creamery family, scooping up deliciousness and smiles, and craft an answer that reflects this passion.
"Ever since my first visit to Cold Stone Creamery as a kid, I've been hooked by the experience of watching you make my perfect ice cream creation right before my eyes. Cold Stone Creamery was founded on the belief that ice cream should be fun, customized, and community-focused – and 30+ years later, you're still spreading those same smiles and values.
Excellent customer service, treating people with integrity, and keeping things simple are ways I've always approached my work.
Also, like Cold Stone Creamery giving back to the community has been a lifelong commitment of mine as well. I would be thrilled to join a company that so closely aligns with my values, so I could make customers smile and make a difference every day. That's why Cold Stone Creamery feels like home to me."
How would your friends typically describe your personality?
The interviewer is trying to get a sense of how you view yourself and the qualities that make you a great candidate for the role. When answering, focus on attributes that would be assets for a Cold Stone Creamery employee, like being friendly, hardworking, energetic, and detail-oriented.
My friends would describe me as an enthusiastic and hardworking person—peppy as mint chocolate chip and as dependable as cookies and cream. They'll tell you I'm the most colorful character on the squad, always sporting a smile as bright as a bowl of rainbow sherbet. But don't be fooled by the cheer – I have a laser focus on quality and cleanliness.
Picture this: a long line of customers on a hot summer day, everyone craving a cold treat. I'd be doubling up on batches, calling out orders, and getting scoops into cones at record speed – all while trading jokes with coworkers and thanking each customer for coming in. That's my style – high energy, high quality, and simply addictive. Cold Stone would be my ideal place to blend in!
Can you describe your experience in maintaining a clean environment, and following health and sanitation procedures in a food service setting?
The interviewer wants to know if you have the grit to keep Cold Stone Creamery spotless. Picture this: customers eagerly watching you create their sweet treat, the hum of laughter and chatter, whiffs of chocolate and coffee wafting through the air. Now imagine if uncleanliness ruined that ambiance. Yuck!
To ace this question, share examples of how you've rolled up your sleeves and committed to a sparkling work environment. Discuss the health codes you've upheld and the measures you took to avoid cross-contamination. Convey your non-negotiable stance on cleanliness and safety. This shows you'll do whatever it takes to delight customers and protect Cold Stone's reputation.
With this in mind, here is an example response:
"Cleanliness is my mantra, especially serving food. At my last job as a server, I inspected our space before, during, and after shifts to catch any uncleanliness. My manager knew I'd notice a single crumb out of place! I also volunteered to train new hires on safety practices to prevent lapses.
Serving premium ice cream at Cold Stone is a privilege that depends on purity. I would monitor for spills, sticky messes, and equipment malfunctions that could compromise quality. My goal is a spotless, squeaky-clean shop where kids can sit on the floor while enjoying their ice cream.
Safety is also key, from proper hand washing to temperature control. I've studied food safety guidelines to prevent health code violations and have refused to serve food that could sicken customers. That is my zero-tolerance policy.
You can count on me to deliver an immaculate shop, hygienic results, and above all else, safe and delicious treats. I will work tirelessly to make that winning combination that keeps customers coming back for more.
What's your availability? Are you willing and able to work weekend shifts, including evenings?
The interviewer wants to know if you'll go the extra mile—or scoop—to satisfy customers. Cold Stone Creamery is open mornings, evenings, weekends, and holidays, so they need crew members fully committed to the job.
To nail this question, convey your enthusiasm for the work schedule and your dedication to serving up deliciousness whenever needed.
Put it this way:
"I live for ice cream, not schedules! I'm always available and ready to mix up new flavors and treats for your customers. Weekends, evenings, holidays – just tell me when to scoop. Cold Stone Creamery's hours fit perfectly with my life as a dedicated foodie looking to master the art of mix-ins. I do not have any constraints that would prevent me from working evenings or weekends."
Should you be offered a position, do you foresee any challenges getting yourself to your scheduled shifts on time?
The interviewer wants to know if you'll show up on time, raring to go or stroll in late with a frappé in hand. Timeliness is essential in the fast-paced environment of an ice cream shop. To nail this question, show your enthusiasm for the job and your solid work ethic.
Let your passion shine through as you explain your flawless attendance record.
For example, you might say:
"Absolutely not! Dependability is my middle name. I will make sure to plan my commute ahead of time, have a backup means of transportation, and leave an ample buffer in case of unexpected delays.At my last job, I had perfect attendance for over two years. Rain, shine, or triple-scoop hot fudge sundae, you can count on me to make it to every shift on time and raring to go. I might even bring an extra scoop of positivity and people skills!"
Questions to Ask the Interviewer in Cold Stone Interview
The dreaded "Do you have any questions for me?" question. This question always seems to catch candidates off guard in an interview. But don't worry, with the right preparation, you'll be ready to wow your interviewer with insightful questions that demonstrate your enthusiasm and interest in the role.
The purpose of this question is for the interviewer to gauge your level of interest and enthusiasm for the position and company. They want to see that you've done your research and have thoughtful questions that show you care about the work environment, team, goals, challenges, etc. This is your opportunity to stand out as an engaged and curious candidate.
To prepare, do your research on Cold Stone Creamery and come equipped with questions about the role, team, company, customer experience, seasonal menu items, employee benefits, growth opportunities, etc.
Here is a list of questions to get you started:
What qualities make someone successful in this role?
What challenges do you think I would face in the first 3 months?
What support does the company offer for career growth?
Does the company encourage volunteering or community outreach?
What is the typical career path for someone in this position?
What do customers love most about coming to Cold Stone Creamery?
Does Cold Stone Creamery encourage work-life balance and flexibility?
Is there room for creativity, or are the processes very standardized?
Can you describe the culture at this Cold Stone Creamery location and how it promotes a positive and enjoyable work environment?
Can you share any recent initiatives or projects that have been implemented to improve the customer experience at Cold Stone Creamery?
How does Cold Stone Creamery encourage creativity and innovation among its employees, particularly in terms of new flavors or products?
What do you personally find most rewarding about working at Cold Stone Creamery, and what makes it stand out from other companies in the industry?
Can you provide more information about the training process for new members and how it ensures a strong foundation in terms of product knowledge and customer service skills?
What are the key performance indicators, and how does the company provide feedback and recognition for outstanding performance?
Do you have any other questions or concerns about my qualifications?
Cold Stone Hiring Process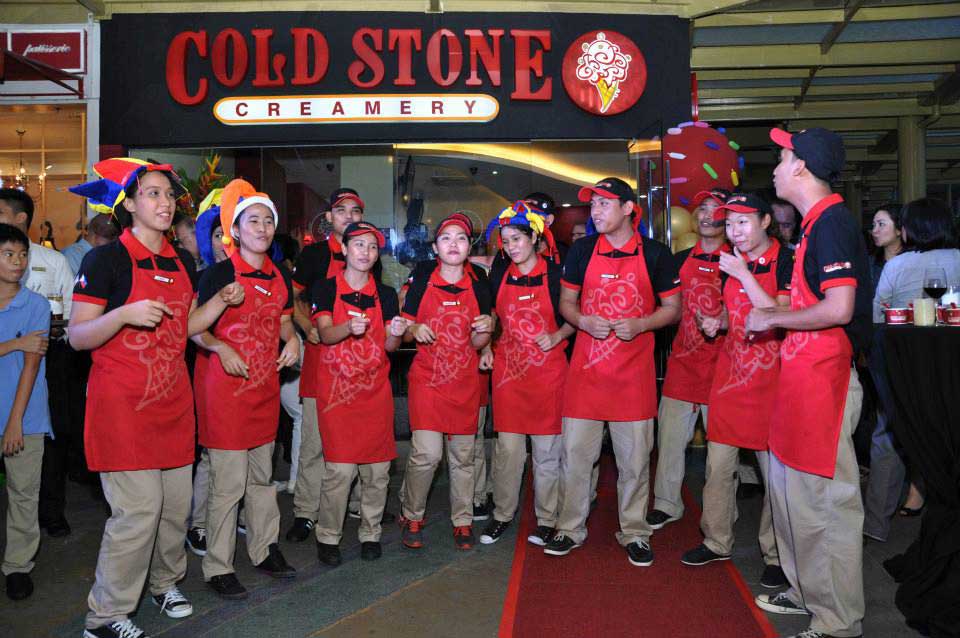 The hiring process at Cold Stone Creamery is structured to find genuinely passionate candidates who will deliver outstanding customer service with every interaction.
The first step is submitting a strong application that conveys your enthusiasm for premium ice cream and exceptional service. Whether you apply online or in person, be sure to highlight any relevant experience or training that will make you a great fit for the role.
Stay on the edge of your seat, as Cold Stone Creamery aims to get back to candidates within a week to schedule video interviews with promising applicants.
The video interview is your first chance to share your smile and passion with the interviewer. Be ready to answer questions about why you want to work for Cold Stone Creamery, your ideal approach to guest service, and your favorite ways to make a memorable experience for every customer. They want to see the enthusiasm in your eyes and hear it in your tone.
If your video interview goes well, you'll be invited for a fun group interview. The owner or shift lead will lead a relaxed conversation to evaluate how you interact with each other and prioritize the mission of delighting every guest. Look for opportunities to politely interrupt one another, build on others' ideas, and highlight how this team dynamic will dazzle each and every customer. Confidence in greeting customers, a willingness to go above and beyond, and true teamwork are essential qualities.
With perseverance and by presenting your best qualities at each stage of the hiring journey, you'll move closer to hearing the sweet words, "You're hired!" At that point, you'll begin an onboarding process to prepare you for creating crave-worthy memories and ice cream experiences. The rest, as they say, will be history! Stay positive and keep your cool—you've got this.
Cold Stone Interview Tips
To ace your Cold Stone Creamery interview, focus on your friendly personality, customer service skills, and enthusiasm for ice cream. Show that you can handle fast-paced environments and bring creativity to crafting ice cream treats.
What to Wear to Cold Stone Interview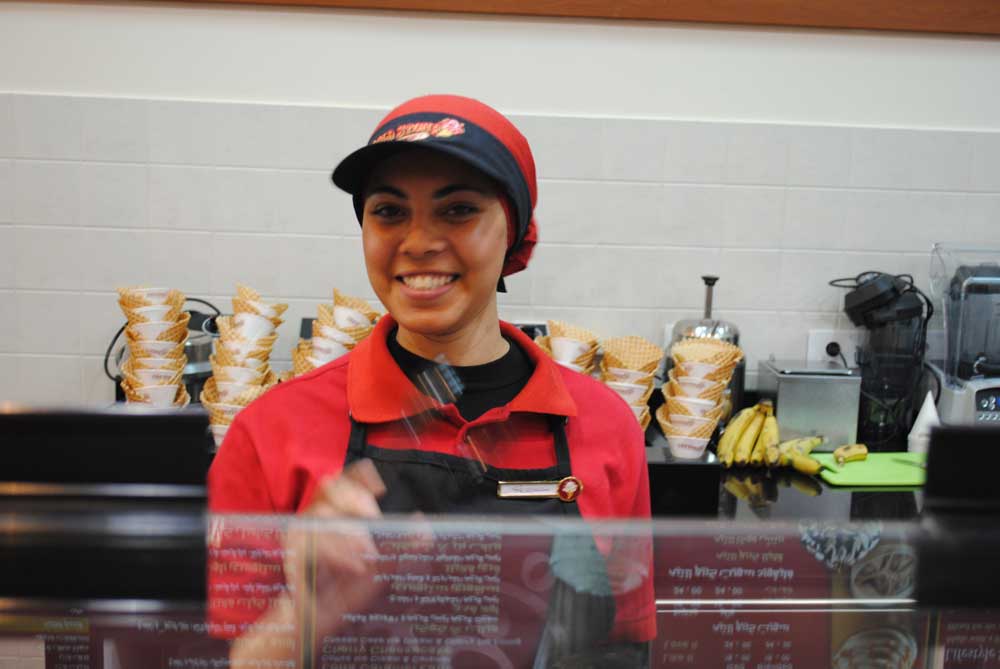 Before your interview at Cold Stone Creamery, you're going to want to make a great first impression with your outfit. Like the delicious ice cream they churn out daily, every detail counts when creating an unforgettable experience for guests.
So whether you're interviewing for a crew member role scooping cones or an assistant manager position managing the whole operation, be sure to emulate the brand by dressing in a way that is casual yet professional.
The dress code at Cold Stone Creamery is a company uniform that typically includes a work shirt, visor/hat, nametag, apron, blue jeans/shorts or khakis without rips, and non-slip shoes.
This should give you an idea of the comfortable and friendly vibe they cultivate.
For a crew member interview, opt for casual or business casual attire like nice jeans or khakis, a polo or blazer, and maybe some stylish sneakers or flats.
As an assistant store manager or store manager candidate, dress it up a notch with dressier denim, slacks or a skirt, a button-down shirt, and possibly a blazer.
If you're interviewing at the corporate headquarters, you'll want to go for full business formal wear like a suit and tie or pantsuit.
The most important thing is that you feel confident and composed, ready to share your passion for exceptional service and helping the Cold Stone Creamery team achieve their goals. While they keep things relatively relaxed, you need to look put together.
Conclusion
You now have the insights and tools to nail your Cold Stone Creamery interview. With preparation and practice, you will walk into that interview room feeling ready to showcase why you are the perfect candidate for the job.
While the questions may vary, you have built a solid foundation to thoughtfully answer whatever is asked with confidence and enthusiasm. Keep your head high, believe in yourself, and stay true to your warm and friendly personality – that is what will ultimately land you the job.
Though you feel well-equipped for your upcoming interview, don't stop applying to other places that spark your interest. Keep applying and building connections, especially with similar companies like Baskin Robbins, Dairy Queen, Rita's Italian Ice, Pinkberry, Häagen-Dazs, Carvel, and Ben and Jerry's. The more options you have, the more opportunities await you.
A perfect job for your skills and personality is out there, so persist and don't get discouraged. With hard work and an unwillingness to give up in the face of obstacles, you will find work you find meaningful. Stay determined – your dream job is closer than you think!