26 Rita's Italian Ice Interview Questions (And Cool Answers)
You've worked hard to earn an interview at Rita's Italian Ice, but now the anxiety starts to set in. What kinds of questions will they ask? How should you prepare? This interview could be a pivotal moment that shapes your career, so you want to make a great impression.
Take a deep breath. You've got this, and we're here to help.
In this blog post, we'll share the most common interview questions Rita's Italian Ice is likely to ask, along with suggestions for compelling answers to wow your interviewer.
Prepare thoroughly, and you'll walk into that interview confident and poised, ready to show them why you're the ideal candidate for the job. The key is to practice your answers ahead of time until they flow naturally.
Now, let's get you ready to ace this interview! Success and scrumptious Italian ice await.
Rita's Italian Ice Company Information
To feel confident during your interview and handle any questions about Rita's Italian Ice with ease, familiarize yourself with some key facts about the company. Acquiring this knowledge will allow you to demonstrate your enthusiasm for the role and impress the interviewer with your preparation.
| | |
| --- | --- |
| Trade Name | Rita's Italian Ice |
| Type | Dessert Shop Chain |
| Date Founded | May 4, 1984 |
| Founders | Bob Tumolo |
| Headquarters | Trevose, Pennsylvania, United States |
| Menu | Italian Ice, Frozen Custard, Gelati, Bledini, Concrete, Shakes, Frozen Drinks |
| Signature Items | Cherry Italian Ice, Swedish Fish |
| Core Values | Innovation, Customer Service Excellence, Teamwork, Giving Back |
| Website | www.ritasice.com |
| Competitors | Dairy Queen, Sonic, Baskin Robbins, Cold Stone Creamery, Braum's, Carvel |
Additional facts:
???? Rita's Italian Ice originated from a humble front porch in Bensalem, Philadelphia, in 1984, founded by former firefighter Bob Tumolo.
???? Named after Bob's wife, Rita, the business expanded to three additional locations across Philadelphia by the end of 1987.
???? Today, Rita's boasts over 600 locations across 30 states, offering Italian ice, frozen custard, soft serve ice cream, and more.
???? Since 1992, Rita's has been celebrating the arrival of spring with a free Italian ice giveaway on the first day of the season.
???? With a rotating selection of over 95 flavors made fresh every day, Rita's offers a wide variety of choices, such as Florida Orange, Chocolate, Cookies and Cream, Margarita, and Unicorn.
???? Mango reigns as Rita's most popular flavor, followed by Cherry and Swedish Fish.
???? Health-conscious customers can enjoy Rita's All-Natural Italian Ice, made without any artificial colors or flavors.
???? The company was originally called Rita's Water Ice, with "water ice" being Philadelphia slang for Italian ice.
???? At select locations, customers can indulge in non-frozen treats like Custard Cookie Sandwiches, Tasty Twisters (soft pretzels), and Sandella's Flatbread Cafe items, such as wraps, paninis, and flatbread pizzas.
Rita's Italian Ice Mission Statement
To provide a carefree and delightful experience for our guests by consistently serving the freshest, highest-quality ice, custard, and happiness with exceptional speed and a warm smile, creating a sanctuary where everyone can escape the pressures of everyday life and indulge in a moment of pure joy.
Rita's Italian Ice Interview Questions
Can you describe yourself, including details of your background and experience?
This question is a common interview opener, and Rita's Italian Ice is no exception.
This deceivingly simple query is your chance to make a memorable first impression. The interviewer wants to see your passion for serving up delicious treats with a side of smiles. Show them you have the upbeat personality, customer service skills, and team spirit to thrive in their fast-paced work environment.
With that in mind, here is an example response:
"I am an upbeat people person passionate about customer service. Ever since I was a kid, I've had an insatiable sweet tooth and a desire to make people's days a little brighter. Combine the two, and you get my dream job—scooping Italian ice at Rita's! For the past two years, I've worked at a popular local snack shop. In that role, I've honed my ability to greet customers with a smile, move efficiently through transactions, and resolve any issues should they arise. I can whip up orders with a grin, put even the grumpiest customers in a good mood, and pitch in wherever my team needs help. I love working in fast-paced, team-oriented environments, which is why I am so excited about the possibility of joining Rita's team. Making guests' experiences special through high-quality service and products is extremely important to me."
What are your hobbies and interests outside of work? How do you like to spend your free time?
The interviewer isn't just asking about your hobbies for small talk. They want to see what really lights you up outside of work—your passions that fuel your motivation, team spirit, and creativity.
For a role scooping gelato and Italian ice at Rita's, they're looking for candidates with an enthusiastic zest for life and community. Share 2 or 3 of your most meaningful interests, and weave in how they'll make you an ideal Rita's team member. Maybe you coach kids' soccer to inspire teamwork and high energy. Maybe you take improv comedy classes to flex your quick thinking and pep. Find the links, and highlight them!
With the right spin, your interests can set you up for success. For instance:
"Outside of work, I really enjoy being active and involved in my local community. I play in a recreational basketball league which helps me stay active and collaborative – chasing down loose balls isn't too far from chasing down spilled gelato! I also volunteer at an animal shelter. Not only does walking dogs show I'm responsible, but interacting with all kinds of people and pups keeps me friendly and upbeat. Finally, I love trying new recipes and cuisines from around the world. Exploring different flavors and cultures inspires my creativity and passion for delighting customers with something fun and new."
Why do you want to work for Rita's Italian Ice?
This question is the interviewer's secret weapon for finding the most passionate candidates. When they ask you this, they want to see your eyes light up as you express your absolute devotion to their brand. They want employees who breathe, sleep, and dream gelato, not just workers who show up for a paycheck.
To wow them with your answer, do some homework. Study Rita's history, their community outreach programs, their employees-first philosophy. Then, prepare to gush about all the reasons you'll be the most dedicated scooper they've ever hired.
Once you've done your research, here's how you can craft your answer:
"Ever since my first taste of Cookies 'n Cream at age 5, Rita's Italian Ice has been my happy place. Your commitment to using only the freshest ingredients to create a little slice of bliss is what makes you stand out. But it's your culture of treating employees like family and giving back to the community that makes me want to dedicate my summers to your brand. For me, it wouldn't feel like summer without stopping by my local Rita's stand. Now, I want to be part of creating that experience for all your loyal customers. I can promise you this – my enthusiasm for this job will match my love of your Gelati Delight flavor. If you hire me, I'll work harder than all your soft serve machines combined to make this your best summer yet!"
How would you describe your personality and work style?
The interviewer wants to know if you have the bubbly personality and grit to scoop Italian ice at record speeds during the busy summer season! To nail this question, show you have the vibrant attitude of a social butterfly, the determination of an Olympic athlete, and the customer service skills of a Disney cast member.
In short, be memorable. For example, you could say:
"I live and breathe positivity, hard work, and making people smile. My co-workers would describe me as the Energizer Bunny – constantly upbeat and ready to go the extra mile. I also have the heart of a champion – I love a good challenge and will stop at nothing to get the job done efficiently and accurately while still having fun. Ultimately, my goal is to create an experience for your customers they will never forget…and come back for more gelato and frozen lemonade again and again!"
The summer season at Rita's can be demanding at times, with long hours and large crowds. How do you handle stress while maintaining a friendly demeanor?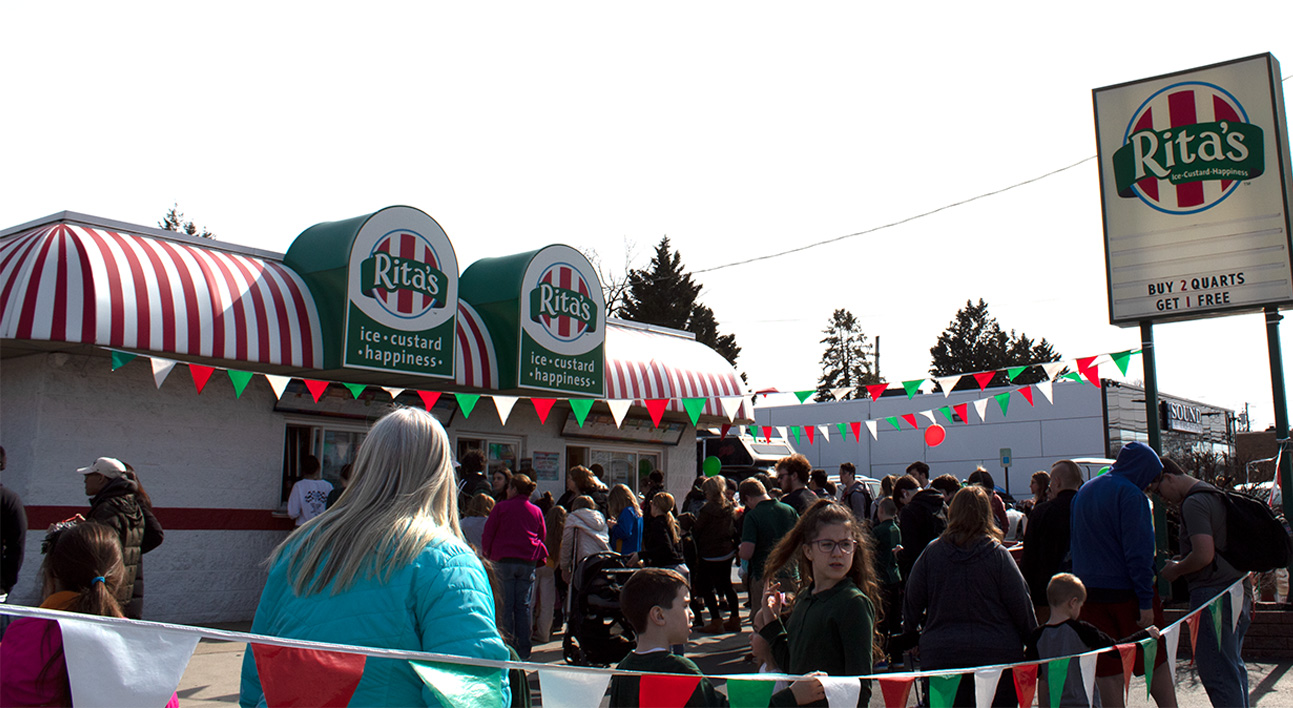 The interviewer wants to know if you can handle the fast-paced chaos of a busy Rita's while still flashing a friendly smile. This question is key – if you crumble under pressure or become irritable easily, scooping gelato won't be in your future. But with the right strategies, you'll keep your cool and win over every customer.
Want the job? Show you have the skills to master the madness.
"No doubt, working at Rita's during the peak summer season is no walk in the park. But after years in the service industry, I've learned a few tricks to keep stress from melting my smile.
When lines get long, I take a deep breath and focus on one customer at a time, listening to their order to get it just right. My coworkers are also a lifeline – we work as a team to power through crowds, joking around in between rushes. Staying active and hydrated gives me an extra boost of energy too, so I'm able to scoop all day at record speed!
Rita's fans come expecting a fun summer treat – and that's exactly what I aim to deliver. A bit of chaos just makes crushing hundreds of cups of gelato in a day more challenging and fun. With the right mindset and motivation, I know I can make even the busiest days at Rita's my time to shine."
Tell us about a time you worked with your team or coworkers to accomplish a goal. What was your role in achieving that goal?
At Rita's, you'll often need to work with your coworkers to achieve important goals. The interviewer wants to know that you can be a team player, lead others, and get results.
To nail this question, discuss a time you collaborated with your crew to triumph over an ambitious objective. Share how you motivated your teammates, organized efforts, and played an instrumental role in sweet success.
With feverish determination:
"One summer, my coworkers and I were determined to break our sales record for most cones sold in one day. As the assistant manager, I organized a team meeting and brainstormed promotions and incentives to drive traffic and boost sales. We decided to run a 'buy one get one half off' special, double our social media marketing, and host a fundraiser where partial proceeds went to a local charity. On the target day, I ensured we were fully staffed, rallied the team, and led by example by maintaining a friendly and enthusiastic attitude. Through teamwork and determination, we shattered our old sales record by a wide margin. It was extremely rewarding to help motivate my team and share in their success."
If you could create your own flavor of ice or custard, what would it be and why? Don't hold back – we love creativity here!
As a candidate, this question is your chance to dazzle the interviewer with your creativity and passion for Rita's one-of-a-kind treats. They want to see how your mind works, how well you can sell an idea, and how much you care about crafting the perfect flavor.
So don't hold back! Share a flavor you would be thrilled to scoop into a cup or cone, and describe it with all the vibrant details that would make customers' mouths water. Let your enthusiasm shine through as you explain the how's and why's behind your flavor.
Imagine saying this:
"If I could invent any flavor for Rita's, I would create a strawberry hibiscus sorbet that would transport guests to a sun-drenched strawberry field in bloom. I'm obsessed with unique flavor combinations, and the delicate floral notes of hibiscus are breathtaking with the natural sweetness of ripe strawberries.
To develop this refreshing treat, I would start by making a strawberry puree bursting with flavor from only the freshest, local strawberries. Then I would craft a hibiscus simple syrup by steeping velvety hibiscus petals in sugar water to capture their vibrant essence. Combining the strawberry puree and hibiscus syrup into Rita's signature lemon ice base achieves the perfect balance of flavors.
Each cool, creamy spoonful of this strawberry hibiscus sorbet would be a summer daydream. Kids and adults alike would be wowed by its memorable and crave-worthy taste. I can already imagine guests returning again and again to experience their new favorite flavor, bringing more smiles and more memories at every visit to Rita's!"
Tell me about a time you really wowed a customer with your service or went the extra mile to make someone's day. How did that make you feel?
The interviewer wants to know if you have the passion to go above and beyond for Rita's customers. To nail this question, share a memorable story of how you wowed a customer with your caring service. Describe the actions you took, show how you brightened the customer's day, and express the deep satisfaction you felt.
With enthusiasm like this, you'll be a perfect fit for Rita's team:
"I thrive on providing amazing customer service and going the extra mile to make people happy. One example that comes to mind is when I was working as a cashier at an ice cream shop last summer. We had a customer come in with her two young kids on a very hot day. The kids were crying and upset because the flavor they wanted, chocolate chip cookie dough, had just sold out. The mom was apologizing and trying to get them to pick another flavor but they wouldn't budge.
I felt terrible that we had ruined their day. So I asked the mom if she could give me a few minutes. I went to our walk-in freezer and found a fresh tub of the chocolate chip cookie dough ice cream and filled two cups for the kids, topping them with whipped cream and sprinkles. When I brought them out, the look of joy on those kids' faces was priceless. The mom gave me a hug and said I had saved the day. I was so happy I could turn their experience around and make it special.
That's the type of customer service I aim to provide – really listening to people's needs, going out of my way to make things right for them, and bringing some extra joy and delight into their day. For me, providing that level of care for customers is extremely rewarding and fuels my passion for this work. I would love the opportunity to do the same for Rita's customers."
How would you convey through words and actions what you think the ultimate Rita's experience feels like for customers? Make me want to run out and buy an Italian ice right now!
This question is the interviewer's way to find their next star employee. To dazzle them, show how you would create an unforgettable experience that leaves customers delightfully drenched in Italian ice bliss!
Imagine the rush of sweet, fruity flavors melting on your tongue on a hot summer day…now, picture giving that feeling to each and every customer. With the right skills and scoop-savvy, that job could be yours!
"For me, crafting the ultimate Rita's experience is about spreading bursts of flavorful joy one cup at a time. I would greet each eager customer with an enthusiastic 'Buongiorno! Our Italian ices are freshly made and flavor-packed today. Which fruity taste of paradise can I scoop for you?'
While sculpting their perfect ice, I throw in a quick 'On a scale of 1 to 10, how hot and tired are you today?' to make them smile, then describe the heavenly sensation of that first icy bite melting into sweet syrupy bliss. My goal with each customer is simple: send them into a blissful 'flavor coma' so crave-worthy, they'll be back again tomorrow!
From greeting guests with high-energy charm to dishing unforgettable flavor in every cup, I won't just sell Italian ice—I'll sell the experience of joy and escape in every cool, sweet spoonful. That's the power of passion and customer connection to create real brand loyalty that keeps them coming back all summer long!"
Where would you like to see your career in 5 years, and what steps will you take to achieve that goal if you join our team?
This question is a common one in interviews. The interviewer wants to know if you have the drive and vision to thrive at Rita's Italian Ice. This is your chance to show you're not just looking for any old job but rather a place where you can build a career.
Focus on growth, not job titles. Speak passionately about developing new skills and taking on more responsibility over time through dedication and hard work. Share how you want to advance in a way that aligns with Rita's own growth and success. This shows your ambition is tied to the company's, not just your own.
With the right prep, you can craft an answer that will make the interviewer confident in your potential.
"In 5 years, I see myself advancing into a managerial role at Rita's Italian Ice after proving myself as a dedicated and capable team member. I want to develop expertise in all areas of store operations and work my way up to running my own location. I believe Rita's values align well with my ambition for career growth, and I'm prepared to go above and beyond to achieve my goals. I will start by listening and learning from my colleagues and managers. Over time, I hope to take on more responsibility by training new team members, streamlining procedures, and assisting in opening new locations. My ultimate goal is to become a General Manager, and I'm ready to put in the necessary work to get there with the support of the Rita's team."
The interviewer wants to see how you handle conflict. Can you have a constructive disagreement with a coworker and come to a solution you're both enthusiastic about? This question is their chance to envision you dealing with differences of opinion in a professional environment.
To nail this question, focus on understanding, collaboration, and compromise. Show how you broke down communication barriers, addressed concerns on both sides, and found common ground to reach the best possible outcome.
Here's how you could handle it:
"Recently, a coworker and I disagreed over the best way to improve efficiency during peak hours at our store. I suggested implementing a new system to speed up customer checkouts, but my coworker thought our current process worked fine and was hesitant to make changes.
To find common ground, I asked my coworker to explain their perspective in more detail. I listened with an open mind, then shared my ideas for why a new system could help, providing statistics showing how it improved another store's efficiency. We discussed concerns on both sides and looked for a solution addressing them.
Ultimately, we came to an agreement to test out the new system as a trial. It ended up cutting wait times in half, so we implemented it permanently. From this, I learned the importance of open communication and compromise. By understanding other perspectives, we can find the best solution, even when opinions differ initially."
We've all had those customers that just won't be satisfied! Tell me about your worst nightmare customer and how you worked your magic to turn that frown upside down?
The interviewer asks this to see if you can stay cool as a cucumber under pressure. To ace this question, remember to stay positive, focus on listening to the customer, and outline the specific steps you took to resolve the issue.
Picture that grumpy customer storming up to you, icy treat melting in hand, steaming mad on a hot summer day. Yikes! But you smile, apologize, and ask how you can resolve the issue to their satisfaction. Maybe you offer a replacement treat or refund, get a manager involved, do whatever it takes to turn that frown upside down.
Here's an example:
"One of my most challenging customers came in during the lunch rush on a hot summer day. An older gentleman was upset that his usual order was taking longer than normal. I apologized, explained that we were a bit backed up, and offered him a free sample to tide him over. He remained irritable, complaining that "this never happens." I listened patiently, then apologized again and asked how I could make things right. He wanted a refund – and "someone who knew what they were doing." Instead of arguing, I processed his refund and asked my manager to personally oversee his new order. When his replacement treat was ready, my manager delivered it with another sincere apology. The customer left satisfied and even called back later to thank us for turning a bad experience into a good one."
At Rita's, we like to say we're in the business of making memories and spreading happiness. What does that mean to you? How would you make a lasting positive impression on our guests?
The interviewer wants to know if you have the passion and personality to uphold Rita's mission of creating lasting joy for each and every guest.
To nail this question, speak from the heart about what bringing people happiness means to you. Share how you would go the extra mile to make each customer feel special and valued. Talk about the importance of teamwork in creating an experience that is greater than the sum of its parts. Explain that by listening fully, being present in each moment, and performing small acts of kindness each day, you can make a real difference in people's lives. Focus on forging genuine connections and brightening someone's day with enthusiasm and positivity.
With this vision, here is an example answer:
"Spreading happiness and making memories is my passion. To me, each guest walking through the door at Rita's represents an opportunity to positively impact someone's day and put a smile on their face. I would make it my mission to get to know regulars on a personal level, learn their stories, and remember the little details that make them feel appreciated. If someone seems sad or upset, I might give them an extra scoop of their favorite flavor on the house. It's the little things that count.
Together with my team, I would strive to create an upbeat atmosphere where families can bond over life's simple pleasures. We could host fun events for the community and really engage with guests to make their experience special. I believe that by listening intently, being fully present, and showing each customer empathy and care, we can achieve Rita's goal of spreading happiness and creating memories that last a lifetime."
The purpose of this question is for the interviewer to evaluate your ability to learn from criticism and use it as fuel for growth.
To nail this question, dish up an experience of constructive feedback that challenged you—but like Rita's lemon ice, left you refreshed and motivated in the end. Explain how you processed the criticism, took action, and turned that lemon-y feedback into ice-cold success. Showing resilience and a growth mindset will impress even the most hard-boiled interviewer.
For example, say something like:
"Early on at a local ice cream shop, my manager shook me to the core—but her tough love made me a better scooper. She pulled me aside and said, 'You've got the gift of gab, but you're giving away too much free gelato with those heavy handed scoops.' At first, I felt stung, but I knew she was right. Those feedback nuggets were hard to swallow, but I asked her for tips to up my game. I started practicing my technique, leveling my scoops to a perfect dome. Within a week, I was dishing up our signature sizes. Looking back, I'm grateful she cared enough to call out my mistakes. Her constructive criticism inspired me to step up—and led to many successful summers there."
If a customer said you made their order incorrectly, how would you handle the situation? What steps would you take to resolve the issue?
The interviewer wants to see that you have the patience, poise, and problem-solving skills to defuse a disgruntled customer. Share a story of how you once turned an unhappy customer into a loyal fan. Prove you see complaints as opportunities, not annoyances.
Stay cool as a cucumber, make eye contact, and wear a sympathetic smile. Say something like, "I'm so sorry we messed up your order. Please know that I take full responsibility and will make this right."
Picture this scenario: A customer angrily stomps up to the counter, ice cream melting all over their hands, fuming about a botched order.
Now, here's how you would swoop in for the save:
"I would apologize to the customer immediately and say, 'I'm very sorry about that, please accept my apology.' I would then ask the customer to specify how I made their order incorrectly so I fully understand the issue. I would reply 'Please know that I take responsibility for this mistake.' I would then offer to remake the order correctly as quickly as possible free of charge. I would say something like: 'Let me remake your order right away and get it to you as fast as I can at no additional cost.' Finally, I would thank the customer for bringing this to my attention so I can improve to better serve all customers going forward. I would express that their satisfaction and word-of-mouth about their experience at Rita's is very important to me."
Do you have a favorite Rita's Italian Ice product? If so, what do you enjoy about it?
The interviewer is trying to gauge your product knowledge and enthusiasm for the brand. To ace this question, do your research and choose a menu item you genuinely enjoy.
Now, picture this:
"My absolute favorite is the lemon-flavored Italian ice. With one spoonful, I'm transported to the sunny lemon groves of Southern Italy. The fresh-squeezed lemon juice creates a twist that's as bright and refreshing as the Amalfi coast. Each burst of lemon is like a mini-vacation, reminding me of strolling through picturesque Positano. The sweetness is perfect, never overpowering the lemon. It's a masterclass in balance and restraint. As a Rita's team member, I would cherish the opportunity to give each guest their own mini lemon-flavored getaway. And when life gives you lemons, just smile because you know where to find the best lemon Italian ice around!"
What experience do you have with cash registers and point-of-sale systems?
Here is a 3 paragraph blog section in the requested format:
The interviewer is interested in your experience handling cash transactions and operating a point-of-sale system. They want to ensure you can quickly and accurately complete customer orders.
So how do you prove you're the money maven they've been dreaming of?
Share a time you raked in the cold hard cash. An experience like:
"Every summer for the past two years, I've manned the registers at a popular local ice cream shop. When lines snaked out the door on scorching afternoons, I was in my element, taking orders and payments with a smile. My fingers flew across the POS terminal, totaling milkshakes and sundaes quicker than you can say gelato. I piled bags of goodies into outstretched hands, tossed back change, and greeted the next eager customer—all before the soft serve had time to melt.
My cool demeanor under the heaviest rushes has earned me a reputation for churning through sales at record speed while maintaining solid accuracy. I was born to work a register at breakneck pace without breaking a sweat. Handling the hordes of Italian Ice fans that flock to Rita's will be a breeze after conquering summer crowds at my previous job. I'll have your lines moving faster than a whirling ice cream blender blade. When it comes to manning a register at high velocity, this money maven has the skills to fulfill every customer's sweet dream."
What do you consider to be your biggest strengths and weaknesses?
The interviewer wants someone with self-awareness, passion for serving customers, and the ability to thrive under pressure. Emphasize strengths like enthusiasm for delighting customers, a knack for efficiency, and grace under fire. Mention a minor weakness, but focus on how you're improving.
Ready to dazzle them? Here's an example answer:
"One of my biggest strengths is my passion for WOWing customers. I love engaging with customers, finding ways to brighten their day, and make their experience memorable. Another key strength is my ability to work efficiently under pressure while maintaining a positive attitude. No two shifts are the same, so being able to problem-solve on the fly and adapt to whatever challenges arise is important. In terms of weaknesses, I can occasionally struggle to delegate when I get busy. I've been working on improving this by communicating more openly with my team and trusting them to provide support so we can all work together efficiently during our busiest times."
Do you participate in any extracurricular activities, sports, clubs, or volunteer work? How has that experience prepared you for this role at Rita's?
The interviewer wants to know: Are you a good fit for the lively, team-oriented culture at Rita's? When asked about your extracurricular activities, seize the opportunity to highlight your stellar soft skills that would make you a star employee.
For instance, you could say:
"Yes, I have been an active volunteer at my local animal shelter for the past 2 years. Through this experience, I have developed strong communication and interpersonal skills by assisting visitors and answering questions about pet care and adoption. I have also gained valuable experience providing great customer service to people from all walks of life. At the shelter, it is essential that I work efficiently and have a positive attitude, even on busy days. These skills would directly translate to providing an excellent experience for all Rita's customers."
Are you familiar with Rita's Italian Ice and what we stand for as a brand?
The purpose of this question is for the interviewer to gauge your knowledge of and enthusiasm for the Rita's Italian Ice brand.
To ace this question and land the job, you need to do more than just memorize a few facts about Rita's Italian Ice. The interviewer wants to see your passion for the brand shine through. So get excited – you're about to share how much you love Rita's delicious treats and community-focused culture!
With preparation and enthusiasm, you'll nail this question.
"Absolutely, I'm a huge fan of Rita's Italian Ice! Some of my best summer memories were made sitting on Rita's patio, enjoying a frozen custard with friends and family. Rita's isn't just another chain to me – it's a brand that spreads smiles wherever it goes.
Rita's was founded in 1984 to share 'peace, love and ice' with the world. But they do so much more than that. From fundraising with 'Alex's Lemonade Stand' to bringing people together for 'Ice, Ice, Baby!', Rita's puts community over profits every time. These are values I deeply respect and would be honored to represent.
Beyond the mission, Rita's product is unmatched. Where else can you get vibrantly colored, all-natural Italian ice and creamy frozen custard in flavors like mango and pumpkin pie? It's simple but special – just like summer should be. I may not have official experience in the food industry yet, but I do have a lifetime of experience as a loyal Rita's fan. This role would be a dream come true, allowing me to finally give back to the brand that has given me so many joyful memories over the years."
Can you describe a time when you had to encourage teammates or coworkers to improve their performance? How did you approach this sensitively and constructively?
The interviewer wants to see that you can motivate and inspire your team to achieve more.
When asked this question, show you have the leadership skills to have difficult conversations in a caring yet effective way. Explain the situation in an engaging storytelling format, emphasizing how you supported your teammate and helped them improve. Your answer should demonstrate you have the ability to strengthen team dynamics and performance.
For instance,
"There was a time when I noticed one of my coworkers was struggling to keep up with the efficiency and speed standards during our busier periods. I approached them during a quieter moment and expressed my concern for their wellbeing and productivity in a caring and supportive way. I asked open-ended questions to understand the issues, then provided resources and recommendations to set them up for success. We worked together on a tailored action plan, and with additional practice and guidance, their performance steadily improved, and they felt more at ease during peak hours. By addressing the situation directly with empathy and a willingness to help, we resolved the issue as a team."
If I showed you how to do something several times but you were still unsure of it, would you ask a coworker for help, try to figure it out yourself again, or come directly to me as the manager to review it again?
This question is the interviewer's way of testing your resourcefulness and ability to seek help when needed. They want to hire someone who can think for themselves but also knows when to ask for guidance to get the job done right.
To nail this question, convey that you'll go the extra mile to figure things out solo, but you also value teamwork and efficiency. Admit that confusion happens to everyone, and the key is knowing how to resolve issues promptly.
"If I'm still unsure after you've shown me multiple times, my first instinct is to retrace the steps myself. I believe many 'ah-ha' moments happen when you push yourself to problem-solve alone. That said, if I'm still not getting it, I'll turn to a coworker for a fresh perspective. Struggling aimlessly is a waste of time and resources. As a last resort, I'd ask you, the manager, to review the steps again – it's better to clarify than do the task incorrectly.
I appreciate you investing in my training, so I take resolving issues into my own hands seriously. But I also know two heads are better than one, and the goal is getting the job done efficiently and correctly. If all else fails, I know I can count on you to set me straight so I can nail it next time and keep our customers smiling with America's favorite Italian ice!"
How would you describe the differences between our Italian Ice, custard, and gelati products to customers?
The interviewer wants to see if you can dazzle customers with a mouthwatering description of Rita's delectable treats. To nail this question, do some taste testing at your local Rita's and come prepared to passionately differentiate each item.
Imagine this scenario: A family walks into the store undecided on what to order. It's up to you to paint a vivid picture of the flavors and textures so irresistible, they just have to try one of each!
Here is how you could temptingly describe Rita's products:
"Our classic water ice is like no other – bursting with the freshness of lemons, the sweetness of strawberries, and the tartness of mango, all transformed into a cool refreshing treat. Each flavor-packed spoonful will transport you to the sun-drenched orchards of Italy.
If silky, decadent bliss is what you crave, our custard will exceed your wildest dreams. Crafted from the finest milk, eggs, and sugar, we churn this ambrosia daily to achieve a dense yet featherlight consistency that melts on your tongue.
But for a transcendent experience, our gelati is in a league of its own. Each scoop contains ribbons of flavor-infused water ice frolicking between layers of our voluptuous custard. Prepare to be dazzled by this dance of flavors and textures in one unforgettable dessert."
What does integrity mean to you, and how would you demonstrate it as an employee of Rita's?
As a candidate eager to scoop your way into a position at Rita's Italian Ice, you'll be asked key questions to determine if you're truly better than the rest. With this question, the interviewer wants to see if you'll melt under the pressure if you're the real deal: honest, reliable, and accountable.
Here are some tips for crafting a killer answer: Integrity means staying solid even when things get messy. Share an example of how you kept your cool in a difficult situation at a past job. Explain that at Rita's, you'd make honesty and high standards your priorities by:
Always arriving on time, ready to roll up your sleeves and dive in.
Double-checking orders and following food safety rules to a tee—no cutting corners.
Giving each customer your full, friendly attention like they're the only cone in the shop.
Taking ownership of mistakes faster than you can say "brain freeze" and doing whatever it takes to make things right.
Upholding Rita's renowned reputation for taste and service on every shift.
In short, say that integrity is your inner ice cream truck jingle—it's what keeps you refreshed, motivated, and committed to delivering an experience that keeps customers coming back for more. With hard work and honesty as your toppings of choice, you'll prove to Rita's why you're the cherry on top of the applicant sundae.
With that in mind,
"Integrity means doing the right thing even when no one is watching. For me, it's a matter of honesty, accountability, and strong work ethic. If hired at Rita's, I would demonstrate integrity through behavior like always being punctual, following all food safety procedures to ensure quality, and giving customers my full, friendly attention with every interaction. If I made a mistake, I would take responsibility right away and work to remedy the situation. My goal would be to uphold Rita's high standards for customer satisfaction and loyalty on every shift."
Do you have dependable transportation to get you here on time for your scheduled shifts?
The interviewer isn't just making casual conversation with this question—they want to know if you'll actually show up for the job. After all, what good is an employee who frequently calls in with lame excuses or strolls in late without a care?
None. That candidate is worthless.
But you're not worthless. You're dependable, responsible, and committed to success. Now's your chance to prove it.
With an enthusiastic smile, look the interviewer in the eye and say:
"Absolutely, I have a reliable car and am always on time. In fact, my friends joke that I arrive places so early, I must sleep in my car! But in all seriousness, dependability and punctuality are must-haves in the fast-paced food service industry. At Rita's, the action never stops, so every minute matters. You'll never need to worry about me dragging my feet or calling in with weak excuses. I'll be here, ready to scoop Italian ice with a smile, no matter what."
What is your availability for work hours? Are you open to working evenings, weekends, and some closing shifts?
This question aims to determine your availability and flexibility to work the hours required for the job, including evenings, weekends, and closing shifts. To make a great impression, convey your enthusiasm for the role and company. Explain your openness to work the hours needed while also communicating any scheduling constraints in a professional manner.
With the right mindset, you'll nail this question.
"I have a very flexible schedule and am open to working evenings, weekends, and closing shifts. I understand that seasonal businesses like Rita's require extra availability during peak months, and I'm willing to go above and beyond when needed to help the team. My only scheduling request is having Sunday mornings off for church, but otherwise, you can count on me to work the hours required to get the job done and provide the best experience for your customers."
Questions to Ask the Interviewer in Rita's Italian Ice Interview
When the interviewer asks if you have any questions for them, they are giving you an opportunity to further demonstrate your interest and enthusiasm for the role. They want to see that you've done your research and are eager to dive deeper into the specifics of the position.
Don't be caught off guard by this invitation.  This is your chance to gain valuable insight that will allow you to stand out from the other candidates.
Go in with confidence, knowing you have questions that will impress.
What opportunities are there for career growth and development at Rita's Italian Ice?
How would you describe the company culture? What is most valued?
What are the key priorities and initiatives for this role in the first 3-6 months?
What is the company's approach to work-life balance and flexibility?
Can you elaborate on the training process for new members?
How do you maintain the high level of customer service that Rita's Italian Ice is known for?
What is the most important quality you look for in an employee to contribute to the fun and uplifting work atmosphere?
How do you encourage teamwork and cooperation among employees at Rita's Italian Ice?
How do you ensure the consistency and quality of Rita's products across different locations?
Can you share any success stories of employees who have grown within the company?
How does Rita's Italian Ice engage with the local community through events or partnerships?
What are the company's plans for future growth or expansion in new markets?
How does the company stay current with industry trends and continue to innovate its product offerings?
What is the most rewarding aspect of working at Rita's Italian Ice for long-term employees?
How does the company handle employee feedback and suggestions for improvements?
What are the next steps in the hiring process, and what is the expected timeline for making a decision?
Is there any additional information or documentation you would like me to provide at this stage?
The list of potential questions is endless. Just remember, the best questions are thoughtful, open-ended, and specific to the company and role. Be authentic in your curiosity. A meaningful discussion can set you up for an impactful closing, so make the most of the opportunity.
Rita's Italian Ice Hiring Process
We're here to walk you through exactly what to expect during their hiring process so you feel completely prepared for every step along the way.
First things first, you'll want to gather all the essential information required to submit a stellar application on Rita's career site or physically in-store. Have your resume polished to a T, and be ready to highlight your relevant experience, skills, and passion for delivering amazing customer service.
Then you'll be invited to participate in an initial phone call where your availability, interest in the role, and fit with the company culture are evaluated. If selected to continue, you'll receive an invitation for an in-person interview.
At Rita's, the interviews are all about getting to know you. Don't expect a stiff, formal affair – think relaxing conversation with colleagues hoping to welcome a new member to the team. They'll ask about your availability, strengths, challenges, and what makes you want to work for their brand. Be ready to share stories showcasing your ability to build rapport, smoothly handle high-pressure situations, and go above and beyond for every customer. Previous experience in retail, food service, or a similar role will also be helpful to discuss.
Ultimately, the decision comes down to finding candidates with hearts as sweet as their treats! Some positions may require additional rounds of interviews and a training period before an official job offer is extended. But be assured, if you demonstrate your passion, enthusiasm, and qualifications throughout the process, you have an excellent chance of being selected.
Whatever steps you proceed through, stay confident in your abilities and remember why working for Rita's would be such an incredible opportunity.
Rita's Italian Ice Interview Tips
For a successful Rita's Italian Ice interview, showcase a friendly personality and strong customer service skills. Be prepared for questions about your experience and customer service scenarios. Maintain a positive attitude, listen actively, and ask the interviewer about the work environment and growth opportunities.
What to Wear to Rita's Italian Ice Interview
So you have an interview coming up at Rita's Italian Ice – congratulations! Now the important question is – what should you wear? The key is to emulate the company's casual and fun dress code while still looking professional.
The dress code at Rita's Italian Ice is a uniform that includes a company-provided shirt, hat, nametag, pants or knee-length shorts, and closed-toe shoes. This ensures employees present a professional and unified appearance while working at the establishment.
For positions like Treat Team Member, you'll want to go with business casual or casual dress. Think a nice pair of slacks or khakis, and a button-down shirt. You can't go wrong with this approach and it shows you're serious while still fitting in with the company culture. As someone who interacts directly with customers, appearing friendly and approachable is important.
If you're interviewing for a management role like Store Manager or Assistant Manager, step it up to solid business casual. Dress pants or a casual skirt/dress, a nice blouse or shirt, and possibly heels for women and loafers for men. A blazer is a great added touch. As a leader, you want to demonstrate you have a professional image that fits what customers and employees would expect.
For a corporate role, it's best to go with standard business formal wear. A suit and tie for men or a professional pantsuit or skirt and blazer for women is your best bet. As someone who may interact with executives and key stakeholders, your attire should match the level of responsibility.
The most important thing is to go into your interview at Rita's Italian Ice feeling self-assured and focused. When you look pulled together and appropriately dressed for the role, your confidence will shine through.
Conclusion
You now have the knowledge and confidence to ace your interview with Rita's Italian Ice. Knowing these expected questions and suggested responses, you can walk into your interview feeling prepared to showcase why you are the perfect candidate for the job.
Stay positive, highlight your relevant experience, and convey your genuine enthusiasm for the work—the job will be yours in no time.
But don't stop there. Even after a successful interview, keep applying to other companies. Expand your search to include similar businesses like Carvel, Dairy Queen, SONIC, Baskin-Robbins, Menchie's Frozen Yogurt, TCBY, Cold Stone Creamery, and Sweet Frog.
The food service industry is filled with opportunities, so keep sending out those applications and resumes. You never know which interview might lead to your next great role.
Staying active in your job search will ensure you land at the perfect place, whether it's Rita's Italian Ice or another company that allows your skills and passion to shine through. Success comes to those who persevere. You've got this! Keep up the great work.