25 Peet's Coffee Interview Questions (And Flavorful Answers)
Are you eagerly awaiting your interview at Peet's Coffee and anxious about what questions they might ask? Preparation is the key to acing any job interview, especially one with a premium brand like Peet's. You owe it to yourself to walk into that interview confident and ready to shine.
This blog post will be your secret weapon, providing the inside scoop on the most frequently asked questions at Peet's interviews and suggested responses to impress your interviewer.
You've worked hard to land an interview at Peet's, now it's time to seal the deal. Picture yourself as a Peet's barista, connecting with customers, mastering the craft of artisanal coffees and teas, and being part of a team that values quality, passion, and excellence. The only thing standing between you and that vision is a successful interview.
When your interview day arrives, you want to walk into that coffee shop bursting with enthusiasm, armed with thoughtful answers, and ready to show why you're a natural fit for the Peet's culture. This blog post will help get you there, with an inside look at what they'll likely ask and advice tailored to the Peet's experience.
You're so close to joining the Peet's family—now let's get you ready to shine. Keep reading and prepare to ace that interview! Success and a bright future at Peet's Coffee awaits.
Peet's Coffee Company Information
It would serve you well to familiarize yourself with Peet's Coffee before your interview. Gaining insight into some key facts about this company will enable you to handle any research-focused questions with confidence and convey your genuine interest in the role.
| | |
| --- | --- |
| Trade Name | Peet's Coffee |
| Type | Coffee Chain |
| Founded | 1966 |
| Founder | Alfred Peet |
| Headquarters | Emeryville, California, United States |
| Menu | Hot Coffee, Hot Tea, Cold Coffee, Iced Tea, Artisinal Food |
| Signature Items | Black Tie, Cold Brew Fog, Pumpkin Latte, Big Bang |
| Core Values | Mastery, Passion, Authenticity, Community, Ownership, Growth |
| Website | www.peets.com |
| Competitors | Tim Hortons, Dunkin', Starbucks, Scooter's Coffee, 7 Brew, Caribou Coffee |
Additional facts:
Humble Origins: Alfred Peet, the founder of Peet's Coffee, was born into a Dutch family that owned a coffee, tea, and spice company. Despite his family's wish for him to pursue an academic career, Peet was drawn to the coffee industry.
Trial by Fire: During WWII, Peet was imprisoned in a German labor camp. His resilience and hard work ethic during this difficult time would later become a defining characteristic of his career.
Global Coffee Journey: After escaping the labor camp, Peet moved to Indonesia in 1948, where he learned about coffee in Java and Sumatra. He later spent time in New Zealand before finally settling down in Berkeley, California in 1955.
The Origin of Quality Coffee: Alfred Peet, the Dutch founder of Peet's Coffee, was disappointed by the poor quality of coffee in America. He started importing his own coffee beans and roasting them by hand, revolutionizing the coffee scene.
Birth of Peet's Coffee: In the 1960s, Peet opened his first coffee shop near UC Berkeley campus, attracting a unique customer base of hippies known as "Peetniks," despite his personal desire for an orderly business.
Pioneering the Specialty Coffee Industry: Peet's Coffee, established in 1966 in California, served up a fresh and innovative concept to the American coffee consumer—dark-roasted coffee beans. This unique style sparked the American specialty coffee industry.
Craft Coffee Revolution: Alfred Peet, also known as the man who "started the craft coffee revolution", introduced the American public to the art of "cupping" coffee, evaluating it much like wine. This brought about a new era of coffee appreciation.
Influencing Starbucks: The founders of Starbucks were heavily influenced by Peet's Coffee. They worked for Alfred Peet and learned about sourcing and roasting coffee beans from him. When they opened their first Starbucks store, they began by selling Peet's roasted beans.
Starbucks Connection: Peet's Coffee was once owned by Starbucks. Jerry Baldwin, a co-founder of Starbucks who learned about the coffee industry from Peet, bought Peet's Coffee when it was up for sale.
The Coffee Curmudgeon Supreme: Alfred Peet, known for his serious and professional demeanor, never married. His demanding work ethic led to the sale of his company in 1979, and he lived a quiet life in Berkeley until his death at age 87. Despite his gruff exterior, he was deeply respected in the coffee industry and maintained a close circle of friends.
The Original Store: The first Peet's Coffee location in Berkeley, California, is still operational and serves as a significant historical site for coffee lovers. It also features a museum with photographs and vintage coffee making equipment.
Billion-Dollar Sale: Despite having a smaller footprint compared to Starbucks, Peet's Coffee was sold to German company Joh. A. Benckiser for nearly $1 billion in 2012, highlighting its value in the coffee industry.
Acquisition of Popular Brands: Peet's Coffee expanded its brand portfolio by acquiring Mighty Leaf Tea in 2014 and two well-known indie coffee brands—Stumptown Coffee Roasters and Intelligentsia Coffee—in 2015.
Farmers Assistance Program: Peet's Coffee is deeply invested in the ethical sourcing of their coffee. They participate in direct trade and have a Farmer Assistance Program that supports smallholder farmers, promoting sustainable farming practices and fair compensation.
Peet's Coffee Mission Statement
To offer the best coffees & teas in the world, without compromise.
Peet's Coffee Interview Questions
In the spirit of getting to know you better, can you kindly tell us about yourself and your background?
The "tell me about yourself" question is a common opening question in interviews, and Peet's Coffee is no exception. This opening query cunningly uncovers your background, experience, dreams, and how seamlessly you'd blend into their culture of quality and care.
To nail this question and score major brownie points, focus on your passion for the darkest roast, customer service superpowers, and future vision with the company. Share stories that convey how Peet's Coffee is your ideal home where you'll continue crafting latte art and career milestones.
In short, this question is a chance to express your enthusiasm for the job in a genuine, memorable way. For instance, you might say:
"Ever since my first sip of Peet's Coffee in college, your bold, complex flavors ignited my passion for the craft of coffee. I spent the next three years honing my skills at a local shop, where I gained a reputation for my flawless foam and customer service savvy. My goal now is to join a values-driven brand like Peet's Coffee that fuels my drive to constantly improve, learn and grow along with the company. I see this role as an opportunity to contribute to your culture of quality and community and pursue my ambition of becoming an indispensable part of the Peet's Coffee experience."
Why do you want to work for Peet's Coffee?
When Peet's Coffee asks why you want to join their team, they're testing your passion for the craft. This is your chance to prove you speak their language—the language of perfectly balanced beans, aroma as an art form, and community built cup by cup.
Show them you get what they're all about. Tell a story of your first Peet's coffee experience, how you've watched them reinvent how people see coffee. Share how their partnerships with smallholder farmers and eco-friendly practices stir your soul. And for the love of coffee, be specific—name your favorite roast or holiday blend!
"I want to work for Peet's Coffee because of your unmatched dedication to sourcing, roasting and brewing the highest quality coffee beans. Peet's was founded on a passion for crafting a superior coffee experience through ethical, sustainable practices and that passion has endured for over 50 years. As a longtime Peet's customer and coffee lover, I deeply respect that commitment to community and excellence. I would bring that same level of care, knowledge and artisanship as a member of your team, whether as a barista interacting with customers or in a role behind the scenes. I aspire to work for a company with such heart and integrity, and to spread the joy of great coffee and connection along the way."
If the store was really busy and you were asked to complete an unfamiliar task, how would you handle that situation?
Listen up future Peet's baristas, this question is your time to shine! The interviewer wants to see if you can think on your feet and roll with the punches when the store gets slammed. Show them you're the type of person who stays cool as a cucumber under pressure and isn't afraid to tackle unfamiliar territory. You've totally got this!
Take it from us, the key is to exude a confident yet humble attitude. When they ask how you'd handle an unfamiliar task during a rush, say something like:
"No problem, bring it on! First, I'd flash a reassuring smile to my manager to put them at ease. Then I'd ask some questions to make sure I've got the task down pat. Once I've got it figured, I'd dive right in – the customers come first, right? Even if I've never done that task before, I'm always up for new challenges and a quick learner. My customer service skills are top notch, so I can handle anything you throw at me with a positive attitude. I'm all about teamwork, so if I get stumped I won't hesitate to ask my coworkers for help. But don't worry, I work fast and strive for quality – that new task will be done in a jiffy and done well! No matter what surprises come my way, I'll take it in stride."
See, confidence is key but so is acknowledging you still have more to learn. If you convey your natural ability to pick up new skills under pressure, your enthusiasm for challenges, and your dedication to collaboration and quality, you'll prove you're the perfect fit for Peet's.
Where do you see yourself in 2-3 years? How would this role at Peet's Coffee support your growth?
The dreaded "Where do you see yourself in 2-3 years?" question often sends candidates into a panic during interviews. But, this question is your chance to show your enthusiasm for the company and passion for growth. Peet's Coffee wants baristas hungry for career development, so do your homework and craft an ambitious answer.
With the right preparation, you'll be ready to provide an enthusiastic answer.
"In 2-3 years, I hope to advance from barista to store manager and really spread my wings at Peet's Coffee. I'm determined to learn the ins and outs of how a quality establishment runs, from the meticulousness of handcrafting beverages to fostering community engagement. The barista role would give me the perfect foundation in Peet's Coffee's values and standards. Before long, I intend to take on leadership responsibilities, help open new locations, and mentor other baristas. I see Peet's Coffee as a place where I can build a lifelong career, constantly improving my skills and challenging myself with new opportunities. Two to three years goes by in the blink of an eye—but in that time at Peet's Coffee, I will soak in all the knowledge and experience possible to become a leader and role model for others."
How do you manage stress and demanding workloads while maintaining a positive attitude?
As a candidate, this question allows you to demonstrate your ability to thrive in a fast-paced work environment. The interviewer wants to see that you can handle stress and demanding workloads with a positive attitude.
Some insider tips for answering: focus on practical strategies you implement to manage stress, maintain work-life balance, and stay motivated. Provide specific examples of times you've overcome stressful situations while keeping a positive attitude.
To illustrate,
"For me, maintaining a positive attitude starts with embracing the work and challenges presented to me. I find meaning and motivation in tasks that push me outside my comfort zone and help me grow. When managing busier periods, I practice prioritizing the most important and time-sensitive demands first. I tackle one task at a time, focusing my full attention on it and avoiding distraction. I also find that taking short breaks, moving my body, and interacting with colleagues helps recharge my energy and maintain my productivity. As for stress, I try to reframe it as excitement and energy that propels me forward. With experience, I will gain the knowledge and skills to manage more demanding workloads with greater ease and efficiency."
If I were a customer, how would you recommend one of our handcrafted beverages to me? Please sell me on one of our drinks.
This is your chance to prove you've got what it takes to join the Peet's team. The key is passion, product knowledge, and the ability to turn coffee into an experience. Think stories, sensory details, and conveying the feeling of that first sweet sip. You've got the goods, now give em' the goods!
The moment of truth is here. Take a deep breath and dive in.
"If you were my customer today, there's no doubt I'd recommend our cold brew Baridi, blended with a splash of sweet cream. Our Baridi Cold Brew steeps for 20 patient hours, coaxing coffee beans to unfold and reveal their delicate inner texture. What emerges is a coffee concentrate as deep and smooth as a moonless night. Add a touch of cream, and you have a drink that lingers on your tongue like a long, slow kiss. Notes of citrus flower and a hint of blackberry syrup swirl into focus as the cold brew dances across your tastebuds, culminating in a cocoa finish, leaving you refreshed and reawakened with each sip. Baridi – the Swahili word for cold – is the perfect name for this icy, invigorating elixir and the ideal handcrafted beverage for you today."
What specifically attracts you to the opportunity to work for Peet's Coffee as opposed to coffee shops like Starbucks?
This question is the interviewer's way of determining if you are genuinely passionate about the company and role. Don't panic! We're here to give you the inside scoop on acing this question.
Peet's wants passion – for quality, community, and innovation. Do your homework and show how their values fuel your love of coffee and people. Peet's is about responsible business and meaningful connections, not commercialization like some green-aproned competitors.
Ready for a sample answer? Here goes:
"I'm attracted to Peet's because quality, community, and sustainability are sewn into the very fabric of your business. Peet's cherishes the complex flavors of hand-roasted beans and crafts each cup with care. You build personal relationships with farmers and give back to charities in each community you serve. And with eco-friendly practices at each location, you show that responsible business is smart business. Starbucks, on the other hand, seems to focus more on rapid expansion and commercialization.
Peet's is a company I can believe in – your mission to share deliciously fresh coffee and enrich lives one cup at a time inspires me. I'd love the opportunity to join your team of Peetniks, learn from the masters, and share that passion with customers every day."
Give an example of a time when you were under significant pressure at work. How did you handle the situation? What was the outcome?
Peet's is looking for candidates who not only thrive under stress, but actually embrace it. They want to see that you have the grit, mental toughness, and ingenuity to resolve issues when the espresso machine is spewing steam and the line is out the door.
With the right story, you can show Peet's you have the mental toughness and quick-thinking to not just survive but thrive in high-intensity environments.
Take a deep breath. You've got this.
"One Saturday at my last cafe gig, it was complete chaos. My co-worker called in sick and our espresso machine decided to go rogue, spurting scalding water all over the counter. Yikes! With a lobby full of eager caffeine addicts and the repair guy hours away, I knew it was up to me to save the day. I flashed an empathetic smile, brewed drip coffees and served pastries to buy some time. Then, I managed to jerry-rig the espresso machine into working order. I called in back-up, we personalized service to make up for the hassle, and before I knew it, the rush was over with customers singing our praises. My manager even gave me props for taking charge and navigating such a stressful situation with grace under fire."
What kind of work environment do you thrive in? What keeps you most engaged and motivated?
As a candidate, this question is your chance to show how pumped you are to work in Peet's fast-paced, customer-loving environment. The interviewer wants to see that you'll thrive in a place where teamwork and building relationships are everything.
To nail this, share how jazzed you get working side by side with colleagues and connecting with customers. Talk about how learning from fellow baristas, getting to know regulars, achieving team wins and keeping up with the rush would motivate you big time.
For instance, you could say:
"I thrive in energetic work environments where I can collaborate with colleagues and engage with customers. The high-energy atmosphere at Peet's would totally motivate me to bring my A-game every single shift. Learning the ropes from more seasoned baristas, sparking up conversations with regular customers and coming together as a team to handle big crowds would make the time fly by. The smell of fresh coffee, good music and happy customers would keep me super engaged all day long. I'm all about creating an amazing experience for everyone who walks into Peet's. Getting to be a part of people's daily routine and reading 5-star reviews would fuel my motivation to excel in this role and take my craft to the next level."
Can you provide an example of a time you received exceptional customer service and a time you encountered poor customer service?
Peet's wants someone who lives and breathes amazing customer experiences, so take a minute to think about what that means to you. As a customer, what creates that "wow" moment?
Now for the million-dollar answer. Say something like:
"There's a little neighborhood coffee shop I frequent where the baristas know my name and usual order the second I walk in the door. But one day, my favorite barista Janice suggested a new seasonal drink she thought I'd flip over. She was right—one sip of that pumpkin spice latte and I was in heaven. Janice's personalized recommendation and the fact she went out of her way to surprise and delight me is exactly the type of exceptional experience I aim to provide for every single customer.
On the other hand, I once dined at a restaurant where the server never cracked a smile, messed up our orders, and didn't seem to care about service recovery. The whole experience left a bitter taste in my mouth. But I learned an important lesson from that encounter about how much every interaction matters in creating an overall experience. And it's driven me to go above and beyond for each customer I serve to turn their day around and keep them coming back."
Think of a time you worked with a difficult coworker. What approach or strategies did you use to handle that situation in a constructive manner?
Have you ever dealt with a coworker who rubbed you the wrong way? We've all been there. The good news is, the Peet's Coffee interviewer isn't looking for a story about how you vanquished your office enemy. They want to see that you can handle difficult relationships in a mature, constructive manner.
When this question comes up, share an experience that highlights your ability to communicate effectively and find common ground. Show how you remained calm under pressure and approached the relationship with a cooperative attitude. Explain the specific strategies you used to turn a challenging situation into a productive one. Discuss how you leveraged open communication and compromise to resolve conflicts, rather than escalating tensions. Focus on the benefits to your team and company culture.
For instance, you could say:
"There was a coworker who seemed to undermine me at every turn, questioning my competence in a way that felt personal. It would have been easy to get defensive, but that wouldn't have achieved anything. Instead, I asked to speak with them privately. In a professional, curious tone, I said their criticism felt unproductive, and asked how we could work together more collaboratively. It turned out they felt I hadn't been receptive to their input. We agreed to communicate openly to avoid future misunderstandings. While we never bonded over margaritas, we developed a mutually respectful partnership that made us an amazing team. By focusing on shared goals instead of personalities, we transformed a rocky relationship into one that strengthened our whole department."
Showing that you can turn lemons into lemonade and make the best of a less-than-ideal situation will speak volumes about your character, judgment, and potential as a leader. The ability to influence and improve relationships is a skill that will serve you well at Peet's Coffee and beyond.
A customer approaches you with a complaint about their drink order being incorrect. What steps would you take to resolve the issue?
The interviewer wants to see that you truly understand the importance of world-class customer service. When an unhappy customer approaches you with a complaint, how will you turn their frown upside down?
Here is an example of how you could respond in the interview:
"First, I would sincerely apologize to the customer for the mistake and ask them to specify how I can make things right. 'Oh no, I'm so sorry to hear we made a mistake with your drink order today! Please, tell me exactly what happened so I can make things right.'
Next, I would thank them for bringing the issue to my attention so I can address it. I would then take responsibility for the error instead of making excuses. I would ask if they would like a free replacement or refund as an initial offer to make things right. If they prefer an alternative resolution, I would accommodate their request.
Finally, I would again apologize for their negative experience, assure them this type of mistake is not typical, and thank them for choosing Peet's Coffee. My goal would be turning an unhappy customer into a loyal, long-term guest through prompt issue resolution and personalized service recovery."
See, that wasn't so scary! The key is to: stay calm and professional, take ownership of the mistake, resolve the issue however the customer prefers, then go above and beyond to turn their frown upside down.
Describe a time when you had to maintain a high level of efficiency or productivity under stressful conditions. What did you do to ensure you achieved your goals?
The purpose of this question is to assess your ability to stay productive under high-pressure situations. The interviewer wants to know that you can handle stress and still achieve your goals.
To answer this question, think of a specific time you had to juggle many tasks or responsibilities at once. Then, explain the systems and strategies you put in place to accomplish everything efficiently.
When the rush comes, you need to have a plan.
"There I was, a day like any other—until two baristas called in sick and I found myself solo during our busiest time of day. Talk about trial by fire! But I knew our customers depend on us for their daily fix, so I had to rally. I made an action plan and focused on one task at a time. Was I stressed? Sure—but staying solution-oriented kept me energized. At the shift's end, customers were happy, the store was still standing, and I had a newfound appreciation for my coworkers! That day taught me the importance of grace under pressure—and plenty of espresso."
The Peet's Coffee interviewer is trying to gauge your customer service skills and ability to think on your feet with this question.
The secret is doing your homework on Peet's menu and crafting an authentic response that shows your passion for customer satisfaction.
With the right mindset, this question is an opportunity to shine.
"As a self-proclaimed coffee and tea guru, I love to help customers discover new favorites. When a customer seems undecided, I see it as a chance to make a personal connection. I'd flash a warm smile, introduce myself and ask open-ended questions about their tastes and preferences to spark their creativity. Maybe they've never tried a citrusy Costa Rica pour-over or a smooth house-made chai latte. Describing each drink's flavors and aromas with enthusiasm and finding options tailored to the customer's palate helps them explore new taste sensations with confidence in every sip. However, my mission isn't to dictate their choice but guide them to a drink they will come back for again and again. If their first drink doesn't resonate, I'm happy to modify or replace it. My goal is for every customer to leave with a personalized recommendation and an experience that keeps them coming back for more!"
If there was a long line of customers waiting and some were becoming upset, how would you handle that situation to provide the best experience?
At Peet's Coffee, your ability to keep waiting customers happy during a rush is crucial. The interviewer wants to see that you can stay cool under pressure and deliver an amazing experience, no matter what.
In your answer, explain how you would address the long line of waiting customers in a helpful, solution-focused manner while also being empathetic to their frustration.
When the big moment comes, here's how you would shine:
"A long line of impatient customers? No problem. I'd flash a friendly smile, lock eyes with each person, and say, 'Thank you all so much for your patience today – we really appreciate your loyalty, and we're working as fast as we can to serve you.' Then, I'd spring into action behind the bar, asking my coworkers for backup to speed up the line. For anyone who's visibly upset, I'd personally apologize, take their order on the spot, and get their drinks going right away.
My goal is simple: do whatever it takes to turn frowns into smiles. I'd keep the line moving, check in on customers, update them on wait times, and once their orders are up, deliver each drink with enthusiasm. A little transparency, teamwork, and TLC can go a long way. At the end of the day, Peet's is about crafting an experience, not just a cup of coffee. If I can send each customer away feeling great about their visit here, then I've done my job well."
What makes you an effective team player? Tell me about a time when you had to work closely with teammates to overcome an obstacle or challenge.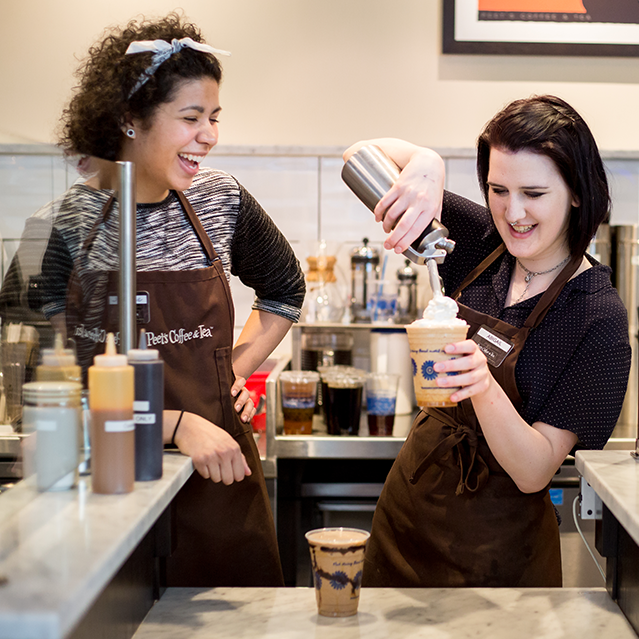 This question is your chance to prove you've got the collaboration chops to join their ranks. Peet's wants teammates who thrive bouncing ideas off each other and coming together to overcome challenges.
When this question comes up, get ready to dazzle them with how you crushed obstacles alongside your coworkers. Focus on motivation, commitment to shared goals, open communication, and quantifiable results.
For example:
"Being an effective team player comes down to the basics like reliability, good communication, and a positive attitude. I'm always punctual for my shifts and ready to pitch in wherever needed. When working with other baristas to get customer orders out efficiently during peak times, I make sure to speak up clearly and briefly to confirm I understand the drink requests and let them know when I've finished making them.
There was a day when our espresso machine stopped working properly right during the morning rush. I worked closely with two other baristas, bouncing around clear ideas on how we could quickly make alternate drinks for customers while maintaining a calm and cheerful presence. Though it took us longer, we were able to keep customers informed, satisfied, and smiling through the whole experience thanks to our teamwork and communication."
The Peet's interviewer wants to see how you tackle frustration and turn frowns into smiles. Have a story ready that shows you're the person for this job. You'll want to demonstrate that you remain calm under stress, take ownership of the situation, show empathy for the customer's frustration, and work to resolve the issue.
With that in mind, here is an example:
"One busy morning, I noticed a regular customer waiting impatiently for her usual complicated order. When I handed it to her, she took one sip and winced—we'd gotten it wrong! I felt awful for spoiling her morning routine.
'I'm so sorry about this,' I said. 'Let me make you a fresh one right away.' As I remade the drink, we chatted about her go-to order to ensure I had all the details just right. I also threw in her favorite muffin as an extra 'my bad!'
When I gave her the new drink, she smiled and said I'd turned her day around. 'You really know how to make things right,' she said. Situations like this are why I love working at Peet's—there's no better feeling than recovering a customer and sending them on their way happy."
Briefly describe Peet's brand, culture, and values. What appeals most to you about them?
This question is your shot to show Peet's you're as passionate about their brand as you are about the perfect pour-over.
When the interviewer asks you to this question, they want to see that you're obsessed with the details. They want to know you've been studying their company like a barista studies the precise art of latte macchiatos.
Take a deep dive into Peet's website and socials. Look for the stories and initiatives that speak to your soul like the aromas from a freshly opened bag of beans. Because to rock this answer, you need examples – lots of them. You need to know Peet's brand, values, and culture as intimately as you know the difference between a medium roast Sumatra and a dark roast French.
Then, serve it up like this:
"Peet's is my perfect blend. They're fanatical about crafting the highest quality coffees and teas and delivering an unforgettable customer experience. Their culture is all about growth, passion, and human connection – you can see it in every interaction, from the farmers who tenderly grow their beans to the baristas who pour their heart and soul into each cup. Peet's core values – passion, authenticity, and community – shape everything they do. What appeals most to me is that they see coffee as an art form and put excellence into every single bean they source and roast. I would love to join a company where quality and customer delight are obsessions and help continue the tradition of perfection that has defined Peet's for over 50 years."
Want to ace the "exceeding expectations" question in your Peet's Coffee interview? Then show your inner barista spirit!
Peet's is looking for candidates who don't just meet the basic requirements of the job – they want to see your passion for crafting amazing customer experiences.
When this question comes up, have your story ready to brew. Think of a time you went above and beyond for one simple reason: you care.
"One time, I noticed we were running low on coffee filters during an especially busy morning rush. The delivery wasn't scheduled to arrive for another couple of days, and I knew customers would be inconvenienced if we ran out so I took it upon myself to drive to a nearby store on my break to buy extra filters. When I returned, my coworkers were stressed dealing with the long line of waiting customers. I jumped in to help prepare the additional pots of coffee and got everything back on track. We avoided running out of any supplies and were able to maintain fast, friendly service. I didn't do it for any reward – I just wanted to make sure our customers had a great experience and got their coffee in a timely fashion. It's the little details like that which set businesses apart, so I try to always go the extra mile anytime I see an opportunity to do so."
This is your opportunity to dazzle them with your unbridled enthusiasm for all things coffee. But more than that, they want to see how you'll channel that passion into crafting life-changing experiences for each and every customer.
Take a deep breath, channel your inner barista, and get ready to pour your heart out:
"For me, coffee is so much more than a drink – it's a catalyst for connection. There's a kind of magic that happens when two strangers strike up a conversation over their morning lattes or when friends laugh over an afternoon espresso. At Peet's, I would make it my mission to create that sense of community for all customers. I'd get to know the regulars by name, learn their go-to orders by heart, and recommend new drinks based on their unique tastes. For newcomers, I'd share the stories of farmers and origins behind Peet's coffees from around the world to help them find a new favorite.
My goal would be for every customer to feel like a part of the Peet's family and to come back not just for the coffee but for the welcoming atmosphere and familiar smiles. Because when you get down to it, coffee isn't just about the drink itself – it's about human connection. And creating that connection would be my passion if I had the privilege of joining the Peet's team."
Tell me about a time you received constructive feedback that challenged you. How did you handle the feedback?
The purpose of this question is for the Peet's Coffee interviewer to evaluate your ability to accept feedback and learn from your mistakes. They want to see if you can handle difficult conversations and use feedback to better yourself.
To nail this question, share a specific time you were given constructive criticism and how you reacted in a mature, professional way. Talk about the steps you took to understand the feedback, learn from your mistakes, and make real changes. Candidates who can see feedback as an opportunity for growth will stand out.
For instance,
"One of my managers once told me my customer service skills weren't up to the company's standards. At first, I was caught off guard—I thought I was doing a great job! But after letting the feedback sink in, I realized I had gotten complacent in some of my responses and interactions and needed to step up my game. I asked my manager for examples and advice. Based on their guidance, I came up with an action plan to overhaul my approach. I revisited our training, focused on active listening, and committed to responding with more empathy and care.
A few weeks later, my manager praised me for taking the initiative to strengthen my skills. The experience taught me that even well-intentioned criticism, while tough to hear, is a gift. It's an opportunity to better serve your company and teammates. I now seek out feedback and consider it essential for continued growth in my role."
If money and other constraints were not a factor, what kind of work or activity do you find most meaningful or impactful?
When the interviewer asks what kind of work you find most meaningful, this is your chance to show your passion and creativity. Share what lights you up and gets you out of bed in the morning. Discuss the specific impact or outcomes, like empowering youth or solving a key problem. Explain why certain work or activities matter deeply to you.
Your authentic passion will shine through and show the interviewer what an energized, purpose-driven team member you would be.
"If money were no object, the work I find most meaningful and impactful is volunteering with underprivileged children in need. I've tutored kids from low-income communities for over 2 years now and find teaching and mentoring them extremely rewarding. Their hunger and curiosity motivate me to design fun yet challenging lesson plans so I can make the maximum positive impact in their lives and help shape their growth and development. The opportunity to nurture and open young minds is both humbling and inspiring. Making a meaningful difference in children's lives through education is work that I find endlessly impactful and fulfilling."
The dreaded strengths and weaknesses question – it comes up in nearly every job interview and for good reason. The interviewer is trying to gauge your self-awareness and honesty.
For Peet's, the key is framing your answer around customer experience. After all, Peet's built its brand on quality and service.
Frame your strengths around service and quality to highlight why you're a strong candidate. Your orientation to detail, ability to learn quickly, and passion for customer service would be strategic strengths to highlight.
For weaknesses, share one you've recognized and the steps you're taking to improve. Discuss your "weakness" in a way that shows your dedication and creates a memorable, compelling narrative.
With the right preparation, this tough question can be an opportunity to stand out.
"My biggest strengths are my ability to learn new skills quickly, my strong attention to detail, and building genuine customer connections. I love learning customers' names and orders, remembering the details of their lives, and brightening their day. As for weaknesses, I can occasionally take on more tasks than I can handle, spreading myself too thin. I've been working to improve this by prioritizing important work and delegating when possible. The truth is, I tend to go above and beyond for customers – but in this role, that relentlessness would be an asset."
How available and flexible can you be to work a variety of shifts, including early mornings, evenings, weekends, and holidays?
Peet's wants to find candidates who can thrive working a variety of shifts, especially early mornings, late nights, weekends, and holidays.
When this question comes up, don't panic. Take a deep breath and give an enthusiastic response highlighting your ability to work whenever duty calls.
Say something like:
"Peet's Coffee customers count on getting their caffeine fix or coffee treat when it's convenient for them—not just during 9-5 business hours! As a passionate barista dedicated to serving customers and supporting my team, I completely understand that means working a varied schedule. Personally, I'm an early riser and night owl, so working opening and closing shifts doesn't bother me. And unlike most businesses, weekends and even holidays are Peet's busiest times, so you can absolutely count on my availability and commitment to working then. I'm all in for whatever it takes to ensure the store runs smoothly and customers leave happy!"
Do you have dependable transportation to get you to and from work on time every day?
Peet's deeply values punctuality, so they want to know you'll be a reliable and consistent employee. To convey that, focus on planning and responsibility in your answer. Say you have a spotless attendance record and the means to get to any shift on time, even if your normal route falls through.
To really seal the deal though, prove your point with a compelling example.
"For me, getting to work on schedule is non-negotiable. I actually really enjoy the structure of consistent work hours, so I do whatever it takes to make punctuality a priority. For instance, I have an extremely dependable vehicle I use to commute, as well as backup options like public transit or rideshare in case of an emergency. And because traffic can be unpredictable, I always give myself an extra 15 minutes of buffer time so I have peace of mind that nothing can sabotage my work attendance. Reliability and showing up on time are values I take immense pride in. "
Questions to Ask the Interviewer in Peet's Coffee Interview
When the moment comes for the interviewer to inquire whether you have any questions, they're gauging more than just your curiosity. This is a chance for them to evaluate your excitement about the position and whether you're capable of having a meaningful discussion.
It's your opportunity to show how you've researched the company and role and demonstrate your curiosity and strategic thinking.
Having insightful and thoughtful questions ready will make a strong impression. You want to avoid generic questions and instead ask questions that show your passion for the work Peet's does and your desire to grow with the company.
Think about what you're most interested in learning and achieving in this role. Come equipped with a list of questions focused on topics like growth opportunities, company culture, training programs, challenging projects you might work on, company values, etc.
Here are some questions you could ask your Peet's Coffee interviewer:
What is your favorite part about working at Peet's Coffee?
What does career growth look like for this role?
What kind of training or mentorship programs do you offer?
What qualities make someone successful in this role?
What are some of the challenges someone in this role would face?
Where do you see the company heading in the next 3-5 years?
Go into your interview feeling fully prepared with a list of thoughtful and strategic questions. You have everything to gain in this interview, so relax and be your authentic self!
Peet's Coffee Hiring Process
Peet's Coffee's hiring quick process is relatively quick, often taking 1-4 weeks from online application to a job offer for successful candidates.
To help prepare you for what to expect in their hiring process, here is an inside look at the step-by-step journey to getting hired at Peet's Coffee.
To get started, head to Peet's Coffee's careers website or your favorite job site and search for open positions at Peet's Coffee locations near you. Once you find some relevant openings, submit an online application for the role you're interested in. The application allows Peet's Coffee to screen for qualified candidates with relevant experience to meet the needs of the position.
If selected from the online applications, you'll be invited to a short 15-30 minute phone interview with a recruiter or hiring manager. Use this opportunity to make a great first impression, discuss why you're interested in and passionate about the work Peet's Coffee does, and how you would be a great fit for their team.
Candidates who move forward from the phone interview will be invited to an in-person interview at the location they have applied to. In the in-person interview, you'll meet with multiple people, such as the store manager, assistant store manager, and possibly district manager. The interview will focus on your relevant experience, skills, and availability and assess if you'll fit well with Peet's Coffee's culture and values. Free coffee or drinks are often provided during the in-person interview.
Do your homework by becoming very familiar with Peet's Coffee's mission and brand, and be ready with examples of customer service excellence. The in-person interview is also a chance for you to ask questions about the role and company to make sure it's the right fit for you.
If you're selected as a final candidate, you'll receive a job offer. The offer will summarize details like your compensation, start date, the location you'll be working at, and your job duties and responsibilities.
Once you accept, you'll go through an onboarding process at your location, which includes paperwork, product and brand training, job shadowing, and everything else to prepare you for your first official day as a Peet's Coffee team member.
With passion, customer focus, and a commitment to quality and teamwork, you'll have opportunities for growth within the company. Peet's Coffee aims to promote from within, so start imagining the future career progression from entry-level roles like cashier to barista and beyond.
Peet's Coffee Interview Tips
Go into your Peet's Coffee interview with stories of providing amazing customer experiences, collaborating with teams, and adapting to changes on the fly. Peet's wants to see that you're a great culture fit, so be your authentic self – share your genuine enthusiasm for high-quality coffee and connecting with people. Ask questions about growth opportunities and company values to show your long-term interest.
What to Wear to Peet's Coffee Interview
Choosing the right interview attire for Peet's Coffee can start with emulating their everyday dress code.
The dress code at Peet's Coffee is casual with some guidelines: employees wear an apron, non-logo, non-ripped clothing, and closed-toed shoes. Inappropriate, revealing clothing and visible undergarments are not allowed. Non-slip shoes and solid-color shirts are recommended. Tattoos are permitted, and some store-specific restrictions may apply.
For a team member or barista interview, opt for A simple but polished outfit like chinos and a button-down. The goal is neat, clean attire that shows you respect their environment yet fit right in.
Step it up just a notch for shift lead or store manager interviews. Choose business casual like trousers, a blouse, and dress flats. Your outfit signals competence without overdoing formality for their relaxed culture.
And when interviewing for corporate roles, eschew trendiness in favor of a conservative but stylish business suit. Focus on fit, stitching, and high-quality fabrics to demonstrate you understand expectations for professionalism in the office.
However you dress, own your outfit with confidence and make eye contact. Your preparation, qualifications, and passion will shine through and land you that dream job at Peet's!
Conclusion
You now have the insights and knowledge to confidently prepare for an interview with Peet's Coffee. Knowing the most common questions they ask and suggested compelling responses, you can walk into your interview feeling ready to showcase why you're a great fit for their team.
Practice your answers, do some roleplaying with a friend, and review Peet's company culture and values so you can speak knowledgeably about why you're excited to potentially join them. Go in with a smile, exude positivity, and let your personality shine through.
However, the work doesn't stop here. Even after you've completed what you hope was a successful first interview, keep applying to other related companies. Expand your search to other coffeehouse chains that are usually hiring, such as Starbucks, Dutch Bros, Tim Hortons, Dunkin', Scooter's Coffee, and Caribou Coffee. While Peet's Coffee may end up being your dream job, having options will only strengthen your position. The more you put yourself out there, the more opportunities will arise.
With perseverance, the right role for you is out there waiting. You have so much to offer, so make sure others have a chance to see it. Keep applying, keep interviewing, and don't get discouraged. Your perfect job may be just around the next corner, so get out there and find it! With hard work and persistence, you will succeed.