25 Krystal Interview Questions (And Answers To Get Hired)
You have an interview with Krystal coming up, and your heart is racing with a mix of nerves and excitement. Landing this job could be a turning point in your life, providing you with financial stability and new opportunities for growth.
This blog post contains the inside scoop on the most common interview questions asked by Krystal hiring managers, along with sample answers that are sure to impress. By thoroughly preparing using these examples, you will walk into your interview with confidence, knowing exactly what to say to convey your value.
While the questions may seem simple on the surface, without preparation, many promising candidates falter in their responses. Do not let this chance at a life-changing opportunity slip through your fingers due to lack of preparation.
The time you invest in practicing your answers to these questions will pay off tremendously when you are sitting face-to-face with your interviewer. You have so much incredible potential to contribute, and this preparation will allow that to shine through.
And before you know it, you'll be wearing the iconic Krystal uniform and welcoming customers with a smile. This is the beginning of an exciting new chapter, now get reading and practice like the star employee you are destined to become!
Krystal Company Information
Familiarize yourself with Krystals' history and key milestones. Having this knowledge will empower you to impress the interviewer and answer any questions that assess your research skills.
Begin with the following facts, then explore further to gain a deeper understanding of this iconic Southern brand.
| | |
| --- | --- |
| Trade Name | Krystal |
| Type | Fast Food Restaurant Chain |
| Date Founded | Oct 24, 1932 |
| Founders | Rody Davenport, Jr.J. Glenn Sherrill |
| Headquarters | Dunwoody, Georgia, United States |
| Menu | Sliders, Wings, Fries, Drinks, Desserts |
| Signature Items | Original Krystal Burger, Krystal Chik |
| Core Values | Growth, Wisdom, Honesty, Enjoyment, Accountability, Resourcefulness |
| Website | www.krystal.com |
| Competitors | White Castle, McDonald's, In-N-Out, Burger King, Little Tavern |
Additional facts:
A Delicious Imitation: Krystal, a fast-food chain founded in 1932 by Rody Davenport Jr. and J. Glenn Sherrill, took inspiration from White Castle's concept to create a Southern version of the iconic square hamburger. The first Krystal restaurant opened in Chattanooga, Tennessee, with a simple menu focusing on sliders and coffee.
The Krystal Experience: The founders' emphasis on cleanliness led them to name their venture "Krystal," symbolizing a crystal-clear commitment to quality. This ethos extended to their early diner counter design and real porcelain and china plates, used until the 1950s. The crystal ball on Krystal's sign further reinforces the brand's dedication to immaculate standards.
The Krystal vs. White Castle Slider Showdown: While both Krystal and White Castle sliders feature similar toppings, Krystal sets itself apart with a distinct bun and the inclusion of mustard. The steamed, square sliders topped with chopped onions have become synonymous with the Krystal brand.
An Expanding Empire: Today, Krystal is based in Atlanta and boasts nearly 300 locations across 10 states. The chain has earned widespread recognition, including a spot on USA Today's Top 10 Best Regional Fast-Food Restaurants list in 2019.
A Menu for Every Appetite: Krystal has expanded its offerings over the years to include miniature chicken sandwiches, breakfast sandwiches, chili dogs, and corn dogs, ensuring there's something for everyone.
A Legacy of Loyal Fans: Krystal's popularity extends beyond the South. Elvis Presley was an avid fan, and the brand's biggest enthusiasts were honored in the Krystal Lovers Hall of Fame from 2005 to 2009.
A Competitive Tradition: Krystal hosted official eating contests called Krystal Square Offs between 2004 and 2009, further solidifying its place in American fast-food culture.
Embracing Technology and Accuracy: Krystal was an early adopter of free WiFi for customers in 2003, and a 2013 study found the chain's drive-thru service to be the most accurate in the fast-food industry.
Overcoming Adversity: Krystal filed for bankruptcy in 2020, but after a $49 million purchase by Fortress Investment Group, the company successfully exited bankruptcy and continued operations.
Evolving for the Future: Since 2018, Krystal has been unveiling new restaurant prototypes featuring smaller footprints, focusing on drive-thru lanes, walk-up windows, and separate pick-up areas for online orders and third-party deliveries. This shift demonstrates Krystal's commitment to adapting to modern consumer preferences and maintaining its status as a beloved fast-food destination.
Krystal Mission Statement
To be the craveable indulgence that's there for you and your crew with consistent, affordable, and downright delicious meals served hot and fresh, day and night.
Krystal Interview Questions
The interviewer isn't just looking for what's on your resume – they want to see what makes you tick! This question is your chance to showcase your passion for the role. Do your homework and pick 1-2 interests that would make you a rockstar for the job.
Mention your love of food, customer service, or a fast-paced work environment. Focus on your enthusiasm and people skills. This role is all about the customer experience, so flash that friendly smile!
Now, it's time for the fun part…
"Ever since I was a kid, I've been fascinated by the fast food industry. I love experiencing how different restaurants operate and evaluating what really makes their service and food stand out. Nothing cheers me up more than trying all the items on a diner's menu! I believe this lifelong passion would allow me to thrive at Krystal. Not only do I have a strong stomach for a busy schedule, but I also have the ability to turn any frown into a smile. Creating memorable experiences for customers is what I do best. If you're looking for someone who will go the extra mile for every single customer, you've found them!"
We'd love to know more about you. What is a hobby that you're passionate about?
This question is the interviewer's chance to get a glimpse into your personality and passions. They want to see what energizes and excites you outside of work!
To nail this question:
Show your enthusiasm. Discuss your hobby with vigor and spirit. Your passion should shine through.
Highlight relevant skills. Explain how your hobby has equipped you with strengths that would make you a great crew member, like time management, customer service, or problem solving.
Be authentic. Share a genuine interest of yours, not what you think the interviewer wants to hear. Your insincerity will be obvious.
With passion and skill in mind, here is an example answer:
"One hobby I am incredibly passionate about is cooking. I absolutely love experimenting with flavors and spices to create unique, mouthwatering recipes in my kitchen!
Over the years, my culinary adventures have finely honed many abilities that would serve me well at Krystal. I have mastered the art of efficiently prepping ingredients, staying nimble on my feet during the rush of cooking, and skillfully troubleshooting any issues that arise. I have also developed an acute attention to detail and an unparalleled drive to provide the highest quality food – every single time.
My unrelenting passion for delivering an amazing cooking experience would undoubtedly translate into an outstanding experience for every Krystal customer I serve. I hope to bring my culinary enthusiasm and expertise to your restaurant!"
Why do you want to work for Krystal?

The interviewer wants to see your passion for the Krystal brand and enthusiasm for the role.
Some insider tips:
Do your research. Study Krystal's story, values, and key programs. Mention something that inspires you about the company's mission.
Express genuine excitement. Highlight what you love about fast food service – the bustling atmosphere, teamwork, exceeding customer expectations.
Share your ambitions. Discuss how you hope to develop your skills and leadership abilities at Krystal. Explain your future goals and how this role will help achieve them.
With the right prep, you'll conquer this question. This is your chance to stand out!
"Ever since I was a kid, I've been a huge fan of Krystal's signature sliders and southern hospitality. The opportunity to now work for such an iconic brand would be a dream come true.
What inspires me most about Krystal is your commitment to community and putting people first. I love the energy of the fast food industry, working together as a team during a busy rush, and going the extra mile to turn a customer's day around with great service.
My goal is to take on new challenges and grow from crew member to manager within the year. I know Krystal offers amazing opportunities for hard workers. I've studied your training programs and see a clear path for career progression.
I'm determined to exceed all expectations. I'll bring my lifelong passion for hospitality, contagious enthusiasm, and motivation to learn and grow. This position is the first step to achieving my dreams – I hope for a long career with Krystal!"
The interviewer wants a friendly, outgoing candidate who will delight customers and collaborate well with others. Explain you positively thrive on helping people and building connections—give a brief, enthusiastic example or two to illustrate your point.
For instance, say something like:
"Absolutely! I've always been a 'people' person. In fact, my favorite part of any job is the opportunity to make someone's day a little brighter. At my last position, my manager frequently praised me for providing an outstanding customer experience and motivating my coworkers. Helping others and being part of a team is what I do best. For me, this job at Krystal is a perfect fit because it will allow me to do what I do best—create a memorable experience for each customer, support my teammates, and spread some positivity along the way!"
In short, don't just say you like people—show how much you genuinely thrive in social environments. With contagious enthusiasm like this, you'll prove you're the friendly, high-energy candidate Krystal is looking for. You were made for this role, so stride into that interview and dazzle them with your charm!
Imagine a guest expressing their dissatisfaction with the food they received; how would you handle the situation to ensure they have an enjoyable experience?
Let's break down what the interviewer really wants to know here: they need people on their team who can stay cool under pressure, think fast, and make things right. Showing you have these skills is your ticket to getting the job.
So how do you do that? Here are some pro tips:
Feel their pain. Say something like, "I'm really sorry we disappointed you. I understand why you're frustrated, and it's not acceptable." This shows you care.
Take the blame. Even if it wasn't directly your fault, accept responsibility. "Please accept my apology. We clearly dropped the ball on your experience today." This avoids finger pointing and makes the customer feel heard.
Make it right. Ask what you can do to make things right, then take action. "How can I make this right?" Follow up with a solution like remaking the order, offering a refund or coupon for next time. Then do it!
Keep calm. Stay polite and composed. Getting rude or upset only makes the situation worse. Breathe and focus on solving the problem.
Go above and beyond. Do more than the minimum to recover the situation. Give a little extra to turn frustration into delight. Happy customers are repeat customers!
Here is an example of how you could respond:
"I would handle the situation by saying, 'Please know that I take full responsibility for your poor experience today and sincerely apologize. Our goal is for every customer to leave happy, and we clearly failed on that count. How can I make this right for you? A refund, a free meal on us next time, replacing your order immediately – you name it. We value your business greatly and want another chance to serve you well.'"
At Krystal, we maintain a clean and safe environment. Are you comfortable with cleaning tasks, including restroom upkeep?
With the right mindset and preparation, you'll ace the Krystal Restaurants interview. Expressing flexibility, a hardworking attitude, and relevant experience will show them you're the right candidate for even their most basic roles. You've got this! Now go in there and land that job.
The interviewer wants to see if you'll do whatever it takes to keep Krystal sparkling, even the grimy work. Time to showcase your team spirit!
Say something like: "No job is too small if it means great service. I've scrubbed my share of toilets before, and safety has always been my top priority." Sharing relevant experience will prove you'll get the job done right.
Picture yourself saying this…
"I understand that cleaning restrooms may not be the most glamorous work, but it's essential for health, safety, and customer satisfaction. You can count on me to get the job done efficiently and effectively. When guests walk into a spotless Krystal, they'll immediately feel at home and be more likely to return. That's my goal every time I strap on my gloves – to create an experience that people come back for. If that means tackling the tough tasks with a smile, count me in!"
In your opinion, what are the key components of providing "WOW" hospitality in the fast food industry?
The interviewer is looking to see if you understand the key aspects of providing excellent customer service, especially in a fast-paced work environment like Krystal.
To ace this question, focus on the core components of service: speed, accuracy, positivity, and going above and beyond. Explain that speed and accuracy are essential given the fast pace, but a positive attitude and willingness to go the extra mile will "WOW" customers.
For instance,
"I would focus on providing fast, friendly service with a smile, even during busy periods. When taking orders, I would make eye contact, enthusiastically greet each customer and ask if they need a moment to decide. Once they order, I would repeat their order back to ensure accuracy and inform them of the exact total and pick-up time. If we get behind, I would sincerely apologize to customers and take responsibility for getting them their food as fast as possible. To 'wow' a customer, I may give a regular who comes in often their drink for free or throw in an extra ketchup packet so they don't have to ask. It's the little things that make a big difference."
Our work environment is fast-paced and dynamic; how do you plan to adapt to this energetic setting?
This is your chance to prove you've got the motivation and adaptability to excel under pressure. Do some digging on Krystal's culture and high-energy atmosphere so you can speak directly to what they value.
When the interviewer asks how you'll adapt, look them straight in the eye and say:
"Fast-paced and dynamic? That's my specialty. At my last job as a server, we had lines out the door every night. Chaos was the norm, but I never broke a sweat. In fact, the more chaotic it got, the more I thrived. I kept my cool, boosted my speed and efficiency, and made sure every single customer left happy. When we set new sales records on the weekends, you'd find me right in the middle of the action with a big smile on my face. I'm in my element in an energetic environment where there's never a dull moment."
This should leave no doubt in the interviewer's mind that you'll not only adapt to Krystal's fast-paced setting but completely own it. You have the motivation to power through challenging situations and the ability to think on your feet.
How effectively do you engage with guests to create a positive experience for them?
The interviewer wants to know one thing: Can you create memorable experiences that keep customers coming back for more? Showing passion for customer service is crucial.
Some tips: Flash your most charming smile, make eye contact, and speak with enthusiasm. Share how you love going the extra mile to brighten someone's day. Show that you genuinely care about each and every guest that walks through those doors.
"I thrive on engaging with guests and delivering over-the-top service. For example, one time, a regular customer came in, seeming upset. I greeted them with a smile, asked how I could help, and listened to them vent for a few minutes. To brighten their day, I gave them their usual order with a free dessert on the house. They left grinning from ear to ear, appreciating that small act of kindness. Those kinds of meaningful moments are why I love this work. I pride myself on reading each guest to better understand how I can wow them. Whether it's remembering someone's usual order or providing a random free cookie to put a smile on a kid's face. To me, it's all about the opportunity to positively impact someone's day and keep them coming back."
Have you had any experience working with cash registers or handling financial transactions?
The interviewer wants to know if you can be trusted with the register.
Explain your experience operating a cash register, counting back change, and balancing tills. Mention how you always made accurate change and never had a shortage in your drawer. Share your foolproof system for preventing theft. Prove you understand that the contents of that cash register are Krystal's bottom line, and they can count on you to guard it with your life.
"You bet I have! At my last job slinging burgers at a popular diner, I manned the registers and counted out bills faster than a cowboy counts bullets. I always balanced to the penny and kept a close watch to make sure not a single dollar went missing on my shift.
When it comes to cash, I'm like a secret service agent – attentive, accurate, and ready to put my life on the line to protect it. Krystal can rest assured that their money is locked up tighter than Fort Knox when I'm behind that register. I take cash handling seriously, and under my watch, the only thing lighter will be the customers' wallets – not the drawer!"
Have you ever had the opportunity to cook using a grill, either at home or professionally?
Now it's time to fire up your answer to their grilling question about cooking on a grill.
This question isn't about your burger-flipping skills. The interviewer wants to see if you have the ability to thrive under the heat, learn on the fly, and go above and beyond. Show them you've got what it takes to jump in feet first.
Here are some sizzling tips:
Share your enthusiasm for learning a new skill, not just your experience. Admit you're no grill master yet, but you're hungry to learn!
Highlight how you handle pressure and adversity. Give an example of stepping up in a tough situation, like helping out an understaffed kitchen.
Convey your "do what it takes" attitude. Mention being flexible and willing to take on new responsibilities outside your comfort zone.
Now fire up an answer like this:
"Admittedly, I'm no Bobby Flay on the grill…yet! But I'm eager to learn, and always willing to step up when things start heating up.
One night the restaurant I worked at was slammed, and the kitchen was like a four-alarm fire. Orders were pouring in, but they were short-handed. The chef asked who could jump on the line and help cook, so I fired right over.
Did I know how to grill a perfect steak? Nope, but I can follow orders and think fast on my feet. The chef showed me the ropes, and I did whatever needed doing, from flipping burgers to searing tuna. It was trial by fire, but we made it work as a team.
See, I may not have lots of experience on a grill, but I have enough heat in the kitchen to handle anything you throw at me. Just give me the opportunity, and I'll work as hard as it takes to be your grill master!"
An answer like this is sure to convey your ability to take the heat in a high-pressure environment. You've got the right stuff to step up and learn the skills to become Krystal's next grill wizard!
If you could sum up your personality in just one word, what would that be?
The interviewer wants someone with personality plus! They're looking for that sparkling candidate who will dazzle customers with their charm and positivity.
Forget "hardworking" or "friendly" – those answers are duller than a butter knife. You want to stand out, so pick a word that captures your vibrant spirit and enthusiasm for serving up smiles. Explain how you would spread that cheer throughout the restaurant like wildfire.
With that burst of passion in mind,
"I'm going to say vivacious. I have an energetic soul and a thirst for delighting everyone I meet. Whether it's learning a regular's name, recommending a new menu item, or just infusing fun into any situation, I love putting a pep in people's step. That lively spirit translates directly to my work ethic too – I don't just get the job done, I do it with gusto and a bounce in every step. A vivacious attitude is key for crafting an experience that will bring customers back again and again. I'd love to bring that spark to Krystal!"
Krystal has a rich history dating back to 1932. How do you think our brand heritage influences the overall guest experience, and how would you communicate that to our customers?
The interviewer wants to see if you understand what really sets Krystal apart – 90 years of history and a commitment to quality that has stood the test of time.
Some insider tips to nail this question:
Do your homework. Krystal has been through the Great Depression, wars, recessions – and still kept its doors open by staying true to its values. Mention how you would use a story or two to give customers a glimpse into that resilience.
Talk about turning history into action. Discuss ways to highlight Krystal's heritage, like showcasing archive photos or sharing fun facts on social media. Explain how to educate new hires so they feel the weight of responsibility that comes with the uniform.
Share your own appreciation for tradition. Let your passion for the brand shine through – the interviewer needs to see that you will fiercely guard Krystal's legacy.
With the right insights, you can show why you're the best candidate to be a steward of Krystal's rich history.
"Krystal is more than a burger chain – it's an American story of hope and determination that I would be honored to help tell. Personally, I believe tradition is the foundation of quality.
Krystal's brand heritage and decades of providing high-quality food at an affordable price are deeply ingrained in the company's identity and guest experience. For nearly a century, Krystal has been serving reliable, classic fare to drive-thru customers and diners alike, creating cherished routines and memories along the way.
As an ambassador of the Krystal brand, I would help communicate that heritage and history to customers in a few key ways:
Providing friendly, fast, and accurate service in the timeless Krystal style. Customers know what to expect when they visit a Krystal restaurant.
Presenting menu items with pride, knowing the provenance and longevity of favorites like the double cheeseburger, cheddar burger, and chicken strip sandwich. These are not just menu items but pillars of the brand.
Sharing stories of multi-generational families and those who have been dining at Krystal for decades. The grandmother who brought her daughter now bringing her grandkids.
Welcome customers like valued friends and celebrate special moments, as Krystal has been present for many of life's milestones. There is comfort and nostalgia in that familiar experience.
By honoring Krystal's heritage through the little details and big moments, customers will feel that rich history come alive with each visit. Krystal's history should absolutely influence and inspire the experience of every guest. It is integral to what the company is and all it represents."
In your opinion, what sets Krystal Restaurants apart from other fast-food chains?
Now it's time to prepare to dazzle your interviewer with your knowledge of why Krystal stands out from the crowd.
Do your research on Krystal's 90-year history of serving up Southern hospitality on a square bun. You'll want to highlight what sets Krystal apart: iconic brand status and friendly service.
Now for the million-dollar answer…
"At Krystal, the Southern hospitality and rich history really set the brand apart. Krystal has been serving its signature small, square hamburgers since 1932 and has become an iconic American brand. The food and service also reflect Southern hospitality, focusing on community, friendliness, and creating a welcoming atmosphere. These key differentiators – high quality, heritage, and hospitality – are what make Krystal unique in the fast food industry. I would be proud to work for a company with such a strong brand and identity."
How do you envision your career growth within Krystal over the next few years?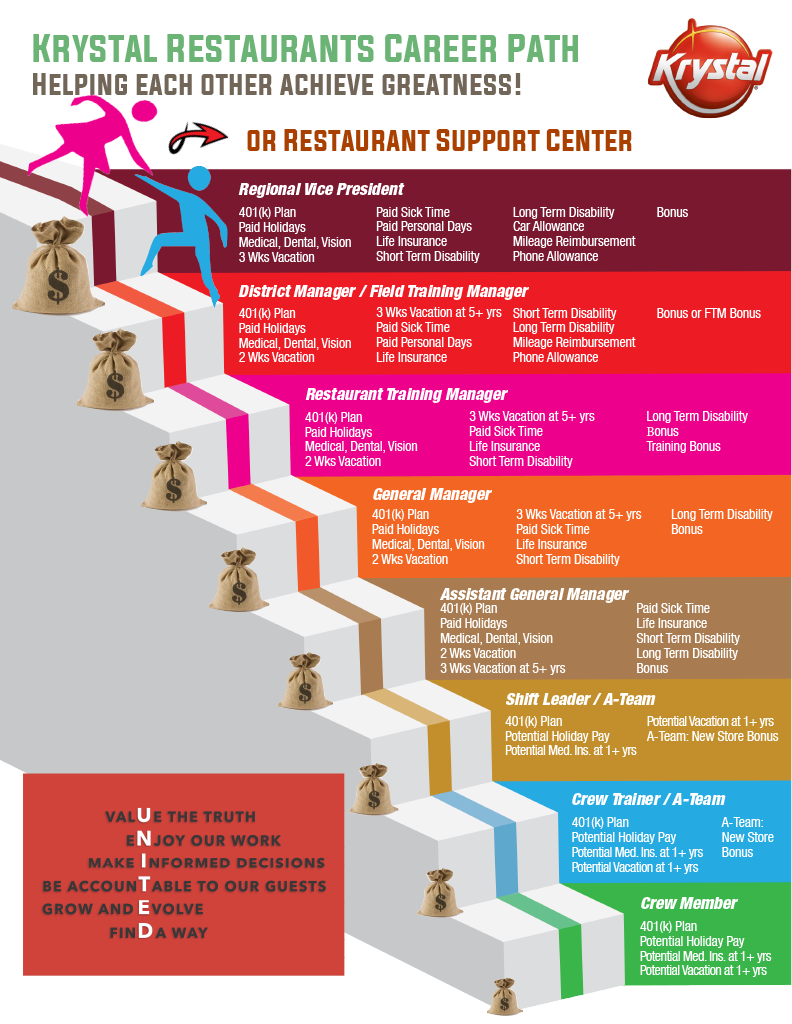 The interviewer isn't just asking about your career goals. They want to know you're hungry to grow with Krystal. Show you've got the motivation and grit to thrive in this fast-paced environment.
Some tips: Discuss how you'll earn more responsibility fast, like "Within 6 months, I'll master every station and train new hires." Share concrete goals, like promoting to Shift Leader within a year and General Manager within two. And do your homework – mention training programs that intrigue you. Show them a future leader who's already all in.
Now, time to flash that ambition.
"At Krystal, I see a clear path to leadership. Within my first year, I'll prove my value by acing every role and mentoring new team members. Soon after, I want to seize opportunities like Krystal's management training program, designed to fast-track careers like mine. My goal is Shift Leader at an outstanding store within 12 months, GM within 36 months. I'm determined to achieve it. Krystal's focus on growth and promoting from within speaks to me. I want to rise through the ranks with a company as committed to my success as I am. I love leading top-performing teams, innovating to boost customer experience, and building an operation that delivers on Krystal's vision. Ultimately, I see myself as a multi-store GM, running the best restaurants in the region and hungry for even more responsibility. At Krystal, I know I can turn that vision into reality."
Teamwork is the secret sauce at Krystal. When interviewers ask how you've collaborated to achieve a goal, they want to see that you have the ingredients to thrive on their team.
Showtime! Time to craft a story highlighting your abilities to communicate, divide work, and resolve conflicts. Discuss both your key contributions and lessons learned. This proves you have the chops to collaborate for Krystal's key results.
For me, a standout example is last year, when my college team worked together on a semester-long marketing campaign project for a local non-profit. We were tasked with increasing youth program attendance by 25%.
We started by brainstorming ideas, then created a schedule to research the target audience, build promotions, and evaluate progress. I helped make a survey to better understand barriers to attendance and suggested a social media contest after analyzing industry trends.
Though we disagreed at times, we listened to each other's perspectives and compromised when needed. After 3 months, program attendance increased by over 30%!
This showed me how planning, communication, and a shared commitment to the goal can lead a team to exceed expectations. I would bring these insights and my passion for collaboration to achieve Krystal's key results."
Conflicts happen, but how you handle them says everything about your leadership potential. When Krystal asks this question, they want to see that you've got the skills to defuse tensions, build bridges, and resolve issues in a way that makes the team stronger.
Do your homework on Krystal's values, and show how you align with them. Share specific stories of using communication jujitsu to turn discord into harmony. Explain your process for staying cool and getting to win-win solutions.
For instance,
"At my last job, there was tension with a coworker over how to arrange the schedule. I listened to their concerns, acknowledged them as valid, and explained my perspective. We found common ground and a solution that benefited both of us. I said 'I understand you want consistent hours, and I want the flexibility for school. We both value good customer service and teamwork. How about we work together on the schedule each week to make sure we're both getting what we need and the shifts are covered?' Focusing on our shared goals and being open to compromise allowed us to resolve the conflict in a way that made us both happy and more effective as a team."
How do you ensure that you are consistently providing friendly and attentive service, even during busy or stressful times?
The interviewer wants to see your passion for customer service in action. They're looking for candidates who don't just crumble under pressure – they thrive on it. Want to stand out? Show you have the dedication and skills to turn any shift into an opportunity to make customers' days.
Practice your friendliest "Welcome to Krystal!" and fastest order-taking. Make consistent, quality service a habit through repetition. And remember: your attitude is everything. Take a deep breath and smile – positivity is key! With the right mindset, you'll energize yourself and your customers.
"To ensure friendly, attentive service at all times, including during rushes, I have developed a standard routine. I always greet customers promptly with a smile, take their order accurately, and deliver their food as quickly as possible. No matter how busy it gets, I stay focused on each customer and listen to make sure I fully understand and meet their needs. Keeping a positive attitude is key, so I take a deep breath and smile to avoid getting frazzled. Following my proven routine and staying dedicated to outstanding customer service allows me to keep lines moving while also making each customer feel valued and pleased with their experience at Krystal."
The interviewer wants to see how you thrive under feedback—one of the most vital skills for career growth.
Some tips to ace this question:
Share a memorable example of constructive criticism that initially stung, but ultimately made you better. Admit your initial reaction, then highlight your maturity in coming around.
Vividly describe how you approached the feedback-giver to gain true understanding. Make the reader feel like they're in that conversation with you.
Explain the steps you took in a creative, visual way. Say you "reworked your approach from the ground up" or "left no stone unturned."
Relate eye-catching results and the reward of new opportunities or responsibilities you earned thanks to your improvement.
Stay positive while being transparent. Show how you can handle hard truths with grace.
In other words, reveal your growth mindset.
"Absolutely, I've received constructive feedback from managers before that has really helped me improve. Early in my time as a host at a local burger joint, I received feedback that I wasn't greeting customers warmly enough and wasn't doing enough to make them feel welcome. At first, I felt defensive, but I knew he was trying to help me do my job better.
I asked him for additional examples and practiced in front of a mirror. The next day, I focused on putting a big smile on my face, making eye contact, and enthusiastically greeting each guest as they walked in. My manager noticed the difference right away and complimented me on the improved service. His feedback and the effort I put into implementing it meaningfully impacted my performance.
I realized that constructive feedback, even if difficult to receive, is a gift. I developed a reputation for providing an exceptional welcome experience for all guests, and it opened up opportunities for career growth. Feedback only benefits us if we have that growth mindset. I aim to provide constructive feedback to crew members myself now to help ensure excellent service and support their development."
Working at Krystal may require standing for extended periods. Will you be able to balance the physical demands with providing excellent service to our guests?
The interviewer wants to see your dedication to delivering an amazing experience for every customer, no matter what. They're checking if you have the stamina and motivation to power through a long shift on your feet while maintaining your smile.
This is your chance to show your commitment to service above self. Tell the interviewer you understand the demands of the role and are ready to rise to any challenge to keep guests happy. Focus, energy, and a positive attitude are your secret weapons.
With passion and perseverance say,
"You bet. Keeping guests satisfied is what really fuels me, not how tired my feet are. I've worked in busy restaurants where 8 hours flew by in the blink of an eye because I was so focused on providing great service. Soreness and fatigue may set in, but my enthusiasm for delivering an outstanding experience never wavers. Every customer deserves my best, no excuses. Krystal can count on me to take the physical demands of the job in stride and make sure each guest leaves with a smile. I'm ready to do whatever it takes to go above and beyond for your customers every single day!"
At Krystal, we value accountability and dependability. Can you describe a situation where your ability to take personal responsibility for your work directly impacted the success of your team?
The interviewer wants to see that you understand how crucial personal responsibility is in the fast-paced restaurant industry.
Share a specific story showcasing how you went the extra mile to get the job done right and saved the day. But don't just give the facts – bring the story to life! Put the interviewer in the scene with descriptive details so they can see your dependability in action.
For example:
"There was one situation at my previous job where we had a huge catering order of over 1,000 burgers for an event the next day. My team was understaffed that day, and tensions were running high about being able to fulfill the order on time. I stepped in, made a plan to streamline our processes, and re-distributed tasks to make the workload more manageable for everyone. I also offered to stay late myself to ensure everything was ready. We ended up delivering the order ahead of schedule and received great feedback from the customer. My managers saw my fierce dedication in the face of a challenge and rewarded me for going the extra mile. I believe it's so important to be accountable for your responsibilities, even when faced with obstacles."
Discuss your experience with maintaining and cleaning kitchen equipment, such as fryers, grills, and other cooking appliances? How do you ensure that these are kept in optimal condition for safe and efficient food preparation?
The interviewer wants to ensure you understand the importance of keeping kitchen equipment clean and functioning properly to ensure safe food preparation and an efficient work environment.
Some tips for answering this question:
Food safety first. Explain your "lives are at stake" mentality: you meticulously clean equipment to avoid contaminating food and endangering customers. Your vigilance pays off in loyal diners and zero health code violations.
A cleaning "system" with military precision. Discuss your foolproof system for scheduling, checklists, logs, and step-by-step cleaning procedures. You carefully calibrate dishwashers and hot water temps for maximum sanitation. Like clockwork, you clean every oven, fryer, and grill daily after close. No grease buildup or grime stands a chance.
Eagle-eyed equipment inspector. You notice any damage, defects, or issues immediately and report problems before they cause chaos. You pay attention to small details to keep operations moving efficiently in the kitchen and business booming in the restaurant.
Beyond certifications. Food safety certifications honed your knowledge, but your dedication to pristine kitchen equipment goes above and beyond any certificate. For you, clean means flawless.
"Keeping equipment spotless is my passion and priority. I have over two years of experience thoroughly and routinely cleaning kitchen equipment at a high-volume restaurant.
I follow a strict cleaning schedule for all equipment, including:
Deep cleaning fryers, grills and ovens weekly. I disassemble parts when needed, soak in degreaser, scrub, and reassemble ensuring all parts are functioning properly before returning to use.
Wiping down equipment after each use to prevent buildup. I check that knobs, dials and doors are not damaged or sticking.
Maintaining daily checklists to document equipment has been properly cleaned and report any issues needing repair.
Troubleshooting issues like a malfunctioning oven door or pilot light. I can determine the problem and potential solutions to have the equipment safely operational again as quickly as possible.
My fastidious, safety-first approach to cleaning has been crucial for high-volume restaurants. Krystal can count on me to deliver sparkling equipment and peace of mind that your kitchen and customers are in the safest, most capable hands."
What does your availability look like, and what shifts can you commit to working?
When Krystal asks about your availability, they want to know one thing: can they count on you? This question is a chance to prove you'll commit fully to the job and work hard for those famous little burgers.
Show your enthusiasm, highlight a flexible schedule, and double down on your dependability. Let Krystal know you're hungry for any shift that comes your way.
Some tips:
Say you'll work any time, any day – and mean it! Enthusiasm for the job? Check.
Your schedule is a blank slate waiting to be filled by Krystal. No vacation plans or other commitments will get in the way of this opportunity.
Reliability is your middle name. You never call in sick, show up tardy, or leave early. You're present and ready to make the best darn Krystals possible.
Ask what they need. How early do those biscuits need bakin'? You're there. What days are busiest? You'll work 'em. Show you're committed to meeting Krystal's needs, not the other way around.
Keep that dedication and determination in mind in your answer, like this:
"When can I start? My schedule is wide open, and my dedication to this job even wider. I'm committed to working any shift, any day Krystal needs – and working it with gusto. Weekends, holidays, evenings, overnight – you name it, I'll be there. I never call in sick, show up late, or leave early. I'm here to work hard, meet the needs of my team, and make amazing food for your customers. Just tell me when I'm needed, and I'll be present, passionate, and ready to cook up the best Krystal Chiks on the planet!"
Can you reliably commute to work, and do you have a means of transportation?
The interviewer isn't just asking about your means of getting to work. They want to know if you'll actually show up on time every day, ready to confidently carry out your duties.
To stand out, emphasize your dependability and responsible work ethic. Mention steps you take to guarantee punctuality, like double-checking traffic and leaving early. Prove you've thought this through and are dedicated to success in the role.
"Definitely. My transportation is extremely reliable, and getting to work on time is a top priority. I have a trusted vehicle, monitor traffic reports ahead of time, and budget at least 15 minutes extra in case of delays. Punctuality and dependability are very important to me, so I do whatever it takes to ensure I'm early and prepared every single day. You can count on me to be ready to assist customers right from the start of my shift."
If we move forward with your application, when would you be able to join the Krystal team?
The interviewer wants to know—are you pumped about square burgers or what? When asked about your availability to join the Krystal team, this is your chance to flash that winning smile and show how eager you are to start scramblin' up delicious burgers and breakfast sandwiches. But don't overdo it—you also want to seem reasonable.
You might say something like,
"The possibility of being selected for this position at Krystal has me as fired up as your grill on a busy Saturday morning! After I've wrapped things up over the next week at my current job, you can bet I'll be rarin' to race through those doors, throw on an apron, and start servin' up smiles and Krystal's delicious food to your hungry customers. I appreciate you understanding my need to provide notice, but please know that I'm eager as can be to become a member of the Krystal crew as soon as possible!"
Questions to Ask the Interviewer in Krystal Interview
So you've polished your resume, practiced your responses to common Krystal interview questions, and now you're ready to meet with the interviewer.
However, there is still one important thing left to prepare: questions to ask the interviewer. At the end of almost every job interview, the interviewer will ask if you have any questions for them. This is your opportunity to show your enthusiasm for the role, your thoughtfulness in considering the company culture and growth opportunities, and your ability to think on your feet.
The interviewer wants to see that you've done your research about Krystal and are interested in the role for the right reasons. Asking generic questions shows a lack of preparation and interest.
Here are some questions you can ask the Interviewer in your Krystal interview:
What does a typical day look like for someone in this role at Krystal?
How does Krystal maintain its commitment to quality food and excellent customer service, even during peak hours?
What opportunities for growth and development does Krystal offer for employees?
How does Krystal's management team support and coach new members to ensure their success?
Can you share more about the team culture at this particular Krystal location?
How does Krystal prioritize cleanliness and sanitation in its restaurants?
What kind of training does Krystal provide for new members to ensure they are well-equipped for their role?
How does Krystal handle employee feedback and suggestions for improvement within the restaurant?
Can you share more about Krystal's core values and how they are integrated into daily operations?
What are some common challenges that new members may face in their role, and how does Krystal support them in overcoming these challenges?
How does Krystal stay up-to-date with industry trends and continuously improve its food quality and customer service?
What is your favorite aspect of working at Krystal?
How does Krystal maintain a positive work environment?
Can you share some examples of successful crew members who have grown within the company, and what qualities did they possess to achieve this success?
How do Krystal's locations collaborate and share best practices to ensure a consistent experience for customers across all restaurants?
By asking targeted and thoughtful questions, you demonstrate your enthusiasm and preparation to the interviewer. You'll leave your Krystal interview with a strong and memorable final impression. Just remember, the questions you ask are as important as the answers you give.
Go in there and knock it out of the park!
Krystal Hiring Process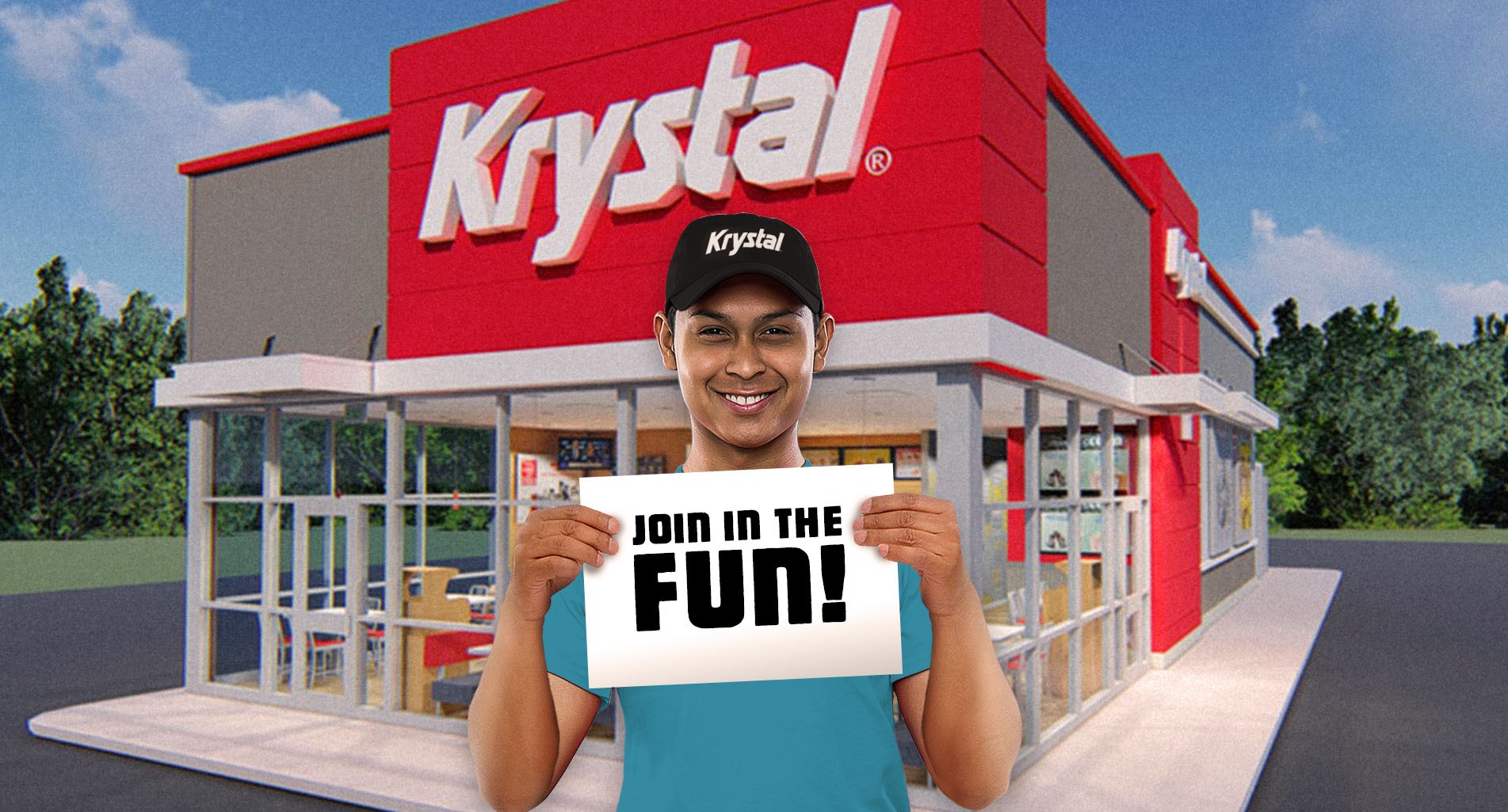 Krystal's hiring process is designed to be quick and straightforward so you can start your new career with them as soon as possible.
The first step is to fill out an application, either in-person at your local Krystal or online through their website. Once your application is received, if selected to move forward, you'll go through a brief phone call with a Krystal hiring manager. This casual conversation will allow you to express your interest in the company and ensure the role is a good fit for your skills and experience.
If chosen to proceed to the next round, you'll be invited to an in-person interview at the Krystal location you're interested in. This face-to-face meeting is your opportunity to show off your personality and enthusiasm for the work. As long as everything goes well, the last step is completing a standard background check.
The whole process, from application to background check, typically wraps up within a couple weeks. Of course, timelines can vary depending on the specific job opening and volume of applications. But you can feel confident Krystal aims to keep things moving swiftly.
Before you know it, you'll be proudly wearing your Krystal uniform and serving up delicious burgers to happy customers.
Krystal Interview Tips
The key is to be your authentic self throughout the interview process. Krystal is looking for individuals with a genuine passion for providing quality service and experience.
What to Wear to Krystal Interview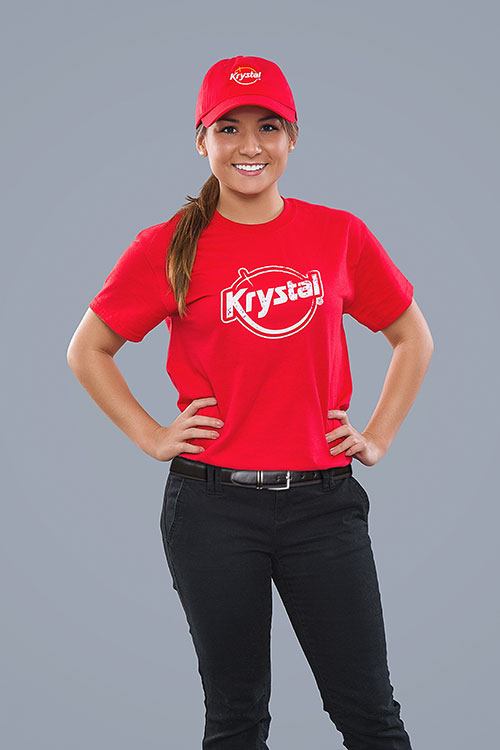 So you have an interview with Krystal coming up? Congratulations! Now, the next big question is – what should you wear? Choosing the right interview attire can go a long way toward making a great first impression.
The best approach is to emulate Krystal's dress code.
The dress code at Krystal is a casual uniform consisting of a company-issued branded t-shirt or polo, dark slacks or khakis, a black belt, a hat, and non-slip shoes.
For Crew Member or Crew Trainer roles, casual or business casual attire is perfect. That means slacks or khakis and a button-down shirt.
If you're interviewing for Shift Leader or a management position like Assistant General Manager or General Manager, stick with comfortable yet professional business casual wear. Slacks or khakis paired with a button-down shirt or blouse and a casual blazer will strike the right formal yet relaxed tone.
For a corporate position, business formal wear is a must. That includes slacks or a knee-length skirt, a button-down shirt, a blazer, and for men, possibly a tie. The interviewer will appreciate your professionalism.
In the end, you want to dress in a way that makes you feel confident and helps you shine through as the best candidate for the job. Make a great first impression by choosing an outfit stepped up from Krystal's everyday casual dress code. By doing so, you show your enthusiasm for and understanding of the company culture.
With the right outfit choice for your Krystal interview, you'll walk in feeling prepared and ready to land that job! Best of luck!
Conclusion
You now have insight into the most common questions asked in a Krystal interview, along with strategies for crafting compelling responses. Armed with this knowledge, you can enter your interview feeling prepared and confident in your ability to impress the hiring manager. While there is no way to know exactly what questions you'll be asked, if you prepare thoughtful answers to the questions in this article, you'll be in a great position to succeed.
But don't rest on your laurels. Continue searching for other appealing roles even after nailing the Krystal interview. Companies like White Castle,  Sonic, Jack in the Box, Checkers and Rally's, Carl's Jr., and Burger King are also frequently hiring for similar roles. Send out applications to them to keep your options open.
The more you practice your interview skills, the more polished and assured you will become. You have so much potential, so keep putting in the work, and don't get discouraged. The right job for you is out there, you just have to go out and get it! Stay confident, stay hungry, and never stop pursuing your goals. You've got this!