30 Dutch Bros Interview Questions (And Energizing Answers)
Your Dutch Bros interview is looming around the corner, your nerves are starting to set in as you wonder what questions the interviewer will ask and whether you'll be able to conjure thoughtful answers on the spot. Preparation is key to calming those nerves and walking into that interview with confidence. This blog post is your guide to feeling thoroughly ready to interview with Dutch Bros.
You've worked hard to land an interview, now the opportunity to shine is within your grasp. Picture yourself dazzling the interviewer with articulate and compelling answers to the questions that trip so many candidates up. Envision receiving a call back for a second interview, sensing their eagerness to bring you onto the team. Success is on the horizon, you just need to reach out and seize it.
In this article, we outline the most frequently asked interview questions at Dutch Bros and provide examples of strong answers to each question. Study these examples, adapt them to reflect your unique experiences and strengths, internalize them and make them your own. Walk into your interview knowing that preparation and practice have positioned you to achieve your goal.
You're ready. Success awaits you. Now go get it!
Dutch Bros Company Information
To excel in your interview with Dutch Bros, arm yourself with the key facts about this innovative company. Knowing this essential information will empower you to confidently address any questions that assess your research abilities and passion for the organization.
| | |
| --- | --- |
| Trade Name | Dutch Bros |
| Type | Coffee Chain |
| Date Founded | February 12, 1992 |
| Founders | Dane Boersma, Travis Boersma |
| Headquarters | Grants Pass, Oregon, United States |
| Menu | Coffee, Cold Brew, Espresso-Based Drinks, Chai, Hot Chocolate, Smoothies, Tea, Infused Energy Drinks, Lemonades, Italian Sodas |
| Signature Items | Nitro-Infused Cold Brew, Picture Perfect Dutch Freeze, Aftershock Rebel Energy Drink |
| Core Values | Speed, Quality, Service |
| Website | www.dutchbros.com |
| Competitors | Dunkin', Starbucks, Scooter's Coffee, 7 Brew |
Additional facts:
Humble Origins: Dutch Bros started as a small coffee cart in Oregon in 1992 by brothers Travis and Dane Boersma, transitioning from their jobs on a family dairy farm.
Rapid Growth: In less than a decade, Dutch Bros expanded to its first franchise location, thanks to the loyal customers who loved their brew. Today, it operates hundreds of locations in 11 states.
Responsibly Sourced Beans: Dutch Bros is committed to responsible sourcing of coffee beans from Brazil, Columbia, and El Salvador. They are part of a larger coffee industry movement to ensure fair treatment of coffee growers and sustainable growing practices.
Innovative Cold Drinks: Dutch Bros offers a range of unique cold beverages, including their proprietary Rebel Energy Drink and Dutch Soda, which come in creative flavors like Electric Berry, Astronaut, Unicorn Blood, and Hyperchrome.
Secret Menu: The company boasts a secret menu with innovative offerings like the Bob Marley, a dark chocolate-coconut-banana blend, and the Cookie, a coffee blend that tastes like a cookie.
Outstanding Customer Service: Dutch Bros places a strong emphasis on customer service, hiring naturally outgoing workers who create a friendly, welcoming experience for customers.
Growing Competition: Despite being a smaller chain, Dutch Bros is giving larger chains like Starbucks and Dunkin a run for their money with its unique vibe, extensive menu, and better prices.
Co-founder's Legacy: Co-founder Dane Boersma, who passed away from ALS in 2009, left a significant impact on the company's culture. His enthusiasm for Dutch Bros and dedication to self-improvement continue to be key pillars of the company's success.
Charitable Commitments: Dutch Bros has a philanthropic profile, focusing primarily on supporting those with ALS through the Muscular Dystrophy Association. Its annual fundraising drive, Drink One for Dane, has raised over $10 million since its inception in 2005.
Profitable Franchise: A Dutch Bros franchise can be highly profitable, with a location potentially generating over $650,000 in revenue and netting the owner over $100,000 in profit annually. However, owning a franchise requires at least three years within the company, emphasizing growth from within.
Seasonal Flavor Roulette: Unlike Starbucks, Dutch Bros' seasonal flavors change every year, creating an element of surprise and anticipation for the customers. The company regularly spins out new flavor combinations, demonstrating a commitment to flavor innovation.
White Coffee: Dutch Bros offers a highly caffeinated white coffee, which is ironically named for its partially roasted beans. This unique offering has become popular among coffee lovers, despite the acquired taste.
Successful IPO: Dutch Bros went public in 2021, making founder Travis Boersma a billionaire. Boersma maintained his down-to-earth image during the process, signaling the company's commitment to its roots.
Massive Expansion Plans: Dutch Bros plans to add hundreds of new locations, with the aim of reaching a total of 4,000 franchises. This expansion plan reflects the company's ambition and its goal to become a major player in the coffee industry.
Dutch Bros Mission Statement
To make a massive difference, one cup at a time.
Dutch Bros Interview Questions
Can you tell us about yourself and some of your favorite hobbies or interests outside of work?
This question is your chance to prove you're the kind of person the interviewer would love to hire – someone with passion, purpose, and personality outside the daily grind. So don't hold back! Share the hobbies, causes, and adventures that light you up.
The interviewer wants to see what motivates and inspires you. Speak genuinely about your interests and how they fuel your creativity. Show them why you're the perfect culture fit.
In short, be real and be enthusiastic. Now, let your unique awesomeness shine through!
"Outside of work, I really enjoy being active in the community. In my free time, I volunteer with a local dog rescue walking and playing with dogs in need of homes. I'm also an avid traveler and try to visit a new place once a month, whether it's exploring a neighboring city or taking a weekend camping trip. These activities really allow me to recharge, gain different perspectives, and nurture my sense of adventure. I believe working at Dutch Bros would give me an opportunity to bring more meaning and purpose to each day by connecting with and serving the community."
If we asked your best friend or someone who knows you really well to describe you in three words, what would they say?
The interviewer wants to see the real you – not the polished, rehearsed version you're putting on in the interview. They want to know that behind your winning smile and firm handshake are the qualities that would make you thrive in their high-energy, team-oriented environment.
So drop the act, and be authentic! Share the qualities your closest friends and family know you for. Are you the one who is always lifting everyone's mood? The go-getter who makes things happen? The kind soul who brightens each day? Show them who you are at your core.
Here is how you could answer:
"My best friends would describe me as enthusiastic, hardworking, and caring. They know me as an infectious ball of energy, the person they know will get the job done, and someone who always makes time to listen."
Why do you want to work for Dutch Bros?
This question is meant to gauge how passionate you are for all things Dutch Bros. The interviewer wants to see your eyes light up as you gush about the company's core values and tight-knit culture. So do your homework and learn what makes them tick. Then, be authentic by sharing what truly excites you about joining the Dutch Bros family.
Forget generic answers about career growth or advancement opportunities. They want to know why Dutch Bros' mission of "making a massive difference, one cup at a time" ignites your soul. How will playing a part in transforming customers' days through unparalleled service be deeply fulfilling for you? What is it about their lively environment and close-knit team that you find incredibly appealing? Speak to these points to win them over.
In other words, an answer like this would make you a top candidate in their books:
"The opportunity to work for Dutch Bros would be a dream come true. Everything about your brand, from your lively shops to your passionate employees and devoted regulars, inspires me. I want to be on the front lines, spreading smiles and positivity to each customer I encounter. Being able to lift someone's spirits and become a bright spot in their day would give me an unmatched sense of purpose.
I also thrive in the type of tight-knit culture you promote. I want coworkers who can grow into lifelong friends, mentors, and partners in crime. The chance to continually learn and develop alongside such a motivated team is exactly the collaborative environment I need to achieve my full potential.
Ultimately, I see Dutch Bros as more than just a coffee company. You are in the business of creating experiences, communities, and life-changing moments of happiness. I want to work for a company that values individuality, fosters growth, and makes a real impact. This is why Dutch Bros would not feel like "just another job" to me. It would be a place to call home, to build lasting relationships, and to take pride in all the smiles we bring each day. "
Where do you see yourself in 2-3 years? How do you hope to develop your skills and advance your career at Dutch Bros?
This question isn't meant to trip you up, it's a chance to prove your vision and thirst for growth. So take a deep breath and prepare to dazzle them with your ambition.
Our best advice? Share your dreams, highlight what you'll do to achieve them, and express a desire to build a lasting career. Enthusiasm and authenticity are key. And remember, Dutch Bros thrives on promoting from within – they want to see your leadership potential!
Transitioning from a team member to a supervisor or manager in just a few years is no easy feat. But with hard work and determination, you'll prove you've got what it takes.
Here's an example:
"Within 2-3 years, my goal is to advance into a leadership role at Dutch Bros, such as a supervisor or manager. I'm hungry to take on more responsibility, like training new hires, helping open new locations, and motivating my team to provide the best customer experience possible.
Dutch Bros values growth, and I plan to rise through the ranks by always striving to improve, learning from the best, and sharing my passion for the brand. I know it won't be easy, but with perseverance and dedication, I believe the possibilities here are endless.
My future with Dutch Bros is bright, and I can't wait to prove I have what it takes to lead this team to even more success."
You've just served an amazing drink to a customer who looks like they're having a rough day. What do you say or do to turn their frown upside down?
This question is designed to assess if you have what it takes to be a Dutch Bros champion – someone who makes a meaningful impact on every customer they serve.
So, how would you turn a frown upside down and spread your inner sunshine? The key is to lead with empathy and kindness.
"I would make eye contact, flash my brightest smile and say, "Rough day, huh? I've totally been there. Here's a little sunshine in a cup, on the house. Hopefully, we can turn that frown upside down." As I hand them their drink, I'd add a personal touch like drawing a smiley face on the cup or tucking in an extra smiley sticker.
Little acts of kindness go a long way. As a Dutch Bros barista, it's my mission to create a memorable, positive experience for every customer. Something as small as a smile, kind word, or free drink could be the bright spot in someone's day that gives them hope again. I know that's the kind of meaningful connection I want to create with each customer I serve. How's that?"
What does exceptional customer service mean to you?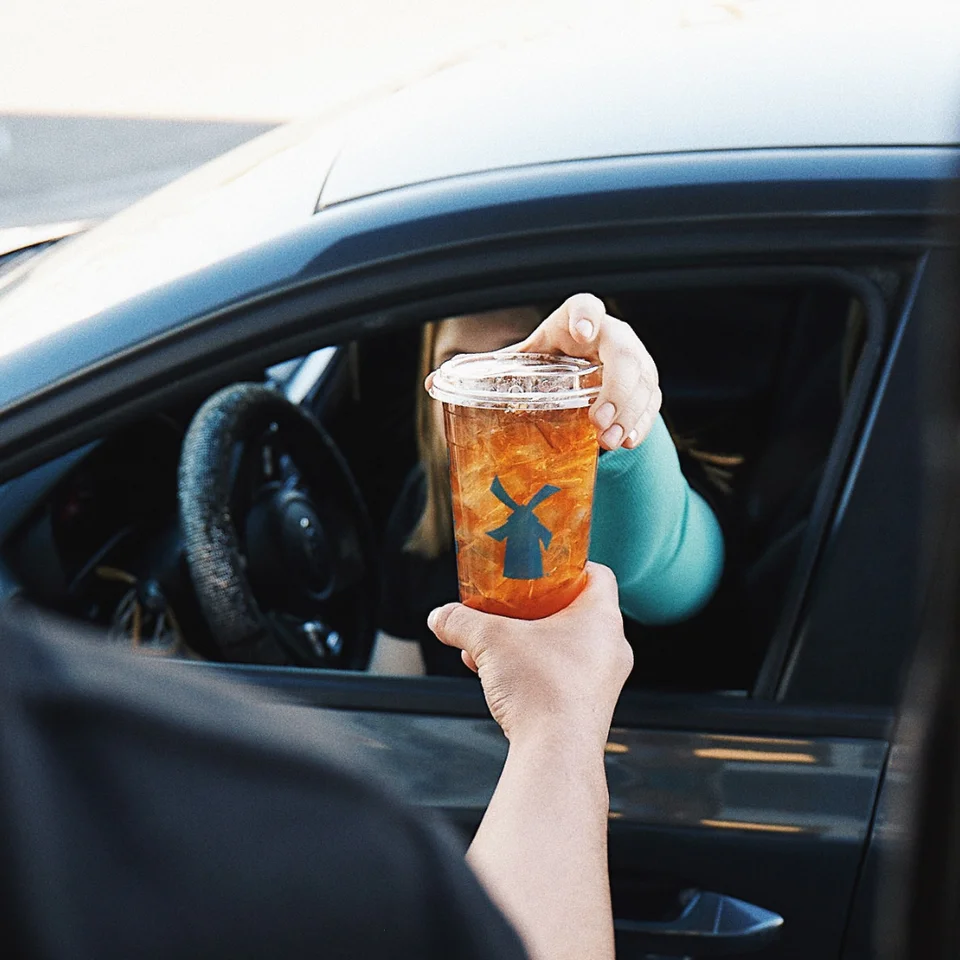 The interviewer wants to see that you live and breathe the Dutch Bros philosophy of spreading happiness through exceptional customer service.
When they ask this question, they're looking for more than just a textbook definition. They want to see your passion spark and hear how you'll go the extra mile to turn a simple coffee run into an unforgettable experience.
The truth is, anyone can paste a smile on their face. But can you make a real human connection? Can you remember someone's favorite drink, the name of their dog, the fact that they've had a tough week? Can you turn a grouchy morning into a brightened day with more than just caffeine? If so, you're the kind of person we want on their team.
For example, you might say:
"To me, exceptional customer service means creating personal connections with everyone who walks through that door. It starts by greeting each customer with genuine enthusiasm, looking them in the eye, and letting them know I'm happy they're here. But it doesn't stop there. It's about listening, remembering the little details, and using that knowledge to lift someone's spirits, like writing an encouraging note on their cup or slipping them a free drink coupon when they're having a rough day.
Exceptional service means constantly thinking outside the box for new ways to spread the stoke and show how much we value each and every customer. If I can send someone off with a smile and a story to tell their friends about the amazing service they received, I've done my job. That's the kind of memorable experience I aim to create every single day at Dutch Bros."
Conflicts happen, even in the happiest of work families like ours. How you would address issues with another Broista in a way that brings you together rather than pulls you apart?
Dutch Bros interviewers want to find Broistas who can not only resolve conflicts but turn disagreements into opportunities to build trust and bring people together.
When they ask how you'd handle issues with another team member, they're assessing your ability to communicate with empathy, find common ground, and maintain a spirit of cooperation.
The stakes are high in this question, but don't worry – we've got you covered! Here are a few insider tips:
Focus on unity, not division. Explain how you'd listen openly, understand different perspectives and find a mutually agreeable solution.
Speak passionately about keeping the team dynamic positive and strong. We want Broistas who care deeply about building trust and embracing our shared purpose.
Here's an example:
"If tension arose with another Broista, I would make addressing it a top priority. Pulling them aside privately, I'd say: 'We're a family here at Dutch Bros and we need to be united in serving killer drinks and creating unforgettable customer experiences. Let's talk through this and get on the same page.'
I would listen to them and share how certain actions left me feeling frustrated, while also taking responsibility for my part. The key is communicating with empathy, not judgment. We all thrive when we support each other, so my goal would be to understand their perspective, express my own view, then find a compromise that we're both satisfied with.
Conflicts happen, but the opportunity to build a stronger bond can come from them. I want us to be an unstoppable team, and that starts with clearing the air in a constructive way. When we communicate openly and come together, we can get past any disagreement."
How would you collaborate with your fellow Broistas to ensure each customer receives an extraordinary experience during their visit?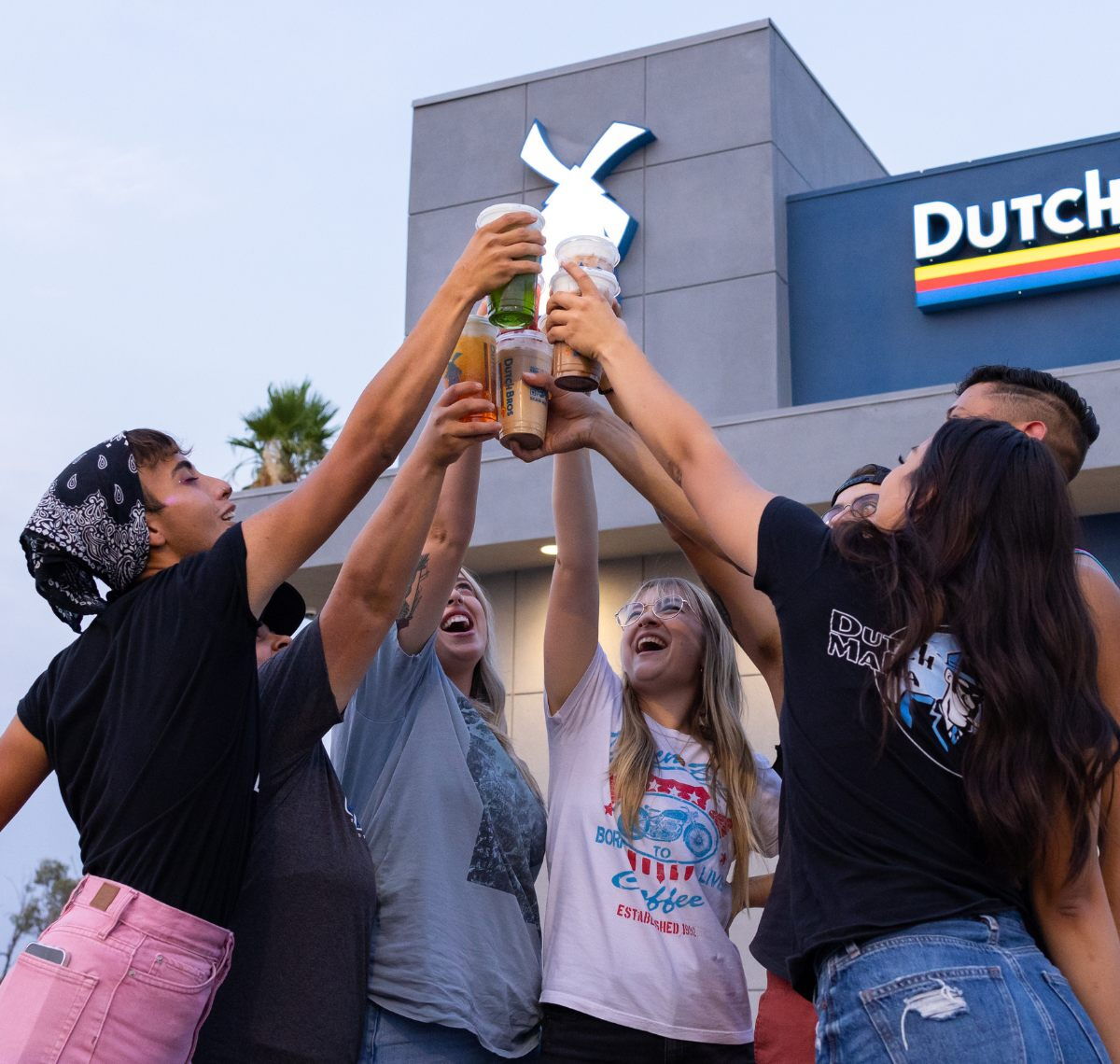 As hiring gurus with years of experience interviewing candidates like yourself, we know exactly what the Dutch Bros interviewer is looking for with this question. They want Broistas who will go the extra mile to foster real relationships with customers and coworkers alike, turning an ordinary workday into an opportunity to spread positivity and joy.
When answering this question, emphasize how you would make memorable connections and work hand-in-glove with your fellow Broistas to craft an unparalleled Dutch Bros experience. Show how you would create an environment of camaraderie and teamwork where everyone supports each other to thrive. Illustrate this with an example of how you would collaborate on the job.
For instance, you might say:
"From my first day at Dutch Bros, I would make an effort to get to know my coworkers – not just their names but their stories, their favorite drinks, and how I can support them. I believe we're a team, and teams succeed and fail together. During each shift, I'd check in frequently with the other Broistas to see if they need coverage for a bathroom break or if we have a regular coming in who prefers to interact with a particular team member. We would work together seamlessly to make personalized recommendations for customers and remember the little details that turn them into regulars.
By building real relationships with my coworkers based on trust and understanding, we can collaborate to provide an unforgettable Dutch Bros experience for each and every customer. For me, it's not just about the drinks – it's about the opportunity to be a part of someone's day and put a smile on their face."
A customer loudly complains about a mistake with their drink. How would you own up to the mistake, make it right, and turn their frustration into frothiness?
We know the Dutch Bros interviewer is trying to uncover your superpower—the ability to zap a customer's frustration and transform their lightning-fast irritation into frothy delight.
To dominate this question of the interview, you'll need to prove you have the heroic customer service skills to make things right and save the day. Show them your "make the moment right" superpower in action!
When faced with an irate customer and their incorrectly crafted calorie-packed confection, here's you could spring into action:
"In a flash, I would beam an empathetic smile, say, 'I'm so sorry for the mistake, please allow me to make you a fresh proper perfection of a drink, on the house.' As I zap them up a new drink in seconds flat, I would let them know I take full responsibility for the error and am committed to making things right.
Once their new delicious drink is delivered, I would thank them for giving us another chance to energize them. My goal, of course, would be to leave them grinning from ear to ear and coming back for more frosty fun. Because the truth is, mistakes happen in a flash, but how you recover and turn a negative into an absolutely positive experience—that's a real superpower."
This question evaluates your ability to keep calm in chaos, think fast on your feet, and spin poor customer experiences into gold. In short, your conflict resolution superpowers.
You'll want to share a time you took on an enraged customer and emerged victorious, with a satisfied regular on your hands. Show how you tapped into your emotional intelligence, validated their feelings, and worked your customer service magic. Bonus points for adding in personality and showing your passion for crafting the perfect drink!
To give you an idea, here's an example:
"This furious regular came barreling into my stand, steaming that we'd botched his usual. Before he could rip into us, I strode over with a smile, looked him in the eye, and said, 'Woah, we really messed up your drink today, huh? I don't blame you for feeling annoyed. Let's start over – your next one's on me.'
Just like that, his anger melted into surprise. As we remade his drink from scratch, I kept the conversation light asking about his day. By the time I handed him his new drink, he was grinning. 'Thanks for giving us another chance,' I said. 'You're the reason we love our jobs!'
Later, he actually called to thank me for turning his day around. That's what I love about this job – you have the power to transform someone's whole experience and mood, just by putting passion into a single cup of coffee."
Can you tell me about a time you took feedback and used it to seriously level up your game?
Questions about handling feedback are designed to uncover candidates with growth potential.
When asked this question, we recommend emphasizing how you listened, learned, and took action. Provide a specific example that demonstrates you have the maturity to accept constructive criticism, the drive to improve, and the ability to strengthen your skills in a major way.
The key is to show how feedback translates to next-level progress. Make it clear you're hungry to advance to the big leagues.
"For example, a few months into my role as a barista, my manager reviewed my performance and noted that while my customer service was excellent, I needed to improve my speed and efficiency. I asked for clarification on which areas I should focus on and took detailed notes on the recommendations. Over the next week, I made an effort to implement the suggestions, like preparing multiple drinks at once and using the faster blenders. On my next review, my manager was impressed with my improvement and told me my skills had 'leveled up' thanks to embracing the feedback. The speed and quality of my work continued to strengthen from there, allowing me to take on more responsibility.
Looking back, that constructive criticism was a turning point in my growth at the company. It showed I had the grit to accept critiques and the drive to thoroughly overhaul my technique. If hired, I'll bring that same motivation to level up however needed to advance in your company."
How would you keep the positive energy and enthusiasm going even when it's slamming?
The Dutch Bros interviewer wants to uncover your enthusiasm and ability to stay positive under pressure by asking this question.
To answer it well, you'll want to convey your genuine enthusiasm for the brand and customers, give an example of how you stay positive during a rush, and express confidence in your ability to keep that enthusiasm going long-term.
"I would keep the positive energy and enthusiasm going during a slam by focusing on each customer interaction. As I'm taking orders and making drinks, I'll greet each customer with a smile, make eye contact, ask how they're doing, and call them by name if I know it. I'll also try to compliment them or say something to make them laugh. Staying fully present in each moment and interaction helps the time pass quickly and keeps me energized. I thrive off the high energy during a rush and love being able to provide great service and products to so many people at once. My enthusiasm for Dutch Bros and our customers will drive me to power through any challenges with a positive attitude. Just give me the chance, and I'll show you how my passion and positivity can energize your entire team and every single customer."
Tell me about your strengths and weaknesses. How would they help or hinder you as a Broista?
The interviewer wants to see self-awareness and how your unique qualities would make you a star Broista.
Highlight strengths like passion for coffee, fast learning, and customer service skills. But also discuss weaknesses, like being a perfectionist (hey, it's good and bad!). Share how you're improving, like learning to ask questions when unsure instead of wasting time.
Want an example? Here's what they'd love to hear:
"My biggest strengths for this role would be my energy and ability to connect with customers. I'm the type of person who lifts up everyone around me, whether it's customers enjoying their favorite drink or coworkers on a tough shift.
On the other hand, I can get so enthusiastic that I talk too much! I've learned the hard way that speed and efficiency are crucial as a barista. So, I've been working on strategies to maximize my time, from setting timer goals to minimize chit chat, to lists that keep me focused on the task at hand.
Overall, my positivity and social skills would allow me to provide an unbeatable experience for Dutch Bros customers. And don't worry, I'll keep the conversation short and sweet while churning out killer coffee!"
What kind of music pumps you up and puts you in a fun, energetic mood?
The interviewer wants to see your vibrant spirit shine through with this question. When they ask about your pump-up music, they're not looking for a generic "pop" or "hip hop" answer. They want to know the beats that ignite your passion and make you come alive!
So crank up that rad tune that amps you up, and channel that energetic vibe. Maybe it's a throwback track from your high school glory days, or a new release from your favorite EDM artist. Share the song that makes you want to dance, pump your fists, and take on the world.
If you can convey that level of enthusiasm in your answer, you'll show them you're a perfect fit for the Dutch Bros culture. Check out this sample answer:
"No song energizes me more than 'Thunderstruck' by AC/DC. As soon as I hear that guitar riff, it's like I've been jolted by 1.21 gigawatts of electricity! The pounding drums and screaming vocals make me feel like I could wrestle a bear or race a cheetah. That classic rock anthem is my ultimate pump-up jam and never fails to ignite my thrill-seeking spirit. When 'Thunderstruck' comes on, I'm ready to party and make every moment an adventure. You better believe I'll bring that same high-octane attitude to the job every single day at Dutch Bros!"
Can you describe a time when you did the ethical or moral thing, even though it was difficult?
Tough questions like these are asked to get a sense of your moral compass. The interviewer wants candidates with integrity who can stay cool under pressure and make the right call, even when it's the hard choice.
When answering this question, show them what ethics means to you and how you think on your feet during difficult situations. Speak genuinely about your decision-making process – they want to see that you have strong values and judgment.
In short, they're looking for people with character. Now, picture this…
"One time as a barista, I noticed a regular customer had left their wallet in the cafe after leaving. I knew this customer came in often and would certainly realize they were missing their wallet once they got to their car. However, we were very busy with a line out the door. I had a choice to make – do I continue serving the long line of waiting customers as fast as possible to keep up, or do I take a few minutes to run the wallet out to the customer in the parking lot? Despite the rush, I knew returning the wallet was the right thing to do. I asked my manager to take over for a couple minutes while I ran it out to the customer. When I gave them their wallet, the look of relief and gratitude on their face affirmed that I made the ethical choice, even though it was difficult in the moment with so many impatient customers waiting inside.
While it certainly wasn't the most convenient choice, I'd do it again in a heartbeat. Strong values and ethics are more important to me than any short term inconvenience. That experience showed me the impact of doing the right thing, even when it's difficult. And that's the type of integrity and character I would bring to a role at Dutch Bros."
If you could ask one question to get to know a customer and provide them with an amazing experience, what would that question be and why?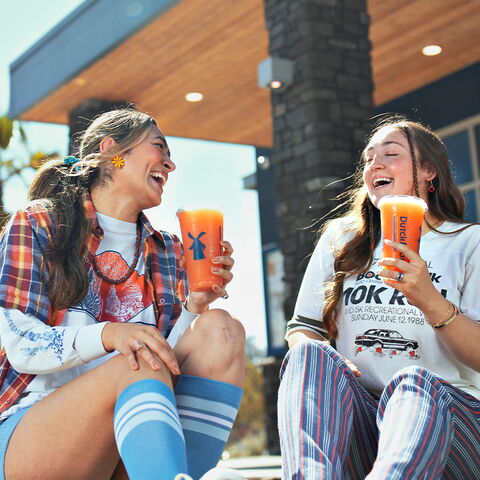 Dutch Bros wants someone who can take one look at a customer and instantly strike up a lively conversation as if you've known each other for years. Someone bursting with positivity who can discover common ground in minutes and turn a quick coffee run into a highlight of that person's day.
In short, they want a people person. Is that you?
If so, here's how to nail this question:
Do some digging on Dutch Bros' company culture. What makes their brand so addictive? (Hint: it's all about the experience!) Come prepared with a few of your favorite get-to-know-you questions and stories showcasing your ability to connect. Share your passion for delivering over-the-top customer service and building real relationships.
Picture this example answer:
"If I could ask one question, I'd say 'What little thing always brightens your day?' People's answers reveal so much about what they value and who they are beyond the usual job/family chatter. Maybe they'll mention watching the sunrise with a fresh cup of coffee or hearing a favorite song come on the radio. Whatever it is, that's my opening to share something personal too and start forging a real bond. I'd say 'That sounds amazing. For me, it's things like that – the simple pleasures – that make each day special.' Now we have the start of a genuine conversation and the opportunity to make this quick stop for coffee into a bright spot they'll remember, which is exactly the experience Dutch Bros is all about."
How will your personality, values, and work ethic contribute to our fun and uplifting company culture?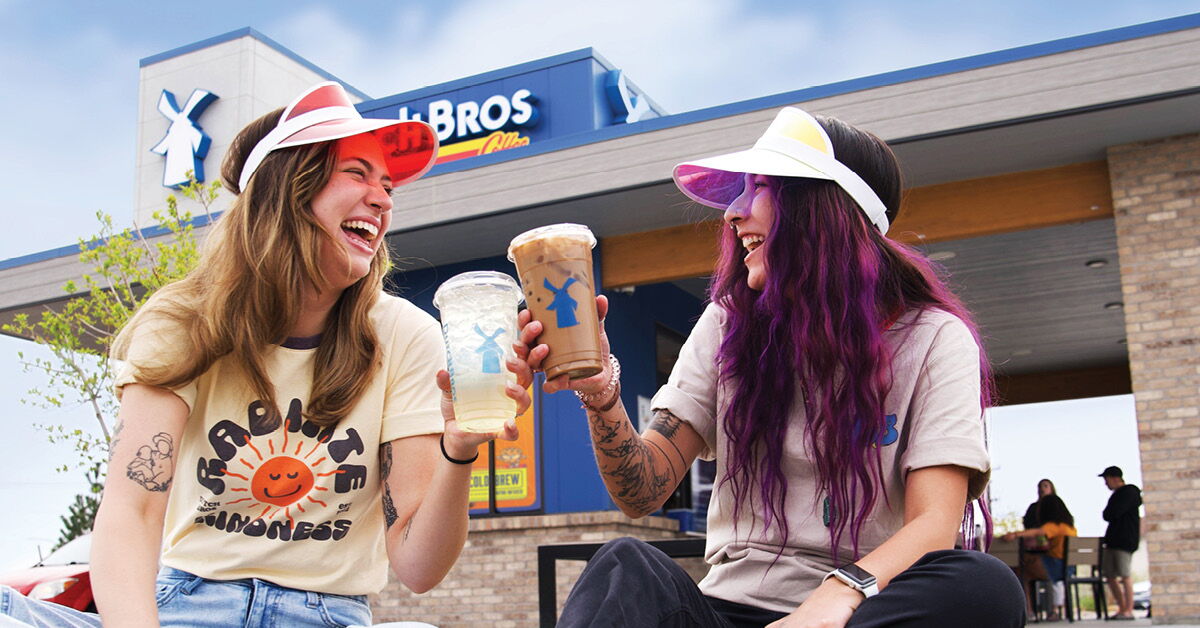 This question is Dutch Bros peeking under the hood to see if you've got the engine to power their upbeat culture.
So rev that positivity and crank up the charm! Show how your vibrant personality will fuel an atmosphere of laughter and cheer. Prove your values are in tune with their good vibes only mantra. And pledge a work ethic so strong, you'll have customers dancin' with delight.
Slide into an answer like this:
"My smile is always on, my laugh is always loud and my motivation is endless. I'll hustle to craft the most delicious drinks, hype up my co-workers, and spread feel-good moments like wildfire. The success of my day depends on the smiles I can coax – whether from a regular savoring their usual or a first-timer falling in love with the Dutch Bros experience.
Why fit in when you were born to stand out? I want to amplify your one-of-a-kind culture with my own splash of sunshine. People will walk through your doors in a regular ol' mood but leave as the happiest version of themselves. Now that's my kind of workplace vibe!"
What specifically appeals to you about working for Dutch Bros?
The interviewer wants to see your passion ignite before our eyes and hear authentic enthusiasm in your voice.
You should express genuine interest in the company's mission and philosophy. Mention things like their focus on community, fundraisers they participate in, or their culture of upbeat positivity. Share how those things personally resonate with you.
In all honesty,
"The opportunity to spread joy and cultivate real human connection is what appeals to me most about Dutch Bros. I thrive in fast-paced, social environments where I can express myself fully while crafting an amazing experience for each customer.
Your focus on individuality, kindness, and relationship-building creates a space where I know I would excel. The chance to positively impact people's days through hard work and a killer smile is what motivates me. I love that Dutch Bros uses business as a way to enrich communities rather than just to turn a profit.
Ultimately, my own values of positivity, service, and gratitude have found a home in the Dutch Bros philosophy. To me, this role would be far more than just another barista gig – it would be a chance to live out my purpose in a culture that celebrates the same."
How did you first hear about Dutch Bros Coffee, and what motivated you to apply for this position?
The purpose of this question is for the interviewer to gauge your genuine interest and passion for the company culture. By answering honestly and enthusiastically, you'll convey why you're motivated to join the Dutch Bros team.
So be authentic and share what truly motivates you. We dare you to convey your enthusiasm in a way that makes the interviewer reach for another application. ☕️ In other words, don't hold back!
For example:
"The first time I walked into a Dutch Bros, I knew I had found my tribe. The pounding music, the laughter between baristas and customers, the heavenly aroma of fresh coffee—all of it ignited a spark inside me. In that moment, I could see my future unfolding: spreading smiles and joy each day by crafting personalized drinks, getting to know the stories of every customer who walks through the door, and being part of a team that genuinely cares about enriching lives.
That spark has only grown over the years as I've watched Dutch Bros' unmatched commitment to community and positivity. So the opportunity to finally join this mission, to play even a small part in strengthening relationships one cup at a time—that is my motivation for applying today. I want to be the friendly face and listening ear that creates memorable moments of bliss with each drink I serve. I know that's what working at Dutch Bros is all about, and it's exactly what fuels my passion for this role."
Three core values define Dutch Bros: speed, quality, and service. Which one of these do you personally align with the most and why?
This question is designed to uncover which of Dutch Bros' core values – speed, quality, or service – sets your soul on fire. They're looking for passion, authentic examples, and a glimpse into your relentless drive to deliver an unparalleled experience.
So how can you ace this question? Focus on one value and bring it to life with a compelling story. Share how your commitment to that value would make you an invaluable member of our community. And above all, let your enthusiasm for our mission shine through. Because at the end of the day, they're not just hiring someone to sling coffee – they're bringing on a new member of the family.
"Out of your core values, service resonates with me the deepest. I live to brighten people's days through small acts of kindness and a spirit of genuine care. Like in my previous role as a barista, if we were in the weeds during a rush, I'd sprint out to the drive-thru to take orders in person. Sure, it was more work, but to see the surprise and smiles light up each customer's face? That made every extra effort worthwhile.
The community-first attitude you fosters is what drew me to Dutch Bros in the first place. I want to be part of a company that inspires warmth and belonging, one heartfelt interaction at a time. Service isn't just something I value or do well – it's who I am. And who better to join than a brand devoted to spreading positivity and uplifting others? This role would be far more than just a job to me. It'd be a calling."
If you had to choose a song that reflects your personality and approach to life, what would it be and why?
This question is a chance for you to showcase what a great fit you'd be for Dutch Bros culture.
Our advice? Pick a pumped-up, positive anthem that makes you want to dance, like you do for customers every day. Share the story behind why those lyrics move you. Let your passion for coffee – and life – shine through!
Check out this example:
"The song that fuels my hustle is 'Lose Yourself' by Eminem. Those hard-driving beats and fearless lyrics embody my approach to every shift: 'Success is my only option, failure's not.'
I've had plenty of times where the line was out the door, the blenders were shrieking, and the frappé mix was running low. But I never cracked under pressure. I dug deep, kept my energy up and rallied my team to crush it, just like Eminem always rises to any challenge.
That kind of determination and team spirit is what I'd bring to Dutch every single day. Whenever things heat up, I'll just cue up 'Lose Yourself' in my head, and keep fighting 'til the battle's won. Because giving anything less than my all isn't why I'm here – I'm here to be the best barista I can possibly be, one delicious drink at a time."
If you had a superpower, what would it be, and how would you use it to positively impact those around you?
The Dutch Bros interviewer wants to see your creativity blossom, your values shine through, and how you would use your gifts to make a meaningful difference in the world.
When crafting your answer, think of a superpower that would allow you to spread kindness like wildfire and ignite inspiration in the lives of others. A power that would let you make a lasting impact in your own uniquely heartwarming way.
Here is what you could say:
"If I had a superpower, it would be the ability to heal illness and injury with a single touch. I would spend my days visiting hospitals, wiping away the pain of those suffering from terminal illnesses and calamitous injuries. With a gentle brush of my hand, years of anguish would melt away, filling patients with a renewed sense of hope and gratitude for the simple pleasures of each new day.
Their worried loved ones, hearts heavy with fear and stress, would feel that burden lift in an instant knowing their cherished friend or family member will make a full recovery. While it may seem a small act, for those individuals it would mean a chance to pursue long-lost dreams and a life unbound by sickness.
Using my superpower, I hope to spread compassion like wildfire, lighting up the world with kindness and making an immeasurable difference in as many lives as I possibly can. What more could anyone ask for than to ease the suffering of others and see joy reignite in their eyes once more?"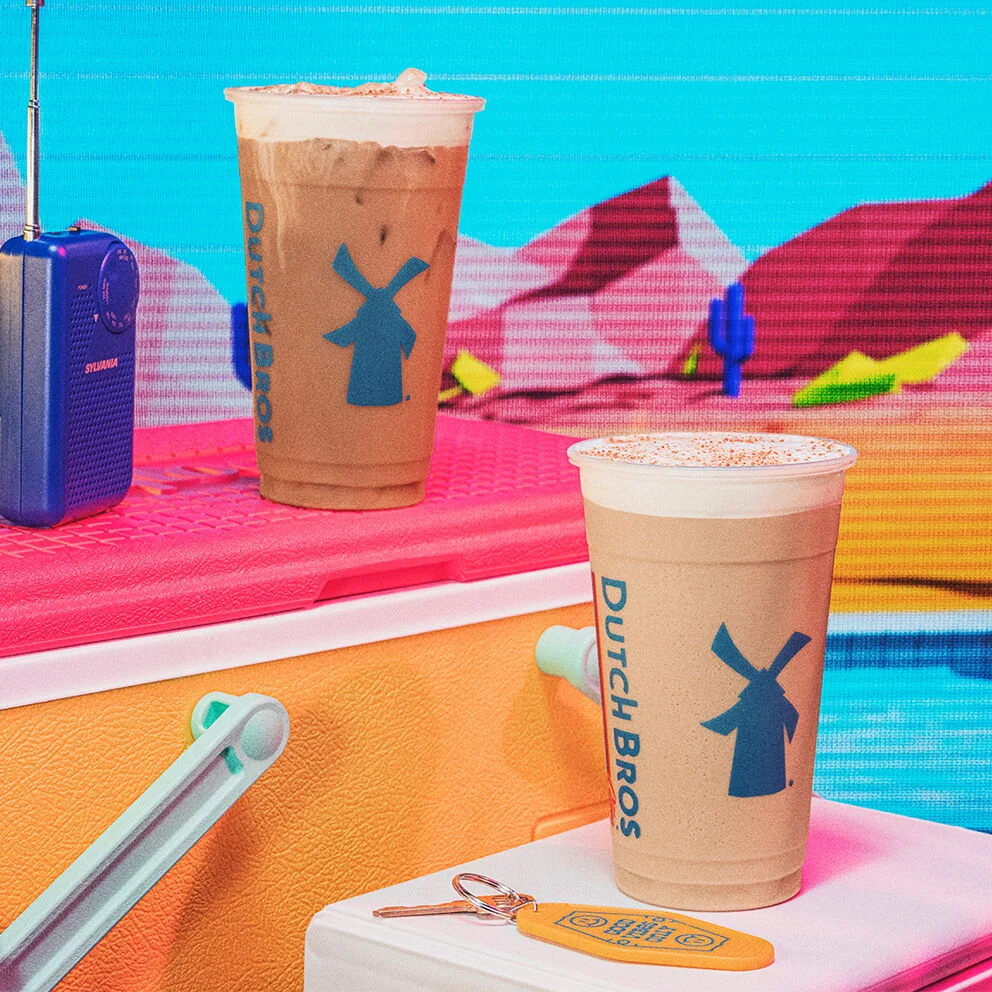 Dutch Bros is on the hunt for candidates with an eagle eye for detail who can whip up drinks at record speed while still achieving Dutch Bros perfection.
To nail this question, show your enthusiasm for their menu and share how you would systematically study to become a Dutch Bros pro. Explain how you would note the subtle nuances that take our drinks from ordinary to extraordinary. Trust us, the interviewer can spot a true Dutch Bros fan from a mile away!
To illustrate, here is an example answer:
"Your menu would become my nightly bedtime story. I would pore over each item, salivating over descriptions of sweet, creamy Annihilators and refreshing Brigadeiros. To cement the details in my memory, I might make flashcards, quiz myself on ingredients and sizes, and even practice my free pouring technique at home to master the Dutch Bros swagger.
For instance, crafting an Annihilator would be an art form I would perfect. I now know that a triple-shot espresso, milk, vanilla and caramel come together to create that signature Annihilator flavor. But it's the carefree caramel drizzle and silky smooth layering that turns an ordinary drink into a little taste of heaven. That's the kind of attention to detail you can expect from me with every order."
What is your favorite drink from Dutch Bros and why?
This question is the interviewer's secret weapon to probe your passion for the brand.
To ace this, you'll want to show you've explored the menu, have a clear favorite, and can give vivid reasons why it stands out. Speak authentically but also with enthusiasm – they want to see pumped about Dutch Bros!
This is what you might say:
"My favorite drink from Dutch Bros is the Nitro Cold Brew Iced Annihilator. The combination of Dutch Bros' signature nitro cold brew coffee infused with espresso shots and topped with creamy half-and-half and rich chocolate macadamia nut syrup, creates a delicious balance of bitter coffee and sweet chocolate flavors that satisfies my taste buds.
As someone hoping to join the Dutch Bros team, I appreciate that you take care to craft drinks that not only taste great but also energize your customers. The espresso shots in the Annihilator give an extra caffeine boost that would keep me going during a long work day or shift at the coffeehouse.
While any drink from the Dutch Bros menu appeals to me, I am drawn to this one because it exemplifies Dutch Bros' innovative approach by combining different textures, flavors, and ingredients to create something truly unique. Crafting and serving specialty coffee beverages that customers love is what I hope to learn from Dutch Bros, so this drink in particular captures for me what the company stands for."
What do you prioritize in your life? What matters most to you and gives you a sense of purpose or fulfillment?
The interviewer is asking this question to gain insight into what really motivates and drives you. They want to determine if your priorities and values align with Dutch Bros' company culture.
The truth is, they hire people, not robots. They want to see that you're human too, with aspirations, relationships, and a desire to make an impact.
Our inside scoop? Share your honest priorities in life and how they fuel your sense of purpose.
To illustrate,
"For me, growth, connection, and meaning are non-negotiables. I have an insatiable curiosity to expand my mind through exploration and learning. Whether diving into a new book, podcast, or online course, constant self-discovery lights me up.
Likewise, my relationships are my refuge and inspiration. My nearest and dearest see me at my wildest and messiest, yet love me through it all. Their support and partnership in crime motivate me to be the best version of myself.
Finally, making a dent in the universe is what I live for. Helping others in my community or brightening a stranger's day gives me an unparalleled high. Using my gifts to spread smiles and opportunities, however small, is the juice that keeps me going.
Those three things – growth, connection, and meaning – are my fuel. My deepest drivers. My version of purpose."
The interviewer is trying to gauge your problem-solving skills and ability to thrive under pressure. They want candidates who can maintain positivity in the face of challenges—a must for succeeding in this fast-paced environment.
Forget generic examples, and choose a story that gives a glimpse into your character. Share a time you averted a crisis by staying calm and resolving a conflict with an unreasonable customer or coworker. Explain what you learned and how you grew from that experience. Show them that you have the grit to overcome obstacles and the heart to connect with people along the way.
The make-or-break moment: Here's how to ace this question.
"One of the most demanding days at my previous job was when an irate customer threatened to get me fired over a botched drink order. In the moment, I felt frustrated and confused, but I took a deep breath and apologized sincerely. I remade their drink, gave them a complimentary muffin, and offered a coupon for their next visit. Though it stung to be yelled at publicly, I realized that staying composed and solution-focused was the best way to gain their trust again.
From that interaction, I grew into a more empathetic and adept problem-solver. I discovered the patience to understand others' perspectives, even when they clash with my own. I learned that turning angry customers into enthusiastic regulars is about listening with care, admitting mistakes humbly, and making things right. Every difficult encounter now shapes me into a cooler-headed and more compassionate leader. I hope to bring these skills to navigate the pressures of a fast-paced work environment like Dutch Bros."
If you could grab a coffee with anyone in the world, who would you choose and why?
This question is asked to gain insight into your interests, values, and priorities outside of work.
They want to see who inspires you and gives you that fire in the belly! So choose someone who motivates you to achieve the impossible. Be ready to share the qualities you admire in them and how they impact you.
"If I could grab a coffee with anyone, I would choose the pioneering astronaut Sally Ride. As the first American woman in space, she rocketed through the ultimate glass ceiling and became my hero. I'd love to hear her stories of blasting off into the unknown, smashing stereotypes, and proving women are just as fearless as men. What gave her the guts and grit to conquer a male-dominated field? How did she stay focused when the whole world doubted her? A chance to meet my idol would be a dream come true. I'd soak in every word of wisdom she had to offer.
Sally Ride showed me I can shoot for the stars and make the impossible possible. Her courage in the face of adversity still inspires me today to fight for my dreams and never take no for an answer. Grabbing coffee with a true pioneer like her would light a fire in me to achieve things no one's ever achieved before! That's the kind of motivation and determination I'd bring to a role at Dutch Bros. So who would you choose to grab coffee with? I bet they've impacted you in amazing ways too!"
The role often requires the ability to multitask while maintaining speed, quality, and service. Can you successfully juggle multiple tasks and responsibilities at once?
The Dutch Bros hiring manager wants to see if you have the moxie to handle the controlled chaos of their high-energy environment. Our advice? Come armed with vivid examples of how you can deftly juggle a multitude of tasks at lightning speed while keeping quality sky-high.
A top candidate recognizes that dominating this role means having an uncanny ability to switch priorities on a dime, solve problems on the fly, and thrive under pressure hot enough to steam an 8-shot latte. In other words, only apply if you have "intestinal fortitude" in spades.
"Abso-positively. I have a proven track record of running multiple responsibilities in breakneck settings that make Dutch Bros during happy hour seem sluggish. For instance, in my previous role as a barista, I frequently fielded up to 15+ drink orders at once – we're talking custom cold brews, frothy cappuccinos, and funky frappés – while also manning the register, replenishing supplies, and pushing out flawless products under the gun.
By staying hyper-organized, communicating crisply with my team, and homing in on the most crucial tasks first, I slung speedy, high-quality beverages to all of our caffeine-crazed customers, even during total chaos. I understand the high-octane Dutch Bros model inside and out and have zero doubts about my ability to keep operations cranking, no matter the chaos or obstacles.
I was born ready for your breakneck pace and non-stop action. Just give the word, and I'll prove that your rush hour has nothing on me."
What is your availability like? Are you open to working early mornings, late nights, weekends, and holidays?
The interviewer wants to see how dedicated you are to the job. They're looking for candidates willing to put in the work whenever needed, ready to start the daily grind in the wee hours of the morning, and willing to stay late into the night to close up shop.
To ace this question, show you're flexible and enthusiastic. For example, you could say:
"Bring on the early mornings, the late nights, the weekends – my schedule is wide open, and I'm ready to go whenever Dutch Bros needs me. I didn't apply to this role expecting a 9 to 5. I want to fully immerse myself in the world of Dutch Bros, learn the ins and outs, and prove that I have what it takes to be an amazing barista. There's no place I'd rather be than behind that counter, crafting amazing drinks and delivering an unbeatable experience for every single customer. My availability isn't just open, it's chomping at the bit to get started!"
Showing up is half the battle! Do you have reliable transportation to get you to work on time?
What the interviewer really wants to know is: do you have the drive and dependability to get yourself to work, no matter what? Transportation mishaps are one of the top excuses for tardy and truant employees, so they have to ask these tough questions.
When the interviewer asks about your reliability, here's how you can win them over:
Show your grit. Tell them you've navigated traffic jams, public transit hiccups, and the occasional car trouble but still made it to work on schedule. They want people with determination who don't buckle under pressure.
Give them the details. Simply saying "yes" won't cut it. Dazzle them with examples of your timeliness and backup plans, like, "My Camry is detailed weekly, and I budget extra time in case of delays. I also have reliable rideshare on hand for emergencies." Specifics show you have foresight and a problem-solving attitude.
Share your values. Convey how critical punctuality is to you, e.g., "Making it to work on time is a point of personal pride for me. I believe it's a sign of respect to my coworkers and customers to be present and ready to go when my shift starts." Your work ethic says a lot about your character.
With the right strategy, you'll nail this question and prove you're the dependable hire they're looking for!
"Absolutely, I have a foolproof system to ensure I'm never late. I do routine maintenance on my car to avoid any surprises, budget double the time I need in case of traffic, and have a list of backup rides if there's ever an emergency. Getting to work on schedule is non-negotiable for me—it's a matter of personal integrity and professionalism. You'll never have to worry about me delaying operations or letting my team down. Consistency and reliability are my hallmarks."
Questions to Ask the Interviewer in Dutch Bros Interview
When the interviewer asks if you have any questions for them, this is your opportunity to shine.
This question allows you to show your enthusiasm and interest in the role, company values, and growth opportunities. Come prepared with thoughtful questions that demonstrate you researched the company and role.
Don't leave this chance on the table by saying you have no questions. That signals you lack curiosity or interest in the work. Instead, be ready to engage in a meaningful discussion. The questions you ask reflect your priorities and enthusiasm as a candidate, so spend time developing questions you genuinely care to explore.
Transitioning the interview into a conversation where you ask perceptive questions and actively listen to the answers allows you to stand out from other applicants. The interviewer gains insight into your mindset, values, and motivations through the dialogue. Most importantly, the questions you ask should inspire the interviewer to see your potential as a strong culture add and future leader within the company.
Here are some questions you can ask your Dutch Bros interviewer:
What do you think makes someone successful in this position?
Could you tell me more about the company culture at Dutch Bros and how it supports the personal and professional growth of its employees?
I understand that Dutch Bros is passionate about making a difference in the community. Can you provide an example of a recent community initiative the company has been involved in?
I read about the Education Benefit Program. Could you share some success stories of how this program has helped employees in their career growth?
How does Dutch Bros define and measure success for a Broista, particularly in terms of speed, quality, and service?
What does the onboarding process look like for new Broistas, and how does it set them up for success in their role?
I'm particularly excited about the paid volunteer time. Could you tell me about some of the volunteer activities that employees have been involved in?
What does a typical day look like for a Broista at Dutch Bros?
How does Dutch Bros ensure consistency across its locations in terms of speed, quality, and service?
I understand that Dutch Bros is more than just a beverage company and is actually in the relationship business. Could you elaborate on that and tell me more about how this philosophy is implemented in daily operations?
How does Dutch Bros handle feedback and suggestions from its employees to improve the overall working experience or customer service?
What is your favorite part about working at Dutch Bros, and what has kept you with the company?
What are some challenges that Broistas often face, and how does Dutch Bros support them in overcoming these challenges?
What do you see as the most important priorities in the first 3-6 months of this role?
What opportunities for growth or career advancement may be available to someone in this position over time?
What are the next steps in the interview process?
Is there any additional information I can provide that would be helpful for you in making your decision?
What is the typical career path for someone in this position?
What do you think would be the biggest challenge for someone starting in this position?
Dutch Bros Hiring Process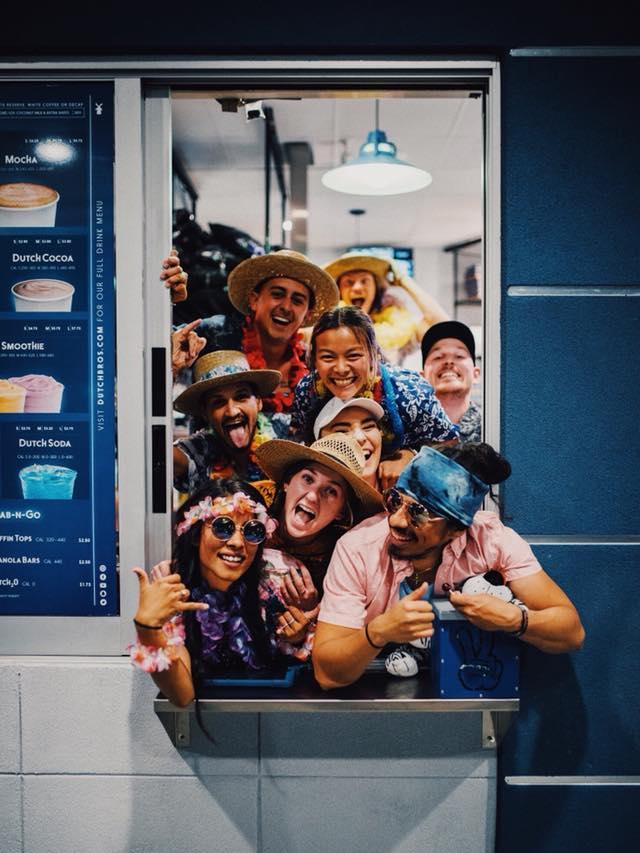 You'll encounter a multi-step hiring process at Dutch Bros, focusing largely on finding people who are a good match for their unique culture.
Begin by submitting your resume either online or in-person when you apply. If they like what they see, you'll be invited for an initial phone or in-person interview.
This first interview is casual, aimed at getting to know you as a person. They'll ask questions to understand your interests, personality, and values to see if you'll fit in well with their team. Many candidates interview at once during this stage, with only the best culture fits advancing.
Should you make the cut, a second round interview with managers and owners awaits. You'll discuss your relevant skills and experience, as well as your career goals, in more depth. A select group moves forward after this round.
Next is a group interview with multiple candidates together. Short interviews with several managers and owners give you a chance to interact with each other, so they can evaluate your communication, enthusiasm, and how you'd fit into their team dynamic.
The final stage involves job offers to the top candidates from the group interview, followed by an orientation and comprehensive training on operations, products, customer service standards, and company values. The training focuses on preparing staff to represent the Dutch Bros brand and culture from day one.
Dutch Bros weighs factors like culture fit, personality, and soft skills over hard skills and experience when deciding who to hire, selecting people that show the most potential to thrive in their culture and provide exceptional customer service.
Although the multi-stage hiring process at Dutch Bros can be time-consuming, it is designed to set up new team members for success in a role that prioritizes friendly, outgoing personalities who can deliver an amazing customer experience.
Dutch Bros Interview Tips
To succeed in your Dutch Bros interview, showcase your genuine, outgoing nature and passion for customer service. Prepare stories illustrating your positive attitude, work ethic, and teamwork. Maintain eye contact and stay engaged during group interviews to demonstrate cultural fit. Most importantly, be yourself and have fun!
What to Wear to Dutch Bros Interview
Dutch Bros has an informal, open dress code that prioritizes employee comfort and self-expression over strict guidelines. Employees are allowed to dress in a way that feels authentic to them.
So you'll want to dress accordingly for your interview while aiming for comfortable, relaxed attire that expresses your authentic self.
Here are some specific recommendations:
Jeans – Wear a pair of clean, non-ripped jeans with no holes. Darker, less faded jeans tend to be more interview appropriate.
T-shirt – Opt for a solid-colored v-neck or crew neck t-shirt in navy, heather grey, or maroon. No graphic tees or band shirts.
Sneakers – Choose a pair of tennis shoes or casual leather sneakers in good condition. Avoid bright colors or unique designs.
Minimal jewelry – Stick with 1-2 simple pieces like stud earrings and a watch. Leave flashy jewelry at home.
Clean hair – Style your hair in a way that is neat yet natural for you. Avoid overly gelled or sprayed looks.
Natural makeup – If you typically wear makeup, apply a natural daytime look for the interview. Opt for subtle tones.
The key is to dress simply, but neatly so you still make a good impression without looking overly formal. Bringing a folder with copies of your resume and references can show preparedness and professionalism. And most importantly, be yourself. Dutch Bros wants to hire people who will live their culture authentically – so wear something that feels comfortable for you!
Conclusion
You now have the knowledge and tools to confidently prepare for your interview with Dutch Bros. By reviewing their most commonly asked questions and practicing your responses, you will walk into that interview ready to impress the interviewer with your well-thought-out answers. Use your enthusiasm for the company and role to show why you're the perfect candidate. With the right preparation and positivity, that job can be yours.
Studying these Dutch Bros job interview questions will put you ahead of most other candidates, but the job isn't yours until you have an official offer letter. Even after nailing your Dutch Bros interview, keep the momentum going by sending out more applications. Similar chains like Starbucks, Dunkin', Tim Hortons, Scooter's Coffee, and Peet's Coffee are always hiring and would likely value the same skills and experience that Dutch Bros does.
While Dutch Bros would be an awesome place to work, don't bank on any one opportunity until you have a job offer in hand. The key is to cast a wide net and keep pushing out applications until you land the job you want. The more you put yourself out there, the more opportunities will arise.
Stay optimistic in your search, keep refining your skills, and the perfect job for you is bound to turn up. You have so much talent and potential, so get out there and show other businesses what you're made of. The possibilities are endless if you refuse to give up. Keep your head high, and never stop chasing your dreams.