25 Jimmy John's Interview Questions (And Fresh Answers)
The nerves are starting to kick in as your Jimmy John's interview draws near. Your mind races as you think about the types of questions they might ask and whether you'll have a good answer for each one. You replay past interview experiences in your mind, hoping this one will be different. This time, you want to nail it.
That's why we've put together this guide of the most commonly asked Jimmy John's interview questions, along with compelling example answers.
Read on to gain insight into the questions they're most likely to ask and discover powerful ways to stand out from other candidates by demonstrating how you're the perfect fit for their team.
With the right preparation and enthusiasm, you have the ability to transform your nervous jitters into excitement for the opportunity ahead. Use the responses we've provided as inspiration, but be sure to tailor them to match your unique experiences and personality.
Now take a deep breath and start getting excited – your time is almost here!
Jimmy John's Company Information
Familiarize yourself with Jimmy John's essential facts before your interview. Doing so will provide a foundation to confidently answer any research-based questions and convey your enthusiasm for the company.
| | |
| --- | --- |
| Trade Name | Jimmy John's |
| Type | Fast Food Restaurant Chain |
| Date Founded | Jan 13, 1983 |
| Founders | Jimmy John Liautaud |
| Headquarters | Champaign, Illinois, United States |
| Menu | Sandwiches, Subs, Drinks, Sides |
| Signature Items | J.J. Gargantuan, Italian Night Club, Ultimate Porker |
| Core Values | Freaky Fast Service |
| Website | www.jimmyjohns.com |
| Competitors | Firehouse Subs, Jersey Mike's, Subway, Potbelly, Capriotti's |
Additional facts:
Roots in Freshness and Speed: Founded in 1983, Jimmy John's staked its reputation on providing fresh food quickly, using high-quality ingredients sourced within the USA.
Origins in Hot Dogs: The founder, Jimmy John Liautaud, originally intended to open a hot dog stand. Due to budget constraints, he decided to open a sandwich shop instead.
Green Practices: Jimmy John's places a high value on sustainability, practicing recycling and sustainable farming, and supporting local businesses like contractors, plumbers, and electricians.
Controversial Non-compete Clause: In 2016, Jimmy John's faced legal trouble for a non-compete clause that restricted its employees from working in any other sandwich shop or deli within a 2-3 mile radius.
Food Poisoning Incidents: The chain has been linked to several food poisoning outbreaks, often associated with its sprouts.
FDA Warnings: In 2020, Jimmy John's received a warning from the FDA following an E.Coli outbreak, prompting them to remove all sprouts from their locations.
Political Controversies: Jimmy John Liautaud has faced public protest and boycotts due to his political affiliations and support for controversial figures.
Labor Unrest: In 2010, employees in Minneapolis aimed to unionize due to poor working conditions, leading to legal issues for Jimmy John's.
Big Game Hunting Controversy: Liautaud faced criticism for his participation in trophy hunting, following the circulation of photos of him with dead animals.
Delivery Advantage: To combat increasing competition from third-party delivery services, Jimmy John's emphasizes that it delivers its own orders and has capped delivery distance to five minutes from its stores to ensure maximum freshness.
Delivery Accidents: Jimmy John's 'freaky fast delivery' promise led to some serious accidents, causing legal trouble and a shift in their delivery practices.
Act of Kindness: A Jimmy John's store owner went above and beyond to deliver a sandwich to a dying man outside their delivery area, a small act that had a big impact.
Secret Menu: Jimmy John's has some off-menu items known only to savvy customers, adding an element of surprise and exclusivity to their offerings.
Surprising Nutrition Facts: Despite the seemingly healthy ingredients in Jimmy John's subs, some items, like The Veggie, can be shockingly high in calories, fat, and sodium.
Founder's Limited Role: While the company is named after Jimmy John Liautaud, he sold a majority of the company to Roark Capital in 2016 and now focuses more on his personal interests, such as his car and yacht collection.
Wage Theft Accusations: Jimmy John's has faced legal battles over wage theft, with employees alleging they were forced to work off the clock and were not fairly compensated for their efforts.
Promotional Tactics: From Jimmy John Liautaud handing out free subs to attract customers in the early days, to the current Freaky Fast Rewards program, the company continues to use free food as a marketing tool.
Celebrity Endorsements: With high-profile fans like NFL quarterback Drew Brees and former Republican presidential candidate Mitt Romney, Jimmy John's enjoys some star-powered publicity.
No Toast Policy: To maintain its promise of making sandwiches 'freaky fast', Jimmy John's doesn't toast bread, choosing speed and efficiency over additional menu options.
Unforgettable Moments: From a delivery driver throwing a sandwich newspaper-style to an employee reminding former NFL star Dan Orlovsky about an embarrassing on-field moment, Jimmy John's has seen some unique incidents.
Jimmy John's Interview Questions
Can you walk me through your resume?
This question is a very common opening one in interviews.
The interviewer wants to see that you can speak articulately about your experience, share relevant highlights, and convey why you're the best candidate for the role.
When this question comes up, speak confidently about your relevant experience and achievements, share how you'll use what you've learned to contribute to Jimmy John's, and get the interviewer excited about what an asset you'll be.
To do this, focus on your relevant roles, like your time as a cashier or sandwich artist, where you honed skills that would be perfect for Jimmy John's.
For example, you could say:
"In my previous role as a cashier, I was responsible for serving over 100 customers per shift during busy hours. I used a combination of quick decision-making and attention to detail to handle cash and card transactions accurately. My strong communication skills enabled me to resolve customer complaints effectively.
At Subway, my role was more focused on food preparation and speed during high-traffic lunch periods. For instance, I developed a system for assembling sandwiches that allowed me to complete orders within 120 seconds without compromising on quality.
I'm excited about the possibility of bringing my customer service expertise and efficiency to this role at Jimmy John's. I'm particularly drawn to your brand because of your commitment to quality and quick service, which aligns well with my skills and values."
Why do you want to work for Jimmy John's?
When the interviewer asks this question they want to see that you're as pumped as they are about slinging subs. This is your chance to show how much you adore their company culture.
Talk about your experience as a customer – maybe you have a favorite sub you order every time or a memory of the crew going above and beyond. Share how motivated you are to join their team and work in such an energetic environment. Discuss your goals and dreams to advance your career with them. Speak genuinely from the heart.
For example, you could say:
"I've been hooked on Jimmy John's ever since my first sub. The crew's passion for speedy service and community involvement is inspiring. I'd love the opportunity to start building my career with a company I already believe in. My dream is to work my way up to managing a shop, and I can't imagine a better place to make that happen."
How would you contribute to our freaky fast, fun, and accurate environment?
The interviewer is trying to gauge if you'll be a good culture fit and excel in Jimmy John's fast-paced, detail-oriented environment.
How can you prove you're going to rock this gig?
Talk about how you live for the rush of fast-paced work, you geek out over getting the details just right, and you know how to have fun even when the pressure's on.
Share some stories of times you dominated in high-speed, high-stakes jobs. Show how you can bring that same passion and drive to Jimmy John's.
So once you've hyped up your relevant experience, kick that answer into high gear! For example, you could say:
"I would contribute to the freaky fast, fun, and accurate environment by always maintaining a positive can-do attitude, especially during busy periods. I work very efficiently and accurately under pressure. I understand the importance of speed, quality, and customer service in the quick-service restaurant industry. You can count on me to prepare sandwiches and fulfill delivery orders with care, speed, and a smile. Jimmy John's won't know how it ever got by without me!"
What do you like to do for fun in your free time?
We know questions about your hobbies and interests outside of work can seem like casual small talk, but for the interviewer at Jimmy John's, this question has a purpose.
They want to get a sense of your personality and see if you seem like someone who would fit in with the team and company culture.
When delivering your answer, speak with genuine enthusiasm about the hobbies that truly energize you. Let your passion for life radiate through, and keep things positive and concise.
Once the question is asked, pause, smile, and say something like:
"Outside of work, I really enjoy being active and spending time outdoors. On the weekends, I like to go for hikes at the state park nearby, play tennis with friends, or go for a jog around my neighborhood. I also have a creative side and like to unwind by cooking and baking. Trying out new recipes and feeding friends and family is how I relax in my downtime. Overall, I aim to pursue a balance of activities that keep me both physically and mentally stimulated when I'm not working."
We have a fast-paced environment where speed and accuracy are key. Are you up for the challenge?
When the interviewer asks if you're up for the challenge of their fast-paced environment, don't hesitate – flash them a winning smile and say, "Absolutely, bring it on!"
We know the pace at Jimmy John's is no joke. Sandwiches flying, customers chatting, phones ringing off the hook. It's controlled chaos.
But you thrive in environments like this, don't you?
You're the person who keeps their cool when everyone else is stressing out. The one who can juggle a million things at once and still deliver five-star service with a smile.
"I'm extremely up for the challenge. At my last job waiting tables, I loved how fast-paced it was. The adrenaline kept me focused and energetic. And the faster things moved, the more fun I had. I'm excited at the prospect of keeping up with the speed of Jimmy John's and working as a team to provide amazing experiences for every single customer."
When a hangry customer comes in hot, how will you keep your cool and turn that frown upside down?
The interviewer wants to see that you can remain calm under pressure and diffuse tense situations.
We know from experience that the ability to handle difficult customers with poise and professionalism is essential for success as a Jimmy John's team member.
To answer this question confidently, you'll need to demonstrate self-awareness, empathy, and problem-solving skills.
The key is to show you can stay frosty under pressure. Jimmy John's values employees who can handle the heat and keep customers happy.
Take a deep breath and remember – you have the power to turn this customer's experience around!
"If faced with an angry customer, I would first take a deep breath to remain calm. Then, I would politely introduce myself with a smile, make eye contact, and ask how I can help. I would listen actively to understand the root cause of their frustration. Once I understand, I would apologize for their negative experience and assure them I will do everything to make things right. I may offer a refund or coupon to help turn their frown upside down. My goal would be to get them to smile before they leave, even if the situation was out of my control. With patience and understanding, I believe I can defuse tensions and provide great customer service."
What do you know about Jimmy Johns?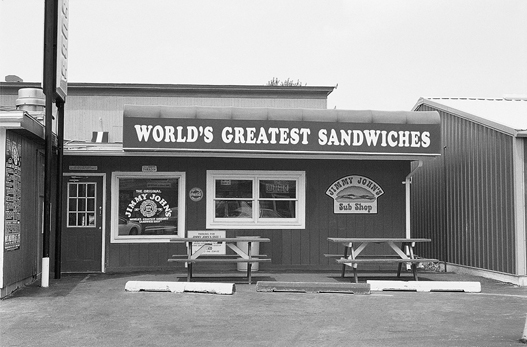 Alright, listen up! This question is your chance to wow the Jimmy John's interviewer with how much you adore their brand. Don't just rattle off some boring facts. Share your passion for those freaky fast subs!
We've spoken to Jimmy John's hiring managers, and here's the scoop: they want candidates who are genuinely pumped about working for their company.
So think about why you love Jimmy John's and let your enthusiasm shine through. Talk about your favorite menu items (the Beach Club is to die for!).
Discuss how you admire their commitment to community service. Share some interesting trivia about how JJ's was founded.
The more you show you belong at Jimmy John's, the more likely you'll land the gig.
For instance, you could energetically reply:
"Are you kidding me? I'm obsessed with Jimmy John's! I've been hooked since my first bite of the Vito sub back in high school. I know that Jimmy John's was founded in 1983 by Jimmy John Liautaud, with the mission to provide the world's greatest sandwiches at freaky fast speeds. Jimmy John's values fresh ingredients, efficiency, and exceeding customer expectations. And I really respect how involved JJ's is with charities like the Boys & Girls Clubs of America. My goal has always been to work for a company I genuinely believe in, and if given the opportunity, I would be extremely dedicated to upholding Jimmy John's standards of speed, quality, and service."
Can you tell us about your strengths and weaknesses?
When the interviewer asks about your strengths and weaknesses, they want to get a sense of what makes you uniquely qualified for the role. This is your chance to show them why you're the perfect fit for Jimmy John's.
The secret? Be real.
Share the strengths that make you, you. Are you a natural problem-solver? Do you brighten people's days with your smile? Talk about the skills that set your soul on fire.
For weaknesses, choose something you're working to improve. Remember, you're human – we all have more to learn!
"My greatest strengths are my ability to keep customers happy and work efficiently and cooperatively with my team. I love making someone's day and seeing them leave with a smile. At my last job, I came up with a few ways to speed things up and make service even better. The customers – and my managers – loved it! I can get so focused on helping others though, that I sometimes let my own tasks slip through the cracks. I've been working on using my lists and scheduling time for everything."
How did you discover the opportunity to join our freaky fast family?
This question is asked to determine your motivation and enthusiasm for the brand.
The interviewer wants to see that you did your research, understand the company culture, and are genuinely excited about the prospect of joining their team.
Take a deep breath and smile—this is your chance to express your passion for the company.
"I first discovered Jimmy John's a couple of years ago when a friend brought over subs for a movie night. I was instantly hooked by the freshness and speed of service. Since then, I've been a loyal customer and have come to deeply appreciate Jimmy John's dedication to high quality and community involvement. When I saw a 'Now Hiring' sign go up at my local shop last week, I knew I had to apply. Jimmy John's infectious enthusiasm and fast-paced environment would be the perfect fit for my energetic and hardworking personality. I'm eager to start learning how I can contribute to the success of the freaky fast team!"
At Jimmy John's, teamwork is everything. Do you have the ability to collaborate with others to get the job done freaky fast?

That question about teamwork the Jimmy John's hiring manager is going to throw at you? Consider it handled.
We know from coaching countless candidates like yourself that they're really trying to figure out one thing: are you going to vibe with the crew and hustle to make customers happy?
Of course, you are—and here's exactly how to convince them of that in your interview.
"You bet I'm a team player. Working together to provide freaky fast service is what I'm all about. Like at my last job at a popular local restaurant—the lunch rush was insanity. My coworkers and I were constantly communicating, delegating, and motivating each other. We moved together like a well-oiled machine. By collaborating and relying on each other, we powered through and gave every single customer a great experience. The energy of the team at Jimmy John's is something I'm really excited to be a part of."
How would you deal with an unsatisfied or difficult customer while maintaining your cool?
The interviewer wants to see that you can remain calm under pressure and resolve customer issues.
Share how you'd give the cranky customer your full attention, put yourself in their shoes, and make resolving their issue your top priority. Explain how you'd spring into action to fix the problem fast while also making them feel valued.
Your ability to keep tensions low and customer satisfaction high is exactly what they want to see.
Here's what you could say:
"If a customer was upset, I would say, 'I apologize for the inconvenience. How can I make this right?' I would listen to their concerns, thank them for bringing the issue to my attention, and assure them I will resolve it. Once I understand the problem, I would quickly work to remedy the situation, whether by remaking their sandwich or offering a refund. Before they leave, I would thank them again for their patience and for giving us another chance to serve them. My goal is to turn a dissatisfied customer into a loyal one by handling their complaint in a courteous, prompt manner. When they leave happy, I feel like I just won the Super Bowl!"
Do you enjoy sandwich making?
We know questions about enjoying aspects of the job can seem tricky, but don't worry, with the right mindset, you'll nail this one.
The interviewer just wants to make sure you'll actually enjoy crafting subs all day.
The trick is to be real with them – if you genuinely light up at the thought of slicing meats and cheeses, tell them!  If you're more into the fast pace and customer interactions, say so.
The key is conveying why this job gets you pumped.
Here's what you can say:
"Making delicious sandwiches for passionate customers is something I really enjoy. I love being on my feet in a bustling kitchen, cranking out sub after sub. The energy of the work environment at Jimmy John's is appealing to me, and I thrive in roles where I'm actively serving customers and collaborating with coworkers. Sandwich making allows me to tap into my creative and social sides, so I would find a great deal of fulfillment helping your team provide the best experience for every guest."
Remember, you're not just selling them on your skills – you're selling them on your genuine love of the work. Share the real reasons this role gets you jazzed, and you'll totally seal the deal.
What are your goals and what do you hope to achieve in your role at Jimmy John's?
This interview question is a great opportunity for you to convey your enthusiasm for the role and your potential for growth within the company. The interviewer wants to gauge your ambition, work ethic, and long-term commitment to the brand.
To ace this question, you'll want to express your passion for providing high quality customer service, detail your relevant experience, and discuss your desire for career advancement.
Share some of your short and long term goals, like becoming a shift leader within 6-12 months. Back up your goals with examples of how you've achieved success in previous roles.
"My goal is to fast-track my way to running shifts at this store. I have the experience, drive, and ability to lead this team to new heights. Jimmy John's culture of 'freaky fast' service speaks to me, and I want to build a career helping this company be the best. I'll start by becoming your go-to team member, gain deep knowledge of processes, and earn the respect of my coworkers. Within 6-12 months, I expect to be leading shifts, improving metrics, and developing future leaders. Long term, you'll see me running this location, helping to open new stores, and who knows…maybe even at the executive table!"
How would you describe your work style?
The interviewer wants to assess if your work style aligns with Jimmy John's fast-paced, energetic culture.
We're going to give you the inside scoop on how to craft an answer that will make them realize you were born to make sandwiches at warp speed.
Focus on mentioning qualities that fit Jimmy John's mold, like being an efficient multi-tasker who thrives under pressure. Discuss how you prioritize work to maximize productivity and meet tight deadlines.
Share an example of how your time management skills allowed you to get ahead of schedule. The interviewer will appreciate your ability to work at the vigorous pace this role demands.
To illustrate this, you could say:
"My work style is super energetic and efficient. I'm always juggling multiple tasks at once and pushing to complete them ahead of time. At my last job, I figured out a new system that boosted our daily productivity by over 20%! My boss couldn't believe how I made everything run like a well-oiled machine. I love keeping busy and accomplishing as much as possible."
See how this example answer shows off your relevant qualities in a genuine, enthusiastic way? That kind of authentic passion and efficiency is exactly what the team at Jimmy John's is looking for.
When the hiring manager asks you this question, they want to know you've done your homework.
As seasoned pros, we know the secret to acing this question is simple: choose a menu item you genuinely love, and convey how pumped you would be to be surrounded by it every day.
For example, you might say:
"Hands down, the Beach Club sandwich is my jam. I love that combo of hand-sliced turkey breast, provolone, and avocado on fresh-baked bread. As a total sandwich fanatic, I've tasted what other shops call their 'best' but nothing comes close to the Beach Club. The flavors, the quality, everything about it is unbeatable. If I could eat one sandwich for the rest of my life, the Jimmy John's Beach Club would be it."
Bam! By picking a menu favorite you authentically dig and sharing how stoked you'd be surrounded by that tasty treat every day, you show them your passion for the brand runs deep.
Can you give an example wherein you WOWED a customer with your amazing service?
The interviewer is looking to assess your customer service skills and ability to go above and beyond for your customers.
Our best advice is to think of a specific example from your work experience where you provided over-the-top, memorable service that left a customer raving about their experience.
Take a breath and picture that shining moment…and tell your story:
"One time, I had a regular customer, Jenny, come into the store during my shift at the local sandwich place I worked at. She mentioned it was her birthday while ordering her usual sandwich and drink. I made a point to give her extra special treatment – when I delivered her order, I surprised her with a free slice of our double fudge brownie cake, her favorite, with a lit candle in it. I sang 'Happy Birthday' to her and gave her a handwritten thank you card from our team. She was so touched by this small act of kindness that she called my manager to commend my amazing customer service. Jenny then became one of our most loyal customers and still frequents the sandwich place to this day, three years later! I'll never forget how I was able to make her feel so special on her birthday. And that is the power of amazing customer service!"
Tell me about a time you had a difference of opinion with your manager. How did you handle it?
The Jimmy John's interviewer wants to see how you handle conflict and if you can remain professional under pressure. We have some tips to help you craft an answer that will impress them.
First, focus on listening. Explain that you asked clarifying questions to make sure you understood your manager's perspective. Say you tried to keep an open mind. This shows your ability to collaborate.
Second, discuss how you expressed your opinion respectfully by using "I" statements, like "I see it differently" or "I have a different perspective." Explain your reasoning objectively and give relevant examples to support your view.
Here is an example answer:
"There was a time my manager and I disagreed on the best way to improve efficiency during the lunch rush. I listened to understand fully why they wanted to make a particular change. Then I said, 'I have an alternative suggestion I think could be even more effective if you're open to it.' I explained my proposal and gave examples of how it had worked in other restaurants. We had a constructive discussion and ended up compromising by incorporating elements of both approaches. It led to a 10% increase in productivity that month. I was glad we were able to have an open exchange of ideas to find the best solution."
Can you highlight a couple of things about you beyond what's on your resume?
You want to make a great first impression in your Jimmy John's interview, and a question like this is the perfect opportunity.
We know you're more than just a list of experience and education. You have unique qualities, values, and motivations that make you, you.
The interviewer wants to get a feel for what's really meaningful to you and how that will benefit the team. So be authentic – now's the time to let your personality shine through!
Think about what makes you, well, you. Are you always making people laugh? The first to step up and help out a friend? Someone who juggles life's challenges with a smile? Focus on strengths that will rock the job, like friendliness, hard work, and positivity.
For example, you could say:
"Here are a couple of things that make me who I am beyond what's on my resume: I have always been an upbeat and hardworking person. For example, in high school, I worked two part-time jobs while participating in several extracurricular activities. I am also very friendly and love getting to know people. My buddies would tell you I've always got a positive attitude and want the best for everyone around me."
Are you ready to take on the workload and responsibility that comes with making freaky fast subs?
This is a question we often see in Jimmy John's interviews. The interviewer wants to make sure you understand the demanding nature of the job and are up for the challenge.
To ace this question, you need to convey your enthusiasm for hard work, your reliability, and your ability to thrive under pressure.
As for how to respond, here's an example:
"Absolutely, I am ready to take on the responsibilities that come with working at Jimmy John's. I understand that making high-quality subs in a fast-paced environment requires hard work and grit. I love staying busy and working with a sense of urgency. I am used to juggling multiple tasks, thinking on my feet, and accomplishing a lot in a short amount of time. The speed and intensity of the sandwich line really appeals to me. I want a job that challenges me and pushes me outside my comfort zone so I can grow as an employee. Jimmy John's fast-paced, high-energy culture is the perfect fit for my work style and values. If hired, you can count on me to make freaky fast subs and provide great customer service no matter how busy it gets."
How do you make a sandwich? Give me a step-by-step process.
One of the questions Jimmy John's interviewers love to grill candidates on is, "How do you make a sandwich?" They want to see if you've got the skills and mindset to craft sub sandwiches at lightning speed.
The secret to nailing this question is focusing on the three Fs: fresh, fast, and friendly.
Talk about how you'd make mouthwatering subs using the freshest ingredients, hustle to serve customers in a flash, and do it all with a smile. Discuss how you'd keep the place spotless and work with your team like a well-oiled machine.
When the interviewer asks how you'd make a sandwich, look them straight in the eye and say:
"Here is a step-by-step process for how I would make a sandwich:
Sanitize my hands and put on gloves to ensure a clean and safe sandwich. Hygiene and food safety are extremely important.
Lay out all the ingredients – the bread, choice of meat and cheese, condiments like mayo and mustard, and toppings like lettuce and tomatoes. Having everything organized and within arm's reach will make assembly efficient.
Inspect the bread to make sure there are no tears, blemishes or mold. Select two matching halves.
Place the bottom slice of bread on a clean surface.
Spread an even layer of condiments on the bottom slice of bread. The condiments should cover most of the bread but not spill over the edges.
Arrange the choice of meats and cheeses on the bottom slice of bread in an organized manner. I would overlap the slices slightly to ensure full coverage.
Top with any vegetable toppings the customer requested like lettuce, tomatoes, onions, pickles. I would arrange these neatly to maximize filling while keeping the sandwich balanced.
Place the top slice of bread on top and press down gently but firmly to ensure everything stays inside the sandwich during wrapping.
Cut the sandwich in half on the diagonal if requested and securely wrap the sandwich in paper to keep it together and clean for the customer.
Check the final product to ensure that it meets company standards for portion size, neatness, and fulfills any special requests. Then hand it off to the customer with a smile.
My goal is to make the best sub of that customer's life and leave them wanting more!"
Tell me about a time you had to cooperate with a difficult coworker to achieve a goal. How did you handle it?
One thing Jimmy John's wants in their candidates is the ability to play nice with others, even difficult coworkers.
When the interviewer asks you about working with a difficult coworker, this is their way of seeing if you're a team player.
When answering this question, we recommend providing a specific example of a time you handled a difficult coworker situation in a collaborative, solution-focused manner.
For example, you could say:
"I recall a time at my previous job when there was once a coworker on my team who was disorganized and would often miss deadlines. This caused delays in our preparation for lunch rushes. I decided to directly approach this coworker and suggest we divide responsibilities and set clear timelines. I proposed that he be in charge of slicing the meats and cheeses while I worked on prepping the vegetables and breads. We agreed to check in with each other every 15 minutes to provide updates and confirm we were on schedule. This created accountability between us and allowed us to finish our tasks on time. By dividing the duties clearly and setting specific checkpoints, we were able to cooperate and successfully prepare for the lunch crowd despite our differences in work styles. I learned that direct and structured communication can help me work effectively with difficult coworkers in the future."
See how confident and positive that sounds? Speaking enthusiastically about teamwork and cooperation shows your skill at navigating conflicts in a constructive way. And since Jimmy John's crews work at warp speed together, that's exactly the kind of mindset they want.
How have you handled feedback from your managers in the past? Give me an example.
Feedback is a gift. The interviewer wants to see that you embrace constructive criticism and use it to improve.
When the interviewer asks this question, take a moment to think of an example that shows how you listen to feedback, accept it with a positive attitude, and make changes to do better next time.
You might say something like:
"In my last job, my supervisor said I needed to get better at managing my time during rushes. At first, I was worried they weren't happy with me. But then I realized this was a chance to improve. I asked them for specifics and came up with a killer action plan. I started planning each day down to the minute using a schedule. Pretty soon, I was hitting every deadline and then some.
At our next meeting, they noticed the difference right away. They said how impressed they were with my progress. That feedback meant the world to me. It showed that by listening and taking action, I had turned a weakness into a strength. I really appreciate constructive criticism—it's the only way to grow as an employee and achieve my full potential."
An answer like this proves you've got what it takes to thrive at Jimmy John's: you're coachable, you want to improve, and you'll do what it takes to be the best team member possible.
Do you have reliable transportation to get you to and from your shifts at Jimmy John's?
Transporting yourself to and from work reliably is crucial for any job. The interviewer will likely ask you a question like this one to determine if you have practical means for adhering to the demanding delivery schedule.
When asked this question, take a moment to review if you have consistent transportation options that will get you to work, even for early morning or late-night shifts when public transit may be limited. If needed, consider alternative options like ride-sharing or carpooling with coworkers.
"Definitely, I have a reliable vehicle that will allow me to safely and punctually get to any shift required. I'm fully committed to the fast-paced nature of the work here at Jimmy John's and willing to adapt my schedule to business needs."
What does your schedule look like, and will you be available nights, weekends, and holidays?
When the interviewer asks about your availability, they want to make sure your schedule aligns with the hours required for the Jimmy John's role. As you prepare for your interview, keep in mind that Jimmy John's is open late, operates on weekends and holidays, and relies on team members with open availability.
As for how to respond, be upfront while also expressing your enthusiasm for the opportunity.
"My schedule is wide open and I'm ready to get to work anytime, any day. I don't have any commitments holding me back from working nights, weekends, or holidays. I'm eager to take on any hours required to provide the ultimate customer experience. I understand that at Jimmy John's, the customer is king. So you can count on me to go the extra mile whenever I'm needed to make sure all shifts are properly covered."
With a response like this, you're showing the interviewer your non-stop hustle and commitment to keeping the Jimmy John's spirit alive. You get that this isn't just another job – it's an opportunity to be part of something bigger. A team that never clocks out and never compromises on quality or service.
If hired, how soon would you be able to join our freaky fast team at Jimmy John's?
This question seems simple, but the hiring manager is trying to gauge three important things.
First, they want someone who can start ASAP. At Jimmy John's, speed is everything. Second, they want to see your enthusiasm. The best candidates will be rearing to get started. Finally, they want to make sure you've got no commitments holding you back from totally crushing this job.
When they ask, have a specific, enthusiastic answer ready. Say something like:
"I would be available to join your team within 2 weeks. I just need to provide two weeks notice at my current job, but then I'm ready to hit the ground running and join your freaky fast team!"
This shows you're responsible but eager. It says you value them enough to do right by your current employer, but you can't wait to get delivering freaky fast subs.
Questions to Ask the Interviewer in Jimmy John's Interview
When the interviewer opens the floor for your questions, this is more than just a formality. It's an opportunity for you to demonstrate your enthusiasm and curiosity about the role, team, company, and culture. Having well-thought-out questions ready shows how invested you are in the opportunity.
To feel completely ready for this moment, develop a list of questions to ask your Jimmy John's interviewer. Here are several options to choose from:
What qualities make for a successful team member at Jimmy John's?
How would you describe the company culture? What is most valued?
What career progression opportunities exist for this role? What paths have others taken?
What challenges are associated with this role? What type of support is provided?
What do you find most exciting or meaningful about working for Jimmy John's?
How did you get started with Jimmy John's? What has your career path been?
What customer service principles are most important? How are employees trained?
What attracted you to Jimmy John's? What makes it stand out?
What innovation or growth opportunities lie ahead for Jimmy John's?
What community service initiatives does Jimmy John's participate in? How can employees get involved?
What performance metrics or KPIs would I be measured on? What does success look like?
What does the onboarding and initial training process look like for this role?
How would you describe the leadership style here? What's the communication model?
What operational or service challenges does this location face? What is being done?
What types of recognition, incentives, and rewards are provided to top performers?
Where do you see Jimmy John's in 5 years? How will this role contribute to that vision?
What haven't I asked that would be useful for me to know about this opportunity or team?
Based on our conversation, do you have any concerns about my qualifications or fit for this role?
When will the next steps in the interview process take place? What else should I expect?
Using these carefully crafted questions will lead to an engaging discussion and leave a great last impression. Go into your Jimmy John's interview feeling fully prepared to impress!
Jimmy John's Hiring Process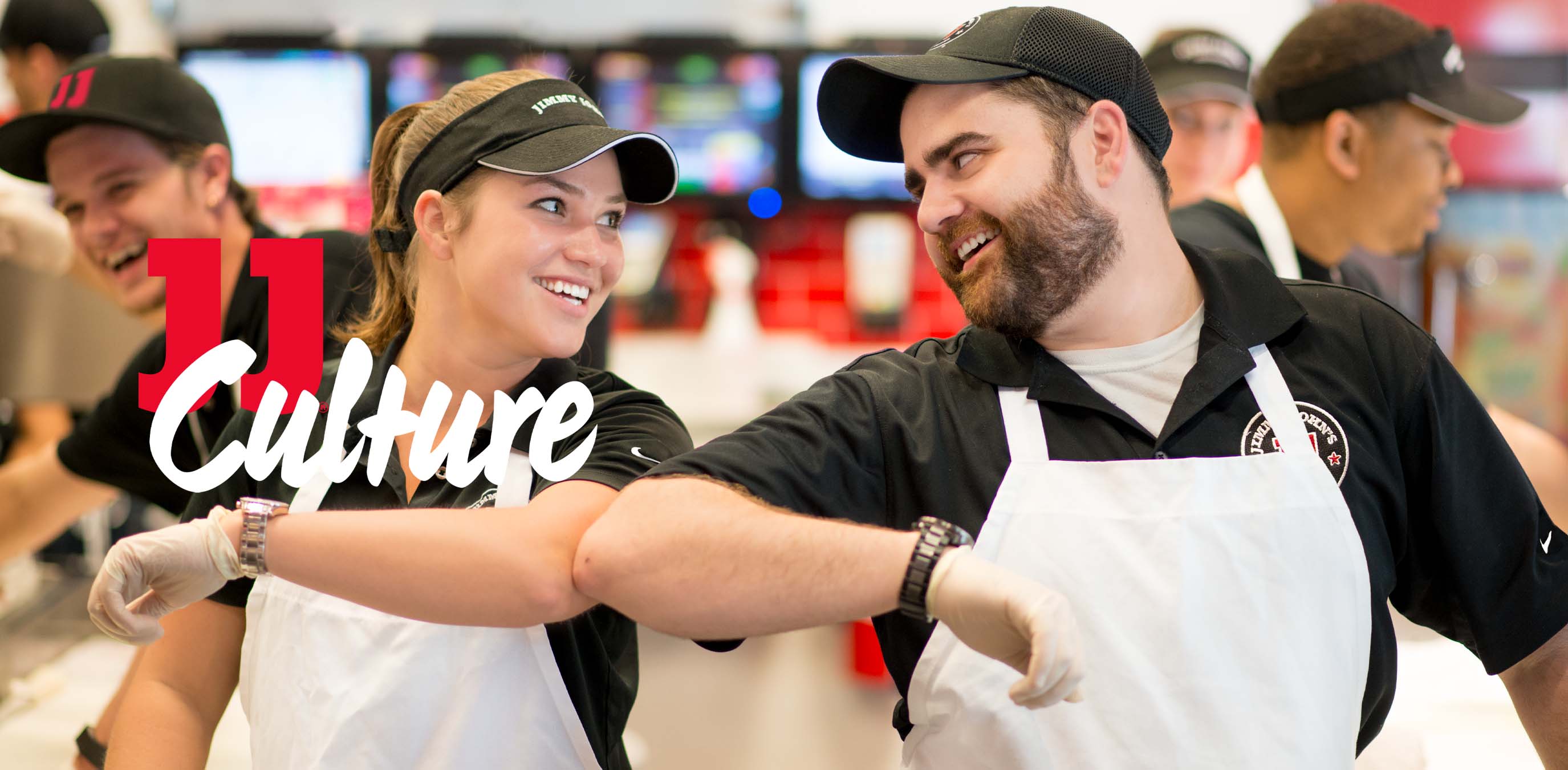 You're probably curious about what Jimmy John's hiring process entails. Well, don't worry, we've got you covered with all the details to make you feel prepared and confident for your interview.
The hiring process at Jimmy John's is simple and straightforward.
You can apply online at their website, in person at your local shop, or by texting the store phone number. The applications only ask for basic information like your name, availability, and job interests. It's meant to be quick and casual, so don't stress about it!
If they're interested in your application, a manager may give you a quick call to chat about your availability and enthusiasm for the role. But not all candidates receive a phone screening, so if you don't get a call, don't assume you're out of the running. The real test is the in-person interview.
For the interview, head to your local Jimmy John's, dressed casually and with a smile on your face. You'll meet with the general manager or assistant manager for a laidback 15 to 30-minute conversation. They want to get a sense of your personality, availability, and passion for customer service. They may even have you make a sample sandwich so they can see your skills in action.
If you shine in your interview, you'll move on to completing tax and payroll paperwork either that same day or on your first day of orientation. Some locations may require you to obtain a food handler's permit as well.
New hires typically start within a week of interviewing. You'll receive on-the-job training to learn how to flawlessly craft sandwiches and provide the lightning-fast service Jimmy John's is known for. You may need to give a "sandwich test" to ensure memorization of ingredients.
With a flexible schedule, delicious subs, and a fun work environment, you really can't go wrong working at Jimmy John's.
Jimmy John's Interview Tips
Go into your Jimmy John's interview with confidence because their process is designed to be casual and low-pressure. Speak genuinely about why you're interested in the job and company, your availability, and your ability to reliably show up on time. You have nothing to prove in terms of sandwich-making skills at this point. Simply express your eagerness to learn and grow within the role.
What to Wear to Jimmy John's Interview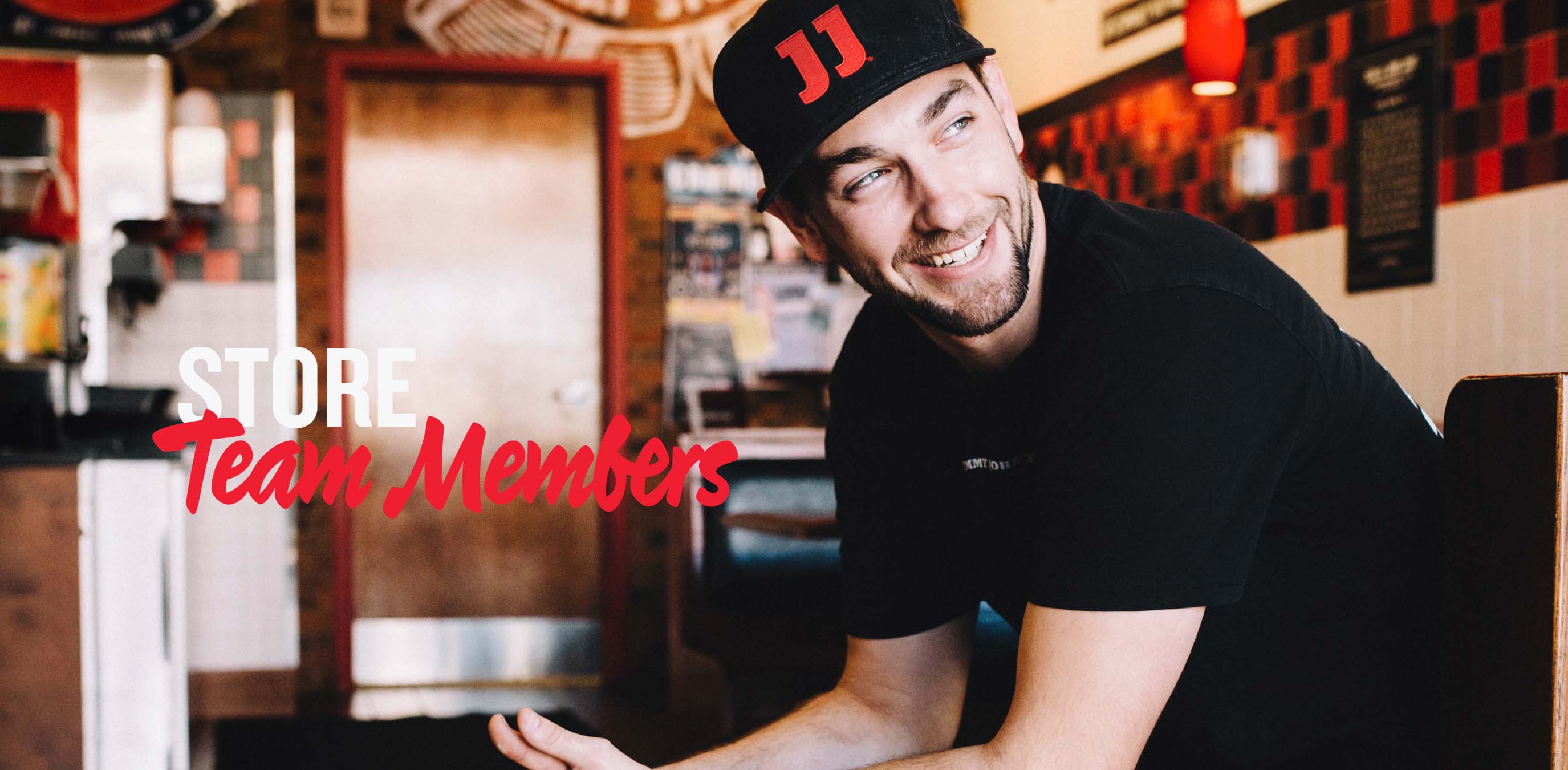 When interviewing for any position at Jimmy John's, emulating the company's dress code and culture will put you in good stead.
The Jimmy John's dress code mandates employees to wear the company's branded shirt and hat along with either jeans or shorts. Additionally, slip-resistant shoes are required for footwear, and employees must keep their hair in its natural, non-dyed color.
Aim for an attire that is one level above what employees typically wear.
For team member roles like Sandwich Maker or Cashier, casual or business casual would be ideal. Wear neat pants, a button-down shirt, and comfortable closed-toe shoes.
For Assistant Manager or Store Manager roles, opt for business casual with chinos, a polo or dress shirt, and comfortable closed-toe shoes.
When interviewing at the corporate office for Management Trainee programs, go for business formal with a suit, tie, and dress shoes for men and appropriate suit/dress with close-toe heels for women.
Conclusion
You now have the inside scoop on what to expect in your Jimmy John's interview and are armed with compelling responses to their most frequently asked questions.
Feel confident walking through those doors, make eye contact, smile, and show them you're the ideal candidate for the job. You've got this!
But the job search doesn't end here. Keep putting yourself out there and applying to new opportunities, especially similar companies like Firehouse Subs, Jersey Mike's, Subway, Potbelly, Capriotti's, and Which Wich.
Staying active in your job hunt will motivate you and open you up to even better prospects. You never know which application might lead to your dream career. With the right mindset, persistence, and preparation, the possibilities are endless.
Stay hungry, keep hustling, and don't stop believing in yourself. You have so much talent to offer, so get out there and show the world what you're made of! The future is yours for the taking.